Audio clip: Adobe Flash Player (version 9 or above) is required to play this audio clip. Download the latest version here. You also need to have JavaScript enabled in your browser.

download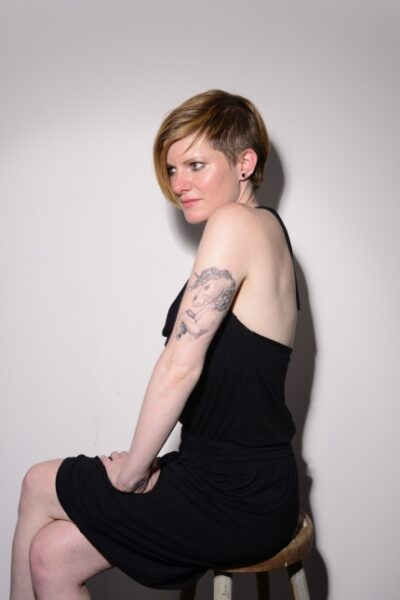 This week: Katy Hamer, who in addition to her superior intellect and charm ALSO has stamina. So she demonstrates that stamina in our bed… and by bed we mean our bed booth at VOLTA in NYC this past weekend during which she tells us all about the art fairs.
What did you think we meant? What the hell is wrong with you, we don't roll like that. Well, okay there was that time at a certain campingy art residency but I was drunk and I didn't know it was a sheep. But Katy should have her good name sullied by associationw with us! She is a talented writer and critic, how dare you.
Read her wildly impressive blog:
http://eyes-towards-the-dove.com
Update:
B@S would like to acknowledge that Mr. Holland's discussion announcing the death of Christine 'Moose' McGlade was in error. Moose is alive and well. Mikey didn't die from pop rocks and soda, Paul is not dead but he is embarrassing himself by trying to get the credits changed, Richard Gere does not "gerbil" although he did make a movie completely abhorrent to his Buddhist beliefs romanticizing a prostitute's life into the Cinderella story which is super creepy despite the fact we all saw the movie and were charmed by "Guido the killer pimp", Jamie Lee Curtis nor Lady Gaga are hermaphrodites, and the US really did land on the moon. Are we okay now?
---
Audio clip: Adobe Flash Player (version 9 or above) is required to play this audio clip. Download the latest version here. You also need to have JavaScript enabled in your browser.
This week: Amanda and Martin talk to artists and gallerists at differing 2011 NY art fairs. Breaking away from the megahub of the ARMORY, we visit exemplary booths at the Manhattan "satellite" shows, getting a feel for the variety within the ever growing gala.
With Volta's one-artist-per-booth, we focus on Bradley Castellanos at MARX & ZAVATERRO with his ominous photomontages. Kimberly Johansson of Oakland's Johansson Projects introduces us to Jennie OTTINGER and her lively novel-inspired pieces before a surprise by a mock art tour.
The SCOPE fair finds interviewing in a bodega cooler typical of the art installed by artist Andrew Ohanesian. At SPINELLO PROJECTS we meet with featured artist Barnaby Whitfield and Paul Bruno of DIRTY MAGAZINE. Bruce Livingstone and Peter Teodoric talk about the SAATCHI ONLINE project.
On the Hudson River's panhandle barge, Tom Burtonwood of WHAT IT IS captures the boisterous atmosphere of the floating FOUNTAIN fair.
The party continues with Amanda speaking with Hudson of FEATURE INC. at INDEPENDENT fair's second year after its' upstart inauguration.
Martin Esteves can be found here… http://thelifeofstmartin.blogspot.com/
There you will also find his textual perceptions of the Armory.
---
Audio clip: Adobe Flash Player (version 9 or above) is required to play this audio clip. Download the latest version here. You also need to have JavaScript enabled in your browser.

download


This week: Continental European Bureau Czar Mark Staff Brandl roams the Basel Art Fair 2009 with guest co-host Peter Noser, gallerist, curator and artist. They comment primarily on the "main fair," but also cursorily on Scope, Volta, the Solos Show, die Liste (and look forward to a Bridge addition next year). Additional walk-on voices include Maya LaLive d'Epinay, Martin Kraft, Alex Meszmer, many others, and a few seconds of Olga Stefan. Mark managed to wipe-out some excellent comments, or record them so poorly that they were unusable. Ce la technologie. A quick but comprehensive look at the "real" Basel, the most important international art fair, the Queen yet also Great Whore of Babylon. I made some multiples especially for the fair including pins and my T-shirt. They all bore the Latin phrase "Abite in Malam crucem, artis nundinae!", signed Marcus Scipio Incendiolus. Or, roughly in English, "Screw Art Fairs!" In German, as appropriate for Basel, that's "Zum Teufel mit Kunstmessen!" Read more
---
Audio clip: Adobe Flash Player (version 9 or above) is required to play this audio clip. Download the latest version here. You also need to have JavaScript enabled in your browser.

download


First: This week Duncan checks in from Roots and Culture and interviews Oli Watt and Jamisen Ogg about the show they put together with Lauren Anderson. Lauren could not make the taping session and Eric May (The Director of Roots and Culture) steps in to make sure the world know
what great work she does.
Next: From NYC! The Amanda Browder Show features three conversations from the Volta Art Fair – NY 2009. Amanda talks with Noah Singer of Imperfect Articles (Chicago), Tracy Candido and Tara Strickstein of Sweet Tooth of the Tiger (NYC) and Joshua Callaghan (LA). All three discuss the hardships of being stuck in a booth all weekend on what happened to be one of the sunniest days all winter. Read more
---
One thing that remains true across most markets is that its all about the buzz, so I feel compelled to weigh in on my experience at this years Armory and satellite fairs.  Perhaps ironically, I appreciate the crass commercialism of art fairs for the discussions and contextualization they bring about.  Hypothetically, one doesn't even need to see the work in the gallery booths to get the most out of the fair.  The difference between a worthwhile contemporary art fair and a superfluous one is their ability to provoke conversations around art, and that often comes down to programming, programming, programming, (the same often remains true for contemporary art museums).  With this in mind, I made it a point to check out the two Open Forum discussions at the Armory and Volta on Friday, making these the main event and lofty excuse to visit these otherworldly candy stores in downtrodden times.
The first of the day at Pier 92 in the Armory was "Museums Speak! Funding, Exhibitions, Collecting and the Future" featuring Arnold Lehman, Director of The Brooklyn Museum of Art, Thelma Golden, Director and Chief Curator of the Studio Museum in Harlem, and Claudia Gould, The Daniel W. Dietrich, II Director, Institute of Contemporary Art, University of Pennsylvania.   Of course the obvious topic of conversation was the economic recession's effect on museums large and small.  This amounted to amplified fretting and  hand wringing about poor endowment returns, staff cuts, and pressure to sell off artworks for those collecting institutions.  Ultimately this inside baseball failed to peek my interest as the average art enthusiast, but by no fault of the participants or others whose jobs might depend on the future funding of museums.
Next up was Volta, a more engaging fair simply for its concentration on individual artists.  Part of the same Open Forum programming was the panel "Re-Inventing Non-Profits in NYC" featuring Anne J. Barlow, Executive Director of Art in General, Mary Ceruti, Executive Director of Sculpture Center and Gianni Jetzer, Director of Swiss Institute.  The discussion was far more reaching in its implications for the future of artist, which automatically perked up my ears as the tendency in these circles is to forget that without artists there is no art.  Again the discussion was set to the doom and gloom tune of economic woes, but fortunately geared towards adjusting and moving forward.  Artists take note, it appears these non-profits are foregoing extravagant exhibitions in favor of funding and facilitating projects that might not otherwise be feasible for emerging artists.  The level of succes for these spaces is refreshingly difficult to quantify relative to the museums — which ultimately just want to get bodies through the door –  but issues such as branding still came up as a stategy of shear survival.  Gianni Jetzer seems to think the Swiss Institute has no branding, but he fails to notice that Switzerland itself is a brand, and a damn good one as his performance confirms.  Of the three non-profits, SI seems to be the most willing to take chances and perhaps it's that godmother country's loose purse strings on top of her sex appeal that keeps SI not truly in any position to worry.
A closing note from this last discussion was the divisive question about whether tough economic times will be good for art, as some have suggested.  There seemed to be some consensus that any such idea is a myth, but I have to say I'm not quite convinced.  My hunch is that the playing field is a little more level and its hard not to notice the change in the air that has inevitably come from the powerful having a little less power.
---