I saw this earlier in the week and knew I had to write about it since it is more then your typical romantic gesture in that it is actually a catchy tune and how can you pass on hand puppets stolen straight out of Jim Henson's Labyrinth.
Walter C. May and his roommates ( who are also in the band called The Daylights ) put together this music video/love note for May's girlfriend who is living in Europe for two years or so now and he wanted to not only send her something to make the distance seem smaller but do so in a way that it felt organic and that he was in her world even when he couldn't be. Therefore he hoped and pushed for the video to reach her viraly so that she would hear it in her day to day life. Now reports are in that she has already run across it ( the internet is quick I hear) but regardless  I hope you enjoy it.
I will admit that there is a fine line between romantic and creepy (hand puppets kind of help blur that line as well haha) but that is one of the best parts of the internet culture in my opinion, extreemly simple, low cost, constant heartfelt originality.  If you have someone in your life that values you enough to dedicate the time it takes to do things of this nature, your extremely lucky and so are we in having it shared with us. With the holiday season coming remeber the people out there who value you, love you and put up with all your eccentricities joyfully. There may be almost 7 billion people out there but it only makes the few people who care about you all that much more precious and rare.
Have a great weekend & stay warm.

---

Dutch Artists Jeroen Koolhaas and Dre Urhahn who meet when they started working together in 2005 while filming a documentary about hip hop in the favelas of Rio and São Paolo for MTV were inspired by the visit. They decided to bring outrageous works of art to unexpected places, starting with painting enormous murals in the slums of Brazil together with the local youth.

What began as a single mural here or a most impressive redesign of a concrete stairway into a illustrative koi pond has grown into a plan to paint the entire favela into a colorful explosion on the side of a hill. The idea being that ownership, pride and hope will spur the locals into viewing the slum as something to build on and protect as opposed to exploit and escape from. I am always interested to see solid case studies on if this works or not since I have seen first had it both change a community and also fail miserably in a separate instance and get trampled à  la pearls before swine. Akin to that would be ABC's Extreme Makeover Home Edition where you wonder how many of the new homes mansions are in forclosure or complete disarray.
Regardless though the work is amazing and quite interesting, I only hope the artists do get to complete the project it will be interesting to see it as a whole.
---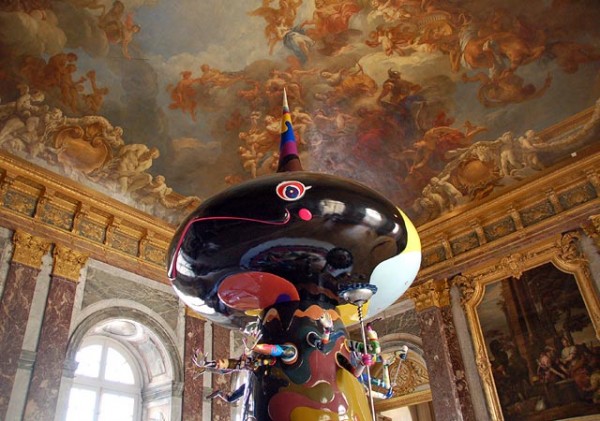 Takashi Murakami at the Château de Versailles
Takashi Murakami's new exhibit in Versailles has recently opened (closes December 12th if you are of the jet set type) and from what I have heard and seen it is a show not to be missed if for no other reason then it's striking contrast and humorous seemingly paradoxical existence. read more here
Inaugural Art Loop Open Competition Begins
From October 15-29, Art Loop Open—Chicago's new art competition (presented by the Chicago Loop Alliance)—will transform ten venues throughout Chicago's Loop into interactive public art exhibits (200 artists in total) having the public voting on the winner with 1st receiving $25,000 2nd: $15,000 & 3rd: $10,000. It looks to be a fun and smart program to engage the general public (which I still think we could do oh so much more in terms of) but sadly haven't given it much promotion due to not knowing exactly how to aproach it. I will be looking forward to seeing how it plays out and more so to year two.
From what i can gleam the jury process was pretty solid and most of the artists involved I have either seen, worked with, known or interviewed so I wish them all good luck and more so remind them to forget the prizes this is a great opportunity to rewrite the image of the Chicago artist with the general public so in short "don't be obtuse, rude, impatient or a douche" also Check out Tom Burtonwood and Pamela M Johnson's work here & here respectively. Read more here
Banksy does the Title Sequence to the Simpsons

Interesting Video on How Printing Ink is Made
Having been a child in the heyday of Mister Rogers'Â Neighborhood I grew up with a love of lilting jazz music & seeing how everyday items are made (plus hand puppets but thats private) so it's interesting to watch just how what I spend most of my money & art career touching plus half of my business career fighting with is made. watch it here
Race & Ethnicity Mapped By Block
As a footer for this week there is a visual map done by Bill Rankin using dots to show the more subtle changes across neighborhoods in Chicago using block-specific US Census data. Called a "taxonomy of transitions" it is quite interesting both visually and mentally but then again I am a data & logistics wonk so might just be me. read more here or even read about music preferences on Last.fm by gender here if you are so brave.
---
---
Richard Serra "Surprise Attack" (1973)
---