Audio clip: Adobe Flash Player (version 9 or above) is required to play this audio clip. Download the latest version here. You also need to have JavaScript enabled in your browser.

download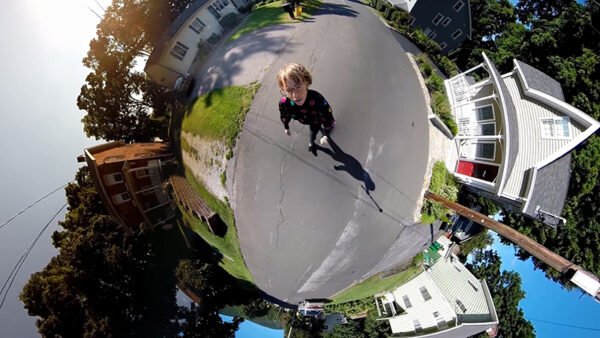 This week Brian and Patricia sit down with curator Tanya Zimbardo during her residency at Krowswork, a center for Video and Visionary Art, in Oakland. Tanya is a San Francisco-based curator. Her research and writing is primarily centered on conceptual art and experimental media in California in the 1970s and 1980s. She is co-curating the group survey Public Works: Artists' Interventions 1970s – Now at Mills College Art Museum this fall.
As the Assistant Curator of Media Arts at the San Francisco Museum of Modern Art, she curated select film and video screenings and co-organized the past two SECA Art Award exhibitions and overview Fifty Years of Bay Area Art: The SECA Awards, among other exhibitions. She has contributed essays to several SFMOMA publications, most recently West Coast Visions(2015, Borusan Contemporary, Istanbul). As a guest contributor to Open Space (2012?14), Zimbardo highlighted various site works, public interventions, and artist-run spaces in the Bay Area, including Receipt of Delivery, her weekly series featuring exhibition mailers.
The Krowswork Residencies feature a diverse range of visionary artists and artwork—from graffiti to poetry and from elaborate sci-fi video installations to Kabalistic painting. These Krowswork Residents present their own work, host conversations and events, and in some cases present the work of others. Each Resident is implicitly or explicitly in conversation with those who come before and after, as well as in dialogue with the total arc of the year.
http://krowswork.com/tanyazimbardo.html
---
Using breath from mouth to ear:
"I'm going to write something on your back and you have to guess what it is."
Using gesture from finger to back:
"I need to know if you feel it too."
They're two teenage girls and they're getting ready for the prom and one is wearing a marching band uniform. We'll see that uniform again, in another movie, but everything will be different. For now, Jennifer Reeder needs us to feel it too. I had the privilege of working with Reeder for the last two years, while she served as my advisor at UIC. I am the beneficiary of her attention and support, her acerbic and absurd sense of humor, her immense intelligence and her ceaseless fierceness. She insists on vulnerability, even as so many of our interactions are goof sessions.
Her work—primarily in video, primarily for the cinema—is teenage girls, it's pop noir, it's language heavy, it's singing Madonna to an ET figurine, it's death metal brides in a graveyard on a toy camera, it's impeccably pencil-rendered vulvae in the halls of a school, it's electromagnetism of the heart, it's an all-girl choir singing Judas Priest. It also looks and sounds more and more like the way movies look and sound. It is thankfully and unrepentantly feminist, deeply personal and idiosyncratic. And, luckily for Chicago readers, she's doing a big hometown show tonight at the Gene Siskel Film Center as part of the integral and much beloved Conversations at the Edge program.
When I'm doing what I'm so often doing, when I'm doing what I'm doing right now, when I'm trying to convince people of the merits of someone's work, to convince someone to attend a show, I say that Reeder's movies feel like movie movies, but better. That even people who don't like a lot of what they think I like will like her movies. That they're smart and funny, surprising and deeply feeling, that they're clever and daring. I heard something recently that felt insightful for a lot of creative practices. A comic said that sketch comedy privileges the joke over the character and will always sell the character out for the joke, whereas most episodic or narrative comedy privileges the character over the joke, such that every joke must feel real or at least, let's say, diegetic. I was thinking about how this idea could be resonant in a number of forms while rewatching Reeder's work. Deploying, as she invokes, bathos, she is able to maintain emotional credulity while covering and uncovering new layers of humor, trauma and complexity.
Her work has been screened and exhibited at venues like the Venice and Whitney Biennials, Ann Arbor Film Festival, Kurzfilmtage Oberhausen, New York Film Festival, Yerba Buena Center for the Arts, PS1, Pacific Film Archive, Rotterdam Film Festival, Chicago Underground Film Festival, Vienna Short Film Festival and many, many more. She's won countless awards, grants and other —including being named one of Chicago's Top 50 Artists' Artists by Newcity—while maintaining a vigorous teaching practice as an Associate Professor and the Head of the Art Department at the School of Art and Art History at UIC. She is represented by Andrew Rafacz Gallery in Chicago and distributes her videos through the Canadian Filmmakers Distribution Centre, shortfilmagentur, LUX and independently. She earned her MFA from SAIC and her BFA from Ohio State University in her hometown of Columbus, Ohio. She is the mother of three boys and lives in Indiana.
As your work has progressed, its resemblance to conventional cinema—to what people think we mean when we say we make movies—has grown. Do artists too often limit their potential for engaging wider audiences by sticking to niche forms and the safe spaces those enable? Has making work that looks right enabled you to sneak in more of your own idiosyncratic ideas and stories? Is convention camouflage?
I set out to make very functional films, but honestly, narratives are very challenging. I compare my process to sewing. If I set out to make a fully functioning pair of pants but cannot get the pockets right, I sew them shut. BOOM, no pockets on these pants. Then I put super striking patches on the knees (or something) and hope that no one notices the pocket situation.  Other times, the "experimental" parts of my narratives are much more directed and intentional from the get go. I start out making this move to pocketless pants because, ya know, people expect pockets and it's more satisfying on my end to do the unexpected. I do appreciate so much, however, that these more conventional narratives I have been making over the past several years have reached a larger audience. I have a solid fan base of film lovers and programmers who fully support and encourage the wonky way I tell a story.
We've talked before about multipronged ways of moving culture towards a greater sense of inclusivity and social justice. Shows like Modern Family or Will and Grace—with their mainstreaming of gay culture, or, more precisely, with their insistence that obviously and already mainstream culture includes people who are gay—are important in that they provide hungry brains stories that include a wider variety of represented protagonists. At the same time, there's a need for more radical cultural shifts, ones that at their cores those shows and the machinations through which they're made are at odds with. As an educator and cultural producer, how do you balance these concerns? Are there, perhaps, times in our lives when it makes more sense to fight for same-sex marriage and others when it makes sense to dismantle marriage? Do we need more television shows with more people or fewer TVs?
Representation matters! Since the beginning, since White Trash Girl (1995-97), I have made work with some sort of justice component. My protagonists have agency. The enormous popularity of shows like Orange is the New Black and Transparent, confirm that general audiences want and need to see themselves and their friends/family reflected back from the small screen. I do not understand what still motivates lots of film and TV makers to actively ignore diversity in terms of casting and storyline.
In a way that is totally unsurprising, I am always drawn to your use of text on screen. A Million Miles Away (2014) makes use of emojis, subtitles that read occasionally as transcriptions of characters thoughts and other times like a rogue radio signal piped in through diving braces on crooked teeth. Tears Cannot Restore Her: Therefore, I Weep (2010) prominently features a classroom sign language interpreter détourning a lecture on electromagnetism into an intimate and crushing tale of love gone awry (or maybe just love gone away). As much as your films are filled with visual nuance and striking characterizations, I often think of your work in writerly terms. What about the screen seems so keen on rendering multiple modes of address?
During an emotionally charged conversation in real life, there also exists these multiple layers of iteration. There is what you say out loud, and what you are thinking when you say it and what you have written to someone else prior about what you will say. Then there is how the other person interprets what you have said and speculates about what you might actually mean and how later they retell the conversation without precise accuracy (adding parts or leaving parts out). I fill my films with many layers of translations, as you pointed out, because it's how I unpack communication and interactions in my real life. Perhaps not everyone does this, but it cannot be just me, right?
Does the film exist on paper before you begin to shoot or do those extra-textual moments come in the editing room?
The extra language (texts, subtitles, etc.) exists in the script from the beginning. Often the actual words change during post as the temperature of a scene changes from script, through production to post.
Another striking component of your films—and one that extends into a gallery practice potentially—is the way that customized objects find their ways onto the screen. Keychains, ringtones, aprons and t-shirts, either purchased or constructed, telegraph something additional about the characters as well as providing another textual mode of address. Sometimes they signify subcultural statuses, sometimes they feel like gifts from someone off-screen and might not even fit right. Can you talk about these choices?
Art direction matters—this includes the props and wardrobe which are specific and intentional. The art direction is another layer of narrative language, a sub-plot even. It operates as bathos does in literature. A stupid image or phrase on a coffee mug visible in an emotionally revealing scene can disrupt the narrative in a charged and challenging way—injecting humor or absurdity or magic even into an otherwise pretty deadpan exchange. This happens in real life also. It is what makes "a serious talk" tolerable. I cannot resist a visual prank.
As your work has shifted to take more of the forms and processes of recognizable conventional productions, you've increased the number of people with whom you work. To what degree do you conceive of these productions as collaborations? Is there a way that working with so many more people on set changes how you think of the works? Are there auratic or affective overlaps in the jobs of director, parent and teacher?
I have worked with the same crew (Steven Hudosh, Chris Rejano and Paul Dickinson) over a few films now and the same editor (Mike Olenick) for over 10 years. These films are like relationships. I have to fall in love with the film then eventually break up with it to move onto the next film. It's an emotional process and I need to surround myself with people I trust and who trust me back.  I listen to everyone's opinion from the script writing stage through post-production and distribution, but ultimately the final decisions are up to me. This could change with a different kind of financing model. There is a kind of collaboration in the scoring (music), because I depend on the composer (Jenne Lennon) to directly translate my notes in terms of how I want to film to sound. I appreciate what trained actors bring to set. I allow the cast to know and play their characters on their own terms, but I do not allow for improvisation. The dialogue is very specific. Don't mess with my dialogue! Ok, and yes, I am quite parental on set. I am bossy but more mom bossy than boss bossy—lots of hugging and head patting, for real.
What is Tracers Book Club? How do the various spaces Tracers inhabits function together or separately? What can exhibitions do that online fora or real-life discussions cannot? What is lost or gained by making art in a group, orienting more toward making an argument or experience than originating from authorship?
Tracers (www.tracersbookclub, www.feministasfuck.org) is a free form collective dedicated to promoting feminism as a means toward social justice. Over this past year, we have had two gallery exhibitions in addition to many other events like a mini-conference (a day of panel discussions about intersectionality), two iterations of a radical crafting fair called "FEMINIST PARKING LOT," films screenings, rock concerts, a youth poetry workshop and informal conversations (often around a book or presenter). Each event attracts a different audience. Feminism is personal and so Tracers makes an effort to offer lots of ways to get your dose. As we gain momentum, we are likely to expand the range of events. We are not a one size fits all kind of operation. If we are committed to inclusive, which we are, we must super-size the options. A narrowly actualized social justice mission is not very just in my opinion.
In rewatching your work for this piece, I found so many little moments that felt synecdochic, like they expressed something big about your entire practice in a small way. I know that you aren't making work simply about your work—the equivalent of an advertisement for an ad firm—but over the course of your career, you seem to be honing in on a series of concerns. One of the most exciting is the continual and ever-changing challenge of communication and connection. In addition to shared concerns and themes, the reuse of props and costumes gives a hazy continuity to your work. Do you think of these works as being fully distinct or part of a much larger project? Are there ideas that you'll have that you have to abandon because they don't work within the scope of your current activities? Since we're dealing with and in the world of narrative cinema, is there a Reeder universe, nestled somewhere near the speculative and psychic universe of John Hughes? Are the unnamed sites for these recent works in one unnamed town?
Ok, so yes, it's all intentionally connected—stacks upon stacks of parallel universes. I feel as though I am making the same film over and over and over again. This tic is related to my need to provide multiple translations of narrative language within a single scene. I must keep prodding, "did you get that? Here let me put it another way. Ok, now, did you get it that time? Let me try again." It's an obsession with being heard and understood. I appreciate that my films are recognizable as mine. My favorite filmmakers are the auteurs. I am at a loss to understand how some filmmakers make entirely distinctive moves from one film to next. Ya know, like Ang Lee made both The Ice Storm and Hulk. No thank you.
What can the admittedly porous worlds of experimental and independent cinema learn from each other?
The experimentals should be less afraid of being liked/popular and the indies should be less afraid of taking some artful risks in terms of the form. It's like the jocks versus the nerds. The jocks should get weirder and the nerds should get tipsy and make some prank phone calls.
What is your process for working with actors? Is there a sense that an actor is being instrumentalized—walk over here when the camera gets here, say these words in this order, wear this shirt and face this way—or is there a consideration of and conversation around the more mystical way that a person can embody another person? What has directing taught you about performing? How has your approach to directing actors changed from your White Trash Girl days to now?
The performers in WTG were all amateurs (including myself). No one could act, which is why all the "dialogue" is in the form of a voice over. Plus all the physical action is hyperbole—it's like a live action comic book. Overdoing it was the only way to do it. My direction to the performers in WTG was like, "haul ass and then pretend to vomit." In the past several years, I have worked primarily with trained professional actors, which is lovely. These are people who know how to transform themselves into another person—it's a magic trick really. I am in awe when it works.
I am particular about my dialogue, as I mentioned, so I am known to ask for many takes of a scene (or even a specific line) until I hear it the way I want to hear it. I actually think that I hold my breath during some on-camera exchanges. I get very anxious behind the monitor but I have gotten much better at bringing performances out of the actors. They need to know who I think the character is and why I think they are doing what they are doing (after all I wrote it, I should know). Its all about defining the motivation and clearly communicating the emotional temp of a scene. So for instance in the film I just shot (Blood Below the Skin, currently in postproduction), a young woman has the lines, "you want a best friend? I can get you a best friend. I can get you a best friend forever, but you have to be ok with the pain and the blood." She was not saying it right and so I eventually told her to say the lines as though she was talking about a dead body….."you want to hide a dead body? I can help you hide a dead body…." It worked. Gone are the days of simply yelling, "haul ass," but I don't miss those days.
If my math is right, White Trash Girl is nineteen years old—right on the precipice of leaving its teenage years. When was the last time you revisited the character and that work? How do you think of her relating to your current work?
I still screen WTG occasionally. I have not made a WTG tape since 1997 but I am still very much making films about unruly women and the midwest. The trajectory from WTG to the current work is very clear and direct for me. It's the same film over and over again, just now with better acting, better equipment and better fonts.
I'm hoping you'll say more about why so much of your work centers around teenage girls? Are they both the subject and audience for the work?
In my opinion, no other group of humans is more misrepresented in cinema (in all of media really) than the teenage girl. We are a culture obsessed with female youth and we get it wrong every time. I am just trying to set the record straight or at the very least offer up an alternative—a disruption. I write scripts from observation and my own experiences. There is a kind of art therapy component to my filmmaking process—a lullaby that the adult me hands back in time to the teen me. It's a retroactive survival strategy. Indeed my primary audience is the teen girl but these recent films seem to appeal to a much wider audience which is a surprise and fantastic. My dream is to pitch an idea to Nick at Nite for an edgy, racy (complicated) teen girl TV show (both for and about). Or better yet, a series of David Lynch-esque after school specials—weird but accurate and entirely in celebration of the teenage girl.
This will happen.
---
Given the post-holiday lull and the unusually inhospitable weather – see: 'polar vortex' – I've been pessimistic about going art foraging lately. Fortunately, during a recent day of hibernation I loaded up Werner Herzog's "Happy People" about residents of Siberia living in Neolithic conditions, and my post-holiday disenchantment melted away.
"If these people can make snowshoes from fallen fir trees and catch mink with snare traps, I can't complain about how long it takes the interior of my car to heat up." So vortex be damned I drove to Milwaukee to attend the opening of Gavin Brown's exhibition at the Green Gallery.
Normally I wouldn't frontload a review with biographical information offering details of the artist's day job, but in some cases, ignoring such information is an even greater distraction than the alternative. Like when Jay Z went on his performance art jag. If you reviewed "Picasso Baby" without recognizing Him, the all-out genuflection of the art world in those ridiculous videos would seem especially absurd. Or when Dylan had his show at Gagosian, they had to begin the publicity release with an acknowledgement of his cultural significance outside the painting world if only to pacify the elephant in the room.
This is the case, if to a slightly lesser degree, with impresario, gallerist, taste-maker, and now artist, Gavin Brown, whose show, (which seems eponymously titled, though might not actually have a proper name??) runs through March 2. For someone crossing over, Brown appears to have a genuine sensitivity to the psychological possibilities of video. Though his installation is demonstrative and dramatic, it is deftly paced and masterfully controlled. "Gavin Brown," or whatever the show is called, is a subtle journey that leaves a far less subtle psychic residue.
But to get this resounding impact, one needs to bathe in his work without distraction. This happened to be an impossibility at the opening of the show, when the gallery teemed with revelers, forced inside by extreme cold. The installation features two independent projections: one on the shortest wall of the triangular interior, and another that 360's the gallery like a lighthouse beacon at about eye-level. This, along with its shrill soundtrack of screaming and pulsating alarms, made it impossible to totally escape the presence of the work at the opening, though visitors using the show as a social engagement tried anyway.
The Green Gallery's John Riepenhoff speculated that the clumsy Beckett-esque interaction with the audience might have been intentional, symbolic of the artist's own relationship between viewers and makers. To what degree this is purposeful, it happens to be an incredibly generous metaphor.
A review by Michael Horne in Milwaukee's, Third Coast Daily corroborates the tenor of the evening.
"At one point the projection was accompanied by many, many minutes of fire alarms or smoke detector signals, a bit hard on the ears in the whitebox gallery. People of a certain height (4'-7'') might also find the harsh glare of the rotating projector's lens a bit hard on the eyes as well…But this mattered not to the mostly young and enthusiastic audience. Plus, for escape, the back room of the gallery offered a sparse gathering space for networking, conversation and carbonated beverages."
More impressive than any statement about the awkward relationship between opening receptions and ideal art viewing, is the full, unadulterated experience of Brown's work, an opportunity I had several days later when I returned to the empty gallery.
One is prone, even if a veteran of non-narrative video art, to search for continuity. Even moreso in Brown's piece, as each of the videos is comprised of panning shots of a single domestic interior. A somewhat distressed woman's voice initiates the disquieting experience to come. One naturally assumes the perspective of this invisible presence and inhabits her throughout.
If the opening was a real model Panopticon, the projector chasing imprisoned spectators around an actual enclosure, the piece without an audience is a virtual prison, the viewer trapped and becoming ever more paranoid with each revolution of the swiveling projector.
One might call it suspense, but there's nothing building or changing. Besides a book whose cover reads "Keep Calm and Good Luck," and some devotional statues that might be on lookout, there's no sign of anything but comfort and safety. But the point of view and the scanning motion, that is, the form of the piece, does what one might normally expect from content. What one expects is some kind of a problem. Some kind of disruption. We grow fearful of what's outside. When an occasional car rolls up the streets outside the house, it feels sinister and phobic.
What is the relationship between the two shots? They're of the same prosaic interior, so one can't help but toggle nervously between the two searching for a sign of incongruity, which, in this context, would be problematic. This creation of this context is Brown's achievement. Why not expect a welcome guest? Why not a surprise birthday party or children coming from playing outside?
Because we assume the camera's point-of-view, which is scanning, not looking. And it feels defensive, so we feel paranoid.
Ten minutes in, the persistent continuity is finally broken on the main wall by a series of close-ups: a locked window; a staircase; an airvent; a leaking hot water faucet. Each is accompanied by its own irritating alarm sound. With the broken silence, anxiety redlines to the point that one locks up and comes to, finally resetting and reorienting with the real interior. The one that's been built out to hide any trace of natural light or hint of the outside world. The one that feels like a bunker that is closing in. And one wants out. At least I wanted out.
Out where it was 4 degrees and nearly as oppressive.
I don't know how many strata of meta Gavin Brown intentionally planned on laying down, but they worked to great effect, getting me just a few steps short of cabin fever.
Not a bad first effort for someone best known for showing other peoples' art.
---
Is this ok? Is this a responsible use of this privilege? How much does Bad at Sports pay its writers? Its readers? I'm like you, reader. I'm in the weeds. I'm in the thick of it. Everyone is paying everyone else too much. Our government runs smoothly but we don't have any use for it. There are no trains and no one runs for anything, not even office.
It's been a month, but I'm saying it's been a week. This is what I've been thinking about recently: bpNICHOL wrote for Fraggle Rock.
This is a record of this moment but also a place to put open tabs. We should all share all the open tabs. The radio today told me social media was 2000 years old because we used to tell each other things too. I turned off the radio and listened to myself singing and chopping.
I'm excited about this project: MAI through FVNMA at SAIC as run by EF. 
Jim Davis (Princeton [but for this work: Chicago] filmmaker)
Jim Davis (Muncie visual artist, writer) (also excellent to see a sentence where both "artists" and "entertainment" are in quotation marks)
Jim Davis ("Dallas" actor)
Fugue State(s)
Also, this band, The Fugue, that I saw at Bard in 2002 or 3 (first year of college). They were friends of a friend and they played a good show. Then, this year, I found this funny clip on youtube (though my interest in television courtroom interruptions).

This led me to re-visit this.

And this.


(which is really part of that this)
I can pretend I'm not thinking about this pretty often. Especially when linked with this.

The re-release of Codex Seraphinianus by Luigi Serafini (which learned about from Bad at Sportsers PvZ and RH).

idyrself by Krystal South.
Editions and Additions by Jacob Edmund
Morgan Fisher on Ivor Cutler. Morgan Fisher of Mott the Hoople, not Morgan Fisher of Projection Instructions and ( ) and other marvelous films.
(Draft for) Infinite Black Flag 
This other medium inane idea I just made up.

A gif for every one of 1001 Nights.
A list of the dumbest lists on BuzzFeed.
Under 1 who is under 1 (part of a profile on an athlete/artist who is 8 months old).
Sibling Cinema (thanks to the Frameworks list-serv for responding so well to my query) :
George and Mike Kuchar,
Jonas and Adolfas Mekas,
James and John Whitney,
Mark and John Jr. and Michael Whitney,
Paul and Greg Sharits,
Peter and Kathy Rose,
The Lumière Brothers,
Jane and Louise Wilson,
The Brothers Quay,
Jem Cohen and Adam Grossman,
Dziga Vertov and Boris and Mikahil Kaufman,
Tom and Ed Bowes,
TwinArt Sisters,
Soda_Jerk,
Bruce and Norman Yonemoto,
Reggie and Warrington Hudlin,
The McDonagh Sisters,
Nadjoua and Linda Bansil,
The Cifuentes Sisters,
Albert and David Maysles,
These three, posted elsewhere, but that do something together:

Guy Sherwin — Man with Mirror (1976/2011)

Peter Campus — Three Transitions (1973)

The Marx Brothers — Duck Soup (1933, excerpt)
---
I was missing the earth so much that I watched a 98 minute movie of the light changing from day to night high up in the Sierra Nevadas. The trees are beautiful in the way trees are, but not too showy. There is no discernible movement in the frame beyond the changing position of the sun and the automatic shutter of the camera slowly trying to adapt. I was missing the earth and I was thinking of duration and those were things I would have been thinking and feeling even if I hadn't been at the final day of the Onion City Experimental Film and Video Festival. But I was and those were things to think and feel about.
James Benning's Nightfall is a curious piece. His works are often challenging structurally, but saying the logic of this one is simple is like saying the simple logic of this is one. We watch the trees and they are still. We watch the light and it changes slowly. It would change more slowly, but the camera is doing what it can to keep up. Fauna haunts the aural space and I thought I even heard what sounded like human sounds. Mostly I floated in and out of the cinematic space (the seats, the people around me, my thirst, someone else quenching theirs, the size of the rectangle, the quality of this light) the represented space (the trees are so beautiful, there are fourteen main trees, there are an additional dozen supporting trees, the light coming through the branches looks like someone I know, the light through these branches looks like a stranger) and the space between (could I sit on the stump I'm imagining for this long?, when was the last time I spent this long seated with my head facing one direction?, when was the last time I spent this long seated with my head facing one direction outside?, how much better must this be to be there instead of here?, how has the concept of nature become so abstracted from [my own, at least] daily life?, what is that phrase about seeing forests and trees?, is this based on that?).
I do well with so-called durational works. Maybe it's because I meditated as a child or have a very (let's not say hyper-) active interior life (though my suspicions are that everyone does) or because my durational muscle has been honed through years of grueling training. Whatever the reason, I found Phil Solomon's Empire to be satisfying, beguiling and eminently watchable. Immediately after the screening, I asked Patrick Friel, the festival's director, if there would be another chance to watch it. Empire is a 48 minute remake of Andy Warhol's film of the same name. Instead of, or maybe in the stead of, an indexical film in which the titular State Building takes center stage, Solomon's video takes place in Grand Theft Auto's Liberty City. Time passes quickly—two minutes in the game representing an hour in the world—even if slowness is the dominant feeling.
I was going to and still might write through Empire, telling you everything that happens. I might make a newspaper of it and then scan that and put it on a thousand flash drives and throw them from the top of a scale replica of the Empire State Building (from Liberty City). I don't have it in front of me, so my memory will have to suffice. This is another type of reenactment, of bootlegging, covering or translating. The first thing I remember is the glistening, glittery reflection of the sun in the water that I chased long after it had gone. There is slow but continuous garbage flying toward us: perhaps someone printed out my newspaper. Airplanes appear regularly about an eighth of the way across the screen. They fly a straight line and disappear once they pass by (or seemingly hit) the unharmed protagonist. At a certain point light orbs pass from one side of the screen to the other, while the building abides. The sky changes, drastically. The different buildings turn on and off at different times. The sun. The wind is mostly steady and a truly delicate lull. The moon. I saw no cars. The splotches of fog that signaled incoming weather were terrifying. The rain almost shook me to my core with anticipation. I don't ever play video games but I feel like I should, like I'm missing some of the critical ways that culture is moving. Sometimes I read about video games so I won't be an alien in the senior home.
I had seen Empire before, on a monitor. I probably watched for a few minutes. I chuckled because I know about Andy Warhol and know about Phil Solomon and know about video games and know about the new media one-liner and know about duration and know about simulation and am a sensitive viewer with a rich interior life. But I probably watched it for a couple of minutes at most. I am an advocate for the space of the cinema. I think it's ok for a work of art to be bossy and tell me to sit still and watch the whole thing until the lights come up. No talking, no texting. I also love talking and texting, but I know sometimes that makes listening and watching and being present and letting the mind wander a lot harder. I'm not telling you these things because I don't think you know them, I'm just telling you them because this is my turn to be bossy. Even if we're both talking and texting during the production and reception of this text.
---