Given the post-holiday lull and the unusually inhospitable weather – see: 'polar vortex' – I've been pessimistic about going art foraging lately. Fortunately, during a recent day of hibernation I loaded up Werner Herzog's "Happy People" about residents of Siberia living in Neolithic conditions, and my post-holiday disenchantment melted away.
"If these people can make snowshoes from fallen fir trees and catch mink with snare traps, I can't complain about how long it takes the interior of my car to heat up." So vortex be damned I drove to Milwaukee to attend the opening of Gavin Brown's exhibition at the Green Gallery.
Normally I wouldn't frontload a review with biographical information offering details of the artist's day job, but in some cases, ignoring such information is an even greater distraction than the alternative. Like when Jay Z went on his performance art jag. If you reviewed "Picasso Baby" without recognizing Him, the all-out genuflection of the art world in those ridiculous videos would seem especially absurd. Or when Dylan had his show at Gagosian, they had to begin the publicity release with an acknowledgement of his cultural significance outside the painting world if only to pacify the elephant in the room.
This is the case, if to a slightly lesser degree, with impresario, gallerist, taste-maker, and now artist, Gavin Brown, whose show, (which seems eponymously titled, though might not actually have a proper name??) runs through March 2. For someone crossing over, Brown appears to have a genuine sensitivity to the psychological possibilities of video. Though his installation is demonstrative and dramatic, it is deftly paced and masterfully controlled. "Gavin Brown," or whatever the show is called, is a subtle journey that leaves a far less subtle psychic residue.
But to get this resounding impact, one needs to bathe in his work without distraction. This happened to be an impossibility at the opening of the show, when the gallery teemed with revelers, forced inside by extreme cold. The installation features two independent projections: one on the shortest wall of the triangular interior, and another that 360's the gallery like a lighthouse beacon at about eye-level. This, along with its shrill soundtrack of screaming and pulsating alarms, made it impossible to totally escape the presence of the work at the opening, though visitors using the show as a social engagement tried anyway.
The Green Gallery's John Riepenhoff speculated that the clumsy Beckett-esque interaction with the audience might have been intentional, symbolic of the artist's own relationship between viewers and makers. To what degree this is purposeful, it happens to be an incredibly generous metaphor.
A review by Michael Horne in Milwaukee's, Third Coast Daily corroborates the tenor of the evening.
"At one point the projection was accompanied by many, many minutes of fire alarms or smoke detector signals, a bit hard on the ears in the whitebox gallery. People of a certain height (4'-7'') might also find the harsh glare of the rotating projector's lens a bit hard on the eyes as well…But this mattered not to the mostly young and enthusiastic audience. Plus, for escape, the back room of the gallery offered a sparse gathering space for networking, conversation and carbonated beverages."
More impressive than any statement about the awkward relationship between opening receptions and ideal art viewing, is the full, unadulterated experience of Brown's work, an opportunity I had several days later when I returned to the empty gallery.
One is prone, even if a veteran of non-narrative video art, to search for continuity. Even moreso in Brown's piece, as each of the videos is comprised of panning shots of a single domestic interior. A somewhat distressed woman's voice initiates the disquieting experience to come. One naturally assumes the perspective of this invisible presence and inhabits her throughout.
If the opening was a real model Panopticon, the projector chasing imprisoned spectators around an actual enclosure, the piece without an audience is a virtual prison, the viewer trapped and becoming ever more paranoid with each revolution of the swiveling projector.
One might call it suspense, but there's nothing building or changing. Besides a book whose cover reads "Keep Calm and Good Luck," and some devotional statues that might be on lookout, there's no sign of anything but comfort and safety. But the point of view and the scanning motion, that is, the form of the piece, does what one might normally expect from content. What one expects is some kind of a problem. Some kind of disruption. We grow fearful of what's outside. When an occasional car rolls up the streets outside the house, it feels sinister and phobic.
What is the relationship between the two shots? They're of the same prosaic interior, so one can't help but toggle nervously between the two searching for a sign of incongruity, which, in this context, would be problematic. This creation of this context is Brown's achievement. Why not expect a welcome guest? Why not a surprise birthday party or children coming from playing outside?
Because we assume the camera's point-of-view, which is scanning, not looking. And it feels defensive, so we feel paranoid.
Ten minutes in, the persistent continuity is finally broken on the main wall by a series of close-ups: a locked window; a staircase; an airvent; a leaking hot water faucet. Each is accompanied by its own irritating alarm sound. With the broken silence, anxiety redlines to the point that one locks up and comes to, finally resetting and reorienting with the real interior. The one that's been built out to hide any trace of natural light or hint of the outside world. The one that feels like a bunker that is closing in. And one wants out. At least I wanted out.
Out where it was 4 degrees and nearly as oppressive.
I don't know how many strata of meta Gavin Brown intentionally planned on laying down, but they worked to great effect, getting me just a few steps short of cabin fever.
Not a bad first effort for someone best known for showing other peoples' art.
---
Is this ok? Is this a responsible use of this privilege? How much does Bad at Sports pay its writers? Its readers? I'm like you, reader. I'm in the weeds. I'm in the thick of it. Everyone is paying everyone else too much. Our government runs smoothly but we don't have any use for it. There are no trains and no one runs for anything, not even office.
It's been a month, but I'm saying it's been a week. This is what I've been thinking about recently: bpNICHOL wrote for Fraggle Rock.
This is a record of this moment but also a place to put open tabs. We should all share all the open tabs. The radio today told me social media was 2000 years old because we used to tell each other things too. I turned off the radio and listened to myself singing and chopping.
I'm excited about this project: MAI through FVNMA at SAIC as run by EF. 
Jim Davis (Princeton [but for this work: Chicago] filmmaker)
Jim Davis (Muncie visual artist, writer) (also excellent to see a sentence where both "artists" and "entertainment" are in quotation marks)
Jim Davis ("Dallas" actor)
Fugue State(s)
Also, this band, The Fugue, that I saw at Bard in 2002 or 3 (first year of college). They were friends of a friend and they played a good show. Then, this year, I found this funny clip on youtube (though my interest in television courtroom interruptions).

This led me to re-visit this.

And this.


(which is really part of that this)
I can pretend I'm not thinking about this pretty often. Especially when linked with this.

The re-release of Codex Seraphinianus by Luigi Serafini (which learned about from Bad at Sportsers PvZ and RH).

idyrself by Krystal South.
Editions and Additions by Jacob Edmund
Morgan Fisher on Ivor Cutler. Morgan Fisher of Mott the Hoople, not Morgan Fisher of Projection Instructions and ( ) and other marvelous films.
(Draft for) Infinite Black Flag 
This other medium inane idea I just made up.

A gif for every one of 1001 Nights.
A list of the dumbest lists on BuzzFeed.
Under 1 who is under 1 (part of a profile on an athlete/artist who is 8 months old).
Sibling Cinema (thanks to the Frameworks list-serv for responding so well to my query) :
George and Mike Kuchar,
Jonas and Adolfas Mekas,
James and John Whitney,
Mark and John Jr. and Michael Whitney,
Paul and Greg Sharits,
Peter and Kathy Rose,
The Lumière Brothers,
Jane and Louise Wilson,
The Brothers Quay,
Jem Cohen and Adam Grossman,
Dziga Vertov and Boris and Mikahil Kaufman,
Tom and Ed Bowes,
TwinArt Sisters,
Soda_Jerk,
Bruce and Norman Yonemoto,
Reggie and Warrington Hudlin,
The McDonagh Sisters,
Nadjoua and Linda Bansil,
The Cifuentes Sisters,
Albert and David Maysles,
These three, posted elsewhere, but that do something together:

Guy Sherwin — Man with Mirror (1976/2011)

Peter Campus — Three Transitions (1973)

The Marx Brothers — Duck Soup (1933, excerpt)
---
I was missing the earth so much that I watched a 98 minute movie of the light changing from day to night high up in the Sierra Nevadas. The trees are beautiful in the way trees are, but not too showy. There is no discernible movement in the frame beyond the changing position of the sun and the automatic shutter of the camera slowly trying to adapt. I was missing the earth and I was thinking of duration and those were things I would have been thinking and feeling even if I hadn't been at the final day of the Onion City Experimental Film and Video Festival. But I was and those were things to think and feel about.
James Benning's Nightfall is a curious piece. His works are often challenging structurally, but saying the logic of this one is simple is like saying the simple logic of this is one. We watch the trees and they are still. We watch the light and it changes slowly. It would change more slowly, but the camera is doing what it can to keep up. Fauna haunts the aural space and I thought I even heard what sounded like human sounds. Mostly I floated in and out of the cinematic space (the seats, the people around me, my thirst, someone else quenching theirs, the size of the rectangle, the quality of this light) the represented space (the trees are so beautiful, there are fourteen main trees, there are an additional dozen supporting trees, the light coming through the branches looks like someone I know, the light through these branches looks like a stranger) and the space between (could I sit on the stump I'm imagining for this long?, when was the last time I spent this long seated with my head facing one direction?, when was the last time I spent this long seated with my head facing one direction outside?, how much better must this be to be there instead of here?, how has the concept of nature become so abstracted from [my own, at least] daily life?, what is that phrase about seeing forests and trees?, is this based on that?).
I do well with so-called durational works. Maybe it's because I meditated as a child or have a very (let's not say hyper-) active interior life (though my suspicions are that everyone does) or because my durational muscle has been honed through years of grueling training. Whatever the reason, I found Phil Solomon's Empire to be satisfying, beguiling and eminently watchable. Immediately after the screening, I asked Patrick Friel, the festival's director, if there would be another chance to watch it. Empire is a 48 minute remake of Andy Warhol's film of the same name. Instead of, or maybe in the stead of, an indexical film in which the titular State Building takes center stage, Solomon's video takes place in Grand Theft Auto's Liberty City. Time passes quickly—two minutes in the game representing an hour in the world—even if slowness is the dominant feeling.
I was going to and still might write through Empire, telling you everything that happens. I might make a newspaper of it and then scan that and put it on a thousand flash drives and throw them from the top of a scale replica of the Empire State Building (from Liberty City). I don't have it in front of me, so my memory will have to suffice. This is another type of reenactment, of bootlegging, covering or translating. The first thing I remember is the glistening, glittery reflection of the sun in the water that I chased long after it had gone. There is slow but continuous garbage flying toward us: perhaps someone printed out my newspaper. Airplanes appear regularly about an eighth of the way across the screen. They fly a straight line and disappear once they pass by (or seemingly hit) the unharmed protagonist. At a certain point light orbs pass from one side of the screen to the other, while the building abides. The sky changes, drastically. The different buildings turn on and off at different times. The sun. The wind is mostly steady and a truly delicate lull. The moon. I saw no cars. The splotches of fog that signaled incoming weather were terrifying. The rain almost shook me to my core with anticipation. I don't ever play video games but I feel like I should, like I'm missing some of the critical ways that culture is moving. Sometimes I read about video games so I won't be an alien in the senior home.
I had seen Empire before, on a monitor. I probably watched for a few minutes. I chuckled because I know about Andy Warhol and know about Phil Solomon and know about video games and know about the new media one-liner and know about duration and know about simulation and am a sensitive viewer with a rich interior life. But I probably watched it for a couple of minutes at most. I am an advocate for the space of the cinema. I think it's ok for a work of art to be bossy and tell me to sit still and watch the whole thing until the lights come up. No talking, no texting. I also love talking and texting, but I know sometimes that makes listening and watching and being present and letting the mind wander a lot harder. I'm not telling you these things because I don't think you know them, I'm just telling you them because this is my turn to be bossy. Even if we're both talking and texting during the production and reception of this text.
---
Audio clip: Adobe Flash Player (version 9 or above) is required to play this audio clip. Download the latest version here. You also need to have JavaScript enabled in your browser.

download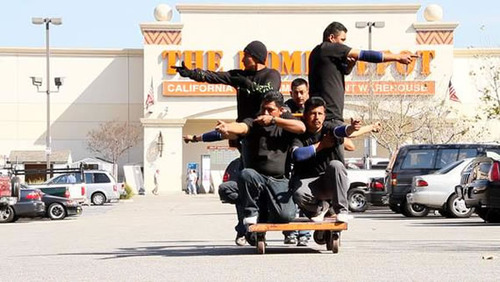 This week: Brian and Patricia meet with artist Tony Labat who tries to teach PM how to roll her R's.
Tony Labat was born in Cuba and came to the United States at the age of 15 in 1966. He has exhibited internationally over the last 30 years. Labat has received numerous awards and grants and his work is in many private and public collections. Labat has developed a body of work in Performance, Video, Sculpture and Installation. His work has dealt with and continues his investigations with the body, popular culture, identity, urban relations, politics, and the media.
This week has musical nods to the untimely passings of Kriss Kross's Chris Kelly and Slayer's Jeff Hanneman.
---
Audio clip: Adobe Flash Player (version 9 or above) is required to play this audio clip. Download the latest version here. You also need to have JavaScript enabled in your browser.
This week: The coolest person we know! The lovely, the talented, the amazing Jennifer Reeder!
This weeks show was edited in the bathroom of a Hampton Inn between bouts of my 2 year old vomitting. The fun and off-the-rails conversation managed to keep my spirits light, and as you navigate the holiday fracas I'm sure it will aid you too.
HAPPY BIRTHDAY DUNCAN!!
Over the last decade and since her inclusion in the 2000 Whitney Biennial (with her iconic Nevermind, where the artist herself lip-syncs to "Smells like Teen Spirit" by the 90s grunge-rock band Nirvana), Jennifer Reeder has steadily built a body of work that explores gender, identity and relationships in an often strange, complicated world. Her works have also gotten progressively longer and more narrative and have been screened in countless film festivals around the world.
Jennifer lives and works in Chicago, Illinois. She received her M.F.A. from the Art Institute of Chicago in 1996. She is currently the chair of the graduate studies department for the School of Art and Design at the University of Illinois Chicago, where she is also an associate professor of moving image. She was nominated for the 2000, 2001, 2002 and 2008 Rockefeller Grants for Film/Video/New Media as well as a 2001 Louis Comfort Tiffany Award for visual art and a 2004 Richard H. Dreihaus Foundation Award.
She is currently an Efroymson Family Fund Fellow. Other events include a solo screening at the Moderna Museet in Stockholm Sweden and group screenings and exhibitions at: The New York Video Festival, at The Lincoln Center; Double Heart/Hear the Art, at the Kunsthalle Exnergasse, Vienna, Austria; The 2000 Biennial at the Whitney Museum of American Art; In the Middle of Nowhere at the Yerba Buena Center for the Arts in San Francisco; Generation Z at P.S.1, New York; The 48th International Venice Biennial, Venice, Italy. This is her first exhibition with the gallery. The new film we present here was partially funded by the Media Art Residency Program at the Wexner Center for the Arts and a fellowship from the Emfroyson Family Fund.
---