Audio clip: Adobe Flash Player (version 9 or above) is required to play this audio clip. Download the latest version here. You also need to have JavaScript enabled in your browser.

download


This week, the New York Art Fair explosion.
John Waters v. Amanda Browder, Amanda and Tom get kicked out of Armory, Christopher Hudgens on mic. WHAT MORE DO YOU NEED!!!
Amanda and Tom talk to just about everyone, well not really, but they do talk to loads of interesting collectors, gallerists, artists, Europeans, and other assorted folk as they barnstorm the fairs.
And the return of Amanda's Mom wisecracks, no not really, but this show has an intro guaranteed to piss of Brian and Marc.
Direct download: Bad_at_Sports_Episode_137-NYC_Art_fair_madness.mp3
---
The Hipster Olympics have just been held and reports are sketchy but the winner was someone with second hand rumpled clothing, a neck handkerchief, substance abuse subsidized by their parents, a beard that hangs permanently between full and scruff and a caffeine based twitch that just makes their cell texting that much more annoying faster.
So in other words it's anyone's game, male or female (just to be clear thats sarcasm not irony).
---
Learn chess in a way you never thought you could….
---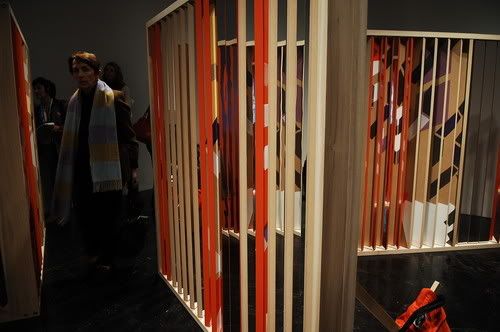 The New York Times recently posted selections of this years Whitney Biennial as interactive 360 panoramic installation shots. It's pretty similar to Google's street view but without the zoom feature. Check it out here.
---

With less then 10 months left to his term in office President Bush made an unexpected performance at his last attendance of the annual Gridiron Club Dinner.
Donning a Stetson hat he proceeded to sing a cowboy's lament in the tune of "Green Green Grass of Home" to the amazement of the audience which included more than 600, including Supreme Court justices, Cabinet members and lawmakers. Sadly since this is a closed door function and no one would dare record it with their cell phone ( who knows time might show that to be wrong? ) the most we have to go on is the segmented reported lyrics of the performance.
"And there to meet me is my mama and my papa, down the lane I look and here comes Barney, heart of gold and breath like honey; it's good to touch the brown brown grass of home."
"For there's Condi and Dick, my old compadre, talking to me about some oil rich Saudi, but soon I'll touch the brown brown grass of home."
"That old White house is behind me, I am once again carefree, don't have to worry 'bout a crisis in Pyongyang. Down the lane I look, Dick Cheney is strolling with documents he'd been withholding, it's good to touch the brown brown grass of home."
Bush told the audience, which erupted in applause and gave him a standing ovation, that they had witnessed "the first and final performance of George Bush and the Busharoos."
Forget tickets to the Super Bowl, imagine being there for this or even the White House Correspondents' Dinner from two years ago?
---