Something we don't do enough of here at Bad at Sports is trumpet the successes of our various contributors.  It sort of happens piece meal, sometimes, but considering that the project is and always will be an artist run type thing – our collaborators are more then just the deep thinkers, aesthetes, and vulgarians you know them to be! Such is the case with our Tom Sanford and his new show at Kravets|Wehby in NYC.
"Café des Artistes" consists of 13 paintings. 10 paintings are images of notable New Yorkers and help define the cultural milieu of the city.
The show includes new portraits of Marcus Samuelsson, Diane Von Furstenberg, Walt Fraizer, Bill T Jones, Tina Fey, Woody Allen, Nicole Eisenman, Michael Bloomberg, The RZA,  & Jonathan Lethem, and they are featured along side three "New York Genre Paintings."
http://www.kravetswehbygallery.com
http://www.tomsanford.com/2013/08/cafe-des-artistes-at-kravetswehby-gallery/
(left) "The Writer (Jonathan Lethem)" 2013, oil on board, 36" x 24". (right) "The Clarinettist (Woody Allen)" 2013, oil on board, 36" x 24"
(left) "The Mayor (Michael Bloomberg)" 2013, oil on board, 36" x 24". (right) "The Painter (Nicole Eisenman)" 2013, oil on board, 36" x 24"
Maybe you should go see them?
---
I know that we have more than a few listeners/readers based in Europe, and if you happen to be hanging out in Copenhagen this weekend, make sure to check out Bad at Sports' Tom Sanford's latest paintings at the opening for his new solo show at Gallery Poulson. (Sidebar to Mr. Sanford: when the eff are you gonna show in Chicago, so I can check your work out up close and personal-like??). Based on the images Tom sent me, this show looks hot. Below you'll find a few words from the artist that describe the show, an accompanying press blurbie, and some images to give you a taste of what to expect. The reception is Friday night from 5-8 pm, and the show runs through October 1st, 2011.
"2011 is fast, painting is slow. I am interested in history, but I work in a post-historical period. I make paintings about the time I live in. By the time I finish the paintings, their subjects are history. I am an American, living at the end of the American Century. Things are happening all the time. I learn about these things on the radio, on television, on the internet, on Twitter. The media is my muse, I paint by the light of my computer. I make paintings about the things that interest me. I wish I had time to paint more things, but art is slow and the world is fast." – Tom Sanford, 2011

For his first solo exhibition at Gallery Poulsen, Tom Sanford's work continues to reflect the artist's ambivalent fascination with a culture that is driven by the 24-hour news cycle, hungry for scandal and obsessed with celebrity. Sanford's paintings use a variety of genres to present the villains and victims, the tragedies and triumphs of the moment. The story of the hijacked Mersk Alabama and the rescue of Captain Richard Phillips by the USS Bainbridge are presented as a history painting akin to Géricault's Raft of the Medusa. The recently deceased British rock bad girl, Amy Winehouse, is painted as an icon to be venerated by her fans. The seamy exploits of anti-heros Charlie Sheen and Silvio Berlusconi are painted in a garish, yet beautiful tableaux; these paintings are part renaissance painting, part low brow political cartoon. Sanford's work is hybridized and bastardized like the culture it emerges from.

In the four Custom Mao paintings, Sanford shifts genres to the conceptual. Sanford takes advantage of globalization in his production by outsourcing a large part of the labor to China, and then adding the intellectual property himself in America. The artist has commissioned Chinese painters to paint copies of the famous state portrait of Mao Zedong, on which Warhol based his 1973 silk screen paintings of Mao. The paintings are then shipped to Sanford's New York studio, where he "customizes" them by altering the paintings to become cultural archetypes from his western cultural milieu. Through this conceptually driven means of art production, as well as the juxtaposition of eastern and western cultural iconography, the artist comments on the shifting dynamics of global cultural and economic power at the end of the American century.

Tom Sanford works in New York City and has exhibited all over the world, including solo exhibitions at Leo Koenig, Inc. in New York and Galleri Faurschou in Copenhagen. His work has been exhibited at the Cincinnati Center for Contemporary Art, the Chelsea Museum in New York City and the Palazzo delle Arti in Naples, Italy. He is currently preparing for an exhibition in November at Gallery Zidoun in Luxembourg.
---
Some exciting news for fans of Tom Sanford and Amanda Browder of The Amanda Browder Show…both have new exhibitions opening in New York this weekend. Oh shit, I just realized Amanda's show opens tonight — she will be unveiling a new, large-scale painted fabric piece! And New York is an hour later than Chicago! So those of you in NYC,  gotta get your asses down there NOW! Full deets for both shows below…
curated by David Gibson
Thursday, April 7th 2011 – Art Jail Space NYC –
7-10 PM
50 Eldridge Street, 6th floor
Featuring: Margie Black, Sarah Bliss, Marcy Brafman, Amanda Browder, Elisabeth Condon, Vince Contarino, Beata Drozd, Gabert Farrar, Sophia Flood, Alicia Gibson, Chambliss Giobbi, Rachael Gorchov, Susan Hamburger, Deb Karpman, Yuliya Lanina, Liz-N-Val, Paul Loughney, Cybele Lyle, Norma Markley, Christina Massey, Joel Morrison, Mary Murphy, Guy Nelson, Jeremy Olson, Steve Page, Leemour Pelli, Lilliana Pereira, Mary Pinto, Mark Po…wer, Grace Roselli, Hagar Sadan, Pierre St. Jacques, Meghann Snow, Claudia Sperry, Ginna Triplett
This exhibition explores the use of collage as an artistic medium, dissecting its impulses and agendas while providing a wide cross-spectrum of its usage in contemporary art. It addresses the role of material culture in mediating our shared view of reality, the notion of a borrowed aesthetic, and how specific visual agendas express differing cultural attitudes. It includes a variety of mediums and aesthetic agendas, presenting not only traditional collage, but works which establish a collage mentality in the liminal forms of photography, video, digital manipulation, painting, sculpture, printmaking, children's books, commercial signage, portraiture, and others. In the end, it will posit collage as a cause, rather than a symptom, of both artistic style and generational meaning.
SICK!
April 8- May 31st
Misc.
Suite 702, The Fuller Building
41 East 57th Street, New York, New York 10022
Ion Birch, Steve Budington, Steven Charles, Steve DiBenedetto, Dawn Frasch, Aaron Johnson, Eddie Martinez, Tom Sanford, Peter Saul, Michelle Segre, Joceyln Shiipley, Kelli Williams, Jeremy Willis
Misc. is pleased to announce the opening of a new group exhibition, Sick!. This selection of works by 13 artists examines how artists give particular shape to abject feelings and fantasies. Surrealism, and later, nineteen-seventies postmodernism encouraged an active engagement between art practice and the unstable. The works in Sick! continue this dialogue by exteriorizing psychological tension as a crucial component in each artwork.
The exhibition aligns a fluid iconography, but it is the abject, or the sick, as cultural criticism, thoughtful structure and subtext that relates the work to each other.  Through a variety of methods, Sick! artists articulate personal interpretations about anxiety, clutter, suffocation, and other unpleasant feelings that suggest a fractured, but whole experience. Steadfast repudiation of the decorative and/or decorum ranges from malevolent to punch-drunk to pathos. This sensibility serves as a control-factor in a showcase of work that does not behave.
The artists are as at ease in blending categories of art history as they are with handling their visionary trajectories. In keeping with an overwhelming suspicion that human beings are as much propelled toward primordial, amorphous states as they are of achieving Organizational Man, these works have mastered their conditions by surrendering to that ancient urge rather than trying to escape it.–Elizabeth Sapperstein
---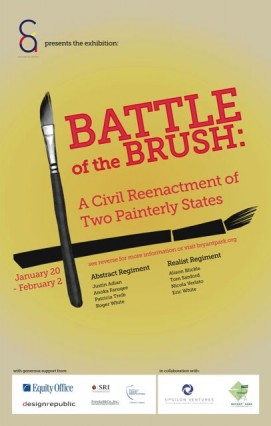 This event looks like a lot of fun. Those of you in the NYC-area should definitely check it out! Bad at Sports' own Tom Sanford has a painting entered in the fray, which is reason enough to brave the chill. THE BATTLE OF THE BRUSH is  a group show of paintings organized and curated by Alex Glauber.  Tom tells us there will be a reception, and though will  be cold in the park, there will be hot coco and heat lamps provided.
BRYANT PARK – JANUARY 20th thru FEBRUARY 2nd (24 hours a day)
OPENING RECEPTION (with heat lamps and lots of hot chocolate) THURSDAY JANUARY 20th 6-8PM on the Southwest porch on the 6TH Avenue side of the park.
They are hoping to organize artist tours of the work on SAT JAN 22 & SAT JAN 29 – details TBA
Corporate Art Solutions in collaboration with Bryant Park and Upsilon Ventures is pleased to present "Battle of the Brush: A Civil Reenactment of Two Painterly States," a contemporary painting face off between realism and abstraction on view in Bryant Park from January 20th – February 2nd. Utilizing the existing template of Upsilon Ventures' kiosks from The Holiday Shops at Bryant Park, two of the booths will be retrofitted with the help of painting conservators into temporary climate-controlled exhibition vitrines. These vitrines will be used to exhibit paintings for the first time ever in Bryant Park and in the process reveal how public art can be innovated through the creative adaptation of existing resources.
In an attempt to playfully reconsider the historic painterly debate between realism and abstraction, "Battle of the Brush: A Civil Reenactment of Two Painterly States" draws upon Bryant Park's history as an encampment for soldiers during the Civil War. In using this little known historical fact about Bryant Park as a conceptual theme, the exhibition takes a tongue-in-cheek look at how one of the painting community's most persistent antagonists in the 20th century was itself; specifically, the aesthetic and ideological divide between realist and abstract painters. More than just a question of style, this polemic has historically symbolized the tension between tradition and innovation. One such example was the boycott of the Metropolitan Museum's 1950 exhibition titled "American Painting Today – 1950" by eighteen abstract painters who claimed the show's jury was "hostile to advanced art." Their ardent opposition earned them the name 'Irascible Eighteen.' These days, we are much more civil than irascible. Therefore in the same way that Civil War Reenactors come together to imitate a moment in history when they stood apart, so too does this exhibition in order to reveal some of the more interesting directions realism and abstraction are being taken today.
Participating artists include:
REALISM REGIMENT: Alison Blickle, Tom Sanford, Nicola Verlato, and Eric White
ABSTRACT REGIMENT: Justin Adian, Anoka Faruqee, Patricia Treib, and Roger White
---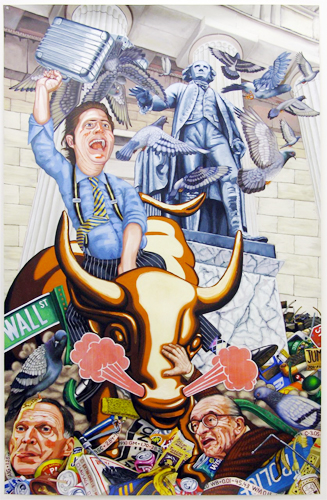 Tom Sanford with friend, collaborator and fellow genius painter, Ryan Schneider have been working on the show "Big Picture" for about a year and are very proud and excited for it.
In simplest terms BIG PICTURE is just that, a show of big pictures. The pictures – all paintings – are big in terms of size, subject matter, energy, ambition and visual generosity. Many are aggressive or even garish in the color, they are often over worked, heavy layer upon layer of paint, combining dissonant styles and subject matter. These paintings are big in that there is a hell of a lot to look at. Some of the pictures are so big in scope that they seem unresolved, open ended, too big for the canvas they are on.
Schneider & Sanford organized this show to make a case for a young generation of New York picture-making painters who have emerged over the past decade. We asked each of 19 painters that we invited for one big picture that would serve as a strong argument for that artist's position. Ostensibly, these paintings vary widely and wildly in style, subject matter, and point of view. However, when we look at the show, we like to view it in terms of the big picture.
These are all painters who make pictures of things, in that they all refer to the culture at large; their paintings are about painting, but they are about other things as well. The pictures deal with the biggest of universal themes, like Love, Sex and Death. The big subject matter is often juxtaposed with more idiosyncratic information about subculture or the extremely personal, political or emotional. These are painters of a generation to whom irony and collage-like juxtapositions are second nature, where high/low cultural distinctions are meaningless, to whom technology allows access to every image that has ever been seen or even imagined. These are painters who take advantage of the vastness of their surroundings, the open-endedness of their culture, and this Big Picture is reflected back in their work.
Featuring paintings by:
Kamrooz Aram, Colleen Asper, Paul Brainard, John Copeland, Holly Coulis, Justin Craun, Van Hanos, Dan Heidkamp, Aaron Johnson, Emily Noelle Lambert, Wes Lang, Liz Markus, Eddie Martinez, Brian Montuori, Lisa Sanditz, Tom Sanford, Ryan Schneider, Michael Williams, and Jeremy Willis
BIG PICTURE
JULY 8 – AUG 7 OPENING PARTY JULY 8 6-9PM
Priska C. Juschka Fine Art
547 W 27th street, 2nd floor.
Opening Reception 7/8/2010 6-9 pm
---