When reporting has become about shock, ratings and theatrics, and less about accurately and responsibly relaying news, reports like Steven Emerson's completely fictitious account of "no-go zones" are able to air as solid facts. Fortunately, since it was on Fox, no one with any intelligence believed it to be true, and it was derided immediately by the public. News dispersal is political, but how we filter it is by choice, accepting one view while ignoring others that conflict.
"The News" is a product which sells us ideologies and cars. It defines who we vote for and if the vote counted or not. It gets us angry, even violent, because it is the best theater America has offered the world to date. It is on the level of Shakespeare, NOT because of its eloquence or quick wit, but through its spin and ability to reach every public as if it is speaking directly to YOU, you red-blooded, hard-working freedom-loving educated and compassionate American. YOU, who are able to see the beauty of this land and defend its love of freedom, no matter how flawed, and understand that buying an assload of shit made in China at Christmas is what fuels our country. That our cars run on a full tank of freedom, and our Flag doesn't run on anything, because them colors don't run. Even if we only watch the news as a comedy show (cause network news is), we still get this shit filtered into our brains, flossing out logical thoughts with a steady stream of ticker tape spouting useless stock numbers and baseball scores, and real human lives lost compressed down to a number, marching along in the same rhythm of what Miley did what now.
The deprofessionalization of the news is such that even if you understand that a particular source is horribly skewed and the hateful vitriol can't be trusted, you still have the idea in your head. Abstraction from false facts create an image of the world that is as limited as our own vision. More than limited, as we can't see how much we are missing; we can only see certain colors or waves.
Real life must correspond with OUR vision, otherwise we contest it, fight it, protest it, bomb it, we shut them down, we come out on top, or our vision is taken under. More and more ideas get posted and reposted, linked and tagged to stay alive, climbing to the top of a neverending avalanche of information. In the end, the most popular will survive, which of course, may be the least truthful and  most biased version. "Facts" become as self aware as a 17 year old using social media, as if they can see themselves in the mirror, thinking what to change, how they are perceived. To know something to be true is to see it played back to us.  Since telecommunications have anchored its dick in the soil of the "greatest, best country God has ever given man on the face of the earth", we have been engaged in seeing ourselves act, do and live through the screen. This delayed portrayal may offer us viewpoints which we couldn't see in the moment, such as our physical selves as an other, instead of a disembodied entity we normally experience things as, and it may even show facts that have been ignored willfully or accidentally. Shit gets lost in the mix. The Bible was a delayed news source a few decades, and was altered for centuries after that. What happens is we become locked in an endless loop with our own image, the image of humans. Segregate it anyway you want it to make it an "us vs. them" situation, it still puts You on top, and why shouldn't it?
This loop, or feedback, as David Joselit calls it, responds as any reflection or copy does — it degrades more and more, every time it is recopied. Information gets subject to other advertisements, commentary; things are gleamed and obliterated to tell a different story.
As we take more and more selfies, our food "takes" selfies and our cats "take" selfies, and this crap thats not meant to have any life to it, just a response to boredom, or not having enough attention paid to you goes out there, with all the Fox and MSNBC shit, CNN and the Onion, weightloss tips and 13 celebrities with the best fake breasts and 7 best life hacks and this suburban mom just learned that you, yes, YOU are a goddamned asshole with too much privilege to be meaningful, but not enough to be powerful, and what he did next will shock you click bait bullshit. It flashes at us as we scroll, trying more and more to grab our attention. There is too much crap smacking us in the face, so that the real news that happens seems less and less like news, just more trash to bury under a steady stream of garbage. We'll post even more insipid crap to the interspace, a web of digital garbage that rivals the physical landfills, creating an alter universe. These images and content become creations of ours, abstractions of reality. It seems as though there is less interest in knowing what is actually happening the world than creating or defining it ourselves, no matter how painfully egoist or mundane it is. Standing in the way of spectacle just won't do.
Thanks to Jessi Patuano for the conversation, to Emily Gustafson for the inspiration, and to Dana Bassett, Caroline Picard, Jamilee Polson Lacy, Claudine Ise, Duncan MacKenzie and Richard Holland for the chance. Thanks also to Sarah Margolis-Pineo for getting the conversation started. Thank You.
---
Three plywood boxes — each about the length of a coffin — sit atop wooden sawhorses, constructed simply and directly, the wood left unfinished or adorned. They look generic; like shipping crates for telescopes, homemade pummel horses — or better — low rent Donald Judd's. A dig against Minimalism and Modernism's consequence on societal aesthetics, where everything becomes bland geometry by accident. One end of each box excretes an electrical cord, snaking down to speakers which play a soundtrack of white noise. On the other end, a lens provides a window to the interior of the boxes. Displayed with the lens side forming a center, they create a performative space, demanding one viewer at a time to crouch down and peer through it. The objects in the installation create a sprawling mess shattering space, as power cords trail out towards the walls, between legs and in plain view, without apology.
Looking through the peepholes one discovers slender tunnels — colons made of tinfoil illuminated by red, blue and yellow lights. The experience is immediately underwhelming. All components are quickly transparent; as the emptiness from viewing the first interior gives way to boredom by the third. An acute awareness of time produced from the bodily act of viewing the work hurries one away. Channel #1, #2, #3 is undeniably bodily throughout, down to the material manipulation by Kelley. Crinkling and wringing the tin foil, tinkering, like a guy in his garage on a Saturday, searching for some truth within the solace of a project.
It is within bowing to peer into a peep show of glowing colons that something unexpectedly humbling can happen. Within three choices of primary color tunnels of light, one is able to be in the private audience of God: what only near death victims and alien abductees experience through trauma is offered up pain free. From the center of the installation begins the infinite within the finite, but like Being John Malkovich. (Rather, BJM takes its cue from Channel # 1, #2, #3.) One can approach these simple containers with expectations of beauty inside them, and find an honesty that deflates not just this experience, but perhaps the entirety of experience. That existence is merely a series of beautifully mundane moments possessing the amount of excitement that a prize from a novelty toy vending machine can generate. Is it blissful disappointment? Some abject loss tied to our subconscious? Maybe something this immediately disappointing can also be so gratifying.
The Armchair Critic is an attempt to consider works of art through their representation in photographs, while replacing what is lost in an imagined, portable experience. 
---
At the end of September, Richard D. James released his first album as Aphex Twin in 13 years. The resulting work, Syro, makes up for the long wait between albums. It is rich and complex, as every past album of his has been. But where Drukqs and previous albums have pummelled the listeners ear, Syro allows for listening at the passive level (something that had become completely absent in his work) and easily allows for intensive listening at the same time. Each track stands alone as a complete work, yet effortlessly bleeds into the next. It is nothing short of a masterpiece.
A masterpiece is proof of one's ability and rank within a creative system. It is a career benchmark, so one should suppose each subsequent masterpiece produced by a person must be of equal or greater value to the one before it. By definition, masterpieces are selective while contingent upon factors both fluctuating and rigid (an artist's personal navigation of a media, rules, techniques, history, etc.). The masterpiece is a defining moment, and defining moments are encapsulations of the past and a clear break with the present. Information moves at such speeds that while defining moments are there they can easily get lost in a sea of lesser moments, all of which are digitally archived before most of them can be absorbed. We are constantly scrolling downward in news feeds, seeing the more recent posting mixing with that of a few days before. Anything else is unearthed through keyword searches. Time is not experienced in the same way as it once was. According to Boris Groys "The archive is the site where past and future become reversible." 1
Consider a cell phone video posted on instagram as a legitimate artwork: it likely favors one specific idea or thought as opposed to consideration of everything available (how the shot is composed, camera angle, what is in the background, etc.) The lack of multiple edits means that it is one moment frozen in time, infinitely repeatable, and as in a gif, the format is the infinite repetition. It is a defined moment, but one that was chosen, specifically plucked out of the waves of information and content and chosen to become something new or reconfigured, sent out again into the sea of information.
More often, the works that may have only lived in the artist's studio in the past are coming out to the gallery — physical or virtual. Sometimes they gnaw at us, as we try to understand why we are so attracted to their roughness or incompleteness. Like any content on the internet, hierarchies in the art can be made, but are open to interpretation, as for everything seen there are at least three things missed. There is always more, and the more we see the more aware we are of how much we miss. Smaller artworks in this way will still define moments, but as the moments get smaller, or more compressed, they begin to reach the actuality of the present. In this way, artworks become possibilities for the future, not just manifestos. As possibilities have a more approachable conversational tone to them, a more casual art going experience that also allows for more works, more choice emerges and is less prohibitive because there is more available. Art becomes more democratic this way, while still remaining part of a market structure, playing at a more inclusive level.
So with more content being produced and disseminated, more masterpieces are being produced as well. Some of them we won't realize thats what they are for a few months or years. We are likely to look back at many of these more intuitive and immediate works and one day see them as masterpieces in their own right. So often, they are more arresting than the planned works that undergo revision after revision.
Earlier this week, Richard D. James released 30 modular synth tracks and unreleased material for free on soundcloud, calling it "a fucking racket". It is more noise than defined compositions, but what results are fragments, and reinterpretations of Syro's tracks, spontaneous recordings and serendipity. They are a small part of the whole of James' work, and more than providing an insight into his process, inform the whole by isolating individual ideas that have carried on throughout his career, as well as providing gems we would have never knew existed otherwise. Sometimes, a masterpiece can only happen through the seemngly cast off, the incremental, the undefined, the immediate or the unfinished.
Groys, Boris, "The Loneliness of the Project", New York Magazine of Contemporary Art and Theory, Issue 1.1, 2002
Many thanks to the artists who generously provided images for this essay, and apologies to those that I could not include. Thanks also to Haynes Riley via Ron Ewert for bringing the Groys article to my attention.
---
The second installment of a curatorial project by Jens Hoffmann and Harrell Fletcher, the People's Biennial 2014 takes a stronger approach to its mission than the first. In 2010, the idea was to highlight five cities in the US that are not art centers and showcase the work of artists working within contemporary art frameworks. This year, selected established artists from all over the US invited a creative person whom they personally know but are outside of the art world to collaborate on an installation within the refurbished Woodward Gallery of the Museum of Contemporary Art Detroit. From a brilliant autistic child, to blind woodworker, activists, collectors and outsider artists, the exhibition highlights the value of individual expression, ability and passion of all humans, why that can be artistic and is beautiful as art. So a child's imagination can be on the same playing field as a celebrated photographer, just as an upholsterer can be exhibited nearby the 2011 Venice Biennale's US artists.
Each collaboration is framed by a simple wood shed painted a solid color, equalizing all that is within. Drawings of the duo or collaborative by Studio Stripe accompanies some biographic info and an interview or introduction to the lesser known's work. The collaborations vary, but in most cases, the established artist tends to take a back seat, marveling at the non artist or marginalized artist's creative process.
Scott Reeder and Xav Lepae create a playful booth that evokes a bit of Gary Panter and Wayne White while showcasing the 24/7 radio station Lepae runs. Lee Walton & Harriet Hoover lovingly tell the story of Mr Coppers, a caring man who runs a small upholstery business. The resulting display augments the rich life that he has. Cary Loren and Jimbo Easter, having collaborated before, create a seamless installation that relishes in underwhelming Halloween effects, primitive paper mache and abject piles of junk as pen and ink drawings cover the walls. Dara Friedman chronicles Ishmael Golden Eagle, an amateur archeologist, who serendipitously discovered a significant spiritual well in LA, and whose dedication to preserving it is heroic.
Mounting an exhibition of non artists collaborating with established artists will likely yield different results, and not all of them may be visually engaging. This proves to be the exhibition's only shortcomings, and as it is somewhat expected due to the nature of the exhibition, is minor. Jennifer Allora & Guillermo Calzadilla and Robert Rabin's work, as well as Hank Willis Thomas and Baz Dreisinger's collaborations suffer from this condition; the latter of each group's direct activism visually nullified by bland documentation. Some stories are not easily translated visually, especially within regimented structures, but it appears to be through the fault of the established artists collaborating that this has happened.

Opening up dialogue not just about what is art, but what is artful, the exhibition gives equal weight to the pursuits of non artists and marginalized artists. What may draw us to the show are the names of Alec Soth, Cary Loren or Dara Friedman, but what keeps us there is Jimbo Easter, Ishmael Golden Eagle and Mr Coppers. A simple, beautiful message about civilized life, where everyone is equal, every vision is unique and everyone has a story to be told. What we are left with is a more inclusive and open proposal for what the contemporary art world could be.
The People's Biennial is co-curated by Jens Hoffmann and Harrell Fletcher and is on view at the Museum of Contemporary Art Detroit (MoCAD) from September 12, 2014 – January 4, 2015.
---
I'm typing this on my phone, the only possible way at the moment, so apologizes for its brutish nature. Apologizes because I'm in the middle of the woods, 30 + miles from even a small town, and it seems like I've left it all behind but the clicky clack on the LED screen tells me otherwise. Some people are getting ready for school, to attend or teach, but my partner and I are trying to enjoy the last bit of summer away from our jobs
and society. So we've got ourselves on a small lake in the woods with a one room cabin and water that smells like farts, and everything is nice and comfy. On the walls are prints from the direct category of hotel art: bleeding kitsch, soft pastel colors to brighten the room, even the meta print of what you are doing hanging near the door in case you would forget that you are not at home afraid of life, you are out here afraid of life.
"Majestic Lion" by Sylvia Duran is a loose, blobby portrait of a male lion, culled from both French Impressionism and supermarket romance novels. The subject stands hesitant with mane and fur waving in the breeze,  either dusk in the plains of Africa or the set of a shampoo commercial. The lion's legs taper to the ground with the delicacy of tree trunks. From his perch of  slab rock he surveys his kingdom – a vague smear of gray and umber barely established on the canvas. And so with its uncertainty, it becomes an apocalyptic wasteland. The resulting carnage of light paint splatters completely engulfing the scene, bathing the lion in a snowstorm of ash. Or dandruff, since it really may be an ad for shampoo.
To to the left of this, the big cat theme continues with "Bengal Tiger" by Don Balke. Surrounded by tall grass and immersive reflecting water, Balke's portrait is a highly skilled colored pencil meets water color portrayal of one of the worlds fiercest predators doing an impression of Falcor, the Luck Dragon.  To note is  Balke's use of abstraction, taking full advantage of the tigers stripes and how they map the water while melting in it. The aspiring indie band should seek this image out, rotate the tiger and his reflection 90•, so his orientation is vertical and they would have a sweet album cover to go with their sweet, sweet sound.
Theres also also a cartoon of some mice bathing in a tea cup hanging above the toilet which is far cuter than the act of me peeing while viewing it. A small painting of fat geese, painstakingly rendered, standing in a bombed out green and straw colored nowhere. A total mind game while washing your hands, this unassuming meditation ties Duran's apocalyptic scene with Balke's "Never Ending Story" reference, as we must all confront The Nothing.
The most impoverished of all is the small print mounted on wood near a couple bunkbeds, which everyone, from the artist, to the mall sales clerk, to the Innkeeper / curator had the intelligence to see that glass and a frame would be wasted. Here, a panther suffering from a belly ache is trying to shit in the trees amidst Renaissance laser light shows from the sun.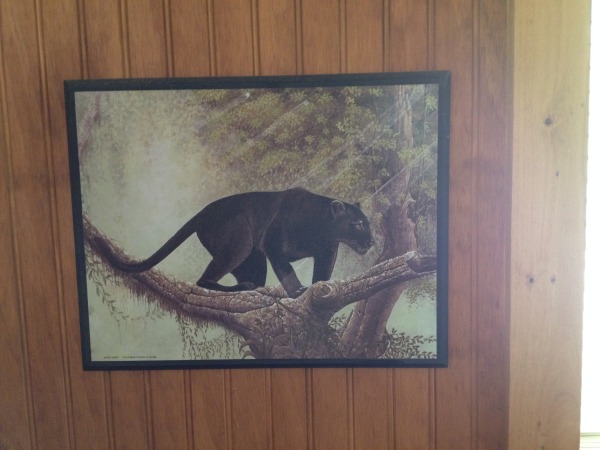 Shooting fish is a barrel, you say. It's not fair to discuss this work in the context of an art blog, nor is it right to hold the innkeeper to the same task as the curator, of course. But I don't just write for the sheer pleasure of destroying. The print I haven't mentioned yet is my favorite. In it, two decoy ducks sit on a table with a jug and a small jewelry box. The wood grain of the box allow the wooden ducks a place of hiding. While the jug itself pushes the sense of country home, the bird painted on the jug speaks with the decoy facing it, crafting humor within the frame. Kathleen Cope Ruoss loses mastery over the jug, which flattens to the point of uncertainty, becoming a bluish gray mass without distinction. But the wood stays true, and looks tangible. The hard smooth surface reflecting the craft store heart plank wood, stained a light amber at home, or here in the cabin.
In hotel art, is it honesty or escape that we look for more? Wall accents or inspiration? To be noticed but unseen, the innocuous predators of tranquility. Even the shame-crapping panther knows he is just a bit player in your experience. His humility is hard to find in the art fair art we are about to be inundated with at Expo or Detroit Design week. Anyone who may be showing in the rooms and hallways in the hotels rooms at (e)merge take note. It is easy to surpass the quality of the art found on the wood grain paneling of B&B's, or the sterile pastel walls of the Days Inns, HoJos and Hilton Expresses around the country. What hotel art offers us is our own level of kitsch. Comfort within the sterile and alien. A sense of peace even when the very work threatens our sensibilities of good taste. It is not meant to be looked at for long. But there are much worse things we see everyday.
---