Miley Cyrus is growing up in a fishbowl, where every awkward moment and undeveloped thought is on display for the world to see, react to and comment on, endlessly. As a country, we construct the cult of Miley sometimes even more than she, her publicist or record label does. Miley Cyrus has become an avatar, just as Hannah Montana was, as customizable as a Scion and as real as an American Girl doll. As we have a hand in creating her personae, her personae is a reflection of us, or our fantasies. Therefore, no matter how much she rebels against the mainstream, she can only help define it. The more she destroys her past image as teenage Miley, the more she canonizes it. The more she rebels, the more rebellion we want, even as it looks a lot like Low Sodium Rebellion in a can. We act shocked though we really aren't, because we too are playing a role, just as she.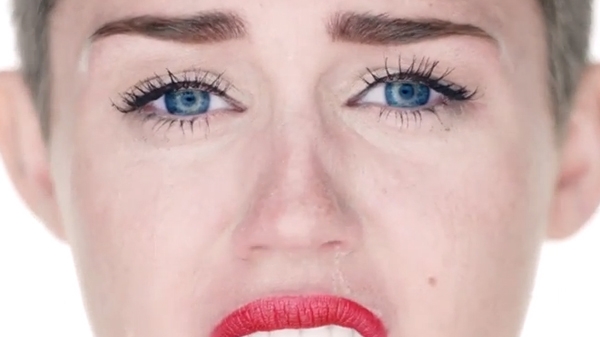 We love celebrities who represent the idyllic American: Beautiful, powerful, strong, intelligent, talented, with the same moral standards as us. We shower them in wealth in order to see how they use it, and so we can have it vicariously. We want these celebrities to act out roles in their real lives, not just in films. They appear on late night interviews promoting their films, on the Red Carpet and charity events as they pose for us. This isn't enough, so thankfully, we also see them walking their dogs, eating out, drunk at clubs, entering and exiting Hollywood parties. We see them grocery shopping without makeup, with their kids, with other celebrity lovers, in court, hungover, and having sex in grainy cell phone videos. We have so much footage of their lives "off the screen" that they don't need to exist otherwise.
When we actually come face to face with a celebrity, it is a collision of our lived world and our media world. It is a revelation of mutual existence: that they exist in our space, they can see us as we can them, and so we exist as well. Needing proof for ourself and our friends, that they exist, and that we exist too, a cell phone photo of them is imperative. This must get uploaded to the internet immediately, and now we have returned them to their natural habitat: the media world. Just as they primarily exist in the media world, we only exist in their world as long as we tweet, post, like, share and comment. By uploading a selfie to our facebook feed, we are attempting to insert our lived reality into the media world, used as a mirror to prove our existence, to define our character and how it fits within the pantheon of American myth. It is pedestrian cosplay and hipster role playing.
Its human nature to internalize our faults and dwell on them until they manifest into something larger and looming overhead. The past decade has seen serious changes to our country's image: warmongering, weakened, bankrupt, obese, fragile, homeless; as well as a growing rift between the working class and the capitalist class, almost completely obliterating the middle class, which is far smaller than any politician will ever admit. While these perceptions have been there since the 80's and 90's, it took until 9/11 for us to see them. Global media, 24/7 coverage of war and a need to understand why anyone would want to "attack our freedom", has led to a breathtaking reflection and reassessment of who we are as a culture, through the Biggest Loser, RuPaul's Drag Race, Extreme Couponing, Here Comes Honey Boo Boo, Lost, Breaking Bad, Weeds, etc., etc. We don't even consciously understand it, but we have seen ourselves as the underdogs, the unabashed scum, those who can break free of their past, those who can overcome and those who will crumble. Ordinary people who set out with good intentions but became greedy and selfish monsters. Yet as we assess ourselves through the entertainment we consume, we lose a true basis for assessment. It is calculated recycling of American myths, regurgitation of roles and tropes, filtering of current events that are replayed as fiction in order for us to learn how we feel about them. As we gravitate towards the fiction to teach us, and blur the lines of what is real and entertainment, it all starts to become real, in some way.
---
Purveyor of melancholy cartoon moments, amorphous shape and line, melting abstract symbolism and form fluidly, Arturo Herrera creates new meanings from global popular culture and the discarded memories available at thrift stores. With gorgeous abstract dialogue, he cuts into our subconscious, seeking dark realities in the seemingly innocent imagery of childhood. Yet this is globally corporate sentiment which he makes us aware of; in homage to past Modernist movements, he hopes to awaken our senses from the dreamy haze they reside. References to Pollack appear as dripping webs of networked possibilities in immigration halls, allowing art to be the key to success in the cutthroat Americas. Simple gestural brush strokes, epic in scale on institutional walls, have the purity both the Ab Exs and cartoonists long for. With clear precision and acute awareness, Herrera depicts the line between the Surrealist's dream and the failure in Dada. Partaking, we become the tight rope walker and must balance accordingly between his worlds and Art's past. For his upcoming exhibition at Corbett vs. Dempsey in Chicago this December, he reveals new work within the intimacy of the printed book; showcasing several altered found books in a sensibility all his own; muted yet powerful, melancholic yet strong, abstract yet concrete, visceral, tangible. In this, he enlivens us to the subjugation our senses experience in the digital age.
I had the pleasure of meeting and speaking with Arturo this Fall during his visit to Cranbrook Academy of Art, in Bloomfield Hills, MI.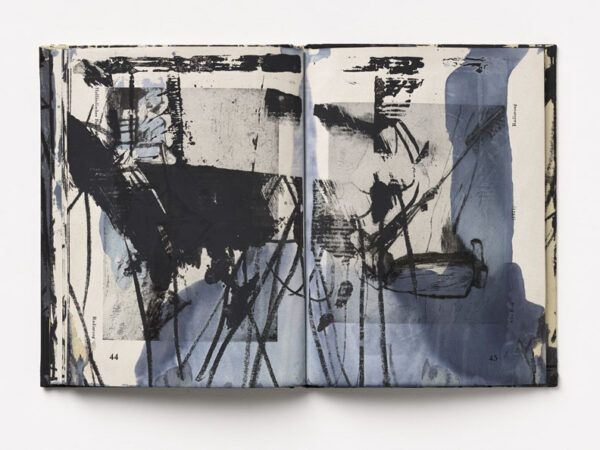 Arturo Herrera Books, 2012. Set No. 2 of six individual sets. Detail of
Graphiker der Gegenwart – Lesser Ury Lothar Brieger, silkscreen and mixed media on paper. 7.9 x 5.9 x 0.3 inches. Courtesy of the artist.
Tom Friel: You don't seem to deny the narratives of your source material, but instead keep an emotional or subconscious link to the meaning of the original imagery while altering the visual elements through college and abstraction. Does a process like this ultimately aim to create new stories or truths? Could your invented meanings become equal with the original, and if so, do they become a part of the narrative from the source imagery?
Arturo Herrera: Using everyday printed materials which are instantly recognizable leads the viewer directly into the image and at once a connection is established. Crashing our invented, private meanings onto a newly constructed image only adds to the impact of the original source. This undoing of linearity is attractive to me.
TF: Just to compare some of the works you were doing a few years ago, like "Get it Right (Pink)" [2005], "Untitled (From the Top)" [2004], to more recent works like "Richard" and "Giuseppe", both 2012: the latter are visually dense works overloading the eye with a multitude of colors and shapes, while the earlier pieces I mention are almost minimalist in nature. Throughout, there is lyricism in the compositions, that everything was always meant to be there from the start. Is the complexity of these later works an evolution from the previous, or are you responding to another type of collage so prevalent today — the bombardment of information via the internet and media, where things are literally linked by tiny one word threads as their commonality? Or perhaps is it a similar symptom of 21st century living; a constant acceleration through technology and the inflated availability of choice. (Since collage so often directly deals with the idea of choice…)
AH: The recent works 'Richard,' 'Giuseppe,' and ' Johannes' are three mixed media editions I made for Pace Prints in 2012. That same year I had the solo shows called Series at Corbett vs Dempsey in Chicago and at Thomas Dane in London. My intention with that body of work was not to overwhelm the audience with information but a way of exposing a personal lexicon. To put it all out there if you wish. The goal was to make something polluted and non hierarchical. It dealt more with wanting to see what a disintegration of my own sources could look like. I guess it is an organic process that every artist goes through.
TF: An overload via critical mass. They are quite nice, and I guess I was curious also because of how successful these, and other highly intricate works are that you have recently completed. Maybe its the control you have over the collage process that allows for so much to happen in one work and it not be too much, but  just perfect.
It seems there are a lot of formal discussions you wish to engage with the work, like engaging the medium or the visual qualities of abstraction. While collaging is a piecing together of disparate images and meanings to create new meanings, we approach abstraction as a collage our brains compose. In other words, we often try to create concrete images out of the abstractions, like Rorschach tests. Having experienced abstraction in art for so long, we tend to allow abstraction to remain as these pure visual and undefinable moments. Elements of Abstract Expressionism, Minimalism, and Pop can be found in your work. So often, we try to define artists by their relationship to art of the past. While many people may respond to art in this manner, it can dominate the conversations around the work. Is this something that is interesting to you, or do you find the comparisons to derail broader meanings of the work?

Arturo Herrera Ariadne auf Naxos 2012, collage and mixed media on paper, three elements, 25 1/4 x 19 1/2 inches each. Courtesy of the artist.
 
AH: Even though I am interested in all those movements especially modernist painting, surrealist collage, abstract expressionism, and pop art not very many people have discussed that aspect of the work in depth. The earlier texts hovered around children's fairy tale and the psychoanalytical subconscious. At the moment the discussions deal more specifically with abstract painting and its references and the continued impact of collage in today's contemporary art practice.
TF: Many of your older works utilize cartoon imagery in them, or reference cartoons through a similar line quality; fluid curvilinear lines which undulate and ooze, they drip and tumble around the page in an abstract free fall of white gloved hands morphing into a propellor or a bulbous nose. These increasingly abstract works strongly reference one of the more common and beloved cartoons cliches: the cloud surrounding a cartoon brawl, with arms and noses peeking out in what is an otherwise hard to visually explain mess of action, passion and ecstasy. Locating your composition in one still image instead of many animated cells, the undefined moments of action wage without clear understanding of whose limb is whose. So, almost lifted directly out of the very cartoons is a scene which your work often explores, the familiar returning to the unfamiliar. This is a very important element of your work, the sense of subverting established cultural entities, like Disney cartoons. It also lends itself to the uncanny, which I don't think you've ever talked about concerning your work.
AH: Collage combines dislocated fragments that usually generate irreverent images full of irrationality. No uprooted source that has been cut, juxtaposed and glued into a new visual entity remains the same. Some of my works play with violence, sexuality and absurdity. It is important having these as borders of psychological interaction. It brings an unexpected, latent meaning to an established/familiar cultural icon and that contributes to the resonance of the work.
TF: You have described your initial involvement with collage as a means to create art without much money, space or many materials. At this point though, you have defined a practice within it, and so it seems you have come to embrace collage wholly! In addition, you have done many wall paintings and felt pieces; the felt works being increasingly sculptural. Are there other mediums now that your circumstances are different you would like to invest your time in more, or does the immediacy and directness of collage make it the perfect medium for you?
AH: I started working with paper when I first moved to NY in the late 80's. It was the ideal medium because it was easily available and inexpensive. It was incredibly fast to make collages and it allowed the small working area to be relatively clean and free of toxic fumes. I was fortunate later on that I had the chance to work with painted MDF, raw steel and photography. Right now I am painting with oils on canvas and on linen. It is amazing how different and slow the process is. I have been changing gears lately and the challenge is invigorating.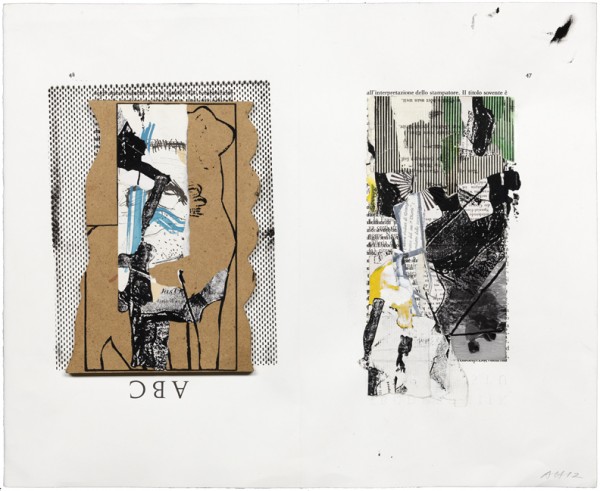 Arturo Herrera Stampatore 2012, collage and mixed media on paper, 14 x 17 1/4 inches. Courtesy of the artist.
TF: Books have a visceral connection to us that many other objects do not. They are both precious and pulp repositories of ideas and culture, high and low. Their rich history in  human development and civilization contribute to a realness and visceral quality. Its such that, abandoned books can carry the sense that their ideas and information contained within are obsolete or out of fashion, even if that isn't truly the case. With the decline of printed books, your sense of the obsolete is pointed. Its almost as to keep these objects alive in the present, we need to alter them in ways that we can feel or sense beyond the LED or LCD screen. There is such a different relationship to using a Kindle or laptop to read a book, that having that physical presence altered, makes us aware of the distance we have created and slowly removed ourselves from. Though the Kindle tries to recreate the experience of a physical book, it loses the character and intimacy. Can you give a preview of your upcoming exhibition this December at Corbett vs. Dempsey?
AH: The new show at Corbett vs Dempsey consists of found books that have been silkscreened painted, stained and /or painted. There are sixty books in the series grouped in six boxes of ten books each. By obliterating their content, I destroy their original function while transforming them into something entirely different. These discarded paperbacks and hardcovers become new again as constructed artworks. They continually refer back to their origins while proposing multiples readings on history and art, the obsolete and the fetish, the precious and the abject.
"Arturo Herrera: Books" on view at Corbett vs. Dempsey Dec. 13 – Jan. 25, 2014
1120 N. Ashland Ave., 3rd Floor, Chicago, Illinois 60622
I had the pleasure of meeting and speaking with Arturo this Fall during his visit to Cranbrook Academy of Art, in Bloomfield Hills, MI.  Thanks to Arturo Herrera for his time in the many stages of this interview. His kindness and warmth are much appreciated. Also thanks to Julia Hendrickson and Corbett vs. Dempsey, Sarah Turner and Trisha Holt of Cranbrook Academy of Art for their help; without them, this interview would not have been possible.
---
The Art Market is inflating out of control, making all but the wealthiest few cry foul. Like it or not, this is affecting the way contemporary art is viewed and thought about. Meanwhile, Jeff Koons continues to be the perfect Poster Boy for the inflation, and it just so happens he has work depicting the nothingness inside the bubble. Simultaneously, Banksy goes for a stroll in New York's neighborhoods proposing a different model. Is this the beginning of the end of the glutonous market? Or is this merely a long beginning?
Don't make the mistake of trying to analyze the Jeff Koons album cover work for Lady Gaga as if it were art. Think of it instead as a publicity stunt to drum up hype for his upcoming retrospective at the Whitney this summer. On the day the album cover was released, mtv.com ran a story with the headline: "Lady Gaga is Jeff Koons' Biggest Fan…But Who is He?" This collage of leftover studio remnants and a Botticelli print gets him access to a generation of people who are not likely looking at a lot of contemporary art, beefing up his celebrity status which he craves, at the same time adding to ticket sales. This, and the animosity from art enthusiasts will help make his retrospective THE BEST EVER!! Just a couple weeks before the Lady Garbage cover, T magazine – the glossy pulp supplement in the NY Times – had a stereotypically vapid conversation with the artist about his recent commission from Dom Perignon to made a limited edition DNA – shaped champagne bottle. Low end and high end commodity containers from ol' Koonie Balloonie. Not too different from anything he has done in the past, but the labeling becomes ever more irksome. Consider his output for the last decade, where most of his work is sold before its finished, and may only show at auction instead of a gallery or museum. Not that this is such a terrible thing. What has basically become a high end boutique practice is frustrating mostly because it is helping fuel the glut of the art market, and then regurgitated into the art world as important to the production and dissemination of art, to negative affect. As long as we wallow in the crystal palaces of Koons, Hirst and Murakami, we'll think that art is as uninspired as Gormley, Marden and  Whiteread.
Koons is in this rare position of being accessible to everyone but only collectable to a small handful of the richest in the world. As Carl Swanson recently stated in Vulture: "Koons can be the art world's great populist artisan, even as he operates as its most exclusive salesman."  Everything about the work is right there, so there's nothing to get. It is perfection and simplicity, the kind of thing that mocks you for looking too hard at it. Since critics are trained to look hard at things, they tend to hate Koons. And its boring to write about art just by describing what it looks like, so people tend to write about his career, his collectors, his record breaking prices at the market, his studio and the process of making his work. This only helps to build a persona around the artist, giving him the superstar flair that these major collectors are after. (And with this week's art fair, London's Frieze officially bigger and more bloated than ever, superstars have never been more in vogue.)
Both interesting and frustrating is how Jeff Koons' rise to the art commodity machine that he is may have helped shape the way the art market is an increasingly insiders game of fewer and fewer players more knowledgable about trading commodities than how to tell good work from bad. And with the auction prices soaring, the big named galleries just keep getting bigger in a kind of go-for-broke mentality* (not breaking them, just the artists they rep, in less of a financial type of broke and more of an artistic quality and integrity type.)
[*for a throughly depressing take on this, see Jerry Saltz's article on Vulture this week.]
At the same time all the grumbling about Koons' latest fart hit the web, Banksy has been doing a residency in NYC, creating work in the city in his typical fashion – covert and unannounced – the opposite of how you're supposed to make art. While seemingly on the other side of the art world, there are a lot of similarities between the two artists. Maybe Banksy isn't able to sell his graffiti work for 33 mil, but he is still operating inside the art market, selling regularly and at high prices. Lately, his work is often either garishly covered by a piece of plexiglass bolted to the wall he painted it on or is removed and sold, either way being seen by an enterprising public as separate from graffiti art and reborn as high art/commodity. His work is no stranger to auctions, museum and gallery shows, while being loved by mainstream society. His imagery is understood at first look, you don't need to read into it, and if you are, then you probably don't get it. Also like Koons, art critics hate writing about Banksy, saying there isn't enough to write about, because it is too surface and he isn't playing the game. But this game is being co opted by the wealthiest of collectors who have realized there is a market that won't burst and can't crash, so they've taken advantage of it. Buying a Koons gets you a ticket into  a very exclusive club. Buying the Banksy at auction though, means that you probably don't get it, because his work is to be freely viewed and is mocking the very lopsided system of capitalism that allowed you to buy it at auction in the first place. Getting it, though, is no longer important. Its having it.
As his position in the art world becomes more clear, Banksy's art frequently criticizes the market, and the latest example of this was a street sale of many of his iconic works on white canvases for $60 on the sidewalks of NYC. The work and the sale later appeared on his website, which is his way of providing provenance. These single color spray painted politically charged images lost all meaning shoved within the borders of these small store bought canvases, sold on the street among vendors hocking watercolors and prints of impressionist styled paintings. Subverted now to talk about the politics of class, taste and accessibility in a market that is more often hurting artists and keeping way too many people out of collecting art. It stifles artistic creativity to the point where every idea is either a recombination of greatest hits by the artist or an experiment to see how much money can prop up a bad idea. Artists start to flounder when they should be thriving. Shows are created for the specific tastes of the market and of a few clientele. Everything becomes dross and it feels like you are wading through a lake of effervescent puke whenever you go to a big exhibition, and anymore, they're all big. 'Cause if not, they may as well not happen at all. More and more, it sucks harder and harder to be a practicing artist in this climate. Unless, of course, you're Jeff Koons.
---
In the wake of the recently announced Detroit bankruptcy, and amid the uncertain fate of the Detroit Institute of the Arts' collection, the Knight Foundation revealed the winners of Knight Arts Challenge: Detroit last week. 56 winners — from individuals, collectives and established organizations and institutions — were awarded grant money ranging from $5,000 to $120,000, given the chance for art to lift a community in the way an emergency manager and bankruptcy cannot: spiritually, mentally, passionately; with love and tenderness. While the Detroit bankruptcy proceedings will be fat cats and brass tacks, pushing elected officials and community members further out of the decision making, the Knight Challenge grant recipients will aim to return power to the people, on micro levels, yet with respect and agency given to the very people in the communities these artists and groups will work with. Thus, the award winners, in total given $2.1 million, represent a ray of hope in the city's immediate future and may quickly change the landscape of the city if they are successful.
The Knight Arts Challenge: Detroit is an initiative of the John S. and James L. Knight Foundation, and is a $9 million dollar campaign to draw from the talent of the city, to keep creative people in the city, as an investment in the arts of Detroit. It follows from the adage "Where culture can breed, people will breed" (I just made that up), but its a lot like "If you build it, they will come" in that it is the arts that build a city or community, that the vitality of the culture sustains the soul and makes people want to live somewhere, that they need to live there, even if there's no public transportation, lack of basic services like trash removal or functioning street lamps; even if the rest of the country has given up on the place, it still has potential that can be seen and felt. Because art and music has a deep history in Detroit, as does innovation and invention.
The winning entries are diverse, and as all were required to take place in or affect Detroit directly, most of them are geared towards working with the communities of the city to instill positive change, empowerment and growth. They ranged from creating a lending library of contemporary Detroit artwork for residents to live with and potentially buy, creative writing workshops, hyperlocal radio broadcasts to create a sound collage while driving through the city, a residency program for musicians outside of Detroit to collaborate with the local musicians, a competition to foster more talent in contemporary Jazz, production of guitars made from reclaimed wood from demolished homes in the city, an artist residency program in city elementary school, seed money to expand an established film fest into a larger event with national status, a nationwide tour of an interactive project geared at engaging viewers with ground roots change, and many many more. One that I find compelling just from its blurb on the website is a video project conceived by the Charles H. Wright Museum of African American History:
"To illuminate some of Detroit's dark neighborhood streets physically and spiritually, the museum will commission a series of video art installations showcasing the faces and wisdom of the city's elders. In conjunction with a team of Detroit media artists, distinguished filmmaker Julie Dash will create the works. Each will seek to bring light to the legacy, vitality and fabric of Detroit, while providing safe passage for residents in a city in which a recent survey said some 40 percent of streetlights were in disrepair."
The phrase "40% of streetlights were in disrepair" is not an exaggeration, but should say "are not working at all". So many streets in the city are completely dark at night, inviting all sorts of violent crime, not to mention further lowering the quality of life experienced by residents in those areas. The temporary lighting of these streets, with proud images and text of the city's past will no doubt be a jolt to the senses. What is needed, of course, is for working streetlights to once again be installed. Ultimately, this will be more powerful than an artwork in terms of transformation. One hopes that this project acts as a catalyst for that to happen, by literally shining a light on a huge problem in the city.
I sincerely hope Emergency Manager Kevyn Orr is devising some way to get the street lamps, as well as other crucial needs of the city taken care of. Obviously, he isn't interested in the arts, as he wants to strip the city of its culture for quick cash. Which art institution will be next on the chopping block? It seems important that now someone is trying to invest in the arts of Detroit. Along with Kresge, a more established arts grant in the Detroit region, a big push is being made to not only keep talent in the city and to nurture the arts, but together they breed an outlook on the art of Detroit as a whole: within five years time (or hell, right now) if someone wanted to quickly distinguish the art of Detroit, they would probably throw out words like "community engaged", "guerrilla", "activist", or the foul phrase "social practice". Not to poop in the punchbowl, but as a narcissistic artist bent on only furthering my own artistic hopes and dreams, I find this potentially disturbing, that a city's identity could be considered along terms of social practice, as aesthetics are so often ignored with work that is community engaged. For now, though, I am more than happy to content to leave this issue for the future, a future where we can afford to consider beauty alone, and not pragmatism and politics. Knight Arts Challenge is opening doors that seemed demolished long ago. Hell, its national news that we just got a grocery store in downtown for christsakes.
It is important to note that ALL of the recipients of Knight Arts Challenge will only get funding if the recipients find matching funds within one year. For more information on the Knight Arts Challenge, visit their website:
http://www.knightarts.org/knight-arts-challenge/detroit
---
"I think I could turn and live with animals, they are so placid and self-contain'd,
I stand and look at them long and long…
No one is dissatisfied, no one is demented with the mania of owning things…"
- Walt Whitman, Leaves of Grass
Two weeks isn't time to make much work. While I was at ACRE this summer as one of several residents, I quickly realized how short, yet how important the time was. I left my life behind with great expectations, all of which were just shy of fulfilled, but what I gained was so much more than what I had hoped. Two weeks, I found, is just enough time to figure out where you are, how you are going to communicate with the people of the life you suddenly left, introduce yourself to 50 strangers, start making work and realize you never what to leave, and then, its over. Its just enough time to take a chance on something, knowing that the end is right around the corner, but that you've still made a commitment. Its enough and not enough — in our real lives, two weeks rarely means anything, because it never has a beginning or end, just bleeds from the past and into the future. At a residency, it is a liminal space and time, where all constants are upended without chaos. Any residency worth its salt can make your head spin with new ideas, old ideas seen new, new connections, blown minds, failed pasts and energetic futures yet to fuck up, and ACRE was no different — I am still reeling from the conversations and influence of the people I met there. But no where else is there a way of life that is not separate from art (at least not until the modern day Commercial Gallery gurgled and choked its way out of the murky banks of the Galapagos Island communal bathroom, where hundreds of exotic species of semi aquatic animals did their business). ACRE was about art, as a real and true way of life, that life could not exist without feeling your bare feet in the dirt and sand, your junk in muddy water and your mind in a swirl of whiskey, beer and camp fire, back again early the next morning, up with the rooster, a cup of coffee and a new book from the library to start fresh.
ACRE (Artist Cooperative Residency and Exhibitions) has just completed its fourth year as an artist residency based out of Chicago that occurs for three two week sessions each summer in the heart of the Driftless Region of Wisconsin. (Just a little east of the Mississippi on the bottom part of the state.) Residents utilize a fully staffed Wood shop, Screen printing studio, Recording studio and A/V Cabin while drawing from the sheer open space and beauty of the property. Rotating visiting artists, critics and presenters influence the space along with organic conversations that are a product of an artist bee hive. This model draws from the pedagogy of many graduate programs in art, yet ACRE removes itself from the institution due to its structure. Roughly twenty volunteer artists and musicians organize and run the program, volunteering 6 weeks of their summer (even more while planning the resulting exhibitions of past residents) towards helping others make art. Instead of focusing on their own work they facilitate the work of others.  Right here, organization, politics and the board controlled interests typical of an institution are gone out the window, leading into a more natural system where everyone – staff, residents and visiting professionals – are interacting with each other the same. Communal meals, lovingly prepared by a dedicated kitchen staff, are perhaps the keystone of this success. Symbolically, class distinctions of laborer / patron are not just blurred but forgotten.
We started to see that money wasn't present at ACRE. Yeah, we all paid for the residency and it was understood that it was crucial to everyone getting there. But through generosity and time did everything exist in the space, in an ever growing forgotten area of Wisconsin. At ACRE, money was only needed in the neighboring town of Boscobel, which only sold cheap beer by the 30 pack. (At least, I'm pretty sure that was their major industry.) Creating a space where financial transactions were discouraged helped separate the real world from this special place. Class distinctions, power struggles and money were nearly eliminated at ACRE. With only two weeks, a society cannot be established, and with the staff insisting on doing all the work involved with operating the residency, a utopian model does not completely apply. (Not that utopia is what they are after.)
Utopia as a reality is impossible to sustain, as human drama will eventually overcome and surmount a perfect existence. Some asshole always finds a way to get his agenda to the top of our concerns. Instead, what may be proposed here is a part time utopia: a form that allows a brief exposure to a utopian system in a format that seems possible. Likewise, the temporal nature of the system actually allows it to thrive, as human nature never gets the chance to ruin it. Able to geographically remove ourselves from city life we could fit within a more fulfilling life in this part time utopia; a utopian model which recognizes the inevitable failure of utopias. In the span of a two week residency, utopia can exist. We started to get it. Hammering it home was Ukiah, a six person artist collective from the Bay Area, who leave their day jobs once a week to build a cabin out of fallen timbers and mud on a ranch property. What does it mean to have a part time or temporary utopia in the context of art? Does this mimic how art is often made, in spurts of spare time, extracted from the pressures of the real world? Could a model of a part time utopia be sustained on a personal level? Is the idea of utopia important to the creation of art? Is its manifestation proof that art can create social change, or merely a distraction from art making? Do you really want to live forever? Alphaville lyrics reprinted without permission?
Utopia CAN happen, maybe only once a week, for two weeks at a time or a few moments, which can be nurtured. Maybe with practice, it will be with you always. For me, utopia is drifting down the Kickapoo River on dollar store inflatables mixing warm Pabst with the river water. Its singing Stevie Nicks and Otis Redding songs with everyone around and not caring who hears you, but that you're heard. Its playing a four string Fender Squire in an empty grain silo that is better than an amplifier. It is eating a meal with 50 other people each night knowing all the ingredients were carefully and lovingly chosen from the immediate region. It is a constant exchange of ideas, and ideas as commodity, where money is replaced by beer or help with a project. Its understanding why Nick and Phil never wore shoes, and wishing you never bothered to pack any. Where dinner is served overlooking the sunset, and each sunset is better than the last. Every night is a celebration of the work done that day. Even the mosquitoes are contributing to your existence, saying: You Are HERE, as the mall map markers of the rural midwest. Fuck yeah, ACRE: You promised me transcendence in an email, and in real physical sweating pissing reality you delivered it.
SINCERE thanks goes to ALL the amazing staff who made this experience possible, and every resident, who, without being wiser, went along with it. Thank you. Thanks also to Lisa Walcott, for lending a photo of her experience.
---