Reading a bit of art theory or criticism, it won't take you long to find an author talking about viewing something through the lens of third-wave feminism or seeing something in a Modernist frame. The lens and the frame are referenced metaphorically so often in today's writing that their presence is nearly ubiquitous, almost as though a piece of art writing is incomplete without the presence of at least one such optical metaphor.
Certainly, the lens and the frame are useful as metaphors, but as used, they are also quite limited. As an experiment, the next time you see one used, replace "frame" or "lens" with "context," adjust the necessary conjunctions, and see if any meaning is lost. If in a given piece of writing, "seen through a queer lens" could just as easily be "seen in a queer context," then the optical device isn't living up to its potential as metaphor.
The chief ways in which optical metaphors can be improved in our writing are through diversity and specificity. These go hand-in-hand: the more diverse our optical metaphors become, the more specific they are able to be. Lenses, for example, can be convex-convex (the usual "lenticular" shape, which incidentally I suspect of being where lentils got their name, though I've done no research on this), but they can also be flat or concave on one or both sides. So, some lenses are plano-convex, others are convex-concave. These lenses behave differently and have different applications, and so could be employed in a diverse range of metaphorical applications.
The difference between a lens of any type and a frame is that we are directly aware of the ways in which lenses alter the image we are seeing. A biconvex lens held at the right distance from the eye will magnify the image. (At this distance, the image is not inverted; held out further, the image inverts, but the reason why is beyond my ability to explain from memory, so go Google a diagram.) This is the classic magnifying glass. Other types of lenses, such as eyeglasses, subtly alter the focal distance of our eyes (or rather, adjust the image to account for a flawed focal distance). Multiple-lens apparatuses like binoculars and microscopes magnify and can be focused. The point is that we are immediately aware of this alteration of the image we are seeing, because it is inherent to the function of the lens-based device.
Not so the frame. The untrained viewer thinks of the fame as a neutral context, setting the image off from its environment, perhaps, but not altering the image itself. Training in design and composition conveys an understanding of concepts like simultaneous contrast, which holds that a black frame can make an image look lighter in the same way that we can appear taller by standing next to a shorter person. Even to a highly-trained viewer, however, the frame, assuming it is a subtle, appropriate frame, becomes invisible, and it exerts its effect on the image outside our conscious awareness.
Metaphorically, then, the frame can serve more as an unconscious bias, changing an image indirectly, by the context of its presence, and without the viewer's conscious awareness. When you see something in a given frame, that frame alters what you are seeing, but does do without your knowledge or consent. It takes alertness and training to become aware of the influence of the frame, and even with this awareness, its influence may not be negated. To return to the initial example, seeing something in a Modernist frame may mean unconsciously minimizing the political, activist, Conceptual, gendered, or other meanings of a work, and perhaps emphasizing the rapturous and sublime, along with overt formal analysis which is the ostensible goal of this frame. If the intention is to directly change the meaning of the subject, then the frame may be the wrong metaphor; perhaps a lens is intended instead.
A lens serves more as a conscious agenda. The function of lenses and lens-based devices tends to be to magnify, to enhance, or to focus a blurry image. Alteration of our perception of the original is the intention of the device. When used as a metaphor, then, the lens is a much more aggressive, but also honest, recontextualization. The effect is more direct, less subtle, more provocative, less manipulative. When we view something through the lens of third-wave feminism, we aren't subtly altering that thing by its context. Instead, we are asserting, perhaps radically, that the original was either too small or too distant to be perceived accurately, or else that it was out of focus: essentially, that our subject was fucked up, and that third-wave feminism provides the necessary means to fix it.
These differences between the simple lens and the frame are only the beginning of the linguistic possibilities of the optical metaphor. Someone better versed that I in the effects of different types of lenses could apply those effects metaphorically. Devices composed of multiple lenses, such as telescopes, microscopes, binoculars, spotting scopes, and riflescopes each have their own potential applications. Viewing the work of an international artist through the telescope of globalization may bring their work closer, make it more accessible, but at the cost of a reduced field of vision, that is, the obfuscation of the cultural context in which the work was created—not to mention that as a monocular device, the telescope eliminates the viewer's depth perception, so that while it appears to bring the subject closer, it makes it impossible to tell exactly how far away that subject is.
These classic, purely optical devices aren't the only possibility for optics-based metaphors. For example, consider the fact that a viewer's experience of relational art may be clouded by their participation in it, yielding a subjective response that is no less valuable, but is uniquely personal, because of their involvement. We might say that a viewer-participant sees relational aesthetics "through the glare of the fingerprint-streaked touch screen of their participation."
In reading art theory and criticism, and even more so in writing our own, let's consider the diversity of optical devices and viewing contexts that exist in the world, and the specific meanings that can be conveyed by this diversity. Consider critiquing works of art through the pinhole camera of Minimalism, distorted by the funhouse mirror of racism, or fractured by the prism of semiotics. What could these mean? I don't purport to have the answers, but by way of example, I once compared a thematic group exhibition to the compound eye of an insect, producing an image of its subject by combining a large number of images produced by slightly different points of view (the artists in the exhibition). I'd like to see more, and hopefully better, metaphors like this, in which writers consider all manner of viewing devices as potential linguistic devices, rather than immediately, lazily defaulting to the lens or the frame, out of habit rather than specificity.
---
Introduction
Full Radius Dance, a physically-integrated dance company based in Atlanta, premiered its work Touch in January 2013. The piece was inspired by executive director and choreographer Douglas Scott's decision to retire from professional performance, causing him to feel depression, which he realized was the result of no longer having physical contact everyday in the studio. He began to ask himself why touch, the physical act of making contact, was so important to him. What does it mean to touch and be touched? What does it do physiologically to the body? What does touch mean in gaining understanding of one's own body and the bodies of others?
Touch, in its multiple parts involved dancers of varying bodies and abilities. As a physically-integrated dance company, Full Radius' dancers are both abled and disabled, some use wheelchairs in their everyday lives. Scott first became engaged in this practice through a workshop offered at the Atlanta Civic Center where he realized that all bodies do not move the same way that his does and that there was opportunity to explore the "limits of physicality" with various bodies. [1] He now teaches classes and workshops at the Shepherd Center, a hospital and rehabilitation center located in Atlanta that specializes in medical treatment, research, and rehabilitation for people with spinal cord and brain injuries.
Watching Touch
The theater is dark and quiet. A rustling begins to grow louder. Shapes of bodies start to come into focus in the dark as they move across the stage. It sounds as if someone is sliding across the floor. Music begins. Light, pouring in from stage right, begins to grow brighter, illuminating the mass of bodies arranged organismically stage left.
When the lights are finally up, I see three of the dancers seated on the ground, two of which were in wheelchairs in the previous piece. This piece, titled There Is No Such Thing As Mistakes and choreographed by Lori Teague, explores "the situations we find ourselves in and the situations we put ourselves in." The dancers in this piece arrange themselves almost as if they are part of one body, one organism, with interrelated parts; the mass of bodies on the stage writhes and moves together. As the dance progresses, the breath of each dancer becomes more audible, another rhythmic element to the accompanying music. Teague explained that her interest in this piece was reaction time; how does the body respond in the moment of contact or confrontation? While watching the piece, a growing sense of physicality presents itself. While watching the bodies roll across the stage, one of the dancers gets up and staggers toward another dancer, using the other's body for stability, resting her weight on his shoulders, my body began to move itself. I noticed my feet were responding to these movements; during tense moments, my leg would extend outwards toward the stage; during moments of relative calm, I was able to relax my feet to the ground. This aesthetic experience not only registered in my eyes, but my muscles registered the movements of the dancers.
In this aesthetic experience, my body phenomenologically responds. This response, though potentially activated through mirror neurons, may lead to particular perceptions of the body that carry with them particular associative meanings. If my body can "feel" the weight of the other's body on me for support, or if my body can "feel" the need to rest upon another, does this experience open possibilities of bodily awareness?
Does this awareness carry forward after I leave the theater? Edward Warburton, a dance theorist writes about what happens when we observe another's movement. He describes it as "observing others' actions involves both a covert simulation of the very same action—a process crucial in imitative motor learning—and a modulation of resonant action systems that seem to be important in superior perceptual abilities" [2]. Interestingly, during the section the "Science of Touch," Scott is on stage with the dancers and describes some of the physiological mechanisms of touch, including that of mirror neurons. In some way, the attention to mirror neurons allows for an empathic response to even the viewing of someone being touched.
In watching dance, the viewer's visual experience coalesces with a visceral experience, but is opticality necessarily primary in the "viewing" of dance? If the dancer's body does not reach out and make contact with my skin, is it possible for me to still feel her body? In the dance, can I begin to "know" the dancer's body as it moves across the stage, at times making contact with other bodies? Erin Manning, a cultural theorist and political philosopher who writes on tango as a cultural practice, writes that "movement can be felt before it actualizes." [3] In order to view a dance as dance, a piece that uses bodily movement as material, the viewer has to come to the performance with an understanding of her own sense of bodily movement. For the philosopher Maxine Sheets-Johnstone, movement is the primary vehicle for sense-making and knowledge-making of our world. In her book The Primacy of Movement, Maxine Sheets-Johnstone writes:
"In making kinetic sense of ourselves, we progressively attain complex conceptual understandings having to do with containment, with consequential relationships, with weight, with effort, and with myriad other bodily-anchored happenings and phenomena that in turn anchor our sense of the world and its happenings and phenomena." [4]
Other bodies are included in this world's happenings and phenomena.
During the final piece of the performance, the featured piece titled Touch, there were moments when dancers in chairs would balance their weight on an edge of one wheel over dancers lying underneath the chair. Hands reached out to grasp each other, distributing the weight through the arm muscles, from one shoulder to the next. Watching the performance, I was sitting in anticipation of a sudden shift in gravity, a moment of almost catastrophe. Reflecting on the piece now, I ask myself, how am I supposed to see these bodies that were moving before me?
In the case of Full Radius Dance, which presents the viewer with bodies that she does not typically see in a dance performance, what does the viewer and the viewer's body learn? I leave the theater and the reverberations of rhythm remain. What do these vibrations unhinge within my body? Are they making new connections with any of the mixed-up material that was disturbed by the vibrations? Making sense of the dancers' movements and bodies requires me to make sense of my own – this is a reciprocal movement. The question remains whether the origin of this movement and knowledge exists in myself or in the dancer's body that I watch roll across the floor.
— Meredith Kooi; meredith [dot] kooi [at] gmail [dot] com
Notes:
[1] Personal conversation with Douglas Scott
[2] Edward C. Warburton, "Of Meanings and Movements: Re-Languaging Embodiment in Dance Phenomenology and Cognition," Dance Research Journal, vol. 43, no. 2 (Winter 2011), 72.
[3] Erin Manning, Relationscapes: Movement, Art, Philosophy (Cambridge, MA and London: The MIT Press, 2009), 6.
[4] Maxine Sheets-Johnstone, The Primacy of Movement, 2nd Ed (Amsterdam and Philadelphia: John Benjamins Publishing Company, 2011), 118.
Images:
DANCE informa. danceinforma.com. Photos by AMN photography. http://www.danceinforma.com/USA_magazine/2013/01/20/full-radius-dance-premieres-three-contemporary-works/
---
In the fall of 1985, when I read that Yankees outfielder Dave Winfield was going to sign autographs at a Long Island Hilton, I decided I would execute the most exactingly perfect Ticonderoga No 2-on-paper portrait of him that had ever been produced. I had the paper and the pencils, but was forced to buy packs of baseball cards to find an image of him. I went through a month's-worth of allowance before I finally found the card in a Topps wax pack. Over the next four nights I completed what I still consider my masterpiece. And if you doubt its quality, I'll have you know Mr. Winfield himself told me it was "astounding" when he signed it on a Saturday morning in November 1985. That cultural treasure has hung in my father's office for more than 20 years.
Last Tuesday, I was wondering what a mature Bot Fly looked like. I Googled it, and in 15 seconds I knew. And what blood fluke, hook worms and intestinal amoebas looked like. All collateral infections from my search, these organisms now freeload in my visual memory like actual parasites might in my gut.
Twenty-seven years ago I couldn't locate a picture of a celebrity for the better part of a week and today I can pull up twenty thousand of an obscure protozoan or a flesh eating fly in a few seconds.
When I sketched Dave Winfield at my family's kitchen table two-and-a-half decades ago, the tide of cultural criticism about the information age had already crested: Jean Baudrillard's "Hyper-Realism of Simulation," Hal Foster's "Subversive Signs" and "Learning from Las Vegas," were all in the ether. And the work of the artists of the "Pictures Generation"—Sherrie Levine, Cindy Sherman, Sarah Charlesworth, Richard Prince, et al.—were all established and hanging in Eugene and Barbara Schwartz's living room.
After reading about worms that would enjoy living in my digestive tract, I revisited a little of Fredric Jameson's "Cultural Logic of Late Capitalism". It was the bit about Van Gogh's peasant boots versus Warhol's diamond dust shoes. It's amazing how prescient he and the others were about imagery, media and accelerated culture. It seems as if they felt the Internet waiting to split civilization at the seams. But, in much the same way the overdetermined, everything-will-be-made-of-aluminum pulp science fiction of the 1950's, the look-and-feel of those "Pictures" artists, and the accompanying media theories, expired before the more substantial part of the message was absorbed.
Now, as hyper-reality prevails in earnest, and all the futuristic amenities predicted in the Jetsons, save for household robots, arrive, we seem to have normalized and adapted to the vertigo of image overload.
Finding an photo of Dave Winfield was half the battle for an artist in 1985. Now the finding is meaningless and the editing is primary. Some consider this condition visual emancipation, but in time most will see it as visual paralysis, a massive amoebic whole leaching the power of helpless individual pictures.
Without trying I can name artists who make images whose content is sourced from diseased organs to supernovae to shopping carts to movie star pets to NASCAR crashes. I saw a collage recently that featured images of emus, James Taylor, Hubble telescopes, Sesame Street characters and gyrating porn stars, and still it hit me softer than the shimmering highlights on the evening gown of one of Sargent's ladies. I can yawn in front a Ryan Trecartin…which proves his point and his value as a cultural commentator. The frisson once evoked by the uncanny juxtapositions enacted by Kurt Schwitters or James Rosenquist have been neutralized by the white noise tidal wave of the internet and the spigot that is the search engine.
This condition makes Richard Prince's cowboys and Sherrie Levine's Edward Westons look extra profound to me in 2012, and forces me to consider if society is capable of putting good commentary to use, or if even at its best, well-aimed cultural criticism will be processed as good taste. It also makes me look at my Dave Winfield and wonder if my children will ever know what it's like to thumb through a pack of baseball cards one by one, reading each image, recording every graphic detail with butterflies in their stomach. My guess is that the orgiastic charge that coursed through me when his card appeared in that pack had something to do with the mystery of limitation and the magic of scarcity.
Someone once said with knowledge goes magic, and with magic goes knowledge. I think I know a place where where that scarcity and limits still exist. To be continued…
---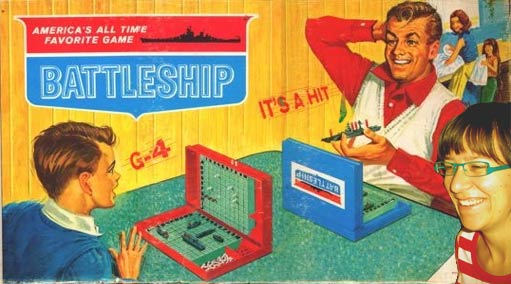 Amanda & everyone involved with the Battleship conversation at Winkleman Gallery in NYC would like to thank everyone for turning out to the show and for helping to make it a great time. Here are some photos of the event as well as the link to the blog by William Powhida and Jennifer Dalton that streamed live video of the event and posts about it plus future events like it.
Again thanks for coming out and look forward to audio from the event in a future episode of Bad at Sports.

---
Ever feel like you wish you could take on painters in a one-on-one art debate!? NOW you can!!! Sink those battleships!! FIGHT FIGHT FIGHT!!! Embrace your inner art competitor!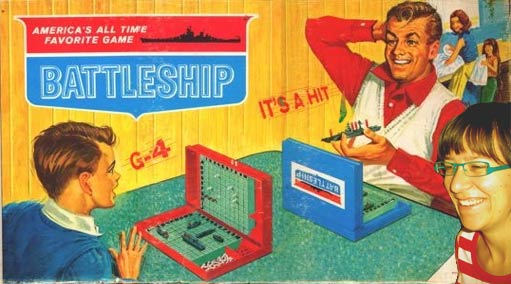 Join our own NYC Correspondant / Referee: Amanda Browder (possible recording) For an afternoon of Battleship gaming at the Winkleman Gallery where two groups go head to head in an art conversation battle.
Sunday, February 28, 2010 / 2pm / part of the William Powhida – Jennifer Dalton exhibition #Class
HOST : Amanda Browder – Bad at Sports Podcast – NYC Correspondent
Address: 637 West 27th Street, NYC – btw 11th and 12th
Battle One: Formalists vs. Conceptualists.
– Why do people still fetishize the object?
– Why can't I buy a performance?
– Can we actually believe half the work that is out there?
– What has more value: objects or ideas?
Battle Two: Painters vs. The World.
– Are painters just magicians? or illusionists?
– Why do painters always make more money?
– Isn't photography a better version of painting?
– Painting sucks…why?
Battle Three: Artist vs. Dealer
– Why can't I believe in my dealer?
– Why are artists so fucked up?
– Dealers suck because they use the artist for their own advantage.
– Artists have no idea what is going on, they need handling.
All are welcome and encouraged to choose your weapon. At the end we will tally up the points and see who really reigns supreme. It's a WAR ON THE SHORE!
It is possible if all works out that some of it might be recorded for Bad at Sports….also an open soap box for ranting.
Bring it Sailor!!!! – I double dog dare you!
---