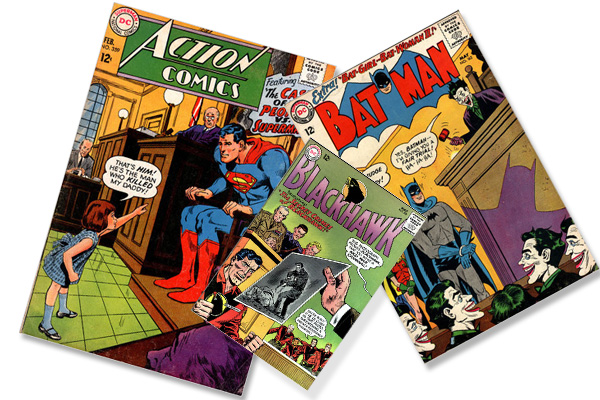 Superheroes in Court! Lawyers, Law and Comic Books
Currently on display at Lillian Goldman Law Library's rare book exhibition gallery at Yale the series showcases examples of images of superheroes in the dock, comic books about lawyers and examples of legal disputes and Congressional inquiries involving caped crusaders. My artist sense tells me somewhere a lawyer who loves comics is currently on kayak.com reserving a seat on the next flight to New Haven, CT. Read more here & here
Merchandise Mart adds LA to the portfolio of Art Fairs
Planed to open in fall of 2011 (want to lay odds it is close if not the same time as Scope: London & Zoo?) the Chicago based Merchandise Mart has hired MOCA's Adam Gross as director of the event. Read more here
The Art on the Walls of Wall Street 2
Even though the original Wall Street film was a better story and all around film it did lack in a few areas most of all it's representation of art. Work, design and taste that is so garish and laughably over the top that it is highly distracting from the story being told. In the sequal the art is more established and used as pantomime of the duplicitous emotions, mood or subtext of the film. The NY Times wrote and interesting article on the process. Read more here
Egyptian Van Gogh Heist now thought to be an inside job
A while back there was the report of a Van Gogh theft from the Mohamed Mahmoud Khalil Museum which had the art security equivalent of a ADT window decal and nothing more (seven out of 43 security cameras functioning and none of the alarms attached to the museum's paintings) now the talk is that it was an inside job. This very well may be true but llet me ask how hard was the planning session for that theft? How complex could it have been since the only thing to slow one down from a theft was remembering if it was a push or pull door at the exit? Habib el-Adly, Egypt's interior minister, said the loss was a "difficult lesson"…. Read more here
Google brings a rough version of a actual usable universal translator
called "conversation mode" which in the art world we could all use more then we would like to admit.

---

Chicago artist Mark Staff Brandl's traveling art exhibition "Out of Sequence" which was most recently opened at the Belmar Laboratory of Art and Ideas museum near Denver, Colorado is now almost out of art. One of the key works which was of a standard comic book spinning rack with 31 hand panted works sitting in the slots had 26 of which stolen during the opening night festivities. 12 of which have since been returned but 14 are still lost. More can be read and followed on at the post on Sharkforum.
Good thing the show didn't open on May 2nd or it could have been worse.
---
Spain's Guggenheim Museum Bilbao has sacked its Chief Financial Officer, Roberto Cearsolo Barrenetxea, Wednesday over confessed embezzlement totaling nearly $800,000 USD over the past decade through small transactions dealing with two companies related to the museum.
Museum officials were unaware of the theft until local authorities raised questions about an unrelated financial transaction.
According to Guggenheim Bilbao director Juan Ignacio Vidarte, Cearsolo confessed in a letter and has returned nearly $462,000 to the museum and has also pledged to return the remainder and to co-operate with a formal investigation.
---

Umanita (or humanity in Italian) is… or was six feet (1.8 meters) high and weighed over 170 pounds (77 kilograms). It stood outside the Newberry Library on the north side of the city of Chicago. That was until it was stolen late Feb. 16 and the afternoon of Feb. 18. Torn from its base and lugged away, Umanita is worth as much as $70,000, said Virginio Ferrari, who created Umanita in 1987 by cutting, shaping and welding stainless steel.
Sadly with steel prices near all time highs there is a real fear that the work is no more and has been melted down into a $300 cube easily sold on the open scrap market.
"The price of steel and metal is very high right now and historically when that happens people remove art," said Elizabeth Kelly, director of Chicago's Public Art Program. "Scrappers seize the opportunity."
Police spokesman Marcel Bright said he can't recall a work as big as Umanita getting snatched in the city, sometimes called the museum without walls because of its more than 700 pieces of outdoor art.
---
Miami-Dade has spent three decades — and more than $33 million — building one of the largest and richest art collections in Florida, destined to enhance courthouses, libraries, transit stations, the airport and the seaport. Now many are missing, dying, destroyed or just in general disarry. Romare Bearden's etching The Train [missing], George Tice's photograph Petit's Mobil Station [missing], Robert Rauschenberg's lithograph Unit (Buffalo) [missing] and the same goes for dozens of other artworks that have gone missing from Miami-Dade's Art in Public Places program.
• A county audit of the program is under way to determine, among other things, why dozens of artworks have been lost or stolen.
• Signature works by seminal artists have deteriorated, with no money and no plans to restore them, while others sit in storage, belying the notion of art in public places.
• At least 20 works that together cost more than $800,000 have been dropped from the collection inventory because they are either damaged or missing.
• Program administrators still rely on an inconsistent, incomplete inventory to track and manage the collection. Read more
---