Audio clip: Adobe Flash Player (version 9 or above) is required to play this audio clip. Download the latest version here. You also need to have JavaScript enabled in your browser.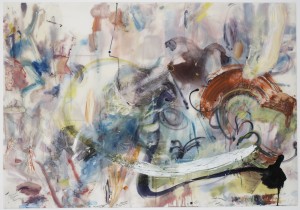 This week Mark Staff Brandl interviews ex-pat artist Leonard Bullock.
Originally from North Carolina and New York City, Bullock has lived in Europe for the last 15 years, frequently exhibiting in Switzerland and Germany. He was often involved in significant events of the artworld in important locations, including starting an artist run gallery in the 80s in NYC, assisting Leon Golub and more, thus making him the source of a wealth of interesting anecdotes and unique criticisms.
Bullock is a painters' painter especially in his mark-making; his direct facture has influenced many better-known contemporaries. He often paints on surprising surfaces such as fiberglass or silk and includes text and images with pure abstraction.
In the "outro" to this weeks show, Duncan defends the good name of Joseph Mohan, against Richard's inappropriate commentary. Read more
---
Audio clip: Adobe Flash Player (version 9 or above) is required to play this audio clip. Download the latest version here. You also need to have JavaScript enabled in your browser.
First, Duncan and Richard present a horribly off-track intro which consists largely of talk of herpes and sleeping around. Eventually they get around to discussing what is really important, this week's show!
Steve Litsios, an artist from La Chaux-de-Fonds in the French-speaking part of Switzerland, is interviewed this week by Mark Staff Brandl. Litsios is known for his vast paper installations, wall objects, smaller sculpture, and web-work, all of which are elegant, restrained, and yet puckish in their surprising flirtation with elements of garishness. His work has recently begun to incorporate political content into his formerly abstract approach. The artist also plays in several roots blues and skiffle bands.
Then, in the closing, Duncan calls out Joseph Mohan. Other wackiness ensues. Read more
---
Audio clip: Adobe Flash Player (version 9 or above) is required to play this audio clip. Download the latest version here. You also need to have JavaScript enabled in your browser.
Duncan "the fieldmouse" MacKenzie interviews Mark "The EuroShark" Staff Brandl, theorist, writer, professor, artist, and contributor to Art in America, Sharkforum and Bad at Sports.
Richard expresses concern that Duncan is off his meds.
Read more
---

The IRS has asked the Swiss government to aid in the investigation of International Banking & Investment group UBS and their overseas tax havens programs which some have reported amount to intentional tax evasion and fraud.
Art Basel is mentioned as the go to location for foreign employees of UBS to illegally recruit wealthy individuals to help them avoid reporting billions of US dollars in assets. Clients were at times told to use code words when communicating with UBS. Testimony states that roughly 80 UBS bankers traveled to the US 4-6 times a year to pitch the bank's secretive services to clients at upscale events as Miami's annual Art Basel fair.
The bankers used encrypted computers, devised codes for their clients' identities, told Customs agents the trips were for vacations, notbusiness, and advised clients to place jewelry, paintings and other assets in Swiss safe deposit boxes, Birkenfeld testified in June, when he pleaded guilty to helping California billionaire Igor Olenicoff evade $7.2 million in U.S. taxes.
Former LGT computer technician Heinrich Kieber helped tax investigators around the world flesh out those statistics by handing over data on approximately 1,400 of the bank's clients.
Kieber is in hiding as Liechtenstein authorities seek him on charges of violating secrecy laws.
---
Audio clip: Adobe Flash Player (version 9 or above) is required to play this audio clip. Download the latest version here. You also need to have JavaScript enabled in your browser.
A Bad at Sports Basel Art Fair Overdose!
The intro and outro are extra creepy this week. Highlights(?) include Duncan talking about some fantasy involving wearing tight short shorts and Teena McClelland!!! Tom Burtonwood interrupts the recording by shooting rubber bands. Chaos!
After Richard and Duncan are done making a mess of things, the real pros come in and present a fantastic report from Basel.
Lamis El Farra, emerging artist, and the EuroShark Mark Staff Brandl, seemingly perennially emerging black sheep artist, traverse and discuss the entirety of the King of Art Fairs, Art Basel. Yes: the Fair Itself, Art Statements, Art Unlimited, Scope, and the Solo Project. They only missed Liste and Print Basel. Sorry, but all the rest was already enough. Of course they were at the VIP opening (ahem) and managed to talk to more people than you can shake a stick at: artists, gallerists, museum directors, curators, critics, art magazine editors, fair organizers, all the hangers-on, …er…, important elements of the international artworld.
Read more
---