Ahoy everyone! It's that time again, the weekend is almost here. In the relentless march toward Art Chicago, there are another slew of TTF (through the fair) shows opening this weekend, primarily concentrated in River North. This weekend I also have work in VideoStore7.375x4x1 at The Op Shop in Hyde Park, which, by the way, has one of the creepiest basements in the entire world. But none of that is on the Top 5. Here's what is…
1. Hagia Sophia at Spoke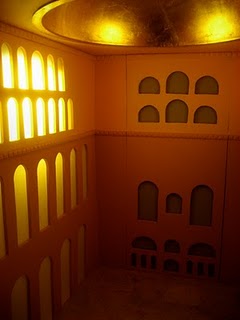 Go and hang out inside a miniature model of the Hagia Sophia. Just think of it as your "safe place." Hagia Sophia (the model at Spoke, not the Basilica in Istanbul) was created by Gwendolyn Zabicki. This is the closing reception, and your last chance!
Spoke is located at 119 N. Peoria. Closing reception is Saturday from 6-9pm.
2. The Last Unicorn Art Show at The Tattoo Factory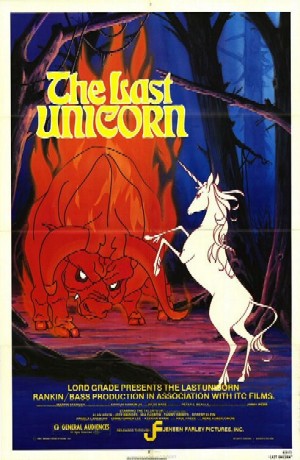 Ok, so, I haven't seen any images from the show, but how can I not pick this? An entire show that exists solely as a tribute to the Last Unicorn? So awesome. Watch out for the Red Bull, and stay away from the sea shore, if you know what I mean.
The Tattoo Factory is located at 4441 N. Broadway. Reception is Friday from 7-11pm.
3. Printervention: Printing for the Public at The Chicago Tourism Center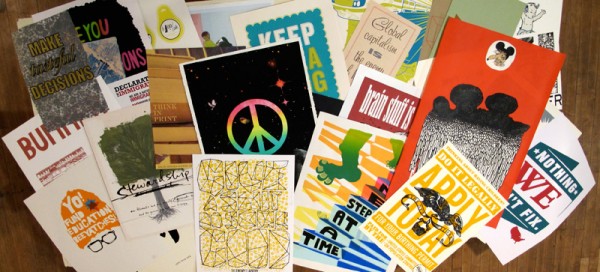 Version Fest is back my friends. This yearly art-stravagaza organized by Co-Prosperity Sphere will be popping up all over in the next couple weeks. Head on down and check out this WPA-inspired print event.
The Chicago Tourism Center is located at 72 E. Randolph St. Reception is Friday from 5-7pm.
4. Night Painting 1995-2010 at Peregrineprogram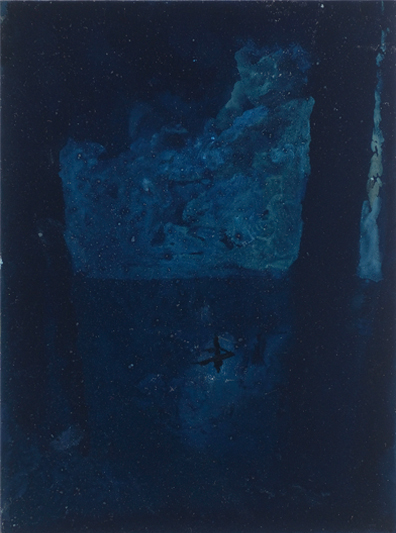 Paintings by Susanna Coffey that aren't self portraits? That's right. Stop on by Edmund's place, but be sure to write down the number (#727), it can be a little are to find, as the building is HUGE.
Peregrineprogram is located at 500 W. Cermak Rd., #727. Reception is Friday from 6-9pm.
5. In a Paperweight & Home for Hobo Too at Tony Wight Gallery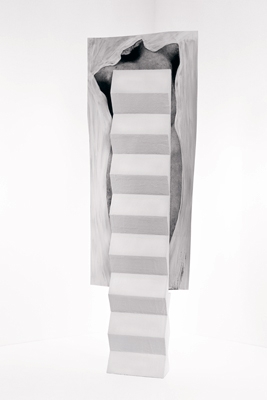 If you haven't already been to Tony's new place, here is another opportunity with a star line-up: Walead Beshty, Sebastiaan Bremer, Daniel Gordon, Tamar Halpern, Barbara Kasten, Sara VanDerBeek, and James Welling in In a Paperweight. In the South Gallery: Home for Hobo Too, work by Allison Schulnik.
Tony Wight Gallery is located at 845 W. Washington Blvd. Reception is Friday from 5-8pm.
---
Hallooo! My darling dearies, it's me again, the bringer of picks and the peddler of shows. Again, I'm not actually going to be around this weekend (this and next I'm in Cali, weekend after that Kentucky, then New Your the following weekend, if all works correctly). I will think of you all as I drink a 40 on Potrero Hill and watch the sun set over San Francisco Friday night. I'll be thinking of you, and ALL THE ART YOU ARE OUT SEEING IN MY ABSENCE! No getting lazy just 'cus the crawler's out of town. Get your ass out there and support your community. Got it? Good! All right, here you go…
Where did #1 go? To the land of Outdated Press Releases, that's where. Continue on to #2.
2. Waiting Room at Spoke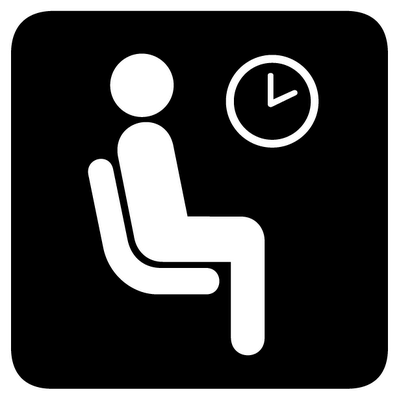 Waiting Room, a piece presented by Stephanie Nadeau, involves, you guessed it, waiting. I know Stephanie from out time at the 'Tute, and have admired her work for as long as I've known her. For this work, ya'll who show up will be invited, and I quote, "to come spend your time. Our mission is to allow you to contribute your time comfortably and productively while remaining completely idle. Wait for as little or as long as you like, it's entirely up to you. Stop by anytime for your free timecard and we'll get you started on a rewarding and enjoyable waiting experience." Come wait with us.
Spoke is located at 119 N. Peoria. Waiting Room is open Saturday from 12-8pm.
3. Radical Semantics at Pentagon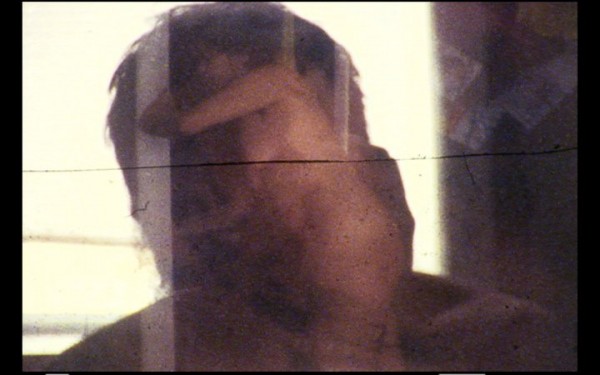 Here is another prime opportunity to sit and wait. Well, perhaps not wait. Held alongside Music From Big Pink, Radical Semantics features 16mm films by Eric Stewart, Alex Lake, Ross McFessell, Adam Neese and Randy Sterling Hunter. And I quote, "Radical Semantics is a survey of 16mm films by film-makers whose methods stand in opposition to the algorithmic and computer assisted processes that define many contemporary media works. Often working with home-made optics and developing their film in sinks and buckets, these filmmakers create short works that emphasize the expressive and opt for complexity rather than reproducibility and homogeneity."
Pentagon is located at 961 W. 19th St., 1F. Screening is Saturday from 8:10-10:10pm.
4. Grand Opening of the New OpShop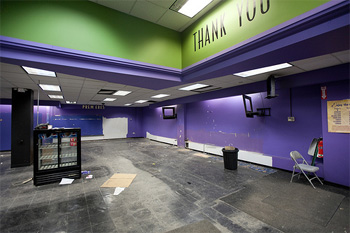 Round two of Laura Shaeffer's marvelous project, the OpShop. And I quote, "The Op Shop v.2 is thrilled to announce the grand opening of Adhocity: an ongoing, evolving where-it's-atmosphere of dialogue and opportunities for the exchange of ideas, objects and histories inspired by the principles of adhocism." Oh, and be sure to head downstairs to THE CREEPIEST BASEMENT EVER! Hooray!
The OpShop is located at 1613 E. 55th St. Reception is Saturday from 5-9pm.
5. Up For the Downstroke at 65 Grand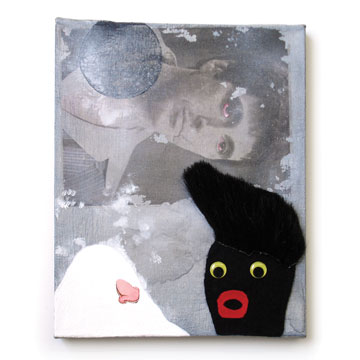 65Grand is awesome, and this work is awesome. What more can you ask for? Work by David Leggett.
65Grand is located at 1378 W Grand Ave. Reception is Friday from 7-10pm.
---
Ok, so for those of you who don't know yet, CAA (College Art Association) has dubbed Chicago worthy for it's pedagogical adventures, and has settled in our fair city for the weekend. As a member of CAA, I'll be cruising from lecture to lecture the next few days, trying to suck up as much strange knowledge as I can while the circus is in town. But I'm not the only one excited about the CAA crew. As a result of the conference, just about everyone else in town is trotting out something or other, much of which is AWESOME! As a result, I bring you The Biggest Top 5 You've Ever Seen! Rather than picking individual galleries for the Top 5, I've corralled a Top 5 of places (in no particular order) you should go this weekend. Hope y'all enjoy.
1. Pilsen
The self-proclaimed Chicago Arts District is holding it's monthly 2nd Fridays round of openings. Here's the places I'd go if I were you: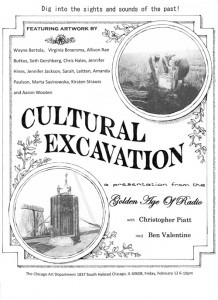 Chicago Art Department – 1837 S. Halsted. Cultural Excavation, work by Christopher Piatt, Ben Valentine, Wayne Bertola, Virginia Broersma, Allison Rae Butkus, Seth Gershberg, Jennifer Hines, Jennifer Jackson, Sarah Leitten, Amanda Paulson, Aaron Wooten and others. Reception Friday, from 6-10pm.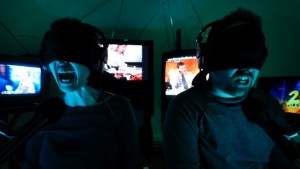 ROOMS Gallery – 645 W 18th St. ORACLE:CHANNELING, with Marrakesh & Todd Frugia. Performance Friday, from 8-10pm.
---
Alright, so last week was slow. This week is quite the opposite. There are a bunch of things going on. Because of that, I have decided, in response to my Top 4 of last week, to do a Top 6 this week. Don't like it, well, then you can just get out! For the rest of you, here it goes…
p.s. don't mind the pics, sometimes I have to make my own
1. The Chicago Project III at Catherine Edelman –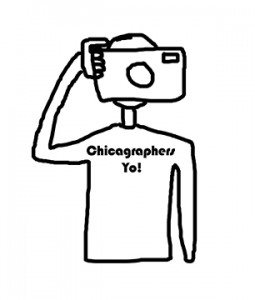 I generally avoid River North. Not because it's bad, per se, but simply because most of what I see there is somewhat boring and repetitive. Edelman is one of the exceptions (there are a few) that keep me coming back every now and again. Her fare is photo, and only photo as far as I've seen. I have yet to see something there I didn't like, and this upcoming show is no exception. On top of that, you probably know people in the show! Everybody likes seeing their friends work up in a nice gallery, right? Opening this week is The Chicago Project III. The Chicago Project is an online gallery Edelman runs of Chicago artists. Each year she selects work from it and puts on a live exibition. Selected artists this round include: Shannon Benine, Philip Dembinski, Bill Guy, Eric Holubow, Julie Meridian, Jason Robinette, James Rotz, David Schalliol, Daniel Shea, Sarah Stonefoot, Leasha Overturf and Alan Thomas. Friday night, get there early though, she closes her doors promptly at 8pm.
Catherine Edelman is located at 300 W. Superior St.
2. Size Matters!!! at Packer Schopf –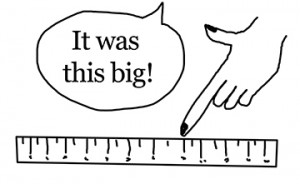 Huh huh…huh huh…ok, now that that's out of the way. Good old Packer's done it again. I like it when he does group shows from his stable. Most of what he shows there appeals to my taste, so going to a group show is like being a kid in a candy store. Or, in this case, an elephant store? Packer shows a lot of huge work, so for his, as his website says "Summer Group Show," he's trotting out the biggies for us to feast out eyes on. Featured artists include: Rebecca Ringquist, Mark Crisanti, Laurel Roth/Andy Diaz Hope (collaboration), Victoria Fuller, Jenn Wilson, Michael T. Rea, Jud Bergeron, Renee McGinnis, Don Cameron, Catherine Jacobi, David Hooker, Doug Smithenry & Krista Wortendyke. Stop by while you're in the West Loop Friday, opening's from 5-8pm.
Packer Schopf is located at 942 W. Lake St.
3. In Memory Of…A Love Story at Spoke –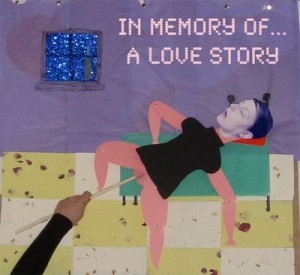 Hit number two for the West Loop. While you're hiking up the stairs at 119 to ThreeWalls, make sure you make it all the way to the top floor and head for Spoke. This tiny gallery, in (I think I'm remembering this right) the space formerly occupied by GardenFRESH, has been putting on exhibitions and durational performance pieces for about a year now. This round, they are hosting Karolina Gnatowski, who is performing In Memory Of…A Love Story. Pulling from Spoke's own website, the event is described as "an evening of classic rock, whiskey, puppetry and bitter sweetness as K.G. performs a tragic tale of romance." How could you possibly go wrong with that? Spoke is open Friday night from 6-9pm, the performance starts at 7pm. Again, be on time, that place is tiny, and it sucks having to listen to performances from the hallway.
Spoke is located at 119 N. Peoria St.
4. Dogcat: FBI (Feline Behavioral Institute) vs. Canine Fashion at Swimming Pool –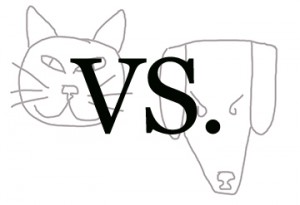 Now you can finish of Friday night with some good old feline (or canine) fun up at Swimming Pool. Located in Albany Park, it can be a bit of a trek from down town, but this show is probably going to be worth it. It is time for the ultimate battle between the self proclaimed "cat" people and "dog" people. Well, maybe not that, but get ready for a truck load of cat themed art, and a doggie fashion show. Now, I know what you're thinking: "a doggie fashion show?" Well, this is a doggie fashion show put on by pooch, and presumably, booze loving artists (pronounced ar-TEE-sts). Just watch your ankles, you don't want someone begrudgingly lifting their leg on your shoe while you admire the pretty kitties. Open Friday, from 8-10pm.
Swimming Pool is located at 2858 W. Montrose Ave.
5. Selections From the Fabio-Mueller Collection at Mini Dutch –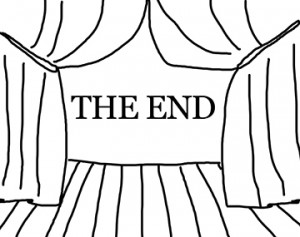 Saying good bye is always hard, and this is the last goodbye for Mini Dutch. Owner Lucia Fabio is shutting down and moving back to So. Cal, so this is your last time to check out this well-known apartment gallery. For her final show, Lucia will be showcasing work from her own collecting that she has acquired over the course of Mini Dutch's run. Artist work included in Fabio-Muller collection that will be on display: Daniel Anhorn, EC Brown, Blazo Calovic, Peter Hoffman, Andrew Holmquest, Mathew Paul Jinks, Carol Jackson, Stacie Johnson, Chris Millar, Liz Neilsen, Vivien Park, Caroline Picard, Mark Porter, Renee Prisble Una, Chris Shaefer, Shane Swindler, Matthew Whiting. This is a one night only event, Saturday night from 7-10pm.
Mini Dutch is located at 3111 W. Diversey Pkwy.
6. Nah Pop No Style at Roots and Culture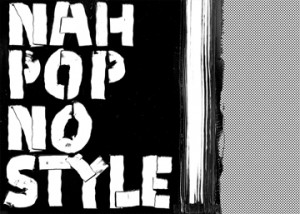 This is purely an allegiance to where I've lived selection. The subtitle of the show is Work by painters from Baltimore and Providence. My husband went to grad school at MICA, so I lived in Baltimore for a year. Weird-ass place, but there are defiantly a lot of good artists from there. I don't recognize any of the names, but I'm hoping I recognize some of the work. And hey, maybe they'll be serving Carmen corn again. B-more and Providence artists strutting their stuff at R&C include Lucy Campana, Chris Day, Alex Griffith, Andrew Goett, Thomas Harrington, Annabeth Marks, Clay Schiff, Quinn Taylor, Chloe Wessner, Kandis Williams and Blade Wynne. Show opens Saturday from 6-9pm.
Roots and Culture is located at 1034 N. Milwaukee Ave.
---
'Sup ya'll. Drumroll please…
1. Three cheers for Futurism!?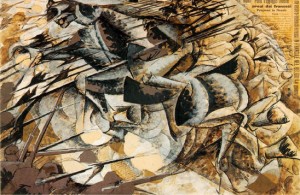 You've got to love an art movement obsessed with industrialized warfare who's adherents where so woefully incompetent at warfare that most of them died as soon as they set foot on the battle field. Remember dears, function before fashion on the battlefield. If you'd like to learn more about the Futurists, stop by Istituto Italiano di Cultura on Friday around 6pm. They'll be reading the Futurist Manifesto alongside contemporary music and dance commemorating Futurism's 100th B-Day. Hooray for Futurism!
2. Inflatable Art at Spoke!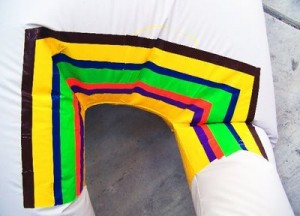 OK, so I don't think I've ever seen Claire Ashley's work before in person, but I looked up her website, and her performances look weird enough to warrant an in-person look. For Spoke she is creating a giant blow up mattress/wall/window voyeur object-thing. Apparently there will be a camera there to shoot people playing with it, so go play! You can have interactive art with no one to interact with it. Friday night from 5-7pm.
3. Everyone likes art raffles, right
Well my dear friends, it's time to say bon voyage and go to heaven. Not the dead people one, the one on Milwaukee. Harold Arts is raffling off art by their 2009 residents to raise money for the future Harold Arts Residency. That's a clean little loop if I ever saw one. So come, play the odds, and perhaps you'll go home with some art you like. Friday from 8-midnight.
4. The ultimate battle: the herbivore vs. the carnivore.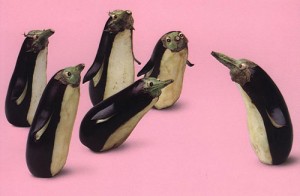 Dude, high five to Hyde Park Art Center and the people who put on Artist Run Chicago. They just keep having awesome stuff, why must it end? Well it's not over yet my friends, and this week they'll be holding the great "Fryvalry." Ya'll are invited to bring meat or veggies (whatever fits you persuasion) for Phillip Von Zweck and Kevin Jennings to grill up in the ultimate test of gristle vs. greens. It's just cool. Saturday afternoon, 3-6pm.
5. Indie films..
If you're looking for some fun Sunday evening, and have $10 to spare, you should head over to the Elastic Arts Foundation and check out some indie films. The screening was curated by Ehsan Ghoreishi and is being held to raise money for another film, Voices and Faces of the Adhan: Cairo. Voices… is a documentary about muezzins, and how soon, for the first time in over a thousand years, they're all going to be out of a job. Thanks technology, sometimes you suck. You can learn more here. Movies start at 7pm and go 'till 10pm.
---