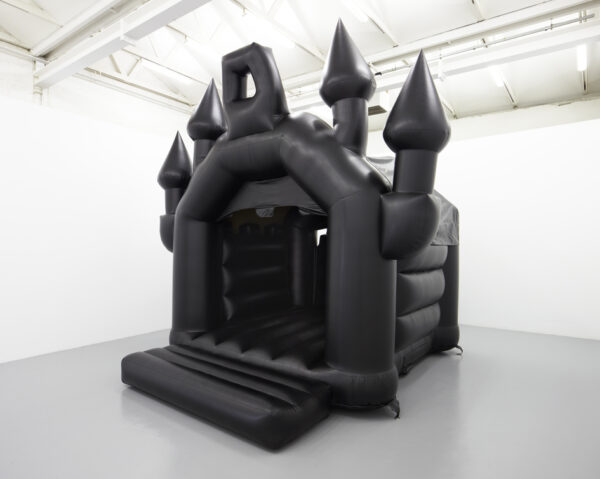 Photos will not prepare you for Department of the Interior by Tom Dale, nor will the description: a bouncy castle made from black leatherette. But stepping round a corner at Aid & Abet, Cambridge, UK, there it was, roaring with the sound of an air pump, trembling slightly, inviting allcomers.
"You can't access this piece," says Dale, "You have to imagine that you're bouncing on it, which is twitching the nerves between the brain and the fingertips." So black leather, as he acknowledges, has never promised so much fun.
This is troublesome. Dale describes the viewing experience as "algebra", in which you gauge your own reaction against those of other people. "What I'm interested in is an examination of yourself as well as what we see before us."
The London-based sculptor identifies two opposing pleasures at work here. Along with the idea of a kids' party, There are he points out "S&M overtones". One is a public activity, the other very private. "What I think is interesting about the work is it traps two opposing forces," he says.
In many ways it is this potential for the tasteless which led to the work's creation. Dale uses the word 'wrong' as if the castle is a moral error: "When something is wrong, we are drawn to engage with it. When things are wrong, we want to put them right," he says. "We want to put the house in order."
And yet bouncy castles are a fine metaphor for our current circumstances. They represent the soft power which governs most lives in the West. Bright colours and shrieking kids tend to obscure this, but in forbidden leather there's no mistaking the work of a hidden hand.
There was nearby another monumental piece in which power was hinted at rather than demonstrated. This was High Noon, a red carpet bearing the footprints of a missile launcher: a cruciform image from the crushed and oily outlines of a very heavy stand.
Research is critical for Dale, and he demonstrates as much with a knowledge of obsolete military hardware. He tells me the imprint of this launcher was for a Thunderbird, developed in the 1950s, the last surface-to-air missile that Britain produced.
The artist compares such technology to the convoluted mechanical fantasies of Victorian artist Heath Robinson. "You would fire it into space and press a button and the nose cap comes off and it throws a chain net over the airplane that it's nearby, which is kind of amazing."
"What working on this scale has taught me is that you need to do your research. You need to go to places. You need to visit people who supply the materials or the vehicles or the objects you need," he says. This lets Dale take resulting decisions on a level he calls, "Very microscopic."
As with Department of the Interior, High Noon invites and frustrates a desire to step on board. "It's kind of like a homeopathic pill," says Dale of his cold war trace. So perhaps what both pieces lead to, in their playful way, is an immunity to fear of power structures.
Armed with a recent PhD, Dale is ready with plenty of theories about the effects and the workings of his chosen art form. But according to this audacious sculptor, what he does relates less to philosophy than it does to knowledge.
"It's about how we organise, how we arrange things, how we fit into these things that we know," he says. "These works here are, if you like, knots or joints of culminations of a certain kind of knowledge, but then it becomes dissolved." So, again perhaps, an apparatus of knowledge cannot always stand up to critical engagement, certainly not to comical engagement.
In conversation with Dale, you find he moves nimbly from metaphor to metaphor, and never without a sense of humour. So he will also describe his works as, "being like a ventriloquist's dummy, but when I take my hand out they're still telling me things".
As for the contest between the monumental works he brings to the gallery, and the virtual realm in which we sometimes occupy, Dale states his intention to, "produce an object that releases ideas or discusses things in a different way at a different speed, with a different currency."
These are left field works from a left field talent. By way of an aside the artist puts forward his latest theory of mind: "I'm beginning to think that our brain exists outside of us as well, that it's almost like we have an invisible unicorn's horn type brain."
"I think there's a brain which only exists when we start to speak or when we start to act," he continues, "Maybe I need to work on the formal construction of that a bit". It does sound like the starting point for another push-me, pull-me sculpture, the visceral brain by Tom Dale.
---
What follows is an essay by John Preus, soon to be released in the next issue of Proximity :
ON LOVE AND LABOR-THOUGHTS THAT ACCOMPANIED THE MAKING OF AÂ TABLE
By John Preus
I recently joined a Jungian men's group…(pause for my academic colleagues to peel off).
On some occasions in the group, we go around the room and everyone says something they don't want anyone else to know about them. It's called the withholding exercise.
One man was sexually and repeatedly abused by his older siblings, one had an affair with his brother's wife and his brother has never forgiven him, one hates his job and is embarrassed that he can't leave it, a married man loves his wife but is also attracted to young boys and suffers from intense longing, one is embarrassed that his stomach is growling, one spends more time than he would like to admit looking at pornography and was discovered masturbating by his 9-year-old daughter, one loves his wife so much that he feels emasculated and jealous and is afraid he will disappear, and one is in the depths of financial ruin.
I find this all riveting. Despite trying to maintain my cherished neutrality, I divulge to a room full of strangers something I've never told anyone before because it feels disingenuous under the circumstances. The confession, and the resulting (asexual) intimacy I felt with a room full of men was like an electric charge that glowed in me for a couple of days, temporarily erasing my general social anxieties. Under certain circumstances, shared vulnerability invites trust.
Tables support activity. And when they are not supporting activity, they are ready-to-hand, expectant, loitering around waiting for something to happen.  The now traditional binary, form and function, addresses this dual role of objects in their identity as placeholders and actors.   They are supposed to look graceful in waiting, to redeem the embarrassing position of being un-engaged.  I am inclined to think that craft, like Glenn Adamson points out, is a way of thinking about what happens in the world, how to have some influence over it, your place in it, culpability and accountability.  But the history of craft is also a reflection of collective longing and anxiety, loitering on the banks of the Styx, barking at the thing moving in the bushes.
Patching, as an additive variant of repair, is a long-standing strategy for lengthening the lifespan of a well-worn object, taking a piece of something to cover a worn piece of something else. Pant knees are patched with denim, roofs are patched with tarpaper and shingles, streets with bituminous, yards with pieces of sod, tarps with duct tape, cars with Bondo, boats with fiberglass resin. A patch is used when the object still functions, but is not stable unto itself. A patch does not generally change what a thing is, but prolongs a thing's ability to be what it is, however temporary. A pair of pants could be patched with shirt material to the point of being more shirt than pant. While this may be problematic for an ontologist—assuming that the pants continue to be worn on the lower half of the body—most of us would be able to accommodate them without philosophical strain. At the same time, the identifying function, "pants" occupies a relatively short span of time on their material morphology.
Quilting, a designation generally reserved for things made of fabric, is the result of surplus parts. It is not quite an assemblage or collage, although that history certainly relates to what is interesting to me about the table. An assemblage has to incorporate disparate parts, disruptions, things that were not meant to be together, a forced marriage, so to speak. Being that all of the table parts are wood, it isn't suitable to describe it as an assemblage or a collage. And it is not marquetry, which is an image or pattern-making technique using veneers of different colors to develop a picture. Quilting takes parts of other things to make a new thing. I would venture to guess that it comes out of a utilitarian folk tradition in which materials were limited and people had to make do with what was around. That may have been true long ago, but I am sure that quilting happens now more among folks with time to kill, than among low income folks trying to save material, textiles being as inexpensive as they are.
The most apt description might be bricolage, or using what is on-hand. Levi-Strauss damned bricolage as mythological and irrational thought, in contrast to the engineer. Deleuze and Guattari described it as the general mode of thought for a schizophrenic. I prefer Jacques Derrida's statement: "If one calls bricolage the necessity of borrowing one's concept from the text of a heritage which is more or less coherent or ruined, it must be said that every discourse is bricoleur." Borrowing parts of other things to make a table strikes me as the most adequate expression of what a thing is in the broadest sense.    Within the table is another table, a futon frame, pieces of virgin plywood, parts from other projects, bits of a chair, and a panel from a stereo cabinet. Those identities have all been subsumed to become the "table" but they have not entirely given up their former character.
---
Audio clip: Adobe Flash Player (version 9 or above) is required to play this audio clip. Download the latest version here. You also need to have JavaScript enabled in your browser.

download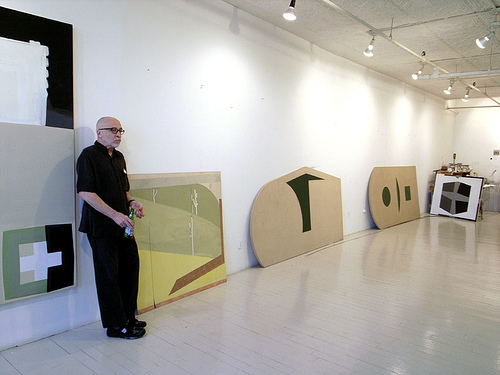 Bio from Devening Projects…
(born 1942) Gary Stephan has been showing his painting and sculpture since the late sixties in the United States and Europe. He has had solo shows in New York at Bykert Gallery, Mary Boone Gallery, Hirschl and Adler and Marlborough Gallery; in Los Angeles at Margo Leavin Gallery and Daniel Weinberg Gallery; and in Berlin at Galerie Keinzle and Gmeiner among many others. His work can be found in the collections of The Guggenheim Museum of Art, The Metropolitan and the Museum of Modern Art, as well as museums nationwide. He is the recipient of awards from the National Endowment of the Arts, the Guggenheim Foundation and the American Academy of Arts and Letters. He teaches in the MFA program at School of Visual Arts in NYC and is currently represented by Kienzle Art Foundation in Berlin. Gary Stephan lives and works in New York City and Stone Ridge, NY.
Image from…
All your bases belong to us.
---
Being a visual artist today is a vow of poverty. Few go voluntarily into art for financial reasons. And those that just happen to meet with financial success, probably would have done even better on Wall Street. From experience I know that the the vision quest toward understanding conceptual art strips most of their petty materialist needs.
When I was 15 I badgered my father to buy me a Chrysler Conquest if I got straight A's. (It's one of my last and most embarrassing secrets.) He wouldn't have been risking much by agreeing because I was a poor high school student, but balked anyway for fear that I might make a miraculous turn-around. I didn't, and by the time I did turn it around in college I had moved beyond sports cars and into the monastery of the conceptual art world.
I often repeat a line that I borrowed from a professor:  "I don't need to buy art. I own it when I know it."
This distinction is problematic for those outside art world, those not privy to nerdy conversations in boozy studio visits. People who hear and read about paintings selling for millions of dollars at auction have a difficult time squaring art's abstract concepts with its concrete price tags.
My father-in-law is one of those people. He asks me regularly "how is the art business is going." He means "how much money do I make selling pictures," but instead of opening my ledger book, I rattle off numbers from the Art Newspaper about weekend sales figures at Christies or Sotheby's. I throw Damian Hirst and Jeff Koons in front of him like barrels in a street chase.
He likes numbers. He likes things more than concepts. Or he thinks he does. Father-in-law regularly sends us parcels filled with fun gizmos we don't have the space to store: clunky media docks with LCD screens and radios to park and enhance technologies that we don't use or have the inclination to manage. Sharper image gadgets that deionize the air, and stand-alone self-balancing coat racks that, should we use them, would injure us as we navigate to the bathroom at midnight.
This past week we received a package that contained what looked like an old-fashioned analog telephone but with an adaptor to fit into the speaker jack of a cell-phone. If worthless in its utility, the concept isn't completely un-funny. After its idea is absorbed though, it is doomed to live life out in purgatory under the bed, not quite thing and not quite pure concept. like art, gifts have an aura that make their physical disposal unpleasant for its custodians.
The logic behind creating this novelty phone isn't dissimilar from the logic that inspires much of the work in the sculpture studios of any MFA program. The difference is, in the case of the conceptual entrepreneurs behind that phone, they have no way of monetizing their creation other than mass-producing it. So they do, and it's cheap, and my father-in-law buys it, sends it as a conceptual gesture, and finally I unsuccessfully try to curate it into my tiny apartment museum, wondering year-after-year what to do with it. Like my own personal Walter De Maria "Earth Room".
My wife and I recently had a baby. This baby lives in our nuclear submarine-shaped apartment. So something had to give, and it has. Our museum of impractical gifts has been forced to deaccess. Ebay, Goodwill , regifting and recycling. Out with a wine rack that "whines" when you take a bottle out of it, out with the mounted fish that sings hillbilly songs, and out with the inexplicably hookless Green Bay Packers helmet-shaped head warmer that needs to be set on a shelf so as not to smash its internal hardware.
I disposed of these gifts last weekend, and as I did, my wife waxed nostalgic about the birthdays and holidays they signified. I told her, in true artistic spirit, she will always HAVE these gifts because she KNOWS them. That it's the concept not the material that is the real content. If they were useful they wouldn't be haunting the space under our bed.
She sighed unconvinced and I continued to jettison.
I felt a little less burdened by purposeless clutter afterward. But alas our new family still remains shoehorned into a 400 square foot railroad apartment, and in spite of my vow of poverty and material austerity, I find myself daydreaming of a big house, one with lots of closet space, a dining room not doubling as a baby's feeding room, and maybe even a back yard with a swingset.
I will never need a McMansion out in a treeless subdivision, for I am an art monk, but does musing about concept make me an apostate? Maybe one day when UPS figures out how to ship rooms from suburban homes, my father-in-law will put one in the mail for us.
---
Audio clip: Adobe Flash Player (version 9 or above) is required to play this audio clip. Download the latest version here. You also need to have JavaScript enabled in your browser.
download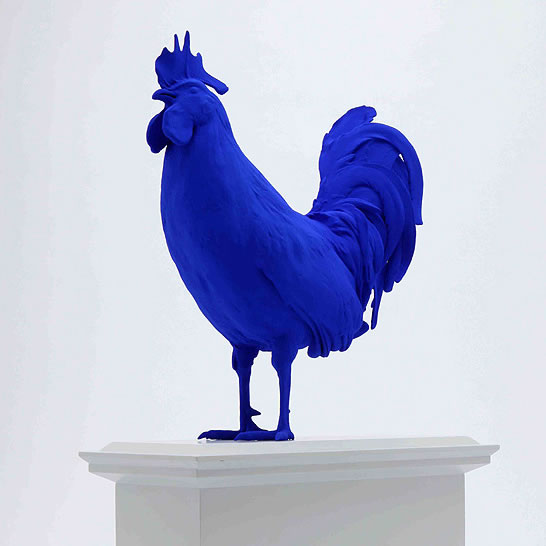 This week: We talk to artist Katharina Fritsch!
Richard says "cock" and "Hologram Tupac" a whole lot.
Katharina Fritsch is known for her sculptures and installations that reinvigorate familiar objects with a jarring and uncanny sensibility. Her works' iconography is drawn from many different sources, including Christianity, art history and folklore. She attracted international attention for the first time in the mid-1980s with life-size works such as a true-to-scale elephant. Fritsch's art is often concerned with the psychology and expectations of visitors to a museum. Gary Garrels wrote that "One of the remarkable features of Fritsch's work is its ability both to capture the popular imagination by its immediate appeal and to be a focal point for the specialized discussions of the contemporary art world. This all too infrequent meeting point is at the center of her work, as it addresses the ambiguous and difficult relationships between artists and the public and between art and its display—that is, the role of art and exhibitions and of the museum in the late twentieth century." The special role colour plays in Fritsch's work has roots in her childhood visits to her grandfather, a salesman for Faber-Castell art supplies, whose garage was well-stocked with his wares.
Her most recognized works are Rattenkönig/Rat King (1993), a giant circle of black polyester rats, included in the 1999 Venice Biennale. Other works include Mönch (Monk) (2003), a stoic, monochromatic male figure, made of solid polyester with a smooth, matte black surface; Figurengruppe / Group of Figures (2006-2008), an installation of nine elements; and Hahn (Cock) (2010), a 14ft (4.3m) cockerel in ultramarine blue to be shown on London's Trafalgar Square in 2013.
In her working process, Fritsch combines the techniques of traditional sculpture with those of industrial production. While many of her early works were handcrafted, Fritsch now makes only the models for her sculptures and then hands these over to a factory for production, to near-pathological specifications. She uses these models to create moulds, from which the final sculptures are cast in materials such as plaster, polyester and aluminium. Many are made as editions, meaning that multiple casts are taken from one mould.[5] For the duration of some of her exhibitions, Fritsch has made her multiples available for sale at the respective museums.
---