Being a visual artist today is a vow of poverty. Few go voluntarily into art for financial reasons. And those that just happen to meet with financial success, probably would have done even better on Wall Street. From experience I know that the the vision quest toward understanding conceptual art strips most of their petty materialist needs.
When I was 15 I badgered my father to buy me a Chrysler Conquest if I got straight A's. (It's one of my last and most embarrassing secrets.) He wouldn't have been risking much by agreeing because I was a poor high school student, but balked anyway for fear that I might make a miraculous turn-around. I didn't, and by the time I did turn it around in college I had moved beyond sports cars and into the monastery of the conceptual art world.
I often repeat a line that I borrowed from a professor:  "I don't need to buy art. I own it when I know it."
This distinction is problematic for those outside art world, those not privy to nerdy conversations in boozy studio visits. People who hear and read about paintings selling for millions of dollars at auction have a difficult time squaring art's abstract concepts with its concrete price tags.
My father-in-law is one of those people. He asks me regularly "how is the art business is going." He means "how much money do I make selling pictures," but instead of opening my ledger book, I rattle off numbers from the Art Newspaper about weekend sales figures at Christies or Sotheby's. I throw Damian Hirst and Jeff Koons in front of him like barrels in a street chase.
He likes numbers. He likes things more than concepts. Or he thinks he does. Father-in-law regularly sends us parcels filled with fun gizmos we don't have the space to store: clunky media docks with LCD screens and radios to park and enhance technologies that we don't use or have the inclination to manage. Sharper image gadgets that deionize the air, and stand-alone self-balancing coat racks that, should we use them, would injure us as we navigate to the bathroom at midnight.
This past week we received a package that contained what looked like an old-fashioned analog telephone but with an adaptor to fit into the speaker jack of a cell-phone. If worthless in its utility, the concept isn't completely un-funny. After its idea is absorbed though, it is doomed to live life out in purgatory under the bed, not quite thing and not quite pure concept. like art, gifts have an aura that make their physical disposal unpleasant for its custodians.
The logic behind creating this novelty phone isn't dissimilar from the logic that inspires much of the work in the sculpture studios of any MFA program. The difference is, in the case of the conceptual entrepreneurs behind that phone, they have no way of monetizing their creation other than mass-producing it. So they do, and it's cheap, and my father-in-law buys it, sends it as a conceptual gesture, and finally I unsuccessfully try to curate it into my tiny apartment museum, wondering year-after-year what to do with it. Like my own personal Walter De Maria "Earth Room".
My wife and I recently had a baby. This baby lives in our nuclear submarine-shaped apartment. So something had to give, and it has. Our museum of impractical gifts has been forced to deaccess. Ebay, Goodwill , regifting and recycling. Out with a wine rack that "whines" when you take a bottle out of it, out with the mounted fish that sings hillbilly songs, and out with the inexplicably hookless Green Bay Packers helmet-shaped head warmer that needs to be set on a shelf so as not to smash its internal hardware.
I disposed of these gifts last weekend, and as I did, my wife waxed nostalgic about the birthdays and holidays they signified. I told her, in true artistic spirit, she will always HAVE these gifts because she KNOWS them. That it's the concept not the material that is the real content. If they were useful they wouldn't be haunting the space under our bed.
She sighed unconvinced and I continued to jettison.
I felt a little less burdened by purposeless clutter afterward. But alas our new family still remains shoehorned into a 400 square foot railroad apartment, and in spite of my vow of poverty and material austerity, I find myself daydreaming of a big house, one with lots of closet space, a dining room not doubling as a baby's feeding room, and maybe even a back yard with a swingset.
I will never need a McMansion out in a treeless subdivision, for I am an art monk, but does musing about concept make me an apostate? Maybe one day when UPS figures out how to ship rooms from suburban homes, my father-in-law will put one in the mail for us.
---
Audio clip: Adobe Flash Player (version 9 or above) is required to play this audio clip. Download the latest version here. You also need to have JavaScript enabled in your browser.
download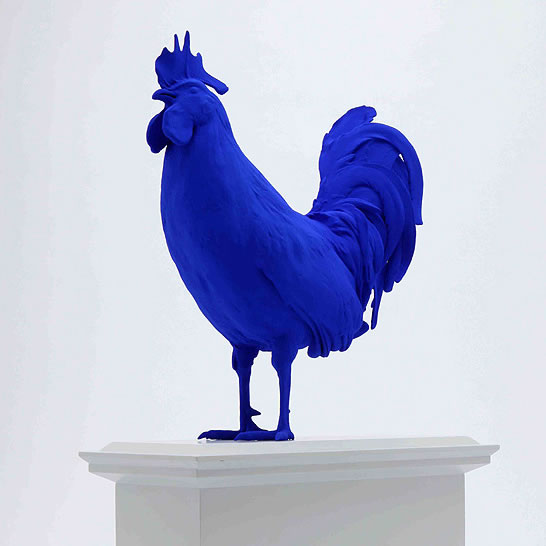 This week: We talk to artist Katharina Fritsch!
Richard says "cock" and "Hologram Tupac" a whole lot.
Katharina Fritsch is known for her sculptures and installations that reinvigorate familiar objects with a jarring and uncanny sensibility. Her works' iconography is drawn from many different sources, including Christianity, art history and folklore. She attracted international attention for the first time in the mid-1980s with life-size works such as a true-to-scale elephant. Fritsch's art is often concerned with the psychology and expectations of visitors to a museum. Gary Garrels wrote that "One of the remarkable features of Fritsch's work is its ability both to capture the popular imagination by its immediate appeal and to be a focal point for the specialized discussions of the contemporary art world. This all too infrequent meeting point is at the center of her work, as it addresses the ambiguous and difficult relationships between artists and the public and between art and its display—that is, the role of art and exhibitions and of the museum in the late twentieth century." The special role colour plays in Fritsch's work has roots in her childhood visits to her grandfather, a salesman for Faber-Castell art supplies, whose garage was well-stocked with his wares.
Her most recognized works are Rattenkönig/Rat King (1993), a giant circle of black polyester rats, included in the 1999 Venice Biennale. Other works include Mönch (Monk) (2003), a stoic, monochromatic male figure, made of solid polyester with a smooth, matte black surface; Figurengruppe / Group of Figures (2006-2008), an installation of nine elements; and Hahn (Cock) (2010), a 14ft (4.3m) cockerel in ultramarine blue to be shown on London's Trafalgar Square in 2013.
In her working process, Fritsch combines the techniques of traditional sculpture with those of industrial production. While many of her early works were handcrafted, Fritsch now makes only the models for her sculptures and then hands these over to a factory for production, to near-pathological specifications. She uses these models to create moulds, from which the final sculptures are cast in materials such as plaster, polyester and aluminium. Many are made as editions, meaning that multiple casts are taken from one mould.[5] For the duration of some of her exhibitions, Fritsch has made her multiples available for sale at the respective museums.
---
Audio clip: Adobe Flash Player (version 9 or above) is required to play this audio clip. Download the latest version here. You also need to have JavaScript enabled in your browser.
download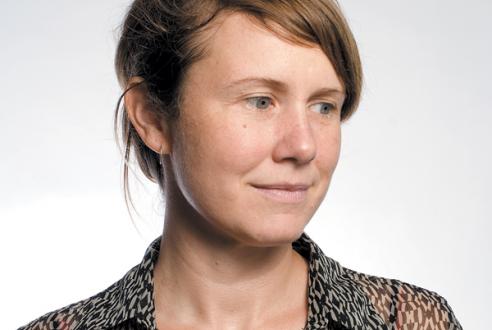 This week: Philip von Zweck sits down to talk with artist and educator Kelly Kaczynski.
GO CHECK OUT HER SHOW AT THE COLLEGE OF DUPAGE-GAHLBERG GALLERY! I heart the Gahlberg Gallery.
Kelly Kaczynski: Study for Convergence Performance (ice)
Jan.19 to Feb. 25, 2012
Study for Convergence Performance (ice) is the second work in a series that seeks to conflate the artist's studio as a performative site of production, the space of display as the reception of image, and landscape as site for epic but apathetic metaphor. It uses the devices of the theatrical stage and the green screen; both of which operate as a "non-space" that allows the conflation of multiple contexts or sites. She uses imagery from landscapes that shift in time, such as bodies of water including glacier fields. The title of the piece refers to Robert Smithson's idea of "the range of convergence between site and non-site" whereas the land from the originating site is placed in the container of the non-site. In Study for Convergence Performance, the site of origin and the sign of site converge as they transpose in a collapse of time.
Kelly Kaczynski is an assistant professor and assistant chair in the Department of Art Theory & Practice at the Weinberg College of Arts and Sciences, Northwestern University.  Kelly is a sculptor and installation artist. Her work, while existing in a temporal-spatial platform, is deeply materials based. She received an MFA from Bard College in 2003 and a BA from The Evergreen State College in 1995. She has exhibited with threewalls, Chicago; Hyde Park Art Center, Chicago; University of Buffalo Art Gallery, NY; Rowland Contemporary, Chicago; Triple Candie, NY; the Islip Art Museum, NY; Cristinerose/Josee Bienvenu Gallery, NY; DeCordova Museum, MA; 123 Watts Gallery, NY; and the Boston Center for the Arts, MA. Kaczynski's work was included in the Boston Drawing Project at Bernard Toale Gallery, Boston. Public installations include projects with the Main Line Art Center, Haverford, Pennsylvania; the Interfaith Center of New York; the Institute for Contemporary Art, Boston and the Boston National Historic Parks; and the Boston Public Library. Kaczynski has taught at the School of the Museum of Fine Arts, Boston, the University of Pennsylvania, the University of Illinois at Chicago, and University of Chicago.
---
Audio clip: Adobe Flash Player (version 9 or above) is required to play this audio clip. Download the latest version here. You also need to have JavaScript enabled in your browser.

download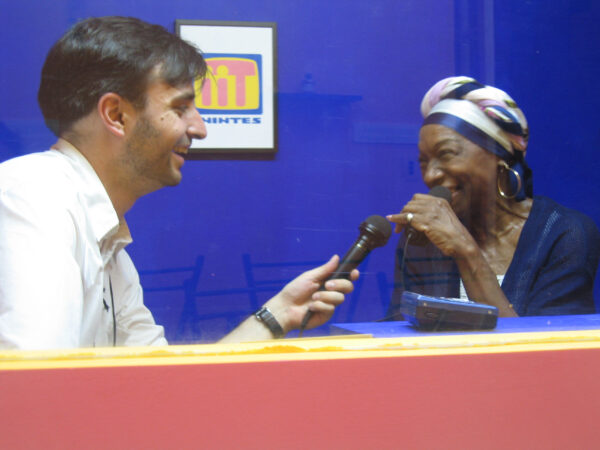 This week: More Open Engagement "SoPra"! This week we talk to Pablo Helguera!
Pablo Helguera (Mexico City, 1971) is a New York based artist working with installation, sculpture, photography, drawing, and performance. Helguera's work focuses in a variety of topics ranging from history, pedagogy, sociolinguistics, ethnography, memory and the absurd, in formats that are widely varied including the lecture, museum display strategies, musical performances and written fiction.
His work as an educator intersected his interest as an artist, making his work often reflects on issues of interpretation, dialogue, and the role of contemporary culture in a global reality. This intersection is best exemplified in his project, "The School of Panamerican Unrest", a nomadic think-tank that physically crossed the continent by car from Anchorage, Alaska to Tierra del Fuego, making 40 stops in between. Covering almost 20,000 miles, it is considered one of the most extensive public art projects on record.
Pablo Helguera performed individually at various museums and biennials internationally. In 2008 he was awarded the John Simon Guggenheim Fellowship and also was the recipient of a 2005 Creative Capital Grant. Helguera worked for fifteen years in a variety of contemporary art museums. Since 2007, he is Director of Adult and Academic programs at the Museum of Modern Art, New York.
He is the author, amongst several other books, of The Pablo Helguera Manual of Contemporary Art Style (2005), a social etiquette manual for the art world; The Boy Inside the Letter (2008) Theatrum Anatomicum ( and other performance lectures) (2008), the play The Juvenal Players (2009) and What in the World (2010).
---
I've always been fascinated by accidental gardens. Some of the most beautiful gardens in Chicago can be found in the abandoned lots in-between buildings, or in the alleys behind people's homes and apartments next to the cars and trash cans. In Oak Park, where I live, you can find all sorts of lovely micro-gardens in the strips of dirt between property lines. Sometimes it seems like the best gardens arise in the spaces that people pay the least attention to.  Carson Fisk-Vittori's use of plants, and particularly her manner of arranging plants and other objects in two and three-dimensional space brings these types of gardens to mind, although nothing about Fisk-Vittori's approach is accidental. I first encountered Carson's work at Chicago's MDW Fair a few months ago – her vacuum-packed plant sculpture was set against a wall with a purple, stipple-paint background at Roots & Culture's booth. I've been curious to learn more about it ever since, and am very grateful to her for taking the time to answer my questions.
*****
Claudine Ise: There seems to be a connection between plant life and movie making in your work. The photograph titled "Movies," for example, shows a bunch of dandilions wrapped up in newspaper printed with movie ads, including one for The Prince of Persia; the photograph titled Deleted Scenes shows a casual arrangement of rocks (some sort of rock garden?) placed on a white sheet. And in Sunset, 2008, a photographic print of a sunset is sort of stuck casually behind a cactus, like a painted backdrop in a movie, but it's obviously not an illusion that's comprehensive enough for anyone to believe. Looking at all of your other images it seems to me like plants function like actors playing roles in a scene. (As in the "advertisements" in your earlier bodies of work). Which is a pretty funny idea, in that in humans, being compared to a plant/vegetable is a way of saying someone is brain dead. Can you talk about the works I mention above a bit – what's behind your references to film-making or advertising production?
Carson Fisk-Vittori: My photographs are more connected to advertising and mass media than movies specifically. Though I guess movies are often times elaborate commercials anyway. Advertising companies are experts at feeding images and messages straight into our brains. So using that format in my work allows me to incorporate the techniques that may have taken them years to develop to act against or in opposition to our consumer-based economy through the celebration of the everyday.
Some of my work directly references advertising by title: Toothpaste Ad, Venus Ad, and Perfume Ad, all from 2009, and many of the other photographs use techniques such as gradient backdrops, color, and arrangement to reference advertising culture. One of my intentions is for viewers to realize that you can make everything around you look intriguing with the right lighting and composition, and hopefully realizing that you already have everything you need.
An earlier work, Sunset, 2008, evolved from an experiment involving the use of gradient back-drops added to different domestic or ordinary scenes to examine if the technique would make an image more interesting to the eye. By revealing some of the "tricks" that are used in advertising, viewers will begin to question how images are manipulative. Deleted Scenes, 2010 is an image of a found arrangement of rocks by a creek bed that were re-placed onto a paper backdrop in the same found arrangement. The act of removing them from their natural context allows the viewer to examine the natural arrangement more closely. The graphic element of the backdrop removes the natural background element, making the image similar to a diagram, which is easier for us to understand.
CI: Tell me about the shrink-wrapping of plants in some of your recent sculptures and photographs (like the photos I saw at Roots & Culture's booth at Midway Fair). Shrink-wrapping is a preservative technique, but of course plants need air, sunlight and water to survive, like we do. Do you unwrap the plants after you've photographed them? Lamp Design #2 is 3-D sculptural object, correct? It looks like you've inserted plastic balls within the fronds of two fern plants, and shrink-wrapped them to create and freeze their forms. How quickly do the plants decay once shrink-wrapped? Is decay part of the piece? (I've never seen one of the 3-d pieces in an exhibition, so I don't know if we are meant to observe the object over a period of time). Tell me how the lamp design part fits in.
CFV: "Lamp Design #2" is a vacuum packed floral arrangement (as opposed to shrink-wrapped). It was part of the installation at Roots & Culture's booth at MDW, as well as New Capital's exhibition "Life Style Appropriate." It is three-dimensional in nature, but exists in the photographic form as well. This piece recalls the floral arrangements I have previously shown which are ephemeral in nature but exist as photographs for the purposes of documentation. My first iteration of a "lamp design", Lamp Design, 2010 was part of "Casual Object Garden and Other Material Matters," a collaborative exhibition with Michael Hunter at Roots and Culture in 2010. It consisted of a large light box with a plant resting on top of it. Lamp Design #2, 2011, which you described as two fern plants with plastic balls, also has a light component: the marbleized ball lights up with led lights. Titling them "lamp design" is in one way blurring the boundaries between art and design, and also playing with the idea of producing absurd furniture designs.
My first experimental floral arrangements appeared in the Real Normal Spring Collection (2009), at the now-defunct Scott Projects in Chicago, IL. I installed floral arrangements that were scattered around the space, some of which were very minimal, with crude or simple constructions using basic household supplies and containers in the arrangement. At the time I was becoming interested in Ikebana, the art of Japanese floral arrangement, and wabi-sabi, a Japanese philosophy on the beauty of all things imperfect, impermanent, and incomplete. The floral arrangements I create have a life span ranging from days to weeks, and often times change multiple times during an exhibition. I am interested in the gesture that impermanence implies. In the art world objects are generally made to be archival and last forever, however this is a false permanence since everything is evolving from and going towards nothingness. The floral arrangements are a moment in time and an appreciation for the ephemeral and unmonumental.
CI: Works like your installation "Casual Object Garden," 2010, and photographic images like "And Also More," "Weekend Shapes" and "New Forest Table" from 2010 lead me to ask if you see a relationship between the making of a pictorial composition and the act of gardening? Both in terms of artistic intent and the impact of chance occurrences on the results?
CFV: I'm interested in playing with casual placement and intended placement. There is something interesting about examining a presentation of objects that have no intended organization. When I was installing Casual Object Garden with Michael Hunter, we would be unconsciously unpacking our work, and later come back to it and find something interesting in the way it was, in a way, automatically arranged. By accepting such cosmic arrangement you are sometimes left with more interesting possibilities than you might find by organizing in the grid-like way that our minds think. I like going back and forth between those two extremes.
CI: I liked the collaborative group show you participated in with Derek Frech, Justin Kemp, Joe Lacina, Joshua Pavlacky, and Daniel Wallace at LVL3, which was titled "A Rod Stewart Little Prince Charles Manson Family" and, like the title of the show, looked like it was produced according to the principles of exquisite corpse. The individual works on view did not have an artist's name attached to it, rather each appeared to be the product of the entire group. Can you tell me about how that show came about, and how you as individual artists worked together to create the objects in the exhibition – you communicated remotely, right? Via internet, etc.? Was having to communicate in spite of your geographic remoteness from one another part of the idea?
CFV: The show originated from three Philadelphia artists, Derek Frech, Joe Lacina, and Daniel Wallace, at their space Extra Extra. They previously collaborated on a similar exhibition, "Soft Focus," 2010. The new iteration of the project, "A Rod Stewart Little Richard Prince Charles Manson Family," 2011, added three additional artists: Massachusetts-based artist Justin Kemp, Philadephia artist Joshua Pavlacky, and myself. No work in the exhibition had a single artist attached to it; rather the entire project was a collaborative endeavor. This in part removed the artists' ego from the work and allowed for a free flow of ideas.
Communicating remotely between 6 artists in 3 different locations became a large component of the process. To begin, we created Twitter and Tumblr accounts. Our collaborative Twitter was also anonymous, which further enabled a free flow of uncensored ideas. Our Tumblr acted as a work-shopping tool; everyone uploaded mock-ups of ideas that would then be commented on and further discussed in video chat meetings. This collaboration began about six months prior to the exhibition. Once the in-person installation began at the gallery, all of the artists were together in a real space, except for Justin Kemp who was Skyped in daily and acted as a consultant for the duration of the installation. During the installation, materials and objects were arranged and re-arranged until the group made a consensus.
CI: What do plants mean to you? When did you start using them in your own work, and why?
CFV: My work with plants started as a reaction from moving from a rural setting in Austin, TX to the urban midwest city of Chicago six years ago. In the city the wilderness is very contained. Everything is either manicured or intentionally abandoned, to a point where the flowerbeds on Michigan avenue contrast with the abandoned empty lots, and both, in their differences, become these kinds of arrangements. They at once show our love of natural beauty, our need to control it, our ignorance and arrogance. I began to look at it in this way where a soda can thrown in a flower pot is a gesture, because it is intentionally placed whether or not the person was aware of it or not. It's really a natural gesture, like eating a cherry and spitting out the core, but in our world we are dealing with these man-made objects that are specially designed and branded. The contrast of man-made object and plant life really shows how far away we are from living with nature. I basically started looking closer at these casual arrangements and creating my own with elements of plants and man-made objects. My first gesture was in my backyard, Portal, 2007, which is an image of a mirror leaning against a bush. In the image it looks as if the grass is climbing up the bush in the form of a prism, and almost looks like a digitally constructed image. From there I really started to get interested in exploring my own arrangements of natural and man-made rather than found situations. I view these arrangements as microcosms for our relationship with nature.
CI: What type of houseplants do you have in your own home/apartment? Do you have a garden, and if so, what's in it?
CFV: In my apartment I have a lot of succulents and aroid plants, I am also growing some herbs and vegetables outside. I also have another garden: http://flowershop.tumblr.com.
CI:What you are working on right now?
I'm currently in the midst of a few different projects. I am working with Seattle-based artist Sol Hashemi, on a landscape design proposal, that we hope to begin materializing in the next year or two. Philadelphia artist Derek Frech, and I are collaborating on an installation relating to man-made displays of natural bounty. And the latest iteration of my ongoing collaborative practice with Chicago-based Michael Hunter, NewHands, it is a mainly text based practice.
I will be included in a group exhibition at the Philadelphia ICA this fall entitled "Blowing on a Hairy Shoulder / Grief Hunters," curated by Israeli artist Doron Rabina, and I will be having my first solo exhibition this August at Important Projects in Oakland, California.
---