Hello again, my lovelies. So, as I was sayin' on my gallery crawl blog, I was a little worried Monday when I started putting the listing together. At that point it was looking a little bleak. Thankfully that situation has remedied itself. It's always nice when the weekend picks are relatively easy, and this weekend there is so much good stuff that picking was easy, it was whittling down that was hard. Here are a few places that still look awesome, but didn't make it to the Top 5: Visions from a Foxhole at Pritzker Military Library, Rune at Ben Russell (dude, get a website, please! or if you have one, tell me where it is), We Are the World at Roots and Culture, and Ethan Greenbaum and Katrin Sigurdardottir at The Suburban. This is seriously the Alt. Space Weekend! As an odd testament, not one opening (that I could find) in River North. So go out, support your local project spaces, alternative spaces, apartment galleries, garage galleries, corners-of-living-rooms-with-art-badly-hung-in-them places, and enjoy the (inevitable and awesome) cheap beer. SALLY FOURTH!
1. ChicagoLand at PeregrineProgram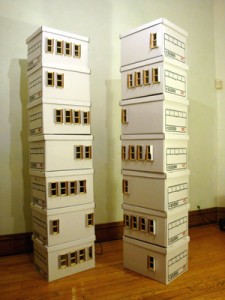 So I saw Daniel Lavitt out in the streets last weekend and asked him about the show. I'd seen the announcement card around (you've probably seen it too, him staring Godzilla-style through a tiny window), but wasn't sure exactly what the hell was going on. Well, my friends, this stuff looks like a whole pile of awesome! I love miniaturized work, it's always a bit creepy and awkward. For this work, Lavitt is not only miniaturizing Chicago, he's doing it to culturally and personally significant places AND wiring them along an economic gradient. I've never been to this space, so I'm super stoked on seeing a new venue and Lavitt's new work.
PeregrineProgram is located at 500 W Cermak Rd, #727. Reception is Friday from 6-9pm. Read more
---