Guest Post by Robert Burnier
Whence this creation has come into being; whether it was made or not; he in the highest heaven is its surveyor. Surely he knows, or perhaps he knows not.
 From the Cosmology Hymn of the Rig Veda, c. 2000-1700 BCE
In the initial remarks of his recent lecture at Northwestern University[1], Tim Griffin[2] offered as foundational that there is no timeless or natural state for art. G. Roger Denison[3], in his polemic on the Museum of Modern Art's exhibition, Inventing Abstraction, employs a cyclical view of history to reel in some of the statements made by that exhibition's curators, suggesting that a "Re-" in front of the title would have gone a long way to calm his nerves[4]. Richard Kalina[5] writes of painting born from its perennial destruction, calling the prevalent cross sectioning and boundary exploration not a "stasis, but rather a new kind of growth."[6] These discussions can feel quite esoteric in a way, and yet if one pauses to consider the Sistine Chapel, for instance, and the way it sadly and slowly deteriorated over time, only to stir up an outrage at the garish colors produced after it's restoration, it becomes apparent that the public is constantly wrestling with its own expectations of art's duration. Additionally, Griffin spoke of a compressed, lossy JPEG image – seemingly complete and yet missing most of its original information – as a metaphor for spontaneous creation by art viewers and art historians; the radical necessity for reconstruction in the mind of someone observing. Denison takes a somewhat formalist approach as he draws comparisons among the art of differing eras, but nonetheless produces striking examples of historical syzygy, such as when he aligns the distant planets of Tantric and Supremacist painting two centuries apart or points out the sleek "modern" character of a Cycladic head carved perhaps 2,500 years ago. Kalina, for his part, seems compelled to fashion an outline of historical typologies as a kind of deck the artist can shuffle. He calls for "a non-judgmental format for viewing painting, and to allow for growth and expansion in a non-linear" way. From this I take the author to mean that nothing is entirely off limits form the standpoint of art history and time; that we should think instead terms of consolidation and dispersion, linking and decoupling. Similar to what I said in an earlier essay about craft[7], when I suggested we look for "usage before material specificity", we should look for the usage of an historical precedent in present terms. All of these views are reconstructions of history – welcome ones for me. Even as the historical lines they push against are themselves constructions, they revitalize an openness in how a single work of art endures. But this also points toward how contemporary art production can have access to this shifting ground as a generative source. As things have come back around in the past, they can do so again for us – the same but different. But this is not a merry-go-round, nor is it a journey toward some definite horizon. It is a widening field of activity expanding around us even as it reverberates and echoes the waves of the past. We can observe the freedom art and artists have had to loop and interact with, and not necessarily march through, history, even as they exist for the present and point toward the future.
Aside from any categories we might apply to our work, I like to think in terms of how things move; what dynamics keep us in the search, trying to create something, and trying to look critically at what is happening. There are aspects to life around the artist that change, like technology, politics, social tension and geography. These kinds of things morph at very different rates, some daily while others are fixed for millennia, which can create openings to explore as currents slide past each other. The artist can also look back and find a great deal unresolved, perhaps seeing something that was abandoned that could bear a lot more exploration. Alternately, in light of present circumstances, one can seek new meaning through an old, established idea. So in view of the approach to grappling with these issues as suggested by Kalina, I submit a few observations to consider in addition to the framing devices he offers us. I will touch on a few of these notions here, mainly focused on examples in painting and photography, knowing that they are only sketches or pointers toward a deeper investigation of these dynamics in future writing.
One steadfast source of change, as mentioned above, has been technological development. But as art observes this change it will necessarily index what came before as well. We can look far into the past, such as to the innovative oil painting of the 15th century Flemish master Jan van Eyck if we want to see the effects of a new technique or technology. He achieved a fidelity in surface and light that greatly added to the visual depth and presence of his paintings, enhancing the experience of story, idea and imagination in subjects that were themselves very well established. His Virgin of Canon van der Paele (1434–36) contains many of these innovations in the myriad facbrics, reflective surfaces and patterns, all bathed in a convincing light. And however utterly familiar the subject of Madonna and Child may have been, it is instructive how the artist could bring so much to it through his particular technique and vision, drawing it closer to the viewer than previously possible. And the cultural expectation to illustrate such subjects as the Passion of Christ, as exemplified in the Crucifixion and Last Judgement diptych (c. 1430–40) is fulfilled with new urgency and impact. The subject is reborn.
In our own day we can look at the work of an artist like Cory Arcangel, who has also tried to chisel something out of art history through new technological means. Although it got some mixed press, I thought there were a number of things to take from his 2011 Whitney exhibition, Pro Tools. There we saw a series of his Photoshop prints, which present themselves initially as machine-perfect geometric abstraction and color fields. On this level they speak plainly enough about modern art history, but more deeply they are conjugations of the character and limits of that digital medium on a most basic level. They seem to point toward a repeating, overarching pattern in history of medium exploration and technique discovery; of finding uses for them and expanding on the possibilities. It's also worth considering that many of the functions and terms in Photoshop are themselves borrowed from other traditions that just weren't worth changing, so they stayed in the software[8]. I've also always thought of Arcangel's work as both "fast" and "slow", liable to be obsolete in a year or sooner and yet connected to ideas that are truly glacial. An example would be his Paganini's Caprice No. 5. It is resolutely about the way change affects us as we strive to remember who we are or were. Paganini's romantic era composition is cut to ribbons by a software program that auto-tunes and selects the notes in the musical composition from a pool of amateur musical videos of mainly dudes on their couches playing guitar. The extremely short clips are reassembled back into a "song" of a decidedly estranged character.  This double-facing view – an old thing strained through new means – is essential to the way the work speaks of loss (or lossy-ness) through a distorted nostalgia, but also issues of the democratization of esthetics through a DIY impulse and the technological dispersion of information, for better or worse. In the end, as with van Eyck, our relationship to a cannon of art has been forever altered, but not erased.
Besides generally contrasting with something prior exists the possibility of flowing with and redirecting it. Chicago artist Jeremy Bolen takes a position that mimics some prevalent aspects of the post-industrial age but draws radically different conclusions. He essentially hijacks the scientific method, but collates his "research" in a way that produces more questions than answers. His alternate use of such a tried medium as photography – whereby, in his words, he makes it additive rather than subtractive – continues this line of redirection. The photographic plane is thus a base on which he accumulates rather than frames. Specifically, the images result from visiting the sites of particle accelerators throughout the world, and capturing echoes of the energy nearby on sensitive photochemical paper. It problematizes institutional research in the sense that it is not necessarily authorized (the scientists at the research facilities aren't always aware of where Bolen is working or what he's doing) and that the energy particles he's captured are arriving at locations they weren't ideally "meant" to go – they are traveling beyond their preferred targets, such as in the series 350 Feet Above the Large Hadron Collider #1-4. Bolen not only captures the stray energy in these images, but re-situates them in a displaced representation of the location by layering a "conventional" photo of the site beneath. This also causes a rift in how results are obtained, as his are essentially esthetic, provocative and non-deterministic. It is as if he's running behind the scientists plucking out the seams of everything they try to sew up. Bolen's work not only expands on the possibilities of photography with his alternative approaches of imprinting an image but broadens our thinking about empiricism and knowledge acquisition in general.
Even going back to using some method of photography to simply record something, we can see how photographic reproduction causes shifts in meaning based on its place in time. Veronese's The Wedding Feast at Cana (1563), now at the Louvre, Paris, was recently painstakingly scanned, duplicated, assembled and "reinstalled" in Palladio's refectory at the San Giorgio Monastery in Venice Italy, where it originated.  The reproduction of Veronese's work is an expression of a longtime trend to "originalize" works of art from the past, either by restoring them to a location nearer their origins, in proximity to their original people, or by providing a context for them to be seen in a way somehow closer to what people in their time might have. The process by which this was achieved is fascinating enough[9]; but almost like an artificial appendage, it is provocative to think about how it both provides a useful, educational facsimile even while it underscores loss and speaks to shifting world political power as a kind of prime mover.
If we're not necessarily breaking new ground all the time, does that mean we're only fussing with details and adding adornments, or is there another way to see this? As Kalina says, we can draw from these accumulations to "make new spaces between existing areas, [and] reference new subject matter as the world around us changes." I think of Robert Smithson's Spiral Jetty as a fitting metaphor. He was very interested in the idea of entropy, but instead of focusing on its implications of dissolution and decay, I prefer to think about how a crystal forms by the same process of lowering its energy state and yet arriving at more structure than before. The jetty seems to disintegrate slowly, even disappears and reappears as the water level changes, but it is in fact also accumulating accretions of salt crystals. To this we could add more earth, continuing the outward spiral. From any point we are free to look toward the center or toward the open sea, but we'd always be standing on its shore.
NOTES:
[1]Â 
Compression
, a lecture at Northwestern University, Block Museum of Art, organized by the Department of Art Theory and Practice, May 22, 2013
[2]Â Formerly the editor-in-chief of Artforum and currently the Executive Director and Chief Curator of The Kitchen, a non-profit, interdisciplinary arts organization.
[3]Â Critic, essayist, novelist and screen writer living in New York City who has written on art and culture for Art in America, Parkett, Artscribe International, Flash Art, Bijutsu Techo, Kunstlerhaus Bethanien, and numerous other international magazines and journals.
[4]Â Colonizing Abstraction: MoMA's Inventing Abstraction Show Denies Its Ancient Global Origins, http://www.huffingtonpost.com/g-roger-denson/colonizing-abstraction-mo_b_2683159.html
[5]Â Painter and critic. He is a Contributing Editor at Art in America and is represented by the Lennon, Weinberg Gallery in New York. He is Professor of Art at Fordham University, where he teaches art history and studio art.
[6]Â The Four Corners of Painting, The Brooklyn Rail, December, 2012, http://www.brooklynrail.org/2012/12/artseen/the-four-corners-of-painting
[7] http://badatsports.com/2013/catholic-craft/
[8] Operations like cropping were, of course, previously quite physical undertakings with scissors or blades. Masks were just physical barriers to light in a photochemical process, and layers were simply layered negatives. The list could go on.
[9] Bruno Latour and Adam Lowe, The Migration of the Aura, or How to Explore the Original through Its Facsimilies, Switching Codes: Thinking through Digital Technology in the Humanities and the Arts, ed. Thomas Bartscherer and Roderick Coover (University of Chicago Press, 2011), pp. 275-97
ROBERT BURNIER is an artist and writer who lives and works in Chicago. He is an MFA candidate in Painting and Drawing at The School of the Art Institute of Chicago and holds a B.S. in Computer Science from Shippensburg University of Pennsylvania. Recent exhibitions include The Horseless Carriage at Andrew Rafacz Gallery, Salon Zurcher at Galerie Zurcher, New York, the Evanston and Vicinity Biennial, curated by Shannon Stratton, and Some Dialogue, curated by Sarah Krepp and Doug Stapleton, at the Illinois State Museum, Chicago.
---
Guest Post by Robert Burnier
I once had a penchant for the obsessive, compulsive traditions of certain Dutch painters like Paulus Potter, Adriaen van der Spelt and Jan van Cappelle, so whenever I was in an encyclopedic museum, I would always make my way toward those galleries. Afterward, however, I would go straight to where the modern art was and stand in front of a Cy Twombly or some other such work. In 2002 the Gerhard Richter retrospective, 40 Years of Painting, came to the Art Institute of Chicago. One salient aspect of this was to witness a similar kind of range more or less present in one artist; one who held up Reading, Grey Mirror, and 256 Colors as artistic statements of the same order. I see these memories as analogies for the way I continue to approach works of art, especially – though in a limited sense – when it comes to issues of craft.
When I look at art today, I would say my taste still involves a dialectic similar to my earlier favorites. I can appreciate artists like Roxy Paine and Mari Eastman, Nicole Eisenman and Richard Rezac. With Paine, we have someone creating sculptures by a distribution of expertise among multiple minds through the idiosyncratic use of high-tech machines and processes, producing objects of a mysterious and alien ilk. Eastman at once shows her knowledge and understanding of painting while withholding some obvious trappings of virtuosity in favor of revelations of a seemingly more personal sort, which are then often further complicated by some borrowed subject or motif. Eisenman is commingling many ideas of painting together with the understanding of craft necessary to put them in conversation with each other, adapting them to her subjects. Rezac makes highly resolved and technological constructions that are nonetheless very slippery to our perception and suggestive through their careful arrangement. In all cases, the individual hand moves, sometimes at a distance, even if only to turn the knobs so that the machine overruns its target output.
Of course, for many reasons – call it the loss of center [1], bourgeois democratic/market forces, technology, transportation, and communication – our era is splintered artistically. It is apparent in public collections where many eras are present at once, creating a stacking effect of latent visual experience. Our perception of space and time are compressed. It isn't really possible to point out what to do or not to do because no one person can index all of it. Technology is of little help. It only reminds us of our difficulties even more. But we can reach into this heap of history, as I like to think Robert Smithson might have put it, for resources, touchstones, and questions unanswered. [2] We can look for ways and means that might yield new meanings or recuperate older ones in new ways. Not only does this apply to the mode and medium, but also to the work, effort, or craft involved.
The degree of facility is linked to the effectiveness of the artistic statement, with the critical caveat that it is for something and not self-reflexive. I often find myself saying to people that craft is only craftiness when facture overtakes ethos. If you paint the sides of a stretched canvas because you want it to look "finished" the painted side remains a superficial garnish; if the painted side reinforces the conceptual aspect of the object, it can serve the work intrinsically. We could get into semantic questions of intent here, but I think if you really know it and mean it, it has a greater chance of seeming to be true, or we have a greater chance of becoming involved in the work on a deeper level. A specific example would be the vast difference between Karthik Pandian's recently exhibited sculpture at Rhona Hoffman, I Am My Own Wife – a highly polished construction in steel and industrial-grade color – and any number of sculptures that are often sprinkled along Navy Pier or grace the ad pages of a major art magazine, aspiring to a similar finish. Pandian's work perhaps takes us a distance toward examining issues of gender while the other sculptures too often don't take us anywhere in particular beyond the awareness of their often massive size and tired formalism. Another successful example would be the work of an artist like Alicja Kwade, whose phenomenological sculptures and installations can cause a shift in our basic understanding of the elements of experience. Works such as Andere Bedingung (Aggregatzustand 6), 2009, toy with assumptions of objecthood in terms of weight, substantiality and permanence. So what I'm saying is that with our incredibly intense media saturation, I turn to usage before material specificity for what I get out of seeing a work of art. I want to try to not judge a book by its cover; to allow the myriad options to play out; to remain variable, accepting and catholic in my assumptions about material and craft. Here I am reclaiming the non-religious sense of having a catholic attitude, which simply means to be open to a wide range of tastes.
Alternatively, the work of an artist can be de-skilled either in the sense that he does not concern himself personally with technique or high craft, or he transfers it to an outside technician (or even leaves it to chance). But if this becomes too dominant to the meaning of the work, then the lack of facility or personal involvement may fall into banality. For example, I've found it hard to pay attention to very much "glitch" art. This has surprised me somewhat since it seems to go against my own extensive background in computer science. However, much of it seems to stop at the glitch itself, piling one glitch on top of another. Aside from the sense that I think glitch art may be claiming a little too much for itself anyway [3], I just can't be too impressed by the mere malfunction of a computer, even though I'm fully aware of the potential auratic qualities of such failure. [4] It just stops too soon. That said, I really liked Christopher Meerdo's recent show at Document. What separates his work is not only a very careful selection of some of the more uncanny images and a spectacular transformation into the medium of print, but also the stress laid on the origin and the process of exhuming source images: discarded vacation photos on found memory cards. Meerdo's exhibition really reflects on the medium, its relationship to our human lives, and our capacity for recording and forgetting through the usage and leveraging of those very same auratic tendencies of malfunction. I draw a similar conclusion about the difference between some of the stacking and leaning of things we are seeing today [5], and the output of an artist like Felix Gonzales-Torres, some of whose best work relies utterly on stacking and piling for it to function.
So there is a kind of competence I see that has to do with an investigation within an artistic practice and through the artist's level of experience with it. This most often involves objects and materials, though it could also be bodies and spaces or something else. The artist grows a micro history of production, a personal academy and repertoire. The depth of the work emerges from the depth of the investigation and the shape of the path walked by the artist. She can come to know quite well what she is doing, while avoiding the twin pitfalls of connoisseurship and disinterestedness. This is about studio time. [6] The artist may find it better to reflect on what she did rather than what she thought, or accept what happened over what she intended. This doesn't involve the rejection of purpose, but the acceptance of things that come into view. For example, looking at R.H. Quaytman's work for the first time a few years ago, I felt initially that the pieces functioned like works of art as essays in the sense put forward by Art & Language [7]. But even as they projected a kind of ultra-intellectual air they had a resolve and physical quality that drew me in. From subsequent lectures and artist talks, I learned about the experiential origins of much of Quaytman's work. [8]  A frequent refrain I remember in her talks went something like "… after I did that, of course I thought it worked because…" In the end, the body of work she's constructing is one of thoughts and contexts, but also of trials, errors and discoveries.
What kinds of experts do these artists become? All of them possess expertise in the statements they want to make in relation to their own concerns and toward the historical context. But in the same way that de-skilling was a term borrowed from economics, I want to say that these works have been "right-sized" in their respective areas of making. Pretty close to the mark from my perspective is a relatively recent piece by Claire Bishop where she says, "Some will say that skills no longer matter, that the artist today should be fully 'spectralized,' because the truly emancipatory position is to erase the line between professional and amateur. […] That said, the best forms of de-skilling evoke in the viewer something of this spectralization: Such works generate in us not a disdainful 'I could do that' but the generative energy of 'I want to do that!'" [9] If I ever get that kind of energy from viewers of my work, then I have probably done my job.
NOTES:
[1] I saw this phrase in Christine Mehring, Jeanne Anne Nugent, Jon L. Seydl, Gerhard Richter: Early Work, 1951-1972. J. Paul Getty Museum, 2010.
[2] http://www.robertsmithson.com/drawings/heap_p104_300.htm
[3] What I mean here is that glitch is a breakdown, a misuse or a chance process. Not a new idea, though consistent with a medium specific conversation, the fact that it is a computer malfunction makes it a contemporary concern. It's a concern that is, of course, worth examining, but the question is how to approach it.
[4] See, for example, Martin Dixon, The Horror of Disconnection: The Auratic in Technological Malfunction, Transformations Journal, http://www.transformationsjournal.org/journal/issue_15/article_06.shtml
[5] Robin Dluzen, https://twitter.com/RobinDluzen/status/324255330265595904/photo/1
[6] For a fascinating read on contemporary issues regarding studio time and its effect on the production of art, try Dieter Roelstraete, The Business: On The Unbearable Lightness of Art, http://www.e-flux.com/journal/the-business-on-the-unbearable-lightness-of-art/
[7] Such as in Charles Harrison, Conceptual Art and Painting: Further Essays on Art & Language, MIT Press, 2003.
[8] Society for Contemporary Art lecture, The Art Institute of Chicago, March 15, 2012 and The Opening Reception Artist talk at The Renaissance Society, January 6, 2013.
[9] http://www.brooklynrail.org/2011/12/art/unhappy-days-in-the-art-worldde-skilling-theater-re-skilling-performance
ROBERT BURNIER is an artist and writer who lives and works in Chicago. He is an MFA candidate in Painting and Drawing at The School of the Art Institute of Chicago and holds a B.S. in Computer Science from Shippensburg University of Pennsylvania. Recent exhibitions include The Horseless Carriage at Andrew Rafacz Gallery, Salon Zurcher at Galerie Zurcher, New York, the Evanston and Vicinity Biennial, curated by Shannon Stratton, and Some Dialogue, curated by Sarah Krepp and Doug Stapleton, at the Illinois State Museum, Chicago.
---
Print shops are inherently communal. The overall expense and maintenance of printing equipment is generally only possible when shared. Being in this space, the smell of ink alongside a regular hammering of various machines (there was a particularly well-used off-set printer) reinforced one of the things I love about print making — its communal backbone, something that seems ever present in the proliferation of posters and brightly colored images. While at this print shop, I ran into an old friend, Andrew Oesch. I met Andrew for the first time years ago in Chicago. Oesch is a printmaker who, at the moment, teaches comic book production. In the following conversation we talk more about Providence and the enduring exchange of influence between generations.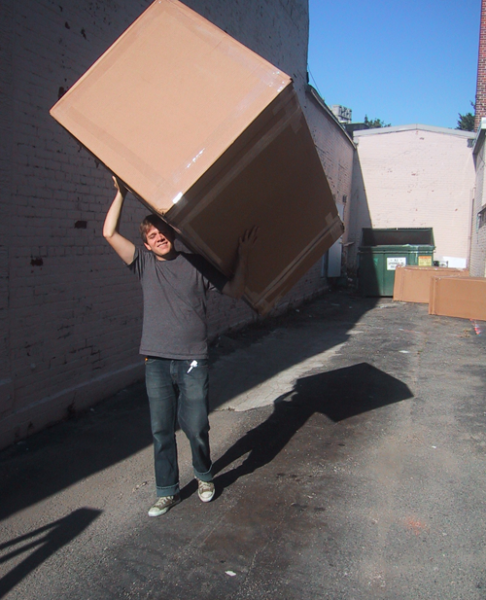 Caroline Picard:Â We first met when you came out for a show that Anne Elizabeth Moore had curated at The Green Lantern. That show was my first introduction to Providence and I was struck by the seeming resonance between the project you and Meg [Turner] installed, ("We Built This City Together") and my later impressions of Providence itself. For instance, you had some amazing stories about the physical place you living in at the time: cavernous rooms in old warehouses with smaller rooms built inside and space heaters. A lot of communal creative space that at the same time was somehow hyper aware of its (specific) urban context. In We Built This City Together, people were invited to take pre-printed stickers of buildings, color them in and paste them on a wall. It was sort of like a social experiment to see how people would respond to one another. It sounds very much like what those communal living situations must have been like. Â I'm starting to ramble, but can you talk a little bit about that?
Andrew Oesch: I hadn't thought about the ways that communal living might have been affecting my projects before. To put things in a little perspective artists have been living in large amounts of shared space for a while, it's not a phenomena which is unique to Providence, right? Those opportunities often form along peripheral conditions…artists move into provisional spaces that are in transition or of unclear purpose. In my personal work I do look to  architecture — both its planning and history — for a lot of insight to the culture of a place.
A lot of the architecture and culture of Providence is informed by the industry at the beginning of the 20th century. There was a lot of manufacturing — textiles, tools, and costume jewelry. So there's a fair amount of large brick mill complexes and a surprisingly dense amount of housing. In the early 1900s the peak population of Providence was around a million people.
With those historical notes in mind we come to the turn of the 21st century and all the large manufacturing is gone. The hemorrhaging of those industries started in the 70s and after a couple of decades the city is fairly depressed and its population is a quarter of what it once was. Some of the large mill complexes are there, though there are large vacant lots like broken teeth where a building might have burned down or was demolished. The buildings which remain are utilized in a variety of ways. Some have light manufacturing, some have small studios, some are flea markets, some are abandoned. The rent is cheap and landlords are permissive, so artists move in and things like Fort Thunder happen, and then they unhappen when the Real Estate market gets crazy.
One thing that I remember someone saying about why they live in these sorts of spaces is that unlike a house, these mills aren't made for people to live in. So it feels weird to live in them; she chose to live in them to continually remind herself that she wasn't normal, so she could remember that she feels weird.
I don't what that says about my practice… I feel weird and temporary? And to answer my own unsure rhetorical question I would say, yes. I am interested in the how Robert Smithson talks about entropy. The city is a system that shifts over time. I don't think it is moving towards an equilibrium…and it's not a closed system, but I can create finite systems and invite people to participate in them through various art making methods. Does any of this thinking make me a good housemate? That might be me starting to ramble.
CP: What kind of space does printmaking have in Providence? Has that changed over the years? And how has it influenced your own printmaking practice?
AO:Â 
Well, I wouldn't have a print making practice if I didn't live in Providence…maybe that's not true, but I began printing because I saw prints everywhere, and I was like "Oh, I wanna do that…"Print making and this place for the last 15ish years has been shaped by the 
Dirt Palace
, and other less permanent industrial mill living places. It just so happens that many of the folks who live at these various places make screen prints. The biggest way these practices continue to change is because the sprawling mill living spaces are less common. Buildings have been renovated, demolished, or just outright condemned. And this hasn't stop people from making, but it adds a provisional quality to everyones living situation. So that's why places like the Dirt Palace are really important: it is owned by two artists committed to keeping the world weird, loud, and rad. The AS220 prinshop is important in a similar way because it represents another place of stability. The contrast is that at the Dirt Palace every surface is covered by something else — old packing, glitter, show flyers, doodles, old paper mache projects…the space amorphously switchs from personal space to cooking space to work space to library to printshop to dance party and back again, while As220's printshop walls are more neutral. Their space is more obviously a printshop.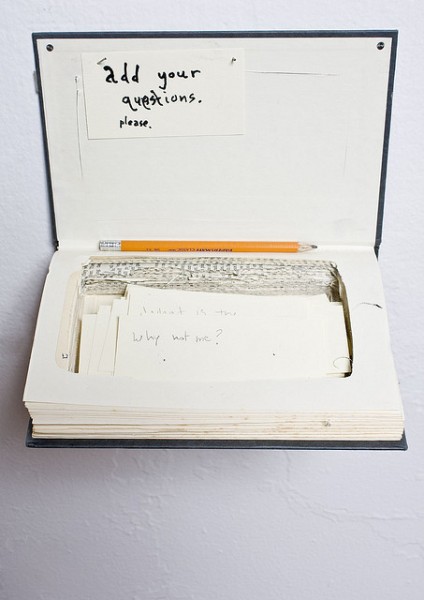 CP: While in Providence this summer, I noticed an interesting relationship between the city's educational institutions and the non-commercial, in many cases DIY, art spaces. Like the Dirt Palace got some kind of cartoon-making-machine because Brown no longer needed it. Do you feel like the universities have enabled the art-making community somehow?
CP: Yeah, Brown, RISD, & Johnson+Wales impact the city a lot. In mundane ways there is (what I imagine to be typical) resentment of the impact the universitys have on the tax base, and universities can gobble up real estate, and are touted by business leaders+politicians for innovation. But I think your observation is totally spot on;for the a certain section of the art scene universities have excess resources artists can mine. There are some  proposterously giant ways that happens and a lot of small ones too. All the Youth Arts programs I have been involved with have a few hand-me-down silk screens from RISD's print making department. And often at the end of the year there is a dearth of printing ink too.
But beyond the physical resources and material surpluses, these institutions have supported and spawned various organizations in town. 
New Urban Arts
, 
Community Music Works
, and 
AS220 Youth
 all ride a paradoxical relationship. Having been incubated by Brown, they nevertheless came into being because there was something that Brown was
not
providing. They exist because resentment and anger built up around the universities' inability to engage with a corrupt under city. Resources were mis-appropriated by a twice imprisoned mayor (and many others) while the public school population had 80% of its kids receiving free or reduced lunch (the school bureaucratic euphemism for "really poor"). Even with that resentment, these folks were able to start their respective organizations with the support of fellowships from Brown, and a few key mentors, and the large pool of potential volunteers who attended those same universities. Now these organizations and programs are a little over a decade old and they are the compelling civic leaders to offer something outside of the ways in which Brown, RISD, and Johnson&Wales do public engagement.

So what does this mean for our city's art scene? There is a generation of people who have grown up making art and hanging out with artists and mentors at these organizations; now grown up, that generation participates as emerging makers+artists+staffers, working and making alongside their former mentors. This is beautifully exemplified in this photo I really love of The "What Cheer?" Brigade, a loud and rowdy local brass band, taken by a young person who was a participant in AS220's Youth Studios, where a couple other members of the band were running a street band workshop. The photo has one of the trumpet players filling up most of the frame and foreground of the image, and in a the soft focus of the background there's another trumpet player and a trombonist, it's a good image, but those three members pictured are no longer in the band, and the photographer is.
CP: How did you start teaching comics? 
AO:Â 
So the last two years has been a slew of new jobs. My friend, 
Walker Mettling,
 was one of two artists who were written into a grant to run comics workshops in the 
Neighborhood Branch Librares
 in Providence. The other artist ended up dropping out, and both of them asked me to fill his place so I did. Probably the most important thing about  both Walker and me is that neither of us is a practiced comics artist. We're approaching the whole endeavor with a weird mixed bag of story-telling, print making, collage, busted graphic design sensibilities, and a general sensibility of fostering collaborative engagement. While working with Walker is new, and co-organizing workshops about comics is new, generally the project is a lot like my previous experiences as an artist educator and in that way it has been awesome!
Walker and I have been connecting kids and adults through 
The Providence Comics Consortium
. Admittedly there are a lot of things that we can not claim credit for. We draw on a pool of artists/friends/peers who are pysched about the ideas and images that kids create. Students in our class love to see their work adapted and amplified by adults. This simple equation of strong mutual appreciation/adoration is the essential bond that makes the project kinda magical. Kids come up with outlier ideas that adult artists are captivated by. There is peculiar way kid artists funnel their attention, which is revealed in the details they obsesses over and the aspects which are direct and simple. Walker and Myself are really just go go betweens them and the adults.
One of the ways we started off creating a dialogue between kids and adults was to try out our lesson ideas with a group of our friends. We would sit down and try out what we wanted to do in class with a couple of friends, this provided us with some feedback and refinement for our plans, but it also generated some awesome examples.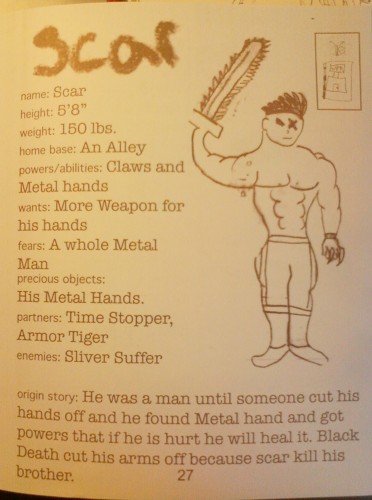 One of the critical story-develop tools and the primary visual vehicle between adults and kids is the series of character books we create. There are a variety of prompts and exercises we have utilized to start the germinating a character. My favorite thus far has been a process of hybridization where we start off asking the kids to draw two types of things. A pretty typical pair is "a food" and "a type of job." The kids make these individual drawings, we put the drawings into bags and everyone picks a pair which they have to combine into a character. This abstract visual mathematics can be confusing, but inevitably leads to good places… a memorable example is "The Apple Wedding Planner." The boy who drew these from the bags was confused at first, somewhat uncertain about what a wedding planner does… but that didn't matter because he could make his own meaning out of the random pairing he had drawn. The next phase in the character-develop is typically drawing a short strip using this character. After that little bit of narrative exploration with the character, we give them a worksheet with prompts to list the character's friends, enemies, special powers, height, weight, fears, and a little bit more narrative about the characters origin story. We end up retyping these stats and combine all the drawings and write-ups into a booklet. Compiling and re-distributing that book has two effects: One, it gets the participants super excited because they see there work in print! And two, the kids get super inspired by each others' creations. They start to utilize other students' creations, creating other characters in response.
Then we give those books to adults, who are equally as excited. We ask them to create adaptations using student characters. Soon we are going to put out our first anthology which features the student work and adult adaptations, so keep an eye out for that. (You can visit Secret Door Projects, to see how Ian G. Cozzens developed the Scar character).
---