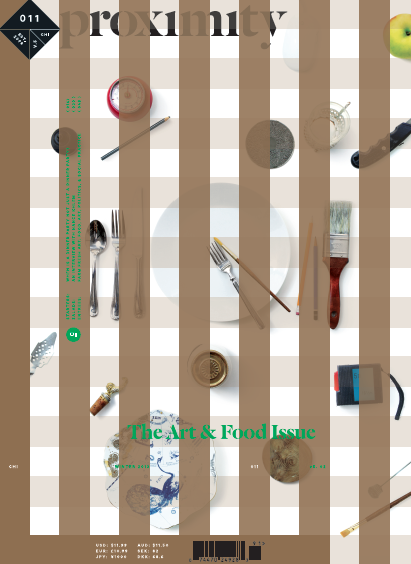 Proximity Magazine has a three day program coming up at the Co-Prosperity Sphere.
Oct 18 is the release party with drinks galor.
Oct 19 is a Pop Up eatery with The Rice Table
and Oct 20 is family programming action!
check out http://proximitymagazine.com/
Please come to one of the events and please take a stack of magazines to hand to your friends and colleagues. We want to get them out to the people.. And please spread the word if you can. thanks.
-edmar
/////// details below:////////////////////////////////////////////
LET'S DRINK, LET'S EAT, LET'S PLAY
A Proximity Art, Food and Radical Hospitality Mini Fest 
October 18-20, 2013
@ Co-Prosperity Sphere, 3219 S Morgan Street, Chicago, ILWe are hosting three special events to celebrate the release of the Food and Art Issue of Proximity. Our three course event takes place at the Co-Prosperity Sphere which is being turned into a series of installations and environments each day.Join us for the potluck edition of Proximity Magazine, wherein we investigate the intersections of art, food, politics and socially engaged practices. In this issue we followed our noses and inhaled the simmering pot of radical hospitality as a strategy for making art. Our investigation into how the boundaries of art and food have been blurred, smoothed out and ingested is revealed through the practices of many local artists, activists and chefs. Our menu offers a survey of projects that are presented as profiles and discussions about the role of food in our lives. A veritable feast was found within Chicago's art ecology, now lets sit down and eat.LETS' DRINK
Friday, October 18, 2013, 8-11pm
Co-Prosperity Sphere, 3219-21 S Morgan St, Chicago, IL
Admission: $10
Come to our magazine release party and get a hot-off-the-press copy of Proximity, meet some of the featured artists in the magazine and enjoy some bread, and alchemical craft beer creations of your own choosing.
Features installations by PREP,Edra Soto,  Hardcore Craft Beer presents Alechemy, Bread & Beer and the return of the Hornswagglers!
Complementary beverages by Stone Brewing Company. Other beverages provided by Founder's Brewing Company & special guest brewers. The Hornswagglers bar will be coming out of retirement for the evening serving their signature cocktails.
LETS EAT
Saturday, October 19, 2013, 7-10pm
Co-Prosperity Sphere, 3219-21 S Morgan St, Chicago, IL
Admission: $45 by RSVP Only ( Limited Seating)
Join us at our pop up eatery in the Co-Prosperity Sphere for a special Prix fixe dinner with Chef Chris Reed from The Rice Table.
When the Dutch expanded their empire to Indonesia, they were enchanted by the native cuisine it discovered. Excited by this new world of creative cooking, their appetites increased, and so to the number of dishes at the elaborate table. Thus began the birth of the Rijsttafel, which highlights the various delicacies. The Rijsttafel was brought to The Netherlands, and now this fascinating  culinary event in all it's glory, can be enjoyed by you — right here in Chicago.
The Rijsttafel consists of a treasure trove of Old World delicacies, brought to life and executed to perfection. For this special occasion we have compiled a 12 dish dinner comprised of classical offerings from the West Java province of Indonesia. This evening is a ticketed event at $45.00 a seat and includes 2 complimentary drinks provided by Maria's Community Bar, additional drinks
RSVP and purchase tickets here:Â http://proximity-ricetable.eventbrite.com/
Photography  by Ben Syverson
Beverages curated by Maria's Packaged Goods & Community Bar
Audio selections from: Dj Joe Bryl
Presented by The Rice Table & Maria's Packaged Goods & Community Bar
LET'S PLAY
Sunday October 20, 10:30am – 2pm
Co-Prosperity Sphere, 3219-21 S Morgan St, Chicago, IL
Admission: (Suggested admission $10 per family)
Our LET'S PLAY program is for kids and adults.
At this family-savvy happening, you will find the Kite Collective's Shadow Forest installation, make visual poetry windchimes with the Kite Collective to take home, boogie to the beats of a Future Hits electric set, cross paths with SHoP's portatable Froebelian learning center, learn more about Be the Change Charter School and play with Cultural ReProducers. Eric May, a featured artist from Proximity's new issue, will be serving his signature E-Dogz to attendees. This event is part of Co-Prosperity Sphere's "Urban Operating System."
///////////////////////////////////////////////////////////////////////////
---
Proximity Magazine is now accepting proposals for the upcoming edition on the intersections of art, food, politics and social practice. Proposal deadline is  is March 15, 2013. Completed texts and works are due by April 15, 2013. Issue release will be this Spring at Version Festival 13.
Full information here: http://proximitymagazine.com/2013/02/call-for-works-proximity-number-11/
As always, good luck!
---
1. Pamela Fraser at Golden Gallery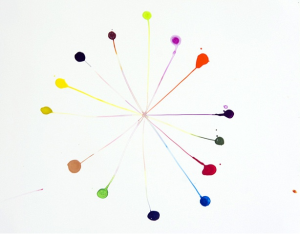 Golden Gallery, generally a crowd pleaser, is putting up another strong show. This round it consists of works on paper by artist Pamela Fraser. The works (from what I could find and discern) are all abstract, hyper-color pieces. Is "eye candy" a bad word in the art world?
Golden Gallery is located at 816 W. Newport Ave. Opening reception is Friday from 6-9pm.
2. Alumni at David Weinberg Gallery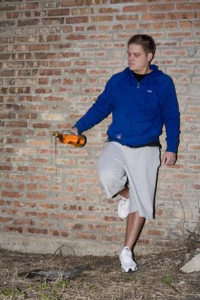 I went to SAIC for grad school, but I don't believe that gives me a complete bias for SAIC grad work. However, when I see good work from my fellow alums, I got to give it a shout. David Weinburg is putting on an exhibition of "recent" SAIC grad work, including that of Amy Mayfiled, Noelle Allen, Helen Maurene Cooper, & Michael Ratulowski. If you haven't seen their work yet (which, if you've been in Chicago a while, is unlikely) make sure you stop by. If you already know their work, head over for a refresher on why they're awesome.
David Weinberg Gallery is located at 300 W. Superior St. Opening reception is Friday from 5-8pm. Read more
---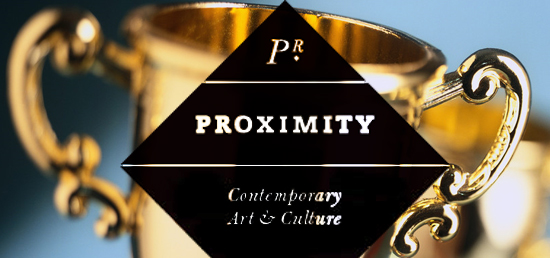 Proximity Magazine Names B@S "Best Website for Local Arts Coverage" and says some very kind words:
Bad at Sports should have received a a grant from the XYZ foundation last year to help them make their art podcast website a real day job. But the powers that be often sleep on what is engaging, innovative and important in favor of the familiar, lame and business as usual. Bad at Sports was our top local art resource of the year. Thank you guys.
No thank you Ed, Rachael & everyone at Proximity and the Public Media Institute. We really appreciate the kind words and look forward to 2010 and what Proximity Magazine has in the works.
Also we have taken your advice and hired a few free interns to track down this XYZ foundation and get that grant asap. I can only assume that the Xavier Young Ziebold award is biennial so maybe next year 🙂
---
There's a great discussion going on right now at Edward Winkleman's blog inspired by Winkleman's post Thinking While Making Things, which was in turn inspired by an interview with Robert Storr conducted by The Art Newspaper, and an article written for Proximity by artist and frequent BaS contributor Mark Staff Brandl titled Artists Write: Thinking While Making Things. The discussion on Winkleman's blog revolves around the ways that artists can/should/have engage(d) theory in their work and writing, the different forms that "theory" may take when it comes to artistic practice, and further on from there. Go check it out and add your voice to the discussion.
And on a side note, I have a small request of my own for current or former MFA students and/or art history graduate students, along with their professors and teachers: I'm trying to break down what often seem to be monolithic notions of what "Theory" constitutes nowadays by looking at it from more a text-specific level. I'm especially interested in what strains of "Theory" are being taught to younger artists who are engaged with / emerging from art programs TODAY (rather than, you know, 20 years ago, which was arguably when deconstructionist/ post-structuralist / psychoanalytic / postmodern / cultural studies-driven, capital 'T' Theory was in its heyday and held greatest sway). Are there any new Theories out there that I should be aware of (she said, tongue planted firmly in cheek)? What are you proverbial kids reading today? It can't be the same shit I was reading twenty years ago…can it? Let me know what your profs are assigning or recommending (links to full-on syllabi are welcome!), and which authors and theoretical texts you're talking about with your friends and colleagues. I want to try and map out, in painfully literal fashion, just what it is we're talking about when we talk about Theory.
Thanks. Now, go check out the discussion over at Mr. Winkleman's house (and please make sure to restrict any comments here to the specific topic I put forth above…I don't think it's cool to siphon off discussion from another blogger's post).
---