Audio clip: Adobe Flash Player (version 9 or above) is required to play this audio clip. Download the latest version here. You also need to have JavaScript enabled in your browser.

download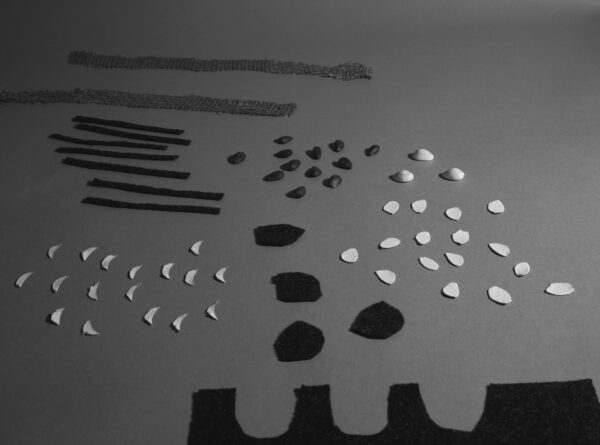 This week: Duncan live from LA! This week he talks with artist Sarah Conaway.
Sarah Conaway (b. 1972 York, Pennsylvania) makes seemingly straightforward photographs that invite us to think magically, imbuing mundane objects with mystery and potential. Her recent photographs—printed in a range of sizes and primarily in black and white, with an occasional work in vibrant color—capture a series of actions set up by the artist in her the studio. Beyond the objects or materials that they portray, they express a residue, aura, or presence that we sense but do not necessarily see depicted. Although the act of photographing her sculptural constructions and still lifes—at times as ordinary as a crumpled strip of canvas or a piece of string—reduces the subjects' dimensionality, it focuses our attention on texture, light, and shadow—and the sheer pleasure of looking. Conaway's techniques are deceptively simple: her touch is light, the scale of the forms uncertain, the color and contrast stark. These arrangements of simple materials and common objects reveal their potential as architecture, figure, landscape, fantasy, or apparition while maintaining a tenuous state of balance and compositional harmony.
---
The Hagedorn Foundation Gallery, located surprisingly in a nondescript complex of galleries and antique shops in Buckhead, a north-side neighborhood of Atlanta, curated a show focusing on feminism, performativity, and photography. The works in the show by the artists Jill Frank, Mónika Sziládi, and duo Double Zero (Hannah Ireland and Annie Vought) examine how to make a photograph of someone, a person, a woman (perhaps) and what that means. One of the organizing principles of the show – performativity, a buzz word indeed especially since the 1990s with Judith Butler's work on gender – finds itself in relation to photographs that draw attention to the process of their making. Alongside considerations of gender and femininity as performative gestures, the works in the show investigate the apparatus of photography and imagistic representation itself – Jill Frank's work in particular. Adding to this work by Frank is the Untitled (Projection) series by Steffani Jemison presented in her solo exhibition, When I Turn My Head, in the upstairs gallery at Hagedorn.
The works in Ready for My Close-Up evoke other images of women from history: paintings, film stills. These other images, not necessarily direct references, exist in an assemblage of representation with Frank's, Sziládi's, and Double Zero's. When seen in conjunction with When I Turn My Head, the sphere of the imagistic medium, photography, opens itself to critical examination and self-reflection. Ready for My Close-Up seems to ask whether the question of female or feminine representation is the question of representation itself.
Jill Frank's Menacing Romance
Four photographs from Jill Frank's series Romance are presented in the show: Romance / Popocatépetl and Iztacchíhuatl (2012), Romance / Secret Sniper (2012), Romance / Vertigo (2013), and Romance / Un Homme et un Femme (2013). All images are chromogenic prints with rich colors that provoke fantasies, and with their large size (30" x 37"), the viewer feels as if she can initially step into the scene. The first two images, Romance / Popocatépetl and Iztacchíhuatl (2012) and Romance / Secret Sniper (2012), depict more unsuspecting narratives, whereas the last two images, Romance / Vertigo (2013) and Romance / Un Homme et un Femme (2013) start to take on a more sinister e/affect.
A woman lays across a kneeling man's knee with her head invisible to the viewer – it hangs down, exposing her throat where his his hand rests. Her knee hosts a series of bandages, the slingback of her shoe has slipped from her heel.
Two men stand at the edge of a dock. Wearing matching colored shorts, one holds the other from behind, grasping at his neck and chest. The man standing in front reaches over his head to hold onto the man behind him. The man in front looks up obliquely with an indistinguishable gaze.
These two photographs: Romance / Vertigo (2013) and Romance / Un Homme et un Femme (2013) exemplify the complications Frank creates for our traditional senses of Hollywood romance. Frank's statement for the show describes her process and intentions behind the series:
"The photographs in this exhibition portray couples re-performing poses inspired by popular media images that were formative in constructing their own understanding of romantic interaction and presentation. The photographed performances challenge the authority and familiarity of the collective visual archive of American romance in order to engender a critical conversation about the influence of dominant representations." [1]
The show's title Ready for My Close-Up directly references the last lines aging Hollywood actress Norma Desmond speaks in the 1950 film Sunset Boulevard. The film, a story of a silent film actress gone mad yearning to occupy the space of the Hollywood picture again, ends with her face approaching the camera until it disintegrates into a haze of grey. Her closeness to the camera quite literally destroys her, but it was the years of distance which contributed to her delusions. [2] Hagedorn's exhibition statement describes the cultural reference to the film in relation to the photographic works shown in Ready for My Close-Up:
"In the last half century, feminism and performativity have influenced contemporary photography more than any other cultural markers. The exhibition title is taken from the exit line of Sunset Boulevard, a film which questions female identity issues, the rehearsal of the self, the gaze of the viewer, and the use of the theatrical to command attention, all influenced by culture and all features of this group exhibition." [3]
The works in the group show can all serve as critical responses to the film, whether the work is explicitly influenced by the film or not; they exist together in the sphere of representation's history. Frank's photographs play out the deranged romantic entanglement of the film's Desmond and Joe Gillis. Mónika Sziládi's photographs present the viewer with a crowded and disorienting perspective of cultures and practices of representation. Double Zero's photographs and video portray a feminine masquerade pushed to hyperbolic extremes.
Sziládi, The Montage-Paparazzi
Sziládi's photograph Untitled (Ladies) (2012) sticks a fuzzy and blurred face into the foreground of the image. The close-up shot has gotten too close like Norma Desmond's final close-up in Sunset Boulevard. The six photographs shown at Hagedorn are from her series Wide Receivers, possibly a play on the position in American football, the players that are able to receive passes from the quarterback and are often celebrated for those glorious catches. Her statement describes her interests in the "social sphere and its attendant behaviors" and her "aim to collapse the space between the physical and the virtual." [4] The images, a flattening of perspectival depth, contain images of imaging or representational processes and those who are allowed representation. There is a sense that when one figure stands in front of another, there is no space between their bodies; one actually cuts through the other's body.
Untitled (Blonde) (2011) can be read as representing representation itself. Through Sziládi's inclusion of images of handheld cameras, subjects posing for snapshots, a woman putting on make-up reflected in a mirror, and a perhaps drag queen taking up the center space of the photograph, after whom the photograph is titled, the photograph seems to become a commentary on the practice of photography itself. Next to the blonde, a man was caught with his eyes closed. To the left of him, a man's eye peers directly out of the frame towards the subject looking at the photograph. Michel Foucault states that the 17th century painting Las Meninas (1656) by Diego Velásquez
"presents us with the entire cycle of representation: the gaze, the palette and brush, the canvas innocent of signs (these are the material tools of representation), the paintings, the reflections, the real man (the completed representation, but as it were freed from its illusory or truthful contents, which are juxtaposed to it); then the representation  dissolves again: we can see only the frames, and the light that is flooding the pictures from outside, but that they, in return, must reconstitute in their own kind, as though it were coming from elsewhere, passing through their dark wooden frames." [5]
Sziládi's digital composites of images taken at "public relations and networking events as well as trade shows and meet-ups of social segments that have connected online to interact offline" [6] comment on the constructed nature of the way we present ourselves in public and the ways in which we image those constructions. Like Velasquez's painting, the apparatus of representation shows itself explicitly, drawing our attention to our own practices of presentation and public performance.
Double Zero's Revealing Masks
Double Zero's photographs and video push these meticulous constructions of public appearance to the extreme. In their video Cha cha cha changes (2013), Hannah Ireland and Annie Vought dress each other up with unconventional objects or conventional objects in unconventional ways. Over the course of the video's almost 23 minutes, the two women take on absurd costuming and masking. With materials that are used for make-up application and other cosmetic tools, their faces become covered in lipstick and face paint, their heads bound in bubblewrap and what appears to be foil that could be used to dye hair. Flower stems are stuck into the fabrics wrapping their heads, blooms sticking out from their faces.
The two take turns transforming each other's appearance. In what appears to be a reference to Matthew Barney's Cremaster Cycle, particularly Cremaster 3, they go through processes of bodily manipulation and adornment. [7] If Barney's Cremaster Cycle is about the development of the male testes, what can be said about Double Zero's feminine transformations? Their statement reads: "We have united to use our 20 year friendship as the basis for investigating the ways we affect one another, the boundaries between us, and different modes of taking up space in the world. With the complexities of friendship and the trust we've built over time, we pursue these themes directly in the actions and objects we make together." [8] Their photographs and video show a relational transformation. They affect one another whether they choose it or not. The silliness of the objects and the resulting ornate masks when coupled with their facial expressions in the video, the phenomenon of feminine friendship grows into a complex situation of acceptance and denial.
Norma Desmond, after she convinces herself that her script for her film about Salome, the ancient femme fatale, will be directed by Cecil B. DeMille, she starts a rigorous beauty routine. She claims that she needs to make herself ready to be in the pictures again and a sequence shows her being massaged, prodded, wrapped, lotioned. At one point, while wearing products on her face and with her hair wrapped, she enters Joe's room, but tells him not to look back at her; when she is made-up in this way instead of the proper way, he is not to gaze upon her. Desmond's excessively vain self-consciousness, is a private practice made public. At another moment in the film, after gazing at herself in the mirror, eyes wide with frenzy, she rips off the cosmetic strips on her face before walking into Joe's room to discover he is leaving her. She chases him as he exits the house. To get his attention, she shoots him. She shoots him again. This is the moment of her breakdown. After this moment, all she can do is sit in front of the mirror and prep for the camera.
Concluding Remarks: does Jemison's ink adhere?
Desmond lives in a world of cameras and characters. To her, cinema ended when dialogue began. She says to Joe "We didn't need dialogue, we had faces." She then steps into the light of the film projector in her home movie theater that is showing one of the movies she had starred in. The woman actress need only have a face; she didn't need a voice – this is the kind of cinema that Desmond supports. The voice destroys the perfect face; the face of 1932 Marlene Dietrich's Shanghai Lily that Laura Mulvey gazes upon in her essay "Visual Pleasure and Narrative Cinema." [9] As Joe Gillis voice-over narrates, Norma is a "celluloid self." [10] Is the celluloid flat? Does it have any depth? Is her self only surface, the merging of the surface with the underlying anatomy, her body? Or, is her self a thin veneer covering the surface of the filmic foundation?
The upstairs gallery of Hagedorn hosts Steffani Jemison's show When I Turn My Head which "considers issues that arise when conceptual practices are inflected by black history and vernacular culture" and also "addresses the form and materiality of a photograph through the fugitivity of the image." [11] Works from her series Untitled (Projections), photographs printed on acetate, explore the ways in which an image may separate from its support. The ink does not sink into the acetate; it rests on the surface, creating a depth of materiality. [12] Mary Ann Doane writes in her seminal essay "Film and the Masquerade: Theorizing the Female Spectator" that "The masquerade, in flaunting femininity, holds it at a distance. Womanliness is a mask which can be worn or removed. The masquerade's resistance to patriarchal positioning would therefore lie in its denial of the production of femininity as closeness, as presence-to-itself, as precisely, imagistic." [13] Taken together with the works in the show on the ground level, what do we discover about photography as a tool and method for thinking through and creating structures of representation? How much does the image adhere to what it represents and the foundation which holds that very representation itself?
Sziládi, the figure of montage-paparazzi, makes apparent the apparatus of representation while Frank's photographs create scenes in which non-extraordinary people inhabit the characters of Hollywood in order to experience true romance. What Frank shows us, though, is that these typical narratives are not without their dangers. Norma murders the man she has come to love. Whether or not that love is true is a question we could ask. In considering Ready for My Close-Up, must this love be artificial? Double Zero's work seen as a sort of parody of making-up for the camera, expresses the artificial nature of feminine identity construction. However, within the framework of feminine friendship, we can't too quickly dismiss these gestures of dressing one another. The collage nature of Sziládi's digital images is seamless. Before knowing that they were constructed, I stood in front of the photographs pondering what parties they came from: where do these people gather? Are they all in costume together, playing into some collective fantasy?
Frank's series grew from an iconic image, at least in today's age of Hollywood: the image of Baby / Jennifer Grey crawling towards Johnny / Patrick Swayze in Dirty Dancing. A recognizable image. What sets Frank's later photographs apart is their subjects' poses are initially unrecognizable. In some way, their illegibility may gesture towards an infiltration of our cultural imaginary that we now fail to recognize. The everyday performances of relationships and romance congeal in Frank's photographs.  Ready for My Close-Up, a show curated around the issue of feminism and performativity, finds its complexity in Frank's strangely unsettling images of menacing romance, Sziládi's disorienting flatness, and Double Zero's interplay of masking and revealing.
Desmond, an embodied image of the female hysteric, is deluded. Her wide eyes stare out at the film spectator. As the character Salome, a woman who has been historically represented as a seductress, she approaches the camera, staring directly out at us, outside the frame of the film. In this moment, is she re-living/playing her past traumas? Traumas that may have led to this moment? In the film's final moments, when Desmond declares that she is ready for her close-up, what can we say is exterior? What is interior? Â Who is she? And, gazing at her, making eye contact, who are we?
Ready for My Close-Up
September 12, 2013 – October 25, 2013
Artists' Reception: October 4, 2013, 6:00 – 8:30 PM
Panel Discussion with the artists and Wendy Vogel, Associate Editor at Modern Painters: October 5, 2013, 12:00 – 2:00 PM
Hagedorn Foundation Gallery
425 Peachtree Hills Avenue, Number 25
Atlanta, GA 30305
Notes
[1] Jill Frank, Statement
[2] Sunset Boulevard. Directed by Billy Wilder. 1950.
[3] Hagedorn, Statement
[4] Mónika Sziládi, Wide Receivers statement, http://msziladi.com/index.php/image/statement/13
[5] Michel Foucault, The Order of Things: An Archaeology of the Human Sciences (New York: Vintage, 1994), 11.
[6] Sziládi, Wide Receivers statement
[7] I am indebted to Justin Andrews for calling this to my attention.
[8] Annie Vought, "Double Zero Videos," http://annievought.com/category/double-zero/
[9] Laura Mulvey, "Visual Pleasure and Narrative Cinema," Screen, vol. 16, no. 3 (1975): 6-18.
[10]Â Sunset Boulevard.
[11] Hagedorn Foundation Gallery, Press Release for Steffani Jemison's When I Turn My Head.
[12] During the panel discussion featuring Steffani Jemison, when I asked Jemison if she could describe the title choice and process of making these images, she replied that she was examining the make-up of a photograph: its support and its image. Panel discussion with Steffani Jemison, Rizvana Bradley (Assistant Professor of Women's, Gender, and Sexuality Studies at Emory University), and Rujeko Hockley (Assistant Curator of Contemporary Art at the Brooklyn Museum) on 9.21.2013 at Hagedorn Foundation Gallery.
[13] Mary Ann Doane, "Film and the Masquerade: Theorizing the Female Spectator" in Femmes Fatales: Feminism, Film Theory, Psychoanalysis (New York and London: Routledge, 1991), 25. Reprint of the essay's 1982 publication in Screen: Screen, vol. 23, no. 3-4 (1982): 74-88.
---
Guest post by Mark Sheerin
It is more than 1,000 miles from Luton, England, to Reykjavik, Iceland. But Dominic from the UK town appears to love a good caper. Why else would he put together a group show on very little money in one of the most far flung and expensive cities in Europe?
"It was done on a wing and a prayer," he tells me on the phone from his Luton studio. "The art was just really, really ambitious considering we didn't have much money to play with. It's amazing what you can do with a cardboard tube and a delivery van."
Five artists took part. And the show has just run for a month at gallery Kling & Bang. Along with Dominic, the full bill included Gavin Turk, Mark Titchner, Laura White and Peter Lamb. The show went by the name London Utd. "It's kind of doing what it says on the tin," says Dominic, whose eponymous town is just a twenty minute train ride from the UK capital.
Not that he is the first to cross the Atlantic to the artist led space. He tells me that Paul McCarthy and Jason Rhoades have also shown at the dynamic and co-operative venue. And Dominic takes the opportunity to recount the tale of Kling & Bang's legendary appearance at Frieze Art Fair.
"They did a Frieze Project in London in 2008 called Sirkus. It's an incredible story," says the artist, telling me that Sirkus was the name of a Reykyavik bar: "This place was the hub, the heartbeat of the arts community". But after nine years of business, Sirkus closed down, leaving Kling & Bang free to turn the façade and fixtures into a temporary installation for the art fair.
Dominic warms to his tale: "They arrived at Heathrow in October 2008 and basically all their credit cards had been stopped because the [Icelandic] crash had suddenly happened overnight and so this bar, which was a mirror of good times and place to meet, became that again in London." Word soon went round about the penniless Icelanders with the reconstructed bar.
Things are a bit better in Reykjavik now and in its way London Utd has become another bridge between the art scenes in both cities. Mark Titchner's piece was a piece of text in Icelandic, which read The World Isn't Working. (Perhaps the UK crash is yet to come.)
Gavin Turk meanwhile offered a twelve and a half metre diptych inspired by Andy Warhol's Death and Disaster series and featuring the four wheeled emblem of working class Britain the Ford Transit. Laura White produced no less than 54 drawings of photos of sculptures which she herself had made. And Peter Lamb translated the shifting detritus on his studio floor into two large abstract canvases.
Asked about one of his own works in the show, Dominic is ready with another yarn. "That photo was done as a tribute to Paul Young," he tells me. Like the artist, the singer came from Luton. "He used to work at Vauxhall [car plant] in the early 80s and he told someone I know in the canteen once that he was going to be a global pop star and then literally 18 months later he was, with Everytime You Go Away."
The track resonates with many a Lutonian and inspired a Dominic from Luton performance at an event called Café Almanac organised by Bedford Creative Arts. This involved sourcing an 80s wig from Luton Indoor Market, posing for a portrait artist in the shopping centre and getting 5,000 badges made to cover a cheap suit. "I just stood up in front of about 50 people in this Working Men's Club on a Saturday afternoon and sung my heart out," recalls the artist.
This took place under a net filled with 200 balloons in the colours of the local soccer team, intended for release in the final verse. However "The net got caught in all of my badges so I had 200 balloons attached to me and I panicked and – it wasn't scripted at all – I basically ended up having a fight with these balloons and stamping on them and stuff and it brought the house down actually."
But despite the hazardous stagecraft, Dominic's "biggest challenge" is a self-proclaimed inability to sing. So it comes as no surprise that the artist thinks most performance art is too earnest. "People would argue with this, but I think there's a duty to entertain," he says, "That's just my take on it. That's my little mantra." Even the anecdotes which relate to each of his gigs are compelling experiences.
As a final aside, it's worth pointing out that the artist formerly known as Dominic Allan comes from one of the most derided towns in the UK. His "from Luton" tag is a sticky piece of cultural baggage. Dominic tells me that the name just came about through being easy to remember when he ordered materials.
Now, he claims, "It's just a very glorious vehicle for the idea of the underdog and also to shove it back in people's faces now because Luton's one of those towns which people laugh about . . . The more I go on, the more I realise that it is serious, and it is serious".
So that's Dominic, from Luton, easy to laugh with, hard to laugh at. Prepare to be entertained if he ever comes to your town.
Mark Sheerin is an art writer from Brighton, UK. He can also be found on Culture24, Hyperallergic, Frame & Reference and his own blog criticismism.com
---
Happy New Year! I have scoured the Internets for you, which included twitter, and look what the cat dragged in. Jason Lazarus+Photography+Johalla Projects = all kinds of awesome.
Information below. Good luck!
Filter Photo Festival is pleased to announce an open call for photographic work for a juried exhibition, "Archetype Drift." Filter's 4th juried exhibition will run concurrently with the Society for Photographic Education's (SPE) 2013 National Conference. The exhibition will be held at Johalla Projects, a gallery located in Chicago's West Town neighborhood, and will run from March 4th – March 23rd, with an opening reception on March 6th. Archetype Drift will be juried by artist, curator, writer, and educator Jason Lazarus.
Dates
February 4th: Deadline for submissions
Mid-February: Entrants are notified of juror's decision
March 4th: Exhibition opens
March 6th: Opening reception
March 23rd: Exhibition closes
Theme: Archetype Drift
"The illiterate of the future will be the person ignorant of the use of the camera as well as the pen." -Laszlo Moholy-Nagy
Photography can be a painful mirror.
Because of its illustrative tendencies and mnemonic capacities, photography enables us to tell the stories we want to tell with a hammer that is the frame. What happens when the medium gets in the way of the most important narratives?
Photography can be a seductive enabler that, at its worst, allows us to fetishize, beautify, and conduct shallow investigations. Meanwhile, paradigmatic changes in history and culture metastasize alongside new technological ways to make, edit, and distribute images. Are photographers pushing envelopes of meaning and relevance? Are they even keeping pace?
With the ubiquity of images high and low, how does an image-maker create cultural value in 2013?
Archetype Drift is a call for new methods of photographic making, editing, and presentation.  It is a call for risk taking, chance operations, relabeling, and letting go of the comfortable.  It is in itself an experiment and a (momentary) mirror.
http://www.filterfestival.com/archetype-drift-juried-exhibition/
---
Audio clip: Adobe Flash Player (version 9 or above) is required to play this audio clip. Download the latest version here. You also need to have JavaScript enabled in your browser.
This Week: An interview and guided tour with photographer and teacher Dawoud Bey.
Dawoud Bey: Harlem, USA
Wednesday, May 2, 2012–Sunday, September 9, 2012
Gallery 189
In 1979 African American photographer Dawoud Bey (born 1953) held his first solo exhibition at the Studio Museum in Harlem, showing a suite of 25 photographs titled Harlem, U.S.A. Bey had been in residence at that museum for one year, and he had made the surrounding neighborhood a subject of study since 1975. Though raised in Queens, Bey and his family had roots in Harlem, and it was a youthful visit to the exhibition Harlem on My Mindat the Metropolitan Museum of Art in 1969, that had given Bey his determination to become an artist.
Harlem, U.S.A., which has never been shown complete since the Studio Museum exhibition, appears fresh today partly in its manifest difference from much of Bey's later work. The prints are not large, not in color, and do not come in multiple parts; the subjects are not all adolescents, and they do not "sit" for the artist but were found by him on the street. And yet all these photographs are sensitively composed and radiate an emphasis on the calm and dignity that would become hallmarks of Bey's approach. Like August Sander, Bey wanted to show the "types" of Harlem's residents: the barber, the patrician, the church ladies, the hip youth. He was searching for a way to combine the specificity of photography, which only knows how to record details, with the diversity of Harlem, a neighborhood as varied as any in the country. And he wanted to do this without courting stereotypes.
Thanks to the efforts of more than 20 patrons, led by Leadership Advisory Committee members Anita Blanchard and Les Coney, the complete vintage set of Harlem, U.S.A. has been acquired by the Art Institute. A further five photographs from that time, never before printed or exhibited, will be donated by Bey to the museum this fall. Complementing this exhibition are a selection of permanent collection works in Gallery 10 curated by Bey as well as a career survey of Bey's work presented at the Renaissance Society at the University of Chicago from May 13 through June 24.
Dawoud Bey is a professor of art and was named Distinguished College Artist at Columbia College Chicago, where he has taught since 1998. Bey studied at the School of Visual Arts in New York and holds an MFA in photography from Yale University. His work has been the subject of a retrospective exhibition at the Walker Art Center (1995) and a four-year traveling exhibition, called Class Pictures, mounted by Aperture and first shown in 2007 at the Addison Gallery of American Art.
Catalogue
A catalogue accompanies the exhibition with images of the entire photographic series and essays by Matthew S. Witkovsky, Richard and Ellen Sandor Chair and Curator, Department of Photography, and Sharifa Rhodes-Pitts, author of the monograph Harlem Is Nowhere.
---