Linda
Tegg is an Australian photographer and filmmaker based out of Chicago. Using those tools, she carves out uncanny situations along the borderland of Nature and Culture. Sheep inhabit galleries; a goat stands on a white pinnacle appearing to be in digital space until it finally steps off its peak and trots away; often the human figure is 
camouflaged,
 whether by green screens or proper hunting attire, illustrating the deliberate and often painstaking efforts humanity makes to separate itself from its environment. In the following interview, Tegg and I discuss those borders and how her interest in grass cultivation further errodes delineations between subject and object, background and foreground.
Caroline Picard: You've talked about how you're interested in looking at "nature" as a social construct. Can you say a little more about what you mean by that? 
Linda Tegg: I am interested in how ideas of the natural are formed and manifest in our interactions. This interest began with interpersonal relationships and has expanded to include those generally not considered persons.
Wildlife documentaries, popular science, religious education, almost anything considered non-fiction is of interest to me. From the museum of natural history, to the eco-safari, to YouTube, interest in animals can rest largely on the surface. Through a recent work I call cameratrap, I consider adaptations that humans make to their own surface appearance when attempting to embed themselves in a so-called "natural" environment. I wonder what the hunter achieves when their prey doesn't show up; or what we understand natural behaviour to be when the when the wildlife documentary doesn't play out as we expect.
CP: How do the mediums of photography and video differ for you? 
LT: In my work they speak the same language. Sure, they are by no means identical, but they hinge on the same relationships. It's difficult for me to think about my photographs and videos in isolation of their environment, viewing conditions are so integral to how I make and experience art.
CP: How do you use those mediums to explore (and blur) the nature/culture binary?
LT: I see my photographs and videos as participants in an ecology of images through which we understand and orient ourselves. I seek moments in mediation where categorical shirts can occur, and find focus where illusion meets embodiment, animal actors for example.
CP:What do you mean by "animal actors"?
LT: I mean animals that have been trained for the film and television industry. Animals who perform our idea of their natural behaviour for the camera. I once encountered Holliwolves, wolf dog hybrids who are trained to move like wolves.
CP: What made you want to start working with grass? Is there a way that you compare it to a photographic process?
LT: My interest in grass was sparked by a local concern. I was curious to explore what the State Library of Victoria replaced in its founding. What other life forms occupied the grounds of that building? I learned that a grassy plain woodland had once stretched across the site and wanted to see if those plants could somehow grow back there again, and if conditions could be found where those same grasses might co-exist with the State's collection of cultural artifacts. Had the Library been built on a former rainforest I would be working with completely different plant community. That said, it is no co-incidence that Melbourne was built on grassy terrain.
CP:Why do you say that?
LT: Working and thinking with grasslands led me to consider how humanity approaches the world-for-itself (or us); the impulses, instruments, and frameworks of colonization are at play everywhere. The camera is certainly in line with that same mentality and I constantly wrestle with that awareness in my work. Working with grassland plants prompted me to shift my focus to the background.
CP: How might privileging a background (or grassland) influence your experience of art history?
LT: Looking into the background of 19th century paintings of early Melbourne wasn't exactly informative in terms of which plants were growing on the site. Enormous complexity rendered by a green brushstroke, something to slide right past. In one sense I felt that researching and growing the grasses was illuminating a blind spot. I was drawing that blur into high resolution, so much so that it shifted into another order entirely. Seeking that kind of clarity is very much a photographic instinct.
CP: At the same time, once you shift that interest, wouldn't you suddenly just turn grassland—in this case—into a kind of foreground subject? I feel like I'm inadvertently asking you about photography again…
LT: As an artist who thinks through photography I can't help but draw endless analogies—a tray of seedlings appears as a selection of pixels. Eventually, as I understand more about the plants, my interest in the surface subsides and I can see them differently. Before working with plants I understood more about the chemical processes involved in the development of a roll of film into a photograph than the development of a seed into a plant. This allowed me to understand the seed as a latent image. The growth of the plant was imbued with the magic of an image appearing in the darkroom. Of course they're not just images, they're living beings.
CP: How do you consider your grass installations in relation to your photographic interests?
LT: I see the installations as a complex of ecology and illusion. I arrange the regular containers of grasses and plants  into forms that resemble landscapes. The rigidity of the containers persist, advancing and receding in counterpoint to the volume of the plants. Despite my Romantic aspirations of verdant hillsides the grid pattern is a constant reminder that the plants are drawn through an anthropocentric structure. The illusion of "nature" can break apart, the same way that a film's continuity shatters when it's slowed down.
CP: What is it like producing grass installation outdoor in/situ (as with Grasslands) for instance, versus producing indoor installations, like Terrain?
LT: My first inclination was to bring the plants indoors, so that they could be in direct proximity to the State Library of Victoria's picture collection. There were many beautiful gestures to be made in bringing a grassland into the Victorian-era gallery. However, the head of conservation (who, at least in theory, entertained my ideas) calculated how many months each of the paintings would need to be rested if exposed to the same light the grasses required for just one day, and after likening the impact to a natural disaster, vetoed the idea. Eventually the grassland was allowed to occupy the Library's front steps and lawn. As far as the plants were concerned outside was the right choice. They thrive in the sun and open air.
I remained curious about the quarantine room in the library—the evidence they had collected of bookworm, the oriental rat flea they found in a manuscript, the illustrations of silverfish life cycles on the wall.
CP: I can't believe I didn't think about how strange it is to cultivate plants indoors! That seems like a really significant aspect, and maybe also ties into the nature/culture binary…
LT: The indoor installations are a struggle for survival. The plants I grow are not the kind of plants that are suited for indoor conditions. They are spouted from the supermarket, usually grains, that require full sun. As a result I race to keep up with their needs and constantly fail. Changes in the building's heating have huge impacts. Plants' also impact their surroundings; the air quality surrounding them improves.
Within most institutional building's plants are imposters, let alone the other life forms they bring forth. I grew my last installation in a large plastic bubble nested into my studio. Psychologically, I wrestled with it as a self-imposed form of restraint but in the end was happy to share in the plants' containment.
CP: I was wondering if you would speak a bit more about the significance of the Whole Foods' bulk bin aisle as the source of your seeds and grasses in Terrain? I feel like there are so many nuances of networks and economies at play, things that become strangely invisible when one is faced with the gallery installation of your work. 
LT: In one sense it was a direct way for me to overcome some of the alienation I feel in the supermarket, a marvel of modernism if you will, where everything is on hand, ripe for consumption. By spoiling the grains they're able to grow into plants—suddenly they can't be moved so easily, they can't be traded as they were, and they shift categorically.
The process also disrupts the order of the bulk section, where plexiglass silos emphasize the diversity and division between varieties. Where every variety is represented by a Product Look Up Number that ensures a uniformity across stores. I seek to undo this, to unknow them as food and understand them as plants, as beings with a potential beyond my consumption. I consider them a community, a manifestation of the various human and non-human networks that brought the grains and legumes together in the bulk aisle, as a kind of reflection of our co-evolution.
CP: The way that the blatant economic/trade relationships becomes so quickly invisible feels important, maybe because it reflects how all of the world's "natural" landscapes are similarly tied up in economic systems. In your installations, I don't even recognize the individual types of plants, but am struck instead by a general green clump—maybe that's like the 19th century green brush stroke, again.
LT: It is not surprising that this complexity is evasive. I must admit that I didn't have a clue what a garbanzo bean plant looked like until I grew one. The plants in their plurality easily become generic grass a ground for human action and expansion. Even in a gallery installation where every convention would invite one to look closely, to consider the plants. They slide so easily into symbolism, into an image of rolling green hills, another image of prosperity.
I chose Whole Foods as it caters particularly well to people who want more from their food. I think about the reversionist fantasies behind the Paleo diet, that our bodies are more in tune with a pre-agricultural diet. That we can indeed buy a nine dollar packet of Paleonola Maple Pancake Flavored Grain Free Granola and be better for it.
CP:  What about care? As someone who worked with you as a curator, I feel like the way that you have to maintain and grow the grasses mostly invisible to a public, but also essential to the underpinnings of your work. I'm wondering how you think about that in relation to the artistic act or gesture…
LT: As the caretaker and orchestrator I am flat out in the midst of this operation. I grow the plants in regular modular containers and rearrange them throughout the exhibition. Indoors it really is a fight for survival.
When working with the grasslands project I thought a lot about what stays and what goes. The care that goes into preserving the State's cultural heritage and the recurring acts of violence I saw inflicted on Grasslands. Everywhere I looked I saw them giving way. Even the artwork was pulled up one night by the Library's own contractors to accommodate a display of BMW's eco friendly vehicles.
Caring put me into a specific and active relationship to the plants; in some ways we're in it together. The act of caring creates the potential for us to influence each other. We're co-constituted. I also think that care bring things into visibility. I remember coming across a grassland restoration group weeding an embankment. To see them on their hands and knees, fighting the tide like that, really stuck with me.
---
by Sabrina Greig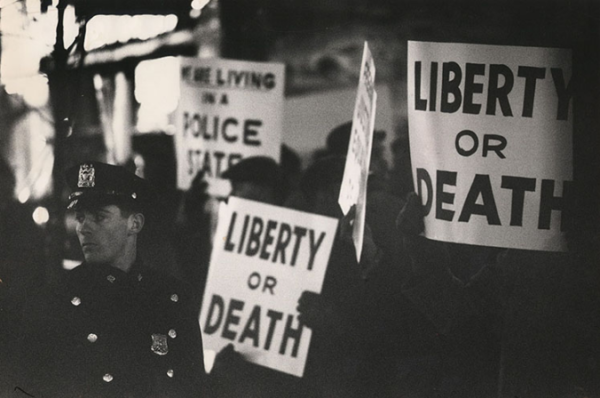 With the recent cascade of Black Lives Matter protests last month, the exhibition Invisible Man: Gordon Parks and Ralph Ellison in Harlem, comes at an opportune moment. On view for its last month at the Art Institute of Chicago, photographs from the exhibition document America's continued struggle with racial inequality. It successfully captures the robust Black Diasporic culture of Harlem in the 1940s through the artistic partnership of Ralph Ellison, author of the canonical text Invisible Man, and the first Black photojournalist of Life Magazine, Gordon Parks.
The exhibition focuses on imagery and passages from Ellison and Park's collaboration on the magazine essays "Harlem is Nowhere" (1948) and "A Man Becomes Invisible" (1952). Both photo essays, however, were never published. The show Invisible Man therefore showcases unreleased photographs, contact sheets, and handwritten drafts by Ellison and Parks that have never been seen before by the public. They give viewers a glimpse of the social climate that inspired the groundbreaking novel Invisible Man.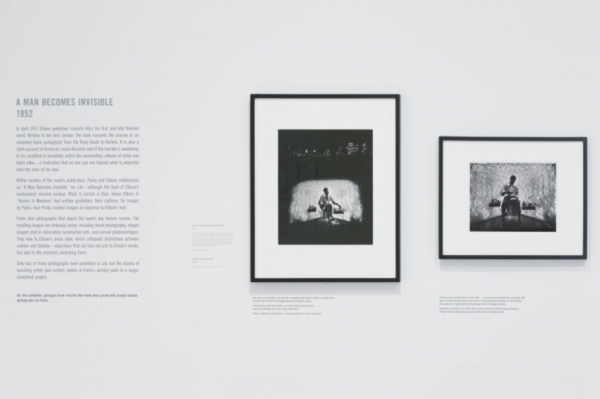 The exhibition's subject matter ranges from socially infused black and white street photography depicting the 1943 Harlem Riots, to abstracted photomontages of urban ghettos. Select images,such as an enigmatic photograph like Emerging Man, are subtly accompanied by excerpts from Ellison's writing printed beneath photographs on the exhibition walls (see above). The curator's choice to merge text and photography further illustrates the artistic continuities that existed between the creative minds of Parks and Ellison.
The interplay of text and imagery more overtly demonstrates how both men inventively reimagined the sources of racial injustice in American society through the photographic medium.  They playfully synthesize the characteristics of real spaces, such as depicting the first interracial psychiatric clinic of Lafargue Mental Hygiene Clinic, while also intertwining obscured dystopic visions of city streets submerged in shadows of dark and light.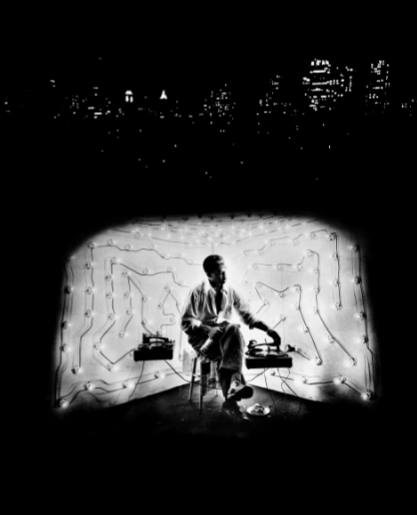 Untitled (Harlem, New York), 1952, Gelatin silver print, from the series
"A Man Becomes Invisible" (1952), 26.9 x 34 cm, The Art Institute of Chicago
The glowing technicality of Invisible Man Retreat, Harlem. NY best exemplifies this style. It shows how the friendship of the two creative geniuses constructed an Afrofuturist aesthetic that found Black joy in the midst of poverty, racism, and urban strife. With New York's skyline in the background, Ellison serves as Park's muse to represent a principal scene from his novel where the protagonist seeks a safe space during the Harlem Riot. It connotes the concept that this fictive world he constructs was both a place of refuge, as well as an isolating space to become invisible from the racialized chaos of the outside world. The photograph perhaps symbolizes the contradictions of protesting during heightened moments of racial strife, where one wants to become hyper-visible to combat collective struggles, yet emotionally removed to preserve their individual sanity.
Though overtly male-centered, Invisible Man convincingly showcases the artistry of two artists who innovatively problematized the prevalent reductive representations of the Black experience in Harlem, New York. Ellison through compelling prose, and Parks through striking photographic documentation, introduced a corrective portrayal of Black culture that negated stereotypical expressions of African-Americans of the time. Doll Test, Harlem, NY is a chilling reminder of how easily white supremacy subconsciously seeped into the veins of little Black boys and girls beginning at the tender moment of childhood. Images like these introduce more complex narratives that surpass radicalized conceptions of Black culture.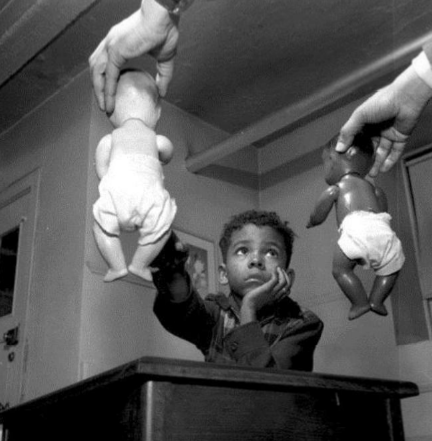 Doll Test, Gordon Parks, 1947, Gelatin Silver Print,
7 15/16 x 9 15/16 in, The Art Institute of Chicago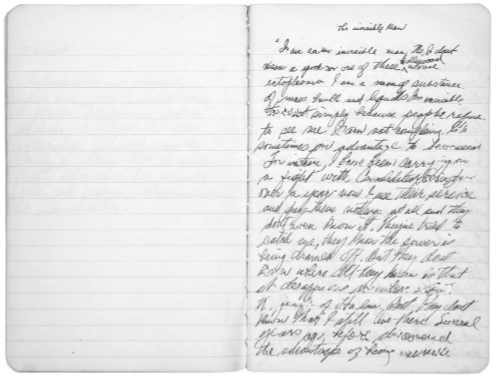 Notes for Invisible Man, Ralph Ellison, 1947,
The Gordon Parks Foundation.
The plethora of archival documents in the show include some of Ellison's notes throughout the process of constructing the two photo essays for publication. In Pictorial Problem, the final sentence states, "The point photographically is, I believe, to disturb the reader through the same channel that he receives his visual information." This strategy reveals the conceptual approach adopted by both artists. Photos such as Battered Man and Off on my Own, (Harlem, New York) are eerily uncomfortable documentations of the Black experience that American History often aims to brush under the rug.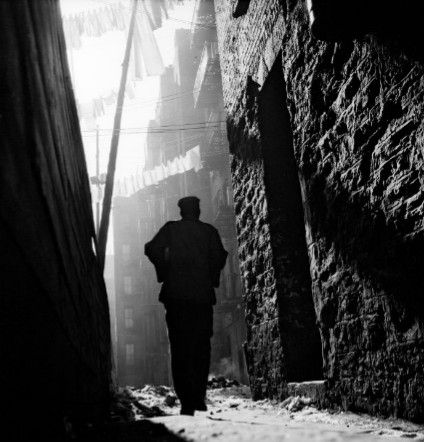 Off on My Own (Harlem, New York), 1948 Gelatin silver print,
from the series"Harlem is Nowhere" 33.8 x 24.8 cm, The Art Institute of Chicago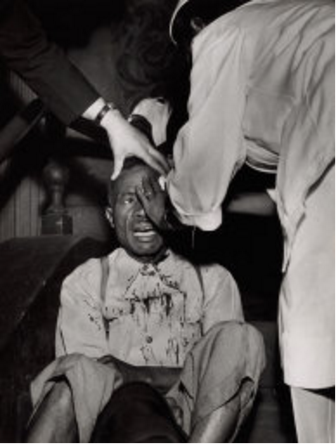 Battered Man, 1948 Gelatin silver print
23.5 x 18.6 cm (9 1/4 x 7 5/16 in.)
The Art Institute of Chicago
The series of photographs present in Invisible Man at the Art Institute thus point toward an earlier form of archiving the social repercussions of racialized prejudice. Similar to role that cell phone recordings and police body cameras have played in the Black Lives Matter movement in the 21st century, Parks and Ellison understood the power of creative visions. The visual components of these recent technologies make the ubiquitous nature of police brutality and racial inequity a visceral experience for all viewers in the same manner that some of Park and Ellison's work was revealing of similar issues. Invisible Man is exemplary of how Ellison and Parks implored an unprecedented method of documenting racialized violations of social injustice, that has finally been given visibility in the two year anniversary of Michael Brown's murder.
---
This interview was originally published on Bad at Sports on Dec 27, 2013.
Singapore based artist Robert Zhao Renhui is the 
Institute of Critical Zoologists
, an organization that—for any Doctor Who fans out there—would be the environmental analogue to the Torchwood Institute. The fictional Torchwood was founded to protect the Earth from supernatural and extraterrestrial threats; with that mandate in hand its employees must remain open and unperturbed by a myriad of strange and uncanny possibilities within the universe. Shrouded in secrecy, however, it attempts to perpetuate the myth of everyday banality, to keep their fellow human citizens free from fear. Although similarly invested in strange zoological proclivities of our non-human fellows, the ICZ is not a secret society. It delves into the multifarious world around us to expose the strange assumptions humanity takes for granted about its surrounding landscape. Working primarily as a photographer, Renhui blends fact and fiction to emphasize the idiosyncratic relations between animals, their habitats, and the humans that categorize them. While the result is ecologically minded, the dominant effect is uncanny. The ICZ effectively unearths little understood behavioral habits of animals and re-presents them within gallery settings as representational photography, encyclopedic texts, and multimedia installations. Currently ICZ currently has an exhibit, 
The Last Thing You See
, up at 
2902 Gallery
 in Singapore until January 5th that examines the act of sight. By demonstrating the shift in perception that would result from a sensitivity to ultraviolet light, ICZ reveals a world familiar to insects while being totally divorced from human experience. ICZ is going to appear in
Ghost Nature, 
a series of shows that I'm curating at 
Gallery 400
 (Chicago, US) and 
La Box
 (Bourges, FR).
Caroline Picard: How did the Institute of Critical Zoologists (ICZ) come about and what does "animal spectatorship" mean?
Robert Zhao Renhui: The ICZ came about mainly because of my interest with photography and animals. A long time ago, I was involved with animal rights activism. At that point of time, I was curious with how photography was used in animal activism. I contributed a lot of photographs to talk about the plight of animals living in captivity in Asia. I got too emotional and personally involved at one point. On the other hand, I was also using photographs to create my own fictional narratives about humans and animals. In college, my tutor asked me to look at my photographic narratives with my concerns of animals rights together, instead of two separate projects. Slowly, the ICZ took shape. Animal spectatorship, in my work, is very much about the conditions of looking and understanding animals.
CP: I feel like you're interested in the way things are visible and invisible  for instance how a human can all but disappear in a suit of leaves, or what a spider's web looks like in ultraviolet light, can you talk more about how this series of works came together.
RZR: My interests are very much shaped by my medium, photography. Photography has always been about a way of seeing. In this exhibition, I was interested in how not seeing is as important as seeing. For the longest time, nobody knew why certain spiders weave distinctive markings on their webs. It isn't logical for spiders to make these markings because then they render an otherwise hard-to-see web visible. Scientists came up with a theory that the markings are made to warn larger animals to not walk into the spider web and destroy it. In other words, the insect trap had a defense mechanism. It was not only recently that we realised that most insects see in the UV spectrum, a visual spectrum invisible to humans. Under UV light, the web mimics the shape of a flower. These markings are also visible on flowers in UV light. A spider web that wants to be a flower. I like that idea. A mimic and an invisible trap. Like a photograph.
CP: Traps come up in several of your works—I'm thinking of your bee trap for instance, or the wolf trap—in both instances I feel like you're somehow able to tap into an animal semiotics, almost, using the bee's attraction to blue to bring them into the gallery, or using the wolf's appetite for blood to disguise its sense of pain. What draws you to traps?
RZR: Michel Foucault said that visibility is a trap. He meant it in the case of the Panopticon, a prison where the all the inmates were visible to one another, hence creating a system of totalitarian, mutual surveillance. I've been thinking a lot about this statement, but with the trap not relating to the observed, but the observer. Visibility is a trap because we imagine we know a lot through empirical evidence. But what is beyond the visible? Even my interest with animal traps is linked to my interest with photography. A photograph can trap us rather than liberate us. Seeing can be dangerous and misleading because we always have an eye out for the truth. It narrows our vision and the price to pay is not really knowing the bigger picture. That's how animals get trapped—they fail to see beyond what is already presented to them.
CP: You have a book that just came out! How long did it take for you to make it? What does it contain?
RZR: A Guide to the Flora and Fauna of the World is an encyclopedia of man-made nature. It started of with the goldfish. Why doesn't the goldfish have a scientific name? Why is it not included in any natural history encyclopedia? Today, the goldfish is a very common fish and in China, they recently held a competition for the World Goldfish Queen. I wanted to find out if there was a book that the goldfish can exist in other than a decorative aquarium trade fish. I started looking at other aquarium fishes that were artificial and slowly branched out into other animals and plants affected by aesthetic modification, ecological conservation, pollution, evolution and genetic-modification. It took me about a year to create the volume. Included in the book are my past projects like Acusis and A heartwarming feeling. So you can say the book has almost 3 years of my research. At the end of the book (there are about three books in this book, all housed in a box) there is a book that talks about Tropical Bonsai, specifically the Banana Bonsai Plant. My father keeps a dwarfed banana bonsai plant of 6 years at 15 cm tall. Bonsai is the art of miniaturising trees. It is man controlling nature in a very obvious and aesthetic way. There are rules to create bonsai and there are also rules to view bonsai. There are front views, side views and back views. This is a very important part of the book. Â It offers a way to think about the way we have controlled nature. As a species, we have always defined and controlled the way nature existed with us and this is nothing new. Broccolli and Cauliflower are not natural although we have become so familiar with them. Man has always determined what nature should look and feel like. The way we think and look at Bonsai may offer us a way to contemplate our complicated existence with nature.
---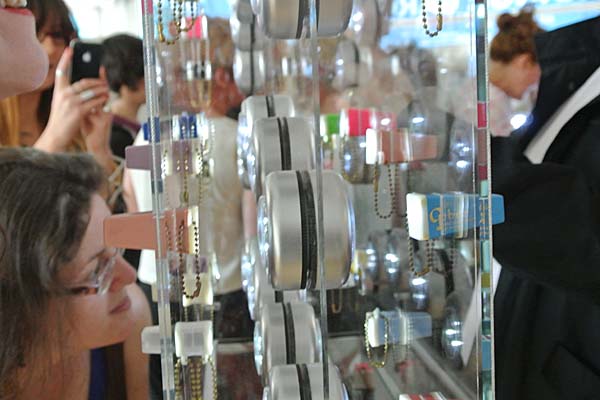 Museums at Night appears yet to reach the US, but if any cultural impresarios are reading, this concept is ripe for import. In the UK it's an annual extravaganza which sees nearly 500 museums throwing open their doors after hours. It generates crowds, good will and new audiences, taking its cue in turn from continental Europe where the phenomenon first took root in Germany in 1997.
On May 17th, event co-ordinators Culture24 sent me to a small coastal town in Kent  which, thanks to the festive circumstances, was hosting a world famous artist. The venue was Georges House, Folkestone, and the big name draw was Spencer Tunick, known best for photographing nudes in their hundreds and thousands. Yes, whole crowds of people in the buff.
This project, which often gets the wrong kind of attention, makes most sense when you learn about Tunick's upbringing. His father was a photographer and an entrepreneur. He would shoot folk on holiday, develop the film as fast as possible, then return to the scene to sell back his images to his more or less willing subjects. Tunick became an apprentice who learned early what it meant to deal with crowds.
His Museums at Night project has been developed with arts organisation Strange Cargo and entailed the capture of more than 150 nudes on the Folkestone seafront. The results were slotted into key-chain viewfinders, such as his father would have used. Tunick calls these scopes, and the show here in Folkestone involves the installation of these colourful creations, each one lit with LED lights.
The installation is in reassuringly good taste. Perspex housing hangs from the ceiling and divides the room. As you peer into each scope, you cannot but be aware of the people to your right, left, and on the other side of the divide, the people in front. There is nothing furtive about the experience, which may be why participants all appear to be so happy with the results.
One woman even hands me her scope, giving me little choice but to put the plastic gizmo to my eye and get an eyeful. I tell her the photo is "beautiful" and we go on chatting about other things. Well, it is certainly an icebreaker. It turns out she too is a photographer, with a specialism in self portraiture, also nude. "Sara's an artist," Tunick tells me. "You should discover her!"
Certainly, there are plenty of discoveries to be made here. Another woman searches for her scope and asks, "Have you seen me yet?" In truth, people look so different with their clothes off that is is hard to say for sure. The installation is a parade of male and female bodies, most in good shape. All stand on a jetty facing the camera. It is about as erotic as a nudist colony, ie; not very.
But the punters here in Folkestone don't seem to mind. The venue and the street outside are buzzing.  Visitors have to queue to scrutinise the scopes. Looking at people with no clothes on turns out to be the most fun you can have with your own proverbial clothes on. The high spirits might worry you just a little; after all art is supposed to be a serious endeavour, not a peep show.
Tunick, mind you, comes across as perfectly sincere. And as he has said, his work falls between land art, sculpture and performance art. The critical faculties may be stunned by mass nudity, but the format here in Folkestone calls to mind the unimpeachable Marcel Duchamp. His final artwork of course, a nude by the name of Étant donnés, also employed the keyhole approach to viewing.
Comparisons should probably end there. Duchamp's faceless, depilated nude spreads her legs for the viewer and is quite the opposite of this surprisingly wholesome show in Folkestone. You would also have to visit Philadelphia to see Duchamp's installation, whereas for the art lovers of Folkestone, these nudes have come to their doorstep. But in any history of the nude in art, you would surely have to mention both contrasting angles.
---
My wife and sometime collaborator Stephanie Burke and I recently completed a 140-mile walk as a perforance piece called "Walking to Mordor."  The walk was based on an Easter egg introduced in Google Maps three years ago:  if you asked it for walking directions from "The Shire" to "Mordor," instead of the usual "Walking directions are in beta" warning, a pop up announced, "Caution:  One Does Not Simply Walk Into Mordor."  The line is Boromir's, from The Fellowship of the Ring.  Ignoring his naysaying, the two hobbits Sam and Frodo proceed to do exactly that.
The line, as spoken in the 2001 film, spawned an Internet meme which consisted of a still image of Boromir, hand in mid gesture, coupled with a line of text reading, "One does not simply…" followed by whatever the author wished to decry.  Instances date back to at least 2004.  In 2011, Google Maps joined the party by adding the Easter egg to their walking directions.  Along with the warning, however, Google actually did provide a map and directions, from a restaurant called "The Shire," in Chehalis, Washington, to a tattoo shop called "Mordor Tattoo," in Arlington, Washington, 138 miles away.
When I showed Stephanie the joke, she mentioned that, coincidentally, she has family in Chehalis, and had spent some time there growing up.  It didn't take long for us to decide that it would be fun, and funny, to take Google Maps' directions at face value, and walk the route.  Almost immediately thereafter we realized we had to commemorate the journey by getting tattoos at Mordor, and that the tattoos should be of the map of the route.  We documented the project with a series of photographs called "Instagram vs. Holga."  Stephanie, a trained photographer, shot on the cult classic crappy medium format film camera, while I, with  no more than a couple of undergraduate photography classes under my belt, used my phone's camera and the everyman's favorite app.
As has happened with more than one previous project, we didn't set out to make art.  Our process is more often that we have an idea for something we'd like to do, and then, almost against our wills, we realize that it is starting to look quite a bit like art.  Or at least like things that other people call art.  And certainly, going for a long walk has quite a history as a form of performance art.  It has spawned books, blogs, and even a society.  Well-known examples include Francis Alÿs,Regina José Galindo, Simon Faithfull.
The history of walking as a form of performance art can never be severed from its history as a form of protest.  Galindo's 2003 walk from the Congress of Guatemala to the National Palace, her feet dipped in blood to leave red footprints, was intended as a protest against Guatemala's former dictator, José Efraín Ríos Montt.  Montt had formerly led a military regime known for widespread human rights abuses, and at the time of Galindo's performance was running for President in a democratic election.
Not all of those who have walked in protest have identified as artists.  Perhaps the most famous example, internationally, is Ghandi's Salt March or Salt Satyagraha.  By directly and pointedly disobeying a British law against domestic salt production in India (forcing Indians to buy imported British salt), the march essentially started what became the international Civil Disobedience Movement.
Inspired by Ghandi, A. Phillip Randolph and Bayard Rustin organized the 1963 March on Washington for Jobs and Freedom.  The march itself covered barely more than a mile, from the Washington Monument to the Lincoln Memorial, though the 250,000 participants (60,000 of them white) had traveled from much farther away by bus, rail, and plane.  Some spent 20 or more hours on buses traveling as far as 750 miles.  Two years later, voting rights activists marched 54 miles, from Selma, Alabama to the state capitol in Montgomery.  The Selma to Mongomery marches are commemorated by a National Historic Trail.
America's racial history (obviously still in the making) continues to inspire performance artists.  In 2009 I reviewed Meg Onli's Underground Railroad project for Art Talk Chicago.  (Five years later, her work holds up better than my early efforts at writing.)  Presented as part of Twelve Galleries Project and curated by Jamilee Polson (who is also this blog's managing editor), Onli's project consisted of her retracing, on foot, the route of the Underground Railroad: a 440-mile journey, in Meg's words, "in search of blackness."
Exploring another form of blackness entirely, Chicago-based curator Amelia Ishmael co-edits Helvete, a journal of Black Metal theory, in the first issue of which was published David Prescott-Steed's "Frostbite On My Feet:  Representations of Walking In Black Metal Visual Culture."  (If you'd like to read the article for yourself, the entire journal is presented for free, as a downloadable PDF, at the above link.  A print edition, also available, is well worth the price.)  "Frostbite" tracks a few reference points linking walking with Black Metal culture.  Principally, it finds the common ground between a grueling trek into the Norwegian tundra, led by Gaahl (former Gorgoroth frontman), and the author's own experience walking the mundane streets of an Australian metropolis while listening to Burzum:
In this case, "blackened walking" is seen to be less about the activity of walking itself and more about the circumstances under which one can move through space—walking not just for the sake of exercise, pleasure, or getting to the shops on time. With the modern world (invested in trains, planes, and automobiles), the slow, simplicity of a walk (Walking? How pedestrian!) seems to have lost some of its value. However, walking is capable of bringing one's focus back to a fundamental question of what a body physically needs to do in order to transition through, and therefore go on, in the world. Perhaps mourning the forgetting of the existential significance of walking, "blackened walking" pays respects to walking as the chance to explore self-determination and a readiness for the unknown.
We hadn't conceived of the "Walking To Mordor" project initially in terms of its connection to Black Metal, but as we walked, Prescott-Steed's phrase "blackened walking" echoed in my mind.  The connection, however ephemeral, clarified itself in my mind as I looked over Tolkien's maps of Middle Earth, and researched his languages.  Two of the bands mentioned in "Frostbite" take their names from Tolkien's writing.  Gorgoroth is an arid plateau in the northwest corner of Mordor, surrounding Mount Doom; the name comes from Sindarin (the Gray Elven tongue) and means "dreadful horror."  The name of another band, Burzum, means "darkness" in the Black Speech of Mordor.
Far from the tradition of protest marches, whether as performance art or otherwise, "Walking To Mordor" was in some was a playful exploration of what happens when a joke is taken 138 miles too far.  A linguist became an author.  His book became a movie.  The movie spawned a joke.  The joke became a meme.  The meme became an Easter Egg embedded in the principal means by which Americans today naviage their world.  With every breath spitting in the face of Alfred Korzybski, originator of the phrase, "the map is not the territory," most of us today confuse a glance at Google Maps, followed by a drive in the car, with exploration.    We think of distances first in minutes of driving, or hours of flight.  The landmarks we note are gas stations and Starbucks locations.  Google Maps has become the average person's understanding of the world.  Moreover, our culture is becoming one of remakes and mashups.  References have taken the place of wit:  "that's clever" has been replaced with "I have heard that before."  Tolkien has been reduced, in the public imagination, to the origin of nerd-chic Internet memes, and we have tried in our way to be true to his work by dragging a piece of derivative humor, kicking and screaming, into meatspace.
---