Guest Post by Autumn Hays 
Over the last few years within the United States a growing interest has arisen in festivals that specialize in Performance Art, that offshoot of the visual Arts, who's practices center around temporal body-based works. This festival-circuit format for showing performance based art works has already produced a strong development in terms of organizations and events outside of the United States. Often however it's difficult for American performance artists to break into these circuits. Although there have some who have successfully done so, many festivals go years without showing a single American performance artist. This could be for many reasons, but one is certainly the relative lack of funding. Often the diplomatic and cultural establishments of foreign countries, such as embassies and consulates assist artists with expenses so that they can make and show artworks outside their country of origin. In the USA however, we do not invest money in the arts to the extent of other countries and thus American artists often have less accessibility to funds outside of their own pockets.
Performance art festivals are often intensive endeavors, involving a diverse group of international artists. Always on very tight budgets, these festivals often seek to supply food and housing for the artists for the duration of the festival, often lasting from several days to weeks. Unlike showing at a, gallery the festival becomes a sort of community or summer camp. Here artists and curators network and meet performers from all over the world. Viewership is open to the public but there is a community of support at many festivals where artist see each-other's works, often living together and sometimes collaborating on the fly. Festivals are often popular for performance art as spaces willing to show the work, or spaces aware of the needs of exhibiting performance art are often few and far between.
The good news for performance artists is, the USA is starting to develop their own performance art festivals. These festivals seek to bring international artist to the USA while showcasing local talents. It will be exciting to see what other festivals are brewing here in the United States and some in and near Chicago itself. Here are three festivals to look for this year: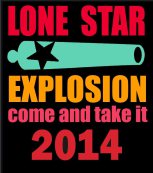 Lone Star Performance Explosion
     Huston, TX
     February 19-23, 2014
This is the second time around for this international performance art      biennale after a successful run in 2012. "LONE STAR EXPLOSION 2014 seeks to showcase performance art that pushes the artists and audience in new ways, especially performance art that questions fundamental assumptions about the way we experience time, space, relationships, the self, society, and sexuality. " As many of our festivals on this list the line up features local, national and international talents in Performance Art. Lone Star Explosion 2014 is curated and directed by Jonatan Lopez and Julia Wallace. Confirmed artists include: Elia Arce (Costa Rica), Marce Sparmann (Germany), Natalie Lovleless (Canada), J. Morrison (NYC), Ryan Hawk (Huston), Roberto Sifuentes (Chicago), and over 25 more artists. http://lonestarlive.org/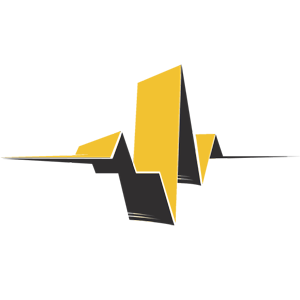 Rapid Pulse International Performance Art Festival
Chicago, IL
June 5-15, 2014
This is year three for Rapid Pulse International Performance Art Festival, taking place here in Chicago. "The RAPID PULSE INTERNATIONAL PERFORMANCE ART FESTIVAL aims to represent a range of styles and forms in order to provoke thought and stimulate discourse surrounding performance art." This intensive festival features performance,  video screenings, artist's talks and panel discussions. It includes a wide range of performance art from durational, public, and digital based works. Unlike the rest of the festivals on this list Rapid Pulse is centered in and around Defibrillator Performance art Space as opposed to being a wide range, multi-venue event. Artists have yet to be announced but the application period is closed and the curatorial process is beginning. Rapid Pulse is curated by: Steven Bridges, Julie Laffin, Giana Gambino, and Joseph Ravens.  http://rapidpulse.org/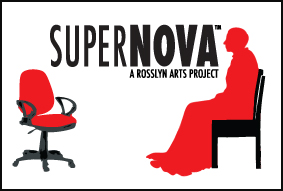 Supernova Performance Art Festival
Rosslyn, Virginia
June ?
Super Nova first took place in June of last year and word is the event will be back again this year. "SUPERNOVA will bring together emerging and established local, regional, national and international performance artists to present an expansive range of positions and approaches to performance art." Though not confirmed Supernova came together well last year showing and they have to potential to continue on this year. Tough mostly national based artists, Supernova has the bones of a strong festival and hopefully they continue. Supernova's 2013 Chief Curator was Eames Armstrong. http://rosslynartsproject.com/
The question that arises with these projects and others like it is one of sustainability. Performance Art festivals are often struggle all year to find funding for the next event. Often performance artists who wish to see this kind of festival thrive in the USA produce these festivals. These factors, and the fact many performance art specific festivals around the world struggle to stay open make the running of an international festival a labor of love, to say the least. Even if these festivals eventually come to an end, the recent creation of these festivals might be pointing to a new trend in performance art exhibitions in the USA. Hopefully the adoption of the festival format international performance festivals will continue to propagate more opportunities in the exhibition of performance art. It will be interesting to see if the new trend in festival production will flourish in the United States and if festivals like these will run strong and multiply in the years to come. Perhaps, the appearance of American Performance Art festivals, and the participation of American artists in them, may lead to an increased interests in American practitioners of performance works both at home and abroad.
_______________________
Autumn Hays is an Artist, Curator, Teacher and Writer. She graduated the School of the Art Institute of Chicago with an MFA in Performance where she received the John Quincy Adams Fellowship. She received her BA in Visual Arts at UCSD. Hays was the recipient of numerous scholarships, grants and awards including two major Jack Kent Cooke association scholarships. Currently she is assistant curator at Defibrillator and Co-Producer of the 2014 IMPACT Performance Art Festival. www.autumnhays.com
---
Guest Post by Hannah Verrill
Tatyana Tenenbaum is an interdisciplinary artist whose work examines sound and movement within a shared perceptual, historical, and dramaturgical framework. Her most recent piece, Private Country, premiered this past October at The Chocolate Factory in New York City after a working process that spanned several years. 
I met Tatyana back in early 2006 when we were both studying at Oberlin College in Ohio.  We became fast art friends and began collaborating soon after meeting.  As I try to make sense of the past, it occurs to me that we connected so immediately because both of us were experiencing a shift in our creative frameworks.  I had grown up inside of dance and was beginning to reach outside of it to sound, video, and installation.  Tatyana had grown up inside of music composition and was beginning to explore the body and choreography.  We met somewhere in the middle and continue still to learn from each other's artistic endeavors. 
In an effort to get inside of Tatyana's process of working towards Private Country, while being unable to physically witness it, I staged a kind of experiment that Tatyana graciously pursued with me through written correspondence.  If the result is messy, with bursts of clarity—so it goes, as with any process.  Thank you for bearing with us.
Hannah—Tatyana, I'm asking you to pull up discrete moments, notes, from the making of Private Country.  These can be messy and detailed as if they were occurring in the present moment.  Is this even possible?  I'm certainly unsure.  Time does its thing, right?  Certain moments will come up for air while others are swept out to sea.  Or this is how I imagine it at least.  The director Anne Bogart writes that if the theatre were a verb, it would be  'to remember'. I'll exit here and cue your entrance. 
Tatyana—I'll begin here:
          Note 1 
Techno-Minimalism… TuneYards and Gang Gang Dance.  Moving out of the "new complexity" (or, as my 78-year old composition professor would say, "the new stupidity.") Moving towards audience immersion, sensory experience, spectacle as visceral sensation—where spectacle departs from tried-and-true convention—where it began as something primal, something essential to the human experience, ritual as catharsis, religious ritual, art as ritual/ and /or / religion.  Contemporary pop counter culture as ritual. || None of this writing is suitable for an audience but perhaps I will try to articulate it further. || WHERE FORM MEETS  – – – } FUNCTION, and this becomes aesthetic.  Everything dependent.  Everything related.  Everything a choice.  Proliferation of media means theater becomes one-dimensional in the conventional sense.  Prosceniums are officially flat, not adapted to a world that frequents the 3-D movie theater.  Antiquated.  Dull, irrelevant?  Or just self-conscious in their flatness?  
H—If I simplify a working process as having two tracks, the track that is concerned specifically and directly with the project, and the track that filters everything else happening in one's life and still lends itself to the current work at hand, it seems like this process note would fall into that latter category.  And it's a messy situation! But this stuff is so important, right?  I mean when looking back at how a work was made, or rather, why it was made.
This idea of flatness in theater as an outgrowth of the proliferation of media.  How does this kind of thinking—it almost reads as despair—propel you forward in the midst of project that is mining your personal history with musical theater?  How do you choose to contend with the flatness? 
T—The question of flatness in a theater excites me.  The idea of frontality excites me too. In the canon of musical theater, it's almost a motif unto itself. I think, consciously and unconsciously I wanted to amplify this motif.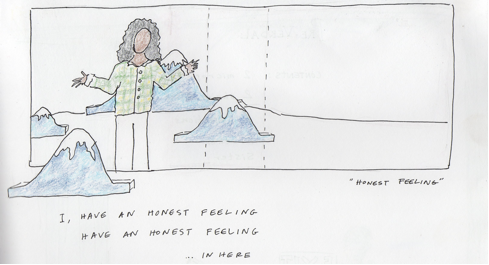 For Private Country I chose to seat most of the audience on risers as in a "proscenium front" and a small handful in a single row on the edge of stage left.  Ezra and I continued this seating line on the upstage left.  It was as if the audience on that edge was disappearing into the horizon line, until they became the performers. A lot of action happened on the diagonal that joined those two audience lines.  However, the obvious weight of the frontally oriented audience was of interest to me.  It was like giving one thing an 80% value and something else a 15% value… 5% went to the mystery. Towards the end, I second-guessed this configuration—for the obvious reason that it would make those viewers on the side become apart of the visual space.  But removing them somehow made the frontality less powerful. There needed to be something to rub up against.
H— I know you grew up inside of the musical theater canon, and I often wonder about kids who grow up with a certain knowledge or familiarity with an art form.  When you approach the form later on, is the desire (or need) for invention within the form always a critical point of interest? 
 T—I want to say that I was always drawn to the absurd.  I was also some form of outsider.  I couldn't even get a role in my town's community theater production because I was too shy… so I started writing my own musicals, and I found power in that.  It was the most un-self conscious re-production of convention… to the downbeat.  I mean, without knowing what I was doing, I was channeling so much history (I had grown up with it).  So it made it easier, later on, to comment on that canon.  I had already begun archiving and indexing those conventions as a child.  It was my way of making sense of that world.  Part of unearthing that is realizing what that absurdity means to me now—what it is bumping up against.  

          Note 2
Reading The Old Way by Elizabeth Marshall Thomas.
 The first mention of art and "artistic genius" [within the society of the Ju/Wasai Bushmen of the Kalahari] was in regards to hunting.  She feels that the creative energies are played out in this arena, and points out that the first art in caves was to commemorate big hunts.  She describes, also, the storytelling and oral myth making around hunting.  When she gives an example of the style of storytelling, it is all in the present tense: "I creep forward, I creep.  He jumps!  He is just that far."
H—How did these ideas "play out" in the arena of Private Country?  Why do you feel that the sport of hunting sparked artistic expression?  And what about the present tense, why make note of that? What feels important about an expression of the past happening as if it is in the present?
 T— I think I was drawn to these old ethnographies (I also read John McPhee's "Coming Into the Country," a collection of contemporary ethnographies of Americans living back-to-the-land style in rural Alaska) because I was trying to understand where this compulsion to depict ourselves came from.  
 "I creep forward, I creep."
When I am temporally engaged in an art practice, I feel it in the present tense. Â But when I analyze it, contextualize it, or write about it, I do so by separating it from my daily life practice. Â There is an "otherness" that develops; this classic division between art and life. Â So maybe I was searching for the root of that otherness. Â 
The hunting bit—it surprised me.  And then, it made sense.  The oldest stories are hero myths.  And these stories exist without a written language.  I find it interesting now because I have been engaged in this memorization practice within my own work.  Even though I take notes on my texts as they develop, I never treat the written word as having authority over the lived moment.  I re-write the material over and over again in rehearsal, changing things as I forget or alter subconsciously.  I've always been drawn to memorization.  I used to listen to stories on audiocassette and memorize them.  I had this one children's series called "The Great Composers."  I used to listen to it over and over again.  It became, in effect, a completely oral tradition, a series of hero myths, westernized, classicized, internalized, plagiarized,and canonized…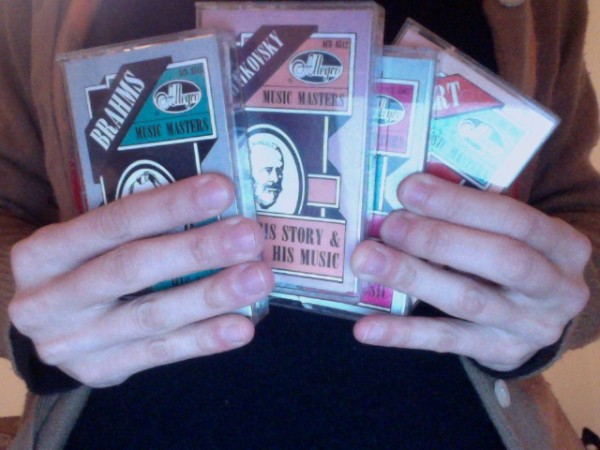 Note 3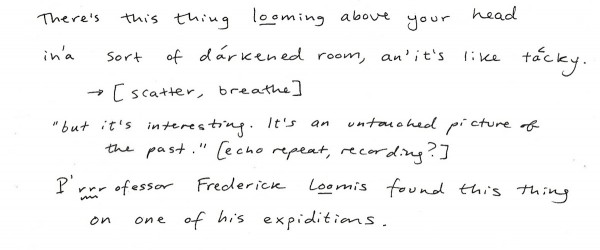 H—When and how does the impulse to archive arise for you? Is it in the very instant?  In which case I imagine you living a kind of double life; being while simultaneously acting like archeologist.  Asking yourself which moments need to be recorded, preserved.  Or is it an afterthought?
T— I think archiving is a constant.  Some of the text I used in Private Country was originally sourced in 2005 from an interview with an archeologist.  I first set that as a vocal composition in 2006… later I started experimenting with recitation of the memorized composition in a very resonant space, which is where I was first able to hear my own pitch fluctuation in my speaking voice… I developed a practice around that recitation and that began to open up the process I used with my ensemble to create these spoken-sung passages for Private Country.  So I was still using part of the original text 8 years after I first acquired it.  Now that I've let go of that text, I'm still using the musical phrasing that I found with it to structure new ideas…that's an example of how archiving or my relationship to my archive is happening constantly inside of my process. 
    
          Note 4


H—Working with your brother, archiving moments in your relationship—do you work with that as raw or already composed material, or both? 
T—So, Ezra and I really played out our relationship on and off stage.  It started with our original conversations… I asked him to help me as "dramaturge", because I thought he was in a unique situation to act as one.  We fought, we played, we analyzed.  No matter what, we couldn't escape our Brother/Sister roles within the piece.  And as far as I was concerned, we didn't have to.  Because we basically made the duet and then worked on it for a year and a half—the progress was internal.  We built up a mythology within what we were doing.  It was supposed to be spare, raw, but also dense with history and context. 
Note 5 (revised sibling dialogue)

On that note, we find an ending.
Hannah Verrill is an artist living and making work in Chicago, Illinois.
 
---
Guest Post by Autumn Hays 
Let us start off by acknowledging that there is a distinct difference between Queer and Transgender subjects. It's important not to lump these two together. Though related and often overlapping, these are not interchangeable terms. Queer being a reclaimed pejorative for gay, and transgender being a person whose self-identity does not conform unambiguously to conventional notions of male or female gender. (see more.) With that in mind what I would like to look into a reoccurring concern in the discussions that take place around both queer and transgender performance art.
In the last month I have seen multiple panels touching on the subject of new Queer and or Transgender works. There was a definitive connection between all panels: and attempt to shake up current the definitions, and what some define as new codified zones of safety. When I say zones of safety, I am referring a kind of identity politics that sits safely in a form of expression that is confortable enough for new standards of acceptance. Artworks that sit in this comfort zone fail to realize the full potentiality of the subjects and often begging to forum it's own predictable cliché. The challenging of the formulation of a tamed queerness or transgender performance is an often-highlighted theme appearing in new works. The formulation of a safely circumscribed zone undermines the attempt to reconsider the subject due to an inadequate scope.
Queer and or transgender arts panels often attempt to define the new wave of artists making work in these areas. Today many artists are attempting to define a new direction that departs from the identity work that came out the 80s and 90s. Often these earlier works are ascribed the quality of crying out for recognition. Much of the work being produced today is looking for finer definitions, as opposed to this preliminary awareness.
We could go on to talk about the subject of the word Queer as discussed during the roundtable "New Queer Aesthetics" in late October. Queer New York International Arts Festival (QNYI)  had come to Chicago to exhibit a Queer Fest as an extension of the one in New York at Defibrillator Performance Art Gallery . The Chicago show featured artists Suka Off, Bruno Isakovic, Gabreiela Mureb, and Keijaun Thomas. Queer fest distinctly pulls itself away from other Queer festivals which they feel are accepted ideas of the term Queer. As one of the festivals curators, Zvonimir Dobrović, explained, the festival seeks to redefine and challenge preconceived notions of the term Queer. Not all work is made by the LGBT community and instead is defined loosely by a sort of norm-challenging ascetic. After struggling through various definitions, redefinitions, embracing, rejections, fears of washing out the word of meaning completely, and other post-modern linguistic dilemmas an audience member mentions queerness in regards to race, specifically the colored queer. Why is this important? Because the conversations began to progress from the semanticlogical, what is Queer, to what are current Queer issues are concerned about, who are we dealing with the queer female of color in art today.
This November I attended a panel at the School of the Art Institute of Chicago. Transgender / Arts : A roundtable on the future of transgender cultural production, which  included panelists Trish Salah, Jules Rosskam, Julian Carter, David Getsy, and Micha Cárdenas. During the panel many valid points were made about Transgender art. Micha Cárdenas presented important question to the panel, "Where are the trans women of color in art?" Many of the panelist themselves who specialize in Transgender arts could in fact not think of a single artist. The panel began to discus a kind of film festival, performance and art transgender normative narrative. A washed down version, where you began to see something constrained, not quite all the way there. Sitting in a place somewhere in academia where it is comfortable and safe.
How does performance readjust and challenge Queer and Trans identity without losing site of the community in general? There is something that happens to us when we are about to fully realize the other; we find a way to compromise, to only go so far. Many Queer or Trans artist today are attempting to push at the boundaries of a newly accepted normative narrative and point at the things we are forgetting, those who still don't have a voice. The Art world, the world, is still white male dominated. In a way the lull of sleep we put ourselves in this supposedly post-feminism, post-racism, post- sexism, post-gender issues world that we keep referring to as better than it was before is more dangerous. Because hiding under that comfort is the fact we haven't changed all that much, we should be forging new grounds and making sure it doesn't fall asleep.
If I was asked where the new queer or trans aesthetic is headed today, I would say somewhere within the struggle of continuous disturbance, in the understanding that things aren't there yet and we have to keep shaking it up, shaking ourselves up, so we don't become our own worse enemies, the perpetuators of a normative Queer of Trans identity. As performance art specifically keeps pushing on with another panel at the Hemispheric Institute for Performing Arts, this week discussing "Race & the Colonial Impulse: Queer Performance Practices", I look forward t a continued discussion that bridges gaps in the dialogue between racial queer and transgender  issues in the arts.
_______________________
Autumn Hays is an Artist, Curator, Teacher and Writer. She graduated the School of the Art Institute of Chicago with an MFA in Performance where she received the John Quincy Adams Fellowship. She received her BA in Visual Arts at UCSD. Hays was the recipient of numerous scholarships, grants and awards including two major Jack Kent Cooke association scholarships.Currently she is assistant curator at Defibrillator and Directing Coordinator of the Rapid Pulse International Performance Art Festival. www.autumnhays.com
---
 Guest post by Hannah Verrill
Michal Samama is a performance artist and choreographer from Israel.  She recently came to Chicago by way of New York to begin her MFA in studio art at The School of The Art Institute of Chicago. She is now focusing on the research and creation of movement based solo performances and multidisciplinary collaborations. A couple of weeks ago I spent time in the studio with Michal as she prepared for an upcoming performance at Northwestern University.  The following dialogue ensued:
Hannah Verrill: I'm thinking about a solo performance practice, and if it is distinct in the sense that you as the maker can never fully step outside of the work in order to witness it.  I am curious about how you come to 'know' the work that you are making as you are making it.  Do you use video as a reflective surface to see what you are making?
Michal Samama:  Now I find myself using video, but it didn't start that way.  I became so interested in the images, in creating images and then of course changing the images, transforming them into other images.  So in a way I feel that I have to see it. I guess I started to use video at some point, but before video I was using the mirror.  Over the past few years I've also started to take photos of my body and my movement in the studio.  I have tried to direct my body to a specific image but at the same time to be in the movement, or the position, or the expression while taking the photo.  Those moments that I've captured have helped me to develop the visual aspect of the performance.
So it starts from a visual image that I have, that I imagine, and then I start to explore it, to transform it, to do this whole research in the studio.  Video can tell me if the image or sometimes also the timing is right.  My question is what is that 'right'?  What is the right image?  What is the right timing?
HV: For me, time is something where video and live don't match up.  I can be watching a video of performance and something feels distinctly too long, but if I were with that body in space I could be having a completely different temporal experience of that same action occurring. 
MS:  It's interesting because when I look at the video, and again, it's a tool, it always seems for me that I don't take enough time.  That in live I push myself too fast, that it actually needs to be slower.
HV:Â  Right, and video helps you see that or know that.
MS:  Yes, even though it can be very boring to watch this stillness, but the way I sense the timing of my body through video is usually that I need to slow down and take more time.  It's something I'm trying to work on right now, but it can be very scary for me not to just move on and go to the next image.
So when it comes to performing in front of an audience there is this internal thing going on.   This other layer, the negotiation between the way I build or shape the external image with what's going on inside, and there is the encounter with the audience.
I remember the moment when I started look out.  I think there's a difference between this external artificial gaze into the audience versus really looking.  Of course it's a solo, like I am the performer and you are looking at me, but then I'm looking back at you and maybe you feel awkward or embarrassed, but maybe you are thinking about your next doctor's appointment or your surgery.
HV: Would you say that there's a kind of feedback loop in place? A set of information that you receive from your audience by way of their presence, in a specific sense, that comes to influence how you are performing?
MS:  Yes, or you could think of it as a dialogue. It's about questioning this idea of me as the performer being the authority.  Or it's also about questioning what is your (the audience's) role here.  I started to think more of this idea of performance as a collective event or social event. This is what is unique for performance.  It puts into a laboratory this idea of the social event.
I do remember one work from a few years ago when this question came up of if I wanted to take my gaze out into the audience or still be in this internal dance-y gaze, and at that point I chose not to.  I was too afraid or I didn't know what to do with it.  But now it's different, and I've started to make it more and more what I do.  I'm interested in this kind of transformation of images happening during the performance.  Part of the transformation of course is the homework that I worked on in the studio—the choreography—but of course part of it is like what you're saying, the feedback.  So in the end there are many more transformations than what I initially thought of because of the presence of the audience.
HV:  I wonder if you could talk about the process you're engaged in currently with this upcoming performance. 
MS:  In some ways this is the most difficult process to speak of because it is happening right now.  I'm working on this piece for a conference and the name of the piece is What Am I Paying You For? With the last few pieces I was more and more into this negotiation between the abstract of the body and the concrete of the body, and the idea of looking closely at body parts, zooming in on body parts.  But of course in performance you can't really do it.  I mean that's what I'm trying to do, but there is always the body as a whole.
HV: Right, and the space that the body is in.
MS:  The space, and the sound, and everything.  But the space and the sound are there in video, but in video we try to ignore it.
HV: But with video, with an actual zoom or various editing functions we can actually direct or focus attention.  I mean, with performance we can too, but it's very different. 
MS:  Yes, you can zoom in with a camera and show just this part, but how do I do it when my whole body is there, when the audience is there?  So I went into the studio taking this bag with me, with all of my materials in it. The rule that I set up for myself recently is that I don't do this theatrical thing of having a set stage, and then I perform, and then someone cleans it up.  I do it all myself as part of the performance, I guess to kind of blur this line between performance, life, when does it begin when does it end.  So I said OK, I'll just go to the space with the materials in my bag, but then I thought well this is not interesting enough. And then I decided to put the bag on my head.  I'm naked also.  So now I think that seventy percent of the performance is with the bag balanced on my head.
HV:  So you came to the studio with your bag of materials.  How is it that you decided to put the bag on your head? Is that an impulse or is that an example of an imagined image?  How did that happen?
MS: So that maybe was not an image, I mean when I did it I felt that maybe it could be an interesting image.  Putting the bag on my head immediately calls in a set of associations, connotations – I would like to play, at the same time, with the balance, the physical 'risk' or challenge but also with the associations, mine and those of the audience, sometimes they can also be risky especially when it comes to nudity… so I am on my knees, trying to balance the bag on my head, but I'm also a naked women on her knees.  You have to decide what to look at or what draws your attention. But I guess initially that gesture came from my desire to put myself in an uncomfortable or risky situation.
HV:  It's also a precarious situation because the bag could fall.  Does the bag fall?
MS:  It can, and in that sense there is a really different quality to rehearsal and performance, because things happen in performance because of the anxiety or excitement.  New things can happen.  For example I was working in an earlier piece with rocks, holding seven rocks.  During the first performance one of the rocks fell and it had never happened to me before, and it never happened after.  Just that first performance.  And yesterday my husband came to the studio to see this current piece for the first time, and I'm there standing with the bag on my head and I felt the weight of it on my neck and the tension in a way that I had never felt before in rehearsal.
HV:  Going back to the internal experience of the performer, and then there is the external image that you are creating with your body and various materials.  It occurs to me that the external image aside, you wouldn't know what's risky or vulnerable without feeling it, that it's a felt thing.  It's not exactly conceptual, but rather it seems as though it would need to feel legitimately risky for you. 
MS:  There is something very clear about the images, but then the risk is in the movement.  Otherwise it would be just like a photo.  A static image.
HV:  Does risk and vulnerability enter into the audience's experience of your work?
MS: Â We spoke about the gaze and how at a certain point in my work my gaze started to be directed out into the audience, and that is something I am working on, going more and more towards the audience and really bringing them into the situation.
But the whole idea of audience participation is such a cliché now.  It's a question of how to work with it.  With my body I try to ask: what are the possibilities of the body, what can the body be and how do we read each image that can be created with the body, or with the movement?  In working with audience, I want to give them a chance to respond in different ways, or to offer something that is a little disturbing maybe. I think no matter what you are always asking something from the audience, sometimes you are asking them to be very passive.  In my performances I think in a subtle way I try to ask them to be active.  What I don't want to do is to give instructions, this is not my way, I like that the way is more hidden.  To give more space, to create the space for negotiations.
HV:  And choice making as well, your audience can choose how and to what degree to participate.  But you're not letting them off the hook either. 
MS:  Yes.  This may be a solo, but don't be mistaken, you are here and you are apart of it.
For me, because I grew up on a kibbutz, I have these collective issues, and there is no solution for that, no answer.  It is just apart of what I am thinking through, or working through; this idea of performance as a collective experience, and creating space for individual responses. It's your choice, and it's a moment between us, and intimacy is a big word but I feel like there can be a kind of intimacy, something can happen there.
For example when I did the orange thing again at Judson Church, the first person was trying to take the orange from me, so it became this fight.  And then almost with everyone else they were imitating this.  So there's this kind of peer pressure, or how we follow what our peer just did.
HV:  It makes me think about what you were speaking to earlier, about how the presence or the feedback from the audience is a way to make the work improvisational to a degree.  It occurs to me that you cannot rehearse this aspect of the work, the interaction between you and your viewer(s).  So you are leaving space for your viewer to enter into the work, and also to determine the work, perhaps even make the work with you. 
MS:  That's the thing. I'm not so much into this idea of a closed production.  It's not just this thing where you come, and you see something, and you stay out of it.  It's more like a social experiment.  Of course I'm leading it and bringing the materials, the proposal.  I'm proposing something, and then it can change.  Parts of the work are very choreographed—there is a choreography in place—but still it is changing all the time.  There is an ongoing influence between you and I.
 
Hannah Verrill is an artist living and making work in Chicago, Illinois.
---
Tercer Cuerpo,the claustrophobic experimental play by Argentinian company Timbre 4 opening at the MCA next weekend, takes place, according to director Claudio Tolcachir, in "an office that doesn't have any more reason for being, its services have no meaning."  While remaining in the office set, characters as obsolete as the space in which they labor appear to act in other settings, other places. Tercer Cuerpo is partly about labor and identity, particularly the disappearance of sustainable, meaningful jobs for people. What happens to these characters, and us, when we must find meaning in our lives apart from a career or calling? The always-already obsolescence of the form of theater makes the piece of interest to representing labor in contemporary performance and medium specificity in dealing with contemporary collapses of space and time. But the company Timbre 4 is also a landmark for contemporary Argentinan art practices; their home base in the working-class Boedo neighborhood of Buenos Aires has become a hotbed and model for independent, experimental theater and performance.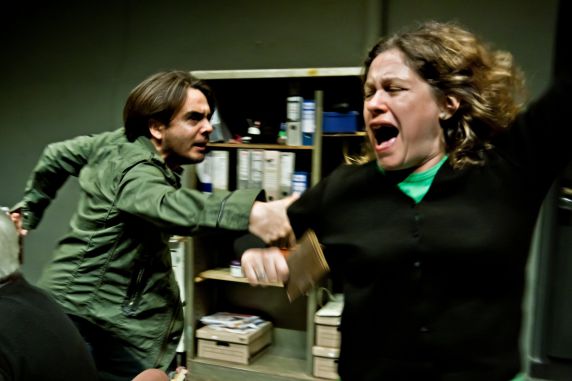 Tercer Cuerpo, courtesy of the MCAÂ 
This Spring MCA's Yolanda Cesta Cursach talked with Tolcachir about the approaching Chicago debut of Timbre 4. Her interview, translated by Cursach, appears below.
YC:  In Tercer Cuerpo, it seems the playing area is some undeniable womb for five very different biographies.
CT: Tercer Cuerpo is a fragmented telling of 5 simple stories crisscrossing the solitude of these individuals immensely incapable of dealing with what life deals them.
The decadence of the playing area reflects the characters' personal disorientation. They want something from their lives. Simple things. Things that in general can be had. But they don't, and this situation causes them enormous shame.
What I like in live theater is getting absorbed and at the same time taken by the story to an uncomfortable place. But this still depends on an intimate place, for my discomfort being the spectator can identify with the great and the small. With what is being known in my heart. In that divide between laughing at the same time that we could cry is where we identify with others.
YC: Timbre 4 has toured widely outside Latin America. What's the audience's response to your plays?
CT: It's fascinating, sometimes foreigners are even more demonstrative that Argentine people. I don't know if that's because they find the plays odd. When you write a play, you think of the audience of your country. Furthermore, these plays are shown with subtitles, so I don't know whether the translations are alright or not, I just trust the translators. I remember once, in Dublin, a man asked me, "Did you get inspiration from an Irish family?" In France, for instance, people asked, "Do all Argentine mothers sleep with their sons?" European people are amazed by the fact that we Argentine artists create plays with a very low budget. They can't believe some actors rehearse for free and, even so, the plays are still amazing.
YC:Â Â You seem to be interested in alternative family ties.
CT: I believe that everything revolves around the family—building a family is building a society too. Hamlet can be a political play or a family drama. I'd rather make the spectator feel involved with the story between the characters than anything else.
YC: Timbre 4 is an ensemble. What is your connection after 12 years since forming ?
CT: Our theater is about investigation, and we have modest beginnings keeping us aware of our city's social situation and the multitude of other storefront theaters' beginnings. From staying together all these years we manage to overcome the limitations of our neighborhood and of experimental theater, so that we can get the regenerating public which we so want to reach.
YC: What's the difference in Argentina between mainstream plays and storefront plays?
CT: I've performed a lot in mainstream theatre, as an actor. The production scheme is different. When you are directing a mainstream play, you ask for a couch and the next day you have it in the set. In off-theatre plays, you have to get in your car, start your engine, go to a market and buy the couch yourself. But then, the feeling between the actors is the same. I've never directed a play I didn't like. I couldn't direct a play if there was a bad working environment.
YC: Why make theater at all? What is so irrepressible about treating your writing this way?
CT: In my case it's completely selfish. Theater makes me happy, I feel alive, excited from it, and to be honest I'm not good for anything else. Investigation, risk, collaboration, unraveling and breaking routine each time never ceases to seduce me.
---