Guest Post by Autumn Hays 
Let us start off by acknowledging that there is a distinct difference between Queer and Transgender subjects. It's important not to lump these two together. Though related and often overlapping, these are not interchangeable terms. Queer being a reclaimed pejorative for gay, and transgender being a person whose self-identity does not conform unambiguously to conventional notions of male or female gender. (see more.) With that in mind what I would like to look into a reoccurring concern in the discussions that take place around both queer and transgender performance art.
In the last month I have seen multiple panels touching on the subject of new Queer and or Transgender works. There was a definitive connection between all panels: and attempt to shake up current the definitions, and what some define as new codified zones of safety. When I say zones of safety, I am referring a kind of identity politics that sits safely in a form of expression that is confortable enough for new standards of acceptance. Artworks that sit in this comfort zone fail to realize the full potentiality of the subjects and often begging to forum it's own predictable cliché. The challenging of the formulation of a tamed queerness or transgender performance is an often-highlighted theme appearing in new works. The formulation of a safely circumscribed zone undermines the attempt to reconsider the subject due to an inadequate scope.
Queer and or transgender arts panels often attempt to define the new wave of artists making work in these areas. Today many artists are attempting to define a new direction that departs from the identity work that came out the 80s and 90s. Often these earlier works are ascribed the quality of crying out for recognition. Much of the work being produced today is looking for finer definitions, as opposed to this preliminary awareness.
We could go on to talk about the subject of the word Queer as discussed during the roundtable "New Queer Aesthetics" in late October. Queer New York International Arts Festival (QNYI)  had come to Chicago to exhibit a Queer Fest as an extension of the one in New York at Defibrillator Performance Art Gallery . The Chicago show featured artists Suka Off, Bruno Isakovic, Gabreiela Mureb, and Keijaun Thomas. Queer fest distinctly pulls itself away from other Queer festivals which they feel are accepted ideas of the term Queer. As one of the festivals curators, Zvonimir Dobrović, explained, the festival seeks to redefine and challenge preconceived notions of the term Queer. Not all work is made by the LGBT community and instead is defined loosely by a sort of norm-challenging ascetic. After struggling through various definitions, redefinitions, embracing, rejections, fears of washing out the word of meaning completely, and other post-modern linguistic dilemmas an audience member mentions queerness in regards to race, specifically the colored queer. Why is this important? Because the conversations began to progress from the semanticlogical, what is Queer, to what are current Queer issues are concerned about, who are we dealing with the queer female of color in art today.
This November I attended a panel at the School of the Art Institute of Chicago. Transgender / Arts : A roundtable on the future of transgender cultural production, which  included panelists Trish Salah, Jules Rosskam, Julian Carter, David Getsy, and Micha Cárdenas. During the panel many valid points were made about Transgender art. Micha Cárdenas presented important question to the panel, "Where are the trans women of color in art?" Many of the panelist themselves who specialize in Transgender arts could in fact not think of a single artist. The panel began to discus a kind of film festival, performance and art transgender normative narrative. A washed down version, where you began to see something constrained, not quite all the way there. Sitting in a place somewhere in academia where it is comfortable and safe.
How does performance readjust and challenge Queer and Trans identity without losing site of the community in general? There is something that happens to us when we are about to fully realize the other; we find a way to compromise, to only go so far. Many Queer or Trans artist today are attempting to push at the boundaries of a newly accepted normative narrative and point at the things we are forgetting, those who still don't have a voice. The Art world, the world, is still white male dominated. In a way the lull of sleep we put ourselves in this supposedly post-feminism, post-racism, post- sexism, post-gender issues world that we keep referring to as better than it was before is more dangerous. Because hiding under that comfort is the fact we haven't changed all that much, we should be forging new grounds and making sure it doesn't fall asleep.
If I was asked where the new queer or trans aesthetic is headed today, I would say somewhere within the struggle of continuous disturbance, in the understanding that things aren't there yet and we have to keep shaking it up, shaking ourselves up, so we don't become our own worse enemies, the perpetuators of a normative Queer of Trans identity. As performance art specifically keeps pushing on with another panel at the Hemispheric Institute for Performing Arts, this week discussing "Race & the Colonial Impulse: Queer Performance Practices", I look forward t a continued discussion that bridges gaps in the dialogue between racial queer and transgender  issues in the arts.
_______________________
Autumn Hays is an Artist, Curator, Teacher and Writer. She graduated the School of the Art Institute of Chicago with an MFA in Performance where she received the John Quincy Adams Fellowship. She received her BA in Visual Arts at UCSD. Hays was the recipient of numerous scholarships, grants and awards including two major Jack Kent Cooke association scholarships.Currently she is assistant curator at Defibrillator and Directing Coordinator of the Rapid Pulse International Performance Art Festival. www.autumnhays.com
---
 Guest post by Hannah Verrill
Michal Samama is a performance artist and choreographer from Israel.  She recently came to Chicago by way of New York to begin her MFA in studio art at The School of The Art Institute of Chicago. She is now focusing on the research and creation of movement based solo performances and multidisciplinary collaborations. A couple of weeks ago I spent time in the studio with Michal as she prepared for an upcoming performance at Northwestern University.  The following dialogue ensued:
Hannah Verrill: I'm thinking about a solo performance practice, and if it is distinct in the sense that you as the maker can never fully step outside of the work in order to witness it.  I am curious about how you come to 'know' the work that you are making as you are making it.  Do you use video as a reflective surface to see what you are making?
Michal Samama:  Now I find myself using video, but it didn't start that way.  I became so interested in the images, in creating images and then of course changing the images, transforming them into other images.  So in a way I feel that I have to see it. I guess I started to use video at some point, but before video I was using the mirror.  Over the past few years I've also started to take photos of my body and my movement in the studio.  I have tried to direct my body to a specific image but at the same time to be in the movement, or the position, or the expression while taking the photo.  Those moments that I've captured have helped me to develop the visual aspect of the performance.
So it starts from a visual image that I have, that I imagine, and then I start to explore it, to transform it, to do this whole research in the studio.  Video can tell me if the image or sometimes also the timing is right.  My question is what is that 'right'?  What is the right image?  What is the right timing?
HV: For me, time is something where video and live don't match up.  I can be watching a video of performance and something feels distinctly too long, but if I were with that body in space I could be having a completely different temporal experience of that same action occurring. 
MS:  It's interesting because when I look at the video, and again, it's a tool, it always seems for me that I don't take enough time.  That in live I push myself too fast, that it actually needs to be slower.
HV:Â  Right, and video helps you see that or know that.
MS:  Yes, even though it can be very boring to watch this stillness, but the way I sense the timing of my body through video is usually that I need to slow down and take more time.  It's something I'm trying to work on right now, but it can be very scary for me not to just move on and go to the next image.
So when it comes to performing in front of an audience there is this internal thing going on.   This other layer, the negotiation between the way I build or shape the external image with what's going on inside, and there is the encounter with the audience.
I remember the moment when I started look out.  I think there's a difference between this external artificial gaze into the audience versus really looking.  Of course it's a solo, like I am the performer and you are looking at me, but then I'm looking back at you and maybe you feel awkward or embarrassed, but maybe you are thinking about your next doctor's appointment or your surgery.
HV: Would you say that there's a kind of feedback loop in place? A set of information that you receive from your audience by way of their presence, in a specific sense, that comes to influence how you are performing?
MS:  Yes, or you could think of it as a dialogue. It's about questioning this idea of me as the performer being the authority.  Or it's also about questioning what is your (the audience's) role here.  I started to think more of this idea of performance as a collective event or social event. This is what is unique for performance.  It puts into a laboratory this idea of the social event.
I do remember one work from a few years ago when this question came up of if I wanted to take my gaze out into the audience or still be in this internal dance-y gaze, and at that point I chose not to.  I was too afraid or I didn't know what to do with it.  But now it's different, and I've started to make it more and more what I do.  I'm interested in this kind of transformation of images happening during the performance.  Part of the transformation of course is the homework that I worked on in the studio—the choreography—but of course part of it is like what you're saying, the feedback.  So in the end there are many more transformations than what I initially thought of because of the presence of the audience.
HV:  I wonder if you could talk about the process you're engaged in currently with this upcoming performance. 
MS:  In some ways this is the most difficult process to speak of because it is happening right now.  I'm working on this piece for a conference and the name of the piece is What Am I Paying You For? With the last few pieces I was more and more into this negotiation between the abstract of the body and the concrete of the body, and the idea of looking closely at body parts, zooming in on body parts.  But of course in performance you can't really do it.  I mean that's what I'm trying to do, but there is always the body as a whole.
HV: Right, and the space that the body is in.
MS:  The space, and the sound, and everything.  But the space and the sound are there in video, but in video we try to ignore it.
HV: But with video, with an actual zoom or various editing functions we can actually direct or focus attention.  I mean, with performance we can too, but it's very different. 
MS:  Yes, you can zoom in with a camera and show just this part, but how do I do it when my whole body is there, when the audience is there?  So I went into the studio taking this bag with me, with all of my materials in it. The rule that I set up for myself recently is that I don't do this theatrical thing of having a set stage, and then I perform, and then someone cleans it up.  I do it all myself as part of the performance, I guess to kind of blur this line between performance, life, when does it begin when does it end.  So I said OK, I'll just go to the space with the materials in my bag, but then I thought well this is not interesting enough. And then I decided to put the bag on my head.  I'm naked also.  So now I think that seventy percent of the performance is with the bag balanced on my head.
HV:  So you came to the studio with your bag of materials.  How is it that you decided to put the bag on your head? Is that an impulse or is that an example of an imagined image?  How did that happen?
MS: So that maybe was not an image, I mean when I did it I felt that maybe it could be an interesting image.  Putting the bag on my head immediately calls in a set of associations, connotations – I would like to play, at the same time, with the balance, the physical 'risk' or challenge but also with the associations, mine and those of the audience, sometimes they can also be risky especially when it comes to nudity… so I am on my knees, trying to balance the bag on my head, but I'm also a naked women on her knees.  You have to decide what to look at or what draws your attention. But I guess initially that gesture came from my desire to put myself in an uncomfortable or risky situation.
HV:  It's also a precarious situation because the bag could fall.  Does the bag fall?
MS:  It can, and in that sense there is a really different quality to rehearsal and performance, because things happen in performance because of the anxiety or excitement.  New things can happen.  For example I was working in an earlier piece with rocks, holding seven rocks.  During the first performance one of the rocks fell and it had never happened to me before, and it never happened after.  Just that first performance.  And yesterday my husband came to the studio to see this current piece for the first time, and I'm there standing with the bag on my head and I felt the weight of it on my neck and the tension in a way that I had never felt before in rehearsal.
HV:  Going back to the internal experience of the performer, and then there is the external image that you are creating with your body and various materials.  It occurs to me that the external image aside, you wouldn't know what's risky or vulnerable without feeling it, that it's a felt thing.  It's not exactly conceptual, but rather it seems as though it would need to feel legitimately risky for you. 
MS:  There is something very clear about the images, but then the risk is in the movement.  Otherwise it would be just like a photo.  A static image.
HV:  Does risk and vulnerability enter into the audience's experience of your work?
MS: Â We spoke about the gaze and how at a certain point in my work my gaze started to be directed out into the audience, and that is something I am working on, going more and more towards the audience and really bringing them into the situation.
But the whole idea of audience participation is such a cliché now.  It's a question of how to work with it.  With my body I try to ask: what are the possibilities of the body, what can the body be and how do we read each image that can be created with the body, or with the movement?  In working with audience, I want to give them a chance to respond in different ways, or to offer something that is a little disturbing maybe. I think no matter what you are always asking something from the audience, sometimes you are asking them to be very passive.  In my performances I think in a subtle way I try to ask them to be active.  What I don't want to do is to give instructions, this is not my way, I like that the way is more hidden.  To give more space, to create the space for negotiations.
HV:  And choice making as well, your audience can choose how and to what degree to participate.  But you're not letting them off the hook either. 
MS:  Yes.  This may be a solo, but don't be mistaken, you are here and you are apart of it.
For me, because I grew up on a kibbutz, I have these collective issues, and there is no solution for that, no answer.  It is just apart of what I am thinking through, or working through; this idea of performance as a collective experience, and creating space for individual responses. It's your choice, and it's a moment between us, and intimacy is a big word but I feel like there can be a kind of intimacy, something can happen there.
For example when I did the orange thing again at Judson Church, the first person was trying to take the orange from me, so it became this fight.  And then almost with everyone else they were imitating this.  So there's this kind of peer pressure, or how we follow what our peer just did.
HV:  It makes me think about what you were speaking to earlier, about how the presence or the feedback from the audience is a way to make the work improvisational to a degree.  It occurs to me that you cannot rehearse this aspect of the work, the interaction between you and your viewer(s).  So you are leaving space for your viewer to enter into the work, and also to determine the work, perhaps even make the work with you. 
MS:  That's the thing. I'm not so much into this idea of a closed production.  It's not just this thing where you come, and you see something, and you stay out of it.  It's more like a social experiment.  Of course I'm leading it and bringing the materials, the proposal.  I'm proposing something, and then it can change.  Parts of the work are very choreographed—there is a choreography in place—but still it is changing all the time.  There is an ongoing influence between you and I.
 
Hannah Verrill is an artist living and making work in Chicago, Illinois.
---
Tercer Cuerpo,the claustrophobic experimental play by Argentinian company Timbre 4 opening at the MCA next weekend, takes place, according to director Claudio Tolcachir, in "an office that doesn't have any more reason for being, its services have no meaning."  While remaining in the office set, characters as obsolete as the space in which they labor appear to act in other settings, other places. Tercer Cuerpo is partly about labor and identity, particularly the disappearance of sustainable, meaningful jobs for people. What happens to these characters, and us, when we must find meaning in our lives apart from a career or calling? The always-already obsolescence of the form of theater makes the piece of interest to representing labor in contemporary performance and medium specificity in dealing with contemporary collapses of space and time. But the company Timbre 4 is also a landmark for contemporary Argentinan art practices; their home base in the working-class Boedo neighborhood of Buenos Aires has become a hotbed and model for independent, experimental theater and performance.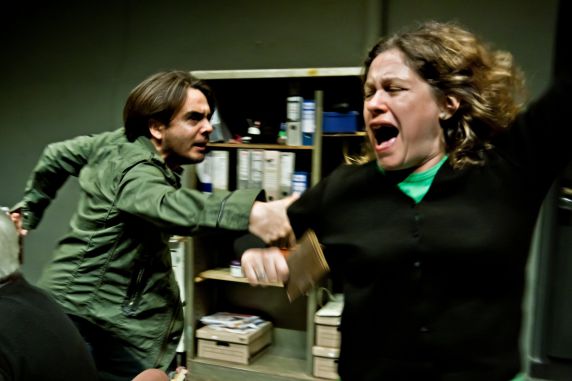 Tercer Cuerpo, courtesy of the MCAÂ 
This Spring MCA's Yolanda Cesta Cursach talked with Tolcachir about the approaching Chicago debut of Timbre 4. Her interview, translated by Cursach, appears below.
YC:  In Tercer Cuerpo, it seems the playing area is some undeniable womb for five very different biographies.
CT: Tercer Cuerpo is a fragmented telling of 5 simple stories crisscrossing the solitude of these individuals immensely incapable of dealing with what life deals them.
The decadence of the playing area reflects the characters' personal disorientation. They want something from their lives. Simple things. Things that in general can be had. But they don't, and this situation causes them enormous shame.
What I like in live theater is getting absorbed and at the same time taken by the story to an uncomfortable place. But this still depends on an intimate place, for my discomfort being the spectator can identify with the great and the small. With what is being known in my heart. In that divide between laughing at the same time that we could cry is where we identify with others.
YC: Timbre 4 has toured widely outside Latin America. What's the audience's response to your plays?
CT: It's fascinating, sometimes foreigners are even more demonstrative that Argentine people. I don't know if that's because they find the plays odd. When you write a play, you think of the audience of your country. Furthermore, these plays are shown with subtitles, so I don't know whether the translations are alright or not, I just trust the translators. I remember once, in Dublin, a man asked me, "Did you get inspiration from an Irish family?" In France, for instance, people asked, "Do all Argentine mothers sleep with their sons?" European people are amazed by the fact that we Argentine artists create plays with a very low budget. They can't believe some actors rehearse for free and, even so, the plays are still amazing.
YC:Â Â You seem to be interested in alternative family ties.
CT: I believe that everything revolves around the family—building a family is building a society too. Hamlet can be a political play or a family drama. I'd rather make the spectator feel involved with the story between the characters than anything else.
YC: Timbre 4 is an ensemble. What is your connection after 12 years since forming ?
CT: Our theater is about investigation, and we have modest beginnings keeping us aware of our city's social situation and the multitude of other storefront theaters' beginnings. From staying together all these years we manage to overcome the limitations of our neighborhood and of experimental theater, so that we can get the regenerating public which we so want to reach.
YC: What's the difference in Argentina between mainstream plays and storefront plays?
CT: I've performed a lot in mainstream theatre, as an actor. The production scheme is different. When you are directing a mainstream play, you ask for a couch and the next day you have it in the set. In off-theatre plays, you have to get in your car, start your engine, go to a market and buy the couch yourself. But then, the feeling between the actors is the same. I've never directed a play I didn't like. I couldn't direct a play if there was a bad working environment.
YC: Why make theater at all? What is so irrepressible about treating your writing this way?
CT: In my case it's completely selfish. Theater makes me happy, I feel alive, excited from it, and to be honest I'm not good for anything else. Investigation, risk, collaboration, unraveling and breaking routine each time never ceases to seduce me.
---
Guest Post by Hannah Verrill
I'd like to use this bit of time-space to introduce a series of posts that will use process as a way of looking at and unpacking a handful of contemporary performance practices.
Each segment exists first as an encounter between an artist and myself. In the space between maker and observer, together we excavate a process, a series of actions that the artist is currently using to create performance material. Each exchange is specific to the work at hand, necessarily time-based, and unfixed in form.
The writing, produced in response to each exchange, seeks to mirror the kind of thinking that happens for a viewer after a performance has ended. The faulty and exuberant process of sifting through, assembling, and organizing the experience of such an ephemeral form.
Why focus on process? I'll take my cue from Gertrude Stein: in order to know we always have to go back. 
I grew up in Brooklyn, NY and it was through my mother and her involvement as a performer with Elise Long's amorphous dance-theater company Spoke The Hub that I began performing at the age of four. Long's performance projects were interdisciplinary, using movement as their main component but regularly incorporating visual art and spoken text.
In one of my earliest performance memories I am six years old on a large stage at the Brooklyn Academy of Music. I am hiding behind a set piece waiting for a cue and watching Elise Long, dressed in a magnificent red lobster-gown costume, deliver a monologue to an audience of hundreds.
Two years later I was cast in Meredith Monk's work The Politics of Quiet; an ensemble piece addressing the Bosnian war for independence and Sarajevo in the 1990's. I recall the intensity of the audition for this piece: my eight-year old body crossing a room slowly, picking up a vessel, feeling its weight and carrying it with me through space, and later being asked to sit as still as possible, my legs folded in front, focusing my attention on the air surrounding me.
In contrast to these kinds of engagements, my experience with performance as a kid was just as often marked by amateur experiments: strange dance-theater pieces thrown together in collaboration with cousins and staged for the family after thanksgiving dinner; solo dance numbers set to Fleetwood Mac and performed for my brothers, my dad, and a video camera; improvised movement by myself and for myself in the attic space of my home.
Three months ago I completed an MFA degree from The School of the Art Institute of Chicago focusing in performance. From where I stand now in relation to these childhood memories, I am aware not only of the performances themselves—events characterized by the work meeting an audience—but also of a much larger and more complex sea of experiences surrounding and generating the work. Time does its thing and I am still standing inside of the processes of those past works: the scaffolding comprised of auditions, rehearsals, trials, notes, periods of waiting, of watching, of thinking, of doing.
Performance theorists assert that in the instant of performance, the work experiences a kind of disappearance. With twenty-two years as a performer, I have felt time and time again the loss that comes with a performance's end. My experience of my body as a learning-thinking-moving-performing thing, never fully knowing or comprehending the work that I was just then putting forth towards an audience—a you. This repeated rehearsal of loss drives my desire to spend time with and examine rigorously the nature of a process that works towards a disappearance.
What remains and what comes next? In a disappearing present, the past and the future takes on considerable weight. Process asserts a present. If we can agree that as a form performance undercuts the value of a static or fixed product—an end result—the questions of what remains and what comes next persist. How can the weight of the past and future be leveraged, made light and moveable? I can commit to the present just like I can feel the weight of my feet on the floor, just like I can feel my breath as it rises and sinks through the space of my torso—through a focus of attention. I will practice that attention to the present by way of this series called Process Notes.
Hannah Verrill is an artist living and making work in Chicago, Illinois.
---
Introducing Essays
Atlanta-based idea collective John Q premiered its work The Campaign for Atlanta: an essay on queer migration at the Atlanta Cyclorama on Friday, May 17, 2013 and Saturday, May 18, 2013. The performance, an essay as John Q calls it, insists on exploring the phenomenon of queer migration into urban spaces, Atlanta being one of them. Using the space, movement, and pictorial qualities of the Cyclorama along with archival materials of queer filmmaker Crawford Barton, native to Resaca (about an hour north of Atlanta), later based in San Francisco, John Q essays (used here as a verb) a narrative of history, creative production, queerness, and geography.
In the broadsheet for the performance, John Q lists the definitions for essay as a noun:
"1. a short literary composition on a particular theme or subject, usually in prose and generally analytic, speculative, or interpretive. 2. anything resembling such a composition: a picture essay. 3. an effort to perform or accomplish something, attempt." [1]
Used as a verb, essay can mean: "to try; attempt" and "to put to the test; make trial of" [2] or "to put to a test" and "to make an often tentative or experimental effort to perform" [3]. Derived from Middle French noun essai, derived from the verb essayer, which comes from Late Latin exagium which means an act of weighing, the word "essay" refers to something active, performative. [4]
Similar in roots to "essay," "assay," as a noun refers to
 archaic: a trial, attempt
the examination and determination as to characteristics (as weight, measure, or quality)
analysis (as of an ore or drug) to determine the presence, absence, or quantity of one or more components;Â also: a test used in this analysis
a substance to be assayed;Â also: the tabulated result of assaying [5]
As a verb:
a. to subject (a metal, for example) to chemical analysis so as to determine the strength or quality of its components; b. to bioassay

to examine by trial or experiment; put to a test
to evaluate; assess
to attempt; try [6]
The two words, though originating in similar if not same roots (assay originates in Anglo-French), now aren't used interchangeably (in a simple online search, I came across forums discussing if the two are interchangeable – this is a big deal). At some point, the Latin word which expressed the action of weighing and measuring was split into the action of weighing in thought and weighing concrete objects. How are these two distinct from each other, though? Does the decision to weigh a concrete object necessarily come from a weighed thought experiment, or vice versa? John Q's weighing of the Cyclorama, the site of the performance, a 42 x 358 foot panoramic painting of the Civil War's Battle of Atlanta, a complex of history, politics, and space, straddles multiple methods of investigation and examination, perhaps similar to the divided essay/assay. Paired with the Cyclorama is the weighing of Crawford Barton's archive. As Wesley Chenault of John Q states:
In some ways, the provenance of the Crawford Barton collection did similar work as the Cyclorama in that it allowed us to think about his life in other ways, as patterns of movements and migrations between rural and urban spaces, not primarily as it related to San Francisco. Through letters, films, and more, Barton's personal papers document his connections to Resaca and Atlanta, archival traces that map over the military campaigns that occurred in both areas. Atlanta, as Sherman understood over a century before, is a city defined by its relevance as a transportation hub in the Southeast. For many, it has long served as a nexus, where motilities of bodies, desires, and histories converge.  Crawford's correspondence from his time in the city, for example, illustrates how one young gay white man navigated the sexual landscape of the mid-to-late 1960s. Placing Crawford in the Cyclorama, then, allowed the collective to attempt – thus the essay form – to explore not just notions of movement and migration, but also the ways in which they relate to identity, place, archives, and memory. [7]
Description
The performance can be broken down broadly into three parts:
Beginning: the standard Cyclorama narrative while the audience goes through the standard revolve around the painting

John Q takes over the narrative, delivering its essay while the audience continues to revolve in the space while the programmed lights highlight particular aspects of the painting
John Q's members, one by one, leave the theater and move into the auditorium, inviting the audience members to join them for screenings of Crawford Barton's films.
The ending space of the performance (the auditorium) is generally the starting point for a tour of the Cyclorama: a video presentation of a Civil War reenactment. In the script of the essay, John Q states: "During a regular visit to the Atlanta Cyclorama, the presentation would begin with an interpretive film in the auditorium and then move here into the space of the painting. Tonight we ask you to navigate the space of the Cyclorama backwards with us, moving metaphorically against the grain of history and exploring, perhaps for the first time in public, a sampling of the film work of our current queer subject, Crawford Barton." [8] Later, John Q states: "Instead of following Crawford's biography to its end, we bring you back to his migrations." [9]
The films present the Castro, the famous queer district in San Francisco, and of travel. Minimal in their composition and editing, the films are observational in nature; unedited,  perhaps unscripted, they seem to hold the lives of those featured in the films. Resaca, GA, Barton's hometown also happens to be "the site of one of the first battles in the Civil War military Atalanta Campaign." [10] What seemed to draw John Q to Barton's work was the potential to examine his migration to the Castro from rural Resaca in a larger phenomenon of migration, queer migration, and differentiations of space. One of the films depicts men running through golden fields, bare-chested. While watching this moving-image, I was struck by a deep-seated fear – something that causes one to run, to run fast and far away. Especially after witnessing a scene of carnage, destruction, and death represented in the Atlanta Cyclorama, the potentially and possibly joyful images of rural play take on a more morbid atmosphere. Are these fields that of "amber waves of grain" – fields that speak to the national project of America; the fantastic golden countryside? I have to ask then, if these fields aren't filled with joy, what then are they filled with and why are these men running? Is this moving-image representative of the larger phenomenon of queer migration that prompted John Q to realize this project? What does this mass movement to urban centers mean for America's rural spaces?
The essay John Q presented during the second turn of the painting starts with General Sherman's ability to really see geography and an aside about Napoleon's extensive map collection, both juxtaposed with Borges' map the size of the place it represents, an absurd exercise of cartography. At one point, John Q points out to the audience that how the painting is viewed is highly controlled:
"In the first turn around the Cyclorama, controlled light directs your attention to the scenes under discussion. The seating apparatus itself takes you on a turn that controls what spaces draw your attention and when. The narrative is set. Your gaze over this space has been determined in advance. It is a visual, pre-cinematic form, which presents the unfolding of geography and history as seemingly inevitable.5 You are a witness to History.6" [11]
One thing to consider, however: can my experience be completely controlled by another, unseen forces, or composition? Do the spinning gears and directed lights completely focus my attention to the spot I'm supposed to? Can I close my eyes, turn my head – experience this painting differently from the way it's presented to me? This ability, to close the eyes, refuse to look at the space indicated, has much to offer the archival work that John Q does in its public projects and the ways in which they invite the audience to engage with the particular archives presented. In an interview with Julia Brock for History@Work: A Public History Commons from the National Council on Public History, they describe the way they view their work as public scholarship and what this means for its reception, particularly what their take on "public interventions" is. Joey Orr explains that "The learning that takes place in a publicly constructed project is not unidirectional and can never be predicted in advance, so I do not assume our job is to wake people up. I do hope some of our work intervenes in a more street-level, quotidian way into the spaces where people are carrying out their everyday lives." [12] Andy Ditzler further adds: "I don't think any of us see ourselves as 'educating the public,' partly because we're members of the public as much as anyone else, and as much as we're artists or scholars." [13]
Experiencing Medium(s)
One aspect of John Q's performative project is to examine the ways in which we experience painting, video, and installation: how we see; how we navigate the space that shapes and contains them. The painting, though it may appear to be a static entity that can be simply viewed and understood from any time or perspective, is shown to be extremely vulnerable to time and space, the order in which it is viewed in relation to the re-enactment video that is usually shown to the audience before moving into the space of the Cyclorama, facing the gigantic circular painting. When asked further about their take on intervening in a "normal" visual experience, Orr explained that the project is interested in
"how might we visualize the past in ways that foster different kinds of relation to place and history. How might we deal in fragments, the quotidian, memory, and weak theory instead of proliferating the kinds of power that seem structurally reinforced by forms like battle paintings and cycloramas … We understood from the outset that many people would not be familiar with the visual culture theory we were invoking, and this might mean that the connection between how landscape is visualized in cycloramas and how it is visualized through the lens of Crawford Barton's camera would somehow seem strange. These two very different modes of visuality begin to reflect one another, though, in the context of a critical contemplation of how we do the work of invoking the past." [14]
In Husserl's essay "The world of the living present and the constitution of the surrounding world external to the organism," he writes that space is a "system of places." [15] In the case of the space of the Cyclorama, there is a multitude of places that coalesce in this one site. It is the site of John Q's performance, the place of itself in this present moment, the place of the Civil War Battle of Atlanta, Illinois' cornfields where it was commissioned, Resaca – where the Atlanta Campaign began and the birthplace of Barton, the migration telos for a queer community of which John Q speaks, a pre-cinematic place that records the history of technology in its 360o turn. The Cyclorama itself and its revolving proscenium seating affords the audience explicitly multiple perspectives; an exaggeration of the way we perceive and make sense of the world: "The entire present world which appears as actual is rather a totality of perspectives for me." [16] For Husserl, there is phantom space, a transcendent space that gives space itself while still being able to change through time and with our changing orientations and perspectives, thus perceptions. The Cyclorama is constituted by this phantom space, but also by a plethora of phantom bodies: soldiers, civilians, slaves, Crawford Barton, migrating queer individuals and communities.
Underlying this space is the seemingly coincidental, the encounter that occurs during times of travel. John Q arrived at the Cyclorama and Barton through what would seem to be mere coincidental experiences that then led them down particular paths, which were manifested in the performative essay. Following the notion of "intervention" mentioned above, the surrealist found object presents itself as a model of surprise, the uncanny, and coincidence. Resaca, GA, only about an hour's drive away from Atlanta, becomes an uncanny figure – simultaneously familiar and strange. One of the films of Crawford Barton's John Q presented is of a car journey, passing by signs that advertise Georgia Peaches. The passengers of the car smile and look into the camera.
Ross McElwee's film Sherman's March follows a different path than General Sherman's March to the Sea, begun in Atlanta, which is the end point of the Atlanta Campaign and the site of the Cyclorama. [17] Initially a project that intended to follow Sherman's destructive path, McElwee ends up following women he becomes intrigued with and attached to; a journey back home to the South. Desire, violence and war, and geography become entangled in the movement through the space of the South. Ross McElwee is attempting, trying, experimenting with what love may be for him in a time of nuclear proliferation, the subtitle of the film and recurring theme that continues to creep into his thoughts and dreams. Pat, the woman introduced to him by his parents who becomes somewhat of an obsession for him, an ambitious actress who is herself searching and trying to become what she wants to be, takes McElwee to Atlanta. There, McElwee describes Atlanta post-Campaign; it was a city composed of children, women, and elders – supposedly a weakened and helpless place without its male influence.
What are cities, urban spaces? What do they mean to us? What are we to make of Atlanta? A southern metropole, remnant of war? What of the space surrounding the city? The space between Atlanta and other US cities? John Q's use of the Cyclorama signals the ways in which urban space becomes a nexus of lives, loves, losses, and travels. Not only does the performance question who is allowed the position of contemporary flâneur, [18] but also who must take up this position and where. The performance shows us that the metropole and its varying representations hold within them an entanglement of histories, memories, and modes of visuality and experience. 
Notes:
[1] John Q Broadsheet
[2] http://dictionary.reference.com/browse/essay
[3] http://www.merriam-webster.com/dictionary/essay
[4] Ibid.
[5] http://www.merriam-webster.com/dictionary/assay
[6] http://www.thefreedictionary.com/assay
[7] Personal interview with John Q, June 16, 2013
[8] John Q, The Campaign for Atlanta: an essay on queer migration, 2013.
[9] Ibid.
[10] Personal interview with John Q, May 30, 2013.
[11] John Q, The Campaign for Atlanta: an essay on queer migration, 2013. Here, they footnote [5] Jonathan Crary's Suspensions of Perception: Attention, Spectacle, and Modern Culture and Anne Friedberg's "The Mobilized and Virtual Gaze in Modernity: Flâneur, Flâneuse" and [6] Alison Griffiths' Shivers Down Your Spine: Cinema, Museums, and the Immersive View.
[12] http://publichistorycommons.org/library/brock-john-q-interview/
[13] http://publichistorycommons.org/library/brock-john-q-interview/
[14] Personal interview with John Q, June 3, 2013
[15] Edmund Husserl, "The World of the Living Present and the Constitution of the Surrounding World External to the Organism," trans. Frederick Kersten and Lenore Langsdorf, in Husserl: Shorter Works, eds. Peter McCormick and Frederick A. Elliston (Notre Dame, IN: University of Notre Dame Press, 1981), 250.
[16] Ibid., 239.
[17] Ross McElwee (dir.), Sherman's March: A Meditation on the Possibility of Romantic Love in the South During an Era of Nuclear Weapons Proliferation (1986).
[18] Susan Buck-Morss, "The Flâneur, the Sandwichman, and the Whore: The Politics of Loitering," New German Critique, vol. 31, no. 2 (April 1989): 217-236.
---