Guest Post by Autumn Hays 
Let us start off by acknowledging that there is a distinct difference between Queer and Transgender subjects. It's important not to lump these two together. Though related and often overlapping, these are not interchangeable terms. Queer being a reclaimed pejorative for gay, and transgender being a person whose self-identity does not conform unambiguously to conventional notions of male or female gender. (see more.) With that in mind what I would like to look into a reoccurring concern in the discussions that take place around both queer and transgender performance art.
In the last month I have seen multiple panels touching on the subject of new Queer and or Transgender works. There was a definitive connection between all panels: and attempt to shake up current the definitions, and what some define as new codified zones of safety. When I say zones of safety, I am referring a kind of identity politics that sits safely in a form of expression that is confortable enough for new standards of acceptance. Artworks that sit in this comfort zone fail to realize the full potentiality of the subjects and often begging to forum it's own predictable cliché. The challenging of the formulation of a tamed queerness or transgender performance is an often-highlighted theme appearing in new works. The formulation of a safely circumscribed zone undermines the attempt to reconsider the subject due to an inadequate scope.
Queer and or transgender arts panels often attempt to define the new wave of artists making work in these areas. Today many artists are attempting to define a new direction that departs from the identity work that came out the 80s and 90s. Often these earlier works are ascribed the quality of crying out for recognition. Much of the work being produced today is looking for finer definitions, as opposed to this preliminary awareness.
We could go on to talk about the subject of the word Queer as discussed during the roundtable "New Queer Aesthetics" in late October. Queer New York International Arts Festival (QNYI)  had come to Chicago to exhibit a Queer Fest as an extension of the one in New York at Defibrillator Performance Art Gallery . The Chicago show featured artists Suka Off, Bruno Isakovic, Gabreiela Mureb, and Keijaun Thomas. Queer fest distinctly pulls itself away from other Queer festivals which they feel are accepted ideas of the term Queer. As one of the festivals curators, Zvonimir Dobrović, explained, the festival seeks to redefine and challenge preconceived notions of the term Queer. Not all work is made by the LGBT community and instead is defined loosely by a sort of norm-challenging ascetic. After struggling through various definitions, redefinitions, embracing, rejections, fears of washing out the word of meaning completely, and other post-modern linguistic dilemmas an audience member mentions queerness in regards to race, specifically the colored queer. Why is this important? Because the conversations began to progress from the semanticlogical, what is Queer, to what are current Queer issues are concerned about, who are we dealing with the queer female of color in art today.
This November I attended a panel at the School of the Art Institute of Chicago. Transgender / Arts : A roundtable on the future of transgender cultural production, which  included panelists Trish Salah, Jules Rosskam, Julian Carter, David Getsy, and Micha Cárdenas. During the panel many valid points were made about Transgender art. Micha Cárdenas presented important question to the panel, "Where are the trans women of color in art?" Many of the panelist themselves who specialize in Transgender arts could in fact not think of a single artist. The panel began to discus a kind of film festival, performance and art transgender normative narrative. A washed down version, where you began to see something constrained, not quite all the way there. Sitting in a place somewhere in academia where it is comfortable and safe.
How does performance readjust and challenge Queer and Trans identity without losing site of the community in general? There is something that happens to us when we are about to fully realize the other; we find a way to compromise, to only go so far. Many Queer or Trans artist today are attempting to push at the boundaries of a newly accepted normative narrative and point at the things we are forgetting, those who still don't have a voice. The Art world, the world, is still white male dominated. In a way the lull of sleep we put ourselves in this supposedly post-feminism, post-racism, post- sexism, post-gender issues world that we keep referring to as better than it was before is more dangerous. Because hiding under that comfort is the fact we haven't changed all that much, we should be forging new grounds and making sure it doesn't fall asleep.
If I was asked where the new queer or trans aesthetic is headed today, I would say somewhere within the struggle of continuous disturbance, in the understanding that things aren't there yet and we have to keep shaking it up, shaking ourselves up, so we don't become our own worse enemies, the perpetuators of a normative Queer of Trans identity. As performance art specifically keeps pushing on with another panel at the Hemispheric Institute for Performing Arts, this week discussing "Race & the Colonial Impulse: Queer Performance Practices", I look forward t a continued discussion that bridges gaps in the dialogue between racial queer and transgender  issues in the arts.
_______________________
Autumn Hays is an Artist, Curator, Teacher and Writer. She graduated the School of the Art Institute of Chicago with an MFA in Performance where she received the John Quincy Adams Fellowship. She received her BA in Visual Arts at UCSD. Hays was the recipient of numerous scholarships, grants and awards including two major Jack Kent Cooke association scholarships.Currently she is assistant curator at Defibrillator and Directing Coordinator of the Rapid Pulse International Performance Art Festival. www.autumnhays.com
---
Audio clip: Adobe Flash Player (version 9 or above) is required to play this audio clip. Download the latest version here. You also need to have JavaScript enabled in your browser.

download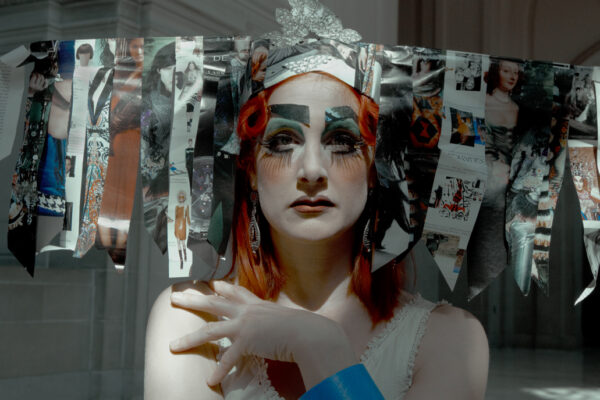 This week: This week Brian and Matt Sussman talk with Monique Jenkinson, whose work draws from dance, theater, performance art and drag. Hot topics include: staging a guerilla fashion show in a museum, the subversive power of Disney princesses and how performers are like archives. Plus, more divas than the Daytime Emmys!
Don't forget the apexart "Unsolicited Proposal" deadline looms large, go go now!! http://www.apexart.org/unsolicited.php
We'll miss you Lou.
Matt says "The photo should be credited to Arturo Cosenza".
---
Guest post by Mark Sheerin
It is more than 1,000 miles from Luton, England, to Reykjavik, Iceland. But Dominic from the UK town appears to love a good caper. Why else would he put together a group show on very little money in one of the most far flung and expensive cities in Europe?
"It was done on a wing and a prayer," he tells me on the phone from his Luton studio. "The art was just really, really ambitious considering we didn't have much money to play with. It's amazing what you can do with a cardboard tube and a delivery van."
Five artists took part. And the show has just run for a month at gallery Kling & Bang. Along with Dominic, the full bill included Gavin Turk, Mark Titchner, Laura White and Peter Lamb. The show went by the name London Utd. "It's kind of doing what it says on the tin," says Dominic, whose eponymous town is just a twenty minute train ride from the UK capital.
Not that he is the first to cross the Atlantic to the artist led space. He tells me that Paul McCarthy and Jason Rhoades have also shown at the dynamic and co-operative venue. And Dominic takes the opportunity to recount the tale of Kling & Bang's legendary appearance at Frieze Art Fair.
"They did a Frieze Project in London in 2008 called Sirkus. It's an incredible story," says the artist, telling me that Sirkus was the name of a Reykyavik bar: "This place was the hub, the heartbeat of the arts community". But after nine years of business, Sirkus closed down, leaving Kling & Bang free to turn the façade and fixtures into a temporary installation for the art fair.
Dominic warms to his tale: "They arrived at Heathrow in October 2008 and basically all their credit cards had been stopped because the [Icelandic] crash had suddenly happened overnight and so this bar, which was a mirror of good times and place to meet, became that again in London." Word soon went round about the penniless Icelanders with the reconstructed bar.
Things are a bit better in Reykjavik now and in its way London Utd has become another bridge between the art scenes in both cities. Mark Titchner's piece was a piece of text in Icelandic, which read The World Isn't Working. (Perhaps the UK crash is yet to come.)
Gavin Turk meanwhile offered a twelve and a half metre diptych inspired by Andy Warhol's Death and Disaster series and featuring the four wheeled emblem of working class Britain the Ford Transit. Laura White produced no less than 54 drawings of photos of sculptures which she herself had made. And Peter Lamb translated the shifting detritus on his studio floor into two large abstract canvases.
Asked about one of his own works in the show, Dominic is ready with another yarn. "That photo was done as a tribute to Paul Young," he tells me. Like the artist, the singer came from Luton. "He used to work at Vauxhall [car plant] in the early 80s and he told someone I know in the canteen once that he was going to be a global pop star and then literally 18 months later he was, with Everytime You Go Away."
The track resonates with many a Lutonian and inspired a Dominic from Luton performance at an event called Café Almanac organised by Bedford Creative Arts. This involved sourcing an 80s wig from Luton Indoor Market, posing for a portrait artist in the shopping centre and getting 5,000 badges made to cover a cheap suit. "I just stood up in front of about 50 people in this Working Men's Club on a Saturday afternoon and sung my heart out," recalls the artist.
This took place under a net filled with 200 balloons in the colours of the local soccer team, intended for release in the final verse. However "The net got caught in all of my badges so I had 200 balloons attached to me and I panicked and – it wasn't scripted at all – I basically ended up having a fight with these balloons and stamping on them and stuff and it brought the house down actually."
But despite the hazardous stagecraft, Dominic's "biggest challenge" is a self-proclaimed inability to sing. So it comes as no surprise that the artist thinks most performance art is too earnest. "People would argue with this, but I think there's a duty to entertain," he says, "That's just my take on it. That's my little mantra." Even the anecdotes which relate to each of his gigs are compelling experiences.
As a final aside, it's worth pointing out that the artist formerly known as Dominic Allan comes from one of the most derided towns in the UK. His "from Luton" tag is a sticky piece of cultural baggage. Dominic tells me that the name just came about through being easy to remember when he ordered materials.
Now, he claims, "It's just a very glorious vehicle for the idea of the underdog and also to shove it back in people's faces now because Luton's one of those towns which people laugh about . . . The more I go on, the more I realise that it is serious, and it is serious".
So that's Dominic, from Luton, easy to laugh with, hard to laugh at. Prepare to be entertained if he ever comes to your town.
Mark Sheerin is an art writer from Brighton, UK. He can also be found on Culture24, Hyperallergic, Frame & Reference and his own blog criticismism.com
---
I want to use the example of Jay-Z's performance at Pace Chelsea last week as a case study for something more encompassing, without getting into all the details since it was meant as a location for a music video shoot and not as an art work. (At least, I'm hoping) So just as a recap: Jay-Z performed "Picasso Baby" from his new album "Magna Carta…Holy Grail" for six hours to a packed and rotating crowd of art world insiders, celebrities and fans last Wednesday.
A celebrity's presence in our space, instead of the media version we tend to see them as confirms our own existence. At the same time, it complicates that existence. We are seen by those we have saw but here unto unseen by. I see (consume one's image) therefore I am, but when I am seen, what am I? It is mindfuck of Turrell like proportions, as we lose our sense of up and down, left and right. We choke on our own vomit, we are paralyzed. In exchange, or maybe as a symbiotic response, we return them to a mediated image from our cellphone capture. Shrinking them to a 2.5" x 3.5" format, moving at a mere 16fps, they are more manageable as a digital apparition.  With Jay-Z rapping in our face – a desire of many to be that close to a living legend, to be acknowledged by He who hath created the current state of Hip Hop – we are quickly overwhelmed, and thus respond with our cell phone's sad idea of video to return to a sense of normality. It helps us relate to his intangible nature. It is in this way that we treat the celebrity both as a solar eclipse and a stripper at a gentlemen's club. At at least one point during "Picasso Baby", a tight circle forms around Jay-Z. We see his professional camera crew which is typically meant to be invisible. They are anything but in the many cell shots taken, reminding us that this is a planned operation, to be dissected and re-edited later.  However, their visibility being an anomaly, suggests a future that is somewhat less imminent than the rapidity of the cell phone.
The shifting of time is the next big thing here, as the immediacy of cell video to internet upload has a tendency to further define the Present. This is congruent with the very sense of the 21st century that the Future is a finite entity, that one day, and one day soon, we will run out of Future. The speed of life itself is steadily increasing thanks to the plethora of communication technologies available, more immediate global awareness and the loss of physical frontiers and the tightening of borders. Every summer blockbuster movie (EVERY) of the last ten years has dealt with some sort of social horror of apocalyptic proportions or post human mutants, all of which signal a cataclysmic shift in life as we know it. THE END IS NEAR has returned to our minds (though it has rarely left us) with a vengeance and we are responding by trying to do as much as we can as fast as we can. And that means celebrities having completely proven themselves in one field must try other, usually related fields. (We will exclude Terminator X's Ostrich Farm for this reason of "related") For Jay-Z  to stage a music video shoot as a performance in an art gallery is not a huge stretch, yet it is breaking new ground from the stand pint of those who were quick to critique it as art. Increasingly, there comes the Nike spirit of "Just Do It", though oftentimes of DIY immediacy. (thats the cell phones, not a fully planned Jay -Z event). Complicating matters is the six hour duration of the performance. Somewhere in the preface of the "Performance Artist Handbook", Jay must have read that 6 hours is the minimum duration of a performance work. At the same time, a music video shoot is an all day affair or more, and most galleries are open for about 6 hours in a day. BUT, looking at it through my single minded viewpoint, a 4 minute song performed repeatedly for 6 hours, starts to mess with our perception of time, by looping it, putting us in a casual Groundhog's Day Lite scenario (if only Bill Murray was in the audience!) where we can start to see the future and we lose our sense of the past, ever so slightly, for as long as an audience member may choose to stay. We can clock time in 4 min. increments instead of seconds. And every moment sounds the same (looks different, but in a bare white walled gallery, not too much different). Stuck within a seemingly never ending 4 minute sequence, we have found a loophole in time, thus gaining an extra 5 hours and 56 minutes of life. What to do with this extra time? Upload crappy video from our cells to the internet and listen to the dumbest song of the summer seems to be the only option. Sounds like we've just entered purgatory.
I'd like to thank "A Private View: American Paintings from the Manoogian Collection" by Yale University Art Gallery and the Detroit Institute of the Arts for providing me with a surface to write on while preparing this text, as well as the ACTUAL audience members of Jay – Z's performance for showing me in their YouTube video uploads that despite his admirably true giving to his audience, I didn't miss anything.
---
Audio clip: Adobe Flash Player (version 9 or above) is required to play this audio clip. Download the latest version here. You also need to have JavaScript enabled in your browser.

download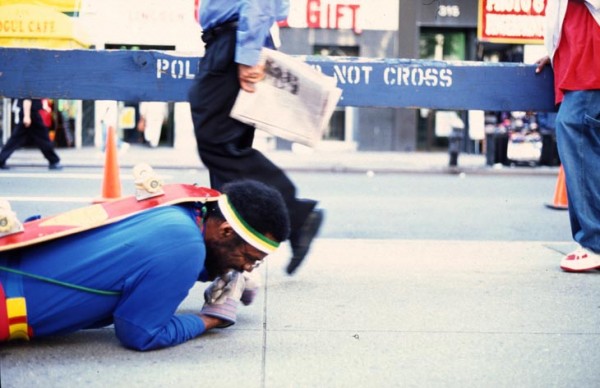 This week: Live from the Arts Club of Chicago (with great thanks to Janine Mileaf and Allie Foradas!!) Duncan and Richard talk to William Pope.L, about the forthcoming performance "Pull", his show at the Renaissance Society "Forlesen" http://www.renaissancesociety.org/site/Exhibitions/Intro.William-PopeL-Forlesen.634.html, and more!
William Pope.L (born 1955 in Newark, New Jersey) is an American visual artist best known for his work in performance art, and interventionist public art. However, he has also produced art in painting, photography and theater. He was included in the 2002 Whitney Biennial and is a Guggenheim Fellow.
Learn more and donate to support stipends for PULL! participants:Â http://www.usaprojects.org/project/pull_a_participatory_performance_art_project_for_a_small_city
Follow the project on Facebook Twitter @WilliamPopeL  #pullcleveland & Instagram @WilliamPopeL1
Other ways to help would be to Like Pope.L's Facebook page here:https://www.facebook.com/pages/William-PopeL/531921730192043?fref=ts
and it would be HUGELY awesome if you could invite as many people as you are able (and encourage them do the same) to the event page:Â https://www.facebook.com/events/315591868543467/?fref=ts
Also! Join Pope.L for a post PULL! conversation at High Concept Laboratories on June 30:Â http://highconceptlaboratories.org/william-pope-l-before-and-after-pull/
---