Winston Churchill—one of the most famous men of the 20th century— was the Prime Minister of England (twice!) and a big, sappy painter. He loved his landscapes and still lives and painted over an estimated 500 in his lifetime. What drew a man of such political power to something like painting? He saw it as the end-all, be-all of anxiety, which I think says a lot coming from someone who nicknamed his own clinical depression.
Churchill was an accomplished writer as well, establishing a close friendship with American publisher Emery Reves — who would inevitably begin to collect the politician's paintings. Reeves would later die in 1981 but soon after his wife, a native Texan, would establish the Wendy and Emery Reves Collection at the Dallas Museum of Art.
In Churchill's 1932 meditation, Painting As A Pastime[1], he begins with remedies to avoid worry for those who have to "bear exceptional responsibilities." He states:
Some counsel travel, and others retreat. Some praise solitude, and others, gaiety. No doubt all these may play their part according to the individual temperament. But the element which is constant and common in all of them is Change.
Change is the master key.
 
*****
Preston Hollow is a northern suburb of Dallas, Texas and the home of former president George W. Bush.  It takes, according to Google maps, about 10 minutes to get from downtown Preston Hollow to 1717 N Harwood St, the home of the Dallas Museum of Art. Make a few turns here and there and inevitably, you are surrounded by paintings by the most powerful Prime Minister of all time.[2]
Since the news spread in early February of Bush's new interest in painting, and the inevitable link between the two men, I've thought a lot about what it takes to take up any act of artistic expression after immense anxiety. All crazy theories aside, I don't really think it's that far fetched to assume that Bush, the recent (for-a-lack-of-a-better-word) "victim" of cyber hacking, is unaware of the paintings by Winston Churchill.
Churchill was pretty unabashed about the masculine attributes of his endeavors. Painting, he felt, was like fighting a battle. Speaking of his initial hesitation to begin, he realized "anyone could see that it [the canvas], could not hit back." It was, in his opinion, great for reducing the worry brought about by public pressure.
Though subject matter for Churchill was always of a tame, amateur nature that had been in vogue for hobbyists for a long time. The typical English countryside, French landscape or an orchid set up are his most notable works—never (thank goodness) any implied nude self-portraits. Churchill did not live to see the post-Warhol world, though, and was probably too busy to notice the Abstract Expressionists or any other Avant-garde art movements at the time. After his initial stint as Prime Minister, he was briefly in the United States to give the Iron Curtain speech[3] and was probably monitoring The Cold War thereafter as Leader of the Opposition party.
So while in theory he proclaimed in Painting as a Pastime and elsewhere that painting held strong sentiments to war and  'conquering a canvas', as it were, Churchill's actual paintings were anything but war-like.
*****
In order to make his plan, the General must not only reconnoiter the battle-ground, he must also study the achievements of the great Captains of the past.
He must bring the observations he has collected in the field into comparison with the treatment of similar incidents by famous chiefs.
…
You see the difficulty that baffled you yesterday; and you see how easily it has been overcome by a great or even by a skilful painter. …You will look at the masterpieces of art with an analyzing and a comprehending eye.
 
George W. Bush is rather famous for waxing over any misgivings about his presidency by saying on numerous occasions, "let history be the judge." If Churchill has given a precedent regarding hobby-painting after leading a war-driven administration, is it safe to say that Bush is attempting to reconcile his previous gutsy, no nonsense Cowboy persona by tapping into his artistic side?
He wouldn't be the first but he is certainly the strangest.
---
[1] Originally appeared in Churchill's essays of adventures, Amid These Storms
[2] Churchill took up painting at the age of 40 and was Prime Minister the first time, during WWII at age 66, when England was part of the allied forces against Germany, headed by Adolf Hitler—another famous politician and painter of the 20th century.  President Franklin D. Roosevelt wasn't a painter but an admirer who established a role for artists as part of the New Deal. Supreme Commander of the allied forces, Dwight D. Einsenhower (later 34th president) was known to dabble in oil painting, Churchill's preferred medium.
[3] Given on March 6th, 1946 at Westminster College in Fulton, Missouri, Churchill touted his long skepticism of Soviet control in Western Europe despite their former status as an major ally force. At the time Jackson Pollock still lived in relative obscurity and most artists at the time were seen as Communist-leaning, or "nutty" as President Truman saw it.
---
Audio clip: Adobe Flash Player (version 9 or above) is required to play this audio clip. Download the latest version here. You also need to have JavaScript enabled in your browser.

download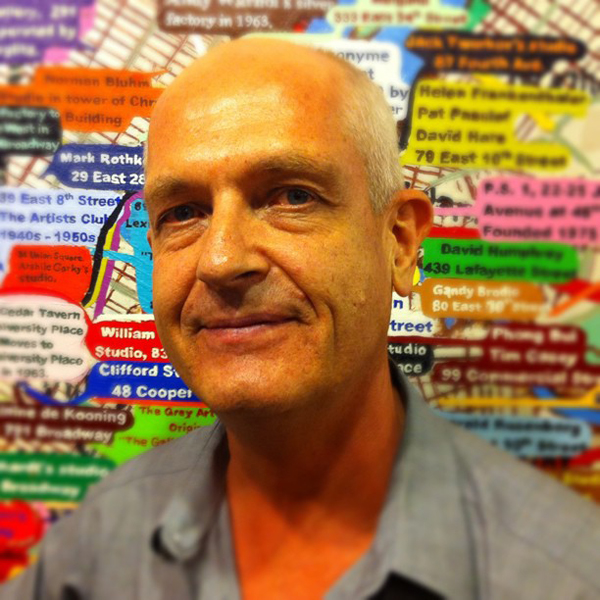 This week: Amanda and Richard talk to Loren Munk about his career, his paintings and his secret life as James Kalm of the Kalm Report.
The artist Loren Munk (born 1951) is a maker of contemporary paintings. He is known among New York artists primarily for his cubistic paintings of urban imagery. Munk also has received accolades for his drawings and mosaics. He differs from traditional mosaic artists by the manner
Munk's work debuted in SoHo in 1981 with a double show at J. Fields Gallery and Gabrielle Bryers. Since then, he has overseen a truly international career. In addition to exhibiting in Brazil, France, Germany and the United States, Munk has received national and overseas, public and private commissions. He is well represented in important collections throughout Europe, South and North America and the Middle East.
Most recently, Munk has been producing a series of paintings which tackle the subject of art itself through a historical and diagrammatic lens. Also, he has expanded upon his role in the artistic community, publishing numerous reviews and essays, curating and promoting several shows, and offering his acknowledged expertise on the Williamsburg arts scene.
Munk documents the New York art world in YouTube videos, using the name James Kalm. The Kalm Report is shot from a first person perspective using a hand held camera. Kalm arrives at an art show by bike—he calls himself "the guy on the bike"—and then walks through the show while providing commentary.
---
Ann Toebbe is well known for her stylized, architectural paintings — paintings of empty rooms occupied only by objects. These are rooms at rest, between uses, and the furnishings within them stand enigmatic and remote, at once pointing to a network of human relations while being simultaneously autonomous; it is as though these things are preoccupied with a non-human work. Toebbe's chairs seem to be doing very well for themselves, even when not fulfilling their intended, anthropocentric function. In her latest solo show at ebersmoore, The Inheritance, Toebbe introduces humans for the first time. The human figure shares space with its furnishings, pointing to a narrative that seems, at first, more accessible. It is a narrative that invokes the artist's biography as well. By way of a press release, we learn that these ornate tableaus tell a story of inheritance and greed — "Dorothy and Jessie also left shares of their P&G stock to their handyman and caretaker, Ron; to their church pastor, and to a man from their church named Loreaux. But when Dorothy and Jessie died, Loreaux claimed a greater share and sued the estate. While the lawsuit was pending the stock market crashed; by the time it was all over, the fortune was all but wiped out. Toebbe's parents had counted on the inheritance for their retirement, but because of Loreaux's greed, all they inherited was frustration, disappointment, and anger." While this narrative hovers like a background noise, the figures depicted seem remote from it at first. They stand or sit, static as any area rug, bed or book case. Together, these various, human and non-human, elements conspire to create an illusion of stability and cohesion, an illusion that ties in directly with our expectations of domestic life. The home is supposed to be a solid and reliable structure. It never is simply that, however, especially when one considers the transmission of its objects between generations. As a result the given narrative reminds the viewer that what one assumes based on a constellation of objects is only ever half of the whole story. While Toebbe presents calm scenes of the home, she nevertheless reminds us of an unpredictable and dynamic vitality therein, incorporating shifting POVs and gestural marks that evoke the emotional somersaults in a home and its family. Somersaults not always visible from the sphere of personal affects. It is perhaps the way any home works, being at once functional and flighty, recognizable and strange.
Caroline Picard: How do you think about the objects in a given space?
Ann Toebbe: I have a knack for flattening space. It wasn't considered a great asset in my early training in drawing and painting but I have cultivated my skewed perception — often called folk or faux naïve — of space. I imagine objects flat first, then bend and fold them in creative ways to make everything fit in a given room.
CP: Yeah, there are points in a given painting with the orientation of a viewer to the scene will completely shift form, for instance, a bird's eye view transforms into an eye level sight line.
AT: I started out using predominantly a bird's eye view. My early paintings look like cardboard boxes with the lid taken off. You'd look in and see a room in my version of three-point perspective. I drew the lines of the wall in perspective making the floor look like it was in deep space. As I painted more rooms the architecture flattened out — it's simpler for me to unfold the walls rather than try to use extreme perspective to include everything. The rooms are unstable in terms of gravity but since I know from the start how the painting will be oriented and place things accordingly, they feel grounded.
CP: That's what's so striking to me: even though the POV shifts dramatically, the objects you paint feel grounded and stable — even the way you incorporate materials like doily fabric, or the grounding pattern running across the floor — everything has this visual tactile quality, but then you'll suddenly twist the POV — can you talk about that a bit?
AT: The Inheritance is my first mixed media show. I included fabric from my mom's wedding dress, yarn, store bought Christmas lights, and grass paper intended for train sets. My mom inspired The Inheritance and she loves kitsch.
CP: This is the first time I've ever seen you incorporate the human figure into your work — how did that transition came about? Did the human form felt like an intrusion in your conception of space?
AT: I've wanted to include the figure for a while. I can't count the times I've been asked why human figures aren't there or if I'd ever include them. I wanted to give it a try — why not? I just had to come up with the right body of work. Without figures the mood or emotion in the rooms is very different — it's still or even embalmed. The rooms represent many similar memories compressed into one picture — so the paintings are always in the past and the memory centers around how the room was decorated and the furniture arranged.
The Inheritance is a story about a specific time and place and also about a specific set of relationships. The people don't feel like an intrusion in this particular body of work. It wouldn't have been interesting to paint the rooms without them.
CP: What is the difference between living subjects and furniture in your paintings?
AT: It's not evident from the digital images but the figures and furniture in The Inheritance are cut paper collage not painting. I constructed everything in the rooms with the same level of care and detail — a folk art thing. The furniture and figures are stiff, sort of like a carved wood sculptures. I carefully chose the figures' poses especially how they positioned their hands and feet. A posed figure is different from placed and positioned furniture. The figures change the role of some of the furniture. Instead of being stand-ins for the figure, as in previous paintings, the chairs and couches become props for the people sitting on them.
CP: What is it about the domestic setting that compels you?
AT: I started using domestic settings in New York in my twenties. I lived in Brooklyn and was homesick. I had no real intention of returning to Ohio but at the time everything in my life was topsy-turvy and uncertain. I stumbled into painting interiors because it felt comfortable and so many things about living as an artist made me uncomfortable. The funny thing is now that my life is more like Ohio, I miss unruly Brooklyn; so I've made several paintings about my Williamsburg apartment. Painting interiors calms me down and allows me to focus on formal concerns — composition, color, shape, texture. I spend my studio time inventorying life and putting things in order, this works for me as an artist.
There's a story behind each painting and collage. In the early work they were my stories — sleepovers at my grandmother's farm, mopping my kitchen's white tile floor, the neighbors messy house where I babysat. In the newer work I ask people to draw and describe rooms from their memory — my husband's apartment with his ex-wife, my mom's attic bedroom growing up, my uncle's one bedroom apartment…
CP: I am also really interested in your depiction of the outdoors — the "natural" landscape is always framed by a window, and your treatment of that outdoors is totally different, the way you describe trees, for instance, feels much more gestural and abstract — as though it is composed in a different vocabulary of mark making. How did that variation came about, and what does it say about the domestic tableaus you create?
AT: A friend told me that he knows my world until he looks outside my house.
I take a lot of liberty in painting the outdoor views that will be covered by curtains or partially hidden from view by furniture. I desperately want to paint loose and to be expressionistic and these obscured outdoor spaces give me the opportunity to be painterly. I use washy, sponged, and pooling paint in the window views in the newer work. Another clue that the room is a painting and isn't grounded in reality.
CP: Maybe this also ties into a similar idea of framing and mark-vocabulary, but I you also quote other paintings — you know, because it's a domestic scene so of course these people have paintings on the wall, and then you copy them. But here again, there is a stylistic break that I'm really interested in. What happens in those moments? Those little framed images also feel so pastoral, or decorative, and that seems like a kind of meta-conversation that you are having as a painter painting these very decorative, domestic tableaus…..does that make any sense?
AT: Perfect sense! My compositions are made up of the all objects in a room. And as you said this includes the artwork or pictures on the walls. My approach or technique for depicting the art within the art is to do what is most economical. For cats or fruit I look online for simple images and abstraction often comes from cut outs of paintings made by my young daughters. The miniature art works channel the Sunday painter in me along with my admiration for dollhouse craft. It's much easier to paint small — each little artwork can be very detailed but only takes an hour versus weeks to make.
The stylistic breaks you mentioned, the outdoor spaces and miniature artworks, are ways for me flex different artistic muscles and at the same time ride the balance between modern and folk and representation and abstraction.
---
Audio clip: Adobe Flash Player (version 9 or above) is required to play this audio clip. Download the latest version here. You also need to have JavaScript enabled in your browser.

download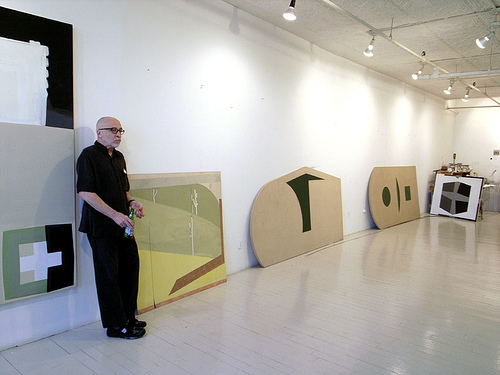 Bio from Devening Projects…
(born 1942) Gary Stephan has been showing his painting and sculpture since the late sixties in the United States and Europe. He has had solo shows in New York at Bykert Gallery, Mary Boone Gallery, Hirschl and Adler and Marlborough Gallery; in Los Angeles at Margo Leavin Gallery and Daniel Weinberg Gallery; and in Berlin at Galerie Keinzle and Gmeiner among many others. His work can be found in the collections of The Guggenheim Museum of Art, The Metropolitan and the Museum of Modern Art, as well as museums nationwide. He is the recipient of awards from the National Endowment of the Arts, the Guggenheim Foundation and the American Academy of Arts and Letters. He teaches in the MFA program at School of Visual Arts in NYC and is currently represented by Kienzle Art Foundation in Berlin. Gary Stephan lives and works in New York City and Stone Ridge, NY.
Image from…
All your bases belong to us.
---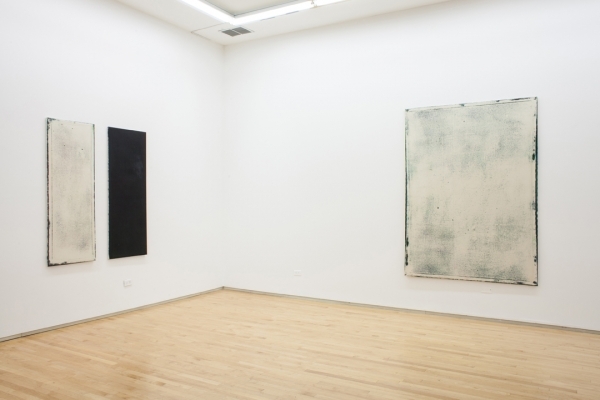 Everything I've read about Berlin-based painter, James Krone's, recent exhibit Waterhome centers Krone's practice around an empty aquarium. The aquarium in question, however, is not present in the exhibit itself. Instead you'll find a series of paintings hung on the wall, a folding screen dividing the room that is similarly composed of paintings and a stack of paintings face up on a plinth. These monochrome works seem at first either black or white. At first they appear unpainted, as though they were salvaged from a musty basement and hung as testaments of mold and unforgiving sunlight. The marks on the canvas seem to have grown over pure blankness, or pure darkness — like intrusions of time and environment. Slowly, upon closer inspection the range of color becomes apparent, the areas of bleaching and stretch marks conspire to create a cohesive, aesthetic experience. The image of a tank collecting algae is tied in with this work, and I kept asking myself how it — with its self-generating, dynamic ecosystem — connected to painting, especially when these paintings speak so directly to minimalism, and abstraction. Waterhome opened this past Saturday and will be up until February 2nd at Kavi Gupta Gallery. All images courtesy of the gallery.
Caroline Picard: I am interested in the relationship between your paintings and this fish tank — an object that seems present in everything I've read about your work, even while it is absent from the physical exhibition space. Without the fish tank, I experience your paintings as these lovely, subtle color fields that reflect back on a collective/historical painting conversation —  your works strike me as non-painting paintings, almost. They have been crafted in such a way as to seem like canvases left in a damp basement for an extended period of time — flecks of paint look like tiny blotches of mold peppering the surface. And yet, by incorporating this fish tank, even as a (non-present) totem of the work, your paintings engage the natural world as well. I have started to fixate on this fish tank —What is its relationship to your paintings? Does it function as a muse of some sort? Or does it have a more direct relationship to your painting process?
James Krone: The fish tank was something that I had, was given as a gift at one point because I had wanted a pet lobster. I had some miscommunication with the electrical company at the time and my power kept going off. I was worried that if I put a lobster in the tank and the electrical company turned off the power again, Â the lobster would die. Also, I realized what a lot of work it would be to maintain a salt water tank. Instead of getting rid of the tank I filled it with water and put it on a table in my apartment and decided that that was enough. I couldn't tell if it was a sculpture or if I was just keeping water as a pet but I found it somewhat fascinating and it didn't take any effort to have it there. It was visible and transparent, recycling its qualities through an electric filter. It wasn't very long before algae started to grow in the water, a rather delicate layer of soft velvety chartreuse. I've never really thought of the algae as nature, primarily, so much as an inevitable form of production that was filling a void while simultaneously articulating my incapacity to maintain either an illusion of emptiness or a consistent object. I'm often seduced by points where assumed binaries falter and merge back into one another.
The accretion of the algae persisted and would get quite thorough, creating moments of total opacity and then it would die, or do something that appeared to be entropic, and just collapse off the sides of the tank in sheets of fibers. The process would repeat itself. It seems to be a form of decay but in fact its an active, matter subverting an otherwise sterile space. I admired the mindless production of its cycle and the revolutions of transparency and opacity, persistent and hungry yet apparently neither progressive nor resolute. It is difficult to say whether the algae was a subject coming into being, a subject arrived sui generis or something that was destroying the subject. I think that the paintings work in this way, too.
CP: It sounds like you see a process of painting in the aquarium's inherent, or natural, process — can you say more about it? How are those conversations wrapped up in one another for you?  
JK: I think of the aquarium's relationship to painting as being about the quotidian and transfiguration, being as a form of continuous maintenance, more than I think about it as nature. Or what is natural? A fungus that eats plastics was recently discovered in South America. I guess I see nature as the incomprehensible totality of everything and just shy away from the references that get associated with nature or the natural (organic, etc…) as they seem to suggest a necessary idea of the unnatural, that I can't accept.
Maybe if this idea of the unnatural were really just a prudish stand in for perversion then I'd have an easier time dealing with that.
Painting is a thing a person can do quite easily but it will most likely happen in an empty or undetermined space because it isn't a solicited activity, if it's of any value. There is no proper or prepared place to make a painting or art because no one is initially asked to do so. If I wanted to be a nurse or make sandwiches for people, there are rooms for me to go to that would be readymade. To make paintings I have to go get an empty room and bring my things there and the person who rents it to me probably says, "Don't get it on the floor."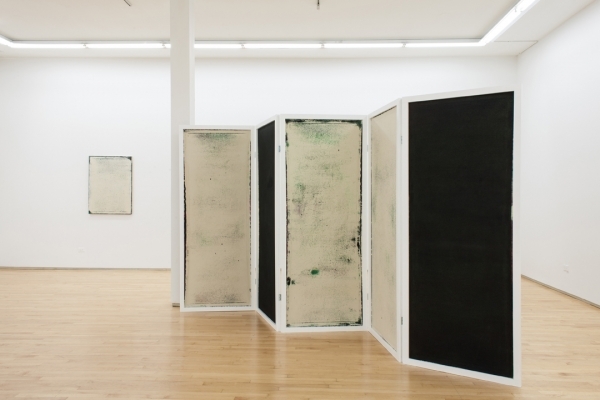 CP: You directly speak to the idea of entropy in the Waterhome exhibit description. I want to say this connects somehow to the blank canvas, or the empty fish tank. That these blank spaces inevitably fill up and get dirty. Is this where you are locating entropy? i.e. the fact that "the purity of the void" will be compromised marks a sign of failure? I'm interested in this idea because I feel like it's somehow based on a philosophical premise of your own, namely that something clean and clear and empty is an idealized state; the addition of mold/small flecks of green color, scuff marks, the apparent bleach of the sun, or errant stretch marks is the function of dilapidation. But you could also think of mold is an additive growth, a positive, productive transformation. And the signs of age and dilapidation on your canvases are fabricated by you — which also seems additive. That's a rambling way of arriving at my question: How do you think about entropy as a painter? 
JK: I think it does speak of entropy. Maybe it's also a rejection of the notion of entropy. Is entropy anything more than an effect that articulates… what? A disappointment with the impossibility of nothingness? Of permanence?
I don't know but I don't like to think of painting on a canvas as going somewhere so much as doing something.
Each painting does end, though, and working on a single painting forever would make it seem far too important.
This thing of dirty is interesting to me because on one hand I do feel at the moment I first touch a blank canvas that I'm somehow soiling it… but claiming a blank canvas is even worse than ruining one.
The term "purity of void" has more to do with a criticality of the notion of purity than it does with championing the fantasy of the void. It's exposing that there would be this idea of a void or an anti-space and that in the totality of this emptiness, a certain purity would be attained. I see the void as the imaginary friend of the puritanical; some evidence that the desire for the pure is motivated by death drive.
There is a promise of clarity in a glass box and that is probably just an illusion. It's cruel because we know how to yearn for that illusion. It performs a job until something else arrives and that arrival ruins the illusion. This is both a relief, as it cancels this yearning, and a disappointment, as it cancels this yearning.
The death of a false promise is still a loss.
CP: I am also interested in this idea of choreography and exposure — as I understand it, you apply layers and layers of washes to the canvas and the washes respond to a laid rabbit glue surface, settling permanently in some places as they wash away in others. Is that process where you locate this idea of dance?
JK: The canvases are sized with several layers of rabbit skin glue and then I paint a single wash of paint on them daily. The colors I use are based on the colors produced in the aquarium; viridian, sap green, alizarin crimson and lemon yellow.
This accretion of the layers of paint negates the color of those preceding and the canvas builds towards an ostensible black. Eventually, a section of the sizing on the canvas wears down and begins to resist saturation and even degrades back towards a lightness. I take either occurrence as a signal to stop. It's an exposure of the painting in that it destroys the painting's potential to be a monochrome. I either leave the canvas like that or I unstretch it and reverse it. The paintings that get reversed seem to have something more like a personality because of the moments where the support has faltered and paint has bled through. But as much as you see the points where the color has come through you are also seeing the places where it has not.
It isn't a terribly complicated process, rather deskilled, if peculiar and specific.
The choreography is knowing what I will do beforehand and remaining more or less consistent to that, intending that the repetition of the behavior avoids a narrative of progress.
I'd hope that the paintings are anachronistic, not in the sense of timelessness but in that they might deny tense.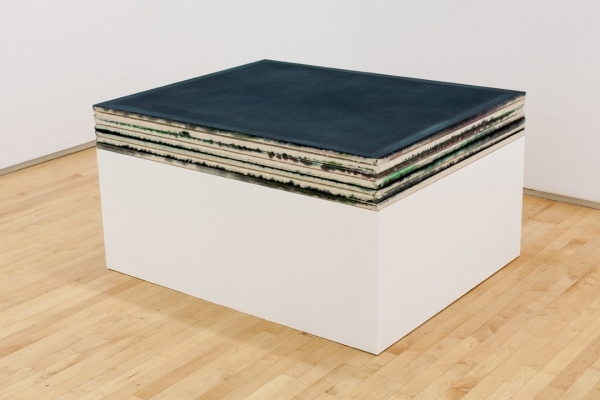 CP:  One of my favorite pieces in your exhibit at Kavi Gupta is the stack of canvases — I loved the way you transform the painting into a sculpture and by stacking them emphasize the painted side or edge — a typically marginalized space where accidental drips and stains exist like a dirty closet in a house or dorm room. But you emphasize that side and cover the faces of many paintings. Can you talk a bit about how you decided to stack these works? And did your process of painting change when you anticipated stacking them?
JK:Â The sides of these paintings were always attractive to me because they look the same regardless of which side of the painting has been stretched. Last February in Berlin I made a different exhibition with this work that included a coffee table consisting of a stack of square Waterhome paintings elevated on rather feeble legs. The dressing screen in this show made that option seem too much like a literal conversation between painting and furniture but I wanted to retain some kind of focus on what is usually, as you said, a typically marginalized space.
There was some playing around with that piece for a while, verticality, horizontality, what a pedestal does or does not do or infer, etc… I felt that it had to be a piece in itself more than just an apparatus to describe the other work. I think it becomes a grammatical elongation of those margins by collapsing the physical space between them.
The process of the painting really doesn't ever change but different consequences seem to arise as I continue to make them, whether or not I want them to.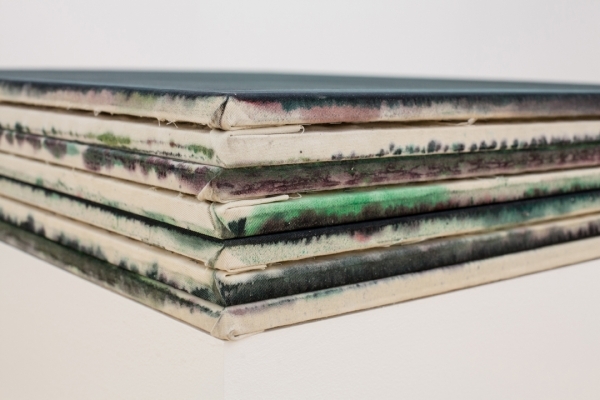 ---