By Kevin Blake 
The front tire wobbles as the weight of the planking jerks the fork of the bicycle from side to side. It will take rhythm to get anywhere. It will require a centering–a perfect distribution of the unbalanced load. The salvaged wood scrap stretches across the handlebars, bending under its own heft as it distances from the bicycle on both ends. There are bricks in the back basket–a milk crate strapped with rope to the frame. It rubs the back tire like an out-of-place brake pad…the every-other-rotation kind of rub. The tires have the pancaked look of low air where the rubber meets the road. Conditions are ripe for an array of potentials.
This is a moment in a story. It is not necessarily the beginning, the climax, or the end. It is a picture of a picture–the recollection of an unclear memory, that morphs into clairvoyance only as it is repeated and deployed situationally. It is the word made flesh, and the flesh made word. It is the construction of one's identity from available material–material that is both tangible and ethereal.
As I walked through Kati Heck's inaugural exhibition, "Ins Büro!" at Corbett vs Dempsey, I found myself thinking about my own life as a scavenger–hoarding all the potential I could carry. I was seeing similar moments described in Heck's images–potentials picked out of the mundane, or the recently discarded, and harvested to distribute into complex riddles with seemingly endless possibility. On the canvases, I could see the dialogue between the painter and the thinker. Between the subject and the object. Between the story and the fragmented reality in which it exists.
These concurrent and perpetual dialogues in Heck's work are best understood through their relationships with the paint itself. For example, in the faces of central figures, there appears to be a deeply personal connection–not just to the sitter–but also to the technical precision by which she chooses to treat the face. Where there are sections of amplified care–smaller brushwork, attention to detail, and range in palette–there also seems to be amplified metaphor, or keys to following the artist's inner dialogue.
"Alles-Mehr," which google translated for me as "everything-more," exemplifies this notion. In "Alles-Mehr," one can follow the hierarchy of paint distribution–from the face, down to the jar of pickles, to the fabric, to the wood of the chair, to the skin, and to the wall. To me, the smaller marks represent larger roles in the image's story. The larger marks are painting maneuvers. Small is big. Big is small. All are equally important to its existence as a painting–or as an aesthetically considered object of contemplation.
Here, a man appears to be in a pickle–as they say–four fingers deep. This idiom becomes the bedrock of the painting and it places the character in an air of mischief with an assuming look of low-cunning. The disappearing arm holds the glowing decoy–the legerdemain of the common wizard.  Admittedly, this is merely one possible thread in a heap of narrative grist, but my guess is as good as the next viewer, and it doesn't matter much if anyone gets it "right."
In the painting, "Der süssliche Erinnerungsmehrwert," Heck introduces a sculptural element to the painting by sewing canvas to the bottom of the frame where it becomes an extension of the painted fabric–it literally flows off of the rectangle and spills onto the floor. This move is indicative of Heck's unflinching intuition–uninterrupted by any hesitation from exterior pressures. She doesn't make decisions based on how it will be received, (see the velvet frame around the bad girl, "Petit Pity," in the corner of the show)she responds directly to the impulse. Directly to the vision. Anything that is susceptible to transformation, is transformed. There is no shelter for this nomad–and although her work pulsates with influences from the establishment, she cannot be pinned down. She emerges with a triumph, or at least the execution and invention of something that could not be made by anyone else.
In an interview for the exhibition catalog, Heck tells gallerists John Corbett and Jim Dempsey, that the title of the show, "Ins Büro," means "go to the office" and for her, the office is the bed she keeps in her studio. It is a factory of dreams from which she extracts and deploys content, stamping them with her industrious logo before they leave the warehouse.  In a fractal universe fragmented further by processes of the human mind, it is no wonder that  Heck turns to her dreams as a means of deciphering any truth from the ether. The result may be a world without language. A visual world. A world seen and understood simultaneously.
The compulsion to realize this utopia is undeniable. It wants to be seen. It wants to be described. It is on the tip of your tongue too–the cusp of your visual field as you lay in the darkness and attempt to solve the world's puzzles in the most quiet of spaces–the safest of landscapes–your dreams. However, it never quite satisfies. It never quite gives you the tools to see that place and how it works. It appears partial. As disconnected. As unimportant. It appears as meaningless potential–a moment frozen until it is thawed and put to work. Kati Heck in her Antwerp studio, attempts to bring that flight of fancy out of the castle in the sky and into her own reality. Whatever is constructed there–out of whatever material is available to revolutionize–may not be true, but for the maker, it is true enough.
If I were you, I'd go have a peak at her temporary office.
Corbett vs. Dempsey
1120 N. Ashland Avenue 3rd Floor
Chicago, IL 60622
Kati Heck
December 11-January 26, 2016
Tuesday-Saturday 10am-5pm
      and by appointment
---
Audio clip: Adobe Flash Player (version 9 or above) is required to play this audio clip. Download the latest version here. You also need to have JavaScript enabled in your browser.

download



This week: Painter, filmmaker and producer Martin Jon Garcia get lightly abused by Dana and Richard and we talk about his show Our Cultural Center which can be viewed at www.ourculturalcenter.com (just saw MJG has had some health challenges of late and a heart felt BAS get well soon goes out to him!). Next Amanda Browder records the last interview with artist, Dali muse and Warhol Superstart Ultra Violet who left the mortal coil June 14th of 2014.
Nearly to the end of our 9th season, into the 10th. What interesting things await us for the 10th year of BAS?
---
Audio clip: Adobe Flash Player (version 9 or above) is required to play this audio clip. Download the latest version here. You also need to have JavaScript enabled in your browser.

download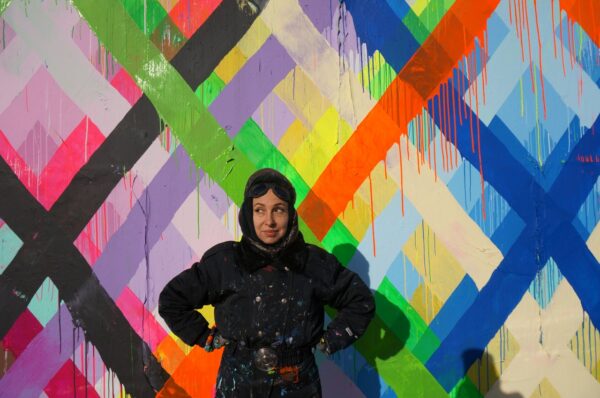 This week: From Volta 2014 we talk to painter and muralist Maya Hayuk.
Duncan's announcements:
http://www.walkerart.org/calendar/2014/byor-bring-your-own-radio-and-tailgate
http://poorfarmexperiment.org/
---
Audio clip: Adobe Flash Player (version 9 or above) is required to play this audio clip. Download the latest version here. You also need to have JavaScript enabled in your browser.

download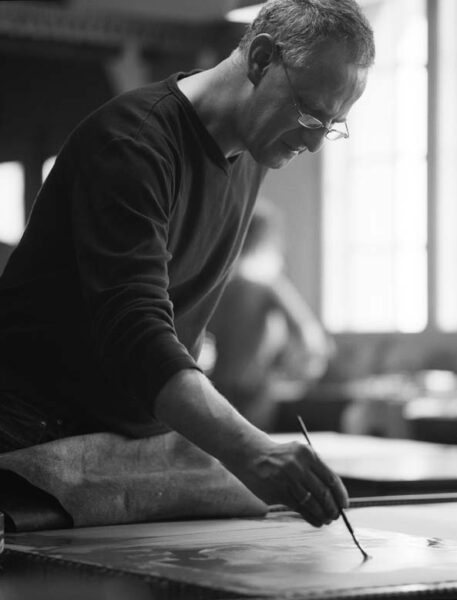 This week: Duncan and Richard talk to art superstar Luc Tuymans!
The following is shamelessly lifted from the MCA site:
Luc Tuymans (Belgian, b. 1958) is considered one of the most significant European painters of his generation and he has been an enduring influence on younger and emerging artists. Born and raised in Antwerp, where he lives and works, Tuymans is an inheritor to the vast tradition of Northern European painting. At the same time, as a child of the 1950s, his relationship to the medium is understandably influenced by photography, television, and cinema.
Interested in the lingering effects of World War II on the lives of Europeans, Tuymans explores issues of history and memory, as well as the relationship between photography and painting, using a muted palette to create canvases that are simultaneously withholding and disarmingly stark. Drawing on imagery from photography, television, and film, his distinctive compositions make ingenious use of cropping, close-ups, framing, and Luc Tuymans sequencing, offering fresh perspectives on the medium of painting, as well as larger cultural issues.
The artist's more recent work approaches the post-colonial situation in the Congo and the dramatic turn of world events after 9/11. These series have led Tuymans to a sustained investigation of the realms of the pathological and the conspiratorial.
---
Audio clip: Adobe Flash Player (version 9 or above) is required to play this audio clip. Download the latest version here. You also need to have JavaScript enabled in your browser.

download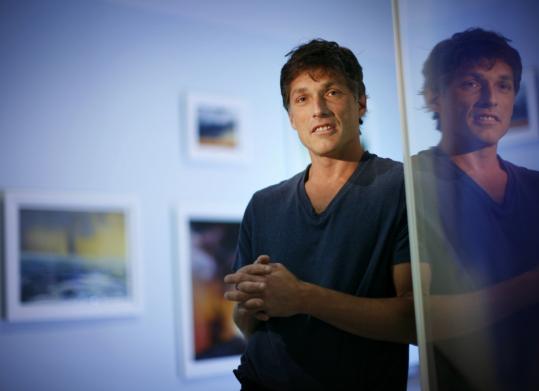 This week: Tom and Duncan talk to super-talented painter Alexis Rockman. There is a Smithsonian retrospective
that opens this month so check it out.
The following stolen from the Greenpeace site:
Alexis' paintings visualise the hopes and popularly held fears about scientific progress and the wide-ranging effects of human intervention on animal species, ecosystems, and the natural world.
We are brought face to face with a future that is at once surreal and unsettlingly familiar. Mutant animals, geometric landscapes, alternative environments either sterilized by science or unredeemably altered due to pollution. All this makes for some uncomfortable viewing.
"My position is one of ambivalence as the horse is already out of the barn so to speak; it is not biotechnology that is the problem but corporate America or globalism or colonialism. The implications of using this technology are far more devastating because of the unknowable effects. This is something that is very disturbing and visually compelling to me," explains Alexis.
Despite the questions that Alexis' work throws up about humanity's role in shaping a dystopian future, there's no obvious judgement in it.
Every element in the art is painstakingly researched. All the biological images have been developed through extensive collaboration with specialists in molecular biology, genetics, natural history and medical science.
"I really have to say these are relatively neutral images even if I use information that tends to make people feel uncomfortable. But I don't see that as negative. I try to show things that are obviously familiar but also inform them with as much cultural and scientific history as I can, so that they are credible.
"The stuff that may not be noticed – for instance the geometry of the landscape in 'The Farm'- to me is far more scary than an albino hairless mouse with cartilage growing on its back. I am also trying to make an emotionally resonant image that reaches people. I try to make it as credible as possible without making it boring."
Alexis is aware of the political power of his work. As an American, he believes he is well placed to bring attention to the consequences of his homeland's environmental, economic and political policies.
"I am of a generation whose relationship with the government and big business comes out of a post-Watergate scepticism. How could my work not have a political effect? I feel like I am in such a privileged position I would find it unconscionable if I didn't take advantage of that as someone who cares about these issues."
Collectively, the paintings presented in 'Wonderful World' offer a graphic vision of a bio-engineered near future in which human and animal bodies, crops and plants have been genetically altered to suit a variety of needs – whether commercial, aesthetic, medical or gastronomic.
Despite the potentially complex nature of the exhibition he makes a point of not being elitist, as his subject is something that touches every person on the planet.
"I don't expect anyone to know anything. That is why I am a populist. If I have a show and people from different demographics come to find out about global warming, I don't want to lose half of my audience due to my arrogance. It has to be decipherable to a six-year-old child. I try to construct it as an onion with different layers of meaning and iconography."
The negative consequences of industrial and technological progress are rarely addressed in a modern culture fuelled by the products of multinational entertainment conglomerates. Alexis' paintings hang out on the edge of complacency, forcing us to confront a vision of the future implicit in the choices we, as a society, make today.
This weeks show is dedicated to the memory of Penny Zeidman.
---