Audio clip: Adobe Flash Player (version 9 or above) is required to play this audio clip. Download the latest version here. You also need to have JavaScript enabled in your browser.

download



This week in conjunction with EXPO Chicago we welcome Pablo Helguera and Chistian Viveros-Faune! We chat Socially Engaged Art.
It is time for an app that helps us gallery goers and Threewalls has the answer, lets kickstart them!
---
We were late and I was sweating. I had botched my own plan to arrive: my plan was to meet a friend at his house nearby, then walk together to Bikini Wax from there. I never told my friend that we would meet him at his house, however, and when we arrived there he was gone, on his way to Bikini Wax, hurrying because he thought he has going to be late. So we walked up Patriotismo, through Escandon, up to Benjamin Franklin—the avenue Bikini Wax is perched on, the avenue that divides upper-middle-class Escandon from bougie Condesa from lower-middle-class, sometimes slummy Tacubaya. There is an Oxxo down the street and a mediocre restaurant next door. One of my favorite vegetarians once told me they had great burgers there. I don't believe him.
You enter Bikini Wax through an alley. The layout is famously bizarre: a one room ground floor with an enormous stairwell, a claustrophobic second floor with a kitchen that doubles as a main room and a narrow hallway that leads to apartment's three bedrooms and the bathroom, which, like the apartment, is famously dirty. Exiting the kitchen/main room, there is a precarious spiral staircase that leads to an expansive roof, from which you can see a fair amount of the city at night. This show — "Object – Space – Behavior," Isauro Huizar's first solo show at Bikini Wax — was not at night.
On the ground floor, there was a toy organ. I appreciated it, not yet knowing that it wasn't part of the show. We quickly took the stairs to the second floor, where Huizar's work was, but nobody was there. We walked around for a second, noticing a sagging stack of freshly-done shrink-wrapped laundry in the main room—Bikini Wax's usual exhibition room. In the near bedroom, a ring of books, stacked neatly according to their corresponding letter of the alphabet—As here, Ms there, no Xs or Ys—stood sentinel around the bed. In one of the far bedrooms, a tight oval of house plants barred entry; in the room across the hall, the only room without a bed, objects huddled in like colors against the far wall. The entire apartment was clean and orderly, the soft Sunday light calming what might otherwise have seemed lurid and manic into something that felt soft and generous.
We then took the steps to the roof, where everybody was. People were sitting in U, chatting. Our friend was there, sitting quietly behind an umbrella that was perched on a table in the middle of the U, vaguely shading an assortment of fruit, donuts, fruit juices, and fruit-flavored vodkas on the table, blocking one side of the U — the side my friend was on, where we sat — from the rest of it. In the corner nearest to us, a boy sat sullenly drinking one box of milk after the other. I wondered vaguely if this was a performance, and if it was part of the show. I thought about him vomiting. Isauro came over and offered us a donut. We accepted.
We stayed for quite a while, much longer than we usually stay at openings, chatting idly with people, meeting a dog, drinking fruity vodka drinks. People kept talking about the trash, that it was all squirreled away somewhere, that the apartment looked so much different without it. People were milling around, relaxing. Having the opening in the morning seemed to turn the usual opening routine on its head. I thought for a second about Pablo Helguera's book Art Scenes: The Social Scripts of the Art World, wherein he dryly dissects the event of the art opening into a set of calcified roles, pervasive, unavoidable, and detrimental to the formation or circulation of new ideas—perhaps you're the disruptive artist? the regulating academic?—and wondered if this shift of context perhaps allowed for a shift in sociality. Everything seemed friendly, nice, unforced. The few people trying to network seemed to have forgotten their cards. A woman across the umbrella from us regaled the people near her with stories of her life in the sort of lightly accented English specific to middle-aged women visiting Mexico. I thought, what a nice subtle gesture.
Was it? Look at that image of objects stacked against the wall: don't they look a bit scared? If you were standing in that room, how would you feel? What would you do? What can you do? Huizar works as an interior designer, making commercial or domestic space more condusive to spending or living for its inhabitants; here, he uses interior design to make a series of domestic spaces unlivable. Or rather, while one could certainly live in one of these rooms, sleep in that bed surrounded by 20-odd stacks of watching books, or in the other room, disguised by a huddle of house plants, it would be a sort of living in which it would impossible to discount the presence of those objects.
Objects cast affects; this much we know well. Usually these affects are instrumentalized by design, interior or otherwise: a long table suggests a feeling of familiarity and comfort, a speed bump suggests an attitude of alertness and care. They also limit the field of possible action: in the restaurant with one long table, you feel discouraged from eating alone; in the street with the speed bump, you must slow down. In Protocol: How Controt Exists after Decentralization, Alexander Galloway describes the speedbump as the quintessential protocological object—an object that delimits a field of possible action.
Read in this way, "Object – Space – Behavior" was neither subtle nor nice. Rather, it is a violent intervention into domestic space, bringing the objects that normally disappear to the forefront, forcing us to reckon with them, to decide what to do now.  Most people, including myself, just got the hell out of there and went upstairs. The new arrangement of the objects, as present—looming, watching, in a scrum, backed against the wall—created a space that didn't necessarily feel like an art space but did absolutely feel like an object space. That room belongs to these books. How can we live in a domestic space that does not privilege humans? How do we reckon with our objects? What are our options? What field of possible action does the laundry cast?

Isauro Huizar (Culiacán, Sinaloa, México. 1985) Develops professional work in interior design focusing on commercial spaces.
---
by Jen Delos Reyes
Two countries. Five conferences. Seven years. 14 partnerships. Over 700 presenters. Over 1600 attendees. Since the first Open Engagement conference in 2007 this event has become a key meeting point for people interested in socially engaged art. Open Engagement: Art After Aesthetic Distance began as a hybrid project that used a conference on socially engaged art practices as its foundation and incorporated elements including workshops, exhibitions, residencies, pedagogy, curatorial practice and collaboration. I wanted to foster a different kind of conference—one that worked in the way I wanted to see it work: with a sense of togetherness, putting emerging and established voices side by side, highlighting different ways of knowing and learning, and serving as a site of production, as well as reflection. I wanted to contribute to the discourse on socially engaged art in a meaningful way. When Open Engagement began it was a student project. I was a graduate student. The conversations that I wanted to engage in were not happening at my school in Saskatchewan, so I decided to create the situation that would allow for me to have these discussions with people doing similar work. Open Engagement was the basis of my education, and now is a major foundation of my work as an educator.
This year as in most years my experience of Open Engagement happens mostly in the lead up—in conversations with students to determine the themes of exploration for the year, in the selection of keynote presenters, in the scheduling, planning, writing, partnerships, and all things organizing. In the day to day of the event itself I get to attend very few sessions, usually only the opening and closing sessions, keynote events, and a hand full of other projects and for a limited amount of time. My time during Open Engagement is mostly spent assisting and making sure things are running smoothly. But in that way of moving through the conference I intersect with people all throughout the day that I ask what they have attended, and what their thoughts are on the experience at the conference so far. This idea of needing to talk to others to fully experience the conference is intentional. Because of the parallel programming no one person can take in all of the projects and sessions that form the event on their own. We need to work together, and see from multiple perspectives to get a full sense of the field.
In 2010 at Open Engagement Pablo Helguera said that he had always heard that a conference is meaningful in as much as it generated new questions to follow up. If you didn't find new questions then maybe it was not successful. I had a similar feeling about conferences, and it had been one of the ways I was measuring outcomes. The conference begins with a series of calls and questions, and throughout the course of the event and the conversations there are undoubtedly more that are generated. At OE 2013 we were making a concerted effort to capture that questioning throughout the weekend, and on Sunday before Tom Finkelpearl's keynote talk were reminded by Michelle Swineheart of one of Sister Corita's "quantity assignments" of generating 100 questions when embarking on intensive work and research. With this in mind, as well as earlier feedback from the day at a session between the Creative Time summit and OE where I heard from many participants that they wanted to work together to generate something during the conference and that in general there was a desire for sessions that allowed for formats other than being talked at, I decided that the final event would be an opportunity for just that.
For the closing event of Open Engagement 2013 instead of having a panel discussion between only keynotes and curatorial representatives we instead set out to collect 100 questions generated by the group assembled to further get a sense of what is emerging, what people are thinking, and where this conversation is going. The Sister Corita assignment felt fitting for a group of presumably invested individuals, who wish to continue to be involved in research and practice, to take this on together. It was a hope that as we would move out into the world after the conference that we could then reflect on this list of the questions we are currently asking ourselves about socially engaged art. The format was that each of our six panelists joined one of six seated groups that each had about 40 chairs (based on past years we were planning for between 200-300 people at the final panel), and we then had about 35 minutes to work together and for each group to write 17 questions and then we reconvened and the panelists shared the group work. After the instructions were given, at least 20% of the assembled group left instead of joining the break out groups. As I stood at the front of the room watching people choose to stream out, I wondered if I had made a mistake. The people that remained formed groups and were led in discussions to generate questions. There was one group in particular that voiced resentment, yet not enough resentment for them to have just left. This all came out in sharing of the questions at the end of the session. After many weeks I heard from someone who was part of that dissenting group how difficult it was to contribute questions, to have a discussion, and to feel like they could share. Days after the conference I heard some thoughts from Michael Rakowitz (who was the person facilitating that group) on the conference and the final event in general and he said, "You created a space for people to get upset, and that opens up possibilities for things that haven't been done yet." While I had no doubt that we had created a place for people to get upset I wondered what else the space was a possibility for. I thought of other conferences and their goals, Suzanne Lacy's City Sites: Artists and Urban Strategies (1989), and Mapping the Terrain: New Genre Public Art (1991), the Creative Time summits that began in 2009, and the more recent Homework conferences organized by Broken City Lab. Lacey was trying to create a space to develop language for socially engaged art that went beyond the limitations of forms like performance and conceptual art, and with the latter intended that the activities of Mapping the Terrain would come together as a publication. The most simple way to describe the Creative Time efforts is an attempt to become the TED talks for socially engaged contemporary art. The latest incarnation of the Homework conference takes a similar approach to Mapping the Terrain with a end goal of a collectively generated publication, and a similar format to Open Engagement with three keynote presenters and framing devices.
My last memory of Open Engagement took place at Boxxes, the club that hosted the wrap party for the conference. I showed up after a late dinner and took a seat behind the DJ booth where Paul Ramirez Jonas was virtually spinning tunes for the party. I was approached by a woman I met earlier in the day who is a funder at an arts organization dedicated to supporting socially engaged art. I found myself captive behind the DJ booth during a moment of celebration hearing out her frustrations with the conference. The parts of her dialogue that rang out the loudest in my mind were, "I am not here to learn with you, I am not here to generate your content." I nodded throughout, and thanked her for so openly sharing her criticisms. I meant it. I still do.
This encounter made me think of who was present Open Engagement, and what they expected, and how at least for this person how much of a radical departure it was from what I thought people were there for. I revisited some writing from 2007 that I had done after the conference:
What does it mean to be open? What does it mean to be engaged? What if one were to be both open and engaged simultaneously? Openness is honesty, generosity, a sense of possibility, freedom, free of boundaries and restrictions. To be engaged is a promise. It is a commitment, an obligation. It is also a sense of involvement and participation. To have an "open engagement" implies a commitment that is potentially limited or short lived. But what if the two terms once united could keep their respective definitions making openly engaged a term that would embody an obligation to honesty, sharing and possibility? 
It happened, we did create a place of possibility, a place for honesty and sharing, one where many boundaries and expectations were crossed and left behind. What should Open Engagement be? Who should it be for? How can we adequately capture what is generated? Over the last few days I have been thinking about the possibility of an online community archive for Open Engagement that would be a collective effort that would be open for all to share their documentation, writing, thinking, and stories related to the conference.
I had always seen Open Engagement as a site of learning. In an online video conference with Ren Morrison from the Atlantic Center for the Arts weeks following the conference he off handedly referred to Open Engagement as being his "education". The conference has for the past four years been a site of convening for many of the MFA programs with a focus on publicly/socially engaged art. The fact that this conference is so embedded in the structure of an MFA program makes the very nature of it educational, as well as the fact that even the very beginning was in an educational framework. In my mind we were all working together, learning together, and teaching one another. How we organize this conference collaboratively echoes the spirit of our program and our approach to learning. An education in our program is emergent, unorthodox, and at times unruly. This translates into Open Engagement feeling slightly unkempt, and in flux. And while this might be a point of criticism for some, I would not trade this instability for rigid professionalism or a set structure. It is important that we remain open to this conference and this conversation shifting and developing in unexpected ways. It is also important that we remain open to the realization that this may no longer be a site that is necessary, or that it might need to take a completely new form and possibly a new grounding. I hope that whatever becomes of it, that Open Engagement can be a site to work together, learn together and see what we are contributing to the field of socially engaged art from multiple perspectives. I am open to whatever comes next.
Jen Delos Reyes-Â Assistant Professor, MFA Art and Social Practice Program Chair

Jen Delos Reyes is an artist originally from Winnipeg, MB, Canada. Her research interests include the history of socially engaged art, group work, band dynamics, folk music, and artists' social roles. She has exhibited works across North America and Europe, and has contributed writing to various catalogues and institutional publications. She has received numerous grants and awards including a Social Sciences and Humanities Research Council of Canada Grant. Jen is the founder and director of Open Engagement, a conference on socially engaged art practice and herself speaks widely on Art and Social Practice at conferences and institutions around the world. She is currently an Assistant Professor at Portland State University where she teaches in the Art and Social Practice MFA program.
---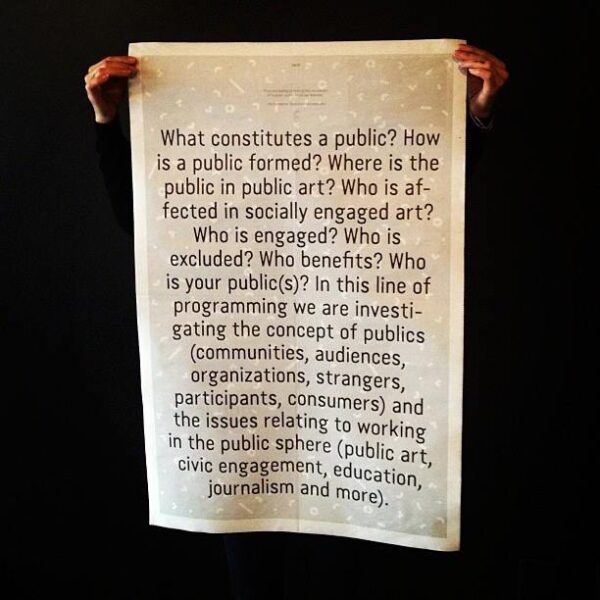 I keep trying to trace emergent themes at Open Engagement. Our organizers have done a good job of marking three umbrella categories, under which each panel, presentation or discussion resides. These headings, Publics, Contexts, and Institutions, feel like hubs through which a larger, interconnected current runs. One conversation bleeds into the next. Institution could be one example of a context, for instance. An institution could also be populated by a  public, but neither "Contexts" nor "Publics" rely exclusively on "Institutions." The project of this particular conference, one might say, is to investigate the way socially engaged art practice runs through (or negotiates) those headers.
That said, I am hunting around for additional trends, for theoretical concerns that crop up continually in the subtext of various presentations, reflecting perhaps on a collective undertow that Social Practice artists are preoccupied with. There is something problematic about my efforts. It's an artificial exercise in a way, especially when the subject of presentations — not to mention the styles of address — are so broad. My insights are additionally subjective, stemming from what panels I've seen and how the concerns therein stick to my ribs.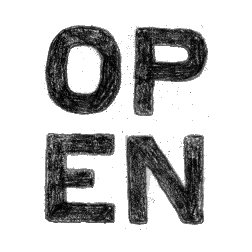 Still, I persist. Obviously this is a post that I deliberately published. Obviously I am interested in failing a little bit. I'm emboldened by the fact that failure, as a topic, is one of those recurring themes. Failure and the equally nebulous question about ethics. These subjects bubble to the surface not only in talks themselves, but also in audience questions. For instance, "I feel there is a danger that the projet you described could waste someone's time. Someone in your intended audience for instance. How can you be sure you're not doing that? What can you guarantee your public?" It suggests the artist ought to deliver something, and ideally that whatever is delivered is good, or worthy of (in this instance) one's time. Ethics and failure are linked up with responsibility in this regard — conveying a feeling that something in works of art that rely on audience participation ought to offer or fulfill something.
First let me make a case for the #EthicsTrend. In an account of Friday's panel, "Sociology (of and) for Socially Engaged Practice, Institute for Art Scene Studies" I was told Pablo Helguera, Barbara Adams, David Peppas, and Adeola Enigbokan staged a kind of reductio proof of what not to do as a social practice artist. I missed it, unfortunately, but heard that someone posed as an artist, presenting a series of ill-advised projects to the panel, pretending to be an artist. (For instance, the acting artist claimed to have done a project where s/he gave up all possessions in order to see what it was like to live under the poverty line.) The panel then critiqued these projects, highlighting what exactly was ill-advised about them. (Using the same example, the panel pointed out that the artist was able at any time to reenter her/his life of material stability). This was relayed to me by a rather horrified member of the audience who, at the end of her account, leaned in conspiratorially and whispered "And it was all a hoax! The 'artist'" (she used scare quotes) "was making it all up!" seeming at once relieved and frustrated that she had been duped. In a later panel that same day, "What's the Harm of Community Arts and Social Practice? The Ethics of Engagement and Negative Value," Marnie Badham, Amy Spiers, Claude Schryer, and Dr. Kathleen Irwin wrestled with questions of how and when artists intrude on a public. In her opening remarks, Badham noted first, "this turn to community is rarely explored critically," and then asked "is social change always good?" An ethical approach is often taken for granted in socially engaged art. There is an implied use or service tends to go hand in hand with these social experiments. A desire to save the world, or at least some very small piece of it.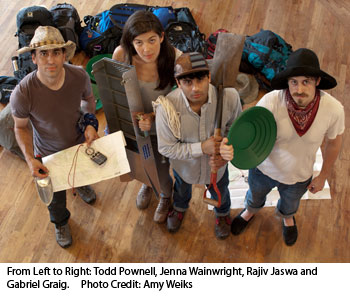 Here the idea of failure comes in — because, in a way it is impossible to save the world. However in articulating an attempt, I would argue, the art project sets out to "do" something. As such it becomes easier to measure and assess.  Rakowitz rebuffed this point yesterday when he suggested that art didn't necessarily have to do anything. But if that's the case, one's ability to measure success and failure becomes more difficult. And, perhaps, more interesting. For instance, this morning at "Craft + Social Practice: A Roundtable Conversation" at the Museum of Contemporary Craft, a group of panelists (Gabriel Craig, Ayumi Horie, Stacy Jo Scott, Michael J. Strand, moderated and organized by Sarah Margolis-Pineo) described their relationship to failure. Many suggested that failures provided new opportunities for insight — Gabriel Craig talked about "Slow Gold," a project based on ethical metal sourcing, where he and four collaborators went to the Black Mountains in South Dakota to find gold for a couples' wedding bands. (The betrothed couple participated in this project.) They could only find .4 grains. His conclusion, "Mining, no matter what scale it's on is absolutely catastrophic for the environment." On that same panel, Stacy Jo Scott of the Craft Mystery Cult confessed, "Occult is always dealing with failure. That's because we have this desire to speak of ideals, in terms of an ideal poetic space, but also in terms of utopic vision. Knowing the failures of past utopias, but still desiring Utopia. What results is the absurd: optimism in the face of futility."
Keep this idea of ethics in one hand. Hold in your other hand the idea of failure. Now imagine yourself in the Shattuck Annex, sitting (like I was) in chair with a small desk attached. It is the sort of desk students often use. The sort of desk I haven't sat in for years. Keep in mind it is raining outside and the opening bars of Woody Guthries' "This Land is Your Land" is playing on a loop. People shuffle in slowly. Some are ushered to an overflow room when the room is at capacity. In that room this afternoon, Claire Doherty gave a fantastic keynote, opening with an observation that keynote speakers have the ability to highlight and anchor conversations in a conference. The keynote provides a kind of watering hole – a central point in the middle of the day during which most conference-goers sit in the same room, sharing the same experience, after scattering out again to different panels, rendez-vous, and performances. Doherty hastened to remind everyone about the underbelly of social practice — that many projects, while on the one hand providing photographs of an engaged and happy public digging ditches and/or eating ice cream often come out of duress or protest. These works have the ability to engage a collective, public imagination because they tend to address points of tension. She went on to discuss Nowhere Island, a project by Alex Hartley produced by Situations — the organization Doherty directs. As a travelling landmass, self-designated as a site belonging to no-country, Nowhere Island became another version of Utopia. Pulled by a tug boat through international waters, it visited many ports, acquiring 23,003 citizens over the course of a single year. There is much more to the story, of course, but I like situating this island in this post because the land mass in an of itself is what Doherty might call a "charismatic object," a physical object both engaging and alluring to a public imagination. This object was capable of, again in Doherty's words, "Nourishing the capacity for creative illusion, [such that a public was able] to act and think as though things were different." In and of itself the island is not ethical, but it enables a public to explore their own Utopian expectations thereby exploring the problems that such ideals might subsequently create.
Now, open your hand.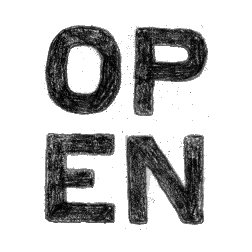 In Tim Etchells words, "A Utopia of dispute might be better:"
Dear Citizens of Nowhereisland

as we stop in the shelter of a doorway in the thunderstorm
S. holds out his hand to check the rain.

The hand. The flatness of it. The open-ness. The question of it. The directness. The simplicity. The pragmatism. The straightforwardness. The sunshine.

And maybe just the repetition of this gesture, which must be as old as the hills, as old as the co-presence of hands and rain. 

(read more of Etchells' Nowhere Island response)
---
Some of the best known theorists of social practice published or toiled away at new books in 2011. Although I haven't read them yet, I'd bet that this fresh wave of ink will churn the debate within this always contentious art sphere all the way through 2012.
With their dust-up in Artforum five years behind them, Claire Bishop and Grant Kester have each written books that we might assume articulate their positions in far more nuanced ways than a few magazines pages provide for.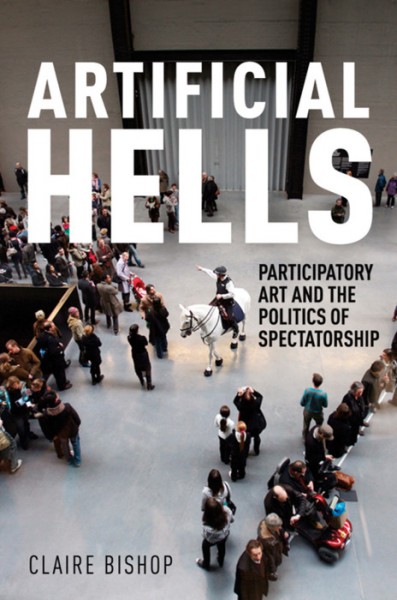 Claire Bishop, Artificial Hells: Participatory Art and the Politics of Spectatorship, (Verso)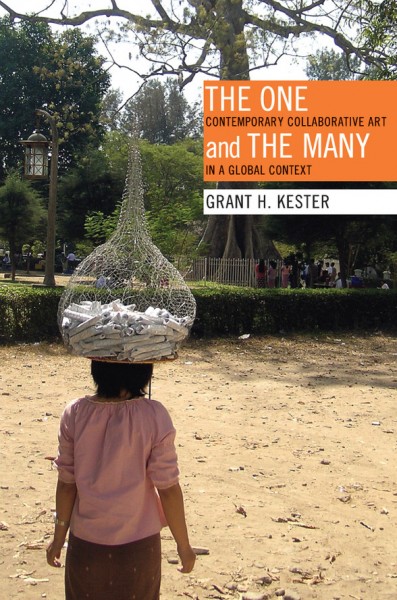 Grant Kester, The One and the Many: Contemporary Collaborative Art in a Global Context, (Duke)
Nato Thompson also has a book coming out this year. He also organizes the Creative Time Summit, fast becoming an annual gathering point for social practitioners from around the globe.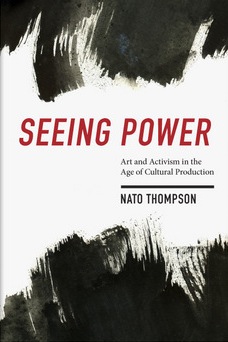 Nato Thompson, Seeing Power: Art and Activism in the Age of Cultural Production, (Melville House)
Pablo Helguera, the only one of these authors who is also an artist, has produced a pedagogical manual for socially engaged art that will surely make its way into the handful (and growing) of social practice MFA concentrations in the US.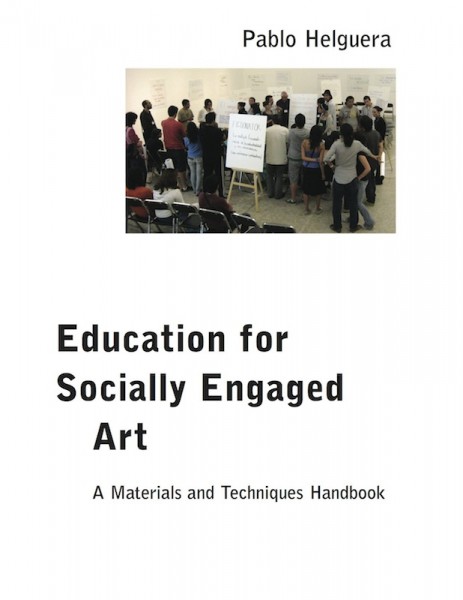 Pablo Helguera, Education for Socially Engaged Art: A Materials and Techniques Handbook, (Jorge Pinto)
In her book Social Works, Shannon Jackson brings a perspective from performance studies to the debate on social practice.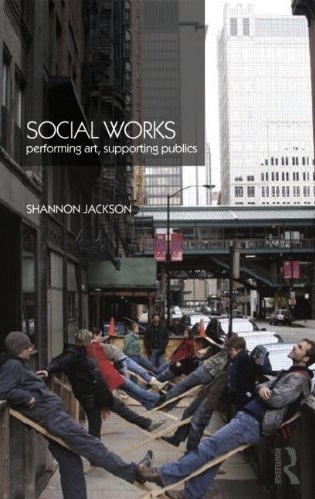 Shannon Jackson, Social Works: Performing Art, Supporting Publics, (Routledge)
And finally, while he has written about art before, Brian Massumi wades directly into theorizing the "ephemeral arts" in Semblance and Event.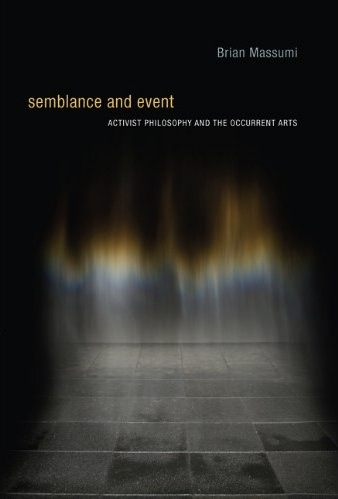 Brian Massumi, Semblance and Event: Activist Philosophy and the Occurrent Arts, (MIT)
---