Audio clip: Adobe Flash Player (version 9 or above) is required to play this audio clip. Download the latest version here. You also need to have JavaScript enabled in your browser.

download


Robert Rauschenberg passed away on May 12, 2008 at age 82. The Art Institute of Chicago's own Rauscheberg expert Lisa Wainwright joins us to discuss his life and legacy.
Read more
---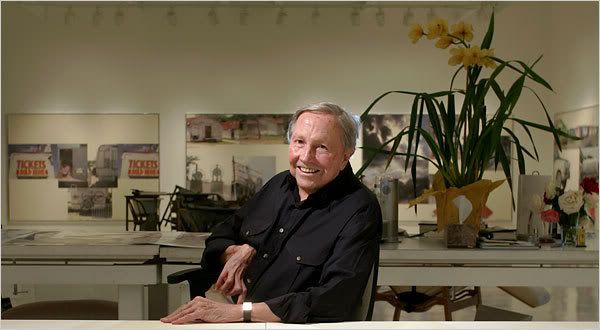 via MICHAEL KIMMELMAN for the New York Times:
Robert Rauschenberg, the irrepressibly prolific American artist who time and again reshaped art in the 20th century, died on Monday night at his home on Captiva Island, Fla. He was 82.
The cause was heart failure, said Arne Glimcher, chairman of PaceWildenstein, the Manhattan gallery that represents Mr. Rauschenberg.
Mr. Rauschenberg's work gave new meaning to sculpture. "Canyon," for instance, consisted of a stuffed bald eagle attached to a canvas. "Monogram" was a stuffed goat girdled by a tire atop a painted panel. "Bed" entailed a quilt, sheet and pillow, slathered with paint, as if soaked in blood, framed on the wall. All became icons of postwar modernism.
A painter, photographer, printmaker, choreographer, onstage performer, set designer and, in later years, even a composer, Mr. Rauschenberg defied the traditional idea that an artist stick to one medium or style. He pushed, prodded and sometimes reconceived all the mediums in which he worked.
Building on the legacies of Marcel Duchamp, Kurt Schwitters, Joseph Cornell and others, he helped obscure the lines between painting and sculpture, painting and photography, photography and printmaking, sculpture and photography, sculpture and dance, sculpture and technology, technology and performance art – not to mention between art and life.
Mr. Rauschenberg was also instrumental in pushing American art onward from Abstract Expressionism, the dominant movement when he emerged, during the early 1950s. He became a transformative link between artists like Jackson Pollock and Willem de Kooning and those who came next, artists identified with Pop, Conceptualism, Happenings, Process Art and other new kinds of art in which he played a signal rol
No American artist, Jasper Johns once said, invented more than Mr. Rauschenberg. Mr. Johns, John Cage, Merce Cunningham and Mr. Rauschenberg, without sharing exactly the same point of view, collectively defined this new era of experimentation in American culture.
Apropos of Mr. Rauschenberg, Cage once said, "Beauty is now underfoot wherever we take the trouble to look." Cage meant that people had come to see, through Mr. Rauschenberg's efforts, not just that anything, including junk on the street, could be the stuff of art (this wasn't itself new), but that it could be the stuff of an art aspiring to be beautiful – that there was a potential poetics even in consumer glut, which Mr. Rauschenberg celebrated.
"I really feel sorry for people who think things like soap dishes or mirrors or Coke bottles are ugly," he once said, "because they're surrounded by things like that all day long, and it must make them miserable."
Read the full article мебелиhere
---

Sir Robert J. Loescher, 70, died on December 8, 2007.
Mr. Loescher was Professor Emeritis at the School of the Art Institute of Chicago and founder of SAIC Art History Department. He was knighted in 1990 by King Juan Carlos, of Spain.
He was preceded in death by his parents and his infant brother, George. He is survived by his brothers, Thomas Loescher, of Tucson, Arizona, and Richard Loescher, of Appleton, Wisconsin; friends, Shay DeGrandis, Nathan DeFoor, Brian Sikes and Bibiana Suarez, of Chicago; Joyce Neimanas, of Albuquerque; Wendy Woon, of New York; and many other colleagues and friends.
A memorial service to honor Sir Robert Loescher, in conjunction with the Midwest Art History Society Conference, will be held on April 4, 2008, at the Gene Siskel Film Center.
Robert J. Loescher, a specialist in Spanish and Latin American art, helped revolutionize the art history program at the School of the Art Institute of Chicago, where he taught for more than 30 years.
Mr. Loescher, 70, died in his Lake View home Saturday, Dec. 8, having had suffered from heart problems and was weakened by a recent operation.
Richard & Sarah had the pleasure of knowing and working with Mr. Loescher and will miss him greatly.
---

In NYC, a filmmaker/games designer committed suicide last week. Her companion, a well-known contemporary abstract artist, has gone missing for 8 days and is presumed dead:
.
.
.
.

The filmmaker, Theresa Duncan, 40, who has also drawn attention for her writings on cultural topics, committed suicide in their East Village apartment on July 10, the police said. Her companion, Jeremy Blake, 35, a well-regarded artist known for digital animation that blurs the line between abstract painting and film, has been missing since his clothes were found on a beach in the Rockaways on Tuesday evening, they added.
Link to NYT story. Here's a related item on Gothamist. Modern Art Notes has more, including word that the Corcoran will go forward with a planned exhibition of Blake's work. Above: still from Jeremy Blake's 14-minute DVD art piece "Sodium Fox," 2005. Link to Theresa Duncan's blog. (thanks, Coop, and Circuit Master)
---
'Crocodile Hunter' Steve Irwin has died.
The wildlife presenter was filming a documentary off the coast of Australia this weekend when a stingray attacked him, using its poisonous barb to pierce his chest.
According to reports, paramedics flew out to the Great Barrier Reef to treat him but he was pronounced dead on the scene.
Steve has left behind a wife, 42-year-old Terri, and two children – eight-year-old daughter Bindi and his son Bob, two. Along with a multi-million dollar wildlife empire.
---