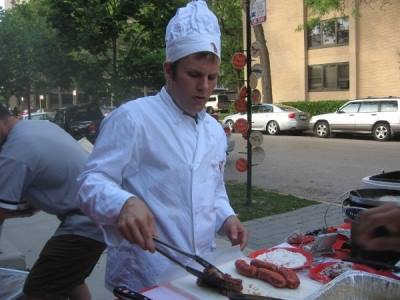 Kevin Jennings from Fryvalry III, Hyde Park Art Center, June 2009
Beloved father, husband, son, brother, artist, doorstop pioneer, deep fried meat master, incredibly skilled craftsman, personal hero, frequent collaborator and great friend Kevin Jennings passed away last week, he was 36.
Since receiving his MFA from UIC in 2004 Kevin's thoughtful and often provocative work, mostly sculptures, has been show at a variety of spaces including Slow, Second Bedroom, the Franklin, Terraformer, Heaven, 312, the MCA, Performa11, 1/Quarterly, C.O.M.A., VONZWECK, Hyde Park Art Center, D Gallery, INVISIBLE-EXPORTS, Experimental Station and others.
Kevin taught occasionally at UIC and SAIC but through his day job as the Instructional Lab Specialist for Studio Arts at UIC he trained, influenced, inspired and befriended a legion of artists.
A Memorial visitation will be held Wednesday, June 29, 2016 at the M J SUERTH FUNERAL HOME, 6754 N Northwest Hwy., Chicago from 3:00 pm – 9:00 pm.
---
Time like Ming the Merciless, tyrant of the doomed planet Mongo, catches up with everyone and not even Flash Gordon can rescue you from it's clutches. Al Williamson the Artist that helped bring more comic characters to fame then you can count passed away Saturday June 12th in upstate New York, his wife, Cori, recently released. He was 79.
Williamson the milti award, two time Eisner award winner (1996, 1997) worked from the 1950's steadily till his retirement in 1999 illustrating everything from Flash Gordon to Secret Agent Corrigan to what personally was my first comic his work bringing Luke Skywalker to the illustrated page. If Williamson wasn't making some of the best penciling even before there were such companies as Marvel or DC Comics he was inking the work of other great artists like Jack Kirby. While other artists were thinking about shadow, volume and representing the human figure in dramatic 2d space (even Kirby who's early work when compared to Williamson is dramatically different) Al Williamson was executing that with unparalleled skill and complex sensitivity.
"He was one of the more sublimely talented artists to work in mainstream comics, His men were handsome, his women were beautiful, and the landscapes he drew — alien or westerns or battlefields — always seemed lushly authentic. He made panels you could lose yourself in."
said Tom Spurgeon, editor of the online magazine Comics Reporter.
Alfonso Williamson born March 21, 1931 in Manhattan, one of two children of Sally and Alfonso Williamson. His Scottish father, was a citizen of Colombia, and soon after his son was born the family moved to Bogotá.
At the age of 9, his mother took him to his first movies which he saw a chapter in the "Flash Gordon Conquers the Universe" serial, was sold and immediately started sketching scenes from memory when he got home.
The family returned to New York when Alfonso was 13. He took classes at the School of Visual Arts (then called Cartoonists and Illustrators School in Manhattan), and was later hired by EC Comics.
Mr. Williamson's first wife, the former Arlene Sattler, died in 1977. In addition to his wife of 32 years, the former Cori Pasquier, he is survived by his sister, Liliana Gonzalez Williamson; a daughter, Valerie Lalor; and a son, Victor.
Al Williamson was a pioneer in countless ways in defining comics as we know them today and will be greatly missed.
---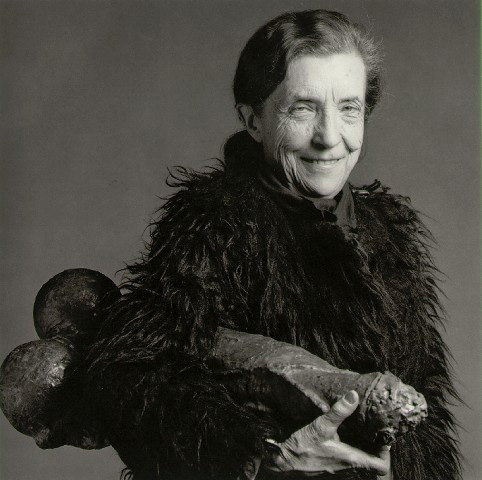 Louise Bourgeois passed away Monday in New York's Beth Israel Medical Center at the age of 98 two days after a heart attack.
Her collection of work is widely known, diverse, fun and she will be missed.
Louise who was inducted into the U.S. National Women's Hall of Fame in 2009 is survived by two sons, Alain & Jean Louis, as well as by two grandchildren and a great-grandchild. Her husband and a third son, Michel, predeceased her.
---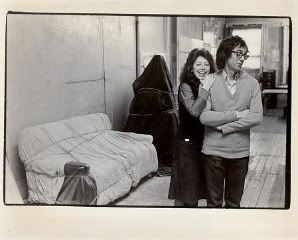 Jeanne-Claude of the artistic team Jeanne Claude and Christo suddenly passed away yesterday, November 18th. According to the Associated Press, Jeanne-Claude's death was due to complications from a ruptured brain aneurysm. Our thoughts go out to her family and friends.
If you have not seen 5 Films About Christo and Jeanne-Claude I would highly recommend it. Directed by David and Albert Maysles the documentary follows the pair as they conceive and produce their sculptures. Totally unscripted, and spanning three decades the film gives an intimate look into their relationship and the fiery personality that was Jeanne-Claude.
via Christo and Jeane-Claude's site:
The family statement said Christo was deeply saddened by his wife's death but was "committed to honor the promise they made to each other many years ago: that the art of Christo and Jeanne-Claude would continue." That included completing their current installation, "Over The River, Project for the Arkansas River, State of Colorado" and "The Mastaba" a project in the United Arab Emirates.
The Colorado project – which they had done parts of on and off for decades – involves spanning miles of the river with woven fabric. They chose the location near Canon City because of its river rapids and access to roads and footpaths. Their other projects include wrapping the Reichstag in Germany.
To view the life and work of Jeane-Claude please visit her and Christo's site.
Got a response to this post? Let us know! Email your comments to mail@badatsports.com. We'll feature thoughtful responses to issues generated by our posts in our Letters to the Editors Feature on Saturdays.
---
On Sunday September 7th Japanese artist/designer Nagi Noda passes away. She was 35. There is no word on the exact cause of her death; but people have speculated that it was related to a car accident she was in last year that had left the artist with Chronic pain and other ailments.
"Beyond being a brilliant artist and wonderful talent, Nagi was one of the most incredibly unique spirits that I have known," says Sheila Stepanek, CEO/EP Partizan US, which represented Noda. "Our thoughts and prayers are with her family and friends." Stepanek says that Noda passed "in her Mark Ryden dress, Chanel boots, perfect make-up with Viktor & Rolf lace black eye lashes."
She is most famous for the commercials she directed for Nike, Coca-Cola, and most recently for LG. She had collaborated with artist Mark Rydan on a fashion line Broken Label. The first time I experienced Noda's work was her poodle video she had made for the Olympics (above). She will be missed.
---