Having finished his speech to the visiting journalists, Christian Ringnes picks a beer from a large bucket of ice and retires to a chair. The bottle has his name on the label. And perhaps if it wasn't for his ownership of Norway's largest brewery none of us would be here. Indeed beer, and interests in restaurants and hotels, have allowed the Oslo businessman to amass one of the world's largest private collections of art. Just as they have allowed him to spend $70 million on the sculpture park that the UK press are here to see.
Ekeberg Park is on a hill to the East of the Norwegian capital. It commands views of the stunning modern opera house which sits on the edge of the nearest fjord. After lunch, Ringnes shows us round a few of his favourite pieces, a Dalí here, a Rodin there, a good showing from Scandinavia, a skyscape by James Turrell, a pavilion by Dan Graham. The philanthropist scrambles around the wooded hillside in suede shoes, oblivious to the drizzle, with evident glee about his collection. 
Some 40 miles north is sculpture park Kistefos, which is expanding at the same rate as Ekeberg. Two days after Ringnes unveils new work by Damien Hirst and the Chapmans, rival and friend Christen Sveaas, is cutting the ribbon on a monumental new piece of steel engineering by Philip King. The colourful arrangement of beams and struts may be symbolic of a family unit but there is nothing homely about its juxtaposition with the forested landscape of Oppland county.
Subsequent to the applause and the de rigeur gasps, the assembled crowd, comprising some of the wealthiest people in Norway, make their way to the complex of museum and gallery buildings for a charity auction. At this former mill, they are raising money for water supply in the developing world. A man from Sotheby's rattles through 49 lots while the guests drink prosecco and bid five figure sums, as if for fun. A smaller piece by Philip King goes for more than half a million Krone, almost $70,000. And when the final bid is sold, we are rewarded by a set from a local covers band.
Kistefos is another family business, an investment company which began life in the lumber business. Visiting their offices on the waterfront in Oslo, the contemporary paintings are wall to wall, all of them monumental. A suite of mirrored clouds by Tomas Saraceno has just been installed in the atrium. And the company employ a young man in an impeccable suit to direct the company's art holdings on a full time basis. We have been in Oslo for no more than 48 hours and already it is clear that wealthy collectors are thick on the ground.
A few hundred yards along the waterfront, Astrup Fearnley glitters in the sun: a private art gallery with a private beach. This space stems from a merger between two foundations, the founders of which both descend from shipping magnate Thomas Fearnley, born in 1841; his father, another Thomas, was one of Norway's preeminent Romantic painters and the family's chief love remains collecting art. Unprepared visitors may be surprised to find Jeff Koons' iconic statue of Michael Jackson and his pet chimpanzee has made it this far north.
Things get more unexpected in Asrtup Fearnley's temporary exhibition space. Here lie holdings by another magnanimous collector, Erling Klagge. This famous character has published his own book on purchasing art. It figures he is also a lawyer. You might just buy the fact he's a philosopher. But if you're not Norwegian, the fact that Klagge is a polar explorer to boot is fairly hard to swallow. No one in the UK is so adventurous and at the same time as discerning, as this additional Oslo player.
In short, the capital of Norway is rich and rich in art. There are collectors with money to spend, plus an educated audience with time to kill. At the Office of Contemporary Art (OCA) we even learn that, despite having less than a million inhabitants, Oslo has among the highest numbers of artist led spaces of any major city. As the National Gallery and Munch Museum move to larger premises in the city centre, they bring with them two versions of that famous scream. If Munch could see the city now, he might have had no complaints.
---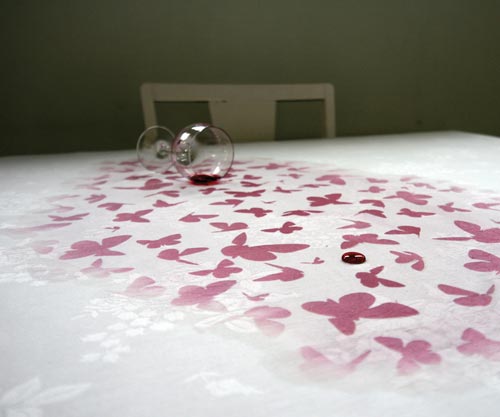 It seems the big talk coming out of the 2010 Stockholm Furniture Fair is the "Underfull Table Cloth" by Norwegian designer Kristine Bjaadal's simple damask pattern table cloth with a twist.
Built into the table cloth is a layer with a separate pattern and absorption level so that when a colored liquid is spilled the hidden design (in this case a butterfly pattern) shows through in line with the spill mark. The item is looking for a production agreement but the possibilities are endless and it's pretty original for a product over 2000 years old.
---
Have you ever wanted to yell out over a valley and a village? To just let them know your alive and harsh their day? Well you still can and all you need is a phone.
From Unsworn Industries…
Telemegaphone Dale stands seven meters tall on top of the Bergskletten mountain overlooking the idyllic Dalsfjord in Western Norway.
When you dial the Telemegaphone's phone number the sound of your voice is projected out across the fjord, the valley and the village of Dale below. PH: +4790369389
Check it out here… http://www.unsworn.org/telemegaphone/
---
The banknotes proved too much of a temptation for the thieves
A Norwegian artwork featuring banknotes glued to a canvas has been stolen from the Oslo gallery where it was on show.
The work by artist Jan Christensen, entitled Relative Value, was made up of notes worth 100,000 kroner ($16,300, 12,400 euros).
The robbers got into the gallery by breaking a window.
They then cut each note off the canvas individually and left the 6.5-by-13ft (two-by-four-metre) frame behind.
The work had already been sold to a Norwegian buyer at face value.
"The piece was sold for nothing basically. It was just an exchange," Mr Christensen told the BBC News website.
"I wanted to make a blunt work with the intention of creating a discussion about the value of art, and about capitalism, and how the art world works," he said.
Mr Christensen said he did not know whether he would make a replacement.
The artist wanted to create a discussion about the value of art
"We were afraid something like this might happen," he said.
"I didn't want to compromise the artwork but I realised it might cause some problems."
The thieves managed to make off with the money despite security measures being in place when they broke in late on Sunday.
Mr Christensen believes that the presence in Oslo of many high-profile guests for the King of Norway's birthday celebrations had diverted many of the city's police from their usual duties.
Despite the double blow of losing an artwork made up of his own money, Mr Christensen says he finds the theft "interesting".
"It proves my theory that I have made an artwork that has a value outside the gallery space."
"It means a lot to me that the myth can continue," he said, referring to the fact that the notes could end up in general circulation.
He said he found it puzzling that someone might wish to risk jail for relatively small amount of money, and is unsure as to what type of person would have stolen his art.
"It could be a drug user, but at least it's one who's interested in art," he said.
---