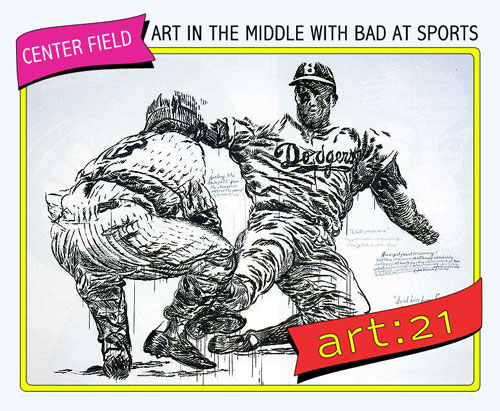 It's time once again for Fielding Practice with Bad at Sports, a special podcast produced for the Art21 blog. On this month's episode, Duncan MacKenzie, Dan Gunn, and I are joined by Abraham Ritchie, Chicago editor of ArtSlant, to delve into the wild world of art in Chicago and beyond. April was art fair month in our fair city, with the Merchandise Mart's Art Chicago and NEXT fairs taking place over the April 29-May 1 weekend and the upstart MDW Fair organized by threewalls, Roots & Culture, and Public Media Institute rolling out the weekend prior to that. We debate the pros and cons of both fairs, which–although polar opposites to one another–seem somehow to embody the strengths and weaknesses of Chicago's own art scene at this particular moment. Next, we move on to a more theoretical, and certainly more speculative, discussion of an early Modernist revival among some of the artists we've been looking at recently: from Ruby Sky Stiler, Mark Grotjahn, and Ryan Fenchel (artists who are featured in exhibitions this month at The Suburban, Shane Campbell Gallery, and Dan Devening Projects + Editions, respectively), to L.A.-based artists Amy Bessone, Aaron Curry, Thomas Houseago, and others. Click here to be taken to Art21 blog, where you can listen to the podcast and check out examples of the artists we discuss during the episode. Thanks for listening!
---
Due to time constraints little time was spent on the 12th Floor going through Art Chicago and a majority of these photos are from the Next Preview Opening. Which from the talk that I heard no one will complain about (even though what little I saw it looked to be better then previous years but Tomato Tomäto).
Coming away from the Next show much can be said about the much smaller size, omni presence of Kavi Gupta's Gallery & connections, growth of paid Marketing Partnerships in the show & the search for "Big" things to fill all the empty space. Having said that though I walked away with the feeling not of abuse but more how fragile this years Next really was, right or wrong. Any real complaignts I had seemed to fall more with the Marts operations side which seemed to either be skeleton staffed, temp hires or just poorly managed in general. A marked decline from previous years effort.
Best work of the show for me personally was surprisingly the independent groups and apartment galleries representation (which I couldn't say in previous years) they really stepped up this year in both polish, substance, displaying actual works not items they want to convince you were finished works & energy. Also I don't think enough can be said for the works in the show by Tony Tasset this year. They were well positioned, welcomed surprises & overall great work by a artist who deserves his reputation.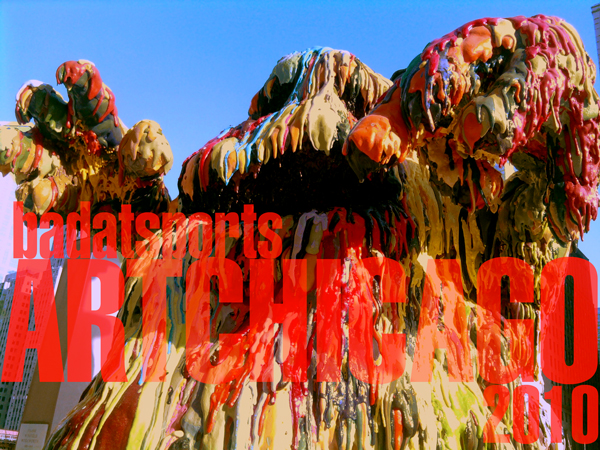 ---
It's the weekend of art fairs (and labor struggles), and another weekend of listings from Yours Truly. This was a hard pick, as a lot of great shows are opening this weekend (and everything in River North and West Loop are open, at least Saturday night). If you do make it into Art Chicago and NEXT (make sure you get one of those free passes floating around), you should defiantly come take part in Tara Strickstein's Bloodshed Event: Pataphor, where Jeriah and I will be doing battle with participants. Alright everyone, start your engines. It's time for art, and time for free drinks! Hooray!
1. SAIC Graduate Exhibition at The Sullivan Galleries

Come see what those freshly minted MFAs are churnin' out.
The Sullivan Galleries are located at 33 S. State St. Reception Friday, 8-10pm.
2. Lazy Shadows at Golden Gallery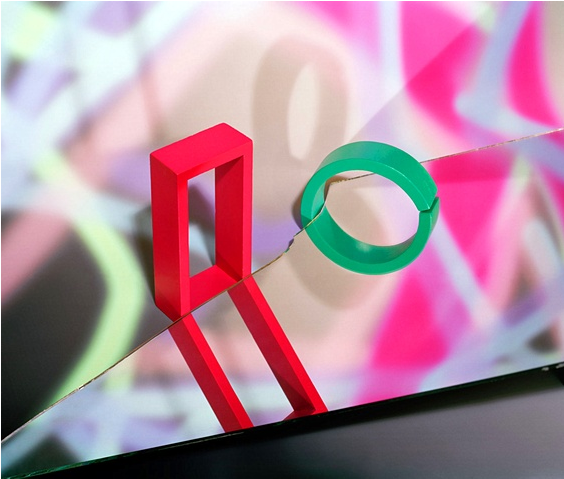 Awesome new work by Jessica Labatte. Come and enjoy the smoke and mirrors.
Golden Gallery is located at 816 W. Newport Ave. Reception Friday, 7-10pm.
3. All the Colors of the Dark at Ebersmoore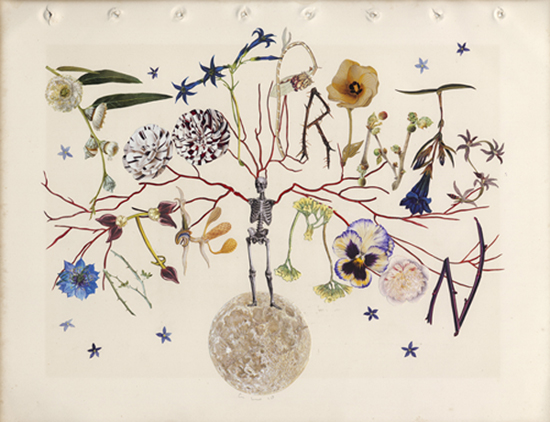 Collage and cryptic messages? Oh, so Victorian. Work by Alexis Mackenzie.
Ebersmoore is located at  213 N. Morgan. Reception Saturday, 6-10pm.
4. Passing the Torch: The Chicago Students of Callahan and Siskind at Stephen Daiter Gallery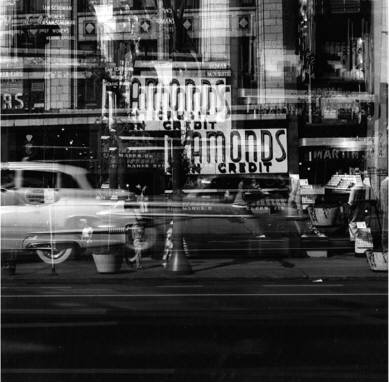 Come see the children of the masters. Work by Barbara Crane, Stef Leinwohl, Joseph Jachna, Joseph Sterling, Kenneth Josephson, Charles Swedlund, Tom Knudtson, Bob Tanner, and Mary Ann Lea (Dorr).
Stephen Daiter Gallery  is located at  230 W. Superior St. Reception Saturday, 5-8pm.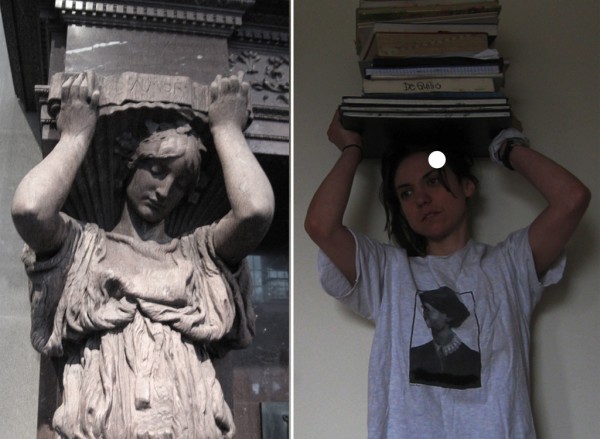 Dana DeGiulio holding up the world at Julius Ceasar.
Julius Ceasar is located at 3144 W Carroll Ave, 2G. Reception Sunday, 4-7pm.
---
I don't know about you but I am really stoked that this week is over. On this week's round up we check out the Somali pirates business model, what it is like to suffer from first person shooter disease, and yet another art gallery is shutting it's doors. I am heading over to the West Loop to catch some shows.  Hope I will see some of you out and about at openings. Take Care.
---
Or my posts on it, anyway. A few more passing images from the second day I spent at NEXT….I apologize for not linking directly to any artists or galleries here–I'm having trouble getting the WordPress desktop to align images and text properly and I can't figure out a way to insert links into captions at the moment.
---