Audio clip: Adobe Flash Player (version 9 or above) is required to play this audio clip. Download the latest version here. You also need to have JavaScript enabled in your browser.

download

It's our annual Holiday extravaganza. Now with even more Hanukkah content than ever before! Enjoy the show, have a safe and happy holiday!
---
Scroobius Pip the musician behind the previous hit "Thou Must Always Kill" is back and this time has a great video for his song "Letter From God to Man" on the same album Angel. Don't miss it!
---
---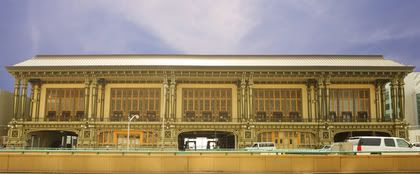 "I'd like to say that in a small way it turns consumers into creative producers," Byrne explains on his official site, "but that might be a bit too much to claim. However, even if one doesn't play the thing, it points toward a less mediated kind of cultural experience. It might be an experience in which one begins to reexamine one's surroundings and to realize that culture — of which sound and music are parts — doesn't always have to be produced by professionals and packaged in a consumable form. "I'm not suggesting people abandon musical instruments and start playing their cars and apartments," he adds, "but I do think the reign of music as a commodity made only by professionals might be winding down. The imminent demise of the large record companies as gatekeepers of the world's popular music is a good thing, for the most part."
---
From the website of the artist Ranjit Bhatnagar:
"Simple automatic instruments are constructed from local materials and objects on site. The system learns the sounds it can make by trying out its instruments, and then uses its range of sounds to try to reproduce the rhythmic and melodic qualities of sounds such as the voices of visitors. It then loops and alters these imitative sequences into improvised compositions. (That last part's not done yet, so you won't see it in the video.)
In this example, the source audio is a bit of the soundtrack from the movie Citizen Kane, and the noisemakers are a set of found object percussion machines and an electromagnetically fretted electric guitar."
The tech is pretty basic and the conversion to music is largely straight forward but the presentation of the idea is pretty sharp. I would love to see how well the system works with a high noise to signal ratio. Can it only make "music" in a relatively quiet room of two people talking or can it eliminate some white noise to find the melody of a large conversation.
---