From everyone here at Bad at Sports we want to wish everyone a Happy Thanksgiving and hope you are enjoying the warmth and food that comes with your friends, family or significant other. We are continuously thankful for you, the art work we all love and the culture that gets us excited each and every morning which is only there due to the non stop diligence of everyone involved.
Now that you are most likely full of tryptophan, sleepy and in need of a good film to watch may we offer the latest Charles Bronson film for your enjoyment…..
Happy Thanksgiving and here's to many more.
---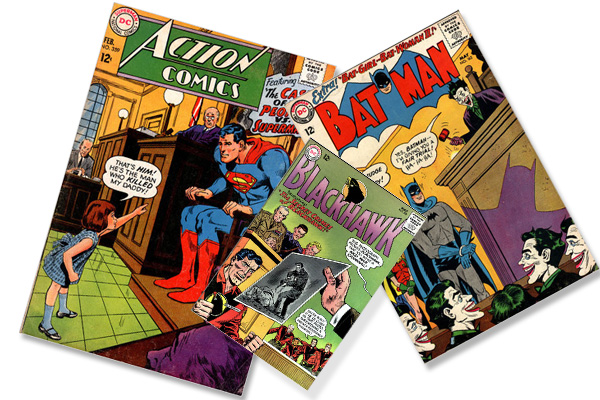 Superheroes in Court! Lawyers, Law and Comic Books
Currently on display at Lillian Goldman Law Library's rare book exhibition gallery at Yale the series showcases examples of images of superheroes in the dock, comic books about lawyers and examples of legal disputes and Congressional inquiries involving caped crusaders. My artist sense tells me somewhere a lawyer who loves comics is currently on kayak.com reserving a seat on the next flight to New Haven, CT. Read more here & here
Merchandise Mart adds LA to the portfolio of Art Fairs
Planed to open in fall of 2011 (want to lay odds it is close if not the same time as Scope: London & Zoo?) the Chicago based Merchandise Mart has hired MOCA's Adam Gross as director of the event. Read more here
The Art on the Walls of Wall Street 2
Even though the original Wall Street film was a better story and all around film it did lack in a few areas most of all it's representation of art. Work, design and taste that is so garish and laughably over the top that it is highly distracting from the story being told. In the sequal the art is more established and used as pantomime of the duplicitous emotions, mood or subtext of the film. The NY Times wrote and interesting article on the process. Read more here
Egyptian Van Gogh Heist now thought to be an inside job
A while back there was the report of a Van Gogh theft from the Mohamed Mahmoud Khalil Museum which had the art security equivalent of a ADT window decal and nothing more (seven out of 43 security cameras functioning and none of the alarms attached to the museum's paintings) now the talk is that it was an inside job. This very well may be true but llet me ask how hard was the planning session for that theft? How complex could it have been since the only thing to slow one down from a theft was remembering if it was a push or pull door at the exit? Habib el-Adly, Egypt's interior minister, said the loss was a "difficult lesson"…. Read more here
Google brings a rough version of a actual usable universal translator
called "conversation mode" which in the art world we could all use more then we would like to admit.

---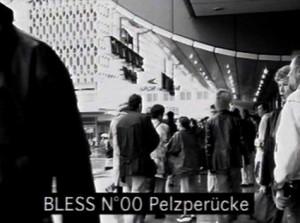 During a recent visit to Los Angeles I picked up the video compilation BLESS: Celebrating 10 Years of Themelessness at Ooga Booga. When I asked Wendy, the shop owner, about the dvd I was told "It's not for people new to Bless. You won't learn more anything about them. It's for the true Bless fan." For a moment I considered whether or not I was a true Bless fan and decided that I was.
Bless is a conceptual fashion house based in Paris and Berlin started by Desiree Heiss and Ines Kaag in 1996. They release products designed to "make the near future worth living for." They make thoughtful garments, jewelry for electronic cables, hanging wardrobe mobiles, and other items intended to be used, lived with, and sometimes discarded.
BLESS: Celebrating 10 Years of Themelessness, released by Bureau des Videos, collects 15 short videos from the Bless archive. Many of the pieces are documentation from the public presentations of their varied collections. In No25, Uniseasoners, as people enter the dining area of a restaurant they are seated by servers wearing Bless clothing. The servers take orders, bring wine, and later bring food. Everything is normal, maybe even boring, except for occasional pauses to highlight elements of the clothing. A scarf turns into a hooded sweater. In another video, No13 Basics, a narrator lets me know that we're in an apartment in Paris where several friends have spent the day together "wearing sweaters, bodysuits, trousers and customized Levi's jeans" as if they were their own.
There is nothing precious about Bless. Bless is a project that presents ideas about living. There is no lifestyle to buy, you must bring your own. As their modest iWeb page says, FITS EVERY STYLE.
---
Hope everyone is having a great Halloween and in the spirit of dressing up as things you are not here is the latest movie trailer by Spike Jonze "Where the Dirty Hipsters Are" the sequel to the smash hit "Where the Wild Things Are". Have fun!
---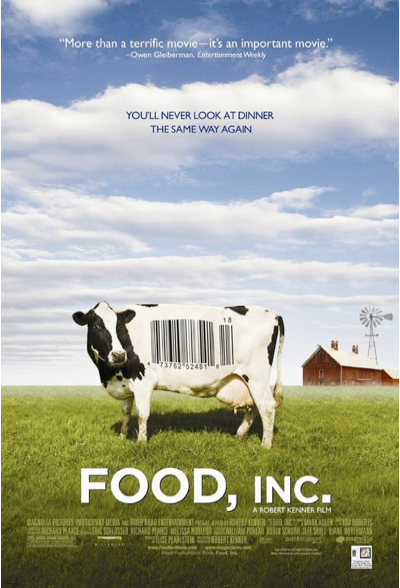 Food, Inc., by director Robert Kenner, made me feel stupid. It reminded me of every reason why I loved  Our Daily Bread, of 2006. Our Daily Bread exercised subtly and restraint, with very still, bleak vignettes of the monstrous places that produce the food we eat around the world. It does this without commentary, just offering a view of what is. Food, Inc. practices neither restraint nor subtlety. Each segment of the film is broken into segments that are announced with a title. As if we couldn't catch on that hey, now we're going to learn about corn.
If you have every seen more than one PETA video, or thought about the fact that high fructose corn syrup is in most processed foods, then this film will basically be a refresher for you. I picked up a few good conversation starters, like, if a cow were allowed to graze on grass for (I don't remember it exactly…) a whole bunch of E. Coli would be naturally eliminated from its gut. However, instead of letting cows graze, we prefer to wash the processed hamburger meat with chlorine, which also kills the virus. The breakdown of who owns what we eat was also interesting, as well as the fact that there are only three or four commercial slaughterhouses left in the entire United States.
The graphics were too cutesy and glossy for me as well. You would think a film that is focus on questioning how "natural" our food is would have more organic and basic feeling fonts and graphics, instead of super processed looking titles and animation. A lot of it felt very Disney-fied. Or maybe thats just me.
The "experts" were entertaining and knew what they were talking about. However, the selection was seriously limited. There was the bad corporation, the good farmer, the victimized small business owners, the granola hippie who went corporate, the sob story.
In general, the film was well researched, and would be great to show in an elementary or middle school. The issues are important and should definitely be given the space to be discussed. But, just a tip, if you doze off during the entire film, the directors conveniently end the film with a few minutes of bullet points of what you should have picked up during the course of the film. To summarize: buy locally, buy organically, eat seasonally, and try not to get E.Coli.
If you want to check out the trailer, you can see it here. But, if you haven't already, definitely check out its classier counterpart, Our Daily Bread.
---