This summer I visited slow gallerys' group show, Rehearsal Attire. It was an exhibit about painting and something about what slow's Director Paul Hopkin said has stuck to my ribs. Hopkin talked about how many Chicago painters created flat canvases, with a picture plane that stands parallel to the viewer, suggesting this predisposition might have something to do with our immediate landscape — the way we live in a flatland, on urban streets crowded with buildings. By comparison  Southwestern painters are prone to pictures with expansive skies and topographical landscapes  stretching indefinitely out. Hopkin admitted that conversations like that — about horizon lines and abstraction — led Fischer and Hopkin to organize Rehearsal Attire together. In this case, however, landscapes were not expressly present, nor limitless topographies. Rather, Fisher's abstract paintings hung alongside Meg Duguid, Mindy Rose Schwartz and Charles Fogarty. Duguid disassembled a wall in the gallery and packed it in a suitcase. Fogarty removed a wall from his studio, on which he had painted a gingham cloth and re-situated it inside slow, beside a pile of campaign-like baseball hats that read "LUNCH". Mindy Rose Schwartz sculpted a figure out of plaster cast with an unprimed, and partially stitched canvas face; in another work a delicate series of hoops reach off the wall at variant angles. Between the hoops' bounds, flowers and thread weave in abstract, figurative compositions. I was drawn into these works with many questions — questions about limits, deconstruction, assembly and abstraction, questions that brought me to Andreas Fischer's studio, where we discussed his approach to painting, and how Rehearsal Attire came about.
Caroline Picard:Â How do you think about horizon lines in paintings? Can you have multiple limits operating at once in the same piece?
Andreas Fischer: Things like horizon lines and spatial boundaries come from  conventions embedded in the images I have been using.  The starting points for all of my recent work are what I would call conventional everyday image types -the kinds of images that are so present that they often get taken for granted or ignored.  At the same time, though, they have a problematic status because they are completely  contested territory even though they might look stable.
On  one hand I am using various aspects of the conventional states of these images, which are socially determined. On the other hand I am  materializing a reaction by trying to reconstruct these images, which I see as an example of how any individual might react. So, yes there are definitely multiple limits and they are directed by moving changing negotiations that I see as a kind of intersection of one idea of what is social and another idea of what is individual. Painting in this sense is a kind of materialization of reception or reaction — action painting in a sense, but not as a statement — maybe more like the way an electronic instrument might monitor a changing environment.
CP: Wait — that's exciting. How is a painting like an electronic instrument? Is it responding to you or the viewer?
AF: Well, I think of painting as decidedly not static and that is a big reason I am interested in it.  I do think that so called fixed images are different from what we more clearly accept to be in motion.  Paintings are moving perhaps more slowly and can be understood as attempts to visualize actions in a heightened way.  Literally and chemically paint is  moving and changing over time from the moment pigment is ground, through the gesture of applying paint, to the drying; shrinking; aging and cracking that paint undergoes over time.
More importantly, though, a painting is an  action or gesture that begins to happen under certain circumstances and changes as the context around it changes. Our perceptions and interpretations of paintings change as the changing chemical compounds intersect with worlds that are always trying to figure themselves out. In this sense painting is like an electronic instrument in that it is a kind of sensor and feedback system that outputs interpretable data as the world moves — the meaning of the painting (or its output) changes as the stuff around it changes.
I am interested in the act of painting as a way of thinking, sorting or  diagnosing.  Both painting and electronic instruments come into being in a sense because of what they need to be able to do with their environments.  Electronic instruments are programmed to track, calculate, and relay data based on socially developed criteria or perceived need.  Maybe we do a version of this too as individuals  and if so I think painting is likely a materialization of this kind of reflection of a larger social environment.
CP:  How do you think about the logic of a single composition? 
AF: The operating functions for composition and formal relationships for me are negotiation and process. In a sense each work is compositionally and formally its own activity. The kinds of reactions and procedures that an image seems to provoke on a given day especially as these bounce off of different patterns of thought and expectation floating around in the world vary quite a bit. This part of the operation  is not a logical progression — it is more preformative, maybe a bit like the way a player responds to the action in many kinds of sports.
CP: But in that case are you playing against yourself? Like a soccer player bouncing a ball against a concrete wall with static, physical and predictable qualities? Or do you feel like the canvas/paint/medium brush are less predictable and somehow capable of responding to you, like — say — another player on the field?
AF: I definitely experience it as the latter.  What I was thinking about was the way a body navigates and responds to various barriers and desired outcomes in real time — the spontaneous interaction of it all is so much like the act of painting for me.  Maybe the ingredients of painting are not quite like another player, but more like the entire context of the game.  So yes, the medium is not predictable for me.  If I could control it I wouldn't paint.  Furthermore,  I suspect that I am deciding or acting and reacting coextensively with social interactions I have had or might anticipate having in the future.  I think this is where the distinction between  what is social and what is individual falls  apart in an interesting way because each of these determine the other and maybe there is not really even a distinction in the end.  Maybe we are really post-individual.
CP:Â How did your recent show "Rehearsal Attire" come together?
AF: Paul Hopkin and I have been talking about doing something for a while and when we started to think seriously about what a project might look like we started trying think of way to  acknowledge conversation as a generative tool. I was making work that was in many was the product of specific conversations I was having with a few people and was very interested in a group show as a way to extend that dialogue.  I think Paul had been on that page for a while before we started working on the project.
Much of art history is really the act of watching very particular materialized conversations between a surprisingly small group of people. One could argue that the real content of much art is the function of conversation or relatively intimate social interaction. I wanted to start acknowledging my work as a set of  indexes of  lines of conversation.  I wanted to take that system  into a gallery and mix it with a different group of people  having different conversations so that one conversational context would bounce off of a few others to see how they would co-mingle and resisted each other.  There are so many amazing ways that groups or specific conversations out in the world intersect with other groups.  There is something fundamentally fascinating about a semi closed circle bumping into another semi closed circle.   That vibration, that negotiation is incredibly exciting to me and has been a huge motivator for my work over the last several years.
CP:Â How do you see that fitting into the more general dialogue of painting at the moment?
AF: I see a great deal of coolness of one kind or another in painting right now. I might be interacting with that characterization in the sense that, even though I kind of love much of the work I would characterize this way, I am much more interested in a state of being thoroughly tangled in the messiness of thought, struggle, material, and process.  I am probably not anything like cool in my interaction with painting.  I think I embrace a kind of sloppy affirmational complexity that has more of a diving-into-the-muck quality to it.
CP:Â How do you think about deconstructing frames? Is that something of interest to you in painting?
AF: I love deconstruction and the expectation that it will yield different layers of meaning. But I don't think of my work in those terms right now. I think the negotiations that I see the work enacting are more like a struggle to bring things together. There is the familiar idea about early modernism that at a certain point painting became more opaque, more interested in its own materialism as a way of enacting skepticism toward unified illusion and its ability to function as a vehicle for certain idealisms, perhaps dangerously so. This is a way of seeing materially oriented painting as engaged in negation, criticism or the act of taking apart to an extent. Now that the idea of a unified illusionistic painting is historical and the more usual way for painting to function is through assertions of materialism over illusion, I think materially active painting has executed one critical task that maybe does not need to be rehearsed as insistently anymore meaning that materialism is a kind of free floating signifier that can attach itself to a much wider range of potential functions.  The range of possibilities for material activity has opened  up.
One of the possibilities can be a link between opacity and the act or struggle to form an image or to produce rather than take apart. Painting can be expected to  create a narrative construction relative to images we know to exist or not. For me the act that is most important is the act of framing in a sense, or getting an image to grow and take shape inside a frame, on a surface, or within a field.  In that case when we watch a painting we are watching something grow.
CP: One of the things I often struggle with in abstract painting is how to understand the meaning, or what is at stake in a given work. Taking what you said into account, I wonder if this idea of emergent order (is that an accurate paraphrase for "getting an image to grow and take shape inside a frame") is at the heart of the matter. Namely, whether or not a painting succeeds and/or fails at that — whether it makes the pursuit of that order interesting, and — if you'll allow a sentimental tone — heartbreaking (again, because it succeeds, or almost succeeds)?
AF:Â I totally agree with what you are suggesting at least in terms of how I would like my work to live or die. Â Heartbreak could very well be a part of it all.
I like that you use the term emergent order as well.  I understand that to be a bottom up kind of growth based on a kind of exchange and growth where no one entity is in charge, is designing or directing the process or even knows what is going on, but great innovation or development takes place anyway.  I think social interaction that flows beyond individual intent or understanding (or maybe just determines it in the end), but operates none the less is totally fascinating and it might be that many kinds of paintings are symptomatic of this kind of function somehow because they happen through a group of impulses, gestures, thoughts, urges, curiosities that just move around an individual  kind of unknowingly.  There is an argument about Cezanne, for example that his supposedly individualistic innovations in paint handling are really just marks that anyone could make, which means that Cezanne is not an old fashioned modernist genius, but a kind of repository of commonality and his brilliance is really in his assertion of a shared, common, everyday kind of simple mark that anyone could make.
In the end if all of these interactions somehow reflect something valuable  then they work.  And as you suggest, maybe if this kind of thing is true then it establishes a different way for painting to function than relying on what we might have called meaning in the past.  Maybe it is not really about the question of where or even if it ends up, but a kind of empathetic struggle to move toward something.
---
My art department's field trip this semester was to Madison, Wisconsin, to visit the Chazen Art Museum. Like many museums, the Chazen's permanent collection unfolds chronologically, progressing through art eras room-by-room, with the preponderance of work representing the modern and contemporary at the end of the tour in the biggest galleries. A funny thing happened as my class and I strolled through a millennium of art history; somewhere between the gilded altarpieces of the 13th century and the identity politics of the 1980's, I realized that much of the impact of early modernism was lost on my students, and, for a while, on me as well.
I spent my college years an abiding supporter of reductive visual evangelists like Roger Fry, Adolf Loos, Clive Bell and others who set out to strip the western world of the ornament and excess of an outmoded academy. My students on the other hand grew up mostly without art as a significant influence in their lives. Yet they and I gravitated to the same works at the Chazen that afternoon: folksy melodramas by the pre-Raphaelites, John Steuart Curry's hearty regionalism; Cossack-filled canvasses by 19th century Russian academics, and an exhibition that would have sent me running for Montmartre 20 years ago: "The Golden Age of British Watercolors, 1790–1910."
After a century of steeping in insignificance, these outliers finally seemed strange enough to pass for contemporary. Next to the forgotten neoclassicism and bizarre watercolors of the early 20th century I considered the possibility that the modernist gospel – the Manet through Pollock narrative – might be a bit overdetermined, perhaps baked too long in the ivory towers of art history departments. Conspiring with my students, to whom Piet Mondrian paintings read as clumsy academic pranks, and for whom Andrew Wyeth is an unassailable visionary, I dwelled on the legitimacy of a history subordinated by the modernist narrative; the Kenyon Coxes, the Franz Xavier Winterhalters, and the Jules Bastien Lepages. And for a while, Fernand Leger's work had never seemed so tired, and Thomas Hart Benton's never so improbably contemporary.
A few weeks later, I attended a program in New York City called "Culture Shock 1913" at the Greene Space with some friends. It recounted the events that rocked the cultural world that year, including the Armory Show, Arnold Schoenberg's first atonal symphony, Stravinsky's Rite of Spring and Marcel Duchamp's first readymade. MoMA curator Ann Temkin persuasively made the case for 1913 being the most pivotal cultural upheaval of the century; a time when civilization hung in the balance, its future up for grabs.
In terms of art I might have quibbled, but with the assist of music and literature, I was reminded of the reverberations and residue of that formal remodeling project. Listening to Erik Satie next to Stravinsky next to Schoenberg, and considering the formal inventions of Virginia Woolf and James Joyce, Picasso and Matisse started to laugh at me from their graves.
The question inevitably arises from such panel discussions as to what the next big thing in art will be. Are we doomed to languish in cyclical postmodern ennui, or does our ever-unfolding society always unpack a new paradigm at every dead end? Ms. Temkin was sure there would indeed be an "it" and "it" would be something birthed from technology and social media. Even with Picasso snickering, I had to wonder silently whether "it" might still be a wholesale reevaluation of the modernist project, dredging up an alternative history to coexist alongside the one we've taken for gospel.
On Monday, back in class, I decided to serve up some Rite of Spring to my students to gauge it's impact. Before the music could even set in, one of them blurted, "it sounds like a soundtrack to an intense science fiction movie."
"An old one?" I asked. "No one in the theaters now." I agreed that it did, but pressed no further. They were squirming and ready to flee as freshmen do when class time is up.
I looked up at the clock and confirmed that class was ending. Only as they scrambled out the door did the institutionalized simplicity of the clock strike me. "The stripped-down and reductive spawn of 1913, " I thought. Twelve sans serif black numerals stark on an ornament-free white metal disk covered in curved Plexiglas. Vladimir Tatlin himself would be proud of the legacy. And modernism ticked along implacably as the students moseyed on.
We may all be moving past modernism, but its ghost haunts us whether or not we've been listening to it rattle its chains against the tile floor of the institution for the past 50 years.
---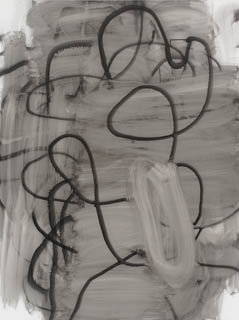 There is nothing I enjoy more than the intersection of musical performance and visual work. At Sound on Sound, a Christopher Wool exhibit at Corbett vs. Dempsey, I watched Joe McPhee activate that intersection. As stated in the CvD press release, "the title of [Wool's] show comes from a 1968 recording of [McPhee's] that has never been issued," a gesture that echoes in Wool's wall-length abstractions which play with what is, is not and what was there. With those paintings as a backdrop, McPhee 's performance created a touchstone of literal, temporal experience–a positive reminder that history is not simply a spectral projection.
Wool's larger abstracts pay homage to modernist painting just as they undermine that homage. The focus is on surface rather than paint. The paintings are flat and slick. The action of the paint appears to have taken place behind the surface–an implied, impossible-to-reach space. A space the viewer can never touch. These paintings ask you grasp for an idea–to strain through the mark-making, and parse their accumulated gestures. While the more obvious marks are high contrast–blocks of white paint that seem applied with a paint roller, or finer snaking black lines that seem straight from a can of spray paint–the meat of the work is behind those singular pronouncements. The meat of the work is the background wash, variant erasure-marks where singular phrases might have existed before. It is about what Wool erased–a project of deduction for any viewer bordering on a Rorschach print: while some of those deductions are accurate, any number of personal associations come into play, disguising the process. Looking at Wool's work is like shadow boxing–what becomes a metaphor for his project of painting abstracts at all.
The contemporary abstract painter must account for The History of Painting. Wool seems to suggest, via these spectral works, that history is impossible to grasp, elusive in it's Truth, unstable, even, as it is reliant on a present's interpretation. History becomes more an image of one's self than any real vision of what was. The viewer parses Wool's process, (or the history of each specific painting) just as Wool is reflecting and parsing the history of painting. In either case the result is subjective and, even, maudlin. It will never be requited. There is no true history.
Images of Wool: The giant bare room with countless paintings lined up along the walls. The boxing bag hanging on the periphery of a studio shot. Photographs of broken-down cars. Artist in a El Paso tank top with a breathing mask and paint gun. Wool is a painter's painter; in a frieze article his nose is discussed at length as an ideal, "A seriously tremendous nose, something a rock climber would gaze at in awe, especially if it were on the scale of Mount Rushmore. How would one begin to climb it?" All of these images, both self-created and perpetuated by others amount to a decidedly male tradition; it echoes of Pollack and yet, as one of many in a patriarchal succession: how to fill the shoes of a predecessor? How to achieve some recognition? Especially when the death of said predessor boasted a simultaneous "death of painting." A death no one really believes in, but nevertheless enjoys to bat around. (An article I read years ago, I wish I could remember suggested that every ten years we exume the body of painting to see if, indeed it is dead, before reburying it). Wool is not asking if painting is dead or alive, instead he presents ghost-paintings: after-images created out of smoke. He admits the smoke-and-mirrors archetype, while nevertheless being married to its tradition.
Last Saturday, McPhee served as a kind of in-between orator, one who played directly with the Wool's themes while creating a connection between Wools contemporary-image-of-the-past and the present moment. There was something grounding about McPhee's presence–a positive gesture on this side of the paintings. McPhee is real. He is not a ghost. His relationship to history, while profound (he came on the scene in the 60s and 70s and boasts a significant reputation as one who integrated emotional content with experimental improvisation), is nevertheless active, contemporary, literal. At the same, his work with recording equipment–particularly this devise of "sound on sound"–speaks directly to Wool's process, wherein an improvised (and emotional) recording of gesture is layered on top of other temporal gestures to create unpredictable layers.
McPhee stood between the work and the audience–a man of medium height. He wore a baseball cap and carried a soprano saxophone. The beak of his saxophone was dressed in a little furry hat–a fake animal head with two plastic yellow eyes. I liked imagining the saxophone, animated with this "hat" and McPhee in his basement, staring at the yellow eyes: no doubt they have a deep relationship. He carried the audience through a range of sounds, using the saxophone's percussive potential with windy toots and bellows; sometimes it sounded like he was blowing through a large metal pipe.
At the beginning of the performance, he called the thought of Houdini into the room, mentioning his name and encouraging the audience to close their eyes: he promised to make sounds about illusion and suggested a literal connection between himself and Wool. "We are both interested in illusions," he said. He played the saxophone and, with my eyes closed, the notes seemed to come from various directions at once despite his standing in one place the whole time. In other instances, McPhee played two songs at once, blowing through the reed just as he hummed simultaneously; eliciting a crying underbelly-sound that followed the upper sax-melody. These discordant melodies struggled to overcome one another other;Â neither one strong enough to do so. Like Siamese twins sharing a heart, the melodies shared one finite breath. Then this too would break off into a new song with sometimes sharp and shrill passages of music, like a fast forward bird–McPhee activated my inner ear, so that I heard the notes occurring outside of me, while experiencing an interior wiping sensation/sound inside of your head. And suddenly I recognized a passage–he played God Bless The Child, with some trembling, discordant defiance, pleasing in it's surprise. He took us on abstract tangents only to return in time to rescue any listener from doubt with the refrain. He then read a poem.
Joe McPhee at Corbett vs Dempsey video by Angeline Evans
I think it's important to remember any abstract improvisation can illicit a insecurity–the viewer/audience can't know where it is going. It's a little like going on a hike as a kid and not knowing where you'll end up, only that you're supposed to follow and trust the adult ahead of you. Here again there is an image of the Elder, the person showing you the steps, the person you must trust. Whether it's the history or experimental jazz, or the history of painting, we are walking down a familiar path, trying to contextualize ourselves to that history, to understand where the contemporary "I" fits in it and figure out what the next step is. Part of learning that history is falling in love with that history, just as one must recognize a life in the present, where that history is only a shade. Like Christopher Reeve's character in Somewhere in Time (1980), one must, in the end, let go old ghosts.
---