Since 2009, The Pfister Hotel in Milwaukee has sponsored a year-long Artist-in-Residence program. The selected artist sets up their studio in a glass-walled room on the ground floor of the luxury hotel, and guests are encouraged to observe and engage with the artist as they work. The 2014-2015 Pfister Artist-in-Residence was Niki Johnson, a multi-media sculptor and curator. The body of work Johnson developed during the residency was largely one of ceramic and mixed-media sculpture inspired by a selection of fairy tales. These drew from both from the Brothers Grimm and Hans Christian Anderson, focusing on Snow White, Little Red Riding Hood, Cinderella, The Princess and the Pea, Rapunzel, and Thumbelina.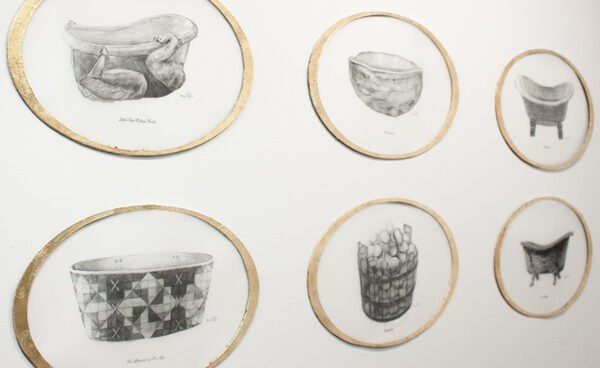 The studio space, in addition to functioning as both an artist's studio and a fishbowl for observers, also serves as a small gallery space, displaying finished works alongside those in-process. A series of images, black and white illustrations framed in gold, showed designs for six sculptural tubs created in response to each of the fairy tales. Two of the tubs, Tether (inspired by Snow White) and Lather (Cinderella), were present in the studio during my visit. Each Artist-in-Residence at The Pfister leaves an artwork behind as a contribution to The Pfister's permanent collection, and Tether was Johnson's legacy piece. It is a small tub—about the size that would accommodate a young child being read fairy tales— hand-pressed in terra cotta clay. The outside is a vivid red with gold patterning, and lined in places with cracks of gold reminiscent of kintsugi, the Japanese practice of fixing broken pottery with metallic lacquer. The interior is lined with feathers, fur, and snakeskin. The various colors, textures, and patterns evoke a certain sumptuous that feels appropriate for a luxury hotel.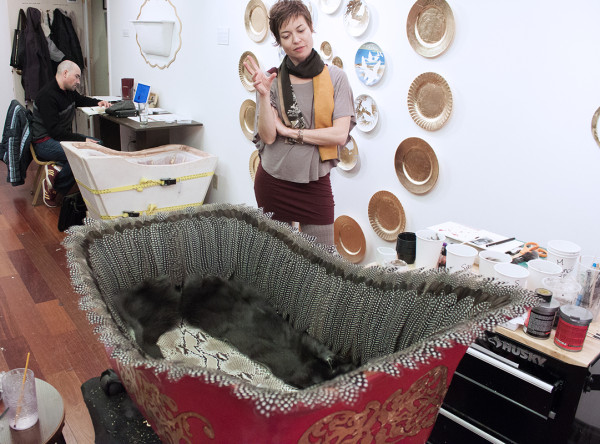 Also on display were Nest Egg, a series of altered commemorative plates making extensive use of gold leaf to create the silhouettes of birds in various natural settings, and Drop/Let, an arrangement of porcelain balloons painted in pink, white, and gold, created for the Susan G. Komen Foundation's The Pink Balloon Project. Somewhat of an outlier is the piece Laid Bare, a found late-19th-century chaise lounge elaborately reupholstered with expired French condoms.
Johnson's body of work, however, was not exactly what brought me to Milwaukee from Chicago for a weekend this spring. In lieu of a standard wine-and-cheese reception or exhibition, Johnson chose instead to close out her residency with a day-long symposium. (There is somewhat of a precedent for putting a twist on the closing reception; fiber artist Timothy Westbrook turned his Pfister reception into a runway fashion show in 2013.) The event was called MarKEt/FORWARD and designed as the first act of MarKEt, a new non-profit she is developing with Kayle Karbowski. MarKEt (a blend of the Milwaukee abbreviation MKE and the art market) is described in its mission statement as follows:
"MarKEt is a Milwaukee based non-profit that fosters growth in the Milwaukee art scene by establishing a platform for new opportunities, education and professional development for the self-made artist. Sparked by the Midwestern DIY ethic, MarKEt aims to connect Milwaukee's institutional, entrepreneurial, and financial communities, by working with established non-profits and commercial entities to create grassroots alliances."
This text is largely aspirational, as MarKEt has only just come into existence, but having spoken with Niki Johnson I find it unsurprising that she wants to take on this kind of community organizing. One gets the impression that there is a parallel universe in which she is some kind of guru: a motivational speaker, a cult leader, a brilliant military captain. She speaks articulately, giving thorough, thought-out answers to spontaneous questions as if she had some vast internal text she could draw on at any moment. "I'm not trying to run this town," she said at one point. She was smiling, but her voice was serious.
After arriving in Milwaukee the night before the symposium, I spoke with both Johnson and fellow arts writers in town for the event (James Pepper Kelly for ArtSlant and Kate Sierzputowski for Newcity). The conversation was lively, but by the end of the night I was very still very unsure what to expect; there was a lot of enthusiasm, but not a lot of specificity. Unfortunately as the symposium itself got underway, I found myself underwhelmed. Overall I was far more interested in Johnson's artworks and personal conversation than in the content of the symposium. I found myself wondering, fairly ungenerously, how someone who makes such compelling objects and speaks so charismatically could create an event I found mostly tedious.
Over the course of the day, however, I kept reaching the same realization: I was somewhat disinterested because this event was not for me, which is not necessarily a negative. As a glance at the event's graphic design or the Power Point styles of its presenters could tell you, this symposium was not slick, and its contents not especially groundbreaking, but it was serving its intended audience. It's right there in the mission statement: MarKEt is for the Milwaukee-based, self-made artist. As someone with a couple of art degrees and a life entirely lived in the orbit of the three largest American cities, this symposium was not designed with me in mind. And that's fine: perhaps too much of the art world is designed for someone (well, a man) coming to it with that perspective.
"Grant Writing Unmasked" with Melissa Dorn Richards, the first presentation after introductory remarks, was particularly unexciting to me, not because what she was saying was off the mark, but because it all seemed so obvious. Talking points included many basics: look at where a granting organization gets their funding and what projects they have funded previously; have someone else look at your application; imagine being on the other side of the table. But when I looked around the room, I saw an audience of people listening carefully and diligently taking notes. It was heartening. I'd been under the misapprehension that most people were in the same boat as me: I know what I need to do to apply for a grant, because resources about that information are all around me, but I'm disorganized, or lazy, or afraid of failure. But here is an artistic community that seems really eager for this kind of information, especially when it comes to Wisconsin-based resources like the Funding Information Center at Marquette University.
The presentation highlight for me was "Manufacturing Creativity" with Reginald Baylor, a Milwaukee-based artist working in a variety of media, and the 2009-2010 Pfister Artist-in-Residence. He spoke about how he turns to the music industry, the tech industry, and the sports industry, rather than the traditional fine art market, for inspiration in doing business. The art world, he asserted, should take a lesson from hip-hop; we can be more like Russell Simmons. "Suburban homes," Baylor told us, are "the best museums," urging us to acknowledge that there is a larger art market than that of exclusive galleries and collectors. He is interested in 200,000 buyers of his work, not 5—"I don't think I love my work enough if I only want five people to have it." In service to this kind of accessibility, Baylor sells his work out of his open studio, seeking to create an experience for his audience that is inviting rather than intimidating, more garage sale than gallery auction. His talk was an enjoyable reminder that there are infinite options when it comes to structuring the business of being an artist, and that it's wise to assess those choices in light of your audience and goals, rather than pursuing one standard prescribed model of artistic "success."
Overall, while MarKEt may not be as compelling to a Wisconsin outsider as Johnson's personal artistic practice, it seems to have the potential to be a valuable addition to the Milwaukee art scene. Smaller American cities are often undersold, with the talented and ambitious encouraged to emigrate to the nearest hub and join the fierce competition for big city resources if they wish to succeed. But Milwaukee is, of course, not merely a satellite of Chicago (which is itself often [mis-]represented as dwelling under the shadows of New York and Los Angeles), but its own site of cultural production, with its own aesthetics and values. If the receptive audience of MarKEt is any indication, the Milwaukee art community is one hungry for passionate, locally-focused organization.
---
Given the post-holiday lull and the unusually inhospitable weather – see: 'polar vortex' – I've been pessimistic about going art foraging lately. Fortunately, during a recent day of hibernation I loaded up Werner Herzog's "Happy People" about residents of Siberia living in Neolithic conditions, and my post-holiday disenchantment melted away.
"If these people can make snowshoes from fallen fir trees and catch mink with snare traps, I can't complain about how long it takes the interior of my car to heat up." So vortex be damned I drove to Milwaukee to attend the opening of Gavin Brown's exhibition at the Green Gallery.
Normally I wouldn't frontload a review with biographical information offering details of the artist's day job, but in some cases, ignoring such information is an even greater distraction than the alternative. Like when Jay Z went on his performance art jag. If you reviewed "Picasso Baby" without recognizing Him, the all-out genuflection of the art world in those ridiculous videos would seem especially absurd. Or when Dylan had his show at Gagosian, they had to begin the publicity release with an acknowledgement of his cultural significance outside the painting world if only to pacify the elephant in the room.
This is the case, if to a slightly lesser degree, with impresario, gallerist, taste-maker, and now artist, Gavin Brown, whose show, (which seems eponymously titled, though might not actually have a proper name??) runs through March 2. For someone crossing over, Brown appears to have a genuine sensitivity to the psychological possibilities of video. Though his installation is demonstrative and dramatic, it is deftly paced and masterfully controlled. "Gavin Brown," or whatever the show is called, is a subtle journey that leaves a far less subtle psychic residue.
But to get this resounding impact, one needs to bathe in his work without distraction. This happened to be an impossibility at the opening of the show, when the gallery teemed with revelers, forced inside by extreme cold. The installation features two independent projections: one on the shortest wall of the triangular interior, and another that 360's the gallery like a lighthouse beacon at about eye-level. This, along with its shrill soundtrack of screaming and pulsating alarms, made it impossible to totally escape the presence of the work at the opening, though visitors using the show as a social engagement tried anyway.
The Green Gallery's John Riepenhoff speculated that the clumsy Beckett-esque interaction with the audience might have been intentional, symbolic of the artist's own relationship between viewers and makers. To what degree this is purposeful, it happens to be an incredibly generous metaphor.
A review by Michael Horne in Milwaukee's, Third Coast Daily corroborates the tenor of the evening.
"At one point the projection was accompanied by many, many minutes of fire alarms or smoke detector signals, a bit hard on the ears in the whitebox gallery. People of a certain height (4'-7'') might also find the harsh glare of the rotating projector's lens a bit hard on the eyes as well…But this mattered not to the mostly young and enthusiastic audience. Plus, for escape, the back room of the gallery offered a sparse gathering space for networking, conversation and carbonated beverages."
More impressive than any statement about the awkward relationship between opening receptions and ideal art viewing, is the full, unadulterated experience of Brown's work, an opportunity I had several days later when I returned to the empty gallery.
One is prone, even if a veteran of non-narrative video art, to search for continuity. Even moreso in Brown's piece, as each of the videos is comprised of panning shots of a single domestic interior. A somewhat distressed woman's voice initiates the disquieting experience to come. One naturally assumes the perspective of this invisible presence and inhabits her throughout.
If the opening was a real model Panopticon, the projector chasing imprisoned spectators around an actual enclosure, the piece without an audience is a virtual prison, the viewer trapped and becoming ever more paranoid with each revolution of the swiveling projector.
One might call it suspense, but there's nothing building or changing. Besides a book whose cover reads "Keep Calm and Good Luck," and some devotional statues that might be on lookout, there's no sign of anything but comfort and safety. But the point of view and the scanning motion, that is, the form of the piece, does what one might normally expect from content. What one expects is some kind of a problem. Some kind of disruption. We grow fearful of what's outside. When an occasional car rolls up the streets outside the house, it feels sinister and phobic.
What is the relationship between the two shots? They're of the same prosaic interior, so one can't help but toggle nervously between the two searching for a sign of incongruity, which, in this context, would be problematic. This creation of this context is Brown's achievement. Why not expect a welcome guest? Why not a surprise birthday party or children coming from playing outside?
Because we assume the camera's point-of-view, which is scanning, not looking. And it feels defensive, so we feel paranoid.
Ten minutes in, the persistent continuity is finally broken on the main wall by a series of close-ups: a locked window; a staircase; an airvent; a leaking hot water faucet. Each is accompanied by its own irritating alarm sound. With the broken silence, anxiety redlines to the point that one locks up and comes to, finally resetting and reorienting with the real interior. The one that's been built out to hide any trace of natural light or hint of the outside world. The one that feels like a bunker that is closing in. And one wants out. At least I wanted out.
Out where it was 4 degrees and nearly as oppressive.
I don't know how many strata of meta Gavin Brown intentionally planned on laying down, but they worked to great effect, getting me just a few steps short of cabin fever.
Not a bad first effort for someone best known for showing other peoples' art.
---
It was a schizo week of art viewing for me that started with a trip to New York last Friday. I had been excited to hit the Lower East Side with the taste still in my mouth of Jerry Saltz's assault in New York Mag on the Neo-Mannerist painting that has taken over the Lower East Side and Bushwick (though I don't think he pins the tendency to a specific area). Reading it on the plane it struck me as a bit ironic that the fate of the LES art scene, whose life expectancy is often a subject of speculation even as galleries continue to mushroom there, should be so fastened to the the success of painting, an art form with five centuries on it, and which has risen from the dead more times than the number of years most of the LES artists have walked the planet.
But alas I didn't have the chance, so I traveled to the artistic opposite of the LES where, I targeted the Met's newly overhauled European wing. The giant Tiepolo remains on the left at the top of the main staircase, but inside, the galleries are completely restructured, and the shuffled deck of masterpieces forced me into a complete reevaluation of the story of the Italian Renaissance:
Pardon me for a moment while I digress toward the conspiratorial.
Our current notion of the renaissance wasn't codified until Jacob Burckhardt did so in the middle of the 19th century. And the treasures of art that signify that rebirth weren't substantiated until the wheelings-and-dealing of mercenaries like Bernard Berenson and Joseph Duveen canonized them only more recently. The subsequent narrative about the primacy of Italy has been reinforced by a century of lectures from auditoriums dimly lit by the pale glow from Kodak slide projectors loaded with Fra Angelicos and Mantegnas.
Despite the gospel to which we've willingly subscribed, rolling Pico Della Mirandola, Boccaccio, Machiavelli, Cimabue, Giotto, Raphael, Titian, etc. etc., into a tidy narrative that spread Northward, I had to wonder at the Met whether, if we could press 'reset' on the Game Cube of Western Civilization, we would end up listening to adjunct professors recite an alternative story of the North, of Erasmus, of the Hussites, of the Hanseatic League, and Martin Luther and Gutenberg…and of course in art, of van Eyck and van der Weyden, with Da Vinci, Tintoretto and Titian relegated to supporting roles?
If History is a story of overcoming tradition and inventing change, the North seems to have a good case for preeminence.
Art Historians, address your letters to me not to the Bad at Sports' offices.
That was the ferment in my head as I flew home the same evening to Milwaukee. The very next day I inadvertently got the antidote to the Met in Bayview, that I missed on the LES.
In a semi-improvised gallery called Usable Space at a studio building at 1950 S. Hilbert Street, on what might be the very same narrow footprint of any gallery on Ludlow in NYC, stands a modest painting show that will remind naysayers of the enduring thrill that comes from pushing pigment and binder around a canvas with a brush. The show, "Information Processors" curated by Shane Walsh serves up meat-and-potatoes painters that celebrate the gooey joys of the tradition, with more than a few eccentric, non-traditional moments to keep us on our toes. Notable are Michelle Bollinger's naked and luscious abstractions, which recall everyone from Franz Kline to John Lasker to Thomas Scheibitz, to the deliciously strange sprayerbrusher, Trudy Benson, without losing their singularity.
Janet Bruhn's "Melting Jello Cake" is too representational a title for a painting that first smacks as an abstraction with gorgeous marbled painting inside an unexpected perimeter of languid brushwork that I only eventually realized was a container. Without the title telling us, we would have naturally inferred the sense of a confectionary orgy, even if we didn't identify the subject matter directly.
There are other high points in the show, so go see it for yourself, but I'll fittingly conclude with Bradley Biancardi's "Crystal from Berwyn (after Titian)" which seems less Titian than Matisse…with a Dash of Alice Neel and David Hockney, but inspiration is inspiration.
Still, c'mon, Titian? No Van Eyck. Maybe Biancardi's influence reaffirms the triumph of the Italian Renaissance. Thinking of Titian made me doubt my musings about alternative histories. But whatever the real foundations of the last half-millennium of Western painting, it's great to see that there are still plenty of practitioners willing to carry on the legacy, willing to approach canvases without guile or cynicism, and do their best to keep the gravediggers at the art cemetery leaning on their shovels. This experience will make it easier to stomach the ailing Neo-Mannerists at the Orchard Street hospice next week.
---
After a year-and-a-half of writing about more basic cultural differences between New York and Milwaukee, the results of my cultural reconnaissance will now take the form of local art coverage. This being the first piece, I'd like to mention that, unlike NYC where almost everything including what passes for 'underground' are usually pre-dug, locating art culture in Milwaukee has proven to be a little, well, subterranean. So far the digging has been the most gratifying part of being here. Not having the luxury of a media guide dedicated to informing masses of art goers about what is yet undiscovered, is a pleasure. Searching for art in Milwaukee makes me feel feral – it's the art equivalent to hunting and gathering.
—
Like a weathered master to a young apprentice, he wrote cryptically in an email, "Look out, they think they're more pure there."
"There" is Milwaukee, and "they" are artists. That master is my friend who had lived in Milwaukee for years before moving to New York and eventually opening a gallery.
And I am the implanted apprentice in the trenches, trying to understand the lay of the irregular terrain of the Milwaukee art scene.
—
Several weeks ago I was urged by a friend of a friend to attend an event called the "Umali Awards" at a space called Imagination Giants (IMG). Unfortunately, I couldn't be there, but, was encouraged by yet another friend to check out a current show at the host space anyway.
Other than some ambiguous text on IMG's ultra spare website, I knew nothing when I contacted them to meet for a conversation (which was a nice departure from years of reviewing shows on 22nd Street in Chelsea.)
"Approaching work that deals with literal, theoretical, or conceptual space, Imagination Giants takes on interpretations of the infinite world."
"Hmmm."
I met proprietors Ashley Janke, Lara Ohland, and Tim Stoelting on a particularly steamy late evening last week. Tim greeted me at the door of a non-descript corner storefront, let me in, and suggested I take in their latest show, "Vinyl Love", while we waited for Lara and Ashley to arrive.
I milled about the show by Polish-born, Milwaukee local Waldek Dynerman feeling by turns repulsed and attracted to the strange scattering of objects and a dozen or so quirky and surprisingly handsome provisional paintings that were integrated into the space's hardware such that one might assume the thermostat and exposed piping are on the show's checklist. Dynerman's installation amply filled the gallery with everything from contorted sex dolls atop stools, to haunting video projections on bed sheets, to a working QR code that opens to a "family portrait" of the dolls in their unaltered state. A friezelike print of a glistening blue beachfront hung cheekily above a wall of gestural painting, like a Cy Twombly assaulting a Corona commercial. The entire mélange was bathed in half carnival-festive, half sex-dungeon, neon light. The kitsch here is the spoonful of sugar that helps Dynerman's more personal medicine go down. It does go down, and stays with you after you part with the work.
I had flashes of the show even as the four of us moved into a separate parlor area to discuss IMG with its creators.
Ashley, Lara and Tim met while at the Milwaukee Institute of Art and Design, and began planning the space shortly after Ashley graduated in 2012. IMG is dedicated to an expanded and reimagined notion of exhibition space, as is made clear in their somewhat obscure mission statement, which, as it turns out is more straightforward than I first gathered. They are interested in helping artists realize projects that require a large contiguous and alterable space, and to occasionally assist in producing those projects. Gallerists-cum-meta artistic collaborators.
This mission was well articulated in performative events 'Bon Voyage' and 'Amorphous Self', and in "One Ton Beach WI", a collaboration with LA-based artist Jena Lee that provided "you and yours with a day of sunny respite and warm relaxation." Meaning, they literally installed a beach in the gallery on which guests could lounge, meditate and practice yoga in the thick of the Wisconsin winter. Fun for the entire family interested in leisure activity and quirky relational esthetic projects.
But unchecked relational projects can be a challenge for a young gallery working out preperatorial issues as it goes.
Lara Ohland mentioned that IMG has faced some interesting logistical problems in their short run, but also held that their willingness to work through such issues are exactly what makes the project indispensable to the local art community.
According to Ohland, "When roadblocks have come up as we transformed our location into an inhabitable space, and developed past shows, they have come as opportunities to creatively meet the problem. When we brought the building up to code we sifted through legal documents that were not written to accommodate a project like ours, but lead us to creative solutions like turning a boarded up window into a mural. In a similar way the process of obtaining liability insurance lead to developing a performance piece, as we sifted through insurance forms that are worded in a way that they undo themselves. Obtaining one ton of frozen sand in Milwaukee during the winter and then transporting it to our gallery felt more like a performance than a task. This process, even when met with logistical problems, is informative. What I am motivated to make is influenced by the processes I know, and through IMG has come a constant flow of these opportunities."
They seem to relish unorthodox interventions. A good example is their upcoming show with Milwaukee artist Shane Walsh and his recent painting series of mix tapes he made in the 80s and 90s. Stoeling mentioned when we spoke that IMG collaborated with Walsh to find a way to place his 2-d works into a logical dialogue with the 3-d space of the gallery by turning it into a fully functioning music store circa 1987.
Given two roads, it seems IMG looks for the unpaved first, and if both are smooth, searches next for the more elevated.
When I asked what motivated the trio to start IMG, they were matter-of-factly unified in the idea that projects like theirs are what give Milwaukee's art scene its vitality. They agreed that the lack of commercial distraction combined with cheap real estate makes the scene ripe and relatively risk-free for untrammeled experimentation, though even the most worthwhile projects can shortened by the easy-come-easy go mindset of the community.
Ashley Janke elaborated:
"Milwaukee rent is affordable enough where you can get away with building a room in your attic, partitioning your studio, using the front room of your house, or making a deal with a landlord to refurbish a warehouse space into a 6,000 square foot white cube. These projects cannot be fueled by dreams forever. With little funding or market, they often evolve into transient spaces or break down completely allowing their founders to move on to larger projects or move with them."
Janke to her own credit has run an independent side-project called nAbr (pronounced neighbor) which began in her attic and has since migrated to a number of locations, settling most recently on the outdoor grounds of the Lynden Sculpture Garden. nAbr has had its own run of critically challenging shows that cross pollinates with other pop-up spaces, ultimately reinforcing the fabric of the local DIY art scene.
Imagination Giants is headed ambitiously into their second full season, with a book launch and sewing workshop by artist and author Brian Nigus, whose work derives from a summer spent with a native tribe in Papua New Guinea. This, along with the aforementioned record store to accompany Shane Walsh's mix tape collection, and a fourth year of "00000 GH00ST $HOW", a one night exhibition of horror and occult projects, should help fuel anticipation for the new season at IMG.
I spent yesterday shuffling through herds of art junkies at Bushwick Open Studios. I've been to Bushwick a dozen times in the past year and still the terrain was almost unrecognizably different. It's evolving and mutating like some crazy bird flu. Galleries everywhere. New high-end bars and restaurants everywhere else. All the old studio buildings like 56 Bogart and 17-17 Troutman have traditional galleries running out of what used to be raw studio space.
Despite the hoopla, for the most part the work at Bushwick Open Studios was boring. Not terrible, but mostly meh. Competent. Like stones polished by constant flow of water, shaped by the years, but less unique for all the wear. Still, what does one expect "pop-up" proprietors to do in the face of throngs of hungry collectors and ambitious curators, skyrocketing rents and huge expectations?
It's hard to sell a make-shift beach or an installation comprised of contorted sex dolls and grainy videos.
Freedom's just another word for nothing left to lose.
Rents are cheap in Milwaukee, and are likely to stay cheap no matter how many Imagination Giants move into bohemian areas like Riverwest or Bay View. Hopefully this will keep the challenging, chewy, difficult and eccentric shows coming.
And hopefully I'll encounter them as they do.
—
"They think they're more pure"?
Let me get back to you about this…
---
My late-night Bushwick experiences over the past seven years have merged into a single composite memory: I get dropped off by a gypsy cab on a dark street named after a Dutch aristocrat, search for a DIY gallery-opening in the basement of a basement of an abandoned warehouse that I heard about from a friend who heard about it from an art handler at his LES gallery, and afterwards I head to Kings County Bar and continue to drink Yuenglings until early in the morning and then walk back to Greenpoint along Morgan Avenue avoiding shadowy drunk strangers and feral dogs.
Given this surreal recollection, it felt very strange to go to an opening last Friday night in Bushwick at Luhring Augustine Gallery, held in a large, manicured, out-in-the-open building. The blue-chip Chelsea mainstay recently joined the East Brooklyn slummer party by opening a spacious franchise at 25 Knickerbocker Ave.
The venerable gallery hit the party scene running by hosting a blow-out opening reception of Charles Atlas video projections that was almost like watching Darren Aronofsky's "Pi" minus Clint Mansell's score. As I milled about on the sidewalk I saw the the well-heeled segment of the art world having a midlife crisis. This was its Fiat convertible and the cool young mistress with forearm tattoos riding shotgun.
Bellwether or Outlier, one couldn't help wonder. My friend and I considered the dissonance between the gallery clients' Citarellas on the Upper East and the Dominican bodegas dotting the streets around us.
"Does this move mean that Chelsea is the new 57th Street; the Lower East is the new Chelsea; Bushwick is the new Lower-East and Ridgewood is the new Bushwick?"
"What would the New Ridgewood be?"
"A pile of bedbug infested mattresses behind a KFC in Hollis, Queens."
"Maybe a sinking trash barge in Long Island Sound. Extra exclusive because the whole abject scene would be time sensitive; if you got there too late you'd be both out-of-the-know AND dead."
"Funny because it's not that far off."
I didn't end up at Kings County until 3 AM that night because I had to fly back to Wisconsin early the next morning to attend an art opening of a family friend at the Cultural Center back in Wisconsin. My mother-in-law was helping out with the decorations for the Medieval-themed art exhibition, complete with barrels of mead, monks, minstrels, and, despite my warnings that they were New World animals, oversized turkey legs.
Unlike most galleries in Bushwick, merely finding the Cedarburg Cultural Center isn't edifying; It's intentionally easy to locate and its target audience is anyone who can fit through its well-decorated doors with close-toed shoes. It has a large sign out front and amply distributed posters at every diner, curio and fudge shop letting everyone who passes through town, young and old, square and hip alike, know when a spectacular cultural event will take place.
That evening I headed from my in-laws house to the Cultural Center – not a three-minute walk even if I was obstructed by rogue dogs and drunken streetwalkers. When I arrived I chatted up several of the volunteers who were still prepping for the opening, rolling antiqued, walnut stained wine barrels and draping tables in scorched burlap to give the Sheetrocked and acoustic ceilinged interior the patina they must have imagined glazed the Middle Ages. It all seemed a bit like a stage production or scene from a Monty Python movie; even so, it was such an earnest and unpretentious spectacle that Guy Debord himself might have granted them amnesty.
Drinking from flagons and picking turkey from my teeth, I had to wonder whether such a charade, especially one which professed to be art, was without pretense. If pretense is false display, this exhibition was both pretentious and spectacular by Guy Debord's own standards about represented reality. High crimes in some high-cultural precincts.
Throwing back the last of my grog and adjusting my coffee filter hat, I wondered whether it was more pretentious to prove how resistant one is to the spectacular by entering a race to the obscurest of bottoms, or to have an art exhibition in 2012 based on a theme lifted from a Bugs Bunny cartoon, especially when art has suffered through a 150 years of modernist purification and 75 of Frankfurt School warnings about the implications of received culture.
When the antiqued barrels were finally emptied of their spiced wine and the turkey legs were gone, me, a jester and a monk headed out for a nightcap. Looking down Main Street our choices were illuminated in the night: "C. Weisler's" "R.J. Thirsty's" and T.J. Ryan's." Their signs radiated like supernovae, practically beseeching our company. No secret doors, no back alleys. I imagined how weird our motley cast of bouzingots would have looked shuffling down a desolate Bushwick street searching unmarked doors for the one opening to a secret demi-paradise of artfully crafted drinks and conversations.
With all this on my mind I dropped a joke. "How many hip intellectuals does it take to screw in a light bulb?"
A collective head shrug.
"It's an obscure number you've probably never heard of!"
A collective 'huh?'
Dave the monk ended the radio silence, "Did you hear about the artist who starved to death?….He didn't have enough MONET to buy food."
Harmonious laughter.
So obvious, I thought. So obvious, indeed.
A monk, a jester and an artist walk into a bar…
---