1. Ground Floor at Hyde Park Art Center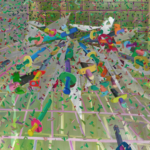 Co-curated by Dawoud Bey, Michelle Grabner, Caroline Picard, and Daniel Sauter, Allison Peters Quinn and Kate Lorenz, with work by Evan Baden, Hannah Barco, Greg Browe, Houston Cofield, Maggie Crowley, Barbara Diener, Assaf Evron, Andrew Holmquist, Kelly Lloyd, Jesse Malmed, Esau McGhee, Ben Murray, Celeste Rapone, Kyle Schlie, Tina Tahir, Keijaun Thomas, Daniel Tucker, Ramyar Vala, Julie Weber and Nicole Wilson
Hyde Park Art Center is located at 5020 S. Cornell Ave. Reception Friday, 6-8pm.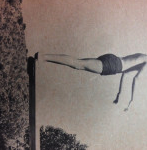 Work by Alex Chitty.
Adds Donna is located at 4223 W. Lake St. Reception Sunday, 2-5pm.
3. Double Cherry at Threewalls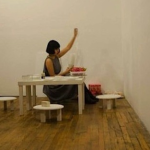 Curated by Katie Vota, Jonathan Kusnerek, Megan Cline, Abbey Muzatko, and Meredith Donnelly.
Threewalls is located at 119 N. Peoria St. Reception Friday, 8-11pm.
4. Hold Together at Johalla Projects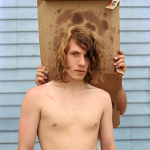 Work by Lisa Lindvay.
Johalla Projects is located at 1821 W. Hubbard St. Reception Friday, 6-9pm.
5. Effeminaries at Western Exhibitions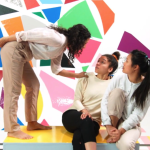 Curated by Matt Morris with work by Cameron Crawford, Danielle Dean, Chris Edwards, Greg Ito, Kacie Lambert and Joel Parsons.
Western Exhibitions is located at 845 W. Washington Blvd. Reception Friday, 5-8pm.
---
As thick as the phone book of the town I grew up in, the catalogue for the 2014 Whitney Biennial is a whopper, coming in at 419 pages. But seeing as how this year's Biennial was an impressive three floors, the attendant corridors, stairwells, random outside spaces, and more than 100 artists, maybe it's not so big after all. Like the Biennial itself, the body of the catalogue is dived into three sections, one for each of the three curators: Stuart Comer, Anthony Elms, and Michelle Grabner. Each of these sections contains a contextualizing essay by the respective curator. In an interesting formal note is that the three sections are printed on different paper, which has the effect of making each section literally feel distinct.
Evaluating a catalogue is difficult; the success depends on what the reader is looking for. As preparatory material for viewing the exhibition, the catalogue is perhaps most successful. I doubt I would have enjoyed the exhibition as much if I had not read all of the essays beforehand. These essays proved invaluable to my visit to the Whitney. I previewed the artwork and made notations about the works with which I wanted to spend a little time. This method is itself flawed, because we all know that seeing a work in person is a very different experience from looking at pictures, no matter how lovely. It also mostly rules out the element of surprise. But honestly, the Whitney Biennial is such a massive undertaking for me as a viewer; this seemed to be my only method of making sense of this large and incongruent collection of artworks.
As a thorough record of the exhibition, the catalogue also succeeds, which in this case is important because the Biennial is nearing its close. When I read a catalogue that is little more than reproductions of the art, with the wall text on the following page, I am disappointed. A person is lucky to view a show once, let alone twice, but a book is different. There's no end to a textual exhibition. We can visit anytime we want. This is where the catalogue succeeds. The 2014 Biennial contains a substantial amount of performance, audio, and video work. These are notoriously hard to capture on the page. Stuart Comer's section is rife with essaylettes on selected works. There are writings on the performance works, which is great because although I visited twice, I didn't manage to coincide with a single performance. Although all of the curators included text-based work, it is most noticeable in Anthony Elms' section. I missed much of this text during my visit. It was crowded. It was hard to see. Text takes a lot of time. At home with a book, I have all the time in the world.
As an accurate reflection of the 2014 Whitney Biennial, I am less sure of the success of the catalogue. In the introduction the authors state, "If there is any central point of cohesion, it may be the slipperiness of authorship that threads through each of our programs… In many ways, it has simply become inefficient to slow down and figure out who is responsible for a specific idea or action, opening up interesting areas of collaboration." While the authors are describing the discrete works in the show, perhaps this whole idea might be applied to the Biennial itself; it is very slippery. But the catalogue is intentionally less so, with its Roman numeraled sections, and three different paper stocks, the catalogue makes clearer distinctions than the curators do. The final section is by Michelle Grabner is marked by the inclusion of numerous conversations between artists, including Dawoud Bey, Christopher Williams, Rochelle Feinstein, Gaylen Gerber, to name a few. While all this focus on process seems as if it should make this section feel more slippery, it does the opposite—it concretizes the final section of the book. Real people, real artists, talking to other real people. The overall effect is humanizing, and intimate, a feeling that was impossible experience at the show.
Ultimately, I recommend this catalogue for those who want a serious look at the 2014 Whitney Biennial. This is not a coffee table book, nor is it a casual exhibition catalogue that one can leave on their bedside, to casually flip though before dropping off to sleep. No, this is the kind of catalogue you need to read while sitting up, with a cup of coffee. You might want to take some notes. If you have reading glasses, you better get 'em.
Whitney Biennial Catalogue 2014
paperback, 416 pages
Yale, $55
---
Guest post by Lise Haller Baggesen
IN THE YEAR OF THE SCAVENGER, THE SEASON OF THE BITCH…
… in the fossil fueled states of American gloom and doom, we are headed south on LSD, a donnerwetter looming on the horizon as a tic in the corner of our left eye. Shot-size raindrops splatter against the wind-shield from the sky turning from gunmetal grey to violaceous to petroleum green behind the silhouetted skyscrapers, swaying gently in the balmy November breeze as the wind picks up and a tornado warning ticks in on the mobile device, interrupting Kanye West suggesting that this would be a beautiful day for  jumping out the window/letting everything go/letting everything go…
Indeed it is a beautiful day!
This apocalyptic weather, reminding us that the doomsday prophets were probably  right, that this is not the 11th hour, that we are already fashionably late, makes it the perfect day for checking out a couple of shows in Chicagoland contemplating our species' self-destructive impulse.
Hamza Walker's modern day vanity Suicide Narcissus at the Renaissance society reads like a visit to the men's department at Barney's: tight and tasteful grey-tones with a splash of lush jungle green thrown in. Not unlike, in fact, its 17th century's Dutch counterparts careful rendition of bridles and soap-bubbles, tulips and skulls, reminding us that the world is forever coming to an end.
The super symmetrical show is arranged on both sides of a corridor leading up to Katie Paterson's All the Dead Stars, a map of said stars corresponding to the place on earth from where they were discovered laser etched into a matte black anodized aluminum sheet, creating an eerie map resembling a burnt out earth as observed from space. Observation posts glow-in-the-dark with the half-life luminescence of radioactive material, our radio signals still on their way to infinity and beyond long after we're gone. From here we can turn left or right (or right and three quarters or maybe not quite) but either route will coil back on itself into a cul-de-sac, a dead end from where we can only retreat the way we came.
Each of the works in the show display the mechanics and dialectics of their creation in plain view, if not front and center to our reading of the works, like the endlessly similar variations of rope, pulley and mirror of Thomas Baumann's perpetuum mobile Tau Sling or the dead pan unedited single channel registration of Nicole Six and Paul Petritsch' Spatial Intervention, showing a lone figure hacking his way through the ice, in a circle surrounding himself. Not really sure if this unromantic reference to Kaspar Davids Friedrich's Eismeer (the Sea of Ice from 1824), is going anywhere outside of its own hermetic picture plane, but whether we are witnessing a painfully slow suicide attempt here, or just some Sisyphus slow-motion slapstick, as a viewer you feel as frozen in time as the lonely man on the ice.
The row of vitrines that make up Harris Epaminonda and Daniel Gustav Cramer's Infinite Library display a collection of reappropriated books -by the looks of it European post war encyclopedias and reference books with faded color reproductions of artworks and plants, painted over with geometrical figures that seem to suggest some obsolete world order, while Lucy Skaer's Leviathan's Edge, a whale skeleton boxed in a drywall space, opened up in three narrow slits, through which we can only partially admire the brittle grandeur of the beastly remains would not be out of place in a gentlemen's explorers club, that other society, where adventurers who come back to tell the tale can compare their booty- Jolly good!
In a darkened cinema space, similar to a home entertainment den, Daniel Steegmann Mangrane's 16mm, 2009-2011 the exhibitions only truly juicy work, is contained -as if its lush Amazonian green would otherwise spill out and contaminate the rest of the show in a toxic spill of unbridled fertility. Like decorative kale in a millionaire's front yard its nutritious value is rendered void, and we are left with eye candy. This is our reward. The five minute 16mm film loop leaves us ample time to contemplate the cable running near the top of the picture frame along which the camera pulls itself still further in to the heart of darkness, the whirring of the projector behind us competing with the dense cacophony of jungle sounds on the soundtrack of the projection before us, until the movie without further ado comes to a dead stop and the screen goes black. The End.
On the surface, Suicide Narcissus mainly examines and admires its own elegant rhetoric. Initially I considered this the exhibition's demise, but on reexamining it I have come to think that perhaps this is exactly its point: Like Nero playing the fiddle as Rome burns, you find yourself confronted with your own disengagement, as you consider the aesthetic possibilities and fashion choices of the world going to hell in an evening clutch. It is an uneasy notion, like deleting yet another petition appeal from you e-mail inbox.
As an antidote to this tasteful ennui may I suggest a visit to Dana DeGiulio @ The Suburban, which will tear you out of your inwardly spiraling anxiety attack and throw you right back into the real with the welcome catharsis of your friendly neighborhood suicide bomber.  The battered backed-up Buick sedan is ramrodded into the cinderblock structure that makes up the central exhibition space at The Suburban with a precision that sits in the sweet spot between demolition and embellishment.
The curious fact that the car is damaged front and rear gives the impression not so much of a drunk driver swerving out on control, tearing through the front yard in the early hours of a sleepy suburban Sunday morning, but more of the feel-something- anything of a soccer mom's revenge, later same morning, her anniversary.
And the shattered head answers back And I believe I was Loved I Believe I loved Who did this to us?
Because we can only contemplate art from our personal vantage point, just like we can only imagine Armageddon in our own time, I will approach this from the angle of Burn Out with their totaled car park in the center of Copenhagen and their smashed up ticketing booth for De Appel's Crap Shoot (-a memorable show that culminated for my own part in a visit to the ER after a visit to the exhibition's socially (un-)engaged Absolut-free-for-all-vodka-bar and a subsequent act of cycling under the influence ending abruptly when my front wheel got stuck in an Amsterdam tram rail and sent me to a dead stop against the wet asphalt). Curiously, these works originated round about the time when the 1996 LeSabre was still a classy car, but seem almost quaintly didactic now, in their 90s engagement with institutional critique, compared to this work which points only to its own calibration of annihilation through acceleration, suggesting that we are all flying solely by our instruments by now, no line on the horizon: In a godless universe you need to rely on your own moral compass, or perhaps some secular religion. Art for arts sake can be just that. It can be it's own means and end.
It is an appropriation and an approach, but how do you approach appropriately, being in a banged out car and your aim the feel of not to feel it?
This is subtle and has to be premeditated. Premeditation is available in the form of a brochure which contemplate the estimated market value of the Buick before and after impact as compared to a circular silverpoint painting by Michelle Grabner, as consigned by Dana DeGuilio to James Cohan gallery and sold before the Buick hit the brick wall, perhaps to offset the costs of a second hand car and a cinderblock shed? The end is a zero sum game.
On the 10th anniversary of the suburban, this will be that last one for this building where it all began. Now structurally unsound, It will be torn down at the end of the show, or when the Oak Park police and zoning inspectors step in and say that it is time to clean up the mess, whichever comes first.
In Michelle's own words: "This is the end of the suburban as we know it!"
THE END.
Credits: Dana DeGiulio would like to thank her pit crew. I would like to thank you for reading.
Lise Haller Baggesen (1969) left her native Denmark for the Netherlands in 1992 to study painting at the AKI and the Rijksakademie. In 2008 she relocated to Chicago with her family, where she completed her MA in Visual and Critical Studies at the SAIC in 2013.
In the meantime, her work evolved from a traditional painting practice toward a hybrid practice including curating, writing and immersive multimedia installation work.
 Her book "Mothernism" will be published on Green Lantern Press and The Poor Farm Press in 2014.
---
So, for some reason I thought the 2014 Whitney Biennial list was supposed to be revealed in December but instead it came out today!
Congrats to all our friends and the folks we do not yet know. We can't wait to see the show.
As curated by Anthony Elms, Stuart Comer, and Michelle Grabner:
Academy Records and Matt Hanner
Terry Adkins
Etel Adnan
Alma Allen
Ei Arakawa and Carissa Rodriguez
Uri Aran
Robert Ashley and Alex Waterman
Michel Auder
Lisa Anne Auerbach
Julie Ault
Darren Bader
Kevin Beasley
Gretchen Bender
Stephen Berens
Dawoud Bey
Jennifer Bornstein
Andrew Bujalski
Elijah Burgher
Lucien Castaing-Taylor, Véréna Paravel, and Sensory Ethnography Lab
Sarah Charlesworth
Yve Laris Cohen
Critical Practices Inc.
Matthew Deleget
David Diao
Zackary Drucker and Rhys Ernst
Paul Druecke
Jimmie Durham
Rochelle Feinstein
Radamés "Juni" Figueroa
Morgan Fisher
Louise Fishman
Victoria Fu
Gaylen Gerber with David Hammons, Sherrie Levine, and Trevor Shimizu
Jeff Gibson
Tony Greene curated by Richard Hawkins and Catherine Opie
Joseph Grigely
Miguel Gutierrez
Karl Haendel
Philip Hanson
Jonn Herschend
Sheila Hicks
Channa Horwitz
HOWDOYOUSAYYAMINAFRICAN?
Susan Howe
Jacqueline Humphries
Gary Indiana
Doug Ischar
Carol Jackson
Travis Jeppesen
Alex Jovanovich
Angie Keefer
Ben Kinmont
Shio Kusaka
Chris Larson
Diego Leclery
Zoe Leonard
Tony Lewis
Pam Lins
Fred Lonidier
Ken Lum
Shana Lutker
Dashiell Manley
John Mason
Keith Mayerson
Suzanne McClelland
Dave McKenzie
Bjarne Melgaard
Rebecca Morris
Joshua Mosley
My Barbarian (Malik Gaines, Jade Gordon, and Alexandro Segade)
Dona Nelson
Ken Okiishi
Pauline Oliveros
Joel Otterson
Laura Owens
Paul P.
taisha paggett
Charlemagne Palestine
Public Collectors
Sara Greenberger Rafferty
Steve Reinke with Jessie Mott
David Robbins
Sterling Ruby
Miljohn Ruperto
Jacolby Satterwhite
Peter Schuyff
Allan Sekula
Semiotext(e)
Amy Sillman
Valerie Snobeck and Catherine Sullivan
A.L. Steiner
Emily Sundblad
Ricky Swallow
Tony Tasset
Sergei Tcherepnin
Triple Canopy
Philip Vanderhyden
Pedro Vélez
Charline von Heyl
David Foster Wallace
Dan Walsh
Donelle Woolford
Molly Zuckerman-Hartung
PS. Thanks to Jerry Saltz's facebook for the list.
---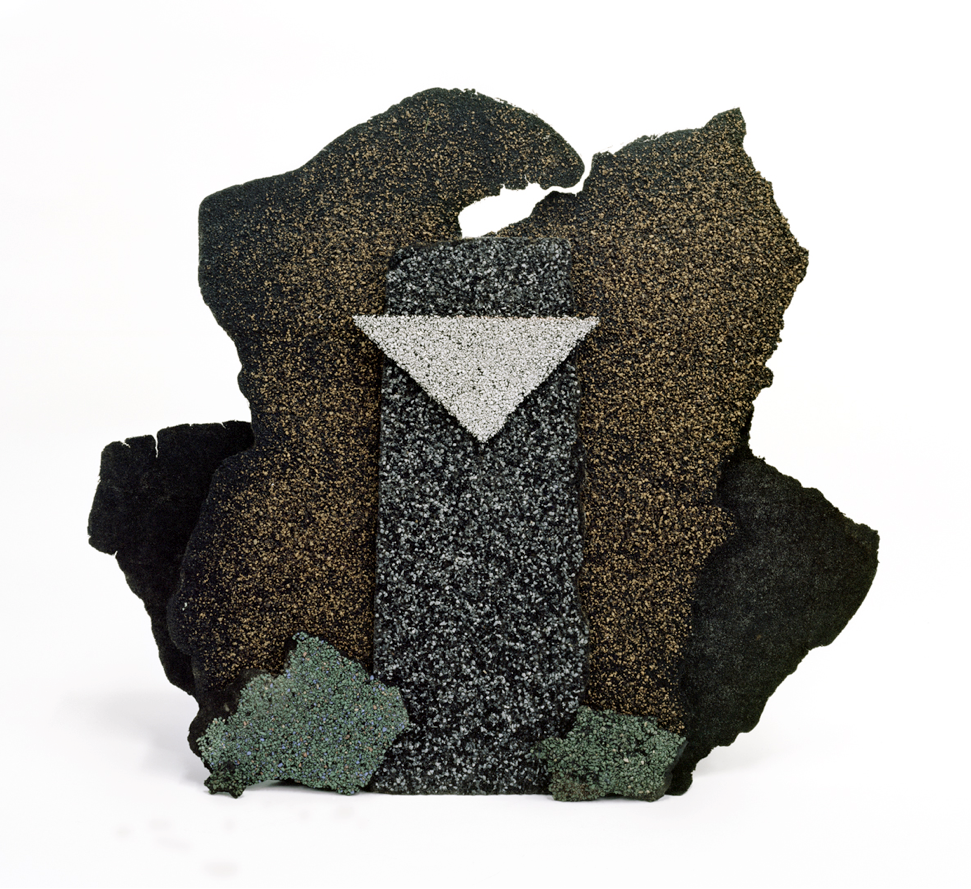 Work by Alberto Aguilar, Peter Fagundo, Julia Fish, Michelle Grabner, Jessica Labatte, Nick Ostoff and Allison Wade. Organized by Michael Milano and Jeff M. Ward.
Adds Donna is located at 4223 W. Lake St. Reception Sunday, 4-7pm.
2. Ill Form and Void Full at Valerie Carberry Gallery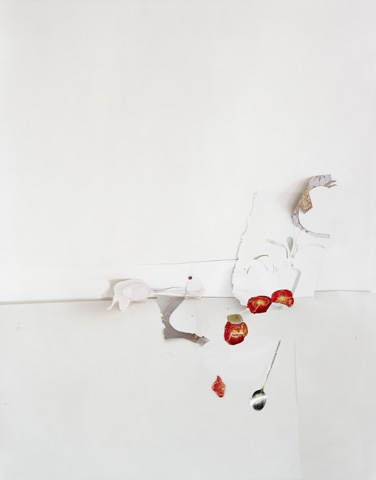 Work by Laura Letinsky.
Valerie Carberry Gallery is located at 875 N. Michigan Ave. #2510. Reception Friday, 5:30-8pm.
3. Blood Work at the International Museum of Surgical Science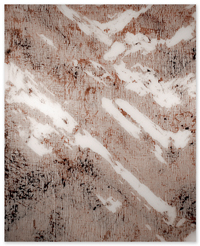 Work by Jordan Eagles.
International Museum of Surgical Science is located at 1524 N. Lake Shore Dr. Reception Friday, 5-9pm.
4. The Great Refusal: Taking on New Queer Aesthetics at Sullivan Galleries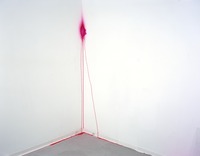 Curated by Oliverio Rodriguez, with work by Jordan Avery, Beatriz Aquino, Shandi Hass, Kiam-Marcelo Junio, Nicole Ricket, Jackie Rivas, Hannah Rodriguez, Ali Scott, Jannah Tate, Dana West, Sky White, and Nikki Woloshy.
Sullivan Galleries is located at 33 S. State St. 7th Fl. Reception Friday, 4:30-7pm.
5. Alleys and Parking Lots at moniquemeloche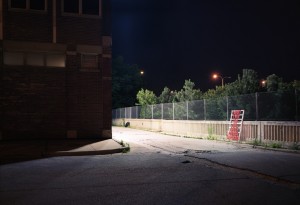 Work by Joel Ross and Jason Creps.
moniquemeloche is located at 2154 W. Division St. Reception 4-7pm.
---