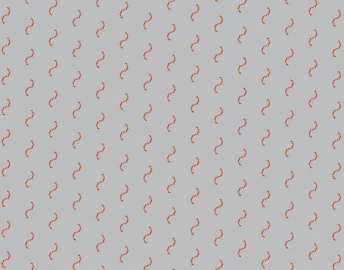 Work by Alex Chitty and Zach Reini.
LVL3 is located at 1542 N. Milwaukee Ave. 3rd Fl. Reception Saturday 6-10pm.
2. To Win And To Hold at The Mission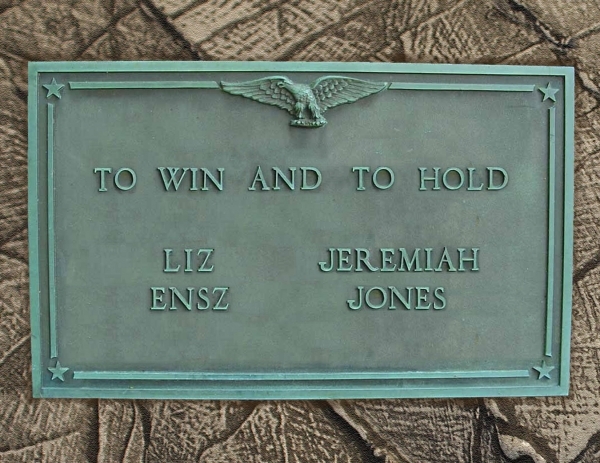 Work by Liz Ensz and Jeremiah Jones.
The Mission is located at 1431 W. Chicago Ave. Reception Friday 6-8pm.
3. The Breakup at Rhona Hoffman Gallery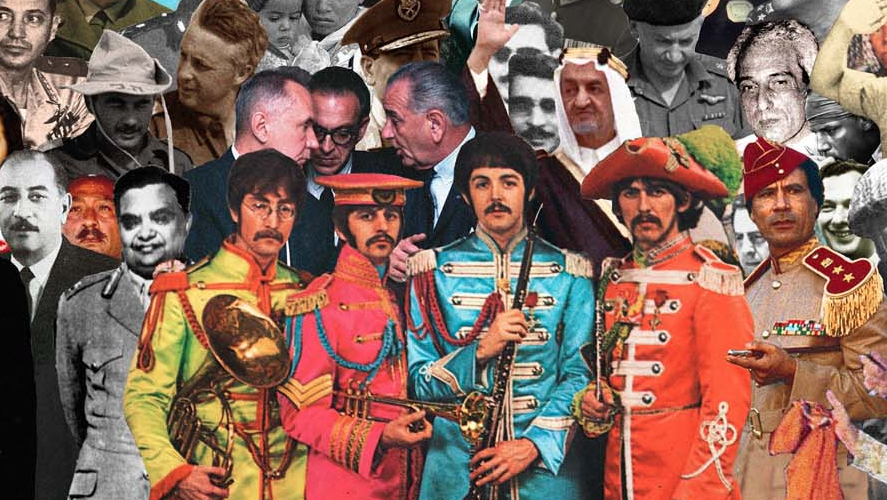 Work by Michael Rakowitz
Rhona Hoffman Gallery is located at 118 N. Peoria St. Reception Saturday 2-5pm.
4. Release Show at Chicago Artists' Coalition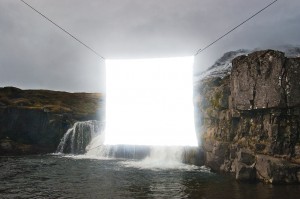 Work by Jesse Butcher, James T. Green, Kasia Houlihan, Chris Meerdo, Ryan Peter Miller, and Rebecca Parker.
Chicago Artists' Coalition is located at 217 N. Carpenter St. Reception Friday 6-9pm.
5. Experience is Limited to the First Person at TRITRIANGLE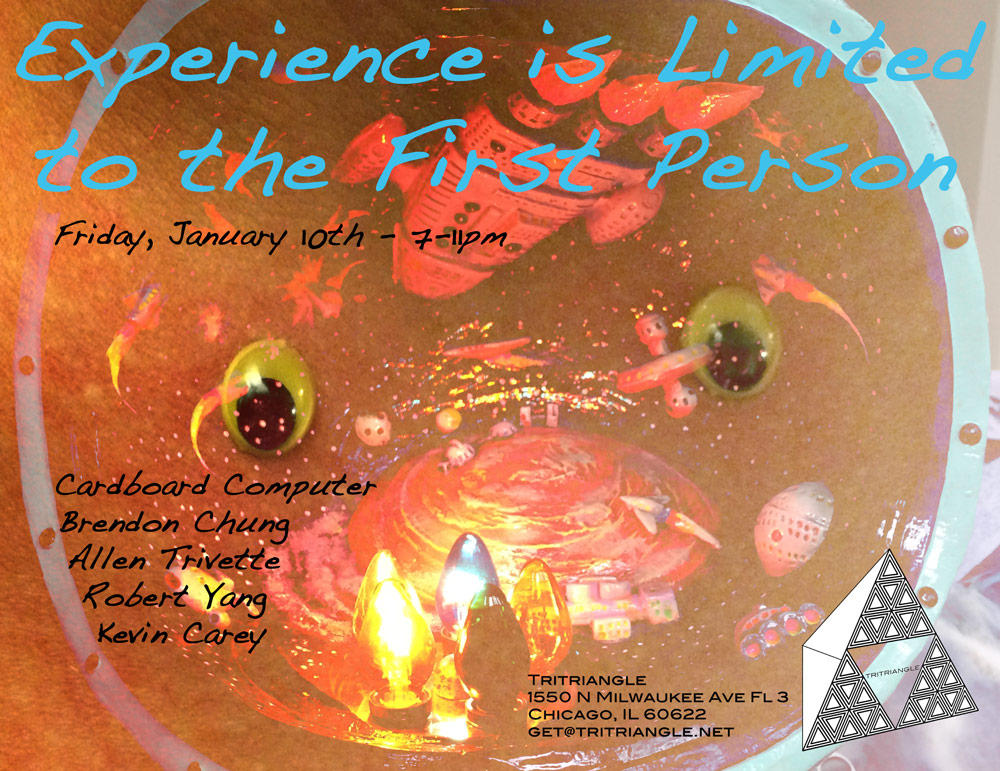 Work by Cardboard Computer, Brendon Chung, Allen Trivette, Robert Yang, and Kevin Carey.
TRITRIANGLE is located at 1550 N. Milwaukee Ave. 3rd Fl. Reception Friday 7-11pm
---
Instigated in conjunction with "The Locational Turn? Reflections from Chicago on documenta in Kassel, Alexandria, Banff and Kabul" panel discussion held November 13 (2013) at the Block Museum on Northwestern University.
by Daniel Tucker
Anyone who tries to generalize about "the art world" owes you an explanation about which world they are describing. While there is undoubtedly overlap between major institutions, mid-sized institutions, high-end commercial galleries, universities, art schools, community colleges, apprenticeships, auctions, internships, craft galleries, non-profit galleries, informal and community-based cultural centers,  residency programs, private philanthropists, collectors, public grants, magazines, theoretical journals, blogs, public art commissions, street art, artist collectives and individual artists – they can still seem worlds apart.
One world that can seem worlds apart is that of the Documenta exhibition, founded in 1955 by Arnold Bode, to occur every 5 years and reconnect post-war Germany to the contemporary art conversations and practices developing internationally. Produced by the documenta and Fridericianum Museum Event Company which provide the ongoing organizational infrastructure to keep the project going, the exhibition is largely guided by a curator. This position is akin to "being the mayor of a small city," according to Michael Rakowitz, a Chicago artist exhibiting in this years show (1). In 2008 the search committee arrived on Carolyn Christov-Bakargiev as the curator, and she began her work on January 1st, 2009 re-inventing what has become over the last 13 incarnations, a crucial node in the intellectual and critical discourse of art around the world – itself producing conversations, catalyzing careers, and generally generating trends that will be talked about in years to come (in Chicago over the last year at the MCA, SAIC's Sullivan Galleries and U of C's Logan Center Exhibitions there have already been three exhibits of re-worked pieces shown at documenta13). In the summer for 100 days, from June 9th to September 16th of 2012, over 300 artists, writers, and thinkers participated in documenta13 in Kassel, Germany.
In 2012 a remarkable number of Chicago artists were invited as participants. Theaster Gates (with John Preus and Rebuild Foundation), Claire Pentecost, Michael Rakowitz, and Lori Waxman are all exhibiting works. A number of Chicago-based authors produced texts for the 100 Days 100 Books portion of the programs including Brian Holmes, WJT Mitchell, David Nirenberg and Jane Taylor. To have this many participants from one city would be unusual, but for it to be a city so detached from the commercial facets of art selling (gallerists, collectors, auction houses, etc) and so oriented towards political, community, and socially-engaged art is what makes the decision stand out.
Locally there has been a thriving art community in Chicago that is focused on strong social bonds, engagement with concerns and disciplines that exceed the focus of art, and political and ethical commitments around themes ranging from war and labor to housing and food. This has a long history in the city, dating back to the 1960s in terms of direct lineages with existing practices. It has developed in a particular and regionally-specific way, while art since the 1980s more generally in the United States has experienced a gradual engagement with political and social life. All over the country, but particularly on the coasts, there are art schools and universities initiating "Social Practice" focus areas for students interested in art that deals with social forms as a material in place of traditional art materials and mediums that have come to include clay, video, performance, paint, photography, sculpture, murals, and interactive websites, among many others.
Through my study of Chicago, I have observed that this turn towards "the social" is less of a turn, and more of a ever-present fascination. It has also been observed today, as well as in reflections on history that the work in Chicago has always been more serious than elsewhere. In a dialogue held at the South Side Community Arts Center, respected photographer from the Black Arts Movement  Bob Crawford spoke to his experience doing a photo show in New York City, where he observed that "the Chicago photographers' work was usually more political. And the New York photographers' work was a little more "art," narrowly."(2)
Deeply familiar with the Chicago artists and authors participating in documenta13, I traveled to Kassel last summer to see their work and consider my hometown art scene in relationship to this massive global event. Below are a few scenes from that trip.
Words+
Jorg Doerig's friends and family have joined him to go have his art critiqued. They pack into a small self-contained room, a sleek writers cottage of sorts, where Jorg unpacks his paintings of flowers, and a self portrait, and layes them out on some shelves and leaning against the wall along the floor. It was time for his appointment with the Chicago Tribune art critic and art historian Lori Waxman, who had been taking half-hour appointments with local artists in Kassel three days a week all summer. Over the visit she asks some questions, but mainly gives her attention to interpretation of the art.
"Why Paint?," she writes in response to Jorg's work. "For love of certain subjects." She concludes.
To watch her type (a mirror of her laptop monitor is displayed on a screen facing the artist and a steady-stream of passer-bys) is akin to watching a live poetry reading. Nothing else can compare to the experience of watching someone invest herself in the creative practice of another. While art criticism has become a game so detached from the making and the maker, Waxman reinvests herself in people and their artistic output. And she herself is on display, revealing the writing process, her process.
Most artists Waxman critiques in this project, titled "60 WRD/MIN Art Critic," have never had their art written about. For the most part she has executed this project in smaller towns throughout the United States with the support of a writers grant from the Andy Warhol Foundation. In these settings, her presence incites tremendous excitement.
She consults an online thesaurus. What is a synonym for "Lovingly"? Jorg stirs, he smiles and looks around at his friends. What a strange experience, to have someone craft language before your eyes about your heartfelt and time-consuming creative activities.
Stone+
In "What Dust Will Rise?" Michael Rakowitz presents an entire room of enclosed vitrines and display tables immediately conjuring the space of a museum, a special collection or an archive. Upon closer look, you notice handwritten notes in thin black marker ink on the glass panes of the display shelving. Like many artists in this installment of documenta, Rakowitz engages in the legacy of the Nazi presence in Germany and in the present military operations and occupation of Afghanistan. The building in which his installation is presented, the Fridericianum, was a library when it was bombed in 1941 and all but 15% of the books were destroyed. The artist elegantly draws a parallel between that sited history, infusing it in the present, with the interrelated history of Taliban destruction of cultural artifacts in Afghanistan – most notably the Buddha statues in Bamiyan.
Presented on the tables I encounter replicas of books destroyed in that bombing, carved out of stone quarried in Bamiyan by artisans Rakowitz commissioned in Italy. Proceeding through the space, books from other bombings, fires, and cultural assassination appear. Many of the books were original printings with intricate woven and printed cover art, shown here in rich three dimensional carvings of the cover, spine, and worn pages – all beautifully carved with precise details. Other books take the form of an open spread, drawing attention to the content through subtle and surprising connections with the form or the act of destruction that inspired the installation. Others, like the oldest lexicon of classical medieval abbreviations, are just devastating because of what they contain, and what knowledge and culture was lost.
Surprise is the crucial word for this experience. As I proceed from case to case and book to book, I keep thinking that I have comprehended the scope of the artistic gesture. And then the next object or collection startles me.  He did what? I think. He really brought some building fragments from dismantled public housing in St. Louis, the Twin Towers, and the Berlin Wall? Yes. Stone carving chisels from Bamiyan made from the remnants of exploded cars and abandoned tanks belonging to the occupying forces? Yes. Surprise after wonderful surprise, the installation unfolds with linkages and nuances that dispel an attempt at easy summary, but provoke curiosity in an unwritten narrative about our ongoing human projects of creation and destruction, war, imperialism, pre-modern and modern.
A highlight of the exhibition, this surprise echoes the best parts of documenta13, an exhibit without an overarching theme – forcing each work to be viewed for what it is.
Soil+
Entering from the garden into the narrow glass doors on the side of the Ottoneum, I am excited to see the work of Claire Pentecost in such an ideal location. Prominently and symbolically located in the the first theater built in Germany, now serving as the Museum of Natural History, the  installation is the entrypoint for an entire building full of works about seeds, science and ecology – one of the most coherent sub-themes within this massive and themeless exhibition.
Pentecost produced this work in residence at The University of Kassel Faculty of Organic Agricultural Science in Witzenhausen and following her participation in a soil workshop at the Rodale Institute in Pennsylvania.
The outcome is a multi-modal installation all centered around a proposed currency called Soil-Erg. She made dozens of drawings with pencil and mud, illustrating a heterogeneous paper money version of Soil-Erg, each depicting a different ecological scene or significant activist and research figures working with food and science. Above the two walls of paper currency, are differently sized medallions of soil. The elaborate tables at the center of the room are piled up with ingots of soil, reminiscent of fantastical gold stashes from Indiana Jones or Fort Knox.
Along the back wall is an intervention into the museum's collection – a move made by a number of artists who found inspiration in the specificity of the temporary exhibition venues. On the left there is a glass display unit from the collection of the Otteneum that shows slices of soil from different depths of the earths crust. To the right, Pentecost fabricated a similar companion unit that serves as a compost pile that will accumulate over time. The insides are equipped with microphones and through use of a headset you can literally hear the energy, heat and process of the decomposition of organic waste. On one wall of the unit, a hand-written chart depicts the phenomenon of corporate land-grabbing in the global south where North American and European companies are buying up massive farm land and even creating "soil farms" throughout Africa and Latin America.
Pentecost's participation in documenta13 is itself heterogeneous. She is one of the few exhibiting artists who also made a book for the 100 Books 100 Days project, she gave a number of lectures and workshops, made a video for the website dealing with the importance of seeds to culture, and was an instructor at the summer retreat on the theme of "retreat" at the Banff artists residency in Canada.
Wood+
The immersive "12 Ballads For Huguenot House" is spearheaded by Theaster Gates along with his design collaborator John Preus, studio manager Theo Boggs, and a rotating cast of staff from his non-profit Rebuild Foundation. Walking into the house,  I immediately feel a complex social energy. People buzzing around, up and down the stairs, posting schedules for the day's activities and consulting with one another about what the morning has in store. The video and audio pieces scattered throughout the 2nd and 3rd floors of the building are still being switched on, and some people just waking from bed.  Art tourist's are poking their heads into the sleeping quarters, asking the people clearly in bed, "do you sleep here"? The Huguenot House is undoubtedly alive with real humans and the art pieces themselves were just a small component of the overall project. It may have one artist's name attributed to it, but something this alive is the work of many.
Mobilizing people to invest in places and buildings is one of Gates' strengths. The building at 25 Friedrichsstrasse in Kassel had been empty since World War 2. Under very different historical forces, there are homes in Gates' neighborhood in Chicago, Grand Crossing, that have also been abandoned for decades (though not quite as long as in Germany). As a crucial facet of his participation in documenta13, a deal was made where a house in Chicago would be purchased and its wooden and metal guts would be converted into objects to repopulate the building in Kassel and at a later date visa versa, forming a kind of architectural material exchange. This insistence that elite cultural institutions should subsidize projects in the places where he lives and works (which has now grown to include a number of Black communities throughout the midwest through the work of Rebuild Foundation) is something Gates unabashedly names in his public presentations.
And in the case of Hugenot House, this subsidy to Chicago cultural possibilities that lie in the future of that local project, have been reciprocated with real life-force being breathed back into the long abandoned building. Throughout documenta, it has been the site of performances, daily yoga classes, community meals and what are said to be the best parties in Kassel every Wednesday night throughout the four months of the exhibition.
Conclusion: The Rematerialization of the Art Object?
As Paul Chan, another participating artist with Chicago ties, commented in a recent interview during documenta, "It is a funny time in art when making something quiet is seen as radical."(3) The expectation has been implicitly fostered through curation and critical writing that new art needs to be participatory. It is not dissimilar from trends in governance and commerce – participation is the key to the hearts and minds!
As a counterpoint to this trend, these four projects start from complex social problems and engaged in the social processes necessary to activate and engage those problems, and then they made art objects and forms. Finding material resolutions to distill the complexity of the world into a form is one of the contributions artists have historically made to the societies in which they live. The work presented at documenta13 by Chicago artists produces a productive challenge for the debates around socially-engaged art practice and its treatment in educational and art presenting institutions. Formalist reactionaries now commonly antagonize participatory art with the same odium as was applied to performance artists in the decades past while Social Practice fundamentalists claim that objects are dead and process is the new vanguard. Perhaps these artists show a third way, a marriage between the qualities artists have long attempted to capture with material forms and the complex social processes necessary to engage the complex social world in a meaningful way.
______________________________________
Footnotes:
1) Rakowitz, Michael – Conversation with the author (7/5/12)
2) Crawford, Bob – AREA Chicago (2008), http://areachicago.org/bob-crawford-and-margo-natalie-crawford/
3) Chan, Paul – Bad at Sports (2012), http://badatsports.com/2012/episode-358-paul-chan-with-john-preus/
[Special thanks to Judith Russi Kirshner, Marcia Lausen, Jennifer Reeder, Lisa Yun Lee, Carolina Ariza, Ayreen Anastas, Rene Gabri, and Scott Berzofsky]
---
by Jen Delos Reyes
Two countries. Five conferences. Seven years. 14 partnerships. Over 700 presenters. Over 1600 attendees. Since the first Open Engagement conference in 2007 this event has become a key meeting point for people interested in socially engaged art. Open Engagement: Art After Aesthetic Distance began as a hybrid project that used a conference on socially engaged art practices as its foundation and incorporated elements including workshops, exhibitions, residencies, pedagogy, curatorial practice and collaboration. I wanted to foster a different kind of conference—one that worked in the way I wanted to see it work: with a sense of togetherness, putting emerging and established voices side by side, highlighting different ways of knowing and learning, and serving as a site of production, as well as reflection. I wanted to contribute to the discourse on socially engaged art in a meaningful way. When Open Engagement began it was a student project. I was a graduate student. The conversations that I wanted to engage in were not happening at my school in Saskatchewan, so I decided to create the situation that would allow for me to have these discussions with people doing similar work. Open Engagement was the basis of my education, and now is a major foundation of my work as an educator.
This year as in most years my experience of Open Engagement happens mostly in the lead up—in conversations with students to determine the themes of exploration for the year, in the selection of keynote presenters, in the scheduling, planning, writing, partnerships, and all things organizing. In the day to day of the event itself I get to attend very few sessions, usually only the opening and closing sessions, keynote events, and a hand full of other projects and for a limited amount of time. My time during Open Engagement is mostly spent assisting and making sure things are running smoothly. But in that way of moving through the conference I intersect with people all throughout the day that I ask what they have attended, and what their thoughts are on the experience at the conference so far. This idea of needing to talk to others to fully experience the conference is intentional. Because of the parallel programming no one person can take in all of the projects and sessions that form the event on their own. We need to work together, and see from multiple perspectives to get a full sense of the field.
In 2010 at Open Engagement Pablo Helguera said that he had always heard that a conference is meaningful in as much as it generated new questions to follow up. If you didn't find new questions then maybe it was not successful. I had a similar feeling about conferences, and it had been one of the ways I was measuring outcomes. The conference begins with a series of calls and questions, and throughout the course of the event and the conversations there are undoubtedly more that are generated. At OE 2013 we were making a concerted effort to capture that questioning throughout the weekend, and on Sunday before Tom Finkelpearl's keynote talk were reminded by Michelle Swineheart of one of Sister Corita's "quantity assignments" of generating 100 questions when embarking on intensive work and research. With this in mind, as well as earlier feedback from the day at a session between the Creative Time summit and OE where I heard from many participants that they wanted to work together to generate something during the conference and that in general there was a desire for sessions that allowed for formats other than being talked at, I decided that the final event would be an opportunity for just that.
For the closing event of Open Engagement 2013 instead of having a panel discussion between only keynotes and curatorial representatives we instead set out to collect 100 questions generated by the group assembled to further get a sense of what is emerging, what people are thinking, and where this conversation is going. The Sister Corita assignment felt fitting for a group of presumably invested individuals, who wish to continue to be involved in research and practice, to take this on together. It was a hope that as we would move out into the world after the conference that we could then reflect on this list of the questions we are currently asking ourselves about socially engaged art. The format was that each of our six panelists joined one of six seated groups that each had about 40 chairs (based on past years we were planning for between 200-300 people at the final panel), and we then had about 35 minutes to work together and for each group to write 17 questions and then we reconvened and the panelists shared the group work. After the instructions were given, at least 20% of the assembled group left instead of joining the break out groups. As I stood at the front of the room watching people choose to stream out, I wondered if I had made a mistake. The people that remained formed groups and were led in discussions to generate questions. There was one group in particular that voiced resentment, yet not enough resentment for them to have just left. This all came out in sharing of the questions at the end of the session. After many weeks I heard from someone who was part of that dissenting group how difficult it was to contribute questions, to have a discussion, and to feel like they could share. Days after the conference I heard some thoughts from Michael Rakowitz (who was the person facilitating that group) on the conference and the final event in general and he said, "You created a space for people to get upset, and that opens up possibilities for things that haven't been done yet." While I had no doubt that we had created a place for people to get upset I wondered what else the space was a possibility for. I thought of other conferences and their goals, Suzanne Lacy's City Sites: Artists and Urban Strategies (1989), and Mapping the Terrain: New Genre Public Art (1991), the Creative Time summits that began in 2009, and the more recent Homework conferences organized by Broken City Lab. Lacey was trying to create a space to develop language for socially engaged art that went beyond the limitations of forms like performance and conceptual art, and with the latter intended that the activities of Mapping the Terrain would come together as a publication. The most simple way to describe the Creative Time efforts is an attempt to become the TED talks for socially engaged contemporary art. The latest incarnation of the Homework conference takes a similar approach to Mapping the Terrain with a end goal of a collectively generated publication, and a similar format to Open Engagement with three keynote presenters and framing devices.
My last memory of Open Engagement took place at Boxxes, the club that hosted the wrap party for the conference. I showed up after a late dinner and took a seat behind the DJ booth where Paul Ramirez Jonas was virtually spinning tunes for the party. I was approached by a woman I met earlier in the day who is a funder at an arts organization dedicated to supporting socially engaged art. I found myself captive behind the DJ booth during a moment of celebration hearing out her frustrations with the conference. The parts of her dialogue that rang out the loudest in my mind were, "I am not here to learn with you, I am not here to generate your content." I nodded throughout, and thanked her for so openly sharing her criticisms. I meant it. I still do.
This encounter made me think of who was present Open Engagement, and what they expected, and how at least for this person how much of a radical departure it was from what I thought people were there for. I revisited some writing from 2007 that I had done after the conference:
What does it mean to be open? What does it mean to be engaged? What if one were to be both open and engaged simultaneously? Openness is honesty, generosity, a sense of possibility, freedom, free of boundaries and restrictions. To be engaged is a promise. It is a commitment, an obligation. It is also a sense of involvement and participation. To have an "open engagement" implies a commitment that is potentially limited or short lived. But what if the two terms once united could keep their respective definitions making openly engaged a term that would embody an obligation to honesty, sharing and possibility? 
It happened, we did create a place of possibility, a place for honesty and sharing, one where many boundaries and expectations were crossed and left behind. What should Open Engagement be? Who should it be for? How can we adequately capture what is generated? Over the last few days I have been thinking about the possibility of an online community archive for Open Engagement that would be a collective effort that would be open for all to share their documentation, writing, thinking, and stories related to the conference.
I had always seen Open Engagement as a site of learning. In an online video conference with Ren Morrison from the Atlantic Center for the Arts weeks following the conference he off handedly referred to Open Engagement as being his "education". The conference has for the past four years been a site of convening for many of the MFA programs with a focus on publicly/socially engaged art. The fact that this conference is so embedded in the structure of an MFA program makes the very nature of it educational, as well as the fact that even the very beginning was in an educational framework. In my mind we were all working together, learning together, and teaching one another. How we organize this conference collaboratively echoes the spirit of our program and our approach to learning. An education in our program is emergent, unorthodox, and at times unruly. This translates into Open Engagement feeling slightly unkempt, and in flux. And while this might be a point of criticism for some, I would not trade this instability for rigid professionalism or a set structure. It is important that we remain open to this conference and this conversation shifting and developing in unexpected ways. It is also important that we remain open to the realization that this may no longer be a site that is necessary, or that it might need to take a completely new form and possibly a new grounding. I hope that whatever becomes of it, that Open Engagement can be a site to work together, learn together and see what we are contributing to the field of socially engaged art from multiple perspectives. I am open to whatever comes next.
Jen Delos Reyes-Â Assistant Professor, MFA Art and Social Practice Program Chair

Jen Delos Reyes is an artist originally from Winnipeg, MB, Canada. Her research interests include the history of socially engaged art, group work, band dynamics, folk music, and artists' social roles. She has exhibited works across North America and Europe, and has contributed writing to various catalogues and institutional publications. She has received numerous grants and awards including a Social Sciences and Humanities Research Council of Canada Grant. Jen is the founder and director of Open Engagement, a conference on socially engaged art practice and herself speaks widely on Art and Social Practice at conferences and institutions around the world. She is currently an Assistant Professor at Portland State University where she teaches in the Art and Social Practice MFA program.
---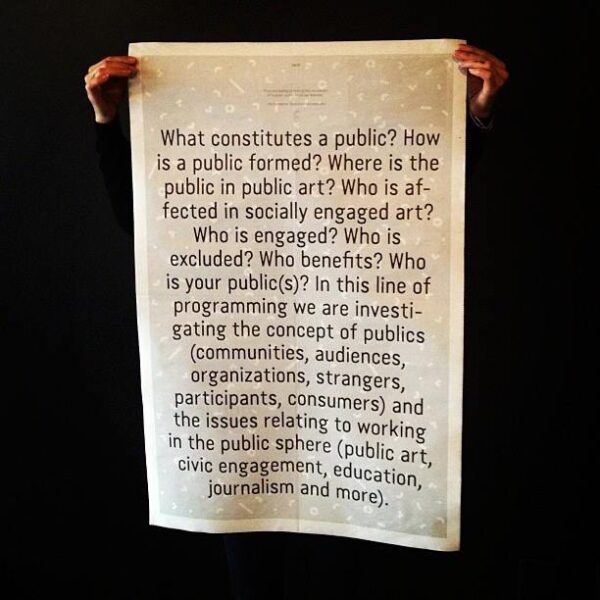 I keep trying to trace emergent themes at Open Engagement. Our organizers have done a good job of marking three umbrella categories, under which each panel, presentation or discussion resides. These headings, Publics, Contexts, and Institutions, feel like hubs through which a larger, interconnected current runs. One conversation bleeds into the next. Institution could be one example of a context, for instance. An institution could also be populated by a  public, but neither "Contexts" nor "Publics" rely exclusively on "Institutions." The project of this particular conference, one might say, is to investigate the way socially engaged art practice runs through (or negotiates) those headers.
That said, I am hunting around for additional trends, for theoretical concerns that crop up continually in the subtext of various presentations, reflecting perhaps on a collective undertow that Social Practice artists are preoccupied with. There is something problematic about my efforts. It's an artificial exercise in a way, especially when the subject of presentations — not to mention the styles of address — are so broad. My insights are additionally subjective, stemming from what panels I've seen and how the concerns therein stick to my ribs.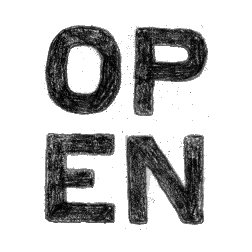 Still, I persist. Obviously this is a post that I deliberately published. Obviously I am interested in failing a little bit. I'm emboldened by the fact that failure, as a topic, is one of those recurring themes. Failure and the equally nebulous question about ethics. These subjects bubble to the surface not only in talks themselves, but also in audience questions. For instance, "I feel there is a danger that the projet you described could waste someone's time. Someone in your intended audience for instance. How can you be sure you're not doing that? What can you guarantee your public?" It suggests the artist ought to deliver something, and ideally that whatever is delivered is good, or worthy of (in this instance) one's time. Ethics and failure are linked up with responsibility in this regard — conveying a feeling that something in works of art that rely on audience participation ought to offer or fulfill something.
First let me make a case for the #EthicsTrend. In an account of Friday's panel, "Sociology (of and) for Socially Engaged Practice, Institute for Art Scene Studies" I was told Pablo Helguera, Barbara Adams, David Peppas, and Adeola Enigbokan staged a kind of reductio proof of what not to do as a social practice artist. I missed it, unfortunately, but heard that someone posed as an artist, presenting a series of ill-advised projects to the panel, pretending to be an artist. (For instance, the acting artist claimed to have done a project where s/he gave up all possessions in order to see what it was like to live under the poverty line.) The panel then critiqued these projects, highlighting what exactly was ill-advised about them. (Using the same example, the panel pointed out that the artist was able at any time to reenter her/his life of material stability). This was relayed to me by a rather horrified member of the audience who, at the end of her account, leaned in conspiratorially and whispered "And it was all a hoax! The 'artist'" (she used scare quotes) "was making it all up!" seeming at once relieved and frustrated that she had been duped. In a later panel that same day, "What's the Harm of Community Arts and Social Practice? The Ethics of Engagement and Negative Value," Marnie Badham, Amy Spiers, Claude Schryer, and Dr. Kathleen Irwin wrestled with questions of how and when artists intrude on a public. In her opening remarks, Badham noted first, "this turn to community is rarely explored critically," and then asked "is social change always good?" An ethical approach is often taken for granted in socially engaged art. There is an implied use or service tends to go hand in hand with these social experiments. A desire to save the world, or at least some very small piece of it.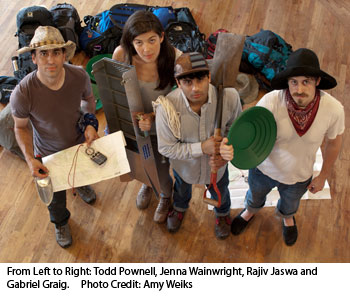 Here the idea of failure comes in — because, in a way it is impossible to save the world. However in articulating an attempt, I would argue, the art project sets out to "do" something. As such it becomes easier to measure and assess.  Rakowitz rebuffed this point yesterday when he suggested that art didn't necessarily have to do anything. But if that's the case, one's ability to measure success and failure becomes more difficult. And, perhaps, more interesting. For instance, this morning at "Craft + Social Practice: A Roundtable Conversation" at the Museum of Contemporary Craft, a group of panelists (Gabriel Craig, Ayumi Horie, Stacy Jo Scott, Michael J. Strand, moderated and organized by Sarah Margolis-Pineo) described their relationship to failure. Many suggested that failures provided new opportunities for insight — Gabriel Craig talked about "Slow Gold," a project based on ethical metal sourcing, where he and four collaborators went to the Black Mountains in South Dakota to find gold for a couples' wedding bands. (The betrothed couple participated in this project.) They could only find .4 grains. His conclusion, "Mining, no matter what scale it's on is absolutely catastrophic for the environment." On that same panel, Stacy Jo Scott of the Craft Mystery Cult confessed, "Occult is always dealing with failure. That's because we have this desire to speak of ideals, in terms of an ideal poetic space, but also in terms of utopic vision. Knowing the failures of past utopias, but still desiring Utopia. What results is the absurd: optimism in the face of futility."
Keep this idea of ethics in one hand. Hold in your other hand the idea of failure. Now imagine yourself in the Shattuck Annex, sitting (like I was) in chair with a small desk attached. It is the sort of desk students often use. The sort of desk I haven't sat in for years. Keep in mind it is raining outside and the opening bars of Woody Guthries' "This Land is Your Land" is playing on a loop. People shuffle in slowly. Some are ushered to an overflow room when the room is at capacity. In that room this afternoon, Claire Doherty gave a fantastic keynote, opening with an observation that keynote speakers have the ability to highlight and anchor conversations in a conference. The keynote provides a kind of watering hole – a central point in the middle of the day during which most conference-goers sit in the same room, sharing the same experience, after scattering out again to different panels, rendez-vous, and performances. Doherty hastened to remind everyone about the underbelly of social practice — that many projects, while on the one hand providing photographs of an engaged and happy public digging ditches and/or eating ice cream often come out of duress or protest. These works have the ability to engage a collective, public imagination because they tend to address points of tension. She went on to discuss Nowhere Island, a project by Alex Hartley produced by Situations — the organization Doherty directs. As a travelling landmass, self-designated as a site belonging to no-country, Nowhere Island became another version of Utopia. Pulled by a tug boat through international waters, it visited many ports, acquiring 23,003 citizens over the course of a single year. There is much more to the story, of course, but I like situating this island in this post because the land mass in an of itself is what Doherty might call a "charismatic object," a physical object both engaging and alluring to a public imagination. This object was capable of, again in Doherty's words, "Nourishing the capacity for creative illusion, [such that a public was able] to act and think as though things were different." In and of itself the island is not ethical, but it enables a public to explore their own Utopian expectations thereby exploring the problems that such ideals might subsequently create.
Now, open your hand.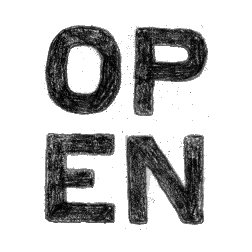 In Tim Etchells words, "A Utopia of dispute might be better:"
Dear Citizens of Nowhereisland

as we stop in the shelter of a doorway in the thunderstorm
S. holds out his hand to check the rain.

The hand. The flatness of it. The open-ness. The question of it. The directness. The simplicity. The pragmatism. The straightforwardness. The sunshine.

And maybe just the repetition of this gesture, which must be as old as the hills, as old as the co-presence of hands and rain. 

(read more of Etchells' Nowhere Island response)
---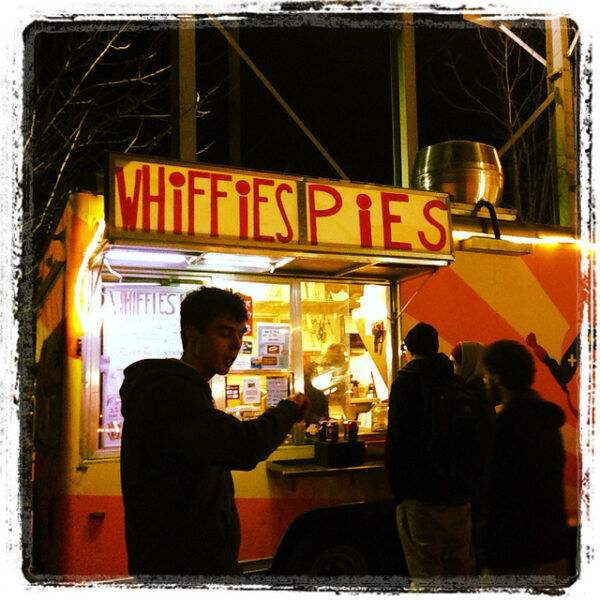 There is a reason they made a show about this town; it's so true it's a cliché : Portland is a kind of paradise. From the Tiki bar at the airport to the food truck shanty town we hit at midnight where twenty-thirty somethings fulfilled all college cuisine fantasies (the center of the parking lot contained a small circus tent where diners could enjoy they paper plated fare), the farm to table restaurants, bookstores, record stores and basement galleries named after after major art institutions, it's no wonder people live here. What's amazing is that somehow people who live here manage to get to work at all. And yet, Portland with all it's West Coast consciousness is a city with abundant social services.
So for all those reason, combined with the blend of experimentalism and casual earnestness, Portland seems like a perfect site for a social practice MFA. Perhaps even more perfect site for a conference about social practice. Which is why I am here. I am covering the 5th annual Open Engagement conference for our very own Bad at Sports.
The first Open Engagement was the result of Jen Delos Reyes' thesis project at the University of Regina back in 2007; Reyes wanted to create a "different kind of conference," one platforming emerging and established artists while providing a site for both "production and reflection." This is Open Engagement: a conference dedicated to socially engaged art practices. Delos Reyes came to Portland State to co-direct the MFA in Art and Social Practice once she had finished her MFA, and in 2010 Open Engagement came to Portland State. To this day, the conference is the result of collaboration between MFA students, Delos Reyes and OE Co-director, Crystal Baxley. In her opening remarks, Delos Reyes remarked on the sometimes "unkempt" nature of the conference, highlighting that it was focused on an artistic discipline that by its very nature is influx, and sometimes messy. That directive affords a kind of experimental quality which is perhaps missing from what she refered to as a more "rigid professionalism."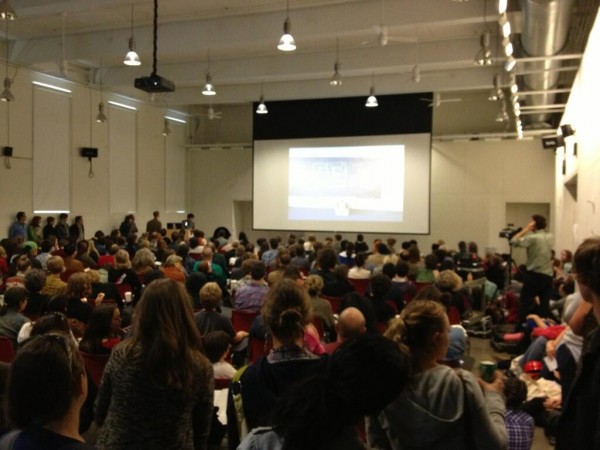 The day went on from there — featuring a fantastic keynote from Michael Rakowitz given to a jam packed room. Rakowitz brought out a "spinning set list," inviting select members of the audience to come up and spin the wheel and thereby determine which of his art projects he would discuss. Each "spinner" was then awarded a prize, from a small zip lock bag of Iraqi cardamom to a date seed the artist had previously eaten. I then attended a panel about harm and risk in social practice, and later a Portland Art Museum event "Shine Your Light," complete with (among other things) a reenactment of a lost Grateful Dead concert. I'll continue to post about things this weekend and am going to conduct a series of interviews while I'm here as well. All of which is to say, STAY TUNED. Follow the conference on twitter via #OE2013

---