Just over 6 months ago, after 8 years of being a practicing contemporary artist, I graduated with my MFA. Though I knew my post graduation time would be full of unexpected ups and downs, and the struggle would be trying, I still had little idea of what it be like. Here I am with my degree, job hunting, making work and participating in the arts community like I knew I would, but there were a lot of things I was unprepared for. One of those things is just how shocking, depressing, uplifting, relieving, trying, exciting, lost, hopeful, and full of opportunity it would all feel. I know I'm doing well and trying as hard as I can, but it's still hard to keep afloat.
So I think what I'm writing about is something that is not openly talked about. How when grad school is over, even though you get a lot out of the experience, somehow you're also hitting the reset button and starting the climb all over gain. It's a love/hate experience. I was even hesitant to write about it because maybe if I admitted it hasn't been that great it will reflect poorly on me. But I was also lucky to have mentors to talk to who know there are many like me, struggling to get by in a depressed economy where the rules just aren't the same as they used to be. It seems like every job is something I am not experience enough for, or too experienced for, Its like being stuck on a bridge in a traffic jam. I'm going to a place I can't get to, leaving a place I can't go back to and the bridge is packed with cars all going the same way.
Many in our modern era look at the pursuit of art practices as selfish, and worthless endeavors. If you went through college as an art major, you've already had to face it over and over. The same friends and family that encouraged you to be creative, expressive and a follower of the obscure thing called "your dreams," then cringe when you tell them you are an art major. You are told that you better make a back up plan, and you'll never make a living as an artist. Yet I can't help but wonder, perhaps if we felt more supportive of the arts there would be more support there. The student studying to be an entrepreneur is often told what a brave contributor they are while the artist students are often told what a mistake they are making. To get through it, no matter who you are, you had to face discouragement from friends, family, teachers, councilors, bosses, the government, and in general the world is just not invested in you. Yet despite continuous discouragement for this hugely impactful and important cultural force we call art, you became an artist.
Part of the reason this post-school transition becomes such a struggle is the ever-present stigma of a successful artist. What exactly is the benchmark for being successful as an artist? Others often remind me that the probability of becoming a famous artist is very low. I respond by saying I never want to be a famous artist; I want to be renowned in the art world for what I do in a way where my practice is accepted but not famous. On some level my disinterest in fame has to do with a paradox that affects an artists once they rise to a certain level of fame.
Once in my undergrad while taking an honors art class with Haim Steinbach we were critiquing work and he said we needed to keep experimenting and not get stuck in one way of making. He explained that we were lucky, because he was now what he called a "dead artist" and we were not. As he was a famous and active artist, at first this first seemed like an impossible thing to say. He explained that once your artwork is found, the public/art market begins to push you towards remaking that one piece you became famous for. That even when you want to explore different avenues, it's very difficult as a famous artist to get shows, funding or acceptance if you aren't in some way reproducing the work you have become known for. And this is the moment, he explained, when you become a "dead artist". By achieving the fame his work became constrained to it's own commodification, killing his practice and in turn his art.
So what do we do when trying to forge our own way and build our careers after school? There are answers out there if you keep talking about it, and I am thankful for those out there who will discuss this openly. Understanding it takes time. You really are beginning again, but know that you are better off than where you began before. Plant seeds everywhere. You never know what is going to sprout and where it will lead. Say yes to everything you can, as you never know where it will go. Keep yourself humble, you're not too good for any job. Keep yourself proud, no job you take is a shame to have as long as you are keeping your practice up. Keep moving forward every day. Make plans, improvements and goals. Know you are not alone and you are doing the right thing. And how do you measure your success? I've got to say when I take everything into account, knowing of course that success is a very personal reflection, I do think there is a clear way to know if you are a successful artist. That after all the pressure, aversions, and struggles you still keep making art. No matter how your practice changes, or where you are, or what job you have, or how stable you are financially, or wherever your life may lead: being a successful artist has nothing to do with that, but rather with you staying an artist. The continuation and advancement of your artwork and practice itself is the mark of a truly successful artist.
Special thanks for thier support and inspriation: Charles Rice, Mark Jeffery, Bradley Litwin and Haim Steinbach
---
Audio clip: Adobe Flash Player (version 9 or above) is required to play this audio clip. Download the latest version here. You also need to have JavaScript enabled in your browser.

download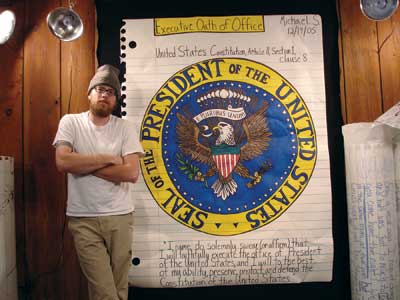 This week: The Amanda Browder Show rolls back into town! Amanda talks to artist Michael Scoggins.
Michael Scoggins was born in Washington D.C. in 1973. Growing up in Virginia and relocating later to Savannah, Georgia where he gained an MFA in painting from the Savannah College of Art and Design in 2006. In the summer 2003 he attended the prestigious Skowhegan School of Painting and Sculpture in Skowhegan, Maine. He has shown extensively, gained international recognition and has gallery representation in Atlanta, Miami, New York, San Francisco, Vienna and Seoul. Michael currently lives and works in Brooklyn, NY.
---
by Jen Delos Reyes
Two countries. Five conferences. Seven years. 14 partnerships. Over 700 presenters. Over 1600 attendees. Since the first Open Engagement conference in 2007 this event has become a key meeting point for people interested in socially engaged art. Open Engagement: Art After Aesthetic Distance began as a hybrid project that used a conference on socially engaged art practices as its foundation and incorporated elements including workshops, exhibitions, residencies, pedagogy, curatorial practice and collaboration. I wanted to foster a different kind of conference—one that worked in the way I wanted to see it work: with a sense of togetherness, putting emerging and established voices side by side, highlighting different ways of knowing and learning, and serving as a site of production, as well as reflection. I wanted to contribute to the discourse on socially engaged art in a meaningful way. When Open Engagement began it was a student project. I was a graduate student. The conversations that I wanted to engage in were not happening at my school in Saskatchewan, so I decided to create the situation that would allow for me to have these discussions with people doing similar work. Open Engagement was the basis of my education, and now is a major foundation of my work as an educator.
This year as in most years my experience of Open Engagement happens mostly in the lead up—in conversations with students to determine the themes of exploration for the year, in the selection of keynote presenters, in the scheduling, planning, writing, partnerships, and all things organizing. In the day to day of the event itself I get to attend very few sessions, usually only the opening and closing sessions, keynote events, and a hand full of other projects and for a limited amount of time. My time during Open Engagement is mostly spent assisting and making sure things are running smoothly. But in that way of moving through the conference I intersect with people all throughout the day that I ask what they have attended, and what their thoughts are on the experience at the conference so far. This idea of needing to talk to others to fully experience the conference is intentional. Because of the parallel programming no one person can take in all of the projects and sessions that form the event on their own. We need to work together, and see from multiple perspectives to get a full sense of the field.
In 2010 at Open Engagement Pablo Helguera said that he had always heard that a conference is meaningful in as much as it generated new questions to follow up. If you didn't find new questions then maybe it was not successful. I had a similar feeling about conferences, and it had been one of the ways I was measuring outcomes. The conference begins with a series of calls and questions, and throughout the course of the event and the conversations there are undoubtedly more that are generated. At OE 2013 we were making a concerted effort to capture that questioning throughout the weekend, and on Sunday before Tom Finkelpearl's keynote talk were reminded by Michelle Swineheart of one of Sister Corita's "quantity assignments" of generating 100 questions when embarking on intensive work and research. With this in mind, as well as earlier feedback from the day at a session between the Creative Time summit and OE where I heard from many participants that they wanted to work together to generate something during the conference and that in general there was a desire for sessions that allowed for formats other than being talked at, I decided that the final event would be an opportunity for just that.
For the closing event of Open Engagement 2013 instead of having a panel discussion between only keynotes and curatorial representatives we instead set out to collect 100 questions generated by the group assembled to further get a sense of what is emerging, what people are thinking, and where this conversation is going. The Sister Corita assignment felt fitting for a group of presumably invested individuals, who wish to continue to be involved in research and practice, to take this on together. It was a hope that as we would move out into the world after the conference that we could then reflect on this list of the questions we are currently asking ourselves about socially engaged art. The format was that each of our six panelists joined one of six seated groups that each had about 40 chairs (based on past years we were planning for between 200-300 people at the final panel), and we then had about 35 minutes to work together and for each group to write 17 questions and then we reconvened and the panelists shared the group work. After the instructions were given, at least 20% of the assembled group left instead of joining the break out groups. As I stood at the front of the room watching people choose to stream out, I wondered if I had made a mistake. The people that remained formed groups and were led in discussions to generate questions. There was one group in particular that voiced resentment, yet not enough resentment for them to have just left. This all came out in sharing of the questions at the end of the session. After many weeks I heard from someone who was part of that dissenting group how difficult it was to contribute questions, to have a discussion, and to feel like they could share. Days after the conference I heard some thoughts from Michael Rakowitz (who was the person facilitating that group) on the conference and the final event in general and he said, "You created a space for people to get upset, and that opens up possibilities for things that haven't been done yet." While I had no doubt that we had created a place for people to get upset I wondered what else the space was a possibility for. I thought of other conferences and their goals, Suzanne Lacy's City Sites: Artists and Urban Strategies (1989), and Mapping the Terrain: New Genre Public Art (1991), the Creative Time summits that began in 2009, and the more recent Homework conferences organized by Broken City Lab. Lacey was trying to create a space to develop language for socially engaged art that went beyond the limitations of forms like performance and conceptual art, and with the latter intended that the activities of Mapping the Terrain would come together as a publication. The most simple way to describe the Creative Time efforts is an attempt to become the TED talks for socially engaged contemporary art. The latest incarnation of the Homework conference takes a similar approach to Mapping the Terrain with a end goal of a collectively generated publication, and a similar format to Open Engagement with three keynote presenters and framing devices.
My last memory of Open Engagement took place at Boxxes, the club that hosted the wrap party for the conference. I showed up after a late dinner and took a seat behind the DJ booth where Paul Ramirez Jonas was virtually spinning tunes for the party. I was approached by a woman I met earlier in the day who is a funder at an arts organization dedicated to supporting socially engaged art. I found myself captive behind the DJ booth during a moment of celebration hearing out her frustrations with the conference. The parts of her dialogue that rang out the loudest in my mind were, "I am not here to learn with you, I am not here to generate your content." I nodded throughout, and thanked her for so openly sharing her criticisms. I meant it. I still do.
This encounter made me think of who was present Open Engagement, and what they expected, and how at least for this person how much of a radical departure it was from what I thought people were there for. I revisited some writing from 2007 that I had done after the conference:
What does it mean to be open? What does it mean to be engaged? What if one were to be both open and engaged simultaneously? Openness is honesty, generosity, a sense of possibility, freedom, free of boundaries and restrictions. To be engaged is a promise. It is a commitment, an obligation. It is also a sense of involvement and participation. To have an "open engagement" implies a commitment that is potentially limited or short lived. But what if the two terms once united could keep their respective definitions making openly engaged a term that would embody an obligation to honesty, sharing and possibility? 
It happened, we did create a place of possibility, a place for honesty and sharing, one where many boundaries and expectations were crossed and left behind. What should Open Engagement be? Who should it be for? How can we adequately capture what is generated? Over the last few days I have been thinking about the possibility of an online community archive for Open Engagement that would be a collective effort that would be open for all to share their documentation, writing, thinking, and stories related to the conference.
I had always seen Open Engagement as a site of learning. In an online video conference with Ren Morrison from the Atlantic Center for the Arts weeks following the conference he off handedly referred to Open Engagement as being his "education". The conference has for the past four years been a site of convening for many of the MFA programs with a focus on publicly/socially engaged art. The fact that this conference is so embedded in the structure of an MFA program makes the very nature of it educational, as well as the fact that even the very beginning was in an educational framework. In my mind we were all working together, learning together, and teaching one another. How we organize this conference collaboratively echoes the spirit of our program and our approach to learning. An education in our program is emergent, unorthodox, and at times unruly. This translates into Open Engagement feeling slightly unkempt, and in flux. And while this might be a point of criticism for some, I would not trade this instability for rigid professionalism or a set structure. It is important that we remain open to this conference and this conversation shifting and developing in unexpected ways. It is also important that we remain open to the realization that this may no longer be a site that is necessary, or that it might need to take a completely new form and possibly a new grounding. I hope that whatever becomes of it, that Open Engagement can be a site to work together, learn together and see what we are contributing to the field of socially engaged art from multiple perspectives. I am open to whatever comes next.
Jen Delos Reyes-Â Assistant Professor, MFA Art and Social Practice Program Chair

Jen Delos Reyes is an artist originally from Winnipeg, MB, Canada. Her research interests include the history of socially engaged art, group work, band dynamics, folk music, and artists' social roles. She has exhibited works across North America and Europe, and has contributed writing to various catalogues and institutional publications. She has received numerous grants and awards including a Social Sciences and Humanities Research Council of Canada Grant. Jen is the founder and director of Open Engagement, a conference on socially engaged art practice and herself speaks widely on Art and Social Practice at conferences and institutions around the world. She is currently an Assistant Professor at Portland State University where she teaches in the Art and Social Practice MFA program.
---
Of the many adventures that I had at Open Engagement, I enjoyed an evening at the Portland Art Museum. Their annual program, "Shine A Light," came together in conjunction with PSU's Social Practice MFA, in an effort to "ask visitors to reconsider what is possible in a museum." It featured a number of MFA artist's works including a reenactment of a lost Grateful Dead concert ("Turn on Your Lovelight" by Travis Neel), a dental trailer offering free dental work to visitors ("Dentistry at the Museum" by Zachary Gough), a booth in the basement where viewers were encouraged to record stories of objectified objects and being objectified ("Objectification Stories" by Erica Thomas and Heather Donahue), an invitation to commune with dead artists via mediums from Portland's own Psychic Siamese Terror through select works of art ("The Dead Artists Salon" by Alysha Shaw) and much much more. (full program here) At every turn through the museum that night, you could feel the institutional context in a concentrated experiment in flexibility. It felt like a kind of earnest game, one in which visitors were simultaneously challenged to revise and open up their own expectations. It was a glorious mayhem. Outside, between the museum's two buildings, people of all ages danced expressively. A beer truck stood across from an artisanal pizza tent, as the torches to PAM's second entrance (what was a Masonic temple in a former life) bloomed brightly in the coming dusk. Artisanal popcorn was also for sale. In the midst of this, I ran into Dillon de Give, another Social Practice MFA presenting work. His project, 4-6 Dogs in the Museum furthers the desire to flex the museum structure, except in de Give's case, he tried to apply that flexibility to non-humans.
Caroline Picard: Can you talk about where 4-6 Dogs Allowed in the Museum originated as an idea for you?
Dillon de Give: The project originated as an off-handed comment I made in a brainstorming session. I wrote down something like, "allow dogs into the museum, have some sort of plan for when they poop". I didn't think about it very much at the time, but then for some reason it kept coming back into my head.
I've been interested in the power relations present in our dealings with animals for a while. Dogs are the most common "other half" of a public human-animal relationship — especially in the city. They are the animals that people walk side-by-side with, and many see dogs as family members. At the same time they are a point of mystery, like art.
That relationship was the subject of the work, but the process of examining the subject by partnering with an art institution was also important to developing the idea. I entered into these dealings being identified as a student, as much as an artist. And as such, the strength of my position as a negotiator was recognized, but somewhat limited.
The initial proposal was to open the doors of the museum carte blanche to dogs during Shine A Light, the one night event that "asks visitors to reconsider what is possible in a museum." An official mechanism by which to allow dogs into the museum was attractive to me, because it involved a conversation around breaking a taboo. Admitting a new kind of life into the institution, proved to be fairly complicated. Have you ever tried to bring an apple into another country? It can get you into a lot of trouble. Yet I knew it was not out of the realm of possibility, because the museum was legally bound to admit service dogs.
The initial proposal also stated that any difficulties, negotiations, and ad hoc measures of control necessary to execute the idea (which at that time called Dogs Allowed in the Museum) would be considered part of the work. I didn't know how much resistance the idea would actually meet with (a lot) but including this provision allowed it to move forward. The project changed many times, and almost died. At one point we were discussing a version called A Dog Allowed in the Museum. I had to let go of the initial proposal for universal dog entry. But it was important to me that the dogs that participated be "non-working" dogs, and we held onto that.
CP: I feel like this piece attempts to open up the field of social practice outside the human sphere of experience. That effort could have interesting ramifications, for instance, what does inter-species social practice look like? Are you interested in that question? Do you have ideas about what it could lead to?
DDG: I love that phrase "inter-species social practice." But I guess I would be a bit more conservative in my response. I've observed that dogs in public are always serving as mediators between humans. There's a dog park across the street from my apartment and everyone seems to know each other! I live right there and I don't know any of these people because I don't own a dog. I am interested in other species as a conceptual complement to existing human-based social practices. I think that when we are talking about a given social practice we are implicitly making assumptions of what human-ness is, so having some idea of a non-human present in the discourse is, in a way, almost necessary. Why are cat videos so immensely popular with human viewers on youtube? On the other hand, imagining something like sociality existing between humans and other species is difficult to do in the present, because of our seemingly absolute need to monopolize the environment. In most cases it's just not really a fair playing field where a balanced relationship that you might call "social" could pan out. But maybe in the distant future…
CP: What was it like talking to dog owners in the dog park about this project? 
DDG:Â Interestingly, during the initial stages of the project it was as hard to convince dog owners on the merit of allowing dogs into the museum, as it was to convince the museum itself. Most dogs are really not interested in spending time in a foreign indoor environment. When I determined that the goal would be to have the owner choose a particular artwork as a hypothesis about what the dog would appreciate, then the conversation became easier. I had a simple, but precise interaction that I would use to engage people. The actual dog park was not the most productive place to approach owners. Sometimes people would be weirded out and walk away, but the people who decided to participate saw value in the idea of having their animal enter into a context of art-meaning.
CP: What do you think the dogs saw when engaging select works of art? Do you think their owners chose works of art that their dogs would like? Did the owners' selection have more to do with their dog's disposition, or with their sense of 'dogness'? 
DDG: Each dog was given a "personal" moment with the work, and we would all watch the dog to see what they would do. I don't think they saw anything special. Maybe they did, but we have no way of knowing. They acknowledged the art objects spatially. They looked at them. They sniffed them. I think the owners that participated knew their dogs well, and in most cases took into consideration their particular dog's point-of-view in the choice of artwork. Most objects were near the ground, often three dimensional, and often made of natural materials. One was a sculptural representation of another animal. There was one low-hanging painting that was chosen because it depicted a beach that the owners and dog visited on vacation. One of the owners, Lis, chose Useful Art #5: The Western Motel by Nancy and Edward Kienholz, which basically recreates a kind of domestic environment. I do think that the dogs had a sense of accomplishment in navigating a new environment without too many incidents.
CP: How did the museum context, as a human institution, respond to a living, non-human presence? 
DDG:Â It was a very controlled experience. Members of security, collections, and education needed to be present. It was stipulated that the visits happen after museum hours, in brief 20-minute segments, one dog at a time. A dog trainer also accompanied the group to provide a level of assurance. The first visit was quite tense, by the final visit, it was more relaxed because we knew what all of our roles were and had a better sense of the choreography involved.
---
A graphic, editorial overview of art, artists, and visual art events, found in and around Chicago over the course of the preceding month. All artwork copyright original artists; all photography copyright Paul Germanos.
Daniel Shea @ Gallery 400
Above: Daniel Shea with his photography in Gallery 400, as seen on April 13, 2013, at the closing of UIC's third MFA exhibition.
"A Spectre Is Haunting"
2013 UIC Art MFA Thesis Exhibition 3
April 9 – April 13, 2013
Gallery 400
College of Architecture and the Arts
University of Illinois at Chicago
400 S. Peoria St.
Chicago, IL 60607
Artwork by Liliana Angulo Cortés, Ian Curry, Daniel Shea, and Daniel Tucker
http://www.danielpshea.com/
Jennifer Mills @ Chicago Artists Coalition
Above: Jennifer Mills (right) with collaborator Christopher Ottinger (left) in Mills' CAC/Bolt installation "101 one-liners; Falling Flat," on March 30, 2013.
Jennifer Mills
"101 one-liners; Falling Flat"
March 15 – April 2, 2013
BOLT Residency
Chicago Artists' Coalition
217 N. Carpenter St.
Chicago, IL 60607
http://jennifermills.org/home.html
Picasso @ Daley Plaza
Above: 2013 promotional "P-I-C-A-S-S-O" installation by Chicago Scenic Studios, foreground; 1967 Picasso sculpture, background.
Daley Plaza
Washington between Dearborn and Clark
Chicago, IL
http://www.chicagoscenic.com/
"Picasso and Chicago"
February 20 – May 12, 2013
Art Institute of Chicago
111 S. Michigan Ave.
Chicago, IL
http://www.artic.edu/
John Neff @ The Renaissance Society
Above: A 30-second exposure indicating spectator movement within Neff's installation.
Above: A talk with the artist (John Neff at left, Hamza Walker at right) at 5:00PM, on March 3, 2013, in Kent Hall, Room 107, University of Chicago campus.
Above: Following the artist's talk, Molly Zuckerman-Hartung (far right) raises a question.
John Neff
March 3 – April 14, 2013
The Renaissance Society
5811 S. Ellis Avenue
Bergman Gallery, Cobb Hall 418
Chicago, Illinois 60637
http://www.renaissancesociety.org/site/
Christopher Ottinger @ Chicago Artists' Coalition
Above: Christopher Ottinger, background, at the opening reception, his uncovered, kinetic light art seen rotating in the foreground.
Christopher Ottinger
"Ghost Machine"
April 12 – May 2, 2013
BOLT Residency
Chicago Artists' Coalition
217 N. Carpenter St.
Chicago, IL 60607
http://chicagoartistscoalition.org/
Lossless @ Chicago Artists' Coalition
Above: Matthew Schlagbaum's kinetic light installation visible within its smoked vitrine housing.
"Lossless"
April 12 – May 2, 2013
HATCH Projects Residency
Chicago Artists' Coalition
217 N. Carpenter St.
Chicago, IL 60607
Curated by MK Meador
Artwork by Jordan Martins, Matthew Schlagbaum and Theodore Darst
http://chicagoartistscoalition.org/
The Wail of Silence @ ROOMS Gallery
Above: Alex de Leon lifts her veil in "Ritual No. 4 – Toll of Eyes," a three-hour performance, 7:00-10:00 PM, March 8, 2013.
"The Wail of Silence"
March 8, 2013
ROOMS Gallery
1835 S. Halsted
Chicago, IL
http://roomsgallery.com/
Psychosexual @ Andrew Rafacz
Above: "Psychosexual" curator Scott Hunter in the foreground, with artwork, left-to-right, by Nazafarin Lotfi, John Neff, and Peter Otto, visible in the background.
Above: Artwork by Peter Otto, Rachel Niffenegger, and Brenna Youngblood, seen left-to-right in Andrew Rafacz Gallery.
"Psychosexual"
April 6 – May 25, 2013
Andrew Rafacz Gallery
835 W. Washington Blvd.
Chicago IL 60607
Curated by Scott J. Hunter
Artwork by Lutz Bacher, Tom Burr, Edmund Chia, Matthias Dornfeld, Jayson Keeling, Jutta Koether, Nazafarin Lotfi, Jeffry Mitchell, John Neff, Rachel Niffenegger, Peter Otto, Kirsten Stoltmann, and Brenna Youngblood
http://www.andrewrafacz.com/
Lauren Edwards & Kera MacKenzie @ ACRE Projects
Above: Lauren Edwards and Kera MacKenzie, participants in UIC's first MFA exhibition of 2013, seen within their subsequent show at ACRE Projects' home site in Pilsen.
Lauren Edwards & Kera MacKenzie
"Burden of Proof"
April 14 – 28, 2013
ACRE Projects
1913 W. 17th St.
Chicago, IL 60608
http://www.acreresidency.org/
Michael Ian Larsen @ PEREGRINEPROGRAM
Michael Ian Larsen
"The Tree, the Gift, and the Amphibian"
March 10 – April 7, 2013
PEREGRINEPROGRAM
3311 W. Carroll Avenue, #119
Chicago, IL 60624
http://www.peregrineprogram.com/
Tina Tahir @ Gallery 400
Above: Tina Tahir at her closing reception with the installation "41.876503,-87.649666," an ornamental 'rug' made of ash and magnetite mineral, whose title provides its GPS co-ordinates. Intentionally made available to foot traffic throughout the course of the exhibition, said piece is shown disturbed from its original state.
"A strange house in my voice."
2013 UIC Art MFA Thesis Exhibition 2
April 2 – April 6, 2013
Gallery 400
College of Architecture and the Arts
University of Illinois at Chicago
400 S. Peoria St.
Chicago, IL 60607
Artwork by Cameron Gibson, Ben Murray, and Tina Tahir
http://www.tinatahir.com/
Laura Wennstrom @ The Peanut Gallery
Above: Gallery patron interacts with Wennstrom's "Block City" during the opening reception; cameras hang ready to document the action.
"Artificial Turf"
University of Illinois Urbana-Champaign MFA group exhibition
March 15 – April 9, 2013
The Peanut Gallery
1000 N. California Ave.
Chicago, IL
http://artgraduatestudentorganization.wordpress.com/
Jesse Butcher & Anthony Romero @ Happy Collaborationists / ACRE Projects
Jesse Butcher & Anthony Romero
"Cyclical, Circular. Like Vultures."
April 6 – 27, 2013
Happy Collaborationists, in partnership with ACRE Residency
1254 N Noble
Chicago IL, 60642
http://happycollaborationists.com/
Michael Robinson @ Carrie Secrist
Michael Robinson
"Circle Spectre Paper Flame"
April 6 – May 11, 2013
Carrie Secrist Gallery
835 W. Washington Blvd.
Chicago, IL 60607
http://www.secristgallery.com/
Co-Prosperity School
Above: A Co-Prosperity School student's presentation on March 18, 2013.
The Co-Prosperity Sphere
3219-21 S. Morgan St.
Chicago IL, 60608
http://coprosperity.org/co-prosperity-school/
Autumn Space Benefit Auction
Autumn Space Benefit Auction
March 10, 2013
1700 W. Irving Park #207
Chicago, IL
http://autumnspace.com/
Deb Sokolow @ Western Exhibitions
Deb Sokolow
March 15 – April 20, 2103
Western Exhibitions
845 W. Washington Blvd.
Chicago, IL 60607
http://www.westernexhibitions.com/index.html
Diegesis @ Logan Center
Above: "The Index for an Encylopedia" by Daniel Rosen
Above: "Smell.RB.MFA 2013″ by Maymay Jumsai
"Diegesis"
University of Chicago MFA Show 1
April 5 – 14, 2013
Logan Center Gallery
915 E. 60th St.
Chicago, IL 60637
http://arts.uchicago.edu/
Christopher Meerdo @ Document
Christopher Meerdo
"Anthology"
March 15 – April 20, 2013
Document
845 W. Washington Blvd. Suite 3f
Chicago IL 60607
http://christophermeerdo.com/
Juneer Kibria @ The Sub-Mission
Above: Juneer Kibria in his installation, opening night.
Juneer Kibria
"Hidden Noise"
March 8 – April 20, 2013
The Mission (The Sub-Mission)
1431 W. Chicago Ave.
Chicago, IL 60642
http://themissionprojects.com/
Rebecca Beachy @ Iceberg Projects
Above: An audience member views "Warm (bed)" through a rectangular aperture just above the floor; 109 dozen factory-farmed eggs, ground, lit by heat lamps, lie within the piece.
Above: Iceberg Projects proprietor Dan Berger within the gallery space on June 23, 2012
"The Bearer"
March 10 -April 1, 2013
Iceberg Projects
7714 N. Sheridan Road
Chicago, IL 60626
Artwork by Rebecca Beachy and Walker Blackwell
http://icebergchicago.com/home.html
Lisa Walcott @ threewalls
Lisa Walcott
"Pretty Good Shape"
Artists in Research – Residency
(Closed on March 21, 2013)
threewalls
119 N. Peoria #2c
Chicago, IL
http://www.three-walls.org/
---
Paul Germanos: Born November 30, 1967, Cook County, Illinois. Immigrant grandparents, NYC. High school cross country numerals and track letter. Certified by the State of Illinois as a peace officer. Licensed by the City of Chicago as a taxi driver. Attended the School of the Art Institute 1987-1989. Studied the history of political philosophy with the students of Leo Strauss from 2000-2005. Phi Theta Kappa and Phi Kappa Phi. Motorcyclist.
---