Audio clip: Adobe Flash Player (version 9 or above) is required to play this audio clip. Download the latest version here. You also need to have JavaScript enabled in your browser.
download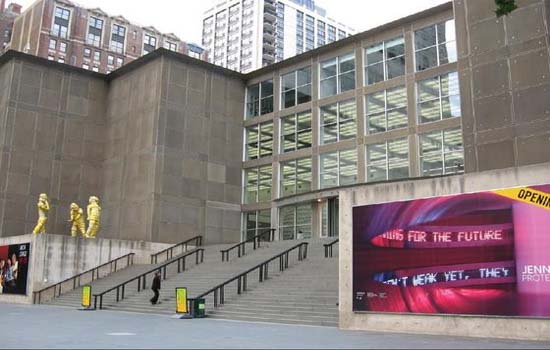 This week: The second installment of our pirate radio sessions, recorded live from NADA 2011! We are joined by local heroes The Museum of Contemporary Art, Chicago curators Michael Darling and Naomi Beckwith.
Naomi Beckwith is a curator at the Museum of Contemporary Art, Chicago. Beckwith joined the curatorial staff in May 2011. A native Chicagoan, Beckwith grew up in Hyde Park and attended Lincoln Park High School, going on to receive a BA in history from Northwestern University in Evanston, Illinois. She completed an MA with Distinction from the Courtauld Institute of Art in London, presenting her master's thesis on Adrian Piper and Carrie Mae Weems.
Afterward, she was a Helena Rubenstein Critical Studies Fellow at the Whitney Museum Independent Study Program in New York. Beckwith was a fall 2008 grantee of the Andy Warhol Foundation for the Visual Arts and was named the 2011 Leader to Watch by ArtTable. She serves on the boards of the Laundromat Project (New York) and Res Artis (Amsterdam).
Prior to joining the MCA staff, Beckwith was associate curator at The Studio Museum in Harlem. Preceding her tenure at the Studio Museum, Beckwith was the Whitney Lauder Curatorial Fellow at the Institute of Contemporary Art, Philadelphia, where she worked on numerous exhibitions including Locally Localized Gravity (2007), an exhibition and program of events presented by more than 100 artists whose practices are social, participatory, and communal.
Beckwith has also been the BAMart project coordinator at the Brooklyn Academy of Music and a guest blogger for Art21. She has curated and co-curated exhibitions at New York alternative spaces Recess Activities, Cuchifritos, and Artists Space.
Beckwith curated the exhibition 30 Seconds off an Inch, which was presented by the Studio Museum in Harlem November 12, 2009 – March 14, 2010. Exhibiting artworks by 42 artists of color or those inspired by black culture from more than 10 countries, the show asked viewers to think about ways in which social meaning is embedded formally within artworks.
Michael Darling (born 1968) is the James W. Alsdorf Chief Curator at the Museum of Contemporary Art, Chicago (MCA). Darling joined the MCA staff in July 2010.
Darling received his BA in art history from Stanford University, and he received his MA and PhD in art and architectural history from the University of California, Santa Barbara. Darling has worked as an independent writer and curator, contributing essays on art, architecture, and design to publications including Frieze, Art Issues, Flash Art, and LA Weekly. Darling frequently serves as a panelist, lecturer, and guest curator on contemporary art and architecture.
Prior to joining the MCA, Darling was the Jon and Mary Shirley Curator of Modern and Contemporary Art at the Seattle Art Museum (SAM), where he was awarded SAM's Patterson Sims Fellowship for 2009-10. In 2008, Darling began the program SAM Next, a series of contemporary art exhibitions presenting emerging or underappreciated artists from around the globe. Artist Enrico David, who exhibited as part of SAM Next, has since been nominated for the Turner Prize.
Darling curated the SAM exhibitions Target Practice: Painting Under Attack 1949-78 (June 25 – September 7, 2009), and Kurt (May 13 – September 16, 2010). Target Practice showcased the attacks painting underwent in the years following World War II. Kurt explored Kurt Cobain's influence on contemporary artists.
Darling was associate curator at the Museum of Contemporary Art, Los Angeles, before joining SAM. He co-curated The Architecture of R.M. Schindler (2001), which won the International Association of Art Critics "Best Architecture or Design Exhibition" award. The exhibition also won merit awards for interior architecture from the Southern California American Institute of Architects and the California Council of the American Institute of Architects.
---
Riding the wave of ridiculously good buzz the Museum of Contemporary Art, Chicago has been receiving from the local press concerning all the big changes there as of late, the MCA today announced that it has named Dieter Roelstraete as its new Manilow Senior Curator. Roelstraete is currently the Curator of MuHKA, the Museum of Contemporary Art (Museum van Hedendaagse Kunst) in Antwerp, Belgium, and will join the MCA in February 2012. The MCA's press release on the hiring follows:
Michael Darling, James W. Alsdorf Chief Curator of the Museum of Contemporary Art (MCA), Chicago, announced today that Dieter Roelstraete has been appointed the new Manilow Senior Curator at the MCA. Roelstraete is currently the Curator of MuHKA, the Museum of Contemporary Art (Museum van Hedendaagse Kunst) in Antwerp, Belgium, where he has organized large-scale group exhibitions and monographic shows. He will assume his new responsibilities at the MCA in February 2012.

"Dieter is a wildly productive and extraordinarily smart curator who has addressed a wide range of art — geographically, generationally, materially — in his writings and exhibitions over the past several years, says Darling. "We felt his range of knowledge and broad curiosity would be perfect for the MCA in our attempt to cast as wide a net as possible in seeking out the most compelling art from around the world. Importantly, I first started hearing about him from artists who found in him a sympathetic and intelligent translator of their projects, and that kind of endorsement is very important to us. He brings with him an international network of colleagues and collaborators which will extend the MCA's reach far beyond Chicago; but at the end of the day, he is also a really charming person who we are all very much looking forward to working with."

Originally trained as a philosopher at the University of Ghent, Belgian-born Roelstraete has worked at the MuHKA since 2003. His curatorial projects there include Emotion Pictures (2005); Intertidal, a survey show of contemporary art from Vancouver (2005); The Order of Things (2008); Auguste Orts: Correspondence (2010); Liam Gillick and Lawrence Weiner – A Syntax of Dependency (2011); A Rua: The Spirit of Rio de Janeiro (2011) and the collaborative projects Academy: Learning from Art (2006); The Projection Project (2007); and All That Is Solid Melts Into Air (2009). He is currently preparing a retrospective of Chantal Akerman, opening at MuHKA in February 2012.

In 2005, Roelstraete co-curated Honoré d'O: The Quest in the Belgian pavilion at the 51st Venice Biennale. He has also organized solo exhibitions of Roy Arden (Vancouver Art Gallery, 2007), Steven Shearer (De Appel, Amsterdam, 2007), and Zin Taylor (Ursula Blickle Stiftung, Kraichtal, 2011), as well as small-scale group shows in galleries and institutions in Belgium and Germany.

Roelstraete is an editor of Afterall and a contributing editor to A Prior Magazine, and has published extensively on contemporary art and philosophical issues in numerous catalogues and journals including Artforum, Frieze, and Mousse Magazine. He is one of the founders of the journal FR David and a tutor at De Appel in Amsterdam. In 2010, his book Richard Long: A Line Made By Walking was published by Afterall Books/The MIT Press, and a volume of his poetry will be published by ROMA in May 2012. He lives in Berlin with his wife Monika Szewczyk.
---
GUEST POST BY MARISSA PEREL
In this guest post, Marissa Perel talks with artist Justin Cabrillos about his studio practice and his recent performance of Following Dance at the MCA Chicago. Cabrillos will also be performing at: remixed/reimagined 2011 at the MCA Chicago Performance Benefit on Thursday, June 23, 2011, at 6 pm.
Marissa Perel: Tell me about your process for the Following Dance performance you did at the MCA as part of the Without You I'm Nothing: Interactions at the MCA.
Justin Cabrillos: I wanted to make a response to Vito Acconci because my work is largely inspired by his endurance pieces in the 1960-70's. For this performance, I studied his Following Piece, where he followed around strangers in the city for minutes or days until they disappeared from his view. I combined techniques for following museum visitors by imitating their movements while I performed on his sculpture, Bridge Chairs for Sex and Gender.
I considered Acconci's movements retroactively as a form of dance in Following Dance. It's a triangulation of his voyeurism, how he moves his body motivated by that voyeurism, and the bodies of the people who lead him through space. I became interested in a public choreography.
MP: How did you take this public performance art piece and make into a dance?
JC: I started observing people in the museum in October before my performance in January. I'd go into the MCA and watch the public in museum mode. I studied how people hold themselves when they go to see art down to how they hold their weight or shift their gaze. It was a kind of movement analysis that informed how I would build the dance. I sought to embody how people interacted with the art. Or more to embody the relationship between the viewer, the objects and the space between them.
Because of the nature of the work in the Without You I'm Nothing Exhibition, viewers are moving more than they normally would, and I saw that as an opportunity for movement analysis. I also paid attention to people who didn't choose to interact with the work, their stillness became a source of choreography for me.
Once I was performing, the ladders of the Bridge Chair enabled me to have a bird's-eye-view of what people were doing. I could look through the Andrea Zittel piece, A-Z Cellular Compartment Units and see kids taking off their shoes and crawling around, so I'd take off my shoes and crawl around. The ladder really facilitated the voyeurism for the piece.
MP: Vito would love that!
JC: I know! I developed a system to call attention more to the viewers than to myself. If someone was directly looking at me, I wouldn't follow that person, but the person could see who I was following. It's like when you're in a dance class, watching the teacher's movements and trying to follow as best you can. In this case, the public is the teacher. The goal is not so much to parody to make fun of the viewer, but to reveal something about the viewers to one another, and to create a consciousness of the relationship between the viewer and the space of the museum.
MP: How is this experience different than your experience of stage-based performance?
JC: I had to think of a different way to structure the performance. Because it wasn't about everyone being part of my time, but about the time people were spending in the exhibition. It was like a game where I had to be hyper observant of the audience. On stage you're rarely aware of audience members as individuals. In this piece, I had to anticipate how people would respond to my actions. It required me to simultaneously observe and perform the audience. That was a lot of information for me to contain in my body! I felt like I was possessed, inhabited by the other bodies in the room.
MP: I find that to be a compelling aspect of your work in general, how you embody your research, whether it's historical data, responses to sites or in this case, how you are embodying a relationship between art and the audience. It seems like you have to empty yourself of your own contents in order to become a vessel for the subjects of your performances. How do you make space for this, literally in your body and conceptually?
JC: When I was on a residency with Every House Has A Door, I had the opportunity to meet Netherlands-based choreographer, Meg Stuart. Once in a critique she said, "The body is not yours." I think it's important to let go of your body and see what happens. This can be liberating because you can see what your body is capable of.
By the end of my performances at the MCA, I could pan across the audience and string 6 different movement combinations together from the people I observed because I was totally invested in their vocabulary. My interests are now much more activated around the space of what I'm seeing in relationship to where I am in the moment.
MP: How long were you performing Following Dance?
JC: For two hours a day over the course of 6 days. I also performed for First Friday, artsmart [an event sponsored by the MCA's Women's Board], and I will be performing it again for the MCA benefit.
MP: This is definitely enough experience for you to perfect the art of "observational vocabulary," how do you keep it fresh?
JC: A lot of people talk about the conceptualism behind performance art of the 1970's, but what I appreciate is the childlike wonder about it. One thing that's different about this piece from my other work is that it's light. There's an almost childlike sense of humor about it.
During the First Friday show, I noticed a man texting on his cell phone, so I started to act like I was texting . Everyone that was watching us noticed what I did and started laughing. Another day, I noticed a woman lying inside the Convertible Clam sculpture [also made by Acconci]. I laid down in the other half of the shell and slowly copied her movements. It took her a long time to figure out what I was doing.
People seem to be of two minds when they figure me out, they either revel in the attention and play with it, or they run away. Kids are endlessly stimulating because they are always moving and they are also willing to play the game.
MP: What is it like for you to leave that way of performing and return to your studio?
JC: Even when I have physically left the space of the MCA, I'm not sure if my experience leaves me -it's never completely over. As artists, we're constantly living with the material of our work. I sleep and eat my material, and I try to pay attention to how my daily life is affected by the focus of my work, how my intention is shaped or directed by my interests. I work very hard to make ephemeral art, and I often ask why I am doing this. I don't have an answer,but I think the intimacy that I get to share with the audience, based on my intimacy with the material is one of the reasons I make ephemeral art. So, it's about sharing and extending that intimacy with the audience.
For more information on Justin Cabrillos, visit his website here.

Marissa Perel is a performance artist, writer and independent curator currently working in Chicago, IL.
---
I don't remember the first time I met Noé, but I do remember the first time I saw his work. He and Joseph Clayton Mills performed in a dark room while standing opposite one another. Noé had an accordian strapped to his back and he played, very softly, while Joseph moved closer and farther away. Depending on their distance from one another, something concealed in Joseph's hand (perhaps a hearing aid?) changed pitch. That performance epitomizes what I've seen of Noé's work. He is dedicated to creating an awareness around silence within a performative space. The manifestation of the body, as a tool for the range of sound is integral, as are the relationships between performative bodies. His ability to instill the necessary parameters for such an awarenes–particularly in collaborative settings–is, to me, remarkable. I wanted to ask him more about that, but felt like direct questions would somehow do away with the very thing I was trying to ask. Consequently I tried to ask around the idea of silence, in order to better understand the way Noé uses sound. Because sound requires space, that seemed a good place to start.
Caroline Picard: How do you think of space?
Noé Cuéllar: Space evokes potential, but also communicates very directly to my sense of placement.  I think a sense of placement paves the way for the rest of the senses… it's like a background sense made up by all the senses. I enjoy compound forms even when the individual pieces can still be recognized, in this case, space is the glue.
CP: It sounds like you think of space as something both sculptural (3-d figures) and linguistic (i.e. compound verbs). I appreciate the idea that space would be some experiential amalgam of those fields, even though I'm not quite sure how that would work. Is that what you mean? What do you mean by compound forms?
NC: Yeah, it's like our sense of space is happening before we find out how we actually feel.  I'm in a room now, but a second ago I was just fine without actively thinking how comfortable it is.  I think of artistic expression as a compound form that always involves more than one thing.
CP: How do you use space as a medium for performance?
NC: The outcomes are quite unexpected when the sense of physical space is combined with the spatial sense of the actual sound.  I think my work most often expresses rigidity and confines, but space is what can allow [the work] to be experienced with more spread – perhaps more than I would choose to imply in the work itself.  I would say I focus primarily on sound, but with a sense of belonging in a space.
CP: I'd love to hear about some examples of how this has occurred in different pieces…
NC: Last year I composed Kilter, a piece for Jeb Bishop (trombone) with accordion, and two speakers inside boxes with hinges that would rattle. Â I had in mind pressure and magnetic repulsion, yet the site-specific performance gave it a more wide-ranging effect, even in a dark, gritty basement with a short ceiling.
I've also been working with Joseph Kramer as Coppice, making site-specific installations and site-variable compositions, recently at the Museum of Contemporary Art, where the space was so large we were able to prevent any of our sounds from becoming part of a whole "surround experience," but remain dislocated and in motion, scattering the perception of their source.
CP: What, to you, is the relationship between the space inside of an instrument and the space around an instrument?
NC: The outside speaks for the inside.
CP: Can you talk a little bit about your collaboration with Joseph Clayton Mills? I was just thinking of the piece where you stood opposite one another and he kept opening and closing his hand, to change the frequency of buzz that magically manifested and grew stronger the closer you moved to one another. Then too, I think of more "traditional" pieces, where you sit down and perform for a definite period of time…
NC: Working with him is very factual, much in natural state.  We share a fascination with the attributes of objects and mechanisms, their hidden sound character and emotional effect.  It makes me think a lot about photography, which we also practice on our own.  A lot of what we do together is often a simple gesture, "subtlemost" more than "minimalist."  I think we both find that simplicity very lasting.
CP: Will you talk a little bit about the way you use silence in your work?
NC: Silence is space but also glue. Â It's an encouragement that is easy to miss. Â I like using silence as a way of pronouncing presence, or as a bearer of tension, or as a moment to coast on something that just happened. Â Silences can be essentially the same in different moments, but it is how it is accessed that makes it feel different. Â It carries the weight of the three tenses, it can be very prominent in itself, while also reflecting personal inner processes. Â It can even be felt even when sounds are present.
CP: Do you feel like you are interrupting silence? Or are silence and sound variations within the same medium?
NC: My listening is constantly active, therefore I wouldn't say I interrupt silence with my sound work, but rather bring the sound more forward to emphasize the moment.  Silence can be framed between those sounds, but in the end I feel like sound and silence are only evocations of a deeper level of silence – and of sound potential – more than what they simply sound like.  The repercussions of focused listening tap on that depth, beyond the temporal.
CP: I know that you regularly collaborate with other performers as well; sometimes you do so in a more traditional improvisation venue (like The Green Mill, for instance) and at other times you seem to locate yourself more definitively within a contemporary art/performance oeuvre. How do you negotiate those different contexts? Does a venue change the work you do?
NC: Venues shape the work more than they change it.  What feels right about performances in site-specific and gallery settings is that the audience-performer space is diffused, with more listening nodes available, and open to variation.  The stage setting has the advantage of centering a performance as a clear message.
CP: Can you talk a little bit about transcription? Or, how you translate and document your temporal, acoustic sound on a static piece of paper?
NC: I'm interested in some precise musical qualities, but also variable, interpersonal, implicit qualities that happen in the process of working one-on-one with a performer.  Transcription varies from one work to another; sometimes I don't put anything on paper, or very little just for my own reminder.  When working with performers I let them write their own parts over a skeleton score I make for them. We talk, try, sharpen, and write.
CP: Do you use that score as a kind of document? I'm thinking about John Cage's "score's'" for instance; do they look like that? Or are they more traditional pages of notes?
NC: It's a document of an idea but it's interesting to use that word, especially when thinking of it as a document for a future event. Â Sometimes they take a more traditional shape but with custom symbols, sometimes they're just scribbles, and sometimes they're graphic.
CP: Can you give me an example?
With Harrow/Dormant I wanted to figure out what my interpretation of a graphic score would be, and what it would be like to suggest sound from a more abstract visual departure.  I combined drawings with directions to set a structure on which the performers can stay afloat their own decisions. Julia Miller has been interpreting it with incredible tact several times now, as part of a study for a larger project of hers… which is great because multiple iterations reveal how sensitive interpretation is to one's standpoint.
(See this video)
CP: How do you think about sound when it is happening?
NC: Sound is a constant vibration that stimulates our impulse to imagine, stir remembrance of events that perhaps haven't quite happened to us directly.  It's kind of way of keeping check of our experiential ability and our location.  It's a way to be present and also to be somewhere else, beyond our windows.
CP: You enact such precision in your work; I'm trying to understand how you think about that precision, and how you locate the "action" of your work in time and space…so somehow, sound becomes the vehicle for that action, right?
NC: I regard presence and intention very highly as a basis. Â In my mind those two things almost make sound all by themselves.
CP: But then what does that mean? For sound to be a vehicle? A vehicle for what?
NC: A vehicle for transportation…
CP: It's also really interesting to think about intention—I'm not sure I understand what you mean by that…it sounds like you're thinking of your mind as an auxiliary component—and extension of the instrument?

NC: My sister is a graphic designer, and browsed many art and design magazines when I was growing up.  I have many vivid memories of her explaining contemporary artworks to me and she would talk a lot about intention.  I remember there was an advertisement all white with only one small logo in the middle, and I asked her why they would waste so much space, and she pointed out that the blank space lead our eyes to the logo, that was the focus.  That got me thinking about doing only what felt like enough.  Insights like that built up very solidly, and I'm reminded of that particular one quite often.  The intentional framework for a message.
---
Jessica Labatte's just-closed exhibition at the Museum of Contemporary Art marked the 100th artist featured in the MCA's long-running "12 x 12″ series, which focuses exclusively on emerging Chicago artists. The series, which was launched in the Fall of 2001, has been going strong for almost a decade now (for more on the history of the 12 x 12 series, see here) . Even a cursory glance at the MCA's 12 x 12 archive makes it clear that it has showcased some of the best young artistic talents currently working in Chicago (some of the best, but certainly not all of them). Indeed, at times it almost seems like a 12 x 12 show is an inevitability for any Chicago artist who hangs around long enough, though I know that there are plenty of artists still waiting patiently for their 1/12th slice of the MCA pie. After all, who doesn't want a Museum exhibition on their resume?
And that's the problem that I have with the 12 x 12 series as a whole. It's too much about giving every artist their turn, and not nearly enough about ambition, innovation, and critical expansion of an artist's practice (and an audience's understanding of it). I'll be even more blunt: 12 x 12 shows rarely feel special. The work by artists that is exhibited in this smallish gallery off the MCA's main entryway is no better, and more often than not it's significantly less good, than the work that that same artist has shown at a local gallery. Take Labatte's exhibition. I'm a fan of Labatte's work, and have written positively about it elsewhere. But her MCA show was a bit of a letdown. The exhibition consisted of two large-scale photographs, one of which was exhibited in her recent gallery show at Golden and another large-scale work that to my knowledge hasn't been exhibited before. Mostly, however, the show was comprised of a large series of smaller-scale photographs that were, in essence, variations on a single idea. Significantly, selections from this same body of work were displayed concurrently at GOLDEN's solo booth at NADA Miami Beach.
I saw Labatte's MCA show last weekend, and since then I've been trying to parse through why I was so underwhelmed by it – and why I'm not all that surprised at the fact that I was. I don't think the disappointing aspects of Labatte's show are due as much to the work itself (which was fine, if not, in my opinion, some of her best). Instead, I think Labatte's show exemplifies a growing failure on the MCA's part to think big when it comes to showcasing local artists.
The 12 x 12 series has grown programmatically automated in spirit. It's as if the MCA believes they need to do little else than place their institutional stamp of approval on the groundwork that Chicago's gallerists and indie cultural producers have already laid. I have no idea what kind of budget each 12 x 12 project receives but I'll bet it's pretty small. This is fitting and often necessary for a Museum project series – up to a point. But in my opinion a museum show by a local artist whose work — let's be honest — is already well-known to the local art community should be a step beyond the normal gallery fare. A Museum show–even a smaller-scale project-type show–should strive to be ambitious in some way, a knock-your-socks off occasion for the artist to create something that would not otherwise be possible without the museum's support. I think an important correlary to this last idea is that a 12 x 12 artist should be given the institutional freedom to make a project that is not necessarily the kind of thing that their dealer would want to show (i.e., not easily sellable to collectors).
A brochure prepared for every 12 x 12 exhibition would be another step in the right direction. Take the beautifully produced 3-fold brochures for the Hammer Museum's Project series as an example. The Hammer's brochures are produced cheaply. They contain full-color illustrations of the artist's work and, most importantly, each one includes an engaging critical essay written by a museum curator, another artist, or a well-known writer or cultural figure. So not only do Hammer Projects artists get a show, with a curatorial mandate to "think big," but they get something that lives on afterwards – an essay written about their work that helps expand critical awareness of their practice.  I think the MCA should be doing this too. What if the MCA were to invite emerging, local-area writers and curators to occasionally pen brochure essays for its 12 x 12 artists? Not only would the artist receive lengthy critical assessment of their work, our local writers (many of whom also fall into the "emerging" category) would receive the obvious benefits (and honorarium) of having their work published by a museum. It's a win-win situation for everyone involved.
If budget is an issue, I think the MCA should cut down on the number of 12 x 12s it does each year (12 is already far too many, in my opinion). Why not do 6 x 6 and up the budget for each show? That way, each exhibition can be more ambitious in scope, include an accompanying brochure/essay, and have more of a lasting impact on the artist and the museum's audience.
I'm not sure if I would have written these comments at all if an MCA staffperson hadn't called me at home one evening several weeks ago, shortly before Labatte's exhibition opened. The staff person asked me if I would be interested in writing about Labatte's show and/or the fact that it also marked the 100th artist in the 12 x 12 series. So, you know, here you have it, here's what I think. The MCA staff person was extremely nice and I always welcome such calls, but I couldn't help thinking that, to a certain extent, the Museum was asking me and other local arts writers to do their interpretive work for them. Those little wall labels provided for each show, which are invariably written in bland museum-ese and which seem to boil every artist's concerns down to the same three or four issues, are not sufficient. In many ways they do a disservice to artists who have worked so hard to "earn" their MCA slot and are justifiably thrilled at the opportunity to exhibit in one of the country's top contemporary art institutions.
The MCA needs to do more to make this opportunity count. 100 shows and almost 10 years is long enough to prove the Institution's commitment to emerging local artists. Now, I think it's time for the MCA to expand that commitment into something more lasting and meaningful by taking a long look at how they allocate their resources and at what they, and more importantly what their artists, truly want and need from a 12 x 12 exhibition.
---