Ahoy again, me mateys! Thar be arts in them thar  waters. Yarg! And for this week's briny picks, we'll be casting broad our ores…or something. Ok, enough of that. But really, we are a bit scattered about for this weekend's picks. I'll be driving my trusty Jeep round, dashing through the snow and such. Perhaps, I'll see yo ass out there? And now…
The True and Trusty Top 5:
1. Matters at Golden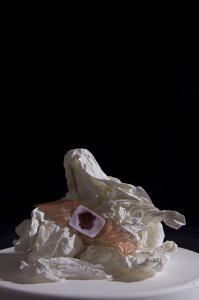 Golden Gallery has impressed me with their selection of work since they opened about a year and a half ago with my buddy Jill Frank's work. This round looks like more of the same, in the good way. Opening this week is a solo show of Joseph Cassan. And really, anyone who can take Kleenex and a bloody Band Aid, put it together, and make me think of Caravaggio is worth a look in by book. Rock on, dear Golden Gallery.
Golden Gallery is located at 816 W. Newport. Opening reception is Friday from 6-9pm.
2. The Dog and the Wolf at Monique Meloche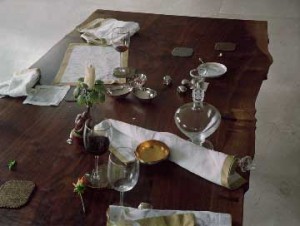 I friggin' love Laura Letinsky. 'Nuff said. She's having a solo show at Meloche's joint. Go see the show.
Monique Meloche is located at 2154 W. Division St. Opening reception is Saturday from 4-7pm.
---