An uproar has grown over the inclusion of British artist Marcus Harvey's massive portrait of child killer Myra Hindley in London's promotional video showcasing well-known London landmarks.
The painting which was created using the handprints of children to recreate the portrait of the nationally reviled killer who died in prison in 2002, was exhibited at London's Royal Academy of Art in 1997.
Visit London used the image as part of a montoge to promote London and it's landmarks of industry, nature & culture.and was played on a loop at a private party in Beijing attended by British politicians, 2012 Olympic officials and British athletes.
Also it was the backdrop of British Prime Minister Gordon Brown and London Mayor Boris Johnson's speech they gave during the party that was transmitted back to the UK.
Visit London defended the video as "a general, three-minute video of London in which an artwork by Marcus Harvey very fleetingly appears."
---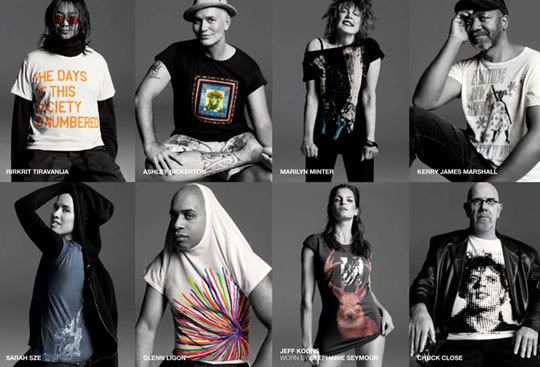 via highsnobiety
Building on its long history of supporting the arts, today Gap introduced Artist Editions T-Shirts, a limited edition collection of t-shirts designed by 13 of today's most influential contemporary artists, including Chuck Close, Jeff Koons, Marilyn Minter, Kiki Smith, Cai Guo-Qiang, Barbara Kruger, Ashley Bickerton, Kenny Scharf, Glenn Ligon, Rirkrit Tiravanija, Kerry James Marshall, Hanna Liden and Sarah Sze.
Gap worked in close partnership with the Whitney Museum of American Art and Art Production Fund to create the collection with the 13 artists, who are all previous Whitney Biennial participants. The Whitney Biennial is a special exhibition held every two years at the Whitney Museum of American Art that features the most important contemporary art in the United States. Gap is a proud sponsor of the 2008 Whitney Biennial.
The limited edition collection is available exclusively at select Gap stores in the U.S., Canada, the U.K. and franchise markets, as well as online in the U.S. at gap.com. It's also available at the Whitney Museum of American Art, the San Francisco Museum of Modern Art, the Museum of Contemporary Art Chicago, the Museum of Contemporary Art Los Angeles, the Walker Art Center in Minneapolis and at Colette, a Paris-based boutique. The t-shirts range in price from $28 to $38.
---