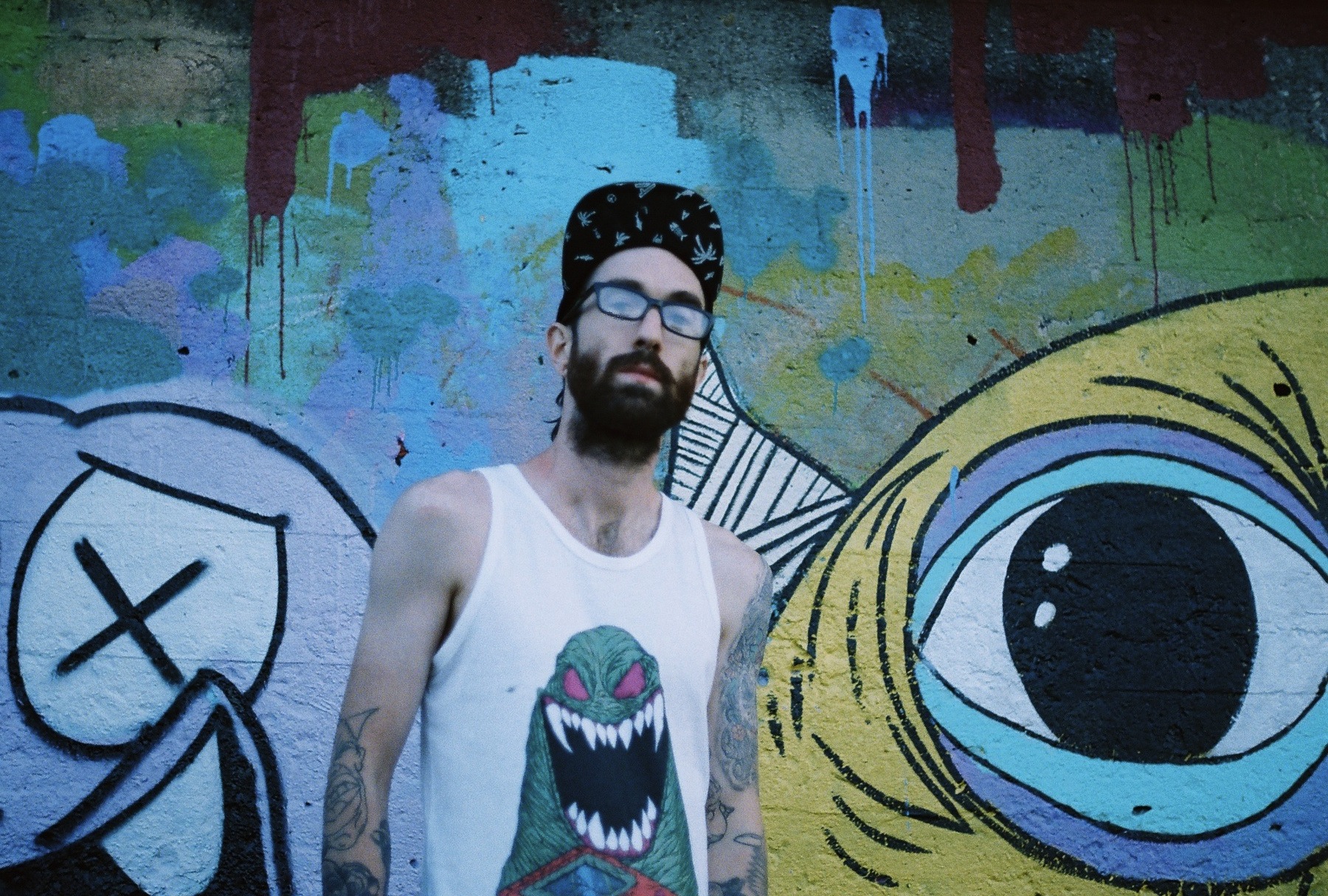 After losing his job and apartment on the same day a couple of years ago, Los Angeles-based street artist Gune Monster says he contemplated a suicide. Instead, he picked up a marker and begin drawing the toothy, ghoulish figures that would eventually become the hallmark of his  alter ego.
First, he drew about 50 stickers a day. The number quickly climbed to upwards of 350 hand drawn, colored and cut stickers , many of which would eventually make their way onto the poles, benches and other public spaces scattered around Los Angeles. Larger murals would eventually follow as the street artist's ambitions grew.
"Murals change people's lives" he says. "They change your opinion of the wall. It changes it from being some ratty wall that's got some tag or some weird penis that's got some hair to an amazing, beautiful mural that's got a hummingbird flying through the sky with birds and mountains."
Gune Monster also feels that creating murals offers developing graffiti artists an opportunity to mature by forcing them to openly confront the public with their work in a more much more personal and direct way.
"You've no longer going out at night" he says. "You're no longer hiding in a gallery. You're no longer putting up stickers. You are now in daylight, in the public, being judged by everybody that sees you. And that's when you're at that point where you're confident enough to spread your art."
Gune Monster returned to his hometown of Kansas City this past June to live mural at the City Ice Arts Building — a converted warehouse in the city's arts district that houses a collective of local artists and artisans. Though he wasn't able to paint at the Kansrocksas Music Festival (the event was cancelled), his new clothing line and projects in Los Angeles, Miami, New York and Las Vegas continue to keep this elusive artist fully occupied.
Check out his website for more great images of his work.
Words by Carolyn Okomo, a Kansas City, MO-based writer. 
Images by Dave Dumay of City Ice Arts and Carolyn Okomo.
---
Audio clip: Adobe Flash Player (version 9 or above) is required to play this audio clip. Download the latest version here. You also need to have JavaScript enabled in your browser.

download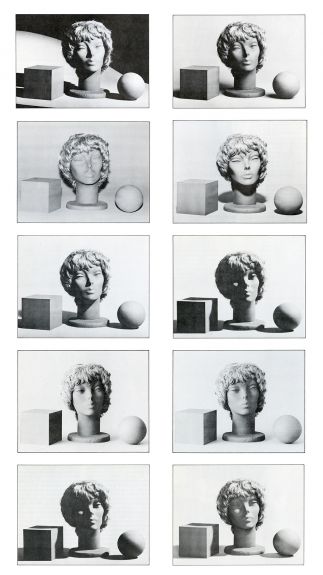 This week: We talk with artist Amanda Ross-Ho!
Amanda Ross-Ho was born in Chicago in 1975. She currently lives and works in Los Angeles, California. Amanda Ross-Ho's work is inspired by detritus: the clutter and remnants of daily existence, and the 'negative space' of things over looked. Ranging from sculpture, installation, painting, and photography, her work seeks to uncover the subtle beauty of coincidence and anomaly. Working from source material as diverse as newspaper articles, narcotics agency records, life aspiration manuals, and home-craft instruction booklets, Ross-Ho highlights points of cultural 'intersection' to create extrinsic portraits of contemporary zeitgeist. Throughout Ross-Ho's work is a sense of de-familiarisation and detachment, a numbing alienation contrived from everyday ephemera. Ross-Ho's paintings similarly broach the uncanny. Translated from images of doilies or macramé wall hangings, her intricate webs are manufactured in grandiose scale, cut from painted black canvas dropcloths, or carved in sheet rock. Their recognition and domestic symbolism becomes estranged, placed out of context through size and materiality. Construing kitsch with the elegance of minimalism, Ross-Ho presents the sentimentality of tchotchke as emotive voids, displacing homey intimacy to the realm of objective contemplation.
---
An exhibit showcasing the Chicano arts collective ASCO, which was active in Los Angeles throughout most of the 1970s and 80s, is currently touring the North American continent. Unfortunately, it won't be coming to Indiana any time soon, so I have had to make due with the thick catalog from the show, "Asco: Elite of the Obscure." Fortunately it's a beautiful book. Asco's artwork ties into a lot of my ongoing pet concerns – kitsch, the foreigner, the "as if" artwork – in dynamic and interesting ways, so I thought I would share some thoughts on this arts movement. But most importantly, the images are utterly beautiful and hilarious. I can't help myself: I'm fascinated, I keep thinking about these images, this movement, which may seem very far removed from my own life in Indiana, but yet seems very relevant to me.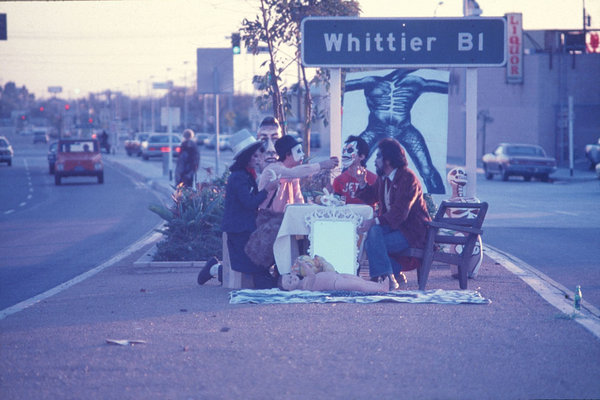 The name "ASCO" is itself interesting. To begin with, like the famous forbearer "Dada," it is a foreign word (it's Spanish, meaning nausea) that is both strange and catchy. It "works" in English as a kind of brand name (I'm gonna get som Asco at the corner store? Have you gotten the latest Asco yet?), but the Spanish adds a layer of obscurity, of a sense of something hidden. This combination of the kitschy and the hidden is in many ways emblematic of a foreigner aesthetic. I'm using the word "foreigner" to conveniently include here both actual immigrants and ethnic minorities. I know there's a difference but there's also a similarity: a presence that troubles the dream of homogeneity.
In U.S. culture – whether "high" or "low" – the foreigner is often a figure of kitsch: s/he is a fake version of the real thing ("the American"), lacking the interiority of the American Subject. That is, the foreigner is thing-like. S/he has no soul. In this regard foreigners are a lot like Art. Everything we touch becomes art.
Ethnic or minority or immigrant cultures are often very conservative in trying to avoid this kitsch label, insisting on a kind of authenticity of their culture. America often finds that very attractive as well: "the old world" of authenticity as opposed to the modern America. This is another form of kitsch, "authenticity kitsch."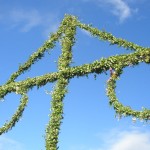 [Some Swedish kitsch…]
A while back I got in a heated discussion with a Latino poet who claimed the Latina writer Sandy Florian was not a Latina writer because she did not "write about the Latina experience." Her writing was too "experimental" – ie it called attention to itself as artifice, rather than (as his own poetry) seeking to document the stuff of the Latin "experience" (whether food, customs, family traditions). In other words, art gets in the way to this "documenting." Authenticity becomes a conservative aesthetic. Ethnicity becomes an aesthetic. Paradoxically, all things aesthetic are of course artifice.
In this insistence on art that "documents" the "real thing," this conservative aesthetic reminds me quite a bit of the discussions in "Performance Art" where it seems to me (I admit it, I'm not an expert in this field) important that the real art is the performance, not the "documentation." Sometimes I've come across these spats in performance art discussions where people get accused of turning the "documentation" into the artwork.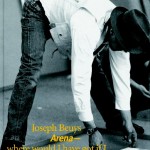 For example, Joseph Beuys was often accused of this. And that definitely seems true. My favorite work by Beuys is his long-running series of photographs "Arena: Where would I have got if I had been intelligent," which consists of photographs of art objects, regular objects and performances by Beuys. Except, the divisions are immediately blurred. The montage of photographs of artistic relics/souvenirs from the performances renders any object he might put in the show into a relic; the montage sets up an equal sign of sorts; it tells us: these are photographs of relics. Everything is a relic, a souvenir. The art cannot be contained.
Likewise, it's not clear if all the pictures of Beuys himself are from actual performances, or if any picture with him is a performance, if his life is a performance. The "cut" between photographs are too far apart to be "sutured" together into a montage. Art has redefined itself, redefined "life," There is no longer an "outside." There's an atmosphere that leaks out surrounding everything, turning everything into Art.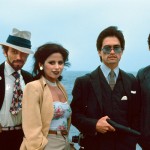 Conducted at the same roughly the same time, the ASCO artworks play with a similar dynamic in their "No Films," which consist of fake film stills from non-existent movies, starring "bario stars," an ethnic version of the "superstars" of Jack Smith (whose film stills from the 1960s is probably the most direct predecessor of ASCO's work) and Andy Warhol. This connection suggests another important connection: that between the foreigner and the homosexual, between the immigrant and the queer.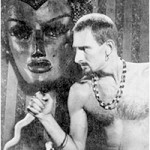 As modernist poet and constant immigrant (from Russia to Finland and later Lithuania) Henry Parland put it in his diary: "I am always a foreigner, no matter where I go." To be a foreigner is to be a kind of drag version of the native, the foreigner introduces Art into every dimension of life. Some people – such as the Latino poet who could not find the "Latina experience" in Sandy Florian's work – would try to deny that the reified 'immigrant experience' is itself kitsch, made up of costumes, objects, food, customs, a recognizable cast of characters, etc. Others, such as ASCO, would use it to produce their Art.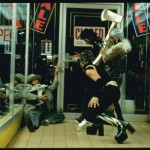 What strikes me in these would-be B-movie promotional stills is the use of cheap trinkets, the kitsch: disco-aliens with platform boots attack a bum with a huge fake axe, a woman is taped to a wall, a dolls is burning. These trinkets and human figures are posed around very mundane parts of Los Angeles; but their make-up, their trinkets both call attention to the mundane Los Angeles and turn it into something ridiculously glamorous, a kind of kitsch glamour. In this way it seems to opposite of the Hollywood idea of Los Angeles: The ultra-rich heart of spectacle culture that can create every exotic locale within its studios. Here the shitty glamour brings the "studio" out into Los Angeles, which finally becomes visible… as Art.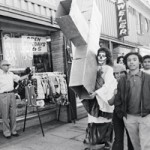 The other thing is that this shitty glamour is actually circuited to ethnicity. You can see this connection very explicitly if you look at some of ASCO's artwork – such as "Stations of the Cross," where they dressed up in Day-of-the-Dead-inspired garbs and carried a cross to the draft station used to sign up Chicanos for the Vietnam War. Once you've become aware of the political and ethnic dimensions of that protest, you can see the connection between the kitsch and the ethnic-inspired matter in the No Movies.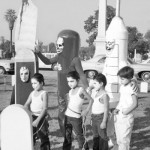 Let me return to the name ASCO, the name with its dual meaning of kitsch-brand and foreign, obscure word. Who was afflicted by this "nausea"? When asked in 1983 where the name came from, Gronk (one of the members) said:
"That was generally the reaction to a lot of the work that we were doing, when we first started doing work, is people would say, refer to our work as giving them, "Uuhllhh!" asco. So we said, "That's a nice title," so we applied it to ourselves. A lot of the stuff early on was like real bloody and used a lot of different things, like dead birds and bones, and anything we could get our hands on. So the reaction by the community, or by different people that would see the work, was that it was giving them nausea. We liked the word."
So in this definition, their artwork is named after the reception, after the effect their art has on people. But this is not the only explanation the group has given for its name. As C.Ondine Chavoya and Rita Gonzalez point out in their article "Asco and the Politics of Revulsion," another member, Harry Gamboa noted very early on: "Last year at this time I was very active in the affairs of my community. I was deeply bothered and disgusted with the condition of my community and the Mexican American people. I learned to distrust and dislike everything that was pro-establishment." Along the same line, Gronk also said "a lot of our friends were coming back in body bags and were dying, and we were seeing a whole generation come back that weren't alive anymore. And in a sense that gave us nausea… that is Asco, in a way." The group also stated that they were "attracted and appalled by the glitter and gangrene of urban reality."
What I love about all these definitions – seemingly seeping out of a very basic yet foreign word – is the contradictions: the nausea is a negative response to the artwork which is a negative response to the political realities and or the kitschy "glitter," which may be a disease in itself. In Julia Kristeva's famous definition of "abjecting" as vomiting out the abject in order to maintain the self. "The abject" is that which troubles boundaries. And here the nausea is both in the viewer and the artist, both inside the artists and outside of them. The glitter, the kitsch is the disease is both a source of fascination and nausea. Asco doesn't expel the kitsch, they harbor it, they are fascinated by it; this fascination doesn't heal, it seems to permeate.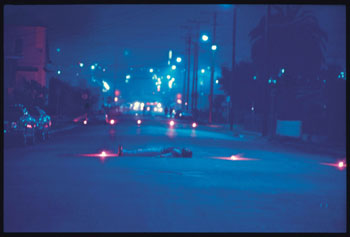 Like the element of the un-sutured montage, the nauseating atmosphere of Asco's work permeates the city of Los Angeles, blurring boundaries between inside and outside, fantasy and reality, Los Angeles and "Los Angeles." Perhaps the most strikingly political aspect of this aesthetic can be seen in the stunning photograph "Decoy". The group sent this picture of an apparently dead man in the middle of a street in Los Angeles to newspapers and news shows as evidence of another Chicano riot gone awry, and these news-outlets promptly broadcast it as evidence.
And this is where I feel like a lot of my concerns in this essay come together: the anxiety about proper documentation is totally undermined by the very beautiful fake documentation, the ethnic "document" becomes the imaginary trace of violence, the nausea pervades everything – from the disenfranchised Chicano artists to the corporate news shows. Glitter and gangrene, glitter and gangrene….
---
"I dreamed a dream in time gone by, when hope was high and life worth living." These are the words that a despondent and depressed Anne Hathaway sings into the camera as Fantine, the despondent and depressed semi-heroine of the Broadway hit turned Major Motion Picture, Les Miserables. I can relate. I moved to LA with a dream in my heart and a song in my soul, and after 5 or so years living in Los Angeles, working on movie deals that have yet to come to fruition (YET!), working several unsatisfying jobs and being a part of one long term, super great relationship, that ultimately and recently ended, I find myself often looking into the abyss and thinking…"I dreamed a dream in days in gone by…when hope was high and life worth living."
But I don't want to talk about me (well, not just yet) I want to talk about the Academy Award nominated and multi-Golden Globe-winning cinematic experience, Les Miserables, or as we shall further call is Les Miz TM. I had high hopes for this film. The cast was a veritable parade of stars who, if you check their bios, claim to have sung before. Russell Crowe is in a band, Hugh Jackman has appeared on Broadway, and Amanda Seyfried sang in Mama Mia, right? The trailer made it look exciting, energetic and emotional. Anne Hathaway, all big-eyed and sad, looks into the camera and with haunting sincerity sings the famous I Dreamed a Dream whileshots of the rest of the movie play out for us. We see soldiers and poor French children. We see fighting and redemption. We see Hugh Jackman with tears in his eyes, Amanda Seyfried with tears in her eyes, Annie H with tears in her eyes, etc, etc. And when it came to those things, the trailer didn't lie.
Those aspects were all there. Visually, it was all very stunning, but aren't most movies these days? I live in LA. You can't sit in a coffee shop with a girlfriend to complain about the man who wronged you (see Fantine, I can relate) without overhearing at least one production meeting. I have them myself. I have one later today. It is LA's business to make ALL movies look stunning! Nobody sets out to make a movie that looks OK, but sounds great, or looks OK but has a great story. Film is first and foremost a visual medium, and most films, Les Miz included, live up to that part of the promise. It's the "great story" and "sounds great" part of the promise where I think Les Miz really fails. Now, we can't fault the filmmakers for the story. Les Miz is a novel turned musical turned movie. I've never read the novel (but my mother says it's a real page turner).  I've seen the musical several times, and the film stays very true to that subject matter, changing virtually nothing about the music, or story. The problem I have with this movie is the singing. I love musicals. I'm a musical theatre geek. I moved to LA from New York where I spent years attending and auditioning for (but never appearing in) Broadway musicals and I love them ALL. So my main complaint about Les Miz TM is that most of its stars did not sing the songs (and there are a lot of songs) as well as they should have. I've complained about this a lot, to almost anyone who will listen, and I've gotten some push back. "They're movie stars, not professional singers." And "They did all their singing live with out any auto-tune, dubbing, or lip syncing." You know who else sings live? Broadway performers, every night. And they sound amazing! Academy Award winner Russell Crowe looks as though he is trying to remember the lyrics as he strains out Stars. Amanda Seyfried looks very pretty in her bonnet and even manages to hit the very high notes of Cosette's many love songs, but I wouldn't say that I particularly enjoyed the high or low notes of any of her vocal stylings. Even Hugh Jackman, who I saw and enjoyed on Broadway in The Boy From Oz a few years back, doesn't quite have the right voice for the role, always sounding a bit shrill and timid for my taste. I'm sure it is different to deliver a vocal performance with a camera in your face and only the melody line playing in your ear (they added the orchestra in later) but in the end it made the song performances, and ultimately the total performance of the actors feel very controlled, limited and boring to me. But don't feel bad for them. Wolverine won the Golden Globe and has an Academy Award nom under his belt for the film.  Annie H won a Golden Globe and will probably win the Academy Award for a total of 20 minutes or so of screen time in this really long movie, and for what? Getting a haircut and tearfully whispering an iconic song? But let's leave Anne alone. She did the best she could and will be rewarded plentifully for her emotional efforts (and for sacrificing her beautiful hair). Fantine is an elegant mess and Annie H plays her as such, never shaking the misery that is life. As I mentioned before, I can relate. I've had bad haircuts much worse than Anne's (picture too short and with a too tight perm) and I've degraded myself for money. I have not worked as a prostitute or sold my hair, but I have worn a chip monk costume at Disneyland, worn a bowtie as a waiter, and once sang Billy Joel songs at a kid's birthday party while literally NO ONE listened or applauded. I think I got paid about $50 and got a free lunch, so ultimately, it was totally worth it.
In fact, as I drive around Los Angeles, I am struck by how comparable the lives of the characters in Les Miz are to the lives of my fellow Los Angelinos. How often have I driven up to a Starbucks and seen that the drive-thru line is 6 cars deep and felt truly miserable?  How many times have I sat in bumper to bumper traffic on the 405 at rush hour and thought "God on high, Hear my prayer…Bring me home Heaven blessed." I've often walked my dog in the misting rain and thought about my celebrity crush on say, Jake Gyllenhaal, and sung the words to On My Own out loud for the neighborhood to hear. Not to mention the "lovely ladies" walking down Sunset at night looking for a date. We all understand and experience Les Miz in our own way.
So, At the End of the Day (did you see what I did there? That's a song from Les Miz) I wouldn't recommend going to the theatre to see the movie Les Miserables. I would recommend getting the Broadway soundtrack for your car and driving around Los Angeles, traffic and all, beholding the misery while listening to the beautiful, trained voices of the Broadway performers, instead. It may not be quite as visually stunning a show, but it will be a better musical experience.
---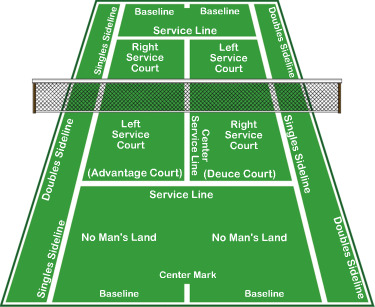 I came on as the Managing Editor of the Bad at Sports blog about a month ago. It's been an exciting turn and I hope to do well by it. A few people have asked what my vision going forward is, and I thought I might say something about it here. I hope to continue reflecting on the dynamic energy in Chicago's contemporary art world while connecting to conversations and aesthetic agendas in other cities and disciplines. That agenda was set in place a while ago and I believe I can continue to guide and focus that intention. There is room for experimentation in that vision, which seems necessary to me. Bad at Sports has never presented a tidy, singular package and as such, I believe it would go against the nature of the project to filter content and tone through a single, editorial lens. Its roots in independent, DIY and Punk Rock collectivism remain at the heart of the project's vitality and the blog is a platform for unique and individual voices that pass through the subject of contemporary art and culture. As such it becomes a nexus of concerns and responses to culture at large. That is something I hope to preserve under my stewardship. As an artist-run forum, Bad at Sports has the unique capacity to reflect on a host of subjects, exposing the intellectual, aesthetic and social networks that define and subsequently influence cultural production. I believe it is our job to explore and discuss the contexts we inhabit. In doing so, we further establish a living touchstone and future archive of contemporary discourse.
Some changes should be apparent already — others will fall into place like pieces of a puzzle in the coming months. The process is organic, but I've been trying to set up a casual, thematic architecture  that unfolds over the course of a given week. Eventually, I hope to schedule two posts a day, one before 2pm and one after. Built in to this, is room for special occasions and guest writers — those posts would either go live in the evenings, or fill in existing gaps. To that end I've been inviting a number of new writers, many of whom I have admired for a long time.
Here is something of a loose schedule:
Mondays: Essays and reflections from old favorites Jeriah Hildewin, Shane McAdams and Nicholas O'Brien — writers who have been posting with consistent dedication. In addition, I'm excited to announce a new bi-weekly column by Dana Bassett, whom you may know for her ACRE Newsletters.
Tuesdays are dedicated to three subjects: Performance, Social Practice, Language (or the performance thereof) and Object Oriented Ontology. Confirmed participants include longstanding contributor Abigail Satinsky and Mary Jane Jacob (Social Practice), Anthony Romero and João Florêncio (performance), Gene Tanta (language), Robert Jackson (OOO).
On Wednesdays, we will read about artists and art in other cities. The following writers will post on rotation: Jeffery Songco is covering the Bay Area, Sam Davis continues to represent Bad at Sports' Los Angeles Bureau, Sarah Margolis-Pineo is writing about Portland. Juliana Driever will be relaying posts, interviews and artist profiles about New York, and then we'll bring it back to the Midwest with Kelly Shindler's dispatch from St. Louis, and Jamilee Polson Lacy writing about Kansas City.
Thursdays herald our illustrious Stephanie Burke's Top 5 Weekend Picks and a new monthly contribution from author/translator Johannes Göransson whose writing you can also find here.
Fridays have been set aside for art reviews and artist profiles with contributions from Danny Orendoff, Monica Westin, Abraham Ritchie and myself.
WEEKENDS will feature a range and flux of the above, plus Brit Barton's Endless Opportunities, cultural reflections and short essays by Terri Griffith, continued posts from Jesse Malmed, in addition to a monthly contribution from the newly confirmed Bailey Romaine and Adrienne Harris.
My last note is this — there is room in this schedule for additional posts, posts that would feature special events, festivals and conferences in the city. That space would also be available to, at times, connect the blog and the podcast. As a first indication of this, we will be highlighting IN>TIME, a performance festival that is going on as we speak, from January until March.
Otherwise if you have any comments, suggestions or, even guest posts you would like to submit, please feel free to contact me at: caroline@lanternprojects.com
---