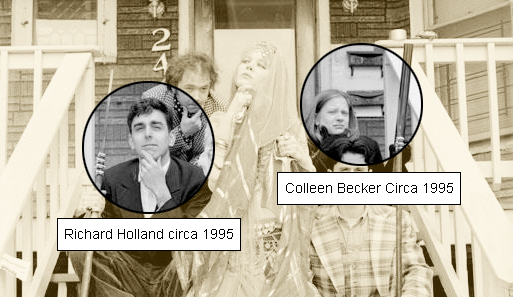 Today Richard had the good fortune to e-mail interview friend, former colleague, mischief maker, and all around giant of consciousness Colleen Becker.
Colleen Becker is an American writer and academic living in London. Her published work spans fiction and non-fiction genres, including flash fiction, academic articles, journalism, art reviews, and essays, and she has read at numerous venues including Princeton University, the Tate Modern, and Foyles Bookshop. She holds PhD, MPhil and MA degrees from Columbia University and a MA from NYU, and she is a 2013-14 Visiting Fellow at the University of London, School of Advanced Studies, Institute of Germanic and Romance Studies. She has text based artwork included in an exhibition at the Anatomy Museum, King's College London. "Translation Games"Curated by Ricarda Vidal (KCL) and Jenny Chamarette (QM) which runs from 31st July to 2nd August 2013
Richard Holland: Colleen Becker, welcome to Bad at Sports!
Colleen Becker: Thanks! I'm so happy to participate in this interview!
RH: You are currently, among a vast number of other titles and pursuits, a visiting fellow at the University of London, School of Advanced Studies, Institute for Germanic and Romance Studies. What are your researching?
CB: I'm doing a post-doctoral fellowship within IGRS's Centre for Cultural Memory. Broadly speaking, my area of research is the cultural history of German nationalism. My project is titled: "The Art of Becoming a Nation: Turn-of-the-Century German Visual Culture," and if you're still reading, I will be examining and positioning artifacts of visual culture as manifestations of identity that memorialize understandings of the self in relation to others, from the individual act of depicting one's own or another's milieu to the collective feat of representing an entire community in both political and visual terms.
RH: What are "Translation Games"?
CB: "Translation Games" is the brainchild of curators Ricarda Vidal (King's College, London) and Jenny Chamarette (Queen Mary, London), who were interested in exploring the concept of translation through various textual, auditory, and visual media. They hired me to write a flash fiction piece of 250 words, with a conventional narrative structure (beginning, middle, end). My story "What We Made" formed the basis for a game of "Chinese Whispers" ("Telephone" in American English), in which only a couple of the artists or foreign language translators received the original text while all of the others worked off of received "translations." Interestingly, the first textile designer who read my work was dyslexic and misread the story before passing it along to the other textile artists—so, even the original version was "lost in translation."
RH: The Anatomy Museum, sounds dirty, what is the Anatomy museum and is it a contemporary art venue, or is in more like the Museum of Surgical Science in Chicago which is *not* and art venue but has the occasional show to be quirky?
CB: I have a soft spot in my heart for the Museum of Surgical Science in Chicago. During my most memorable visit, a swarm of flies hovered menacingly over the vitrine of Pompeian gynecological instruments.
The Anatomy Museum is part of King's College, which is Ricarda's affiliated institution. It has a creepily fascinating Victorian history as an anatomy theatre, but it's not a contemporary art space per se.
So the project takes language, in this particular case a short story that you have written, and through the process of translation and retranslation the text evolves into a new form, is that a fair summary of the core idea? Yes.
RH: Are you familiar with Alvin Lucier's "I am sitting in a room"? Lucier made a recording himself narrating a text, and then playing the recording back into the room, re-recorded it. The new recording is then played back and re-recorded, and this process is repeated over and over again. All volumes of space have characteristic resonant frequencies, the repeated recording and re-recording eventually acts to, in essence, filter out the language and what is left is a set of frequencies emphasized as they resonate in the room. Finally the words become unintelligible, replaced by the pure resonant harmonies and tones of the room itself like a signature. This project seems like the language version of Lucier's piece. If you were to translate and retranslate over and over, do you eventually end up with the resonant frequency of the translator or of the text itself, common tonal elements that could not be lost in translation?
CB: Thank you for the enormously flattering comparison! In addition to the physical works of art, the story and its translations also have been performed a number of times. At a workshop in early July, for example, Ricarda and Jenny grouped artists and translators together and we read the text all at once, or in orchestrated sections, and the result was a living Tower of Babel. There is a certain musical quality, and rhythm, to each group reading, which is possibly best experienced by viewing the video of the performance. "What We Made" was translated into several different languages, and then retranslated back into English, which changed the length of the text in each instance. So when the translated versions were read out loud at the same time as the original version, the distinctions between them were quite noticeable.
RH: In addition to the linguistic part of the project, the text is re (and re-re- and re-re-re- etc.) interpreted through varieties of art media as well. I wonder how the 27th re-re to the 27th iteration of the work will relate to the original text.
CB: Curiously, the common elements you described in the previous question were more obvious in the works of art. Even though artists were working from received translations, rather than the original text, we noticed that they all seemed to convey a similar mood, attitude, or tone, also found within the story.
RH: You have had an impressively diverse and fascinating career as an author, a critic and an academic. Over the course of this career have you found that, to speak in clichés, your ideas are at times lost in translation, and somehow fail to make the leap from what we assume to be a common symbolic language (text)utilized to convey ideas to each other? In the face of, for example, an English fluent reader missing the point of an English language text, when your work has been translated in to other languages it must be a source of concern that your ideas are additional steps away from the original meaning and stand a reduced risk of reaching the target audience in pure form.
CB: It's a challenge for any writer, working in any genre or format, to precisely convey their ideas to their audience. I've always been fascinated by what happens at the intersection of intention and reception; there's a bit of alchemy, in my view. Maybe I'm being pessimistic, but I doubt there's any such thing as pure or unmediated communication. On the other hand, I'm a thorough editor and unflinching critic of my own writing.
RH: Is the answer then to sit everyone down and explain your ideas specifically? I suppose that assumes a world where the person listening is *actually* listening and not checking twitter on their phone.
CB: It's the writer's responsibility to connect the dots, but also to communicate in terms that are appropriate for the intended audience. When you publish something, you don't know how it's going to be received and there's no accounting for other peoples' attentiveness, or lack thereof. But I think the best writers are able to hold their readers' attention for the duration of their engagement with the work.
RH: How did you become involved with this project?
CB: Ricarda remembered me from the Shortness at Tate Modern conference, which she organized along with Irini Marinaki and Konstantinos Stefanis. She approached me about writing a text for Translation Games.
RH: You were a participant in the "[V]ery short conference and a very long dinner" called SHORTNESS AT TATE MODERN, along with DJ Spooky, Jonathan Allen, Matthew Steven Carlos, Steven Connor and others. You spoke under the auspices of being a "flash fiction writer". I like the idea of short conferences and long dinners. What is flash fiction and what was the focus of the conference?
CB: Flash fiction is a story written in 1,000 words or less. The most famous example is Ernest Hemmingway's "For Sale: Baby Shoes, Never Worn," which is the entire narrative. I'm fascinated by the way in which subtext provides as much, or even more, of the story to the reader. More so than other genres, flash fiction operates at the interface between the writer and the reader.
Shortness At Tate Modern had two components: conference papers presented in an auditorium and a long dinner in an upstairs room that was interrupted by various performances, demonstrations and interventions. That's where I read my short story "B&I," which is set in Chicago. I was pretty nervous about presenting to an audience that included DJ Spooky, since I'm an admirer of his and I had taught his work to undergraduates at Barnard the previous year.
RH: You recently did a reading at Foyles Bookshopin London, the write up of which referenced you are working on your second screenplay. Aren't the 8 degrees, lovely family, multiple book projects, art projects and being a Huffington Post correspondent enough? Screenplays? I recently completed my work on Angry Birds Star Wars (admittedly playing it not developing it, but it was hard work to defeat Darth Pig). Now, c'mon, you are just embarrassing the rest of us. What is your most recent screenplay about? We have a huge Hollywood studio exec. fan base.
CB: I wrote a feature-length screenplay a couple of years ago, marketed it, and stirred up enough interest to motivate me to write another one. At the moment, I'm writing a contained location action-thriller.
Usually, I work on fiction and non-fiction projects in tandem, exploring concepts and narratives through different genres. Some things that work in fiction just don't pan out in non-fiction and vice-versa. Lots of projects remain unfinished, or are discarded along the way but that doesn't bother me since I usually manage to recycle ideas. I'm easily bored, and it's easier for me to accomplish tasks when I'm slightly distracted so I tend to toggle back and forth between projects. When I lose my focus with one thing, I go to the other, and then back again.
And, yeah, I wake up every morning and think to myself: How can I make Richard Holland feel like less of a person today?
RH: Very popular choice, there is a support group out there, I think they give out grants.
CB: Something to look forward to! Some of what you're responding to is my effort, as a former full-time mom, to find some means of engaging myself intellectually while remaining present for my children. When you're pushing a kid on a swing for forty minutes straight, it's useful to occupy your mind with thoughts of something other than pushing a swing. A story or an article that's already been threshed out in your mind comes much quicker to the page.
RH: What are you working on currently?
CB: I'm focused on the academic work described above, speaking at the GSA conference this fall, and putting together a seminar at IGRS for next spring titled "Emotional Response in Historical Practice: Methodological Approaches to Representing Collective Experience." I'm also publishing an article about Aby Warburg, historiography, and metaphors of German national identity in an upcoming issue of the Journal of Art Historiography. Through "What We Made," an independent publisher approached me about writing long-format fiction and so in my spare time I'm also rewriting a novel I had roughed out a few years ago in addition to working on the screenplay.
RH: Thank you for joining us! We need to get together for an audio interview the next time we end up in relatively the same city. Thanks!!
CB: It was my pleasure! These were great questions!
RH: I'll pass along the compliment to my writing staff.
---