Expo Chicago 2016: Friday, September 23 at 12:30 pm in Booth 137
Talk with Phyllis Bramson and Toby Kamps: Why "bad behavior" and "inappropriateness" can be an artist's necessity in the studio
Phyllis Bramson's work is featured at the Artadia booth at Expo Chicago 2016. She was selected from a pool of Chicago-based Artadia awardees by Toby Kamps, Curator of Modern and Contemporary Art at the Menil Collection.
The Artadia booth tops off Bramson's recent run of Chicago area exhibitions. Since October 2015 she has had a pair of major solo shows, In Praise of Folly Retrospective, 1985-2015 at the Rockford Art Museum and Under the Pleasure Dome—A Survey at the Chicago Cultural Center; and signature works in Surrealism: The Conjured Life at the Museum of Contemporary Art and in a group show at the Shane Campbell Gallery. Bramson's next solo show opens in New York at Littlejohn Contemporary in October.
Lise McKean talks with Phyllis Bramson about what's in her sightlines.
LM: I have more ideas for art essays than lifetimes to write them. One idea is to write about the parallels between your work and that of Kerry James Marshall. These parallels came to mind over the summer when I made several visits to your show at the Cultural Center and to Kerry's at the MCA. And now the two of you bookend New City's pronouncement of Chicago's top 50 Artists' Artists for 2016. Besides the two of you making work that is unmistakably your own, both of you create works that might be called anti-dystopic. That's to say, while your works don't suggest anything like a squeaky clean utopia, they certainly don't evoke a grim and grisly dystopia. What do you make of this observation? Both about seeing parallels between you and Kerry and the anti-dystopic characterization?
PB: I use the term sunshine noire. It's both happy and attractive but at the same time there is a darker knowledge about things in the world, especially things I see today that I hadn't seen earlier in my lifetime. I often enjoyed looking at Chinese posters during the Mao period that showed smiling peasants and workers. They're like a Norman Rockwell version of Red China. They look as if all is good and happy. That's why the images are always smiling no matter what's happening. Sunshine noire gives the sense that somethings are good but somethings are not good.
My narrative is more an interior narrative and Kerry's is often more an exterior narrative.  He has called his imagery the use of mastery in terms of how it's made and I think his is a more charged visual presentation.
LM: I wasn't suggesting equivalences between your work and his. But rather thinking about parallels in the ways you both engage popular aesthetics and decorative art.
PB: I'm respectful to notions of kitsch. A lot of the artwork in my childhood home wobbled between high aesthetics and low aesthetics, including aspects of kitsch.
LM: I see in work by both you and Kerry—though after this we can stop the comparison if you like—there is much that is playful and witty. At the same time, the scope for seeing the seriousness in the work comes out the longer and more carefully you look at it.
PB: I see a lot of wit in Kerry's work too. For example, his paintings showing an artist with a paint-by-numbers canvas. Where I think Kerry and I have a tremendous amount in common is in composing and the use of abstraction and we're both colorists.
LM: What about the tension between the playfulness and seriousness? Does that relate to the colorful, cheerful appearance and the dark underbelly, the sunshine noire?
PB: Sometimes I wish I didn't have to use humor so much because that may affect how seriously people in the art world view my work. I'm as interested in beauty as I am in playfulness. It seems like what's operating in my works are playfulness, beauty, and disruption. The three are interwoven. I can't complete a painting without all three of them. The playfulness might be more about irony. Most of my work has humor attached to it in some way.
LM: In reviews about your work, you're often described as an Imagist. Yet I have heard you talk about how you do not consider yourself to be part of that cohort. Why do you say you're not an Imagist?
PB: I didn't know them. I didn't associate with them. I wasn't in school when they were. I carry some of their ideas. I think they are part of the Chicago ideas that I share but I've never been part of that cohort. I had a dealer who called me an Imagist in an announcement for a show. When I told her it's not true, she said that she had read it about me.  Peter Saul could easily be mistakenly said to be an Imagist, so lots of confusion reigns in that regard.
LM: It sounds like the Imagist label is used as a form of branding or categorization, whether it's accurate or not.
PB: I was looking at work by artists who were around way before the Imagists came along. Lynne Warren tried to set the record straight in text she wrote about me for MCA's Surrealist show. I believe Paschke and Brown have been grouped with Imagists but they didn't think they were either. Part of the difference has to do with the way the figures are made, the notion of shading. And the placement often has a sense of reality. The Imagists in my mind work more with sign and symbol. If I were part of the Imagists I would be showing at Matthew Marks right now. I was part of a different wave of people: Nicolas Africano, Hollis Sigler, Jim Lutes. Jim is still going strong and showing with Richard Gray.
LM: The eroticism of your work is playful, sly, mischievous, and at times voyeuristic. In my study of Indian art, I've visited lots of Hindu temples in India and some of them are adorned with erotic sculpture. Victorian archeologists used the word dalliance to describe the poses of entwined figures. Sculptures of coupling couples are integral to the temple's exuberant celebration of life. They appear alongside deities, royalty, and ascetics, elephants and deer, sinewy vines, jasmine and lotus, banyan and banana trees.  What brought you to celebrate eroticism in the ways that you do?
PB: First of all I have always been very interested in the idea of dalliance, whether in the works of Fragonard or Boucher. I visited India and found some of those temples a little over the top in that regard. I have illustrated copies of the Kama Sutra, Yang Chu's Garden of Pleasure, and A Thousand and One Nights. Sexual pleasure can be used for healing. It's part of the beauty of life. I see it as a part of the spiritual. Scheherazade was trying to heal the king who was killing women and save herself. I've always loved that book for that very reason. But at the same time, the woman is being used poetically for man's well-being.
The house I grew up in had statues of women with bare breasts, nude Asian women, and Spanish dancers. It was always the female form. I never questioned that and I was never embarrassed by it. In retrospect I find it interesting that I wasn't more curious or questioning.
I've heard people talk about my work being illicit and pornographic and say that it must relate to some kind of abuse. This bothers me because I think they're interpreting the images as signs and in a completely inappropriate way.
LM: Were both of your parents involved in that decorating scheme?
PB: No it was mostly my father. My father was an auto parts wholesaler. At Christmastime he brought home boxes of cards and calendars with pictures of nude women. There were pens that you turned upside down and it showed a woman with no clothes. I found all this interesting and visually interesting too.
LM: Does that early exposure contribute to your ongoing fascinating with the female form?
PB: I'm very fascinated with the female form. I often say I have male eyes when I'm out in the world. I'm an oogler. I think my dad had a very robust attitude about sexual things.
LM: It sounds like there was no shame around sexuality when you were growing up.
PB: When I teach, I tell students to think about the visual field of their childhood and look at how it influences what they're doing in grad school. It took me a long time to realize I had a lot to look at as a kid. My house was filled with Asian imagery—the objects, even the wallpaper. Here's another thing that I just realized. At my house now I don't have my own work. I inherited an antique painting of a Chinese bride and groom. All over my house I have images of male and female couples. I have versions of them in my dining room, in the hallway. There's quite a few of these matching couples.
LM: That brings us to the kinds of couples that appear in your works. Sometimes they appear mismatched.
PB: I don't have a good answer to that. When I'm out in the world, most of the couples seem very mismatched too.
LM: The works you have at home are matched couples, idealized couples. But your works show what you see.
PB: The thing I hate the most is duplicity.
LM: Let's unpack what you mean by that.
PB: I don't mind it in art. It can be quite interesting. But I don't like it in life. But I think it's become more and more difficult sorting out fact from fiction. Sorting out the situation or issues that aren't factual, that are lies. I'm not the only one that's worried about that. Duplicity is not being honest. Creating a veneer or talking out of both sides of one's mouth.
LM: So it involves authenticity too.
PB: Yes as an artist I say that's very important. In my own artwork I think that duplicity is important. In the world I'm a good citizen but in my studio I'm different.
One of my favorite books is Madame Bovary and an annotated version says something along the lines that seduction and betrayal are the artist's ethical necessity. Corruption and virtue pertain to all things human. You could say my work is projecting conceits about life. Boucher said his landscapes blushed with eroticism. I don't know whether I'm dealing with the politics of relationships. I don't think my work has to do with feminism. That's not what I'm dealing with.
I wrote this about my work: "burlesque-like images that are usually theatrical incidents allowing for both empathy and addled folly while projecting capricious irritability and comic bumps along the way."
LM: That statement doesn't just describe your work, the sound of the words conveys its poetics.
PB: The other thing we haven't talked about is the idea of unrequited longing and maybe the clichés of longing and the peccadillos of relationships. The hot water of relationships. So it could be that a lot of the work is about relationships from ideal to real, beauty against an odd mishmash of unpleasure. I am very interested in social relationships and not just couples. I'm constantly looking and checking things out.
LM: Sounds like you're hyper-observant. Let's talk about the materiality of your work. Your work suggests bricolage, a French term the anthropologist Levi Strauss coined to describe the process of making or fixing something from objects at hand. What do you compose with?
PB: I'm composing with found paintings that I get from a painting warehouse. My studio is a place for bricolage. It's roiling with stuff in bins, on shelves, on the floor. The putting together of this stuff is basically is a mystery to me. It can be quite exasperating too. I'm just about to start a whole new body of work and I'm a little disoriented. Slowly I'm coming to terms with what I might do and what I might use. But I've been at a standstill for a couple of weeks.
LM: What's giving you pause?
PB: Thirty years ago I had a mid-career show at the Renaissance Society. People said that such an important show might be harmful because some artists get stuck afterwards and can't work. I just went my way. But the recent show at the Cultural Center has stopped me in my tracks. I see this whole body of work and it's made me wonder if I should continue with what I've been doing. Of course whatever I do will have some relationship with what I've done. I'm not starting cold. I'm not going to start making work like Agnes Martin. I get very uneasy when I'm not making work. The Cultural Center show had an unexpected impact on my production.
LM: It might be a healthy pause.
PB: It think it is. And I think there will be some changes.
---
Guest post by Lise McKean
The Lightning Testimonies, Amar Kanwar (2007)
Art Institute of Chicago (Modern Wing, Gallery 291)
Extended until April 20, 2014

      All photographs courtesy of the Art Institute of Chicago
Lucky for us in Chicago that Amar Kanwar is no stranger to our city. The Renaissance Society brought him in 2003 after Susanne Ghez, a co-curator of Documenta 11 saw his video, A Season Outside. Like gallery goers here and elsewhere, I've been following Kanwar since his Documenta/Ren debut. The sensuality and aesthetics of his work intrigue me—along with the heart-mind that infuses it. A longue durée of roaming, studying, and living in India further whets my interest in Kanwar. The past four months I've shared this interest with over a dozen friends, arranging visits to see and talk together about The Lightning Testimonies along with Artemisia Gentileschi's formidable painting, Judith and Holofernes.
The Lightning Testimonies premiered in 2007 at Documenta 12, and since then it's traveled the world. The School of the Art Institute invited Kanwar to Chicago in 2011 for its visiting artist series. He spoke about and screened past and current work, including Torn Pages and The Sovereign Forest, an ongoing multimedia, multi-site project. The Chicago opening of The Lightning Testimonies in October 2013 coincided with Kanwar's delivery of the AIC's annual Speyer memorial lecture on contemporary art. In the lecture, Kanwar talked about the big ideas he explores through his work—the passage of time, loss, and memory, violence and its celebrations, crime, evidence, and the struggle for justice, nationalist ideology and state power, poetry and prophecy.
Viewers get to The Lightning Testimonies after walking through two bright white galleries adorned with colorful artwork. White text on a black wall announces Kanwar's piece. A dark passageway gives eyes a moment to adjust to the dim light. The Lightning Testimonies is a multi-channel video installation: 8 screens on 4 walls; color and black and white synchronized video running 33.5 minutes in a loop. As director, Kanwar gets the lion's share of credit, but he's quick to acknowledge editor Sameera Jain and Ranjan Palit on camera for their integral artistic role as long-time collaborators, and the whole crew's invaluable contributions.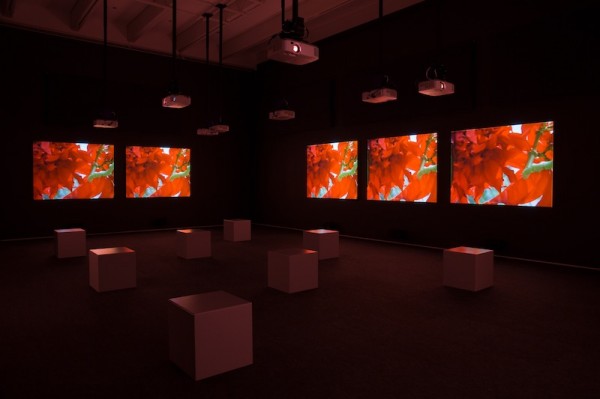 The work begins with the title page appearing on all 8 screens. Briefly a succession of images fills all the screens simultaneously. Then a dispersal begins as different images begin to fill each screen that consist of written fragments of spoken memories accompanied by footage, photos, drawings, and archival images that connect each memory to a specific place on the Indian subcontinent and to a particular moment in historical time. This multiplicity across the screens continues for about 20 minutes until 7 screens go black and the screen that's alone on its wall remains live until the title shot fills all the screens again.
Even if eyes can adjust quickly to the change in light, most viewers—myself repeatedly one of them—can't prepare for what's to come. Odds are that the viewer enters at a point when different images fill 8 screens. The absence of an obvious pathway through this work understandably challenges and unsettles those viewers who prefer more certainty about where to direct their attention.
The video formally starts with a short, stark black-and-white title shot. Soon comes the only time we hear Kanwar's voice. It asks, "How to remember what remains and what gets submerged?" The 8 screens blossom into a blaze of red poinsettias. Later the screens fill with yellow sunlight ricocheting off the window of a moving train. Throughout the work beautiful images come and go. We see the lush green perpendiculars of rice terraces, dewdrops balanced on tips of grass, delicate faces of young women. But it doesn't take long to realize the picture isn't pretty. Iconic black and white images of the subcontinent's 1947 partition appear that show a moving train bulging with people and a woman being pulled to its packed roof. On another rooftop under laundry fluttering in the breeze, a baby lies on its back vulnerable and alone.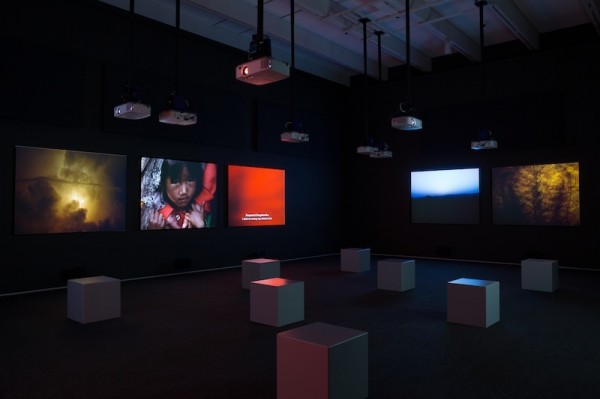 The Lightning Testimonies doesn't show images of the violence it interrogates. By citing the words of those who remember it, the work evokes a hair-raising sense of its pervasiveness, its lurking menace, and the impunity which it normally meets. For example, one witness rues, "Do you wonder sometimes how the attackers could be so brutal? Why they were not afraid. Is it because they knew they would not be prosecuted?" Images and words continue to pile up like survivors on a lifeboat. Just when you think it's going to capsize, the different fragments of testimony on the eight screens start here and there to loop. If the viewer stays long enough, this screen-specific looping might allay anxiety about where to look and how much is being missed.
Whether it's the rhythm of the rails, crackling fire, temple bells, plaintive saxophone, or the blood-curdling cry  "Ma Ho" by acclaimed Manipuri actor Sabitri Heisnam as she rehearses and then performs her role in Draupadi, the sound design by Suresh Rajamani gives viewers an aural guide. It also complements and augments the work's visual effects. Perhaps taking a cue from the grieving mother who wove an exquisite pattern into cloth to commemorate her daughter and the long struggle to bring her murderer to justice, image and sound are the warp and woof of The Lightning Testimonies.
The climax of the work—and this is where it especially resonates with the sure hand of Gentileschi and her Judith—is the unforgettable footage of women protesting in the northeastern state of Manipur outside the gate to an Assam Rifles post. The protest echoes Draupadi as the women decry both this paramilitary force for decades of criminal violence and the government of India that abets the violence by refusing to repeal the Armed Forces Special Powers Act (1958). The protesting women's rage and pain are even more searing than Indian poets and singers in Kanwar's Night of Prophecy (2003).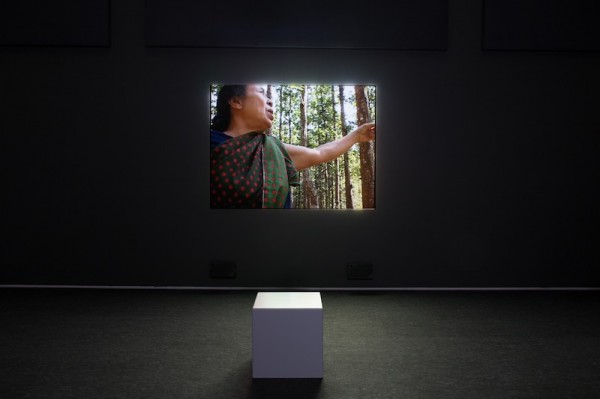 With so many ways for voices of authority to stake questionable claims—for example the Assam Rifles official website asserting, "Through its long deployment in the tribal belt, the Assam Rifles have developed an ethos primarily based on friendship with the people of the region and have earned their complete confidence," or a pair of Columbia University professors rehabilitating the reputation of Prime Minister hopeful Narendra Modi in a letter to the Economist—I'm immensely grateful for Kanwar's deliberative work. As for the relevance of the professors' letter, Kanwar attributes the explorations resulting in The Lightning Testimonies to his shock at the celebratory response to the rampage of rape, mutilation, and murder in Gujarat that took place in 2002 when Modi led the state as Chief Minister.
I've heard viewers criticize the work for being overwhelming, hard to follow, didactic, too documentary-like, and other aesthetic missteps. In the end our aesthetic judgments are based on our experiences of the work and mine tell me that this finely tuned team of artists succeeded in its complex, heart-rending, and hugely humane endeavor. Although Kanwar said he wasn't familiar with Images in Spite of All, The Lightning Testimonies breathes life into Didi-Huberman's ideas about montage and makes them visible: "Montage is valuable only when it doesn't hasten to conclude or to close: it is valuable when it opens up our apprehension of history and makes it more complex, not when it falsely schematizes; when it gives us access to the singularities of time and hence to its essential multiplicity."
In his Speyer lecture, Kanwar asked, "If a crime continues to occur is it invisible?" And later he said, "It does come down to the way we look, how we perceive." His montage starts in South Asia yet reaches wherever there are men and women. Whether we see them or not, signs of violence against women and girls are all around us all the time. Maybe it's a glamorous ingenue's broken forearm or a woman on Michigan Avenue the night of the Speyer lecture begging for bus fare to a domestic violence shelter. Or just possibly it's a trucking company forgoing its usual leprechaun and shamrocks to create a mobile testimonial: a truck painted the funereal purple of domestic violence awareness crawling through morning rush hour on the Eisenhower Expressway. It announces the name of a woman and the year of her birth and death. It's a co-worker's lament and memorial for his cherished friend whose life was stolen by a murderous man.
Lise McKean is a social anthropologist and writer based in Chicago. In 2013 she curated StreamLines, an exhibition of contemporary art in Vaishali, India.
---