1. Fourth of July at Terrain Exhibitions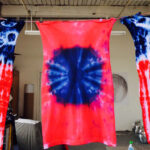 Work by Lise Haller Baggesen and Noelle Allen.
Terrain Exhibitions is located at 704 Highland Ave. Reception Friday, 4-8pm.
2. Into and Out Of at The Franklin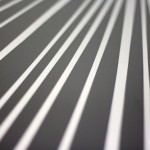 Work by Luftwerk (Petra Bachmaier and Sean Gallero).
The Franklin is located at 3522 W. Franklin Blvd. Reception Satruday, 6-9pm.
3. Middle Double at Night Club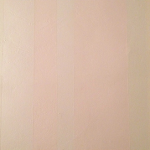 Work by Gordon Hall.
Night Club is located at 2017 W. Moffat St. Suite 1. Reception Saturday, 7-9pm.
4. QUEER, ILL, & OKAY at DfbrL8r

Work by Sara K., Tim'm West, Dirty Grits, Mary Fons, Cruel Valentine, Partic Gill, Chris Knowlton, and Nic Kay.
DfbrL8r is located at 1136 N. Milwaukee Ave. Performances Saturday, 7-10pm.
5. Building The Dream at Vertical Gallery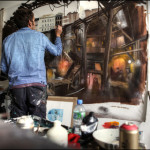 Work by Xenz.
Vertical Gallery is located at 1016 N. Western Ave. Reception Saturday, 6-10pm.
---
Guest post by Lise Haller Baggesen
IN THE YEAR OF THE SCAVENGER, THE SEASON OF THE BITCH…
… in the fossil fueled states of American gloom and doom, we are headed south on LSD, a donnerwetter looming on the horizon as a tic in the corner of our left eye. Shot-size raindrops splatter against the wind-shield from the sky turning from gunmetal grey to violaceous to petroleum green behind the silhouetted skyscrapers, swaying gently in the balmy November breeze as the wind picks up and a tornado warning ticks in on the mobile device, interrupting Kanye West suggesting that this would be a beautiful day for  jumping out the window/letting everything go/letting everything go…
Indeed it is a beautiful day!
This apocalyptic weather, reminding us that the doomsday prophets were probably  right, that this is not the 11th hour, that we are already fashionably late, makes it the perfect day for checking out a couple of shows in Chicagoland contemplating our species' self-destructive impulse.
Hamza Walker's modern day vanity Suicide Narcissus at the Renaissance society reads like a visit to the men's department at Barney's: tight and tasteful grey-tones with a splash of lush jungle green thrown in. Not unlike, in fact, its 17th century's Dutch counterparts careful rendition of bridles and soap-bubbles, tulips and skulls, reminding us that the world is forever coming to an end.
The super symmetrical show is arranged on both sides of a corridor leading up to Katie Paterson's All the Dead Stars, a map of said stars corresponding to the place on earth from where they were discovered laser etched into a matte black anodized aluminum sheet, creating an eerie map resembling a burnt out earth as observed from space. Observation posts glow-in-the-dark with the half-life luminescence of radioactive material, our radio signals still on their way to infinity and beyond long after we're gone. From here we can turn left or right (or right and three quarters or maybe not quite) but either route will coil back on itself into a cul-de-sac, a dead end from where we can only retreat the way we came.
Each of the works in the show display the mechanics and dialectics of their creation in plain view, if not front and center to our reading of the works, like the endlessly similar variations of rope, pulley and mirror of Thomas Baumann's perpetuum mobile Tau Sling or the dead pan unedited single channel registration of Nicole Six and Paul Petritsch' Spatial Intervention, showing a lone figure hacking his way through the ice, in a circle surrounding himself. Not really sure if this unromantic reference to Kaspar Davids Friedrich's Eismeer (the Sea of Ice from 1824), is going anywhere outside of its own hermetic picture plane, but whether we are witnessing a painfully slow suicide attempt here, or just some Sisyphus slow-motion slapstick, as a viewer you feel as frozen in time as the lonely man on the ice.
The row of vitrines that make up Harris Epaminonda and Daniel Gustav Cramer's Infinite Library display a collection of reappropriated books -by the looks of it European post war encyclopedias and reference books with faded color reproductions of artworks and plants, painted over with geometrical figures that seem to suggest some obsolete world order, while Lucy Skaer's Leviathan's Edge, a whale skeleton boxed in a drywall space, opened up in three narrow slits, through which we can only partially admire the brittle grandeur of the beastly remains would not be out of place in a gentlemen's explorers club, that other society, where adventurers who come back to tell the tale can compare their booty- Jolly good!
In a darkened cinema space, similar to a home entertainment den, Daniel Steegmann Mangrane's 16mm, 2009-2011 the exhibitions only truly juicy work, is contained -as if its lush Amazonian green would otherwise spill out and contaminate the rest of the show in a toxic spill of unbridled fertility. Like decorative kale in a millionaire's front yard its nutritious value is rendered void, and we are left with eye candy. This is our reward. The five minute 16mm film loop leaves us ample time to contemplate the cable running near the top of the picture frame along which the camera pulls itself still further in to the heart of darkness, the whirring of the projector behind us competing with the dense cacophony of jungle sounds on the soundtrack of the projection before us, until the movie without further ado comes to a dead stop and the screen goes black. The End.
On the surface, Suicide Narcissus mainly examines and admires its own elegant rhetoric. Initially I considered this the exhibition's demise, but on reexamining it I have come to think that perhaps this is exactly its point: Like Nero playing the fiddle as Rome burns, you find yourself confronted with your own disengagement, as you consider the aesthetic possibilities and fashion choices of the world going to hell in an evening clutch. It is an uneasy notion, like deleting yet another petition appeal from you e-mail inbox.
As an antidote to this tasteful ennui may I suggest a visit to Dana DeGiulio @ The Suburban, which will tear you out of your inwardly spiraling anxiety attack and throw you right back into the real with the welcome catharsis of your friendly neighborhood suicide bomber.  The battered backed-up Buick sedan is ramrodded into the cinderblock structure that makes up the central exhibition space at The Suburban with a precision that sits in the sweet spot between demolition and embellishment.
The curious fact that the car is damaged front and rear gives the impression not so much of a drunk driver swerving out on control, tearing through the front yard in the early hours of a sleepy suburban Sunday morning, but more of the feel-something- anything of a soccer mom's revenge, later same morning, her anniversary.
And the shattered head answers back And I believe I was Loved I Believe I loved Who did this to us?
Because we can only contemplate art from our personal vantage point, just like we can only imagine Armageddon in our own time, I will approach this from the angle of Burn Out with their totaled car park in the center of Copenhagen and their smashed up ticketing booth for De Appel's Crap Shoot (-a memorable show that culminated for my own part in a visit to the ER after a visit to the exhibition's socially (un-)engaged Absolut-free-for-all-vodka-bar and a subsequent act of cycling under the influence ending abruptly when my front wheel got stuck in an Amsterdam tram rail and sent me to a dead stop against the wet asphalt). Curiously, these works originated round about the time when the 1996 LeSabre was still a classy car, but seem almost quaintly didactic now, in their 90s engagement with institutional critique, compared to this work which points only to its own calibration of annihilation through acceleration, suggesting that we are all flying solely by our instruments by now, no line on the horizon: In a godless universe you need to rely on your own moral compass, or perhaps some secular religion. Art for arts sake can be just that. It can be it's own means and end.
It is an appropriation and an approach, but how do you approach appropriately, being in a banged out car and your aim the feel of not to feel it?
This is subtle and has to be premeditated. Premeditation is available in the form of a brochure which contemplate the estimated market value of the Buick before and after impact as compared to a circular silverpoint painting by Michelle Grabner, as consigned by Dana DeGuilio to James Cohan gallery and sold before the Buick hit the brick wall, perhaps to offset the costs of a second hand car and a cinderblock shed? The end is a zero sum game.
On the 10th anniversary of the suburban, this will be that last one for this building where it all began. Now structurally unsound, It will be torn down at the end of the show, or when the Oak Park police and zoning inspectors step in and say that it is time to clean up the mess, whichever comes first.
In Michelle's own words: "This is the end of the suburban as we know it!"
THE END.
Credits: Dana DeGiulio would like to thank her pit crew. I would like to thank you for reading.
Lise Haller Baggesen (1969) left her native Denmark for the Netherlands in 1992 to study painting at the AKI and the Rijksakademie. In 2008 she relocated to Chicago with her family, where she completed her MA in Visual and Critical Studies at the SAIC in 2013.
In the meantime, her work evolved from a traditional painting practice toward a hybrid practice including curating, writing and immersive multimedia installation work.
 Her book "Mothernism" will be published on Green Lantern Press and The Poor Farm Press in 2014.
---

The following interview was published originally in The Expo Register, a print daily created by What's the T? Dana Bassett with ACRE and Bad at Sports. "The vibrant, hand printed Register, designed by Chicago artist Clay Hickson of Tan & Loose Press, will highlight special events during the fair including reviews of special exhibitions and trends at the exposition."  The paper is available for free in assorted newspaper boxes at EXPO, and can be downloaded here, on the Bad at Sports blog, by clicking on our front page banner. You can also read Saturday's edition here.
Under the eaves of Navy Pier, four artists install four iterations of domestic space. These spaces — a bedroom, kitchen, living room, and studio — are envisioned expressly as artist domiciles, fittingly embedded in the commercial throng and hype of a contemporary art fair. Fitting, I suggest, because they are interdependent while nevertheless at odds. The aroma, mess and casual experimentation of a kitchen is a far cry from the professional white sea of gallery cubicles. Yet of course they are interconnected; the artist must sleep somewhere, just as he or she must also engage a commercial market. This juxtaposition manifests like a dream; it is hard to know if the domestic space is dreaming that it is in an exposition hall, or if the exposition hall is dreaming that it harbors domesticity. Emphasizing this surreal tension HOME reminds fair-goers of the quotidian world behind the otherwise sharp and prestigious kingdom of commerce. In the following interview I was able to discuss the project with curator Tricia van Eck and its participating artists, Lise Haller Baggesen, Sabina Ott, John Preus and Jane Jerardi.
Caroline Picard: I wanted to ask you about your definition of "home" first — I feel like it's a theme that you have been working with for some time with your project at 6018North.
Tricia van Eck: Home, for me, is simply where I am for any length of time. I have a loose definition of home and often call the place where I work, home. This is fortuitous since 6018North is a home — a dilapidated mansion in Chicago's Edgewater neighborhood — turned into an experimental art space.
Since art is often made in one's home — thought about in the tub, worked on in the studio, written about in the office, discussed at the dinner table, and then shipped off to be shown elsewhere — what if art was presented in the home where it was made? What if everyone's home became an art space?
I believe people are yearning for unique, inclusive experiences and 6018North provides this experiential space and platform to connect with others through art. We encourage artists to take risks and to develop projects (often communally) that challenge what art is, who it is for, how and where it is made, and where it is shown. We encourage artists to think about audiences as if they were guests in the space (their home for the time being). My favorite experiences at 6018North are when the space is buzzing like a good party, where people are talking, meeting, laughing.
CP: Has your understanding of domestic places in your own day-to-day, non-art life changed as a result of these recent curatorial practices? 
TVE: 6018North's events almost always involve food and conversation to provide time to connect, talk, and discuss the art on view, as you might if in someone's home. 6018North also hosts conversational dinners for more in depth conversations related to its exhibitions or various concerns facing artists. In college, I lived in a cooperative vegetarian house and some of our conversations over dinner with friends and strangers alike, radically altered my thinking and worldview. This is the power of art and ideas shared in comfortable settings. If change begins within, it often occurs in homes, where we feel safe and secure enough to challenge ourselves.
CP: What made you want to do a series of "homes" at a place like EXPO?
TVE: I love the expressions: "make yourself at home" and "mi casa es su casa". At the recent Venice Biennale, I loved the feeling within the Pelham Project, and HOME draws from Michalene Thomas's popular apartment/bar space at Art Basel. I also like democratizing the experience of VIP rooms at Art Fairs where collectors can relax their eyes and get free coffee, champagne, or ice cream. For HOME I invited four artists whom together have created an amazing artists' home with generous and experiential rooms — an artists' studio, kitchen, living room, and bedroom to offer "an artists' home." Lise Haller Baggesen has recreated her artists' studio replete with disco balls, glitter, and glam, while John Preus and Dilettante Studios' kitchen, built from reclaimed cabinetry, hosts performances, talks, and discussions curated by Laura Shaeffer from SHOP. Sabina Ott's chill-out living room offers Expo attendees a captivating space to relax while Jane Jerardi's performative bedroom presents a dreamy moment of longing. As a home within an Art Fair, whose intent is to sell artwork, the artists and I are experimenting with how to challenge and commingle ideas of capitalism and mercantilism with generosity and hospitality through art, food, drink, performances and conversations. We want HOME to offer a unique but comfortable way to experience art within the Fair but yet not pretend to remove ourselves from its contradictions of exclusion and inclusion, since these ideas are also intrinsic to our homes, which both separate and unite, as does the art world.
CP: What is your definition of home? Or how do you think about domestic space?
Lise Haller Baggesen: The Studio is the home where the buffalo roam, where the deer and the antelope play and where Iggy Pop just wanna be your dog. The highway to hell runs through it as does the stairway to heaven. What I mean to say is that the studio is a "home" in a larger sense that the strictly domestic, or that it is a home to the undomesticated self. Since I am a very domesticated person, I am a wife and mother of two, it has always been very important for me to have a studio space that is separated (by at least a mile) from my actual home. I have to go to that place to get to that place.
Sabina Ott: Home, to me,  is a site of rest but mostly a place to build connections with family, friends, neighbors.  I am interested in spaces that are many spaces all at once — a home that becomes a community hall, that becomes an artwork, that becomes a nest.
John Preus: It is more an idea than a place.  A destination, a return, a longing, a loss, the place to which we are reconciled and always in the process of losing.  My interest in it is tied to my life with a family, and how that life clashes with, or bumps up against, or augments my life as an artist.  Much of the work on the theme of home started in graduate school when I had young children and was not home very much to see them, and the tension I felt around that condition.  Having children made me much more acutely aware of temporality because children grow and change so fast, and each moment is so tremendously beautiful (and mind-numbingly banal) in its own way.  Emotional extremes are exaggerated, and your sense of self is eviscerated and forced through the matrix of this other being that needs you but doesn't care at all about you as a subject.  The reality that I am at once creating the idea of home for someone else starts to overlap with my own conception of it.  The title, Homemaker is really interesting because it is so literal and narrative at the same time.
I think of domestic life as the private arena within which we confront our thrownness.  We did not choose our life in most ways, but we can choose how we live at home, at least until we live with others, and then we are in a mini- political petri dish.
Jane Jerardi: A lot of my recent work has been dealing with displacement and longing, so the issue of home gets right at the heart of these ideas.  I think of home as not having to do  necessarily with a specific place, but with a certain familiarity and sense of comfort built up over time through everyday ritual as well as a community of people and relationships cultivated over time, and perhaps, even, a state of being.  In some ways, I think the body is the ultimate home and a way to be 'at home with ourselves' and as a deep, resonate place for connection and groundedness.
CP: What does it mean to you to fabricate and embed such a place (or installation) in a commercial art fair?
LHB: The artfair is the epitome of artwork as Product, whereas the studio represents the artwork as Process, or put differently the glamour of the artwork as a luxury commodity vs. the makeshift glam attitude of actual art making. I am more interested in the latter, so I am hoping that our installation can work as a respite from the commercial rush of the fair and be a reminder that art comes from somewhere and is going somewhere, outside of the ever-present "contemporary" that seems to be the event-horizon of the current art market.
CP: How does your installation at EXPO respond to your idea of domestic space?
JJ: The installation at the EXPO of 'Nocturne' deals with the idea of the body as an archive of memory and as a home or container for somatic experience.  In the work, the virtual body moves and responds to a real body — either the body of the viewer or of a performer (during the two scheduled performances).  It gets at the idea of everyday choreographies and rituals that create a sense of intimacy and connection — and a sense of home.  While of course alluding to the bedroom and sleep — which  we spend a lot of time doing in domestic space — the work also relates to dreams and virtual spaces.  I also think sometimes of home as a place where I can slow down, and this particular work shifts a sense of time to a slower one, inviting the viewer to also slow down, in a hopefully meditative, relaxing way.
LHB: My installation at EXPO plays with the idea of the studio as "the space where your voices can live". Â Or in other words, the space where your different influences can confluence and mingle and interfere with each other in a new set of relations. In that way it operates as a sourdough, rather than an archive. Of course, this being an artwork, it doesn't pretend to work as an actual studio, but as a model of a studio, a mise-en-scene.
SO: Tricia has been calling my room "The Chill Room." I have taken a kind of chant and tweaked it and used it as the sound accompanied by almost psychedelic imagery designed to transport the participant to an unfamilar place outside of measured time. It is a relaxing place that, through the repetition of the video, almost hypnotizes those resting on the faux fur covered bean bag chairs. There are three fish bowls on mirrors — the fish simply swim in circles and reflect the liminality I hope the visitors feel. It serves as the living room in this quartet of rooms, where there are many people relaxing and the conversation can be  especially unguarded, especially intimate, because of the dream – like atmosphere. I am fascinated by the affect of objects and spaces- especially those that combine multiple functions and references. I am not interested in reflecting how we already experience domestic space, but making a site of different associations and experiences outside of  what we already know. I hope the room is a respite and a counterpoint to the art fair experience, and I am hoping that the dreamy quality of the space will almost suspend of time. Perhaps people will find that they have been dreaming and chatting in this room for hours, perhaps just a few minutes.
JP: EXPO is in a way the polar opposite of a domestic space, and any attempt to make it domestic becomes sort of absurd.  The idea of creating a pseudo-domestic space within an exhibition hall strikes me as a longing to somehow conflate the private and the public.  It's something like wanting to have sex in public, that the intensely personal and subjective act requires an audience to consummate it, so to speak.  I'm interested in the phenomenon that homes look increasingly like stage sets that nobody lives in, and become glorified storage space for furniture that is never used, combined with an opposing interest in main street, in making public life feel more homey.  The point of contact is the liminal zone, the place where the public and private lives of a community intersect through socioeconomic interdependencies. Our interest in the home is maybe something like our interest in nature-it becomes active on the occasion of loss.  We are homeless.
JJ: While an art fair may be the ultimate place for securing artworks that might decorate or become the accouterment for a domestic space, and our expression of home might indeed be the 'things' we consume, I also believe 'home' to be something completely intangible. Â In this way, this installation emphasizes everyday ritual and embodiment as a part of our experience. Â While all art operates on an experiential level, I hope this work emphasizes a resonance between the experience of the installation and the viewer.
SO: I hope the room is a respite and a counterpoint to the art fair experience, and I am hoping that the dreamy quality of the space will almost suspend of time. Perhaps people will find that they have been dreaming and chatting in this room for hours, perhaps just a few minutes.
JP: The frenetic beating heart of EXPO is the spectacle, consumerism, the ambitious energy to outdo each other, to be noticed, to be visible and relevant, all of the opposite qualities from being at home. Maybe EXPO HOME is a way to interject some small degree of homeliness into that environment, and a small gesture of resistance to the market aspect of the whole affair.  It is also a way to think about the varied art economies.
My piece in the show directly references Mike Kelley's piece, More Love Hours Than Can Ever Be Repaid.  It is partially a tribute to what is for me a really affective piece, but I like it for all of the wrong reasons.  He sees the gift economy as manipulative, leading eventually to an incremental and collective sense of shame and indebtedness.  The fact that the love hours can't be repaid for him is because we don't know what we owe in return for a hand-made doll.  Money creates at least the potential for a clean slate, a perfect exchange, but does not generally account for all of the forms of cost offsets that we all engage in, to avoid taking full account.  The thing about a gift is that it is often something that you would not have paid good money for.  You receive it with gratitude as a gesture of friendship, or obligation, but you might rather have the money if you were to look at it pragmatically.  The market determines value through supply/demand…as the theory goes, while love-hours are a social economy.
For my project, over 30 artists, builders and friends have agreed to collaborate with me.  I designed a kitchen, and suggested conflating cabinets and vitrines-kitchen as exhibition-and they are all building the cabinets, whatever that means to them.  So it will be a hodgepodge, collective kitchen that we will try to unify in some way on site.  Maybe they all agreed to work for no money because they like me and enjoy working with me, or being involved with my projects? Maybe it's because EXPO is sort of a big deal to put on your resume?  Maybe they hope their piece will sell and they might make a little money?  Some are young artists and happy to have so many eyes on their work. Or, maybe they like the idea that the project forms a temporary community, and considers the social and political possibilities of temporary action communities? So, in terms of exchange, they are getting something-cultural capital, money, associative capital… and I am getting something-labor.  But whether or not the exchange is even is yet to be seen.  The surplus of the exchange is the emotional remainder, somewhere along the spectrum from gratitude to resentment.  Every single one of the people involved has some spoken/unspoken expectations, or wishes for the show, (myself included) and how their work might be received in it.  They are all contributing Love Hours, in exchange for exposure, fun, associative capital, communitarian good will … As artist David Wolf put it, the makers of the cabinets are all like one of the stuffed animals, and the kitchen becomes the afghan.  But the major difference is that I don't intend it as a critique as much as a kind of revelation.  I intend it as a big happy love fest in a place where that will probably be considered uncool.  The 2nd, and not yet articulated part of this project is to consider whether the debts have been discharged, and how, and why, which will hopefully include the added complication of money.
---
1. Black Emporium at The Octagon Gallery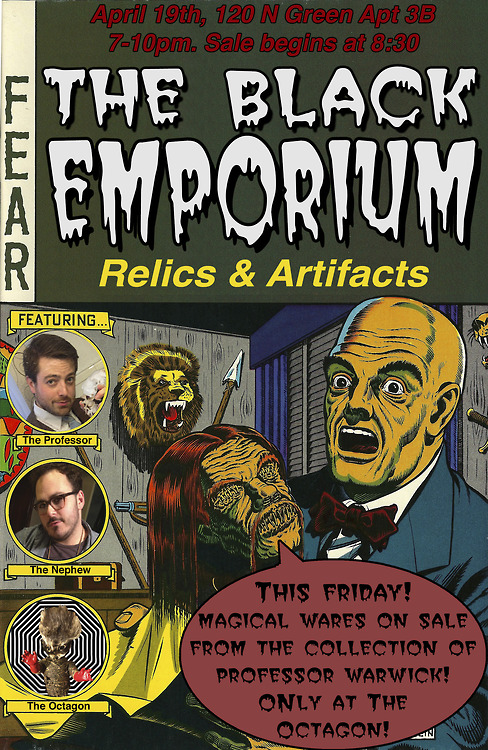 Work by Jesse Avina and Michael Garcia.
The Octagon Gallery is located at 120 N. Green St. Unit 3B. Reception Friday, 7-10pm.
2. Alumni on 5: Teaching Artists at Columbia College Chicago Library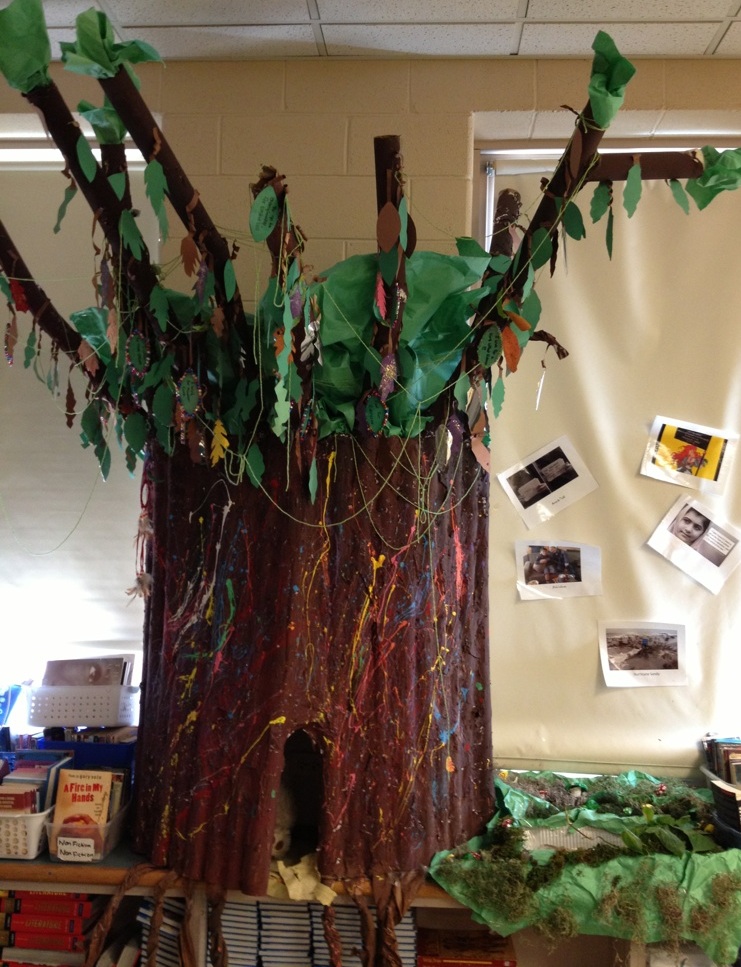 Work by Matt Austin, Dan Bradica, Kate Bowen, Jessica Egan, Kristina Gosh, and Sooz Main, curated by Chelsea Middendorf and Jessica Rodrigue.
Columbia College Chicago Library is located at 624 S. Michigan Ave. 5th Fl. Reception Friday, 5-7pm.
3. BACK MATTER at Co-Prosperity Sphere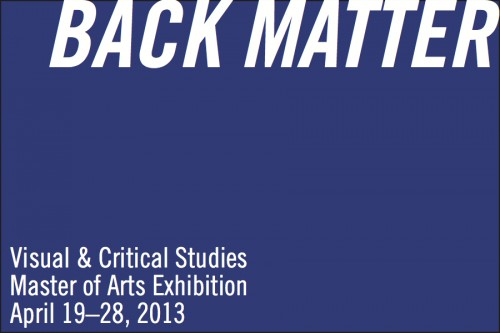 Work by Lise Haller Baggesen, Joshua Demaree, Darja Filippova, Danny Floyd, Chris Fotopulos, Sarah Hamilton, Peter Kusek, Ruslana Lichtzier, Elcin Marasli, Anthony D. Stepter, Devdutt Trivedi, and Michelle Weidman.
Co-Prosperity Sphere is located at 3219 S. Morgan St. Reception Friday, 6-10pm.
4. The Wishing Pelt at Defibrillator Performance Art Gallery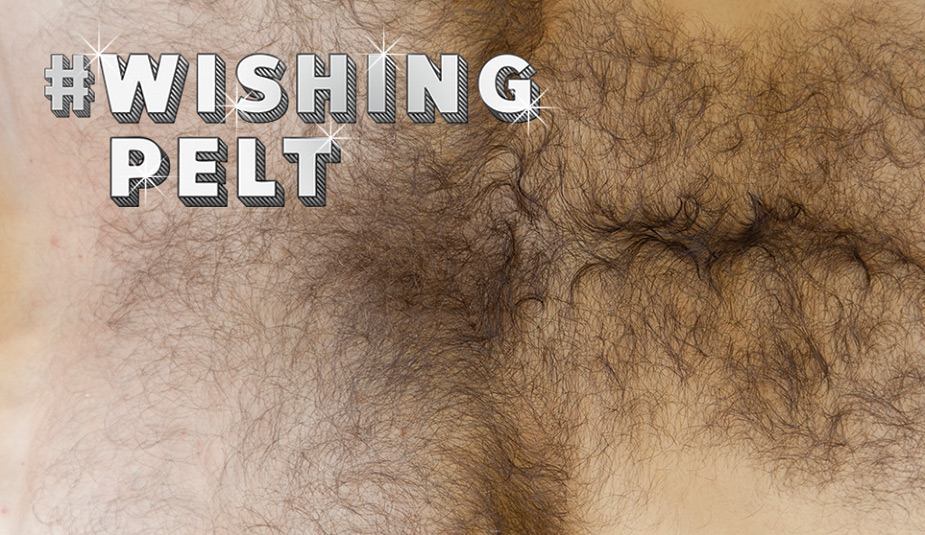 Work by Sean Fader.
Defibrillator Performance Art Gallery is located at 1136 N Milwaukee Ave. Reception Saturday, 8-11:55pm.
5. Better Left Unsaid at Peanut Gallery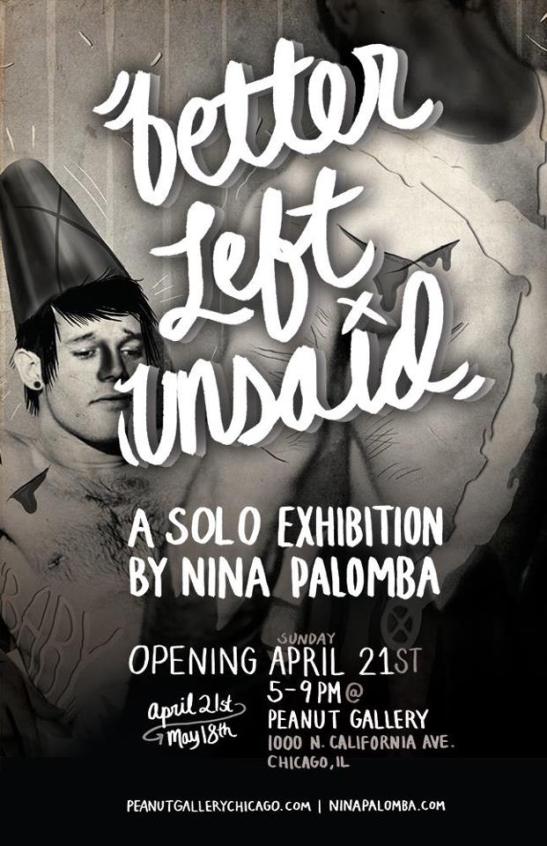 Work by Nina Palomba.
Peanut Gallery is located at 1000 N. California Ave. Reception Sunday, 5-9pm.
---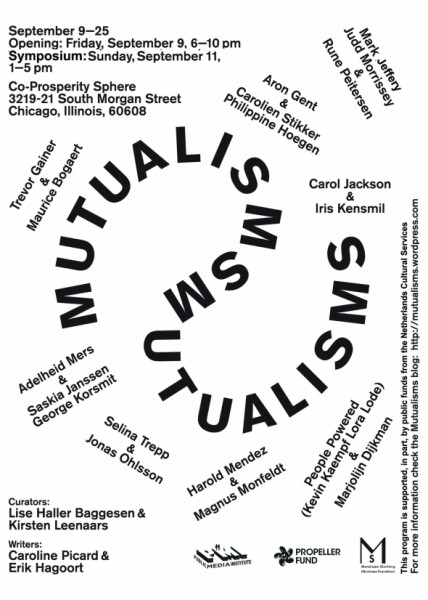 Several months ago, I was invited to share a blog with a stranger. On that blog, I was asked to write about art & reciprocity. I met Erik Hagoort that way. I read his posts and he read mine. Sometimes we responded to one another. The blog itself came from a larger project artists Kirsten Leenaars and Lise Haller Baggesen were curating. That show, Mutualisms, (opens this Friday September 9th at the CoProsperity Sphere) features work made by artists paired together–half of the pair comes from the Netherlands, the other half is local to Chicago. Over the last six+ months, these pairs have been working together, building a dialogue more or less from scratch, in order to install work here. It's a show about networks and relationships. It's a show about community, and how that can arise with an ocean between us. In addition to the exhibit, CoPro is also hosting a symposium on Sunday (September 11th, from 1-5) to address the issue of art and reciprocity: an interesting question, given that so much of what we think about in terms of community building and art relies on expectations of return, or taking turns, or sharing. How do those themes also manifest themselves in a discrete work of art born from collaboration? In the following interview, Erik and I asked Lise and Kirsten some questions about the origin of the show, how to think about it critically, and even how its global perspective addresses arts funding strategies.
Caroline Picard: So often an exhibition is the culmination of work; while of course, Mutualisms is a culmination,there has been an on-going dialogue taking place on-line via blogs (both the one that you all keep as the Mutualisms site, and of course the blog you invited me to participate on with Erik). How did you think to frame the project via blogs and exhibitions? And what was it like pairing artists in different parts of the world?
Kirsten Leenaars &Â Lise Haller Baggesen: We had just met in Chicago last year, right before the Propeller Fund application was due. One of the things we had been talking about is that we at times had missed an international influx of artists in Chicago. The other thing that struck us is that while having both lived in Amsterdam and now in Chicago we had been part of quite different artistic and friend networks that only partially overlapped. Adding these elements up thought we could combine our networks to create an extended grid from which to organize a show. So, you could say that the show also came about as a mutual exchange between us [Kirsten and Lise], due to a need of expanding our own artistic and social horizons, the main idea being that the art world functions more or less through connections and relationships. We wanted to create a platform through which we could facilitate these relationships and form new connections amongst our combined networks.
Because we both are primarily artists, makers, and curators and thinkers secondarily, we curated the show very much from the point of view of the individual artist's practice, rather than as an illustration of an intellectual or theoretical idea (not that we are anti-intellectuals, far from it!). So, we tried to combine artists that we felt had a similar approach or a similar sensibility, hoping that the connections we observed were something they could see too, or that they might discover their own links through a dialogue with each other about their own practices. When we invited the artists to participate in the show we made very clear that the dialogue between each pair was an essential part of the concept and that they needed to be willing to engage in this what undoubtedly was at times-especially at first – potentially an awkward exchange. Kind of like any first date can be. Some of the pairs readily jumped to the occasion and hit it off immediately, others definitively needed a little bit more time and coercing. Both and even the potential for a mismatch are part of concept of the show and we guess in some ways a risk we as the curators or organizers took. Our main objective really was to plant some seeds for potential mutual relationships that would grow and develop and extend beyond the scope of the Mutualisms project.
The blogs seemed to just be a very logic consequence of the fact that the artists were residing on different continents and the blog became a space where they could meet. Not just as a pair but also as the group on a whole. The blog allowed them to also see how the other pairs were connecting and what ideas were being exchanged. In addition we thought it would be make this process visible and public — often this kind of exchange often remains quite private – because the dialogue can get quite personal – but it gives great insight to the artist's practice and creates almost organically a context for the work and the show on the whole.
CP: Â There are some really incredible (and devastating, I think) movements in Europe (I guess I'm thinking largely about the UK) to cut funding for philosophy departments, art departments and even departments of literature. I understand from talking to you all the first day we met that a similar situation is taking place in Holland–and then too, I feel like some of the fears have twinged American consciousness as well (for instance, I'm thinking of what compelled Martha Nassbaum to write Not-for-Profit, which struck me as a defense of the arts). How do you feel this show might speak to that? In some ways, I'm asking because you're relating two vastly different arts-funding strategies (the mostly private American version vs. the largely government subsidized (is that even the right way to think about it?)) and suddenly the work of those systems is materializing here in Chicago which is so interesting, I think. Maybe especially because you both have had such extensive experience in both worlds…
KL & LHB: To begin with, the show was curated 'organically', from a practice kind of view; it's not really meant to illustrate a point about the pro's and con's of arts funding, or anything like that. That kind of got thrown in the mix, because of the rapidly deteriorating situation in the Netherlands, which came about simultaneously to us curating the show and, ironically, receiving a considerate amount of financial support from the Netherlands, for the show. So it kind of both reinforced the cliche about the 'spoiled' European artists, while at the same time highlighting the possibilities and the fragility that kind of position affords. Through that government support, Dutch artists were able to all come to Chicago, allowing for the artist pairs to actually meet. We have noticed that these physical encounters fortified the connections and dialogue and are raising the show to the next level. Bearing in mind too that the show in Chicago is only part one. Next summer we hope to host a show in the Netherlands, and we are asking the current participating artists to continue their dialogue with each other. How we will fund this show will be our next challenge…
Funnily enough, both sides of the arts funding argument like to pull the 'quality' card, as an argument for their stance. I.e. a private art market leads to 'better art' because the artists have to fend for themselves vs. art funding leads to 'better quality' art because you have a 'peer support system' that is free of commercial interests. But, when you look around in the show, it's not lack of quality that characterizes either group, to the contrary! There are different sensibilities of course, that are typical of American vs. European works, that has to do with a sense of place and belonging to a certain cultural heritage, but just as often it's hard to tell off hand which is which, and quality wise they are certainly level pecking!
Erik Hogaart:Â Â Since the mid nineties of the last century the so-called relational tendency in the art world seems to prevail. This is not only referring to Nicolas Bourriaud's famous statement of art being a state of encounter. The 'relational' has had a much wider impact, even extending into a feeling that networks of artists, curators, and audience not only surround the art work but become even artworks in themselves. This doesn't exclude the appreciation of artworks of course, artists and curators involve other artists and curators on the basis of what they make and do. Yet, relations, even friendship seems to take a bigger part of the "art's cake". Russian curator Viktor Misiano has called it the tendency of confidentiality. And a project such as Mutualisms could, thinking along, also be called a confidential project. What do you, Lise and Kirsten, think of this? What is the balance for you between creating an opportunity for artists to make works, and creating an opportunity for artists to relate to one another. These two aspects of Mutualisms are of course connected, but in what way?
KL & LHB:Â Two things were very clear from the beginning. One, we wanted to be transparent about
the way we had curated the show and where these artists were coming from. Yes, these artists were selected from our pool of friends and acquaintances. This is perhaps often an unspoken given — something acknowledged behind closed doors — but being transparent about that is really at the base of our concept for the show. And in that sense never confidential. In addition these relationships are documented and visible for the public on our blogs. Secondly, yes, the primary reason for choosing each of the artists was based on their own strong practices, not on how much we liked the individual. One does not exclude the other, and what could be potentially more productive than fostering a relationship between a pair of driven practitioners? The dialogue ultimately has the objective to allow new ways of looking at each other's practice, to inspire a dialogue about ways of thinking and making that ultimately find their ways back to an artist's practice. Of course if the match truly was a productive one, perhaps this can lead to other opportunities, further productions and collaborations etc. We do hope for these relationships – as mentioned before – to extend beyond Mutualisms. And if friendships are formed through this dialogue as well, than that is an added bonus.
EH: A question, which is philosophically triggered by Jacques Derrida's statement: "the artwork is vertical, and slightly leaning." This idea of the verticality of the artwork stresses confrontation, awe, being struck. Quite opposite is the idea of relationships and networks, which stresses horizontality, encounter between entities in the same/ equal position. Especially when artists connect to each other, and form mutual networks, how does these two models fit in? Mutualism, or reciprocity: how does it relate to these two concepts. Is there still space for the vertical within the horizontal?
KL & LHB: What you are implying here, is that inherent to an open 'democratic' curatorial process is the risk that the resulting product will also be 'democratic: i.e. not 'sublime', a risk you are also touching on with your questions for the symposium when you state: 'in the arts a strong tradition has opposed reciprocity. Art's autonomy should prevail above exchange.'
Yes, that is a risk, and a risk we embraced as we were preparing for the show, because the encounter or the exchange that this structure entails, also invites the possibility of the whole being greater than the sum of the parts. Just like the idea of democracy: 'together we are strong' this show was an open invitation to the artists to participate in a dialogue, in which they could make new art works that lay outside the boundaries of their own practice, or by pairing individual (existing) works that would allow the work to be contextualized in a new way. Some of the artists involved really stepped up to this challenge and engaged in a creative process, with an outcome that was surprising both to us, and to themselves. Others, you could say, 'played it safe' and are showing more in parallel.
Every art work implies an encounter, social relationship. Namely between the art work and the viewer. Approaching art in this way implies an investigation of the social situation in which art takes place and encounters society. It focuses on the encounter in the moment of perception and communication, it underlines the role of projection in the exchange with a spectator, a public which is constantly being reconstituted. What does that ephemeral, individual or collective imagination bring forth? In what way does imagination not only produce the artwork, but also a social relationship? This question is the primary one. Each of the artists that participate, create work. They have different ways of engaging in this process. But for none of the artists is the encounter in itself the artwork. Neither do we as the curators of the show, see the encounter, or the relationship as the work. The show is a model for exchange, this exchange happens between the artists, the curators and ultimately between the viewer and the work that is on display – a result of prior conversations. So with this show we also ask who participates in this process, and what does participation mean in this context? So the horizontal and vertical in our Mutualisms project are two axes in a grid where each of the artists individually and as pairs can be located on different positions within this grid.
---