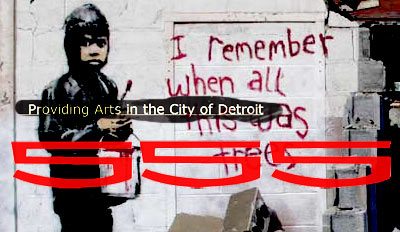 Back in May & June we wrote about Banksy's trip to Detroit and his mural that was created in the old derilict Packard plant there. That mural of a boy with a paint can saying "I remember when all this was trees" was quickly excavated from the cinder block wall it was painted on by the local art group 555 Nonprofit Gallery & Studios, they moved it to their gallery space and quickly came under threats and negative attention. Well now they are in court.
Bioresource Inc., the company owned by land speculator Romel Casab, filed suit this week in Wayne County Circuit Court to regain possession of the mural. The suit which names 555 Gallery and it's executive director Carl Goines as defendants says the 1,500 pounds mural, which may be worth $100,000 or more, was removed without authority and that 555 Gallery did not respond to a letter dated June 7th demanding it's return.
The 555 artists have attested from the beginning in May that they took the work to prevent its destruction and have no interest in selling it. Gallery attorney Don Lewis said  his clients were given permission to take the mural by a scrap metal removal crew foreman named Butch.
"That's a key issue," Lewis said. "Would a jury think it was reasonable to assume that he had the authority he said he did — that he was speaking on behalf of the owner?"
I keep saying this isn't over and that eventually Bansky might make a statement since it serves his interests to be the final voice but he does have a history of disavowing works once they are removed or altered from their original state. This may be no different, but there will be more to come I am sure.
---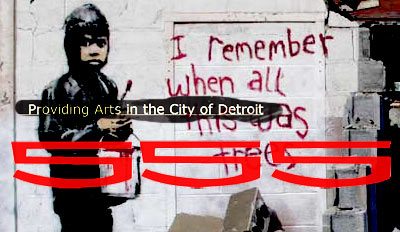 Bad at Sports posted a week or so back about the removal of a Banksy mural by 555 Nonprofit Gallery & Studios (a local Detroit gallery) from the old Packard Plant to their site. At the time I knew this was not the end of this tale and that they were potentially going to reap the kind of attention they really dont want regardless of the intentions behind the act.
As an Update the cinder block mural has now been removed from display after the gallery & work had been reportedly threatened with defacement or destruction (I would imagine the gallery more then the work). The gallery has also now updated their statement in regards to their claim to include that they were given permission by a scrap metal removal crew working at the plant at the time.
Carl W. Goines, executive director & co-founder of 555 Nonprofit, told The Detroit Free Press
There was a lot of anxiety with the threats, so our board of directors requested that we move it until it can be displayed safely.
I still think there is more to come on this still yet and might even include a statement by Banksy himself eventually.
---
Graffiti Artist Banksy who has been making the rounds throughout US cities recently (Los Angeles, Park City for Sundance, Chicago and Toronto) created a work in Detroit which has created a larger debate on the role of public art and its relationship to longevity, location & ownership. In short (and more can be read in depth at The Detroit Free Press) the work was created on one of the walls of the partially demolished Packard Plant in Detroit.
The stenciled work which shows a determined boy holding a red paint can next to the words "I remember when all this was trees" was discovered over the weekend of May 8th and by the 11th the 7′ x 8′ 1,500 pound cinder block wall was excavated by artist from the 555 Nonprofit Gallery & Studios to their grounds near the Ambassador Bridge in Southwest Detroit.
This has caused a stir in Detroit to an extent since it raises the question of did the gallery have either a legal or moral right to remove and relocate the work. What is the role of the work. Is it better to have it remain location specific in the old Packard Plant and risk/enjoy destruction or is it better off in care of some group who would put it on public display. Can that group make a profit on it & first of all can that group legally remove the cinder block material and claim ownership.
Many of these questions have either already legally defined answers that the art world might or might not like (regardless of it's state the Packard Plant is owned by someone) and other questions as to the role of Banksy's work in relation to the public are ripe for individual agenda. Regardless each of the questions are very good and lead to a greater debate as to how do we interact and relate to Graffiti Art which is not going away and is getting more refined and focused in it's execution and voice.
It would be wonderful to hear from Banksy himself as to why he felt that location was optimal for the work and who he expected to see it there. Does he plan to coordinate in the future with galleries when the ownership of the work is in doubt and can easily be claimed? Does he prefer that his work have a limited shelf life or be location specific so as to have a greater contextual impact. I doubt we will hear either way but I am sure regardless of what happens he is loving the energy it has created & there is more to this story to be told.
---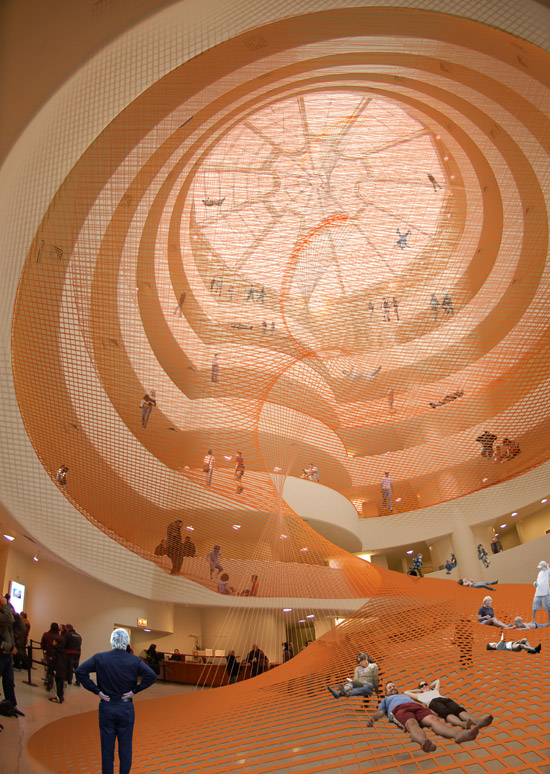 It's part installation art, part sculpture & part performance art JDS architects: experiencing the void is a proposal for the interior core of the Solomon R. Guggenheim Museum, New York where a heavy duty orange mesh net is installed like a archimedean screw so people can walk, run, lay and marvel at the space floating 6 stories up in the air.
The installation & sculpture art is obvious, the performance part comes into play when the lawyers standing at the base of the work all fall over dead like dominoes from the mind shattering liability at stake.
So needless to say the odds of this ever happening are much the same as Bad at Sports taking over the reins of MOCA. Which sadly like Leno we are more then willing to do if Mr. Deitch doesn't quite work out.
---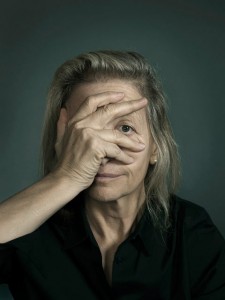 I wish Annie Leibovitz well and hope she gets her financial situation back on track and doesn't suffer the pain shared by The Beatles and Stones which is the never ending chase to put the genie (rights to your own work) back in the bottle once you have sold it. Aside from that I can't bring myself to shed a tear or show any shock over her situation.
If you haven't had a chance to read up on this, on July 29th Ms. Leibovitz was sued by Art Capital Group in the NY State Supreme Court for failure to pay towards a loan of $24 million that she took. The collateral for this was properties in Greenwich Village and in Rhinebeck, N.Y., her negatives and the rights to her photographs.
Essentially the bulk of her assets.
Now after failure to make the basic payments Art Capital Group has successfully pursued payment in the courts and is gaining access to the collateral with the goal of liquefying the assets to regain the funds. Ms. Leibovitz has not commented on the actions and I don't see any advantage to commenting but sadly it is reported that this is not the first time she has had problems making proper financial payments to clients or the state for taxes.
The point is this is not a rare case in the Art World, many many artists and creative professionals regularly take upon themselves financial responsibilities that they are ill prepared to handle or worse ignore all together. Only to learn that ignorance isn't a defense in the court and a lifetimes worth of work and struggle can be lost in the balance of a few or single bad financial decisions.
I know it feels like it is hard to find people to trust, or you don't want to have some "parental" figure limiting your decisions or options but the business side of art is as important in the long term if not in many ways more important in enabling great work to be produced and shared with the world.
Please take this opportunity to take a good hard look at your current situation if this current economy hasn't made you already and ask yourself are you properly taking care of your long term finances and are adequately planing for trouble and can personally handle that responsibility yourself. If the answer is no, find someone skilled who you can partner with to make sure you don't sign contracts or do expenditures you will live the rest of your life regretting.
Life in Art is hard enough, don't be your own worst enemy.
---