It's framing up to be an interesting weekend, here's my top 5 recommendations, chronological order:
1. Proof at Catherine Edelman Gallery
I'm actually really excited about this show. Being a photographer myself, who was worked in film for many years and still does so, I am intimately familiar with the selection process that happens whe you look over a contact sheet. They are amazing story tellers that few ever have the chance to see. This is a unique opportunity not to be missed.
Proof opens Friday, from 5-8pm. Catherine Edelman Gallery is located at 300 W. Superior St.
2. The Art of Touring at Johalla Projects
Selected images from the book "THE ART OF TOURING," images from the road. Ever wondered what a van looks like after 6 unwashed boys have spent 8 weeks crisscrossing the country in it? Do you already know and what to revisit it? This is your show. Work from tons of musicians and music biz people.
The Art of Touring opens Friday, from 7-11pm. Johalla Projects is located 1561 N. Milwaukee Ave.
3. Quarterly Site #3: Stay in Your Lane! at Swimming Pool Project Space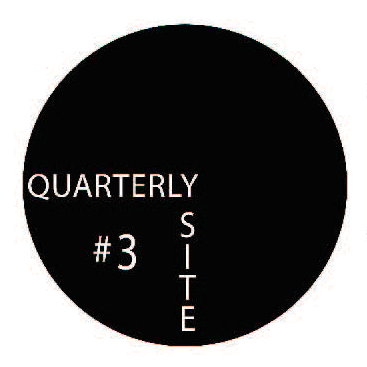 They say it better than I could myself, and I quote, "Quarterly Site #3: Stay In Your Lane! is hosted by Swimming Pool Project Space. Using the theme of direction, three curators conceptualize their various interpretations of the word by dissecting the gallery into physical lanes." Curated by Anthony Elms, Katherine Pill, and Philip von Zweck.
Quarterly Site #3: Stay in Your Lane! opens Saturday, from 6-10pm. Swimming Pool Project Space is located at 2858 W. Montrose Ave.
4. The Humboldt Moving Picture Show at the Richmond Manor
The second round of the Humboldt Moving Picture Show. I went to this last year and it was FANTASTIC. This year they've gone international with artists from the US, Egypt, Kosovo, Palestine, Germany, and Mexico. It's $5 donation, but totally worth it.
The Humboldt Moving Picture Show begins at sundown on Saturday. The show will happen in the Sideyard at Richmond Manor, located at 1625 N Richmond St.
5. James Elkins Lecturing at The Art Institute of Chicago
James Elkins lectures on "Beyond the Aesthetic and the Anti-Aesthetic" at the Art Institute of Chicago as part of the annual Stone Summer Theory Institute.
James Elkins will be lecturing at 1pm in the Morton Auditorium at AIC. The Art Institute of Chicago is located at 111 S. Michigan Ave.
---