It was a schizo week of art viewing for me that started with a trip to New York last Friday. I had been excited to hit the Lower East Side with the taste still in my mouth of Jerry Saltz's assault in New York Mag on the Neo-Mannerist painting that has taken over the Lower East Side and Bushwick (though I don't think he pins the tendency to a specific area). Reading it on the plane it struck me as a bit ironic that the fate of the LES art scene, whose life expectancy is often a subject of speculation even as galleries continue to mushroom there, should be so fastened to the the success of painting, an art form with five centuries on it, and which has risen from the dead more times than the number of years most of the LES artists have walked the planet.
But alas I didn't have the chance, so I traveled to the artistic opposite of the LES where, I targeted the Met's newly overhauled European wing. The giant Tiepolo remains on the left at the top of the main staircase, but inside, the galleries are completely restructured, and the shuffled deck of masterpieces forced me into a complete reevaluation of the story of the Italian Renaissance:
Pardon me for a moment while I digress toward the conspiratorial.
Our current notion of the renaissance wasn't codified until Jacob Burckhardt did so in the middle of the 19th century. And the treasures of art that signify that rebirth weren't substantiated until the wheelings-and-dealing of mercenaries like Bernard Berenson and Joseph Duveen canonized them only more recently. The subsequent narrative about the primacy of Italy has been reinforced by a century of lectures from auditoriums dimly lit by the pale glow from Kodak slide projectors loaded with Fra Angelicos and Mantegnas.
Despite the gospel to which we've willingly subscribed, rolling Pico Della Mirandola, Boccaccio, Machiavelli, Cimabue, Giotto, Raphael, Titian, etc. etc., into a tidy narrative that spread Northward, I had to wonder at the Met whether, if we could press 'reset' on the Game Cube of Western Civilization, we would end up listening to adjunct professors recite an alternative story of the North, of Erasmus, of the Hussites, of the Hanseatic League, and Martin Luther and Gutenberg…and of course in art, of van Eyck and van der Weyden, with Da Vinci, Tintoretto and Titian relegated to supporting roles?
If History is a story of overcoming tradition and inventing change, the North seems to have a good case for preeminence.
Art Historians, address your letters to me not to the Bad at Sports' offices.
That was the ferment in my head as I flew home the same evening to Milwaukee. The very next day I inadvertently got the antidote to the Met in Bayview, that I missed on the LES.
In a semi-improvised gallery called Usable Space at a studio building at 1950 S. Hilbert Street, on what might be the very same narrow footprint of any gallery on Ludlow in NYC, stands a modest painting show that will remind naysayers of the enduring thrill that comes from pushing pigment and binder around a canvas with a brush. The show, "Information Processors" curated by Shane Walsh serves up meat-and-potatoes painters that celebrate the gooey joys of the tradition, with more than a few eccentric, non-traditional moments to keep us on our toes. Notable are Michelle Bollinger's naked and luscious abstractions, which recall everyone from Franz Kline to John Lasker to Thomas Scheibitz, to the deliciously strange sprayerbrusher, Trudy Benson, without losing their singularity.
Janet Bruhn's "Melting Jello Cake" is too representational a title for a painting that first smacks as an abstraction with gorgeous marbled painting inside an unexpected perimeter of languid brushwork that I only eventually realized was a container. Without the title telling us, we would have naturally inferred the sense of a confectionary orgy, even if we didn't identify the subject matter directly.
There are other high points in the show, so go see it for yourself, but I'll fittingly conclude with Bradley Biancardi's "Crystal from Berwyn (after Titian)" which seems less Titian than Matisse…with a Dash of Alice Neel and David Hockney, but inspiration is inspiration.
Still, c'mon, Titian? No Van Eyck. Maybe Biancardi's influence reaffirms the triumph of the Italian Renaissance. Thinking of Titian made me doubt my musings about alternative histories. But whatever the real foundations of the last half-millennium of Western painting, it's great to see that there are still plenty of practitioners willing to carry on the legacy, willing to approach canvases without guile or cynicism, and do their best to keep the gravediggers at the art cemetery leaning on their shovels. This experience will make it easier to stomach the ailing Neo-Mannerists at the Orchard Street hospice next week.
---
The Art Market is inflating out of control, making all but the wealthiest few cry foul. Like it or not, this is affecting the way contemporary art is viewed and thought about. Meanwhile, Jeff Koons continues to be the perfect Poster Boy for the inflation, and it just so happens he has work depicting the nothingness inside the bubble. Simultaneously, Banksy goes for a stroll in New York's neighborhoods proposing a different model. Is this the beginning of the end of the glutonous market? Or is this merely a long beginning?
Don't make the mistake of trying to analyze the Jeff Koons album cover work for Lady Gaga as if it were art. Think of it instead as a publicity stunt to drum up hype for his upcoming retrospective at the Whitney this summer. On the day the album cover was released, mtv.com ran a story with the headline: "Lady Gaga is Jeff Koons' Biggest Fan…But Who is He?" This collage of leftover studio remnants and a Botticelli print gets him access to a generation of people who are not likely looking at a lot of contemporary art, beefing up his celebrity status which he craves, at the same time adding to ticket sales. This, and the animosity from art enthusiasts will help make his retrospective THE BEST EVER!! Just a couple weeks before the Lady Garbage cover, T magazine – the glossy pulp supplement in the NY Times – had a stereotypically vapid conversation with the artist about his recent commission from Dom Perignon to made a limited edition DNA – shaped champagne bottle. Low end and high end commodity containers from ol' Koonie Balloonie. Not too different from anything he has done in the past, but the labeling becomes ever more irksome. Consider his output for the last decade, where most of his work is sold before its finished, and may only show at auction instead of a gallery or museum. Not that this is such a terrible thing. What has basically become a high end boutique practice is frustrating mostly because it is helping fuel the glut of the art market, and then regurgitated into the art world as important to the production and dissemination of art, to negative affect. As long as we wallow in the crystal palaces of Koons, Hirst and Murakami, we'll think that art is as uninspired as Gormley, Marden and  Whiteread.
Koons is in this rare position of being accessible to everyone but only collectable to a small handful of the richest in the world. As Carl Swanson recently stated in Vulture: "Koons can be the art world's great populist artisan, even as he operates as its most exclusive salesman."  Everything about the work is right there, so there's nothing to get. It is perfection and simplicity, the kind of thing that mocks you for looking too hard at it. Since critics are trained to look hard at things, they tend to hate Koons. And its boring to write about art just by describing what it looks like, so people tend to write about his career, his collectors, his record breaking prices at the market, his studio and the process of making his work. This only helps to build a persona around the artist, giving him the superstar flair that these major collectors are after. (And with this week's art fair, London's Frieze officially bigger and more bloated than ever, superstars have never been more in vogue.)
Both interesting and frustrating is how Jeff Koons' rise to the art commodity machine that he is may have helped shape the way the art market is an increasingly insiders game of fewer and fewer players more knowledgable about trading commodities than how to tell good work from bad. And with the auction prices soaring, the big named galleries just keep getting bigger in a kind of go-for-broke mentality* (not breaking them, just the artists they rep, in less of a financial type of broke and more of an artistic quality and integrity type.)
[*for a throughly depressing take on this, see Jerry Saltz's article on Vulture this week.]
At the same time all the grumbling about Koons' latest fart hit the web, Banksy has been doing a residency in NYC, creating work in the city in his typical fashion – covert and unannounced – the opposite of how you're supposed to make art. While seemingly on the other side of the art world, there are a lot of similarities between the two artists. Maybe Banksy isn't able to sell his graffiti work for 33 mil, but he is still operating inside the art market, selling regularly and at high prices. Lately, his work is often either garishly covered by a piece of plexiglass bolted to the wall he painted it on or is removed and sold, either way being seen by an enterprising public as separate from graffiti art and reborn as high art/commodity. His work is no stranger to auctions, museum and gallery shows, while being loved by mainstream society. His imagery is understood at first look, you don't need to read into it, and if you are, then you probably don't get it. Also like Koons, art critics hate writing about Banksy, saying there isn't enough to write about, because it is too surface and he isn't playing the game. But this game is being co opted by the wealthiest of collectors who have realized there is a market that won't burst and can't crash, so they've taken advantage of it. Buying a Koons gets you a ticket into  a very exclusive club. Buying the Banksy at auction though, means that you probably don't get it, because his work is to be freely viewed and is mocking the very lopsided system of capitalism that allowed you to buy it at auction in the first place. Getting it, though, is no longer important. Its having it.
As his position in the art world becomes more clear, Banksy's art frequently criticizes the market, and the latest example of this was a street sale of many of his iconic works on white canvases for $60 on the sidewalks of NYC. The work and the sale later appeared on his website, which is his way of providing provenance. These single color spray painted politically charged images lost all meaning shoved within the borders of these small store bought canvases, sold on the street among vendors hocking watercolors and prints of impressionist styled paintings. Subverted now to talk about the politics of class, taste and accessibility in a market that is more often hurting artists and keeping way too many people out of collecting art. It stifles artistic creativity to the point where every idea is either a recombination of greatest hits by the artist or an experiment to see how much money can prop up a bad idea. Artists start to flounder when they should be thriving. Shows are created for the specific tastes of the market and of a few clientele. Everything becomes dross and it feels like you are wading through a lake of effervescent puke whenever you go to a big exhibition, and anymore, they're all big. 'Cause if not, they may as well not happen at all. More and more, it sucks harder and harder to be a practicing artist in this climate. Unless, of course, you're Jeff Koons.
---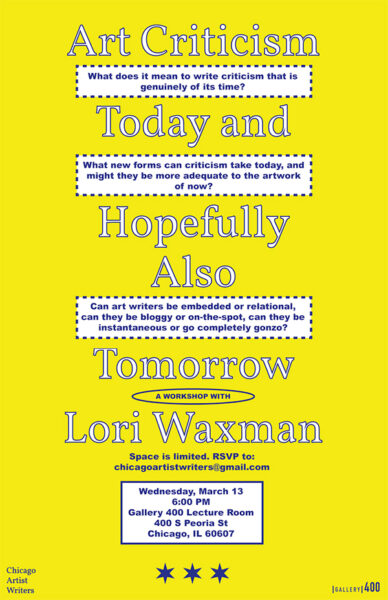 Chicago Artist Writers hosted a workshop with Lori Waxman at Gallery 400 on March 14, 2013. The following is an attempt to collect some of the many illuminating moments of her two-hour lecture and Q&A session.
"Today I'm going to talk about a lot of forms of art criticism that don't actually exist — yet."
Lori Waxman has her feet in two critical worlds. As a regular contributor to the Chicago Tribune, she takes on the role of a traditional art critic: she has a large audience, keeps her distance from the artist and organizers of the exhibitions she covers, and maintains an objective viewpoint. In contrast, her personal project 60 Wrd/Min Art Critic takes a more experimental approach. Â The public is invited to come with their work for a review written by Lori live, in person, with a secondary monitor displaying her writing process as it evolves. The project has been featured numerous times domestically and most recently at Documenta 13 in Kassel, Germany.
Lori posited that criticism has largely not changed much since its first appearance with Diderot's reviews of the Paris Salon of 1765, and the writing that we see in major outlets like the Tribune or Artforum holds the same basic values of that style to this day. This default approach to art criticism doesn't reflect the drastic changes in art and technology's influence on the contemporary conversation as much as it could.
She used Documenta as a case in point–-it embodied a sprawling, time-intensive experience for the viewer, and the critical responses to it suffered as their structuring was inadequate to cover the exhibition's curatorial conceits. Critics who were only able to visit 3-5 days and print 1000 words were ill equipped to critique the event in its totality. "Who goes to NYC for a weekend, and tries to see everything, and if they can't, it's New York's fault?" Lori asked. She used Dieter Roelstraete's review of the Documenta in Artforum as one example; one of his main critiques was that it had too much going on. Similarly, Roberta Smith's review in the New York Times was schizophrenic, unable to deal with the scope of the massive three-month undertaking. Lori suggested that despite the stubborn precedent of "objective distance" in traditional criticism, she herself might be the best critic of Documenta, having spent her entire summer there.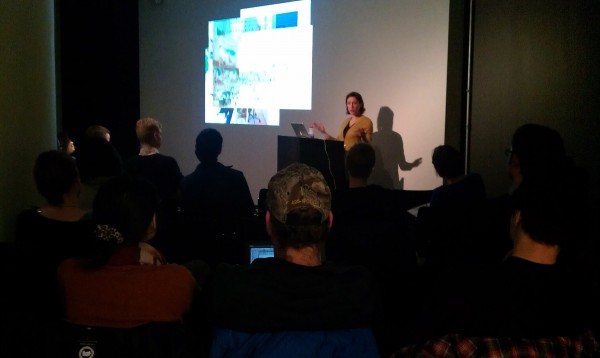 Platforms for alternatives to the traditional model exist in small handfuls but some are promising. Lori noted that online versions of specialty magazines like Artforum fail to leverage the malleability of the web and stick to the values and format of their print counterparts. Websites like hyperallergic, the former artnet.com, and temporaryartreview.com (which covers cities off the major art map) may increase turnaround time and coverage of lesser-known projects, but again resist transforming the dynamic of the critical approach itself.  Triple Canopy is a capable platform, for not only its scholarship but, in the case of David's Levine's take on the dissolution of the Rothko estate, its willingness to embrace an insider's view at the sacrifice of traditional objectivity.  Art Fag City features critical writing but is bolstered most importantly by the active comments sections as a new center of gravity in critical writing.  This very blog (the Bad at Sports blog) also embraces the more diaristic, personality-driven, multi-tangential style of critical reflection over objectively toned assessment.  In the early 2000s, Lori contributed to Fucking Good Art, a feverishly produced zine spearheaded by Pedro Velez and Michael Bulka. Critics would go out to openings, type up reviews as soon as they were sober (or not), and photocopy and distribute the zine for free the next day. The reviews, sometimes nasty and anonymous, were the main way apartment spaces were getting critical feedback.
Lori wondered if models like Facebook and Twitter could be used seriously as venues for criticism instead of flippantly; these platforms have a multi-directionality that could support a more nimble and relevant conversation to artwork being produced.  In addition, their immediacy has the potential to be paradigm shifting–what happens if something is written in front of/within the work? "Gonzo" reviews — long form, unedited stream of consciousness reviews — also have yet to be fully realized in art criticism.
Perhaps criticism that leans towards more relational and embodied writing is called for by today's art practices.  Lori suggested "embedded criticism" – a term borrowed from journalism, in which journalists are "embedded" with soldiers – as a term for art writing that celebrates, rather than discourages, the subjective experience in order to strike a critical observation. In her piece Practicing Trio A in the Spring 2012 issue of October, Julia Brian Wilson spoke about taking a class with Yvonne Rainer in which she learned how to perform Rainer's seminal The Mind Is a Muscle, Part I (Trio A) from 1973, and how this direct involvement in the piece changed her mind about it. Hannah Higgins is well known as a scholar and writer about Fluxus in part because of her upbringing in a canonical Fluxus household; her embeddedness creates a unique opportunity for scholarship and complexity.  Later, during the Q&A, an audience member suggested Kathy Acker as an additional example of someone who writes about artwork while having a close relationship to it.
Art writing authored from a fictional perspective or persona is another area ripe for exploration. Lynn Tillman has written fiction at the artist's request (perhaps skewing its definition as "criticism," but an example of a new form of art writing nonetheless). Her short story "Madame Realism Lies Here" from 2002 is composed from the perspective of a woman who dreams she has turned into a Jeff Koons sculpture, experiencing life in a weird and grotesque way that mimics Koons' work. Tillman's series TV Tales about Barbara Kruger from 1976 also is another example. As well, we can look to novelists: Gertrude Stein wrote in a "cubist" style, coming out of a deep experience with cubist painting. This kind of art writing acts as an analog to the work itself. Stein's unique, unexpected way of using language sidesteps "International Art English" altogether: it doesn't even require a dictionary. One can hold up a piece of hers in front of a painting and see how they work together. The Family Fang, a novel by Kevin Wilson, consists of a fictional narrative about a family of performance artists. Philadelphia artist Jayson Musson's satirical comedy as Hennessy Youngman occasionally offers thoughtful and to the point responses to art, although Lori noted that Youngman can be surprisingly conservative – here she reminded us that a new form doesn't necessarily mean a radical idea, as form and content are extricable. But an outside-the-art-world persona like Musson's can make it easier to call the emperor naked. Another example brought up by the audience was artist Sean Joseph Patrick Carney, who produced a collection of erotic fiction about James Franco.
Lori stressed that to write about museums and commercial galleries is to write about art that has already been filtered and processed, versus writing about experimental spaces showing lesser-known artists who have yet to be critically acknowledged. When writing about the latter spaces, one should remember that criticism of ephemeral or emerging practices may be the only record that exists, and so one must be intentional as his or her writing will eventually become historical fact. "Some dogged art historian in 20 years will rely on these reviews, and they will quote [them]; and if you got it wrong and weird, they're going to think that's what happened." For this reason, she also suggested inventing a way to respond to a work instead of writing something explicitly negative.
Television shows such as Work of Art and School of Saatchi, whether we like them or not, are emergent examples of new forms of art criticism.  While only persisting for four episodes, BBC's School of Saatchi featured six artists, asked them to make interesting commissions, and gave them a decent amount of time and money to do so. The show rendered the actual process of making contemporary art transparent, "and was surprisingly accessible and intelligent." After the work is completed, a good fifteen minutes of each hour-long show is devoted to serious discussion of the artwork that is then communicated to the artists. The judges' remarks are often off the cuff and funny, speaking with authority but sometimes contradicting one another. Their multiple voices created a critical environment similar to a class critique. Bravo's Work of Art, in contrast, equated art with other subjects like cooking or getting married. Artists were given $100 and 24 hours to make a series of asinine projects. Notable, however, was the involvement of Jerry Saltz, the most recognizable critic in the U.S.  Most of the criticism on the show was demeaning, puerile, dumb and one-liner; criticism was consistently of the lowest-common-denominator variety. Yet, Lori said, Work of Art nevertheless represents one of the ways that art is being thought about today by the general public—and perhaps even some parts of the art world; this show is part of the public's access to the art world, and it is sadly misrepresentative.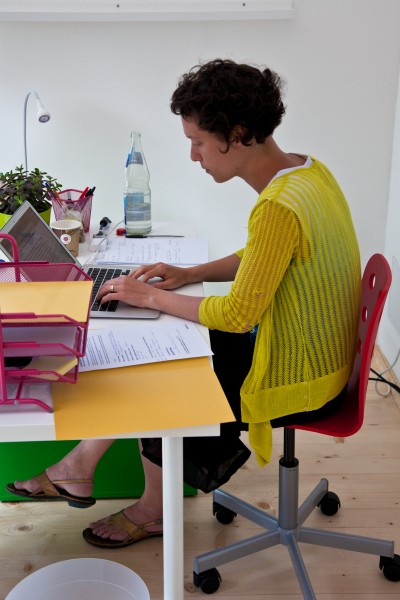 Some of Lori's more experimental ideas—stolen, she willingly admitted, from her students at SAIC—included gif criticism (what can a gif do that words can't?) or criticism using image combinations (like on tumblr). During the Q&A, the audience pitched in: we suggested hyperlink criticism – a review composed entirely of links, in line with the ways we read, think and click; another participant proposed a review composed over Skype, where one person views the exhibition at home, one in the museum, highlighting the differences; or a (live/recorded) performance positioned as a review. Does criticism need to be site specific to the work – like the precedent of dances that directly respond to artwork?
If criticism can be art and vice versa, how can one be sure these forms don't stray too close to art and too far from criticism? Where is that line placed and is it important? Lori pointed out that studio experience might be valuable for a critic, "and who thinks criticism is so objective anyway?" 60 Wrd/Min Art Critic attempts to take some of the agency that the art critic normally assumes away, and to see what happens when it's given to the artist him or herself. The agency Lori gives up is the ability to choose who and what she writes about. But if this critical agency we assume is important is taken away from the critic, can something of substance still materialize? What happens if criticism is available for the asking? Is it still interesting, critical?
Another participant asked Lori about What Happened to Art Criticism, the 2003 panel discussion and book in which Jim Elkins and others complained that the majority of art criticism being written today is "descriptive." Lori responded that she believes there's no such thing as a truly factual description" of something. She pointed out that one can't recreate a painting backwards from a description, no matter how detailed or "straightforward" it is. A good piece of description, she noted, can do "almost anything." One can't have criticism without description; and in shorter lengths, these combinations can be powerful — look at the New Yorker's 100 word reviews of exhibitions in the Goings On section.
An audience member asked if art history helps or hurts art criticism. "If you love October, you should stay in art history and not try to be an art critic," Lori responded. Most critics come from art, not art history, and there's "plenty to make of that, in terms of experience and commitment." She relayed the under-discussed fact that most of the notable art critics working today do not have art history degrees. Peter Schjeldahl started out as a poet; Saltz was a painter and truck driver; Robert Storr and Matthew Collings trained as painters.
How about artists criticizing their own artwork as an interesting new form of art criticism? Lori responded with an anecdote from her husband, the artist Michael Rakowitz, who had recently been part of a discussion in which the moderator complained afterward that the panel's artists hadn't talked more about their work's problems. Her husband countered that he didn't know of a professional artist who would do that, that it's not their job: let the critics take issue, and the artists deal with the problems in their own way. One takeaway for us is that the space for self-criticism in between the artist statement and the art review is ripe for experimentation.
We left thinking about the burgeoning potency of crowd-sourced criticism.  Mimicking the current form of value-production bolstered by the Internet, where value is dispersed into tallies, "aggregate," rhizomatic or crowd-sourced criticism may be starting to replace the good old New York Times review. One audience member wondered if all types of feedback to an artwork could be located in a single place, including documentation, short and long reviews, responses on Twitter, Facebook, etc.? Although Google might seem good for this on its own, it isn't organized: someone should take advantage of this opportunity for a new start-up.
We found this sentiment the driving force of Lori's presentation–an implicit and collective call to action:
"Technology has changed and art has changed, and that should be radically impacting the kind of art criticism that we write, how it gets published, how it gets received and who we write it for, and how it gets commented on."
Chicago Artist Writers is a platform that asks young studio artists and art workers to write traditional and experimental criticism that serves under-represented arts programming in Chicago. CAW was founded by Jason Lazarus and Sofia Leiby in 2012. This is our first guest post on Bad at Sports. www.chicagoartistwriters.com
Click here to download an mp3 of Lori's lecture.
---
I was wondering why I was getting some strange Facebook and Twitter friend/follower requests from the NYC-area….I'm sort of (okay a lot) embarrassed, but Jerry Saltz put a note responding to yesterday's "Superstar" post on his Facebook page. Our blog doesn't get tons of traffic, so when I write here I feel like it's aimed directly at the ten or so people I know for sure actually read it. Suffice it to say, it was kind of a shock to see that Mr. Saltz had read it and responded (I learned of it via someone else's Twitter). I appreciate that he took the time to do so. Now it is out there in a format where people can respond to it–and at least the people who participate in Saltz's Facebook discussion don't seem to be the troll type (I'm pretty sure). Dear God, though, many of them sure are the fawning type. One comment in particular made me laugh; it was something along the lines of, 'maybe Claudine should actively post on Jerry's wall for six months or so before commenting on what's happening here!" Um….wait, wasn't the importance of NOT doing just that pretty much the point I was trying to make, and the crux of James Panero's New Criterion critique of Mr. Saltz's Facebook exchanges too?? Plus, I would never get anything else done if I spend the next six months hanging out on Jerry Saltz's page.
He really does seem like a nice guy though – but what the hell do I know? It's a frakkin' Facebook page, we all put on our best Faces there.
Anyway. I'm going to resist the temptation to get all defensive and just not say anything further. I don't want this blog to become all about Jerry.  But now y'all have chance to respond…if this is an issue you care about, that is.
---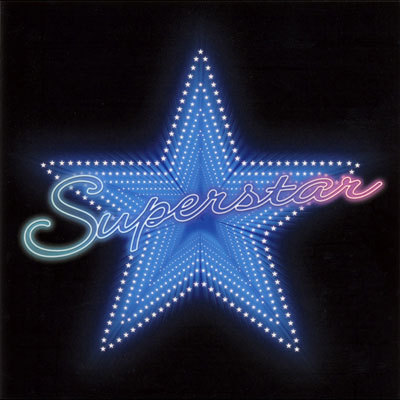 (This one's for Dmitry).
Okay, yeah, I know — to describe Jerry Saltz as a "superstar" as I just did is to engage in more than a bit of hyperbole. But when it comes to Jerry (since everyone seems to feel like they're on a first-name basis with him, I guess I can be, too), "superstar" doesn't seem all that off-the-mark, given Saltz's relative media fame versus the utter obscurity within which most art writers/critics labor. This has always been the case, even in the days when art critics actually played a hand in shaping the discourse–and they haven't done that in quite awhile. So, you know, we should be happy that there is at least one art critic famous enough to hobnob with Sarah Jessica Parker and her ilk. Jerry seems like a genial guy and a kind enough spirit and so personally, I don't begrudge him his fame.
I was surprised, however, that Ben Davis (newly of Artinfo) didn't mention Saltz at all in his column on the state of art criticism. Asserting that "art criticism isn't dead, it's just in eclipse," Davis argued that
"If you had to name the major development in art discourse during the 2000s, it would undoubtedly be the ascent of "art news," which has definitely replaced "art criticism" at the center of discussion. There's been an enormous proliferation of writing about the art scene. Artforum.com's "Scene and Herd" was founded in 2004. Artinfo.com, the publication I write for, was founded in 2005. And of course, there is the tremendous excitement generated by the art blogosphere, which draws its strength from attitude and outrage."
Paddy Johnson of Art Fag City, who's a pretty good examplar of the developments Davis is describing, didn't seem to think much of Davis' analysis. Responding to his post on her own blog, Johnson wrote,
"I feel like I've been reading about the problems of the 24 hour news cycle for fifteen years or more, and the problems are the same. Davis's piece doesn't bring much new to the table past what we already know: news is a large component of many blogs and websites — particularly the ones he's worked for — and criticism isn't doing that well.The trouble has less to do with news per se than the reality of publishing: it's a volume industry and professionals need more time than we're given to produce good work. But there are some ups to these downs, so I don't believe it's been as eclipsed as Davis thinks — it's just not where he's looking. Some of the best criticism on this blog appears in the comments section, and it's no different for other blogs or even Facebook pages like that of Jerry Saltz."
Johnson made good points. Like Saltz or hate Saltz–or rather, like/hate the style of critical engagement Saltz represents–you cannot ignore the behemoth that is the Saltz/Facebook/Social Media machine. His Facebook groupies, his TV stint as a judge on Work of Art, his "Ask a Critic" column for New York magazine–all of these represent fairly radical shifts in the relation between critic and audience. One that is more open, more "radically vulnerable," as Saltz himself has so memorably put it, and one where, to some greater degree than before, the art critic must answer (and answer and answer and answer) to the statements he puts out there via his reviews and other published pieces.
The problem is that all of these radical shifts in the critic/audience relationship apply only to Jerry Saltz. Saltz hasn't changed the state of art criticism one bit – he's just upped his own name-recognition value within it. To be fair, Saltz has argued repeatedly that his own experiments with open-ended interactions with his readers, "friends," and "fans" is something that can and should be duplicated by others. And that's certainly true. It's just that most art critics are way more boring than Saltz is and nobody really cares enough about what they have to say to want to have an ongoing conversation with them, virtual or otherwise.
James Panero, writing in the New Criterion, has described his own "Jerry Saltz problem." To my mind, Panero's critique is the most persuasive I've yet read, though I could have done without some of his prose, which seemed to border on jealous personal attack. I think this is the strongest section of Panero's argument:
Another problem with Saltz's "accidental criticism" is that he has not leveled the playing field at all. He has instead flipped the traditional critic's role from peripheral character to central actor. His comment writers, many of them wayward artists, are now the critics, while he has become the new art star around which they circulate. Jerry Saltz has become "Jerry Saltz," a socially networked performance piece of art criticism. His online work is not unlike the performance art of Tino Sehgal, who took over the objectless Guggenheim rotunda earlier this year to ask questions like "What is progress?"

The lure of interactive performance art is that it shares the stage equally with the viewer. Marina Abramovic's staring contest at moma became a sensation because it felt like we were the art, just as online comments make us all feel like we are the writers, or through Facebook we have 5,000 "Friends." Following Andy Warhol's dictum that "in the future, everyone will be famous for fifteen minutes," and Joseph Beuys's pronouncement that "everyone is an artist," Saltz has wondered "if all of our interconnectivity and social networking also made everyone a critic." But this fame game can become a pyramid scheme. In exchange for the brief rush of recognition that you might feel sitting across from Abramovic or posting to Saltz's Facebook page, you grant them much more than their fifteen minutes. You end up ultimately diminished—another brick in a 250,000-word wall—while adding to their cumulative luster. You "need to partake of the blood of others to grow," Saltz writes. And he should know.
(Oof! That last line had to hurt, didn't it?).
I find the notion of the critic-as-performer to be a really interesting one. I've always been an advocate for a criticism that incorporates the subjectivity of the writer into the form and content of the critique, in certain appropriate contexts. Jerry Saltz now does this in every context, and that's no doubt why many observers have grown weary of him. It's too much Jerry. In the same way that Julia Roberts and Angelina Jolie and Brad Pitt and, ugh, even Sarah Jessica Parker can't  be considered real actors anymore–they're merely celebrities, whose every new role offers a new format in which to play themselves–Jerry Saltz has become a celebrity critic who's finding it difficult to talk about anything but himself, even when he truly does want to be talking only about art.
---