Audio clip: Adobe Flash Player (version 9 or above) is required to play this audio clip. Download the latest version here. You also need to have JavaScript enabled in your browser.

download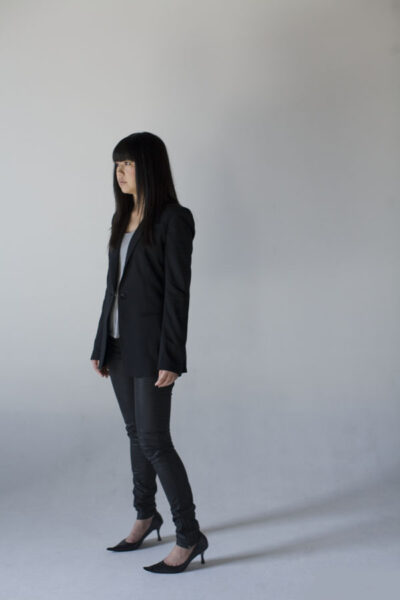 This week: Duncan, Richard, and Jason Dunda talk to a cast of thousands led by Jen Delos Reyes!
Jen Delos Reyes is an artist originally from Winnipeg, MB, Canada. Her research interests include the history of socially engaged art, group work, band dynamics, folk music, and artists' social roles.
She has exhibited works across North America and Europe, and has contributed writing to various catalogues and institutional publications. She has received numerous grants and awards including a Social Sciences and Humanities Research Council of Canada Grant. Jen is the founder and director of Open Engagement, a conference on socially engaged art practice and herself speaks widely on Art and Social Practice at conferences and institutions around the world.
Jen is currently an Assistant Professor at Portland State University where she teaches in the Art and Social Practice MFA program.
photo credit: Motoya Nakamura
---
It's that time again. Each fall, Portland wakes up from its bucolic, sun-soaked summer reprieve just in time for Portland Institute for Contemporary Art's (PICA) annual Time Based Art festival, or T:BA. The only thing that can compel Oregonians to put away their tents, hiking boots, and kayaks each September is the promise of a healthy dose of culture served by PICA's Artistic Director, Angela Mattox, along with visual and performing arts curators, Kristan Kennedy and Erin Boberg Doughton.
Now in its 11th year, T:BA:13 has become a mainstay of the regional arts calendar, bringing a litany of international artists to Portland to present performances and exhibitions, as well as a robust program of workshops, talks, and late-night happenings. The festival is purported to seek out interdisciplinary art practices, supporting artists who challenge the notion of performance by transcending dan ce, music, theater, visual art, and new media to interrogate how the genre can engage contemporary audiences. For Portlanders however, T:BA brings a much needed glimpse of the outside world in. Marooned in the Pacific Northwest, the city tends to be a world unto itself, where imagination abounds but criticality is often in short supply. Presenting projects from Morocco, Algeria, Sweden, Argentina, Chile and beyond, T:BA transforms Portland into a thriving mecca for international culture… At least one week per year.
Presented in this post and in a follow-up next week is my T:BA rundown of select performances and installations in this year's compelling, (pleasantly overwhelming), lineup. One of the annual highlights of the festival is late-night programming at The Works. Organized in the spirit of the contemporary experience-driven cultural economy, The Works presents spectacular events of mass-appeal including an opening night performance by Julie Ruin and a Drag Ball moderated by Portland's own Kaj-Anne Pepper and Chanticleer Tru. Oh yes, and there's definitely a bar—a few in fact, along with a nightly selection of snacks prepared by some of Portland's most celebrated culinary superstars.
Thursday:
The Julie Ruin, (Kathleen Hanna, Kathi Wilcox, Kenny Mellman, Carmine Covelli, and Sara Landeau) at The Works, 9/12/13
The Julie Ruin opened T:BA:13 with a much-anticipated performance that left me nostalgic for my late-90s collegiate self in the best way possible. High-energy dancing, getting fired-up on feminism, and poising one's self with some weeknight boozing were mandatory. Former Bikini Kill and Le Tigre frontwoman Kathleen Hanna is ever spectacular—even the hipper-than-though art crowd couldn't help but shake-it. And Cathy Whim's Hawaiian hot dog was the delictable cherry on top of the already kickass sundae. Wins all around.
Friday:
Trajal Harrell, Judson Church is Ringing in Harlem (Made-to-Measure)/Twenty Looks or Paris is Burning at The Judson Church (M2M), 9/13/13
The question Trajal Harrell posed when creating this piece was: What would have happened in 1963 if one of the postmoderns went uptown to Harlem? The answer: a drawn-out, hypnotic chant of, "don't stop the dance," that progressed from a static aural performance to utter ecstatic dance chaos.
I'll admit: the first half of the performance was uncomfortable to say the least. At one point, I was scanning the room for fire exits and contemplating the point that discomfort transitions to become legitimate torture. The second half however, was joyfully absurd. Sampling sound and gesture across decades — from 1960s glamour to 1990s hip hop, the piece became about the evolution of culture and its re-contextualization with every emerging age.
Saturday:
Meow Meow & Thomas M. Lauderdale (of Pink Martini), co-presented with the Oregon Symphony Orchestra, 9/14/13
Meow Meow is simply fantastic, "exquisite sack of a body," and all. During the performance, she swilled wine, went through numerous on-stage costume changes, ordered around young men with the utmost commanding shrillness. As part of the grand finale, the incomparable diva crowd surfed across a sea of aging Oregon Symphony Orchestra season ticket holders.
Critical Mascara: A Post-Realness Drag Ball hosted by Kaj-Anne Pepper & Chanticleer Tru at The Works, 9/14/13
The only spectacle that could adequitely follow Meow Meow and Pink Martini is, of course, a drag ball.
Sunday:
Lola Arias, El Ano en que naci (The Year I was Born), 9/15/13
The Year I was Born was a poignant reflection on Pinochet-era in Chile that had me weeping in my theater seat like a complete wuss. The narrative was unpacked through memories and ephemera shared by 11 Chileans born between the mid-1970s to late-1980s during the Pinochet regime. Each cast member reflected on his/her parents, individuals representing every aspect of the social and political spectrum, many of whom fought each other during that contentious and bloody time. With youthful zeal, the Chileans mapped epic journeys across continents, read letters, told stories of love and regret, and put on the garments worn by loved ones. The performance was a heartbreaking reminder — punctuated by folksy musical interludes and poppy American Bandstand-esqe dance moves — of the many micro-narratives and everyday happenings that, cumulatively, add up to revolution.
Monday:
Linda Austin & David Eckard with music composed by Doug Theriault, Three Trick Pony, 9/16/13
Linda Austin's choreography combined with David Eckard's sculptures make for disconcerting and vaguely perverse antics to ensue. After viewing Lola Arias's performance the night before, Austin's dance transported me right back to Portland: where stunningly-crafted objects set the stage for imagination, absurdity… And something curiously close to twerking.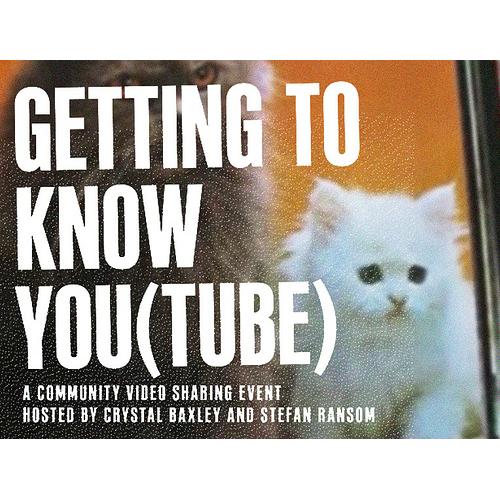 Getting to Know You(Tube) presented by Crystal Baxley & Stefan Ransom at The Works, 9/16/13
Much to my disappointment, I missed this event, so I asked my friend and colleague Emily Henderson to reflect:
Crystal Baxley and Stefan Ransom's project Getting to Know YouTube (GTKYT) invites people to make 15-minute presentations utilizing YouTube in any way with a Q&A after each presentation. The result ends up offering a unique perspective and commentary on YouTube videos if not the culture it generates. The program kicked off with Andrew Ritchey presenting a selection of various people doing covers of Taio Cruz's Dynamite. It offered a funny and interesting glimpse into wanna be star culture and also people who just wanna share their obscure musical abilities. Dalas Verdugo introduced some rare gems in what I would call some of YouTube's greatest hits in the lower views range. Jen Delos Reyes' selection was the heartbeat of the evening sharing videos dealing with Buddhism, education and compassion, Sister Corita making an appearance in the lineup. Jamie Edwards closed out the program with a hilarious monologue of YouTuber comments read alongside alien videos. The comments alone were priceless in the battle between different commentators regarding the validity of alien videos. The evening ended with a small dance party mixed by GTKYT's Baxley and Ransom alongside audience selected videos.
Tuesday:
Laura Arrington & Jesse Hewit, ADULT, 9/17/13
After 45-minutes of wild dancing and beautifully sultry tabletop humping, Laura Arrington and Jesse Hewit served the audience cereal and Jack Daniels and proceeded to get freaky with duct tape, face paint, and glow sticks. This performance, billed as "acting out collective fantasies on death and dying," did not exude the anxiety that the subject of morbidity and mortality generally inspires; rather, the choreographed frolicking expressed a rampant release of id, complete with allusions to masturbation and other physical discharges. Invoking gestures and sentiment of children through the bodies and desires of their fully-grown selves, the performers articulated a truth that has become increasingly clear as years pass: there's no such thing as an adult.
As promised, more to come on T:BA:13 next week! To view the full line-up of T:BA:13 events, go to the T:BA calendar.
Thanks to Emily Henderson, Gia Goodrich and the PICA Press Corps, and Patrick Leonard.
---
by Jen Delos Reyes
Two countries. Five conferences. Seven years. 14 partnerships. Over 700 presenters. Over 1600 attendees. Since the first Open Engagement conference in 2007 this event has become a key meeting point for people interested in socially engaged art. Open Engagement: Art After Aesthetic Distance began as a hybrid project that used a conference on socially engaged art practices as its foundation and incorporated elements including workshops, exhibitions, residencies, pedagogy, curatorial practice and collaboration. I wanted to foster a different kind of conference—one that worked in the way I wanted to see it work: with a sense of togetherness, putting emerging and established voices side by side, highlighting different ways of knowing and learning, and serving as a site of production, as well as reflection. I wanted to contribute to the discourse on socially engaged art in a meaningful way. When Open Engagement began it was a student project. I was a graduate student. The conversations that I wanted to engage in were not happening at my school in Saskatchewan, so I decided to create the situation that would allow for me to have these discussions with people doing similar work. Open Engagement was the basis of my education, and now is a major foundation of my work as an educator.
This year as in most years my experience of Open Engagement happens mostly in the lead up—in conversations with students to determine the themes of exploration for the year, in the selection of keynote presenters, in the scheduling, planning, writing, partnerships, and all things organizing. In the day to day of the event itself I get to attend very few sessions, usually only the opening and closing sessions, keynote events, and a hand full of other projects and for a limited amount of time. My time during Open Engagement is mostly spent assisting and making sure things are running smoothly. But in that way of moving through the conference I intersect with people all throughout the day that I ask what they have attended, and what their thoughts are on the experience at the conference so far. This idea of needing to talk to others to fully experience the conference is intentional. Because of the parallel programming no one person can take in all of the projects and sessions that form the event on their own. We need to work together, and see from multiple perspectives to get a full sense of the field.
In 2010 at Open Engagement Pablo Helguera said that he had always heard that a conference is meaningful in as much as it generated new questions to follow up. If you didn't find new questions then maybe it was not successful. I had a similar feeling about conferences, and it had been one of the ways I was measuring outcomes. The conference begins with a series of calls and questions, and throughout the course of the event and the conversations there are undoubtedly more that are generated. At OE 2013 we were making a concerted effort to capture that questioning throughout the weekend, and on Sunday before Tom Finkelpearl's keynote talk were reminded by Michelle Swineheart of one of Sister Corita's "quantity assignments" of generating 100 questions when embarking on intensive work and research. With this in mind, as well as earlier feedback from the day at a session between the Creative Time summit and OE where I heard from many participants that they wanted to work together to generate something during the conference and that in general there was a desire for sessions that allowed for formats other than being talked at, I decided that the final event would be an opportunity for just that.
For the closing event of Open Engagement 2013 instead of having a panel discussion between only keynotes and curatorial representatives we instead set out to collect 100 questions generated by the group assembled to further get a sense of what is emerging, what people are thinking, and where this conversation is going. The Sister Corita assignment felt fitting for a group of presumably invested individuals, who wish to continue to be involved in research and practice, to take this on together. It was a hope that as we would move out into the world after the conference that we could then reflect on this list of the questions we are currently asking ourselves about socially engaged art. The format was that each of our six panelists joined one of six seated groups that each had about 40 chairs (based on past years we were planning for between 200-300 people at the final panel), and we then had about 35 minutes to work together and for each group to write 17 questions and then we reconvened and the panelists shared the group work. After the instructions were given, at least 20% of the assembled group left instead of joining the break out groups. As I stood at the front of the room watching people choose to stream out, I wondered if I had made a mistake. The people that remained formed groups and were led in discussions to generate questions. There was one group in particular that voiced resentment, yet not enough resentment for them to have just left. This all came out in sharing of the questions at the end of the session. After many weeks I heard from someone who was part of that dissenting group how difficult it was to contribute questions, to have a discussion, and to feel like they could share. Days after the conference I heard some thoughts from Michael Rakowitz (who was the person facilitating that group) on the conference and the final event in general and he said, "You created a space for people to get upset, and that opens up possibilities for things that haven't been done yet." While I had no doubt that we had created a place for people to get upset I wondered what else the space was a possibility for. I thought of other conferences and their goals, Suzanne Lacy's City Sites: Artists and Urban Strategies (1989), and Mapping the Terrain: New Genre Public Art (1991), the Creative Time summits that began in 2009, and the more recent Homework conferences organized by Broken City Lab. Lacey was trying to create a space to develop language for socially engaged art that went beyond the limitations of forms like performance and conceptual art, and with the latter intended that the activities of Mapping the Terrain would come together as a publication. The most simple way to describe the Creative Time efforts is an attempt to become the TED talks for socially engaged contemporary art. The latest incarnation of the Homework conference takes a similar approach to Mapping the Terrain with a end goal of a collectively generated publication, and a similar format to Open Engagement with three keynote presenters and framing devices.
My last memory of Open Engagement took place at Boxxes, the club that hosted the wrap party for the conference. I showed up after a late dinner and took a seat behind the DJ booth where Paul Ramirez Jonas was virtually spinning tunes for the party. I was approached by a woman I met earlier in the day who is a funder at an arts organization dedicated to supporting socially engaged art. I found myself captive behind the DJ booth during a moment of celebration hearing out her frustrations with the conference. The parts of her dialogue that rang out the loudest in my mind were, "I am not here to learn with you, I am not here to generate your content." I nodded throughout, and thanked her for so openly sharing her criticisms. I meant it. I still do.
This encounter made me think of who was present Open Engagement, and what they expected, and how at least for this person how much of a radical departure it was from what I thought people were there for. I revisited some writing from 2007 that I had done after the conference:
What does it mean to be open? What does it mean to be engaged? What if one were to be both open and engaged simultaneously? Openness is honesty, generosity, a sense of possibility, freedom, free of boundaries and restrictions. To be engaged is a promise. It is a commitment, an obligation. It is also a sense of involvement and participation. To have an "open engagement" implies a commitment that is potentially limited or short lived. But what if the two terms once united could keep their respective definitions making openly engaged a term that would embody an obligation to honesty, sharing and possibility? 
It happened, we did create a place of possibility, a place for honesty and sharing, one where many boundaries and expectations were crossed and left behind. What should Open Engagement be? Who should it be for? How can we adequately capture what is generated? Over the last few days I have been thinking about the possibility of an online community archive for Open Engagement that would be a collective effort that would be open for all to share their documentation, writing, thinking, and stories related to the conference.
I had always seen Open Engagement as a site of learning. In an online video conference with Ren Morrison from the Atlantic Center for the Arts weeks following the conference he off handedly referred to Open Engagement as being his "education". The conference has for the past four years been a site of convening for many of the MFA programs with a focus on publicly/socially engaged art. The fact that this conference is so embedded in the structure of an MFA program makes the very nature of it educational, as well as the fact that even the very beginning was in an educational framework. In my mind we were all working together, learning together, and teaching one another. How we organize this conference collaboratively echoes the spirit of our program and our approach to learning. An education in our program is emergent, unorthodox, and at times unruly. This translates into Open Engagement feeling slightly unkempt, and in flux. And while this might be a point of criticism for some, I would not trade this instability for rigid professionalism or a set structure. It is important that we remain open to this conference and this conversation shifting and developing in unexpected ways. It is also important that we remain open to the realization that this may no longer be a site that is necessary, or that it might need to take a completely new form and possibly a new grounding. I hope that whatever becomes of it, that Open Engagement can be a site to work together, learn together and see what we are contributing to the field of socially engaged art from multiple perspectives. I am open to whatever comes next.
Jen Delos Reyes-Â Assistant Professor, MFA Art and Social Practice Program Chair

Jen Delos Reyes is an artist originally from Winnipeg, MB, Canada. Her research interests include the history of socially engaged art, group work, band dynamics, folk music, and artists' social roles. She has exhibited works across North America and Europe, and has contributed writing to various catalogues and institutional publications. She has received numerous grants and awards including a Social Sciences and Humanities Research Council of Canada Grant. Jen is the founder and director of Open Engagement, a conference on socially engaged art practice and herself speaks widely on Art and Social Practice at conferences and institutions around the world. She is currently an Assistant Professor at Portland State University where she teaches in the Art and Social Practice MFA program.
---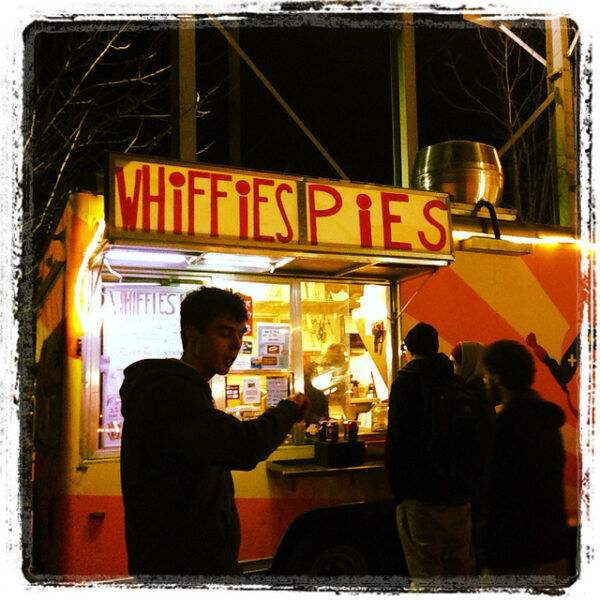 There is a reason they made a show about this town; it's so true it's a cliché : Portland is a kind of paradise. From the Tiki bar at the airport to the food truck shanty town we hit at midnight where twenty-thirty somethings fulfilled all college cuisine fantasies (the center of the parking lot contained a small circus tent where diners could enjoy they paper plated fare), the farm to table restaurants, bookstores, record stores and basement galleries named after after major art institutions, it's no wonder people live here. What's amazing is that somehow people who live here manage to get to work at all. And yet, Portland with all it's West Coast consciousness is a city with abundant social services.
So for all those reason, combined with the blend of experimentalism and casual earnestness, Portland seems like a perfect site for a social practice MFA. Perhaps even more perfect site for a conference about social practice. Which is why I am here. I am covering the 5th annual Open Engagement conference for our very own Bad at Sports.
The first Open Engagement was the result of Jen Delos Reyes' thesis project at the University of Regina back in 2007; Reyes wanted to create a "different kind of conference," one platforming emerging and established artists while providing a site for both "production and reflection." This is Open Engagement: a conference dedicated to socially engaged art practices. Delos Reyes came to Portland State to co-direct the MFA in Art and Social Practice once she had finished her MFA, and in 2010 Open Engagement came to Portland State. To this day, the conference is the result of collaboration between MFA students, Delos Reyes and OE Co-director, Crystal Baxley. In her opening remarks, Delos Reyes remarked on the sometimes "unkempt" nature of the conference, highlighting that it was focused on an artistic discipline that by its very nature is influx, and sometimes messy. That directive affords a kind of experimental quality which is perhaps missing from what she refered to as a more "rigid professionalism."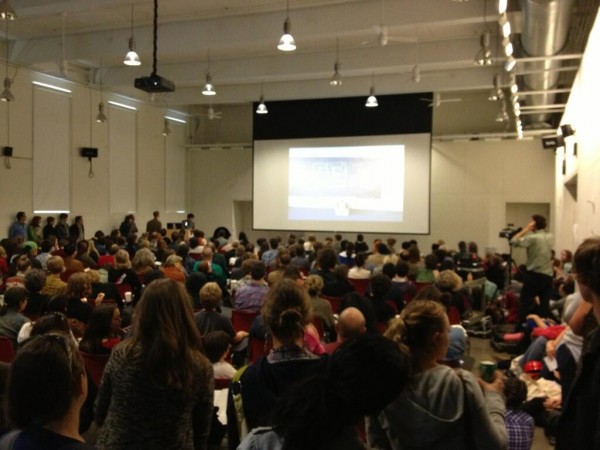 The day went on from there — featuring a fantastic keynote from Michael Rakowitz given to a jam packed room. Rakowitz brought out a "spinning set list," inviting select members of the audience to come up and spin the wheel and thereby determine which of his art projects he would discuss. Each "spinner" was then awarded a prize, from a small zip lock bag of Iraqi cardamom to a date seed the artist had previously eaten. I then attended a panel about harm and risk in social practice, and later a Portland Art Museum event "Shine Your Light," complete with (among other things) a reenactment of a lost Grateful Dead concert. I'll continue to post about things this weekend and am going to conduct a series of interviews while I'm here as well. All of which is to say, STAY TUNED. Follow the conference on twitter via #OE2013

---
Audio clip: Adobe Flash Player (version 9 or above) is required to play this audio clip. Download the latest version here. You also need to have JavaScript enabled in your browser.
download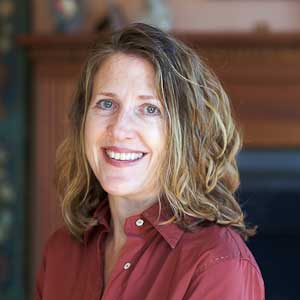 This week: We kick off with the most depressing intro ever (yet still hilarious) and then get to the good stuff. We talk to Shannon Jackson at the Open Engagement conference, preceded by a (unfortunately) truncated conversation with Jen Delos Reyes.
Shannon Jackson is Professor of Rhetoric and of Theater, Dance and Performance Studies. She is also currently the Director of the Arts Research Center. Her most recent book is Social Works: Performing Art, Supporting Publics, and she is also working on a book about The Builders Association. Other awards and grants include: Lilla Heston Award for Outstanding Scholarship in Performance Studies (NCA); Junior Faculty Fellowship, Radcliffe College; the Kahan Scholar's Prize in Theatre History (ASTR); the Spencer Foundation Dissertation fellowship; the Black Theater Network; the National Endowment for the Humanities, and several project grants from the Walter and Elise Haas Fund, UCIRA, the San Francisco Foundation, and the LEF Foundation. Selected adaptation, performance, and directing credits: White Noises, The Smell of Death and Flowers, Hull-House Women, Catastrophe, The Successful Life of 3. Jackson serves on the boards of Cal Performances, the Berkeley Art Museum, and the Berkeley Center for New Media. She serves on the editorial boards of several journals, has been a keynote speaker at a variety of international symposia, and has co-organized conferences and residencies with the Arts Research Center, The Builders Association, Touchable Stories, American Society of Theatre Research, the American Studies Association, the Women and Theatre Project, Berkeley Repertory Theatre, the Multi-campus Research Group on International Performance, and UCB's Center for Community Innovation. Jackson was an Erasmus Mundus visiting professor in Paris at the Maison des Sciences de l'Homme Nord and at the Université Libre de Bruxelles for the 2008-09 academic year. Before moving to Berkeley, Jackson was an assistant professor of English and Literature at Harvard University from 1995 to 1998.
Jen Delos Reyes is an artist originally from Winnipeg, MB, Canada. Her research interests include the history of socially engaged art, group work, and artists' social roles. She has exhibited works across North America and Europe, and has contributed writing to various catalogues and institutional publications. In 2008 she contributed writing to Decentre: Concerning Artist-Run Culture published by YYZBOOKS. In 2006 she completed an intensive workshop, Come Together: Art and Social Engagement, at The Kitchen in New York. She has received numerous grants and awards including a Social Sciences and Humanities Research Council of Canada Grant. She is the founder and organizer of Open Engagement, a conference on socially engaged art practices. She is currently an Assistant Professor and teaches in the Art and Social Practice MFA concentration at Portland State University.
---