I spent last Saturday providing unwanted color commentary to my wife as she shopped for gifts at the Renegade Craft Fair in Brooklyn. For those who don't know, the RCF is a craft-based flea market, whose proprietors and patrons share an affinity for tights-as-pants, non-menacing tattoos and, of course, crafted nostalgia. It was started in Chicago in 2003 and has since cropped up in other bourgy hotspots like Austin and San Francisco.
I might have indulgently added a paragraph here with some of my more searing moments in the booth—those comments that forced my wife to jab me in the ribs with her elbow—but taking shots at the embroidered-owl-tea-towel set just doesn't have the impact it did before Portlandia. So thanks Fred and Carrie for stealing my thunder. You do it so well.
Because my wife wasn't having my shtick, I wandered off through the city of tents and made like a social anthropologist for a few hours, in the process devising a crude hierarchy of crafter quality, based on degrees of transformation.
Creative Level 1 (Sedimentary): Any combination of two or more conventional images or objects that transform neither the components nor the final product. This includes eco-tote bags screenprinted with hedgehogs or bumble bees, onesies screenprinted with frogs, letterpress greeting cards and posters spelling out B-R-O-O-K-L-Y-N over a graphic of the street grid.
Creative Level 2 (Igneous): A recognizable object or image transformed into a new, distinct object or image, often characterized by the simplicity of the final form. This includes Nancy Drew books turned into memo pads, old records heat-formed into bowls and vintage beer bottles cut to become tumblers.
Creative Level 3 (Metamorphic): Material or objects transformed into another object or system of objects where the transformation is either:  1.) motivated by the material (in the Robert Morris sense) 2.) poetic/metaphorical (such as, Interventionist board games, where the rules and terms have been manipulated to better match the game's theme…like, drawing the wrong card in the game of Life might lead to an actual cold sore)  3.) figuratively and literally transformed into a unique product (like, a telescope made out of Can't Buy Me Love Beta Cassettes.)
Looking at all the plants potted in split Wiffle Ball bats and homemade lemonade soap and dishes formed from old Dr. Seuss books made me realize how structurally similar the craft world is to the art world. Sure, the posturing is different, but they share a creative foundation.
Jasper Johns famously said of art making, "Take an object. Do something to it and then do something else to it."
Art, like renegade crafts, like rocks, and like enlightenment itself, is about transformation.
But a transformation to what?
Among some fish pillows made from old flannel shirts, I had a vision back to the rural, homespun version of the Renegade Craft Fair: Maxwell Street Days in Wisconsin. Also taking its origins in Chicago, from the original Maxwell Street, Days is more a flea market than a craft fair, more raw material than refined product. The last time I attended, I discovered a terrific steel drafting table in a booth run by mustachioed dude named Mike and his bang-ed wife, who, despite having a similar haircut, wouldn't have known Zoe Deschanel from the current Under Secretary of the Interior. After chatting with Mike about hardwood and milling for twenty minutes I made him an offer on the desk and expressed my reservations about transporting the piece to the car. Mike gave me a good deal and then a hand carrying the piece out to the street, a cigarette in his mouth and a bottle of beer in his back pocket the whole time—he stuck it there when he realized he needed both hands to carry the desk. The beer sloshed around as he shuffled. I remember staring at the muskellunge on his ratty tank top to avoid awkward prolonged eye contact. It occurred to me, standing on the Brooklyn waterfront last Saturday that from a crude description of this couple, one might envision them as the types who play kickball in McCarren Park on Sundays, when in fact they'd sooner be getting their sun on a pontoon boat on Lake Geneva.
The old hubcaps, worm-eaten barnwood planks and antique washboards spawned from Midwestern garages, symbolize a past that my generation considers to be more redeeming than the one we've inherited. The symbolic power of vintage miscellanea to artists and craftsmen is that it evokes a nostalgia and wholesomeness of the past..of our youth. But maybe more importantly of youth in general and of innocence unspoiled by self-awareness.
If Maxwell Street is the metaphorical ore for the more refined products of the Renegade Craft Fair, that guy, Mike, in his artlessness is the ore for the artists of the urban set, whose transformative Odysseys are mostly additive, while their destinations – purity, authenticity and cultural virginity – are decidedly reductive.
Indeed: take something, do something to it, then do something else. Do yoga, read Proust, paint pictures, but also: somehow find naked, raw, aching originality at the same time. That second part is more difficult for the cultivated soul.
It makes me think of Stephen Daedalus in A Portrait of the Artist as a Young Man:
"The artist, like the God of the creation, remains within or behind or beyond or above his handiwork, invisible, refined out of existence, indifferent, paring his fingernails."
Thus:
Creative Level 4 (Precious Stones): Marked by an individual transformed from sophistication back into a pre-Creative Level 1 state of virtue (we might call it "Earth"), who has started making art from scratch, again. This includes: magical contradictions of all sorts, yet to be determined.
So, a transformation into what? It's like that Potter Stewart quote about porn, "I'll know it when I see it."
---
It's easy to think of the New York art scene as a big, gay playground. Okay, maybe not a playground, but a place where gay men have had the opportunity to be relatively open, at least within the parameters set by the norms of their particular era. Think Johns, Rauschenberg, Warhol, and sometimes Larry River who, although didn't identify as gay, often took one for the team. In his book Between You and Me: Queer Disclosures in the New York Art World, 1948-1963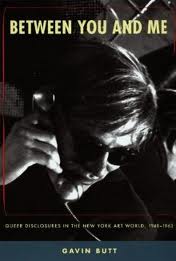 , Gavin Butt presents gossip as an alternative, let's say queer, way of knowing. Butt proposes that when we consider an artist and his work (all the artists presented are male) that we consider more than just reception histories and textbook biographies. Butt suggests that we look deeper than that, showing how gossip informed the work these artists produced, as well as the way the public and art world received it.
Why is gossip important? Well, even in the comparatively liberal New York art scene, it was still the 50s and even if one's homosexuality were "common knowledge" that didn't mean it was accepted by the general public. Artists were often inned by galleries and the mainstream art press. Butt gives many clear of examples of this. He also uses the queer press as confirmation of alternative histories placing such publications as The Mattachine Review and Gay Sunshine Press on the same level as The New York Times.
In a chapter entitled "Dishing on the Swish, or, the 'Inning' of Andy Warhol," Butt outlines the experience of a young Warhol, whom we now think of as a purveyor of prurient gossip. But at the beginning of his career, Warhol was the victim of gossip. In the hyper-masculine 50s, Warhol's sissy demeanor was an embarrassment to the traditionally masculine artists (both gay and straight) in the scene. Warhol became re-invented, not as gay or straight, but as asexual. While the entire art world knew his orientation, Warhol and the media effectively maintained a beyond-sexuality public persona. We can see this same method employed today every time someone says an artist's work is "universal," or that his or her sexuality is "unimportant."
Between You and Me lingers between art history and queer theory, which in itself makes the book queer. This is an older title, published by Duke University Press in 2005, and somehow it feels like it never really found it's niche. Perhaps it is because of this inbetweenness, or maybe because the subject is gossip, which is inherently unserious. I highly recommend this book, not because of what it teaches about the golden age New York art scene, but what it teaches us about queer ways of knowing art today. Between You and Me is a serious academic book, but because of its subject matter left me with an overall feeling of playfulness. Good summer reading, if summer ever comes.
---