By Kevin Blake
Josh Reames makes smart paintings. Whether he is deliberately utilizing painting tropes, such as the dripping brushstroke, or deploying obvious geometric abstraction, Reames' work acknowledges his awareness of the painting vocabulary while creating his own grammar from canvas to canvas. Reames aligns his understanding of painterly tradition with his interpretation of contemporary experience that speaks directly to the viewer through text, emoji, palm trees, and anything that seems fitting in the moment of creation. As Reames carves out his own space in the painting world, he wittingly nods his head to a history he  knows well.
Kevin Blake: You have an interest in the escapist ideal, and while those ideals are more overtly addressed in your multimedia constructions, I think your paintings, at times, depart from those ideas and allow for a more eclectic read. Can you talk about your modes of production and how those different methodologies have different relationships to your conceptual framework?
Josh Reames: Sure, I think the paintings lend themselves to an eclectic read, but only as a group. I try to keep individual paintings focused on specific ideas. I think all of the work addresses escapism, just in varied ways. The tropical imagery and psychedelic drug references are just as involved with escapism as the act of painting is. The eclectic read is a product of my scattered focus, which is probably a product of internet culture. My conceptual framework is pretty broad; if I had to describe my intentions with painting it would be to use painting as some sort of filtration device for cultural bi-product. I mean, I'm super into the idea of relativity (cultural, moral, etc.), and painting has this ability to literally flatten images and references into a rectangle. By pushing images together and composing them into a painting, you can flatten the references and remove the hierarchy of importance. So Abstraction, palm trees, emoji, drippy brushstrokes, dollar signs, cigarettes, and the Sphinx can all be flattened to the same level – composition. Either nothing is really dumb anymore, or all of it is, it's getting hard to tell.
KB: You make pictures that perpetuate your grasp of the canon of abstract painting, and I wonder if there is any escape from those parameters. When you are making paintings, how do you filter your knowledge of abstraction (historical and contemporary) to maintain something that is your own? Can artists escape the initiated forms they supersede? Can painting ever escape from itself?
JR: Maybe I'm wrong, but it seems like the need for iconoclasm is outdated. I think the idea of superseding or escaping abstraction comes from some need for a linear narrative of "this became that, then that became something else" which I think has been a legit way of understanding a progression of artists, at least for the past few hundred years. But now I think it's a little different; sampling, re-sampling, homage, and straight plagiarism are all viable forms of historical awareness in art. The drippy brushstroke has historically been an abstract tool, meant to express the presence of the artist – a remnant of the physical self. But over time, that becomes a trope, a symbol separated from it's original context. I think this is liberating in a way. It's sort of like Tarantino using the tropes of old kung-fu films like Zatoichi and Lady Snowblood; he takes an outdated thing and makes it fresh. In that sense, Robert Motherwell or Franz Kline didn't have the internet, so I have a fresh set of tools to play with.
KB: Is sampling, re-sampling, homage, and straight plagiarism unavoidable at this point?
JR:Â  I mean, all the best artists have stolen, it's just easier now. When you are completely inundated with images on a daily basis there becomes this subliminal pool of imagery and information that seeps into the studio. I don't think it's completely unavoidable, but if you are like most artists with access to the internet, it is pretty difficult to avoid. That being said, I don't think there is anything wrong with it.
KB: Your paintings reference artists like Charline Von Heyl and Christopher Wool among others and I am curious as to how you think you arrived at those influences?  What I am trying to understand from your perspective, is how you feel about so many artists drawing from the same well. The internet provides an infinite range of source material, yet the pool of imagery that seeps into your studio, seems to be oozing into everyone else's simultaneously. Fortunately, you are distilling it all in an interesting way. It is a pattern in art history for contemporary artists to be in dialogue with one another. How do you negotiate those terms and demands?
JR: I love Wool and Von Heyl, I think they are some of the most important living painters. I relate to how Wool handles abstraction, especially with the screen prints, in an almost hands-off kind of way. He takes abstraction, historically an emotionally charged way of painting, and filters it through a Warhol-ian process that removes the hand. I think there is a lot of humor there, super dry though. So good! There are only so many ways to make paintings; different combinations of styles, tropes, paint handling, tools, etc. Eventually it's not difficult to take a step back and see artists doing similar things. I'm not sure it matters though, as long as the thing being made is interesting and has some connection to the artist. After that it's all personal taste.
KB:Shifting gears a bit, I was hoping to talk to you about text in your paintings. Often times, text is integrated into the image and sometimes the text appears to be squeezed out of the tube on top of an abstract composition–your paintings "YYY" and "Land Grab" come to mind. How does text operate for you in your paintings?
JR:Text is a way to guide the viewer, to give some sort of context to an otherwise abstract painting. I always integrate the text so that the letters or symbols double as marks, either sprayed or squeezed in the same way any other mark would be made on the canvas.
KB:I'm interested in your word choices and how, if at all, you see them as a personification of yourself. Or are the words derived from language you see fitting into your escapist trajectory?
JR:I keep a running list of text ideas in my sketchbook and on my iPhone. The word combinations that get used are usually really open ended, allowing for specific/individualized reads, but also have a specific connection to me. Sometimes it fits the escapist trajectory, but others will be references to books I'm reading or words that I came across that stuck with me.
KB: Can you talk about how the array of non-traditional painting materials have made their way into your painting practice? Spray paint, airbrush, and fluorescents, to name a few, seem to be the rage. Are these materials and/or high key palettes coincidence or do you think they reflect something more concrete?
JR:In a broad sense I think non-traditional painting materials, usually applied to abstraction, are a way to make abstraction relatable. Matias Cuevas' poured paintings on carpet, or Andrew Greene's glass abstractions are good examples; they bridge the gap between a messy abstraction which really just exists as a historical trope, and everyday materials, which pulls the trope into something new. I don't think my work really fits in this category,  I think using airbrush and fluorescents aren't that uncommon; I started using the airbrush because I have no patience with paintbrushes. I'm a pretty shitty painter if you put a brush in my hand, I can never make it do what I want it to do! The airbrush is different, it's way more versatile, and quick. As far as the high-key color palette's go, I'm sure there's some coincidence there, maybe trends – personally I just like shiny things…
KB:I think you are right, these techniques are becoming more and more common in contemporary painting practices.  Maybe it relates to a culture of instant gratification, immediacy, and even escapism.  Does the pace of everyday life influence your material applications and the speed at which you make your work?
JR:I agree, I think people (artists included) generally have a short attention span and as a result, a lot of impatience. I know I do. I am always able to look at a painting that took months to complete and think "wow, that took a lot of time". But I don't think the amount of time something takes makes it any better than if it was quick. Again, my use of the airbrush is entirely about speed and impatience. I want the paintings to look meticulous, with slick surfaces and plenty of precision – but I want to make a lot of paintings, so speed is key! The pace of everyday life probably has an indirect influence on that.
KB:Speaking of the pace of everyday life, how do things look in your studio right now as you prepare for your solo exhibition at Luis De Jesus in Los Angeles this January? What do you plan to show?
JR:It's crazy in here, I just got back from an 11 day trip to NYC where I saw some pretty rad shows (Josh Smith, John McCracken, Joshua Abelow, etc.). It's great to be back in the studio working on some new paintings. I think I'm going to make a handful of emoji paintings and text paintings with text-message shorthand. The working title is THE INTERNETS. Time is such a luxury though, I've been considering hiring a studio assistant so I don't have deal with those pesky tasks like stretching and priming canvases… we'll see!
Kevin Blake is an artist and writer working in Chicago.
---
The acclaimed mixed-media creator on colonialism, women warriors, and the consumerism that pays her bills.
By Benjy Hansen-Bundy on Sat. October 12, 2013 3:00 AM PDT
Wangechi Mutu Photo: Kathryn Parker Almanas
"The power for me is to keep the story of the female in the center, to keep discussing and talking about women as protagonists," Wangechi Mutu said in a video introduction to A Fantastic Journey, her recent exhibition at Duke University's Nasher Museum of Art. For the casual art fancier who happens upon it, as I did this summer, the exhibition was like embedding in Mutu's mind: Black globes of crumpled plastic hang on strings suspended from the ceiling, a looping video of the artist devouring cake flickers on the floor, and triumphant warrior women occupy magnificent collage landscapes on the walls.
Mutu, a Brooklyn transplant via Nairobi, deploys mixed media to grapple with themes of consumerism and colonization, of gender and race—and war. Her large, lush collages draw from images familiar to us, such as magazine photos of bare flesh and car engines, which she transforms into works that are mysterious, beautiful, and somewhat terrifying. Her animated short, The End of eating Everything, done in collaboration with the singer Santigold, depicts a colossal machine/beast/planet feeding on black birds while floating in a vast industrial dead space. In an interview discussing the piece, Santigold praised Mutu for her "explosive renewal" of artistic expression at a time when vapid materialism dominates the popular culture.
A Shady Promise The Speyer Family Collection, New York. © Wangechi Mutu.\
---
Last week, I had a fascinating conversation with Lacey Haslam of Oakland-based BLOCK Gallery and artist Kari Marboe regarding their newest project titled Latham Memorial Fountain Unveiled.  Six months ago, they connected over email and by November, BLOCK will be presenting Kari's site-specific public artwork in Oakland's downtown area — specifically on the site known as Latham Square.
It wasn't until half way through our conversation that I realized that we were sitting in Latham Square, just a few feet away from the site-specific building windows that would house Kari's artwork.  Kari shared fascinating stories and trivia tidbits about the small section of the city known as Latham Square, which was named after the late-19th century pioneer family of James and Henrietta, and their children Milton and Edith.  The family had fueled money and programming into Oakland, including education for children on animal rights.  One hundred years ago, Milton and Edith created a memorial fountain to their parents that was for "both man and beast".  The incredibly historical Latham Fountain now sits in Latham Square – sans running water – as a source of inspiration for Kari's newest work.
Jeffrey: So what's BLOCK Gallery all about?
Lacey: BLOCK started experimenting in 2010, playing with the on-going question of what happens when we move artwork outside of the white wall gallery space — thinking about the function of art outside traditional institutions, whether that's museums or galleries.  What BLOCK aims to do is tap into the function of art, and activating art from a more inclusive and educational place.  What started as an experiment turned into site-specific exhibitions, meaning curating the work based on what's happening in the space and using the context of the space as the content of the exhibition.  What this approach ends up doing is providing an outlet for not only the artist to exhibit work — maybe it's a piece that they have already created or it's a piece that responds to the space — but exhibiting concepts the artists are already working with and putting it in a space that anyone can walk into or by and say, "oh this relates to me because I'm interested in this idea as well".
J: So where are you now, three years later?
L: BLOCK is now moving into public space.  It now has two different spaces — the alternative spaces with full-on rotating exhibitions and now the public space, and that's where Kari's coming in as an artist who also incorporates public spaces in her practice. These exhibitions are free, public, 24/7 — I mean, there are no hours associated with when you can view the work.  You are not walking into a well-lit cube between the hours of 10 AM and 6 PM; rather you are walking down the street or stumbling upon them by happenstance.
J: How did you meet Kari?  How did you guys hook up?
L: She actually reached out because she saw what BLOCK was doing.  She was interested in the program that BLOCK was building and said, "hey, here's my work, maybe we can pull together some projects".  I looked at her portfolio and it was exactly what I was looking for — she works site-specifically, in the public sphere, but she also draws on what's happening in that space. Since our first meeting she has been fully involved in the entire process.
J: So Kari, how did you get to know of the BLOCK sort of "thing" that was happening?
Kari: I first heard about BLOCK while I was just finishing up my MFA over at UC Berkeley. I had been creating site-specific text-based installations during my time there.
J: "Site-specific text-based"?
K: Artworks designed conceptually and physically for a particular space, and in my case made with text. For example, during our thesis exhibition I worked with Dena Beard to find a public and easily accessible spot outside of the Berkeley Art Museum to place a piece. She suggested taking over one of the panels outside of the museum on Bancroft which is normally used for internal advertising on upcoming exhibitions or events and found a 4'x4′ panel that was available during the time we needed. So I wrote a piece that talked about being exactly in that space, the motions of coming in and out of the museum, in poem form so people could sit down on one of the benches across from the work and enjoy it for a while. The label for the work was displayed right as you were walking out of the museum, so people were stopping and asking, "where is this piece of art, it's not the Calder, where is it".  Another piece I worked for that show was with the East Bay Express.
J: The newspaper?
K: Yep, the free newspaper that comes out weekly. They were so kind and donated rectangular advertising space to me for seven consecutive weeks. My collaborator Erin Johnson jumped on board and we made a series of seven squares that spoke about the nature and functions of a newspaper. That was a fun project, especially since it was free and available to everyone. While I was working on that, I also spent a lot of time online, seeing what other people were doing with sites and where my text work could fit in.  I somehow ran into BLOCK Gallery and it was exactly the type of thing I was looking for. I had never heard of a site-specific gallery before, or at least not one in the area, and was immediately interested in meeting the person behind it.
J: What was that advertising or marketing for BLOCK?
L: Gosh, at that point, it was very minimal.  It started by hooking up with Oakland event calendars and bare-bone sites to say, "hey, I'm a program in Oakland and this is what I do".  It hasn't been easy to put words to this type of program, instead I had to just do it, letting the installation images and the curatorial statements piece it all together.
J: So Kari, take me through that process of contacting Lacey.
K: After looking at BLOCK's website I decided to send her an email with some links to my work. We got together and brainstormed on the types of sites that would be exciting to work with. While looking around in downtown Oakland we stumbled across Latham Square just before the City of Oakland and ReBar started their Pilot Project there.
L: In our first meeting, I mentioned wanting to do something in that little triangle where Broadway and Telegraph spilt — we didn't know it had a name then. After seeing the Pilot Project and realizing that it did not involve any artwork — other than the street paintings — we started thinking about how to get in touch with the City, ReBar, what the logistics of doing a work there might be, what would a project there look like, and how could we help add to this newly pedestrian space.
J: So what is Latham Square?  Are the Lathams an Oakland-based family?
K: I'm glad you asked.
L: Yes, here it comes!
K: When we thought we might be interested in doing the project here I went to the Oakland History Room of the Oakland Public Library — wait, have you ever been in that room?
J: Nope.
K: Oh my goodness, it's worth a visit!  They have a specific room and librarian for all-things-Oakland on the second floor. The first librarian I met was already familiar with the Lathams and instantly pulled the files of James, the father, and Edith, the daughter.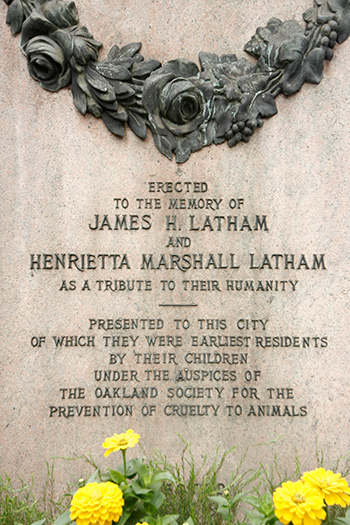 J: So interesting!  I just got the chills.
K: I know!  They also have a database with scanned articles from the Oakland Tribune. I was able to search around and found an amazing article from April 10, 1913, that described a great deal about the fountain and the dedication ceremony. I mean everything from the color of the granite to Mr. Latham's first job. The title of this piece – Latham Memorial Fountain Unveiled – is the same as the article's title.
Kari continues to share the fabulous history of the Lathams.  It is so fabulous that it has become the driving concept behind her installation.  Text here would do no justice, and rather, a visit to the work of art would be most appropriate.
K: What I'm interested in is taking this history and creating a piece that combines that story — specifically the desires of motives of the Latham children for building the fountain — with themes of how the memories of citizens are preserved within city structures over time. It's been just over a hundred years since the fountain was installed.
L: And at a certain point this piece will become part of Latham Square's history as well.
J: Can you talk about some of the logistics of the piece?
K: Oh, boy. Site-specific pieces are about eighty-percent logistics and twenty-percent art making.
L: It's been email after email, meeting after meeting.  It's an ongoing evolution. You don't want to start on finalizing the actual artwork because so much can change.
J: Any details of those emails or meetings?
K: Well, we knew we had to talk to the Downtown Oakland Association.
L: The Downtown Oakland Association oversees a lot of different departments.  Their main mission focuses on getting Oakland to be a more livable, more beautiful, more active, safer city.  For example, they do the hanging plants on the lights, they have solar integrated trash compactors — great solution to any city's trash management.
K: They have a certain amount of funding allocated for projects like ours. For instance, they helped Art Murmur get off the ground and have been sponsoring the Great Wall where large-scale video projections happen.
L: What's fascinating about Oakland is that there is so much energy around the city's re-identification through art, to position it as an exciting and relevant cultural hub. The crowds that turned out in the early days for the Art Murmur activated Oakland in a certain way, and now that First Friday has hit a plateau, I think there's a lot of room for growth at this point. There is a ballooning need to gather around art again.
J: What's BLOCK's position in the Oakland art scene?
L: BLOCK is designed to be fluid on every aspect.  When you're not tied to a space, you're not worried about the on-going programming of that one space. Being able to break away from that idea and bring art to a community or to places that people will frequent, and being able to use art as a sort of bridge for a new experience.  In essence, the program is about activating art, activating space to further the experience.  So, why is BLOCK in Oakland?  That's a fascinating question. There's something here, there's an energy here that San Francisco has, but it translates in a very different way.  Oakland is primed for growth, has a sense of opportunity.  The people we've come in contact with here have an authentic, raw enthusiasm for it. I haven' seen that in any other space or city.
Latham Memorial Fountain Unveiled will be presented from November 1, 2013 to April 2014.  For more information, visit http://www.block-gallery.com/locations/public-space/lathamunveiled
---
In case you thought we maybe glossed over the epic amount of blood sweat and tears that went into last week's art fair extravaganza, I thought I'd repost a few articles that came out in the last few days including this one from Art in America: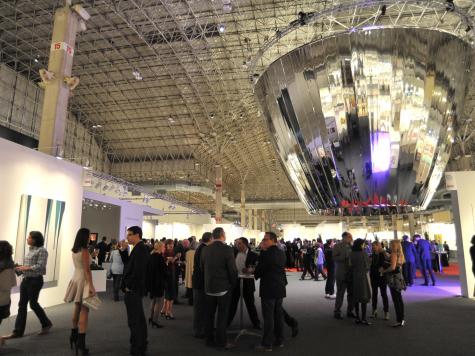 Strong Sophomore Outing for Expo Chicago
by Brian Boucher
"I'll tell you what distinguishes this year from last year," Expo Chicago director Tony Karman told A.i.A. at the fair's sophomore outing on Saturday, "and I'll tell you in one word—sales. It was very important that big dealers like David Zwirner and Marianne Boesky do well, and they have."
Featuring over 120 international galleries at the capacious Navy Piers (up from 100 last year), with views of Lake Michigan, Expo Chicago (Sept. 19-22) represented dealers from 17 countries and 36 cities. Some were returning, like Zwirner (New York and London), Matthew Marks (New York and Los Angeles), and Kavi Gupta (Chicago and Berlin). There were also many first-timers, including Marianne Boesky (New York), Cabinet (London), Massimo de Carlo (Milan and London) and Susanne Vielmetter Los Angeles Projects.
While almost every exhibitor acknowledged that sales were little to none in 2012, nearly all said that business was better this year. Dealers reported a range of sales, starting as low as $4,000 for works on paper by Chicago's own William J. O'Brien at Boesky. Works in a modest price range found the most ready buyers, but there were outliers. Boesky told A.i.A. of serious interest in an assemblage by Salvatore Scarpitta, Drummer Seargeant (1963), which was tagged at $750,000, and one dealer who declined to be named told A.i.A. that he had sold a million-dollar artwork—and to a walk-in customer, no less. read more
A handful of additional EXPO 2013 accounts can be found here: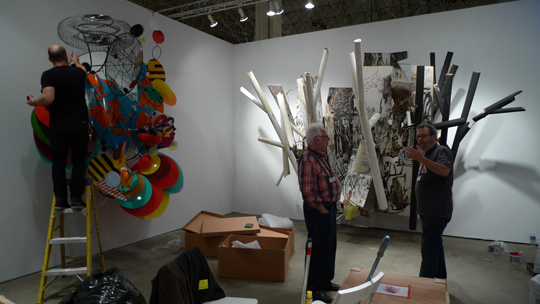 Paul Klein on The Huffington Post, with some lovely installations shots to boot:
This is the second year of this wonderful mid-sized art fair, with substantial galleries bringing some A quality art and almost enough cutting edge galleries showing off exciting artists to watch.There are some gorgeous treasures to be seen. 
More photos of favorite works via The Chicagoist.
Many reports via Art Fag City over the course of the week/end, beginning with from Paddy Johnson's mixed reaction:
Importantly, the fair seems an enormous step up from anything Merchandise Mart offered, a mega-fair corporation that's been largely unsuccessful at handling art. Much as the company does for Volta in New York, Merchandise Mart used their own real estate to house Next Art Chicago, even though its low ceilings were unsuited to showcasing art. Last year, when they closed, the organization claimed that collectors were only purchasing art on the coast lines.
A photo collection courtesy of Paddy Johnson, with "the good, the bad and the ugly:"
It's impossible to describe EXPO Chicago without offering a few images to tell the story. This slideshow with commentary do just that. Highlights, lowlights, and everything in between below.
And AFC'a closing word from Robin Dluzen:
A main concern for EXPO and the exhibiting galleries was last year's absence of collectors and museums from the wider midwest region and beyond, and this year, EXPO managed to draw them in. William Lieberman of Zolla/Lieberman Gallery (a veteran Chicago dealer, first time EXPO exhibitor) saw his clients from St. Louis and San Francisco; Monique Meloche, also exhibiting for the first time at EXPO and the founder of Gallery Weekend Chicago running concurrently with the fair, had museum groups from Kentucky and Denver buying for themselves and buying for the museums. "MoMA is not going to buy here," she explains, "But this can be a strong regional place." It's not just the out-of-towners making themselves known, but also the more reclusive local collectors. "I had Sanford Biggers in my windows for months," said Meloche of the artist's recent exhibition at her eponymous gallery, "I brought him here to the fair and there are Chicago collectors discovering the work for the first time."
Dmitry Samarov writes in Art on its Own Terms:
My strategy at these fairs has always been to run through the entire thing quickly, then return to anything that made my eye stop. Most years that amounts to four or five paintings or drawings and this year was no different. There was a good corner where a David Park portrait was next to an Elmer Bischoff figure painting, with a Richard Diebenkorn drawing round the corner. I was also happy to see a Leon Kossoff painting along with a couple of drawings. There was an Alice Neal children's portrait too, that made all the work around it look like newspaper clippings. The thing I liked best though were a couple small Harold Haydon cityscapes.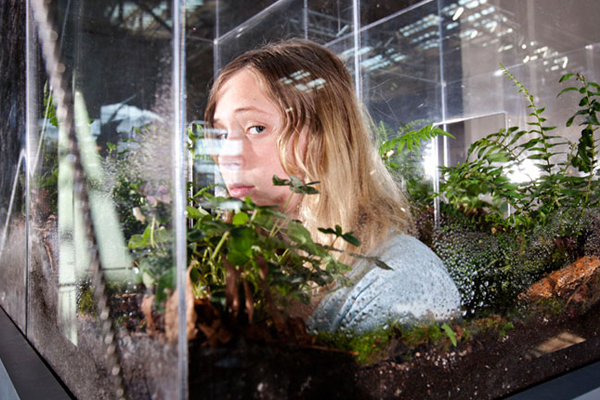 Chicago Magazine got a kick out of Seattle-based artist Vaughn Bell, mini earth-and-moss terrariums that were "available for adoption this weekend at the Expo Chicago art fair on Navy Pier." 


And finally — Artslant Thomas Connors interviewed Tony Karman:

TC: A fair of modern and contemporary work must be something of a balancing act. You've got the de Kooning collector on one hand and the Simon Starling fan on the other. And I'm guessing the blue chip collector isn't looking to acquire an emerging artist.

TK: Let me disagree with you. To some extent, there are certain collectors who will only want to buy that de Kooning. But other lifelong collectors want to be in the vanguard; they are going to look to the younger work because that is equally exciting to them. That's probably more the norm. A great collector likes to have a balance of contemporary work and historical material.
---
La Ribot – a performer, choreographer and visual artist – developed her first choreographic works in Madrid in the 80s, later becoming known for her solo work.  By the late 90s, she had become a figurehead in the Live Art scene in London, where she was based between 1997-2004.  In the mid 90s, she produced "Distinguished Pieces" – short solos presented in a series that were put on sale and purchased by art collectors.  In 2003, she presented a meta-performance of these 34 solos produced until then under the title "Panoramix," at the Tate Modern in London, at the Museo Reina Sofia in Madrid, and at the Centre Pompidou in Paris, among others.  More recently, she has produced work with her company including "40 espontaneos" (2004) a piece for 40 extras, "Laughing Hole" (2006) a 6-hour performance for three performers and one musician, "Gustavia" (2008) a duet created and performed with Mathilde Monnier, as well as "llamame mariachi" (2009).  Her work has appeared in various theatres and numerous museums, passing from Théâtre de la Ville and Festival d'Automne in Paris, from Queen Elizabeth Hall in London and from Festival Montpellier Danse to Art Unlimited / Art Basel in Switzerland, Museo Serralves in Porto, S.M.A.K. in Gent, Nam Jun Paik Art Centre in Seoul, Aichi Triennale in Japan, Galeria Soledad Lorenzo in Madrid, and the Haus der Kunst in Munich, among many others. In 2004, she relocated to Switzerland where she taught at the Haute Ecole d'Art et de Design in Geneva. In collaboration with her colleagues she founded a new Department for the live arts – Art/Action – and taught there until 2008.
La Ribot recently came to Chicago to present the US premiere of "Laughing Hole" and the video "mariachi 17″Â as part of the IN>TIME 13 Festival . Â Appearing for six hours at the Chicago Cultural Center, "Laughing Hole" traveled to Los Angeles where it appeared at LACMA in early March. Â Prior to the "Laughing Hole" performance, La Ribot sat down with local artists Hannah Verrill and Jane Jerardi to talk about her work. Â The video interview captures excerpts of her conversation with Hannah, with Jane behind the camera.
Hannah Verrill is a performance maker currently working towards her MFA from the School of The Art Institute of Chicago. She was grateful for this opportunity to sit and speak with La Ribot.
---