The community & arts organization in Atlanta LiFT held its first Art Salon in November 2014 and has been holding them once a month since. The most recent, #CreATL, featured glass artist Marselle Harrison-Miles, R&B singer ASH who just dropped her first EP, The Perfect EP, DJ D LaShae, and the entrepreneurial initiative Human Capital Theory that focuses on community-building through sustainable economic development which encourages professionals to donate their expertise and services to fledgling businesses.
Each Salon, though there have been only five, draws a sizable crowd. (Let me tell you, it can get CROWDED!) I have been to a few of these events and know two of the founding members: Clint Fluker, who is also in my doctoral program at Emory University – The Graduate Institute of the Liberal Arts – and Nasim Mahboubi Fluker.  The third founder is Miriam Denard. Since I think what they're doing is exciting and also historically important in terms of its relationship to and with Atlanta's vibrant black community, I decided to get a conversation going with them. Here are the results of that discussion: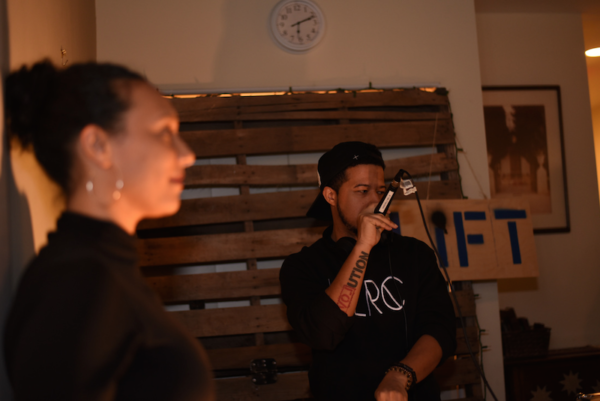 Meredith Kooi: What prompted you all to start LiFT?
LiFT Art Salon [Miriam Denard]: Plainly, I think Nasim and Clint, and at the same time myself, were all in need of something to DO. Something that wasn't going to a bar or going to a club or a concert. Something that felt cool and fun but also mature and important and worth our time. So, when you sit there and think to yourself, "if there was something I could go to, some event that had other people that are like me, good music, and actually was about something that I'm into or that I care about, I would be there in a second." So, when we all thought about the things that each of us are passionate about, LiFT came about. Music, Art, and Community projects each play a significant role in each of our lives so everything came together organically like that. It was like a marriage of all of our networks and passions. We always joke about how this is really about giving people something cool to do on a Sunday on Edgewood that doesn't involve drinking and partying. There's more to Edgewood than that.
MK: What are its main goals? What are you hoping to achieve?
LiFT [Miriam Denard]: I think one of our main goals with LiFT is to showcase local talent. Atlanta is known for a lot of things right now through the media and the music industry. But we feel…we KNOW that Atlanta has so much more to offer artistically than what is at the forefront right now. This city is full of incredible DJs and musicians, artists and poets, and really special and unique community projects and developments. So, if anything, we hope that holding these salons every month will raise awareness about the Atlanta that we all know and love and will give people a venue to showcase their talents and their positive contributions to society.
MK: What is the community you are trying to reach?
LiFT [Miriam Denard]: Our main demographic is young professionals. That's who we are. We are all in our late 20s early 30s (actually I'm the only one in my 30s) and we want to give our friends and colleagues something interesting and different and fun to do. We also have a lot of friends or people in our network that are insanely talented, so we are also trying to reach out to them and give them a stage to share their talents. We believe that our generation, these educated, talented, engaged young adults who are seeing what's going on in the world and wanting to do something about it, or are super passionate and talented at something and want to make a career out of it, need a catalyst. To us, the catalyst is getting all of this energy into one room and then just watching what happens. Hopefully the outcome will be something very important.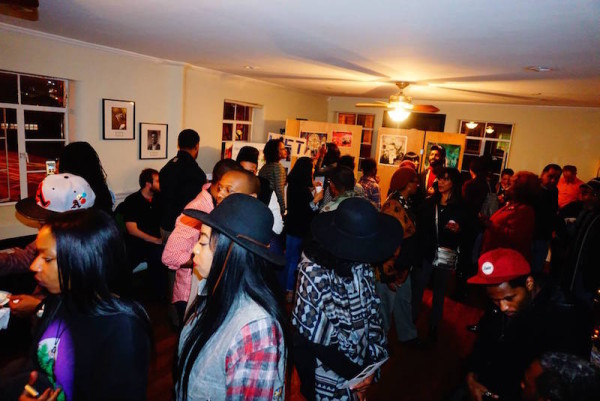 MK: What are the issues LiFT is trying/hoping to tackle? Your January salon #ferguson2ATL addressed the important issues concerning race and police brutality. In February it was #ATLsoulfoodie which addressed food, food access, and other related topics. Can you talk a bit about the politics of LiFT?
LiFT [Clint Fluker]: As an organization, we are concerned with helping to shape an Atlanta that is not only welcoming to artists but also encourages an exchange of ideas between artists and other professionals in different fields. It is important to remember that art fosters creativity and enables individuals from all walks of life to recognize the connections between us all that often lay hidden amidst society's political structures. This is why we use a salon model. It enables us to provide a platform where people can relax in a creative space, participate in conversation about an intriguing subject matter, and hopefully meet somebody new in the process. The objective here is to foster a community of engagement where people gather to understand issues like police brutality and food access from an intellectual AND artistic point of view. So, in that sense, LiFT is a nonpolitical entity in that we shy away from making any explicitly political statements. Rather, our aim is to inform and inspire the people who attend LiFT events to continue conversations started at our salon and create their own mechanisms for change throughout the great city of Atlanta.
MK: Can you talk a bit more about the category of "young professionals"? Does this include the artists that show their work? Or does this describe the audience?
LiFT [Clint Fluker]: The category of young professional is a necessarily broad one for LiFT. We consider anyone with a youthful spirit and a desire to create something new in the city a young professional. Often, when we think of "young professionals," we picture a 25 year old in a suit eagerly putting together PowerPoint presentations and attending mixers for networking purposes (we still do this ourselves…daily). These people are indeed young and professional, but it's a very limiting view of the category. Activists, artists, students, and entrepreneurs are also part of this category, and we want to make sure that we attract as many different kinds of "young professional" people that we can. In a way, our salon format is designed specifically to break out of the "mixer" routine and attract young people to have conversations with each other for purposes other than professional networking.
Though the majority of people who attend our events are like us, between the ages of 20 to 40, we are just as interested in providing space for a graduating senior moving into the job market as we are for a retiree who has recently found the passion for painting. Our aim is to engage and encourage individuals who are taking steps in new and varied directions. Indeed our audience skews young, but our goal is to provide a family-friendly environment and we have found that families often bring their children to our events. Some of the most fruitful conversations at LiFT have been initiated by children still in grade school. Many of the most eye-opening questions during our salon have been posed by our more mature attendees.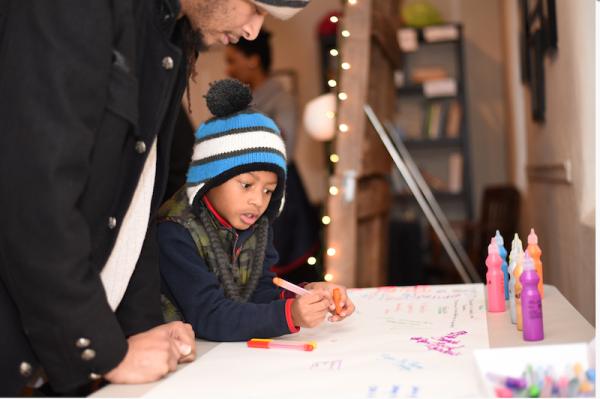 MK: The first LiFT salons were held at the Atlanta Baha'i Center on Edgewood, right in the middle of a wild nightlife scene. What prompted the decision to hold them there? What is the relationship between the Center and the surrounding area?
LiFT [Nasim Mahboubi Fluker]: The Atlanta Baha'i Center is actually one of the older buildings in the Edgewood Corridor. It was built in the 1940's by an African American Baha'i Architect and his son because during that time in Atlanta's history, it was very dangerous for the interracial Baha'i community to meet in homes. As a result of numerous threats from white supremacist groups, the Center was built in the bustling African American business district. It was this rich history of creating inclusive spaces for progressive thought and building diverse communities that attracted us to the Baha'i Center.
On a more personal note, I am a member of the Baha'i Community, and my parents actually met in the Center in 1978. I personally think that faith-based communities have a role to play in contributing to positive community growth.
That said, as an organization, LiFT is a mobile entity. Our March LiFT, #CreATL was held at the Decatur ArtHouse, a great organization with an open floor plan that really allowed us to spread our wings in a new section of the city. We are grateful that they too have opened up their space to us as we try to bring the LiFT experience to new areas. We are very interested in partnering with different organizations around the city to get the word out about how important it is for young professionals, artists, and activists to work together on the issues facing our city.
MK: LiFT has only had a handful of salons so far, but you've been able to draw 150+ people to each event. Why do you think this is? What, if anything, have you homed in on that wasn't already going on in Atlanta?
LiFT: I think Atlantans (especially 20-30-somethings) are thirsty for the type of space we have been able to create: a space that is inviting, creative, and at times challenging. We have found that by finding connectivity between the arts and social issues, we have been able to appeal to a wider audience than if we were just focusing on one or the other. We really wanted to create opportunities for young professionals and artists to dialogue because we found that these two communities were way too segregated. We just felt like in order to begin tackling some of the most pressing social issues in the city, we really needed to foster the nexus between creative energy and institutional knowledge. We are still trying to nurture more dialogue at our events – and our real objectives for LiFT are to inspire more people to take action and exercise agency in creating the Atlanta they want to live in. This sentiment [was] the impetus for our March Salon #CreATL.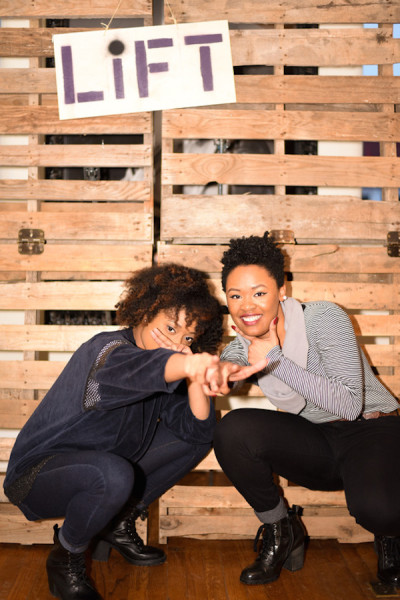 MK: What plans do you have coming up? What else is on the horizon for you all? Also, what's behind the decision to title each salon with the #?
LiFT [Nasim Mahboubi Fluker]: We currently have a few exciting partnerships in the works. We will be partnering with the Hammonds House Museum for a quarterly series starting this summer called #GetLiFTed. We are thrilled to be able to collaborate with such an important cultural institution in Atlanta. This partnership will also allow for our artists to have an opportunity to display their work as part of our #GetLiFTed campaign for longer periods of time. Currently, as a pop-up, the art goes up and comes down in an evening. Now, [with the partnership with Hammonds House], artists may be able to show their work for as long as a month in an actual exhibition space. We are experimenting with our event format so look out for brunches, garden parties, and even more intimate salon-style dialogue sessions popping up around the city. For those interested in donating to this campaign, they should visit our Power2Give site!
The hashtags are just fun – they help us stay clear about the monthly theme and help folks tag us on social media.
MK: I'm also wondering if you would add some sort of statement about LiFT's engagement with race and particularly where you see it within the conversation surrounding/about African-American art and Black art or Black aesthetics. Clint, I remember you mentioning that you didn't want LiFT to be recognized as being only a Black organization. What are your thoughts on LiFT's position within the ecology of art and race in Atlanta?
LiFT: We explicitly, though not exclusively, highlight young black artists, activists, and entrepreneurs. A large part of the contingent that comes to our events might identify as black (we don't know all of them personally), and we are happy for it. We market to them on purpose. We feel that this is a community that wants and needs to be engaged, especially considering Atlanta has a sizable black population and an incredibly rich history as it relates to civil and human rights issues, the development of black-owned businesses, and the forging of the country's leading HBCUs [Historic Black Colleges and Universities]. However, we are not looking to carve out a place in the larger abstract notion of "blackness" or "black aesthetics." There are people and organizations dedicated to that cause, but that is not our mission. We wish to engage people in concerns that go beyond just race, but also extend to varying socio-economic backgrounds, sexual orientations, gender perspectives, and spiritual practices.
Which leads me to another point, we have attendees and have featured individuals from different backgrounds. Our planning team includes members from different backgrounds. Everyone is welcome to attend LiFT events and participate to the degree they wish to be involved. Thats what LiFT is really all about, its a welcoming place where people can gather and exchange ideas. When it comes down to it, we are really just giving the people what they want, and what we want. Its a ball! But, I don't have to tell you that, Meredith, you have been to LiFT. Keep spreadin' the word!
Past LiFTS
November: #NeighborhoodArts with visual artist Shady Patterson; musical performance by St. Beauty (Wondaland); and special guest Dr. Candy Tate from Emory University
December: #GeorgiaSoul with visual artists Carolyn Grady, Brian Hebert, and Masud Olufani; DJing by Agent 45; and special guest Brian Poust (aka Agent 45).
January: #Ferguson2ATL with visual artist Julian Plowden, DJ Xavier BLK (Werc Crew), and special guests from Atlanta Word Works.
February: #ATLSoulFoodie with visual artists Gerald Lovell and Jurell Cayetano, DJ Jeremy Avalon (Werc Crew), food artists Jamila Crawford (Earth Candy) and Will Edmond (Werc Crew), and special guest Atlanta Mobile Market.
March: #CreATL with visual artist Marselle Harrison-Miles, musical performance by ASH, DJing by D LaShae, and special guests from Human Capital Theory.
---
Guest post by A.Martinez
Nick Jirasek is a food artist and founder of underground food entity Guerrilla Smiles. He has worked with Tony Fitzpatrick, Links Hall, Redmoon Theater, Linda Warren Projects, Hauser Gallery, Ensemble Dal Niente, High Concept Laboratories, and more. Nick has a strong love of Malort and makes a mean pork shoulder. I got to ask him some questions about who he is, what he does, and his exciting presence in the arts scene.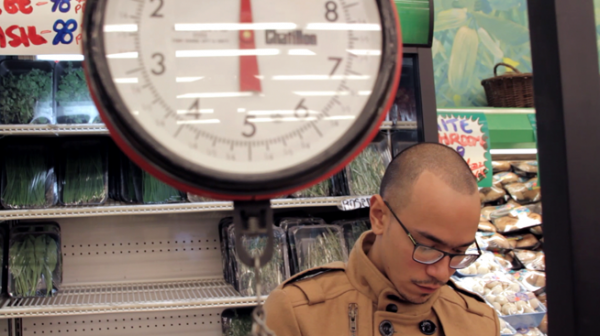 A.Martinez: What is your definition of a food artist and what you do?
Nick Jirasek: A food artist is one who uses primarily comestible materials to create, explore, or challenge ideas. Â I work professionally in this capacity at exhibition openings, private events, the streets, house-parties, underground dinners, performances, pop-ups, talk-shows, and screenings.
Martinez: You are a self-trained- how did you develop your skills?
Jirasek: Immersion. There are seemingly unending resources, documentation, and wisdom surrounding food. Everyone wants to talk about it, wants to teach you the 'right way to do it,' to share the ritual of eating with you, the most authentic place to buy kielbasa, the healthiest diet, the ethical diet, the best place to eat carnitas. Once I had the feeling that being a food artist is what I wanted to do, I made it my entire life. Some of the learning has been traditional in cooking under trained kitchen professionals, but most of it has been in acute observation and guerrilla learning tactics. I'll sound like a broken .FLAC if I say the internet has been a tremendous resource, so I'll say it's been invaluable. That of course means the usual suspects of e-books, Youtubes, and blog trolling, but also some harder to find fountains of information in more underground and illicit venues of the www. Once one is cognizant of basic technique, cultural/ethnic culinary tradition, and flavor pairing, is when some cooks then begin to hone their craft or get the fuck out; an Italian chef mastering the different regions of Italy, travelling to the Piedmonts to study centuries of tradition in Agnolotti, or a trade-school dropout in search of Tru. They begin to specialize based on their talents, their genealogy, and interests. But, I'm not interested in specializing my edible journey. I want to continually challenge the ideas and traditions of food while building a vocabulary of how to articulate that comestibly, socially, and literally.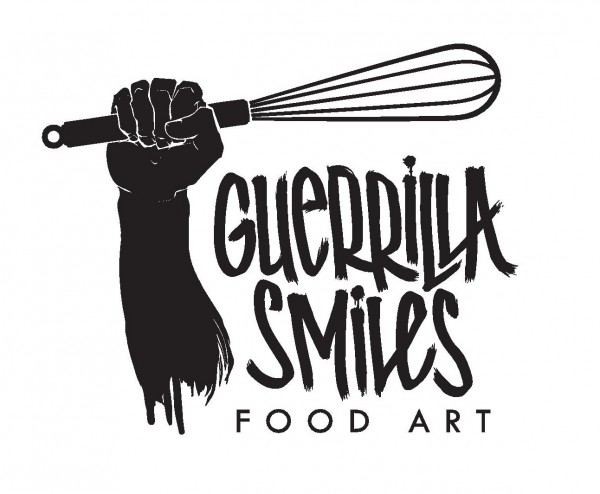 Martinez: Who and what is Guerrilla Smiles and how long has it been around?
Jirasek: Guerrilla Smiles started as a social project about 6 years ago; to simply spread smiles in unexpected places and unexpected ways that would serve to beautify our lives and the lives around us.
I was a worn-out, director of food and beverage at Chicago's 4th tallest building, the John Hancock. I worked a ridiculous amount of hours. The dreams at night of P&L's, and the commute home down Chicago on the 66 bus was the cherry on-top of the soul sucking sundae. One day someone at the Hancock had ordered what must have been nearly a hundred gold, helium filled balloons and thrown them in the loading dock after the party was over.  I grabbed all the balloons and walked down the street, handing a floating ball of gold to anyone and everyone that would take them. People like balloons, or maybe just the color gold more than I had thought. I was overrun by would-be gold-diggers by the time I made it to the McDonald's on State street. At that point I walked to the middle of intersection and released the remaining bouquet of gold into the sky. Similar projects came in weeks following like cashing half my paycheck at the currency exchange in quarters and handing them out, then throwing them in the air and off bridges. Safety became an issue.
Around the same time my good friends Claire Molek and Erin Babbin were starting a gallery practice called Studio1020 (later theStudio and thisisnothestudio).  Building on the ideas put forth on the street, I pleaded with them to seize the opportunity of the ubiquitous gallery food & wine table.  The idea was simple; to mirror the displaying artists' work aesthetically or thematically in comestible form. This way the dialogue of what the artist's message was, was literally palatable and hopefully led to broaden and ease the discourse.  Through the past 5 years, a changing cast of cooking professionals, artists, and friends have helped carry on this mission from private dinners of 9 to public events of 900.
Martinez: The Break The Bread series focuses on your collaborations with visual artists at galleries around the city. How do you choose what artists and galleries with which you're going to collaborate? Or do they choose you?
Jirasek: For the vast majority of gigs, the artist, gallerist, or curator approaches us. Guerrilla Smiles does not advertise, has no website, and uses social media sparsely as a means to communicate. That is to say, we truly relish our underground disposition. My time with Studio1020 afforded me a great opportunity to interact and network directly with interested parties, interesting artists, and share lots of ideas through food. It all started from there and kind of naturally branched out by word of mouth. I have, in special situations, approached artists I want to work with and am looking forward to doing so more in the near future, as well as producing independent original work.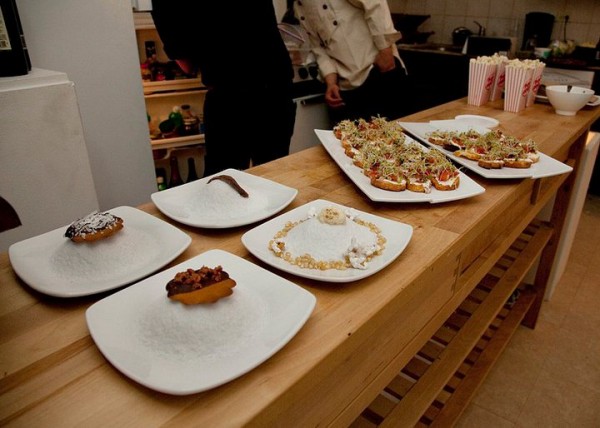 Martinez: What is the process of trying out new dish?
Jirasek: I kind of have an ongoing list of techniques, ingredients, serving vessels, equipment and ideas I'm waiting for the right opportunity to try. When it seems appropriate, I get to try out new stuff. In general, the basis for everything I make is a new dish as every exhibition or performance is new. There is some safety in knowing my control of flavor is adept, my technique is solid, but conversely an exciting trepidation in knowing that this dish has components I have done before, but altogether is completely new.
Martinez: What is the biggest revelation you've had about the way you work?
Jirasek: One needs to be aware of their work patterns and not sabotage their opportunities. I don't like asking for help, and no one will ever work for me for free.
Martinez: Is shopping for ingredients an important part of your creative process?
Jirasek: Extremely. I devote at least an entire day to shopping for an event that can completely change the menu. The Green City Market is a staple and only occurs on 2 days of the week. But generally I go to local specialty stores and markets that take me from 113th to Skokie. This process of traveling all around the city, of breathing in the lifeblood of our diverse culture, of interacting with ethnicities whose only commonality with me is Chicago and food, is probably my greatest inspiration. It's not dissimilar to the interaction I have with people on the night of an event. Most 'food people' will disagree with me on this, but I'm less interested in the local food movement and more interested in small, local family businesses, and traditions in Chicagoland.
Martinez: What is your favorite ingredient to work with?
Jirasek: Celery or Popcorn.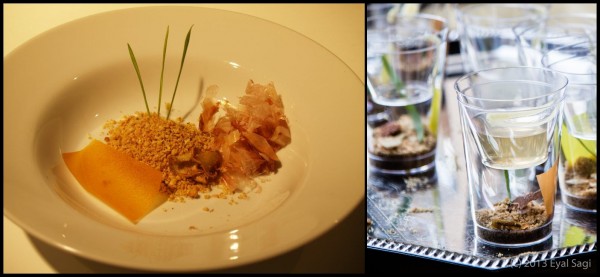 Martinez: Guerrilla Smiles has a dish called Oak Street Beach. Describe this dish and how it came about.
Jirasek: Oak Street Beach started as dish for a thisisnotthestudio show featuring artist Xiao Tse at High Concept Laboratories. Tse took upwards of a thousand pictures from the concrete pavement of Oak St. Beach's shore, facing the lake and narrowed it down to one piece that combined around twenty of the most discerning shots. It is essentially a deconstructed soup, with the broth held separately so as not to affect the aesthetic and textural integrity of the dry ingredients. The dry ingredients are held in a ten ounce clear plastic glass. The sand is a combination of ground peanuts, cashews, and maltodextrin.  The grass is julienned wild ramps. The trash is a candied ginger chip. The fish is a rice flour fried smelt. The towel is a soy and turmeric based spring roll wrapper. The wet ingredients are suspended above in a fitting five ounce plastic glass, rimmed with suntan lotion that is garlic mayo. The Lake Michigan water is a kombu dashi. The eater is instructed to take a small mouthful of the dry ingredients and wash it down with a swig of the wet ingredients, going back and forth in a double fisted affair like they are swimming, until they are finished.
The service of Oak St. Beach was very much so inspired by a dish put forward by Michael Carlson of Schwa at Redmoon Theater's Spectacle Lunatique 2011 called "Walking Through the Forest."
Martinez: You were born and raised in Chicago and this has a strong influence on the food you make. Are there any other cities or cultures that you either look to for inspiration or are inherent in your work?
Jirasek: I think Mexican food simply got everything right. We obviously have a large population of Mexican-Americans in Chicago, and benefit greatly from the cornucopia of ingredients, flavor, and culture they have imbued upon us. Aside from that, I took great inspiration from my time cooking in Panama City, whose flavors are a great amalgamation of the diverse foreign cultures who have occupied the area and the local flora and fauna. I look forward to delving into historical American First Nation culinaria as a geographical inspiration, and look forward to marrying Filipino and Czech food with acidic flavors.
Martinez: Food-wise, what do you think are some exciting places or events happening around the city?
Jirasek: I think The Plant in The Back of the Yards is going to be a blueprint for metropolitan farming worldwide. Asado Coffee's recent expansion plans and concept of 'nano-roasting' is next level. Smalls BBQ is the kind of approachable, forward thinking neighborhood restaurant that Chicago has lacked to put it on the level of NYC. Floriole's baguettes are worth lining up for a la Paris when they come out fresh at 11am everyday. Three Aces is what every gastropub should strive to be. I also think we'll see a boon in quality independent food writing like Graze, Middlewest and whatever Anthony Todd has up his sleeve.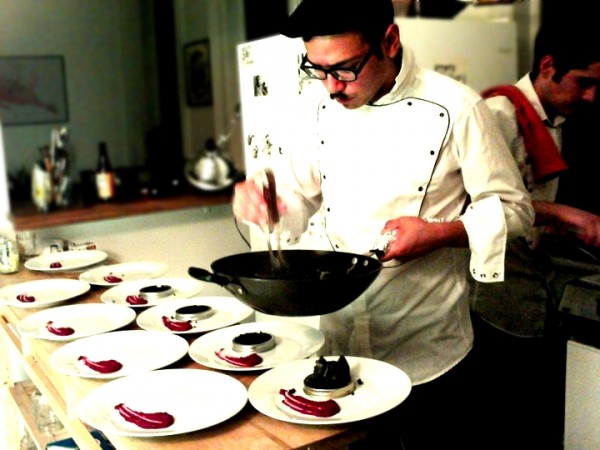 Martinez: What is your favorite Chicago-style food? And where's your favorite place to get it?
Jirasek: Chicago's hot dog is unmatched. Though not all the classic ingredients are included, Gene & Judes' can't be contended with because of the volume they go through and the freshness that entails, and fries like woah. Gotta go with underdog Chickie's for beef because their giardiniera is only quickly cured and crunchier. Salerno's for pizza because the true Chicago slice is thick crust and party cut.
Martinez: What does Guerrilla Smiles have lined up in the coming months?
Jirasek: In the great tradition of former Redmoon Theater Development Director Sean Kaplan, we will be curating the amuse-bouche portion of the upcoming fundraiser Spectacle Lunatique, outfitted Guerrilla style, primarily by the underground supper clubs of Chicago. We are in post-production for the next episode of our Break The Bread series with OnTheRealFilm for last year's THAW fundraiser for Links Hall, as well as designing a menu for a soon opening southside cafe with one of Chicago's champion contemporary artists.
Martinez: Is there a piece of advice, food-related or not that you think of often?
Jirasek: Don't crowd the pan. When it rains, it pours. Be safe, be strong.
All photos courtesy of the artist.
A.Martinez is a freelance art and music organizer living in Chicago, IL.
---
By Kevin Blake
Abstract painting is coming off the walls. It is evolving. Zoe Nelson talks with Bad at Sports about her engagement and participation in the evolution of abstraction, which appears in her work, to be a deconstruction of traditional painting parameters. Through a physical dismantling of the images' supports, Nelson blurs the boundaries between painting and sculpture, creating perpetually shifting spatial dynamics.
Kevin Blake: Chicago artist Sophia Leiby recently turned me onto an essay in the Brooklyn Rail, Worlds With Us by Katy Siegel, in which she suggests, "In terms of art, unthinking the opposition between representation and abstraction is particularly vital to understanding art objects and practices afresh." I'm wondering how you have arrived at abstraction. It seems to me that artists arrive at abstraction out of some sort of necessity that is the resultant of a struggle with conceptual as well as formal frameworks. As I was looking through your archives on your website, I could see a departure from representation, and it occurred to me that this was a relatively common evolution for abstract painters. Abstraction does not seem like something you just set out to do one day. I'm wondering if abstraction, for you, has been a product or a solution to struggling with the idea of representation and abstraction as polar opposites.
Zoe Nelson: When I started grad school at Columbia University in 2007, I was working on a series of portraits of friends with their demons. Imagining what my friends' (and my own) demons might look like if they were externalized allowed me to begin to think about the entire space of the canvas as a loaded psychological space, with all parts of the canvas (foreground, background, demon, person etc) having the potential to be equally descriptive of the psychological state of the person. It was at this point that a shift occurred and I started to become more interested in the potential of the "background" or psychological space around the person than in the portrait. As a challenge to myself, I decided to try to remove the figure from the work, while continuing to make an interesting painting. I'd say that my first conscious plunge into abstraction occurred with this initial act of negation–the negation of the figure. Absence and negation continue to be strong conceptual and formal frameworks for my work, as you can see in my current body of cut-out paintings. What is cut-out or not depicted in my work is often defined by- and defines- the form and content of the painting.
Going back to your Katy Siegel quote, I would agree on the importance of deconstructing a binary understanding of abstraction and representation in painting. I arrived at abstraction through representation, and in some ways one could say that I am currently working through abstraction to arrive at a type of active, moving representation: a representation of liminal psychological spaces and shifting states of being.
KB: Literally cutting sections out of the painting seems like an almost radical action against representation–in the sense of negating recognizable imagery–and simultaneously, it might be seen as a way of evoking a discussion about the state of being represented. Opening the canvas to view the guts of a painting, so to speak, allows the viewer to look past the painted surface and into the physical space behind it, calling attention to its objecthood. In your recent show at Western Exhibitions, some of the paintings protrude from the wall rather than hanging flush on it, further interrupting the spatial dynamic while creating a dialogue with it. Can you talk about the paintings existing in the third dimension and how do these issues perpetuate this idea about abstraction and representation being more of a consequence of one another rather than visually articulated opposites?
ZN: As I cut into the canvas, I uncover parts of the stretcher bar support, which inevitably opens up a whole chain of questions regarding the relationship between support, canvas and the physical space behind and around the paintings. Each painting deals with this relationship in a different way, I believe, and the double-sided paintings evolved as a natural extension of the work becoming more sculptural. When the frame is exposed, all of the sudden there are edges and different physical planes to consider, and the next logical step was to consider the "back" of the painting as well. Through privileging all sides of the painting, I hope to destabilize the hierarchy of front over back, and hanging the work perpendicular to the wall is a playful invitation for the viewer to walk around the paintings and take part in this process.
The paintings and installation at Western look completely different depending on where you stand in the room, and these shifting states are integral to the form and content of the series. If multiple people are in the room, you might see a hand or head or shoulder through the cuts in a painting, and these people (or body parts) momentarily become a part of the work as well. Blurring the lines between artist, painting, and viewer in this way is conceptually exciting for me, and I think circles back around to how the current work still references back to my initial interests in representing the body and psychological states of being, albeit in a performative way, and while operating within a realm of abstraction.
KB: The first time you cut a painting, was it due to what you perceived to be a mistake? Looking at the evolution of your work, I sense a strong influence of painter Amy Sillman whose work seems to depend on the occurrence of mistakes and even more so on the corrective production emerging from those mistakes. Does your work engage with that dialogue?
ZN: Whenever I move to a new location, or even a new studio, I find that my practice often shifts with the move. After graduate school, I spent a year working on a series of process paintings about the idea of unwinding. It wasn't until a year later, when I moved to Chicago, that I was able to take the project a step further and actually start to undo the surface of the painting through cutting into the canvas.
Although my initial cuts into the canvas were not exactly a mistake, they did stem from a place of anxiety and fear. When I moved to Chicago in 2010, I didn't know the city at all, barely knew the art community, and only had a couple of names of friends of friends to contact. Everything around me seemed unstable, unknown and overwhelming that year, and the studio was the one place that I was able to channel all of that anxiety and fear into artistic risk-taking.
I worked with Amy Sillman in grad school, and she continues to be a huge influence for me–both her work and in the smart discourse that she engages in around her practice and painting. I've noticed in my own practice that if I have an idea for a painting, and I execute that idea really quickly, the work often doesn't hold up a few days later. I think this failure ties back to the importance of the mistake: perhaps the reason that these paintings often don't hold up, is because that struggle–of making, identifying, and working-through the mistake–hasn't yet occurred. When the work falls short like that, there is often a part of the painting that has seduced me, and it's only through literally cutting out or removing the seductive part that I am able to rework the painting as a whole, rather than as a showcase for one special element.
I think that the importance of the mistake also ties into the importance of feeling and intuition. Amy Sillman has an awesome zine, the O-G v3, in which she challenges the hierarchy of mind over body when discussing and making paintings. At the end of the zine, Amy advocates for the conceptual possibilities of painting specifically through "the radical merging of mind and body!" While it is often easier to talk about formal or conceptual concerns in painting rather than trying to find a smart way to talk about intuition, I am of the mindset that the two are not mutually exclusive. In my practice, intuition, feeling, mistakes, and elusiveness are just as important to the process of painting as the formal painterly concerns that I am also responding to.
KB: When I listen to other artists talk about their work, I always look for a takeaway-something useful to apply to my own practice or in this case regurgitate as a means of preserving the idea in my frontal lobe. I recently listened to artist Cesare Pietroiusti speak in Boston, and of the many things I retained from his talk, he said something profound that resonates in relation to our conversation. He said, "when there is discomfort, fear, and anxiety-go there." It seems you have intuitively done just that and this impulse has yielded some positive results. Have you been able to abandon these themes as you have gotten settled into Chicago and more so into the community? Or do they continue to be the driving force of your work?
ZN: Anxiety and discomfort continue to be strong themes in my work, though the driving force (or one driving force–there are definitely many) has become the work itself. I have grown to love living and working in Chicago, and have met fantastic artists and worked with great galleries here, such as Roots & Culture, Lloyd Dobler, and most recently Western Exhibitions. I think that anxiety, fear, and crisis are all incredibly powerful emotions (or psychological states), and they hold an equally powerful potential for risk-taking in an art practice. That said, I also think that it can be hard to issue rigor and restraint in a place of real anxiety or crisis, as everything has such urgency and there is a lack of control. Thankfully, I am more settled now and I find that the work is organically building on itself. Each painting opens up a new set of questions and formal challenges, which lead to new decisions and new paintings. Right now I am in the exciting place where I have a number of ideas for new paintings and specific installations, and am juggling these different trajectories in my practice. I am able to continue to explore themes of anxiety and crisis while mitigating those states with humor, play, and pleasure in the work. Of course waves of anxiety, failure, and fear play a part in this process, and no matter how thoroughly I conceptualize a painting before I start it, the beginning almost always feels like a shot in the dark.
KB: The end result being a complete departure from the pre-conceptualized form makes me think about conflicting loyalties. You have loyalties to your methods which allow all the nuances and intuitive moments to take place within the process of making a painting, and being loyal to yourself in these allowances is an important if not essential part of your practice. However, you also have a loyalty to what you might still do, or what the painting might still become, which always seems to be connected to the pre-conceptualized form. How do you negotiate conflicting loyalties in this sense? Are your sketches or ideas of a final product just a jumping point or do you struggle to maintain those forms throughout the process of making a painting?
ZN: When I start a new painting, I usually try to either identify a psychological state, or a feeling attached to a specific moment, that I want to articulate. I then respond to this initial idea by imposing a set of formal parameters on the work, which also define the subject matter. For example, the painting "Skype Breakdown" started with an idea to make a painting about frustration, blocked communication, and distortion. I made the painting (and most of the work up at Western) this past fall, while I was at a wonderful six-week residency called the Lighthouse Works. The residency was on a small island off of NY with spotty internet connection, and after looking at my partner's frozen and pixilated face on the computer screen for the umpteenth time, I decided to channel my frustration (and objective interest in the abstracted image on my screen) into a painting. Using the idea of arrested communication and distortion as a starting off point, I began the painting by first making mask-like cuts into the top layer of canvas. Any discernible figure or face is cut-out and totally abstracted, and this act of negation also becomes subject matter.  Circling back to you initial question about juggling pre-conceived concepts with method and intuition, I'd say that I try to stay true to the initial motivation and abstract idea behind a painting, while being open to chance, intuition, and the unknown in the process of making a painting.
KB: Speaking of making new paintings, what are you currently working on, and do you have any upcoming exhibitions we should know about?
ZN: I am working on a few different projects at the moment, including a nascent but exciting collaborative project with a composer, and paintings for a couple of installation ideas. Just a few days ago I was asked to take part in an artists lecture series called "Artists Now" at the University of Wisconsin-Milwaukee next spring, which should be a lot of fun, and I am working on an exhibition proposal for the fall of 2014 at the moment. Having the show at Western has allowed me to take some time to reflect on the work, and see the paintings in a different context. I am particularly excited to hole-up in my studio as the show comes to a close, and make some new work!
---
Eric Zimmerman is an interdisiciplinary artist with an interest in the successes and failures of American history. His subjects have varied from Clint Eastwood and Spaghetti Westerns, the Apollo 11 lunar landing, and George Eastman of the Kodak Company—all done with excruciating detail in drawings, sculptures, didactic installations, sound pieces, and more.
The most fascinating part of Zimmerman's practice is the research involved within the making of sometimes six-month long drawings or three-hour collages. He often presents artwork like pieces of evidence, making a visual map to help the viewer see many facets of an event that may or may not have actually happened.
He currently lives in Houston, Texas and is represented by Art Palace Gallery.
You've mentioned the "poetic connections" that often occur in your work — can you explain how that started for you and how you've used/been influenced by poetry to inform your studio practice?
I'm not sure if I can pinpoint that exactly, though on some level its likely something that has always been present in my work. I've always maintained an interest in reading poetry and thinking about the way in which language and text imparts an idea in contrast to visual images and objects. Poetry is a way for me to complicate and undermine some of the conceptual coldness in my work. I want there to be that emotional resonance/dissonance that poetry does so well.
Poetry is one of the last vestiges of radicalism left in the world and I've found myself thinking more and more about how, as a set of working parameters, it might be useful in the studio and when putting together an exhibition. Useful in its uselessness, and I mean that in the best possible way. Outside of the zine 'West of the Hudson', which is a collection of actual poems, it's thinking through this general notion of the poetic that I find myself coming back to most often in the studio.
There is a play on lapsed mythologies and time in your work, but also masculinity as a reoccurring role in history. How do you arc the three things together, or do you feel that they play a very separate part in your work?
Time is something I think about very specifically, in terms of the deliberate speed of production and the ideas that center around history. Mythology tends to enter into the work more organically. Mythologies of the American west, violence, art history, Western capitalism and specific historical figures have each played a part in my work over the past few years. They become linked through the accumulation of evidence (objects, sounds, images, texts, etc.) surrounding a particular event or figure and the broader goals for a particular piece or exhibition. The masculinity aspect is a less conscious choice and comes out of my thinking about the pairing in human history between success and progress with failure and destruction. Men happen to be responsible for a lot of our failings as a species and play central roles in the portions of history I've been interested in thus far.
Your drawings are based off of iconic imagery or snapshot photography, and are painstakingly photo realistic. The Clint Eastwood piece comes to mind specifically. What is your intention behind working with appropriation but by switching mediums to appropriate? How does snapshot photography influence your work?
This goes back to the notion of time and evidence. When I was just starting to make drawings of actual things I wanted to deliberately slow the process down, as a way to really process the source material and as a response to digital speed. I wanted to let images from a variety of time periods operate on a level playing field and drawing was a way to neutralize the sense of time inherent in photographs. The photographic image, as a form of documentary evidence, is important to me but I care less about the actual photograph itself. The drawn illusion, or photo-realism, is a product of that thinking. It's a means to get the kind of images I want. Again, I think the avalanche of photographic images, and snap-shots, is unavoidable so it's interesting for me to think about how 'art' pictures fit into that equation. Drawing is a really stupid way to make a photographic image when we've got so much technology everywhere, but its attractive to me for that reason, which maybe gets us back to this idea of poetry and uselessness. Maybe photography and the photograph are just too damn useful; I haven't figured that one out yet.
In your most recent exhibition, you placed a bobcat skull and a feather as lone objects. They almost seem to me like pauses between your didactic and installation work that can be text-heavy or referential. How did you feel about making a sculptural piece that was seemingly less about craft and more about the relationship to origin/context?
It was a fairly natural progression for me. In some ways it was an inevitability that came directly out of the zines, posters, sound pieces and sculptural objects. These were all pieces that took source materials and plugged them into new contexts that established alternative reference points and often-nonsensical narratives. In thinking about the exhibition as an entire piece, the feather and skull (along with the selenite and petrified wood) were about injecting this notion of physical fact, or proof, up against the drawings, collages, and other works that are far less matter of fact.
At the same time these objects contain a sort of poetry that attracted me to them. I like this notion of these scientific-esque specimens that are reactivated and made poetic through context and their place amongst the other works. They become evidence of something else other than their materiality and origins. They're symbols for old geologic time, flight, life cycles and decay, which suggest a sense of duality and transformation between their original and current states.
I'm interested in your sense of presentation that seems to be intrinsic to the authenticity, or lack there, of an object. [i.e. the Apollo moon landing exhibition]  Do you begin knowing how you want to show it, or does that not factor in until later?  
I typically have a good sense of how I want a particular object to be displayed from the outset. It comes down to thinking about typical museum display strategies; the way they present objects, the context of the institution, etc. and then consciously working to undermine the authority of those devices and the purported 'truth' contained therein. The zines and posters came about from thinking directly about the sense of power and hierarchy inherent in didactics and gallery guides; those things that tell us that there is a right and wrong way to understand art objects, that viewers need to be 'educated.' But it's also about this idea of accumulation and placing things in proximity to one another. I do this in-order to set up different propositions between the pieces in order to question the narratives and authenticity that is built into every image and object. Lately I've been trying to broaden the web of references and potential resolutions offered by a group of works. Productive confusion comes to mind.
There is a lot more to your work, like geometry, collage and archiving—all practices that have deep methodologies by themselves. Is that something that comes to the foreground within your process, or something you directly avoid?
Collage and the archive are things I'm always thinking about. The notion of the archive sent me down my current path and I used to literally keep all these research binders on given topics, a sort of mini-archive, but it became really tedious and constricting so I threw them all away. Really, who cares about what I'm looking up when I go to the library, it's what emerges from that process that is most important. I've become less interested in the literal notion of an archive and the broader ideas they suggest: selection, rejection, context, subjectivity, multiplicity, accumulation, etc. Archives are collages in a way so I've been thinking about that too recently. Practically in how I set up an exhibition, how pieces are displayed and relate to one another and theoretically as a way to think about different types of knowledge and our relentless desire to understand the world.
---
Guest post by A.Martinez
I was introduced to the work of Sara Drake at my first Brain Frame event, March 2012. Brain Frame is an event series that invites comic artists to explore the performative side of their work. That night, Sara's shadow puppet performance "The Romance of the Tiger Lady"  truly blew me away. I try to avoid using the word 'magic' to describe work, but the kind of child-like captivation I felt in response to this piece was both unexpected and incredibly moving.
Bad At Sports last spoke to Sara just before her two-month teaching venture in Cambodia. It was this trip that inspired "The Romance of the Tiger Lady", and it was also this trip that inspired her (most impressive) self-taught movement towards shadow puppetry. You can find Sara's work online at http://saradrake.info/;  she is also the  comics writer for Bad At Sports.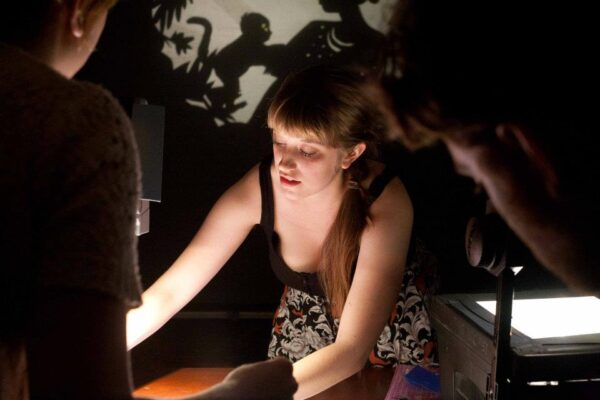 A.Martinez:Â How did you get from making comics into performing shadow puppetry?
Sara Drake: Estrangement. I had just returned to the US from Cambodia where I had been teaching comics, and every way I knew how to articulate myself became erroneous. I needed to communicate in a mode which wouldn't come off as abrasive or didactic within an insular arts community in Chicago. I wasn't ready to process my experiences abroad with other people yet. It takes me a long time to process anything, including my new found political awareness.
Shadow puppets signaled tedious, meditative sessions alone in the dark and allowed me to find a voice I was aware of in the back of my mind but wasn't sure how to wield.  So much of my creative life is prefaced with writing and asserting justification for making things. When I'm speaking in shadows, I am literally fumbling around in the dark trying to find bits and pieces to a story.
Martinez:Â So to begin talking about your piece, The Romance of the Tiger Lady, I want to start with your trip to Cambodia to teach comics to a group of young women. When were you there and for how long?
Drake:Â I was there for two months in 2011 through an initiative called Independent Youth Driven Media Production in Cambodia. My former teacher, Anne Elizabeth Moore, was looking for creative responses to issues relevant to young women in Phnom Penh. I applied with a gendered comics and self-publishing workshop.
Martinez:Â How did living in a completely different country teaching comics influence your work?
Drake: I was there for such a short time! I wouldn't exactly consider two months "living" in a foreign country. It did completely shift my life. As for my work I attribute it most to an entangling and dispossession of my morality, which I'm only just beginning to explore through comics.
I am definitely an advocate for travel if you have the means or opportunity to do so, but hesitant to encourage others to pursue a project like mine. There are unique risks and potentially hidden power structures at play. To walk into a community as an outsider with limited understanding could be devastating, despite how well-intentioned an artist may be.
Martinez:Â Did you watch much shadow puppetry there?
Drake:Â Only as a tourist. Not as someone who has the ability to talk about the medium affluently or with respect to a long, and important cultural tradition.
Martinez:Â Of all the comics you read while you were over there, what made you decide to choose this story to work with?
Drake: That's the thing. I did not speak or was literate in Khmer. I had to find comics in the market places and through word of mouth, typically through western expats. Cambodia is still rebuilding from and coming to terms with decades of illegal American bombing, the Khmer Rouge regime, civil war, and persistent corruption. Comics, like all artistic production during the regime, were completely wiped out. The Romance of The Tiger Lady, by Im Sokha, is a horror comics from the 1980s about a were-tiger lady who falls smitten for a hunter. Aside from it being a good story, it was one of the comics that was well liked and looked at often among the women that came to my workshops.
Martinez:Â So, you made a decision to make this into a shadow puppet performance, and then how did you begin this process?
Drake:Â I spend a lot of time writing and collecting fragments of ideas until I internalize and visualize moods and feelings. Then I have to somehow translate them into puppets. I am still a bit mystified as to how that happens.
Martinez:Â The piece is 17 minutes long. About how long did it take you to just cut out all the scenes?
Drake: For Tiger Lady, I wasn't just cutting out the puppets, I was also teaching myself how to make shadow puppets. The show took about three months to physically cut out. A clumsy, one foot after the other sort of business.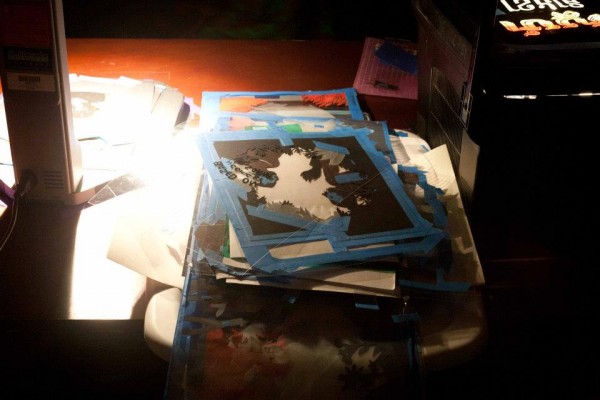 Martinez:Â Did you work mostly by yourself?
Drake: Yes and no! When I'm starting to work on a show there is a germination period of a few months, where I'm working solo on scripting out the story and making all the puppets. Then I get together with a group of puppeteers and a musician to figure out the rest.
Martinez:Â How did you decide to use an overhead projector for your performances?
Drake:Â They are the staple, it seems, for shadow puppet shows. The puppet community in Chicago is incredibly supportive. Julia Miller of Manual Cinema, another shadow puppet group, gave me a lot of pointers in the beginning. Knowing about their work was an invaluable resource in the beginning and their work is mind-blowingly gorgeous.

Martinez:Â Comics are usually a very solitary act, so was it difficult for you to switch to an art that is so collaborative both in its making and its viewing?
Drake: I see this logic posed often to cartoonists and frankly, it's missing the point. Comics are solitary as a process sure! but similar to other art forms, communities have formed up around and about it all over the place. It would seem odd to ask a writer this question. Chicago is not as lonely as my cartoon predecessors would have most believe, yet certainly alienating at times. It bores me when artists use this paradigm as an excuse.
But to answer your question, there was never a time when I haven't been collaborating. Maybe the result isn't always a visual one or one whose end goal is something tangibly producible.  For me, cultural production necessitates community involvement and being exposed to as many voices and encouraging access to as many voices as possible.
Martinez:Â When did PUPhouse form?
Drake:Â During the production of Saltwater Weather. Early on I realized that the project was going to be ambitiously technical and require a deeper commitment from the artists who stepped up to be puppeteers. Each of us had been collaborating in some form or another outside of shadow puppets. The range of mediums each of us is coming from is pretty protean: textiles, animation, comics, music, filmmaking, theater. PUPhouse, or giving our time together a name, became a way to reinforce what we were building together.
Martinez: Do you like working with a crew  of people like that?
Drake: As with any group of humans, you can expect drama. I wouldn't have it any other way.
I mean, I couldn't have it any other way.
Martinez:Â What's the strangest or coolest thing that's happened to you while working together?
Drake:Â Being around other artists is strange and cool in general.
One of the perks of being in an experimental puppet company, is that no matter what event or show you are at, if it's going badly or is boring, I always have seven weirdos who I adore to hang out with on the sidelines. Eternal friendship lifestyle.
Martinez:Â How often do you meet and rehearse for shows?
Drake:Â When a show is in the works once a week. Sometimes two, three times a week.
It takes longer time than one would think to show someone how to move a small piece of paper from point a to b. . .
Martinez:Â What is the most difficult thing for you about shadow puppetry?
The physical and emotional labor that goes into it. Shadow puppetry may look effortless from the front but there is a flurry of movement, sweat, and awkward body positions happening backstage. It takes an exceptional group of people to be able to maintain strong friendships after tense long hours of being told their fingers need to act more like animals.
Sometimes puppets catch on fire . . . which, is definitely difficult.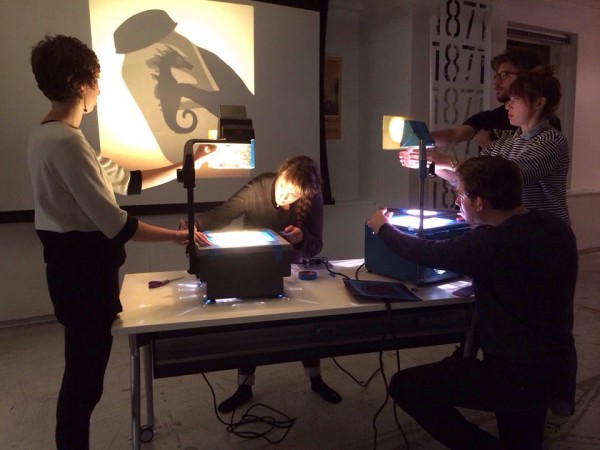 Martinez:Â What are you currently working on?
Drake: I'm taking a break from puppets for a moment to make a new comic – but I don't want to share all my magic tricks just yet. On top of that, I'm heading out of Chicago for a bit to do an artist residency in Colombia.
Martinez: It seems like you like to travel to new places. Do you work while you're traveling? Or mostly just collect ideas?
Drake: I have a long-term, co-dependent relationship with wanderlust. I intentionally do not go to any place wanting to make work about it. I've found that traveling with a purpose in mind, mediates my experiences. It is however, important that all of the materials I work with are portable. This does two things. I like culture that is definitely small – that's human sized and encourages people to relate to it. And of course, it's practical!
Martinez:Â Do you keep/have a collection?
Drake: I'm always leaving places. I do not like/enjoy owning things, maybe that's why I work in ephemera and experiences. Although, I am a compulsive autobiographer. I keep a dated record of every book, movie, and art show I've ever read or seen since I was a teenager. I keep meticulous word lists of all sorts of things: new compound words I create, overheard conversations, turns of phrases that sound off, mood words, fragments.
Martinez: What is the most distracting thing for you while you're working?
Drake:Â Exhaustion. Or not feeling lucid and the feedback loop frustration that comes with that.
Martinez: What's the biggest revelation you've had about the way you work?
Drake: The puppeteers always note that I exclaim "do you hate it?" when I show new work or scenes to them. I have a parasite known to many as self-depreciation.
Martinez:Â Is there a certain time of day that you feel especially inspired to work, or when ideas come to you?
Drake:Â I do most of my writing and scripting when I am on my bike. Most days this tends to be the only alone time I have. And of course, shadows are more dramatic after dark. . .
Martinez:Â Does your cat hang out with you while you work?
Drake:Â Of course! We have a symbiotic working relationship. I cannot stress enough, how crucial a creative life in the company of other animals is to a human psyche.
Martinez:Â Is there a piece of advice, art related or not that you think of often?
Drake: When I was small, my dad always used to say, "What makes a good animal, a good animal?"
This was meant to be soothing after some brutal animal world fact on television, a pet death, watching viruses destroy human cells on bring your daughter to work day, etc. It meant, what ensures that animal survives? Is being brutal or dark, something that a human animal might consider bad, a part of what defines that animal?  "What makes a good human, good at being human?" This is how I move around in the world ad. infinitum.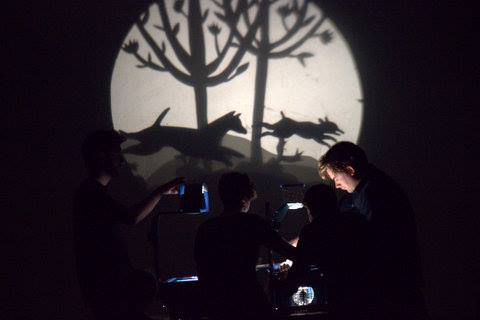 All photos courtesy of Gillian Fry and Sara Drake.

A.Martinez is a freelance art and music organizer living in Chicago, IL.
---