By Kevin Blake
Chicago Imagism represents something more complex than a published manifesto, an aesthetic engagement, or a theoretician's aim at creating an avant-garde. One might argue that Chicago Imagism, an internationally recognized movement with roots in the late 1960's and early 1970's, is still alive and well in the second city. On his 90th birthday on January 26, 2014, Richard Loving explained to a rapt audience at the Hyde Park Art Center, that his work–like the work of other "Imagists"–were simply about making the work that they wanted to make.
In their current exhibit, Inside the Outside at the Hyde Park Art Center curated by Aaron Ott, Richard Loving and Eleanor Spiess-Ferris's works on display span two careers that aptly describe the very complicated historicity of the Chicago Imagist movement. Inside the Outside is a critical investigation of the ambiguous framework of Chicago Imagism and how these two very different artists bound geographically but also aesthetically chose to utilize its tenets to spur their artistic visions.
The works are hung chronologically–a relatable choreography that adequately stresses the aesthetic distances traveled and the hard earned merits of two lives of artistic engagement. In relation to the Imagists' aesthetic–high key color strategies, figuration, symbology, and text to name a few–these works can fit the bill. However, the distinction as Imagist work may also deprive them of the singular translation they so deserve.
Spiess-Ferris and Loving's works are clearly about themselves. Throughout the show, there is an overwhelming sense of self discovery or exhibitionism that develops into a confident vernacular that is uniquely their own. In Loving's case, this idea takes the shape of a materials quest, that over decades evolves from small enamel works that become large format abstractions and matriculate to color drenched dreamscapes that embody the entire narrative. They are Loving's accumulated wealth of knowledge with his materials, and a pointed emulsion of his interests.  Loving's work "Fire and Smoke" is one such amalgamation.
Hovering above the very unnatural bands of lush color is a curved horizon that encloses the space of the painting and alludes to an inevitable ending–a forced punctuation. This curvilinear maneuver has become a staple in Loving's later works and allow for the landscapes to remain in the netherworld of abstraction while maintaining the graphic qualities central to the Imagist aesthetic. Loving's narratives are not forthcoming, but they reveal enough of itself to spend time with their mysteries. The paintings can operate as storyteller or simply as an object of contemplation, and therein lies their success.
On the surface, the narrative elements seem to be more readily available in such works as Spiess-Ferris's "Resignation," where the viewer is immediately immersed into a parallel universe that is completely her own. The cast of characters is the entry point–as there is a familiarity that grows from one piece to the next. Everything in Speiss-Ferris's paintings is as familiar as the paint itself, yet there are no answers to her riddles either. The paintings allow you to meander through them, but never actually be a part of the place–it is her singular experience of a world in which the viewer has no role. It is in the moments of expectations unmeant that the viewer can understand their exclusion. "Resignation," exudes Speiss-Ferris's anguished charm while allowing for self discovery through her range of emblematic totems that find their way into her imagined worlds.
The show also presents some of Speiss-Ferris's drawings where one can see the artist looking at her creations from without, while also participating in the ironies and chagrin of human awareness. In "Acquisition" the sketched portions of the drawing remain as portals into her studio–a nod to herself and remnant of her hand.
This elusiveness and earnest approach to her materials has kept Spiess-Ferris on the periphery of Imagism. Her work is an acidly good-natured view of human follies, largely concerned with the roles and relations between women and nature. She presents the human comedy through her imagined places that are often absurd, charming, hostile, seductive, and ridiculous. Charged with strong doses of painfully comic self-discovery, her host of symbols, images, and characters all play theatrical roles in the ongoing comedy that is a perpetual remix of itself.
The affinity to nature, the paint handling, geography, and the parallel working timeline are enough to link these two artists, but the strength in this show comes from both artist's unflinching dedication to their practices. Decades in the making, their works have evolved and remained on the edges of a discussion that Chicago painters cannot seem to avoid. Imagism is the staple, the running joke, the license, and liberator for Chicago painters. It is the all-encompassing genre most aptly described by Richard Loving as "just making what we wanted to make."
To pair these two artists in a conversation about the reaches of Imagism was to operate on the periphery–to think outside the proverbial box. As the Hyde Park Art Center enters into its 75th anniversary year, a show to kick off the celebration that commemorates a pivotal moment in the center's history as well as the history of Chicago image making was a grandiose gesture, most welcome.
---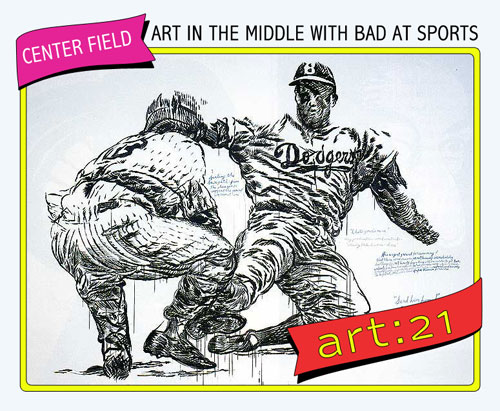 Last September, DePaul Art Museum hosted an epic group exhibition, featuring Imagist artist work on the first floor and a contemporary generation of artists on the second. While those contemporaries have in many respects plotted their own independent and respective courses, there was something refreshing about co-curators,' Dahlia Tulett-Gross and Thea Liberty Nichols, ability to highlight the visual and theoretical connection between generations. The resulting exhibition, Afterimage, illustrated a visual legacy, reinvigorating the past while demonstrating it's transformation into the present.
Caroline Picard: Often collaborative curatorial projects come from on-going conversations — how did you two conceive of the Afterimage show?
Thea Liberty Nichols: You're right on target in thinking that the show evolved through a series of ongoing conversations, but ultimately, Dahlia came up with the idea. She's connected to a lot of local galleries and has built relationships with dozens of artists. Recognizing a renewed interest in the Imagists among contemporary artists who, rather than obscure or reject their connection to them, prized it, she isolated a certain look or feel that many of those artists shared with the Imagists. She approached me about co-curating with her partly because I had written my thesis on the Imagists. Ultimately, our commitment to showcasing the work of every artist as an individual within the larger context of our show led to the publication of an exhibition catalog, which we were so pleased to include you in!
CP:Â What was so important about platforming art with writing in the catalogue?
TLN: We were dedicated to creating some enduring historical record since, like Imagism itself, there's a lot of historical background noise about art writing in Chicago — both its quality and its outlets, or lack there of. In both instances, rather then engage distant and stale debates, we wanted to have a new conversation featuring new voices. We were lucky to work with a whole host of arts writers, including arts journalists, critics, curators and even some visual artists who also write for our publication. go here to read more.
---
Meg emailed me about this forthcoming Ed Paschke exhibition, curated by Jeff Koons, a few months ago. I can't remember if WTF?? was actually stated in the email or just implied, but we both kind of rolled our eyes and thought, whatever. I replied that the Koons curation part maybe wasn't so bad — Koons was Paschke's assistant, after all, and Koons has often expressed his admiration for Paschke, who died in 2004 (see the MCA Chicago's 2008 exhibition "Everything's Here" for one example).  But this morning I noticed the following Tweet: "Jeff Koons gets a second chance: his show of former employer Paschke's work @Gagosian opens Thursday." Ugh. It more than sucks that this exhibition of Paschke's work, which no doubt will rock the house, is already being framed as some kind of Jeff Koons extravaganza. Or even worse, as Koons' chance at redemption, a way to show that he does, indeed, have some fragment of a soul.
Luckily, the Gagosian Gallery itself has thus far refused to improperly hype this show (other than by having Jeff Koons curate it in the first place, some might argue). But the gallery's press release is comprehensive and focused. At the top, the text notes that Koons worked as Paschke's studio assistant in Chicago in the mid-1970s while the former was attending the School of the Art Institute. A line or two follows about Koons' admiration for Paschke. But the rest of the two-page text is devoted to Paschke himself, as it should be. It's a very well-written  release, so I don't feel the need to paraphrase. A couple of excerpts:
"Born in Chicago in 1939, Paschke studied at the School of the Art Institute of Chicago during the
height of the Imagist movement in the late fifties, while supporting himself as a commercial
artist. He avidly collected photograph-related visual media in all its forms, from newspapers,
magazines, and posters to film, television, and video, with a preference for imagery that tended
toward the risqué and the marginal. Through this he studied the ways in which these media
transformed and stylized the experience of reality, which in turn impacted on his consideration
of formal and philosophical questions concerning veracity and invention in his own painting. At
the same time, he sought living and working situations — from factory hand to psychiatric aide –
– that would connect him with Chicago's diverse ethnic communities as well as feed his
fascination for gritty urban life and human abnormality. Thus he developed a distinctive oeuvre
that oscillated between personal and aesthetic introspection and confronting social and cultural
values.

****

"Unlike most of his Pop predecessors with their unthreatening embrace of popular culture,
Paschke gravitated towards the images that exemplified the underside of American values —
fame, violence, sex, and money – a preference that he shared with Andy Warhol, who was one
of his foremost inspirations. Although long considered to be an artist of his own time and place,
his explorations of the archetypes and clichés of media identity prefigured the appropriative
gestures of the "Pictures Generation," and for a new generation of global artists his totemic,
eye-popping paintings have come to embody the essence of cosmopolitan art."
A fully illustrated catalogue is being published in conjunction with the exhibition, with essays by Koons (natch), Dave Hickey, and reprints of significant texts on the artist by Richard Flood and Dennis Adrian. And presented concurrently here in Chicago will be a survey show titlted "Ed Paschke's Women" from March 26 through May 22, 2010, at Russell Bowman Art Advisory.
Paschke is a well-known figure to art historians in Chicago and the Midwest, but he certainly never attained star status by anyone's measure. No doubt it'll be tempting for NY critics to try and frame Paschke's work in terms of Koons, or better yet, to frame the latter's work in terms of the former. But I hope those who see Paschke's Gagosian show will resist this temptation and instead take his work at face value, as it were, without politicizing it or using it as an opportunity to disguise the fact that the artist they really want to write about is Jeff Koons (again….yawn.). It's a shame that this show risks being framed via the hand that Jeff Koons has played in "presenting" it, but make no mistake: this is an Ed Paschke show, and from its outlines, at least, it promises to be a fairly significant one.
---