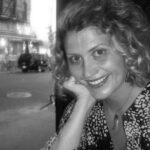 I first encountered the work of Chicago-based photographer Heidi Norton only recently, when one of her photographs was included in landscape/portrait/still life, a group show curated by Philip von Zweck at Hungry Man Gallery. For me, von Zweck's show provided the curatorial equivalent of a restaurant tasting menu: it offered small but pungent bites of different artworks, laid out according to a fairly broad curatorial premise.  I came away with a short list of artists about whom I was curious and eager to learn more. At the top of that list was Norton, a photographer and an instructor at the School of the Art Institute of Chicago, where she teaches color photography and multi-level studio. Norton earned her MFA from SAIC in 2002, and has participated in numerous group shows in Chicago, New York, London, and Spain.  She will be exhibiting her work at  Next / Art Chicago (April 30 – May 3, 2010) with Swimming Pool Project Space. Heidi was kind enough to engage in an in-depth Q&A with me about her current photographic practice and the state of the photographic arts in general. I'm very grateful to her for the time she took to answer my questions.
CI: You seem to move easily in and out of three traditional photographic genres–portrait, landscape, and still life–without residing solely in any one. The photograph "Deconstruction/Rebirth" in "landscape/portrait/still life" seems to fit into at least two of the categories that that show was exploring. Can you talk a bit about the ideas behind "Deconstruction/Rebirth," and how that image fits into the tradition of landscape and still life while subverting them as well?
HN: The relationship between photography and painting will always be a subject worth exploiting. For years the two have worked reflexively, borrowing from one another when it suited them, dissing one another when they felt inferior. Photography lagged behind for many years until its introduction to the art world via the museum institution. However,  Modernism also brought with it a tremendous number of failures within the medium of photography itself, i.e. technical prowess dominated by men exclusively. Works by Edward Weston, Ansel Adams, and Minor White, for example, use landscape, figure and still life in a highly vapid yet monopolizing way. Their works lacked any conceptual content, relying instead on technique and shallow representations of beauty.  In these works, nature, light, and the female form are reduced to popular notions of  the sublime and the meditative. This becomes problematic in that beauty is classified as idyllic, cliched and subsequently artificial. In all of my works I am interested in reexamining these traditional ideas, but also in deconstructing them by using more contemporary and conceptual methods.
With the painted plant works I am interested in simultaneously preserving and deconstructing the idyllic beauty represented by the the plants, through the application of paint. The paint initially concerned me because I thought it would kill the plants. However, the plants soon begin to grow out of the center, shedding the acrylic paint and moving back into the their natural forms. This is where the subversion begins. The paint is the medium added to the still life, interrupting its identity as the "perfect" formal still life. The green paint is strewn onto the image in a chaotic and "messy" manner, the forms are no longer perfect, and the plants sit somewhere between life and death.
---