Guest Post by Hannah Verrill
Tatyana Tenenbaum is an interdisciplinary artist whose work examines sound and movement within a shared perceptual, historical, and dramaturgical framework. Her most recent piece, Private Country, premiered this past October at The Chocolate Factory in New York City after a working process that spanned several years. 
I met Tatyana back in early 2006 when we were both studying at Oberlin College in Ohio.  We became fast art friends and began collaborating soon after meeting.  As I try to make sense of the past, it occurs to me that we connected so immediately because both of us were experiencing a shift in our creative frameworks.  I had grown up inside of dance and was beginning to reach outside of it to sound, video, and installation.  Tatyana had grown up inside of music composition and was beginning to explore the body and choreography.  We met somewhere in the middle and continue still to learn from each other's artistic endeavors. 
In an effort to get inside of Tatyana's process of working towards Private Country, while being unable to physically witness it, I staged a kind of experiment that Tatyana graciously pursued with me through written correspondence.  If the result is messy, with bursts of clarity—so it goes, as with any process.  Thank you for bearing with us.
Hannah—Tatyana, I'm asking you to pull up discrete moments, notes, from the making of Private Country.  These can be messy and detailed as if they were occurring in the present moment.  Is this even possible?  I'm certainly unsure.  Time does its thing, right?  Certain moments will come up for air while others are swept out to sea.  Or this is how I imagine it at least.  The director Anne Bogart writes that if the theatre were a verb, it would be  'to remember'. I'll exit here and cue your entrance. 
Tatyana—I'll begin here:
          Note 1 
Techno-Minimalism… TuneYards and Gang Gang Dance.  Moving out of the "new complexity" (or, as my 78-year old composition professor would say, "the new stupidity.") Moving towards audience immersion, sensory experience, spectacle as visceral sensation—where spectacle departs from tried-and-true convention—where it began as something primal, something essential to the human experience, ritual as catharsis, religious ritual, art as ritual/ and /or / religion.  Contemporary pop counter culture as ritual. || None of this writing is suitable for an audience but perhaps I will try to articulate it further. || WHERE FORM MEETS  – – – } FUNCTION, and this becomes aesthetic.  Everything dependent.  Everything related.  Everything a choice.  Proliferation of media means theater becomes one-dimensional in the conventional sense.  Prosceniums are officially flat, not adapted to a world that frequents the 3-D movie theater.  Antiquated.  Dull, irrelevant?  Or just self-conscious in their flatness?  
H—If I simplify a working process as having two tracks, the track that is concerned specifically and directly with the project, and the track that filters everything else happening in one's life and still lends itself to the current work at hand, it seems like this process note would fall into that latter category.  And it's a messy situation! But this stuff is so important, right?  I mean when looking back at how a work was made, or rather, why it was made.
This idea of flatness in theater as an outgrowth of the proliferation of media.  How does this kind of thinking—it almost reads as despair—propel you forward in the midst of project that is mining your personal history with musical theater?  How do you choose to contend with the flatness? 
T—The question of flatness in a theater excites me.  The idea of frontality excites me too. In the canon of musical theater, it's almost a motif unto itself. I think, consciously and unconsciously I wanted to amplify this motif.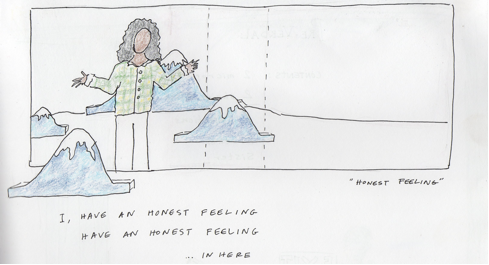 For Private Country I chose to seat most of the audience on risers as in a "proscenium front" and a small handful in a single row on the edge of stage left.  Ezra and I continued this seating line on the upstage left.  It was as if the audience on that edge was disappearing into the horizon line, until they became the performers. A lot of action happened on the diagonal that joined those two audience lines.  However, the obvious weight of the frontally oriented audience was of interest to me.  It was like giving one thing an 80% value and something else a 15% value… 5% went to the mystery. Towards the end, I second-guessed this configuration—for the obvious reason that it would make those viewers on the side become apart of the visual space.  But removing them somehow made the frontality less powerful. There needed to be something to rub up against.
H— I know you grew up inside of the musical theater canon, and I often wonder about kids who grow up with a certain knowledge or familiarity with an art form.  When you approach the form later on, is the desire (or need) for invention within the form always a critical point of interest? 
 T—I want to say that I was always drawn to the absurd.  I was also some form of outsider.  I couldn't even get a role in my town's community theater production because I was too shy… so I started writing my own musicals, and I found power in that.  It was the most un-self conscious re-production of convention… to the downbeat.  I mean, without knowing what I was doing, I was channeling so much history (I had grown up with it).  So it made it easier, later on, to comment on that canon.  I had already begun archiving and indexing those conventions as a child.  It was my way of making sense of that world.  Part of unearthing that is realizing what that absurdity means to me now—what it is bumping up against.  

          Note 2
Reading The Old Way by Elizabeth Marshall Thomas.
 The first mention of art and "artistic genius" [within the society of the Ju/Wasai Bushmen of the Kalahari] was in regards to hunting.  She feels that the creative energies are played out in this arena, and points out that the first art in caves was to commemorate big hunts.  She describes, also, the storytelling and oral myth making around hunting.  When she gives an example of the style of storytelling, it is all in the present tense: "I creep forward, I creep.  He jumps!  He is just that far."
H—How did these ideas "play out" in the arena of Private Country?  Why do you feel that the sport of hunting sparked artistic expression?  And what about the present tense, why make note of that? What feels important about an expression of the past happening as if it is in the present?
 T— I think I was drawn to these old ethnographies (I also read John McPhee's "Coming Into the Country," a collection of contemporary ethnographies of Americans living back-to-the-land style in rural Alaska) because I was trying to understand where this compulsion to depict ourselves came from.  
 "I creep forward, I creep."
When I am temporally engaged in an art practice, I feel it in the present tense. Â But when I analyze it, contextualize it, or write about it, I do so by separating it from my daily life practice. Â There is an "otherness" that develops; this classic division between art and life. Â So maybe I was searching for the root of that otherness. Â 
The hunting bit—it surprised me.  And then, it made sense.  The oldest stories are hero myths.  And these stories exist without a written language.  I find it interesting now because I have been engaged in this memorization practice within my own work.  Even though I take notes on my texts as they develop, I never treat the written word as having authority over the lived moment.  I re-write the material over and over again in rehearsal, changing things as I forget or alter subconsciously.  I've always been drawn to memorization.  I used to listen to stories on audiocassette and memorize them.  I had this one children's series called "The Great Composers."  I used to listen to it over and over again.  It became, in effect, a completely oral tradition, a series of hero myths, westernized, classicized, internalized, plagiarized,and canonized…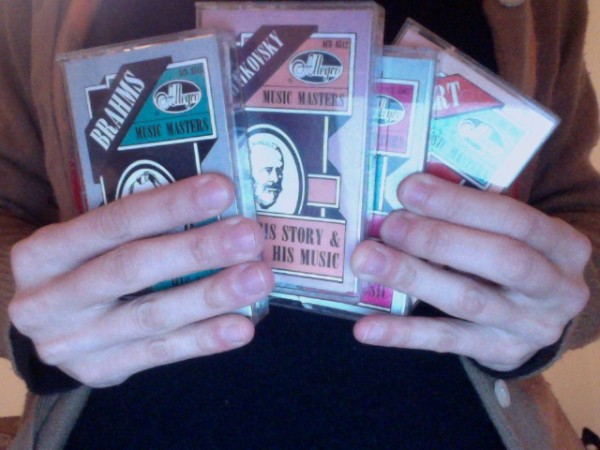 Note 3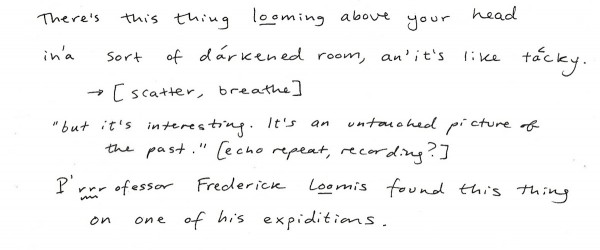 H—When and how does the impulse to archive arise for you? Is it in the very instant?  In which case I imagine you living a kind of double life; being while simultaneously acting like archeologist.  Asking yourself which moments need to be recorded, preserved.  Or is it an afterthought?
T— I think archiving is a constant.  Some of the text I used in Private Country was originally sourced in 2005 from an interview with an archeologist.  I first set that as a vocal composition in 2006… later I started experimenting with recitation of the memorized composition in a very resonant space, which is where I was first able to hear my own pitch fluctuation in my speaking voice… I developed a practice around that recitation and that began to open up the process I used with my ensemble to create these spoken-sung passages for Private Country.  So I was still using part of the original text 8 years after I first acquired it.  Now that I've let go of that text, I'm still using the musical phrasing that I found with it to structure new ideas…that's an example of how archiving or my relationship to my archive is happening constantly inside of my process. 
    
          Note 4


H—Working with your brother, archiving moments in your relationship—do you work with that as raw or already composed material, or both? 
T—So, Ezra and I really played out our relationship on and off stage.  It started with our original conversations… I asked him to help me as "dramaturge", because I thought he was in a unique situation to act as one.  We fought, we played, we analyzed.  No matter what, we couldn't escape our Brother/Sister roles within the piece.  And as far as I was concerned, we didn't have to.  Because we basically made the duet and then worked on it for a year and a half—the progress was internal.  We built up a mythology within what we were doing.  It was supposed to be spare, raw, but also dense with history and context. 
Note 5 (revised sibling dialogue)

On that note, we find an ending.
Hannah Verrill is an artist living and making work in Chicago, Illinois.
 
---
 Guest post by Hannah Verrill
Michal Samama is a performance artist and choreographer from Israel.  She recently came to Chicago by way of New York to begin her MFA in studio art at The School of The Art Institute of Chicago. She is now focusing on the research and creation of movement based solo performances and multidisciplinary collaborations. A couple of weeks ago I spent time in the studio with Michal as she prepared for an upcoming performance at Northwestern University.  The following dialogue ensued:
Hannah Verrill: I'm thinking about a solo performance practice, and if it is distinct in the sense that you as the maker can never fully step outside of the work in order to witness it.  I am curious about how you come to 'know' the work that you are making as you are making it.  Do you use video as a reflective surface to see what you are making?
Michal Samama:  Now I find myself using video, but it didn't start that way.  I became so interested in the images, in creating images and then of course changing the images, transforming them into other images.  So in a way I feel that I have to see it. I guess I started to use video at some point, but before video I was using the mirror.  Over the past few years I've also started to take photos of my body and my movement in the studio.  I have tried to direct my body to a specific image but at the same time to be in the movement, or the position, or the expression while taking the photo.  Those moments that I've captured have helped me to develop the visual aspect of the performance.
So it starts from a visual image that I have, that I imagine, and then I start to explore it, to transform it, to do this whole research in the studio.  Video can tell me if the image or sometimes also the timing is right.  My question is what is that 'right'?  What is the right image?  What is the right timing?
HV: For me, time is something where video and live don't match up.  I can be watching a video of performance and something feels distinctly too long, but if I were with that body in space I could be having a completely different temporal experience of that same action occurring. 
MS:  It's interesting because when I look at the video, and again, it's a tool, it always seems for me that I don't take enough time.  That in live I push myself too fast, that it actually needs to be slower.
HV:Â  Right, and video helps you see that or know that.
MS:  Yes, even though it can be very boring to watch this stillness, but the way I sense the timing of my body through video is usually that I need to slow down and take more time.  It's something I'm trying to work on right now, but it can be very scary for me not to just move on and go to the next image.
So when it comes to performing in front of an audience there is this internal thing going on.   This other layer, the negotiation between the way I build or shape the external image with what's going on inside, and there is the encounter with the audience.
I remember the moment when I started look out.  I think there's a difference between this external artificial gaze into the audience versus really looking.  Of course it's a solo, like I am the performer and you are looking at me, but then I'm looking back at you and maybe you feel awkward or embarrassed, but maybe you are thinking about your next doctor's appointment or your surgery.
HV: Would you say that there's a kind of feedback loop in place? A set of information that you receive from your audience by way of their presence, in a specific sense, that comes to influence how you are performing?
MS:  Yes, or you could think of it as a dialogue. It's about questioning this idea of me as the performer being the authority.  Or it's also about questioning what is your (the audience's) role here.  I started to think more of this idea of performance as a collective event or social event. This is what is unique for performance.  It puts into a laboratory this idea of the social event.
I do remember one work from a few years ago when this question came up of if I wanted to take my gaze out into the audience or still be in this internal dance-y gaze, and at that point I chose not to.  I was too afraid or I didn't know what to do with it.  But now it's different, and I've started to make it more and more what I do.  I'm interested in this kind of transformation of images happening during the performance.  Part of the transformation of course is the homework that I worked on in the studio—the choreography—but of course part of it is like what you're saying, the feedback.  So in the end there are many more transformations than what I initially thought of because of the presence of the audience.
HV:  I wonder if you could talk about the process you're engaged in currently with this upcoming performance. 
MS:  In some ways this is the most difficult process to speak of because it is happening right now.  I'm working on this piece for a conference and the name of the piece is What Am I Paying You For? With the last few pieces I was more and more into this negotiation between the abstract of the body and the concrete of the body, and the idea of looking closely at body parts, zooming in on body parts.  But of course in performance you can't really do it.  I mean that's what I'm trying to do, but there is always the body as a whole.
HV: Right, and the space that the body is in.
MS:  The space, and the sound, and everything.  But the space and the sound are there in video, but in video we try to ignore it.
HV: But with video, with an actual zoom or various editing functions we can actually direct or focus attention.  I mean, with performance we can too, but it's very different. 
MS:  Yes, you can zoom in with a camera and show just this part, but how do I do it when my whole body is there, when the audience is there?  So I went into the studio taking this bag with me, with all of my materials in it. The rule that I set up for myself recently is that I don't do this theatrical thing of having a set stage, and then I perform, and then someone cleans it up.  I do it all myself as part of the performance, I guess to kind of blur this line between performance, life, when does it begin when does it end.  So I said OK, I'll just go to the space with the materials in my bag, but then I thought well this is not interesting enough. And then I decided to put the bag on my head.  I'm naked also.  So now I think that seventy percent of the performance is with the bag balanced on my head.
HV:  So you came to the studio with your bag of materials.  How is it that you decided to put the bag on your head? Is that an impulse or is that an example of an imagined image?  How did that happen?
MS: So that maybe was not an image, I mean when I did it I felt that maybe it could be an interesting image.  Putting the bag on my head immediately calls in a set of associations, connotations – I would like to play, at the same time, with the balance, the physical 'risk' or challenge but also with the associations, mine and those of the audience, sometimes they can also be risky especially when it comes to nudity… so I am on my knees, trying to balance the bag on my head, but I'm also a naked women on her knees.  You have to decide what to look at or what draws your attention. But I guess initially that gesture came from my desire to put myself in an uncomfortable or risky situation.
HV:  It's also a precarious situation because the bag could fall.  Does the bag fall?
MS:  It can, and in that sense there is a really different quality to rehearsal and performance, because things happen in performance because of the anxiety or excitement.  New things can happen.  For example I was working in an earlier piece with rocks, holding seven rocks.  During the first performance one of the rocks fell and it had never happened to me before, and it never happened after.  Just that first performance.  And yesterday my husband came to the studio to see this current piece for the first time, and I'm there standing with the bag on my head and I felt the weight of it on my neck and the tension in a way that I had never felt before in rehearsal.
HV:  Going back to the internal experience of the performer, and then there is the external image that you are creating with your body and various materials.  It occurs to me that the external image aside, you wouldn't know what's risky or vulnerable without feeling it, that it's a felt thing.  It's not exactly conceptual, but rather it seems as though it would need to feel legitimately risky for you. 
MS:  There is something very clear about the images, but then the risk is in the movement.  Otherwise it would be just like a photo.  A static image.
HV:  Does risk and vulnerability enter into the audience's experience of your work?
MS: Â We spoke about the gaze and how at a certain point in my work my gaze started to be directed out into the audience, and that is something I am working on, going more and more towards the audience and really bringing them into the situation.
But the whole idea of audience participation is such a cliché now.  It's a question of how to work with it.  With my body I try to ask: what are the possibilities of the body, what can the body be and how do we read each image that can be created with the body, or with the movement?  In working with audience, I want to give them a chance to respond in different ways, or to offer something that is a little disturbing maybe. I think no matter what you are always asking something from the audience, sometimes you are asking them to be very passive.  In my performances I think in a subtle way I try to ask them to be active.  What I don't want to do is to give instructions, this is not my way, I like that the way is more hidden.  To give more space, to create the space for negotiations.
HV:  And choice making as well, your audience can choose how and to what degree to participate.  But you're not letting them off the hook either. 
MS:  Yes.  This may be a solo, but don't be mistaken, you are here and you are apart of it.
For me, because I grew up on a kibbutz, I have these collective issues, and there is no solution for that, no answer.  It is just apart of what I am thinking through, or working through; this idea of performance as a collective experience, and creating space for individual responses. It's your choice, and it's a moment between us, and intimacy is a big word but I feel like there can be a kind of intimacy, something can happen there.
For example when I did the orange thing again at Judson Church, the first person was trying to take the orange from me, so it became this fight.  And then almost with everyone else they were imitating this.  So there's this kind of peer pressure, or how we follow what our peer just did.
HV:  It makes me think about what you were speaking to earlier, about how the presence or the feedback from the audience is a way to make the work improvisational to a degree.  It occurs to me that you cannot rehearse this aspect of the work, the interaction between you and your viewer(s).  So you are leaving space for your viewer to enter into the work, and also to determine the work, perhaps even make the work with you. 
MS:  That's the thing. I'm not so much into this idea of a closed production.  It's not just this thing where you come, and you see something, and you stay out of it.  It's more like a social experiment.  Of course I'm leading it and bringing the materials, the proposal.  I'm proposing something, and then it can change.  Parts of the work are very choreographed—there is a choreography in place—but still it is changing all the time.  There is an ongoing influence between you and I.
 
Hannah Verrill is an artist living and making work in Chicago, Illinois.
---
Guest Post by Hannah Verrill
I'd like to use this bit of time-space to introduce a series of posts that will use process as a way of looking at and unpacking a handful of contemporary performance practices.
Each segment exists first as an encounter between an artist and myself. In the space between maker and observer, together we excavate a process, a series of actions that the artist is currently using to create performance material. Each exchange is specific to the work at hand, necessarily time-based, and unfixed in form.
The writing, produced in response to each exchange, seeks to mirror the kind of thinking that happens for a viewer after a performance has ended. The faulty and exuberant process of sifting through, assembling, and organizing the experience of such an ephemeral form.
Why focus on process? I'll take my cue from Gertrude Stein: in order to know we always have to go back. 
I grew up in Brooklyn, NY and it was through my mother and her involvement as a performer with Elise Long's amorphous dance-theater company Spoke The Hub that I began performing at the age of four. Long's performance projects were interdisciplinary, using movement as their main component but regularly incorporating visual art and spoken text.
In one of my earliest performance memories I am six years old on a large stage at the Brooklyn Academy of Music. I am hiding behind a set piece waiting for a cue and watching Elise Long, dressed in a magnificent red lobster-gown costume, deliver a monologue to an audience of hundreds.
Two years later I was cast in Meredith Monk's work The Politics of Quiet; an ensemble piece addressing the Bosnian war for independence and Sarajevo in the 1990's. I recall the intensity of the audition for this piece: my eight-year old body crossing a room slowly, picking up a vessel, feeling its weight and carrying it with me through space, and later being asked to sit as still as possible, my legs folded in front, focusing my attention on the air surrounding me.
In contrast to these kinds of engagements, my experience with performance as a kid was just as often marked by amateur experiments: strange dance-theater pieces thrown together in collaboration with cousins and staged for the family after thanksgiving dinner; solo dance numbers set to Fleetwood Mac and performed for my brothers, my dad, and a video camera; improvised movement by myself and for myself in the attic space of my home.
Three months ago I completed an MFA degree from The School of the Art Institute of Chicago focusing in performance. From where I stand now in relation to these childhood memories, I am aware not only of the performances themselves—events characterized by the work meeting an audience—but also of a much larger and more complex sea of experiences surrounding and generating the work. Time does its thing and I am still standing inside of the processes of those past works: the scaffolding comprised of auditions, rehearsals, trials, notes, periods of waiting, of watching, of thinking, of doing.
Performance theorists assert that in the instant of performance, the work experiences a kind of disappearance. With twenty-two years as a performer, I have felt time and time again the loss that comes with a performance's end. My experience of my body as a learning-thinking-moving-performing thing, never fully knowing or comprehending the work that I was just then putting forth towards an audience—a you. This repeated rehearsal of loss drives my desire to spend time with and examine rigorously the nature of a process that works towards a disappearance.
What remains and what comes next? In a disappearing present, the past and the future takes on considerable weight. Process asserts a present. If we can agree that as a form performance undercuts the value of a static or fixed product—an end result—the questions of what remains and what comes next persist. How can the weight of the past and future be leveraged, made light and moveable? I can commit to the present just like I can feel the weight of my feet on the floor, just like I can feel my breath as it rises and sinks through the space of my torso—through a focus of attention. I will practice that attention to the present by way of this series called Process Notes.
Hannah Verrill is an artist living and making work in Chicago, Illinois.
---
La Ribot – a performer, choreographer and visual artist – developed her first choreographic works in Madrid in the 80s, later becoming known for her solo work.  By the late 90s, she had become a figurehead in the Live Art scene in London, where she was based between 1997-2004.  In the mid 90s, she produced "Distinguished Pieces" – short solos presented in a series that were put on sale and purchased by art collectors.  In 2003, she presented a meta-performance of these 34 solos produced until then under the title "Panoramix," at the Tate Modern in London, at the Museo Reina Sofia in Madrid, and at the Centre Pompidou in Paris, among others.  More recently, she has produced work with her company including "40 espontaneos" (2004) a piece for 40 extras, "Laughing Hole" (2006) a 6-hour performance for three performers and one musician, "Gustavia" (2008) a duet created and performed with Mathilde Monnier, as well as "llamame mariachi" (2009).  Her work has appeared in various theatres and numerous museums, passing from Théâtre de la Ville and Festival d'Automne in Paris, from Queen Elizabeth Hall in London and from Festival Montpellier Danse to Art Unlimited / Art Basel in Switzerland, Museo Serralves in Porto, S.M.A.K. in Gent, Nam Jun Paik Art Centre in Seoul, Aichi Triennale in Japan, Galeria Soledad Lorenzo in Madrid, and the Haus der Kunst in Munich, among many others. In 2004, she relocated to Switzerland where she taught at the Haute Ecole d'Art et de Design in Geneva. In collaboration with her colleagues she founded a new Department for the live arts – Art/Action – and taught there until 2008.
La Ribot recently came to Chicago to present the US premiere of "Laughing Hole" and the video "mariachi 17″Â as part of the IN>TIME 13 Festival . Â Appearing for six hours at the Chicago Cultural Center, "Laughing Hole" traveled to Los Angeles where it appeared at LACMA in early March. Â Prior to the "Laughing Hole" performance, La Ribot sat down with local artists Hannah Verrill and Jane Jerardi to talk about her work. Â The video interview captures excerpts of her conversation with Hannah, with Jane behind the camera.
Hannah Verrill is a performance maker currently working towards her MFA from the School of The Art Institute of Chicago. She was grateful for this opportunity to sit and speak with La Ribot.
---
This weekend is making up for the last couple slow ones. In all, 35 openings, with shows in all the standard art districts, a few museum events, and an awesome array of shows at the weird-ass venues that make Chicago such a vibrant art scene. Here's my picks:
1. Living Treasure at Pentagon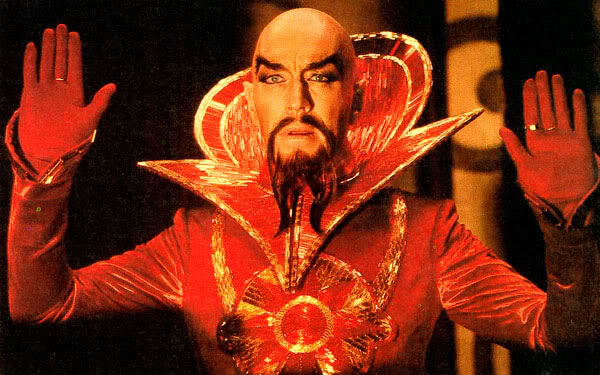 "Living Treasure is a shadow of Pentagon Gallery's first opening Nemesis, A show that engaged cultural others and darkness in music, film, literature and athleticism. Living Treasure attempts to take note from Nemesis but focuses on current global issues and America's involvement with in them. Each artist transforms ideas of violence, destruction, environment, religion, and sexuality by utilizing different mediums and engaging the viewer to be critical of their own social nature. The show it's self might seem sinister but stays satirical with subject and matter." Work by Carl Baratta, Carolina Wheat, Montgomery Perry Smith, Theodore Darst, Ryan Ingebritson & Flash Gordon (1980).
Pentagon is located at 961 W. 19th St., 1F. Reception is PLEASE NOTE: Saturday from 7-10pm.
2. Younger Than Janis at Noble & Superior Projects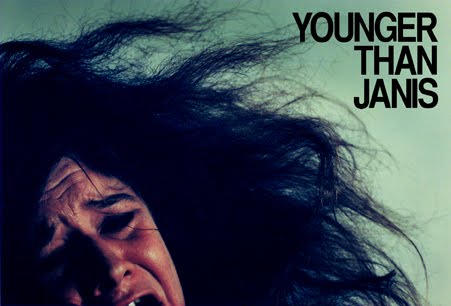 "The work of all of these artists (who together cover film, sculpture, sound, food, printed matter, painting, photography and video) considers the ephemeral nature of youth and beauty. The work ranges from musings on death to pursuit of an infinite youth, covering all the fleeting affect in between." Work by Marcel Alcala, Ryan Barone, Lucas Blair, Patrick Bobilin, Connor Camburn, Kevin Clancy, Adam Cruces, Cara Anne Greene, Eliza Koch, Andre & Evan Lenox, Vanessa Macholl, Celia Marks, Ross Meckfessel, Michael Morris, Erin Nixon, Michael Radziewicz, Anna Rochinski, Steve Ruiz, Liz Rugg, Hannah Verrill, Blair Waters, Ali White, Andrew Norman Wilson, and Travis Wyche.
Noble & Superior Projects  is located at 1418 W. Superior St. Reception is Friday from 6-10pm, film screening is Saturday from 7-10pm.
3. A Packer Schopf 3-fer: "South County Scrapbook", "Gleaners, Hawkers, and Reapers" and "Skivery"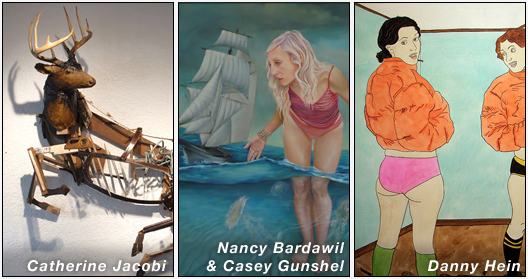 Danny Hein: South County Scrapbook – "My drawings are inspired by romantic memories of growing up in rural Indiana. I always felt there was a lot of mystery there. The figures here represent the land. I think of them as corn-fed-ghosts."
Catherine Jacobi: Gleaners, Hawkers, and Reapers – "The Histories of Objects are platforms from which Jacobi starts her pieces – considering a narrative that has already existed and one that she will have imagined existed. The novelty of form is that it leads you to believe it will endure. Look at a body, her body – immortality it seems is mortal."
Nancy Bardawil & Casey Gunshel: Skivery – "Nancy Bardawil started her art career as a painter and a sculptor, but for the last twenty years she has been working in film as a director. Although she's been painting since she was six-years-old, this is the first time she's shown her paintings in public. As a child, Casey Gunschel learned to draw by way of National Geographic and Dungeons and Dragons monster manuals. That introduction has inspired a lifetime fascination with animals, creatures and all things wild."
Packer Schopf Gallery is located at 942 W. Lake St. Reception is Friday from 5-8pm.
4. Action! at Chicago Art Department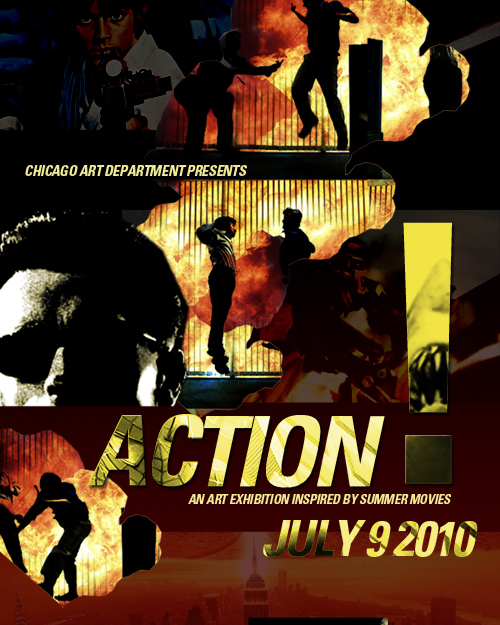 "ACTION! is a Chicago Art Department exhibition themed around the idea of the Hollywood summer blockbuster movie.  Since the release of Jaws in 1977, the summer movie season has, for better or for worse, become characterized by over the top, big budget, action, special-effects laden movies that we now know as "the summer blockbuster".    The art in this exhibition looks at the summer movie as cultural phenomena and symbol, as nostalgia and memory, and yes even simple, mindless fun." Work by Ryan Roberts, Christophe Roberts, Clare Rosean, Nat Soti, Jim Jeffers, Ali Serradge, Sarah and Joseph Belknap, Kayce Bayer, Chris Lin, and Kerry Flaherty.
Chicago Art Department  is located at 1837 S Halsted St. Reception is Friday from 6-10pm.
5. Visible City: Map Room at Fill in the Blank Gallery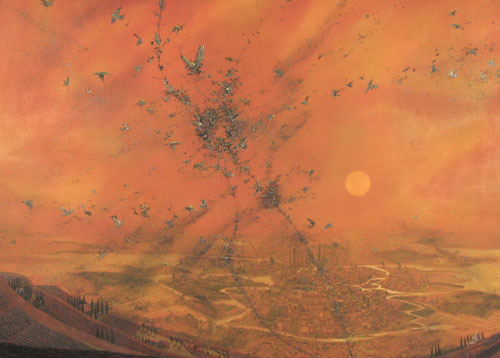 "Visible City: Map Room is part of an ongoing body of work by Aaron Delehanty in which painted images and drawn maps work together to build a mythos of a nonexistent place called Visible City. This exhibition highlights two features of this city—its urban physical space and its mental space—by showing scenes of the city as being designed in harmony with its surroundings. The maps of Visible City are strange and unique, different from your usual map because Visible City is a different kind of human settlement."
Fill in the Blank Gallery is located at 5038 N. Lincoln Ave. Reception is Friday from 7-11pm.
---