Last year I was invited by performance company ATOM-r (Anatomical Theatres of Mixed Reality) to sit in on several rehearsals while they worked on their latest piece together, The Operature. Since that time, the work has had a showing in York, they have produced a book with Pinups Magazine, recently opened a two person exhibition at Julius Caesar in Chicago, and continue to work towards the Chicago premiere of The Operature at the National Museum of Health and Medicine (175 w Washington, Chicago IL) March 21st, 22nd, and 28th 2014. A collection of notes from their rehearsals follows.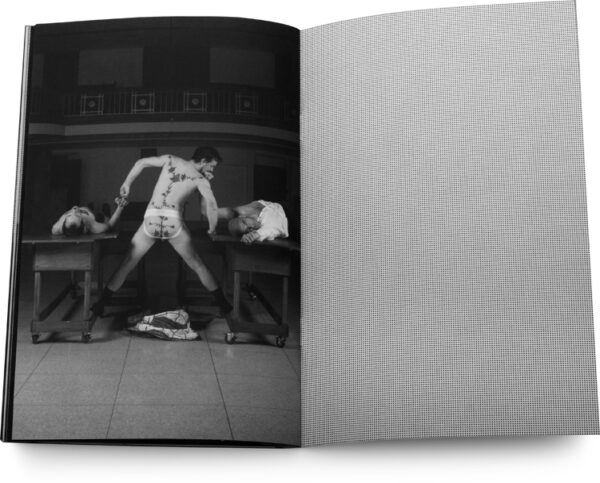 1. Chris' Back and Thigh
The theater holds between 200 and 300 spectators in six concentric galleries of narrow rows that provide standing room only. The bodies of the recently deceased are laid out as actors, like the dancer to the choreographer, the corpse submits itself to the movements of the doctor. The body following the request of the scalpel, as eager to articulate the interior secrets of the body as the doctor is to discover them.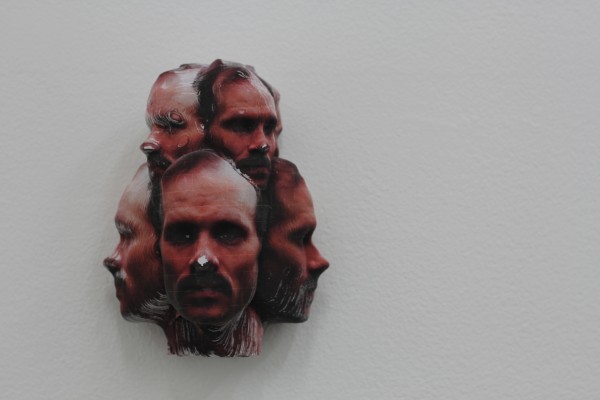 2: Justin's Kidney and Chest
From where I sit in rehearsal I can easily make out the performers as they move about the table. Even as they tower above me, dancing from corner to corner. I need only lift my head slightly to keep them in my full view. The table is to my left. I am thinking about watching, about the pleasures of looking at bodies, and of the duets that emerge from my gaze. The duet between these men, their fingers nimbly grazing their partners torso, weight shared across thighs, every movement mirroring the duet of scalpel and chest, doctor to corpse, witness to theater, and beyond to the dimly lit corners of the farthest circle, where the excitement of discovering the interior of oneself is imagined with each brushing shoulder.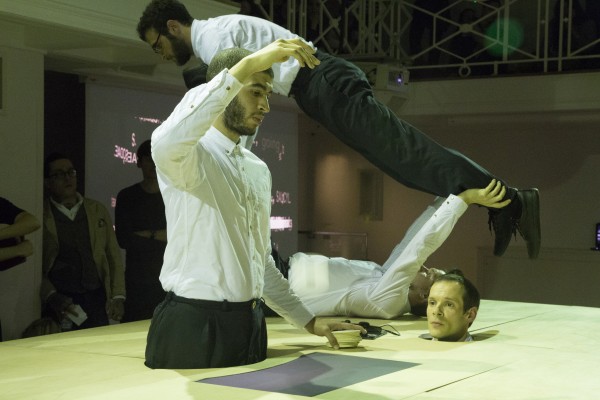 3: Sam's Ankle and Neck
Professor, tattoo artist, writer, and sexual misfit Samuel Steward kept a deeply coded and painstakingly noted account of his sexual encounters. Penile measurements sit alongside anecdotes and the occasional picture. A box of approximately 900 cards, the stud file is an archive of sexual experience and an attempt at exerting ownership over one's body. Stewards thirst is that of the anatomical doctor, both delighting in the bodily pursuit, in the ecstasy that comes from leaning against the submitted frame.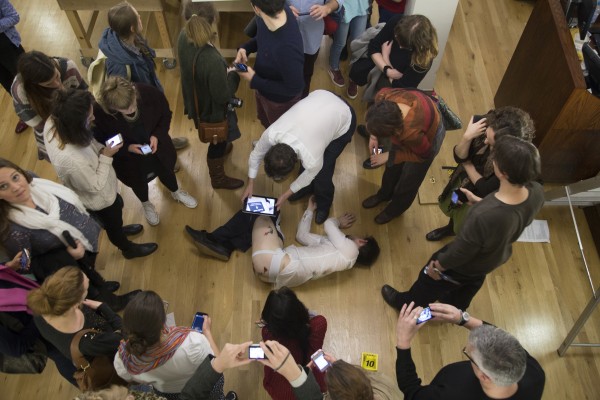 4: Blake's Pubic Bone and Shoulder
In rehearsal, at the moment, we are oscillating between the record of Samuel Steward and the technology of the anatomical theater. Movements are derived equally from sexual and surgical acts, both having striking similarities conceptually and visually. Through each week and each iteration of the work, I am left to ponder the watching of bodies as they are laid out before eager spectators, however they might be displayed in private or public exhibitions and however large or small the audience might be. This is how I understand the performance to function: as a technology of looking. The way a photograph captures a submitted partner or the way a surgical table in the center of an audience can amplify the form.
*Images courtesy of Christopher Schulz, Christa Holka, and Stephanie Acosta
Anatomical Theatres of Mixed Reality (ATOM-r) is a provisional collective exploring forensics, anatomy, and 21st century embodiment through performance, language and emerging technologies. Participants include Mark Jeffery (choreography), Judd Morrissey (technology & dramaturgical systems), Justin Deschamps, Sam Hertz, Christopher Knowlton, and Blake Russell (collaborators/performers).  
---
Guest Post by Autumn Hays 
Over the last few years within the United States a growing interest has arisen in festivals that specialize in Performance Art, that offshoot of the visual Arts, who's practices center around temporal body-based works. This festival-circuit format for showing performance based art works has already produced a strong development in terms of organizations and events outside of the United States. Often however it's difficult for American performance artists to break into these circuits. Although there have some who have successfully done so, many festivals go years without showing a single American performance artist. This could be for many reasons, but one is certainly the relative lack of funding. Often the diplomatic and cultural establishments of foreign countries, such as embassies and consulates assist artists with expenses so that they can make and show artworks outside their country of origin. In the USA however, we do not invest money in the arts to the extent of other countries and thus American artists often have less accessibility to funds outside of their own pockets.
Performance art festivals are often intensive endeavors, involving a diverse group of international artists. Always on very tight budgets, these festivals often seek to supply food and housing for the artists for the duration of the festival, often lasting from several days to weeks. Unlike showing at a, gallery the festival becomes a sort of community or summer camp. Here artists and curators network and meet performers from all over the world. Viewership is open to the public but there is a community of support at many festivals where artist see each-other's works, often living together and sometimes collaborating on the fly. Festivals are often popular for performance art as spaces willing to show the work, or spaces aware of the needs of exhibiting performance art are often few and far between.
The good news for performance artists is, the USA is starting to develop their own performance art festivals. These festivals seek to bring international artist to the USA while showcasing local talents. It will be exciting to see what other festivals are brewing here in the United States and some in and near Chicago itself. Here are three festivals to look for this year: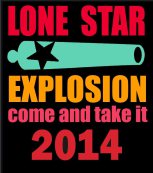 Lone Star Performance Explosion
     Huston, TX
     February 19-23, 2014
This is the second time around for this international performance art      biennale after a successful run in 2012. "LONE STAR EXPLOSION 2014 seeks to showcase performance art that pushes the artists and audience in new ways, especially performance art that questions fundamental assumptions about the way we experience time, space, relationships, the self, society, and sexuality. " As many of our festivals on this list the line up features local, national and international talents in Performance Art. Lone Star Explosion 2014 is curated and directed by Jonatan Lopez and Julia Wallace. Confirmed artists include: Elia Arce (Costa Rica), Marce Sparmann (Germany), Natalie Lovleless (Canada), J. Morrison (NYC), Ryan Hawk (Huston), Roberto Sifuentes (Chicago), and over 25 more artists. http://lonestarlive.org/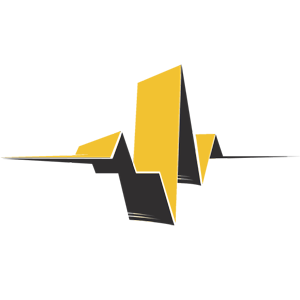 Rapid Pulse International Performance Art Festival
Chicago, IL
June 5-15, 2014
This is year three for Rapid Pulse International Performance Art Festival, taking place here in Chicago. "The RAPID PULSE INTERNATIONAL PERFORMANCE ART FESTIVAL aims to represent a range of styles and forms in order to provoke thought and stimulate discourse surrounding performance art." This intensive festival features performance,  video screenings, artist's talks and panel discussions. It includes a wide range of performance art from durational, public, and digital based works. Unlike the rest of the festivals on this list Rapid Pulse is centered in and around Defibrillator Performance art Space as opposed to being a wide range, multi-venue event. Artists have yet to be announced but the application period is closed and the curatorial process is beginning. Rapid Pulse is curated by: Steven Bridges, Julie Laffin, Giana Gambino, and Joseph Ravens.  http://rapidpulse.org/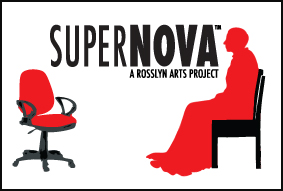 Supernova Performance Art Festival
Rosslyn, Virginia
June ?
Super Nova first took place in June of last year and word is the event will be back again this year. "SUPERNOVA will bring together emerging and established local, regional, national and international performance artists to present an expansive range of positions and approaches to performance art." Though not confirmed Supernova came together well last year showing and they have to potential to continue on this year. Tough mostly national based artists, Supernova has the bones of a strong festival and hopefully they continue. Supernova's 2013 Chief Curator was Eames Armstrong. http://rosslynartsproject.com/
The question that arises with these projects and others like it is one of sustainability. Performance Art festivals are often struggle all year to find funding for the next event. Often performance artists who wish to see this kind of festival thrive in the USA produce these festivals. These factors, and the fact many performance art specific festivals around the world struggle to stay open make the running of an international festival a labor of love, to say the least. Even if these festivals eventually come to an end, the recent creation of these festivals might be pointing to a new trend in performance art exhibitions in the USA. Hopefully the adoption of the festival format international performance festivals will continue to propagate more opportunities in the exhibition of performance art. It will be interesting to see if the new trend in festival production will flourish in the United States and if festivals like these will run strong and multiply in the years to come. Perhaps, the appearance of American Performance Art festivals, and the participation of American artists in them, may lead to an increased interests in American practitioners of performance works both at home and abroad.
_______________________
Autumn Hays is an Artist, Curator, Teacher and Writer. She graduated the School of the Art Institute of Chicago with an MFA in Performance where she received the John Quincy Adams Fellowship. She received her BA in Visual Arts at UCSD. Hays was the recipient of numerous scholarships, grants and awards including two major Jack Kent Cooke association scholarships. Currently she is assistant curator at Defibrillator and Co-Producer of the 2014 IMPACT Performance Art Festival. www.autumnhays.com
---
I recently saw the trailer for Woody Allen's new movie Blue Jasmine starring Cate Blanchett.  There was an exterior shot of a café on the block I live on in the Mission neighborhood of San Francisco.  I pass that café almost everyday and I never considered it to be so dramatic until I saw it in the trailer.  I was reminded how vibrant the Mission is, and so I decided to take a walk around the neighborhood to visit some great art spots.
The Mission is a cool place – home to a dense Mexican community that is quickly becoming consumed by white affluent hipsters.  Lots of homeless people in puffy down jackets slowly push shopping carts on Mission Street past tipsy Marina bros wearing aviators and the latest salmon-colored shorts.  'Artisanal' is in the name of the game in this area, with highly priced food, home, and décor products in shops along Valencia Street.
The booming tech scene has spawned the tech renaissance populated by well-educated and well-paid 20 and 30-somethings that have injected the city with so much money that San Francisco has become one of the most expensive places to live in the United States.  Private commuter bus lines for employees of companies like Apple, Facebook, and Google weave through the Mission, attracting very competitive rental fees on new and old luxury apartments.
Sprinkled throughout this urban grid are several art venues.  From private galleries to non-profit spaces, the Mission is an eclectic mix as diverse as its inhabitants.  The tech folk have yet to share and indulge their economic prosperity with the artistic community of the Mission, but eventually some kind of connection will be made.  Until then, these art venues continue to produce and shape an active voice in the shape of San Francisco's cultural identity albeit in the shadow of technology's spotlight.
Just two blocks from the café in Blue Jasmine is the artist-run space Root Division.  Several of my classmates from grad school have had or currently have studio space there.  From the website: "Root Division is a visual arts non-profit that connects creativity and community through a dynamic ecosystem of arts education, exhibitions, & studios".  The space constantly holds calls for submissions and proposals for future shows and delivers a wide range of educational programming.  My favorite is their annual juried exhibition titled Introductions – I'm a sucker for healthy art competition and the debut of emerging artists!
During my visit, I got a chance to check out the group show Electronic Pacific Satellite curated by Justin Charles Hoover.  Digital and time-based media fill the space, but I'm still a fan of a standout like Gabby Miller's Logistics from Sea to Land (For Giang and Nam) (2012).  A large section of a steel shipping container is painted blue on one side and leans against a wall.  Miller quotes a text from Marc Levin's "The Box: How the Shipping Container Made the World Smaller and the World Economy Bigger" that traces the shipping connection between the US and Vietnam.  I giggle when I relate the shipping container to the enormous private tech busses passing through the Mission.
Some blocks away, I see Southern Exposure.  From the website: "Our good friends THE THING will be in residence at Southern Exposure for the month of August before transitioning into their new Tenderloin storefront this fall. Six years ago, THE THING launched their first issue at SoEx; it's only fitting that they return for the completion of their 20th, conceived by Tauba Auerbach. A wrapping party for the 20th issue will be hosted by SoEx on August 15".  The last time I was at SoEx, I participated in a wrapping party for the 19th issue by David Shrigley.  This space is all about collaboration and sharing with passionate artists throughout the city.
I keep walking and I see Kadist, but its doors were closed this day.  From the website: "Kadist Art Foundation encourages the contribution of the arts to society, conducting programs primarily with artists represented in its collection to promote their role as cultural agents. Kadist's collections and productions reflect the global scope of contemporary art, and its programs develop collaborations between Kadist's local contexts (Paris, San Francisco) and artists, curators and art institutions worldwide."  One night a couple years ago, Tony Labat invited several artists to share YouTube videos in this space.  We all gathered around a projection screen and watched a variety of odd, funny, weird, informative, and emotional videos.  The evening became the contemporary equivalent of an ancient scene of storytelling around a blazing fire.
After passing a yoga studio or two, I finally end my wandering on a block with two private galleries: Steven Wolf Fine Arts and Guerrero Gallery.  I have an affinity for Steven's gallery because I exhibited in the space last year.  The first gallery room hosts Richard Kamler's Twelve Food Trays on Ikea Shelves (1999 – Present).  The gunmetal-colored objects display the last food item requests from death row prisoners.   It's quiet in the room, and spooky and grey and I know in the other room there is a working sculpture of an electric chair by Philip Zimmerman, so I get a little uncomfortable and I quietly back out of the gallery and cross the street.
Across the street at Guerrero Gallery, Adam Feibelman shows a bunch of artwork in an exhibition titled Do with Me as You Will.  While the space is naturally bright and airy like Steven's gallery, there's a different, lighter feeling in here.  Maybe it's the hand-cut paper pieces in pretty frames that seem more familiar in a gallery space.  There's sewing thread and pattern and images of cityscapes, so I think that it could be quite uplifting, until I consider the brown edges of the cutouts to be burnt and suddenly everything looks very spooky and ghost-like.  What an intense block of artwork!
A couple hours of walking in the Mission can bring you face-to-face with the contemporary art scene of San Francisco.  The sun is always shining, and it's particularly rewarding when it seems like the rest of the city is covered in fog.  Every space has an interesting perspective and is consistently delivering the kind of work that local artists enjoy making, and local audience members enjoy discussing.  Now let's try to get the tech folk to check it out!
---
Last month, I compiled a collection of interviews with a curatorial projects operating in the city of Chicago. In it, Happy Collaborationists, LVL3, New Capital, slow, Roxaboxen, Plaines Project, and Johalla Projects all answer the same four questions, discussing their respective curatorial agendas. I always love to hear the back room story behind spaces, the way administration and practical impasses influence day to day decisions. I would love to post all of them here, but as it is, I'm only going to wet your whistle on this Internet-machine. After all, the interviews were intended to go together. While the resulting zine, "AD HOC," was available for free in the Bad at Sports booth of the Chicago EXPO, you can download the entire booklet via the following link: EXPO_Bas_pamphlet_for_web. Below I have included an interview from that collection with co-director Paul Hopkin from slow gallery — a wonderful space that straddles the line between apartment space and storefront gallery. At present, slow is exhibiting Benjamin Bellas, Represent the sound outside these spaces wherein"Benjamin performs herculean tasks and shows what is produced by his efforts." That exhibit is open to the public until November 10th. For information about what they're up to, the show they have installed in Clutch Gallery (a portable exhibition site in founder Meg Dugid's purse). Hopkin's co-director, Jeffrey Grauel is carrying it around at present, and even brought it to Washington DC for its official opening. Visit their website here  and don't forget, the following interview is just the tip of the ice berg. Each of those seven spaces has a interesting and varied way of thinking about their curatorial work.
Caroline Picard: What kind of exhibitions excite you generally?
Paul Hopkin: I like an exhibition that gets under my skin. Art is best when I am not sure whether I like it or not, but I can't stop thinking about it. I always try to get artists to present work in ways they would be less likely to without me, or the kind of space I run. That means pairing people who otherwise would not be paired, encouraging a new direction in the work or taking more risks in its presentation. I have been really lucky to have worked with a lot of really fantastic artists, but I have two favorite shows: one was called the low down and featured the work of Jeffrey Grauel, Caroline Allison, and Danica Favorito. Jeffrey covered all the windows with panels of crocheted video tape. It brought a darkness to the space — clearly because it was a sort of blackout curtain, but it also just pushed its presence into the space generating a kind of tension. Well, the fact that you also walked straight into a slowly spinning baseball bat maybe helped that a little too. I also really loved the play between Caroline's gorgeously printed and beautifully framed photos with Danica's that were off her junky inkjet she had at home, wrinkled and hung with obvious pieces of masking tape. I think one of Danica's photos had a coffee stain on it.
The second show was last spring, titled, it ain't over. Brent Garbowski and Joe Mault collaborated on this work that was not just designed for the space, but for people who come to it, for me. There was a kind of specificity to the work that was truly remarkable. They cut down a power pole and lay it down on the floor so that it cut through the gallery, through the entrance of my apartment and ran alongside my bed. They fabricated a swing arm with the familiar arch of a streetlight, so that the bulb illuminated my bed, complete with the way-too-bright light of an outdoor fixture. They are in the process of installing parts of that pole in another space and it is becoming a wholly different work. I also love that I got Barbara DeGenevieve to make work that was really light-hearted. I was really excited that she, one of my more established artists, was excited to work with Brent and Joe, two boys still in undergrad.
CP: Do you have a particular story about what the back-end of your space is like? Something perhaps indicative of your administrative process? 
PH: I would probably not be running a gallery if there were no separation between my private apartment and the storefront gallery. It is funny to me now, but I thought I wanted to keep people in the public space and keep my home out of the mix. A couple of shows into it I just realized it was ridiculous — it was more comfortable to use my home as the space to hang out in. If I haven't swept the floor in my apartment and there is an opening, I just let it happen anyway. "Y'all come to see the work and enjoy a beverage. Hell, some of you seem comforted that there are little mounds of my dog's hair everywhere."
I made a rule — if I find you difficult to work with, it is not worth it to me. I will also not work with you if I don't trust you to be alone in my home. I do this because I love it, and it is important for me to continue loving it. I have only had a few conflicts, and I hope I have resolved them well. Most of the artists I have worked with have truly been a pleasure. Not that there is never stress; stress is part of getting something worthwhile to happen. But the artists I have worked with have been helpful, resourceful, and interested in having good shows. I have been thrilled to see it work that way. I have had artists who have shown in my space just jump in and help with practical chores even when it is not their show.
I keep a running list of artists that interest me. Some, I check in with from time to time. I throw ideas around, often in casual conversations with friends. Just keep at things until an idea clicks. Then I approach the artists. Sometimes that doesn't work out and it means I have to start again. Maybe an artist is unavailable, or sometimes just not into the idea. I usually have three or four studio visits with each artist leading up to a show and I always run my show ideas by Jeffrey Grauel, my co-director.
The biggest practical decision I make is to avoid shipping work. I have done it, and it has worked, but I mostly show Chicago folks. I find the practical matters to be a part of the scene, so working within the resources and space I have is a part of the fun. I don't choose in a terribly practical fashion. I mean I had a power pole hovering over my bed for two months, and I let a performer live in my space drunk for a week.
I write for every show. It brings clarity about the show and why I put the artists together in the first place, and it helps the artists understand it too. When I get it right, the writing also helps generate some interest in the shows. But I try to avoid describing the work. I want to generate experience with the work on its own terms. I have my ideas, but I don' t ever want to impose them on the work in a way that overshadows the work itself. I don't have my writing in the space at all during a show. It resides on the internet on purpose.
I don't understand your question about, "engaging a public audience"— I mean, people come; the events are, in some direct way, public. It is a bit of a mystery to me that I engage a consistent crowd of undergraduate artists, and a consistent crowd of adults who have been out of school for a good long while, whereas I don't draw a ton of graduate students. It is a little frustrating to me, because critical attention has a way of following the interests of those grad students. But I think the shows at slow are better than that. And not that the projects haven't received attention, because they have. But sometimes I still feel like slow is a secret. I have had a couple of grad students tell me straight up that it doesn't seem like a place where they can figure how to get in —and if it doesn't present them with opportunities then they don't get invested in the space. The funny thing to me is that it can present them with showing opportunities. And then there's the flip side of the same question: what good does it do for anyone if the venue will show anything that comes along? Editing, some kind of vision and hierarchy, seem to facilitate better things all the way around. I guess I am still figuring out some things, and those artists are too. But I want to maintain a kind of criticality, a kind of rigor, and I don't mind that there are interesting artists who remain outside my radar.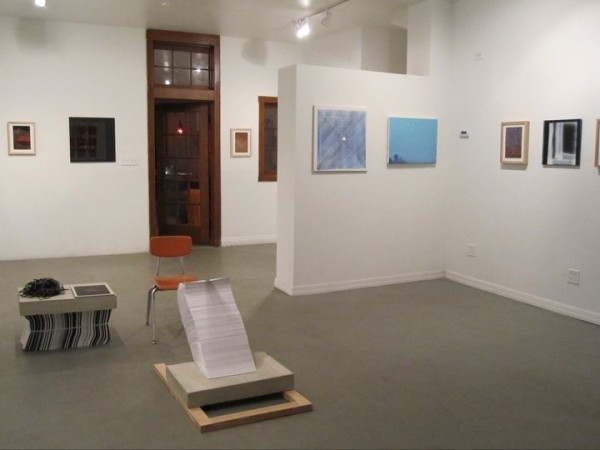 CP: Do you think non-traditional sites for exhibition are important?
PH: Important is a funny word. Curators that work in canonized venues rely on the rest of us to decide what is worth thinking about, worth seeing. But what burbles to the top is just that; it is the thing that garnered attention. Local food and local art — you know? A lot of the best stuff will remain unknown to most, and that is why we visit the places that produce locally. It isn't so much that  that venues like mine are important, but we do a kind of work that isn't done by important venues. Not so long ago Hamza Walker spoke very directly about waiting in the wings until a certain few venues have chosen first to pay attention to an artist, or to a new kind of approach. I think it is common for important critics and curators to wait and see what the lesser of us do. If a non-traditional venue bites on a new hook, and the results are well received, it can move through a system and become important. But I want to work from a messier place that is full of risk and opportunity. I love to play with ideas on their own terms. I love the heady space of "why the hell not" and "it's about time." That can happen when there is no bureaucracy. I can risk a big failure because nothing so terrible happens when I do fail. The payoff can be so much more satisfying when it comes from that sort of space. It isn't all just freedom and light, but it is so much closer to the fantasy of how the art world works. I support what strikes me, what feels ignored or absent from the scene, but nevertheless compelling. I hope to bring a critical eye to my part of the art world in a time where criticality is threatened and disappearing.
The television show The Wire changed how I think about storytelling. You get such a deep version of a really compelling story if you see the entire 5 year arch of the show. Artists usually work more like the storytelling in The Wire than in, say, Gilligan's Island. But we tend to see work that is from the fresh young thing just out of school. Or the work that has become important in the meantime. We see the same details, the same place in the storyline, repeated over and over. It is set up in this way that we think we are seeing a serial, but we're really seeing one or two pieces of a story set on constant repeat. But there is so much more happening than either of those snippets. And I get to pay some attention to work in a way that has a different piece of the puzzle precisely because I do not aspire to become important as a venue.
Importance is overrated.
CP: What are some administrative influences and how have they colored your own approach to running a space?
PH: Artists need good opportunities to exhibit. I feel privileged to have such a big part of my own creative process that functions through the work other artists have made. I try to make the work and the show the focus of the experience. As much as I have a point of view in this, I want that to support the artist's work, and not the other way around. I have worked as an administrator in several other capacities, and what everyone seems to want is freedom to choose things that have an importance, and for the things that aren't valued by the individual to just disappear, to be done by elves. I work to make everything simple, approachable, and pleasant for the artists. If I can't be the elf, I let them know. But if I can make something easier, I certainly will. My structure, my approach, is built on the philosophy that this will be what I want it to be, and what the artists want it to be, as much as possible. This is the place where you can ask to do anything, and it is a simple conversation. I am very aware that I am not an institution. I am not aspiring to be a lucrative business. I am opinionated, invested in fearless and sometimes transgressive art, I have a sense of humor, I have a sense of style, I am social and chatty, I enjoy a good beverage with friends, and I am intellectually motivated. I try to structure the shows to take advantage of all those qualities.
slow is located at 2153 W 21st Street, Chicago, IL.
---
I arrived 11 hours late to the movie. I asked the ticket-man if I'd missed anything. Yeah, he said, you missed the really dirty parts.
Jesse Cain's Parts and Labor is 13 hours. It is his hands replacing the engine of a car, piece by piece. The work is shot in sparkling HD, with steady close-up shots. The compositions are arresting. The depths of field are shallow. His hands, the moving parts, the parts his hands are moving shift in and out of focus as he works. It is a durational film, certainly. It is the length of time it took him to perform the action–over two years. The labor dictates the form, the length, the shape.


Parts and Labor showed in a traditional theatrical space, the mainstay Anthology Film Archives. People were welcome to come and go as they pleased (as one might during any other movie), and did. Audience members left to eat a meal, to drink a drink, perhaps, even, to perform their own labors.
The film is tremendous. My brain was abuzz with the ways we can ensure the cinematic experience is maintained when moving images are brought into visual art contexts. The world of art has never been so formally or materially diverse, of course, but not all presentation strategies are utilized equally. I am continually surprised and annoyed by curators, artists and exhibition-makers' insistence on showing films and videos with integral trajectories on a loop. There are, obviously, makers whose works are meant to be looped and meant for gallery contexts. I don't know how effective Tony Oursler's puppet projections would be on a screen, in a traditional cinematic environment (actually, I bet it'd be amazing). There are also, of course, pieces that can function (and change meaning, etc.) through a variety of exhibition strategies. However, for works meant to be seen in their entirety (and, as obvious as it sounds. starting at the beginning and ending at the end), it's a travesty to not even allow audiences the chance to experience them in their intended state.
It is, then, with great excitement that I believe the 2012 Whitney Biennial has pulled it off. Along with Elisabeth Sussman and Jay Sanders, the show's curators, Thomas Beard and Ed Halter (who also run the recently moved and renovated Light Industry) have not only assembled an excellent calendar of screenings, but with the Biennial's staff have done a wonderful job of presenting films in a museum in a way that honors the unique capacities of both of the traditional exhibition models. On the day attended (Friday), Jerome Hiler's quiet, beautiful Words of Mercury began every half hour, on the half hour. There is a sign at the tightened curtain requesting audiences wait until the next half hour to enter. There were still the types of conversations one might rather not hear during a screening, but those mostly died off within the first ten minutes. I sat near the front and absorbed very few of the stings of walk-outs. Noise from other rooms was minimal and Hiler's hypnotic, textural superimpositions were given the space to breathe they needed.


One hopes other exhibition organizations will follow the lead of the Whitney in their exhibition of time-based works. Through very simple means (in many cases more suggestive and informative than anything else), viewers were able to see the works as they were intended. And, with a show as vast as the biennial, the time until the next screening just means a greater, longer consideration of works whose temporal strategies are less oblique.
---